Now that fall has pretty much officially started (hello, pumpkin spice lattes) and Labor Day has passed, my attention has turned to decorating my porch for fall.
A big part of my front porch decor is a fall urn, container or arrangement beside my front door. It just shouts Hello, It's Fall! Let's get this party started!
My Past Fall Planters:
Fall Container Garden Using Traditional Colors
Last year I showed you how to put together a very easy-to-make fall planter using loads of traditional fall colors.

It includes a rust-colored mum, burgundy coral bells (heucherella), golden celosia and pansies and an ornamental cabbage edged in dark purple.
With some fun pumpkins and gourds thrown in for extra fall loveliness.
I included step-by-step instructions on how to make your own (I promise, it's so easy).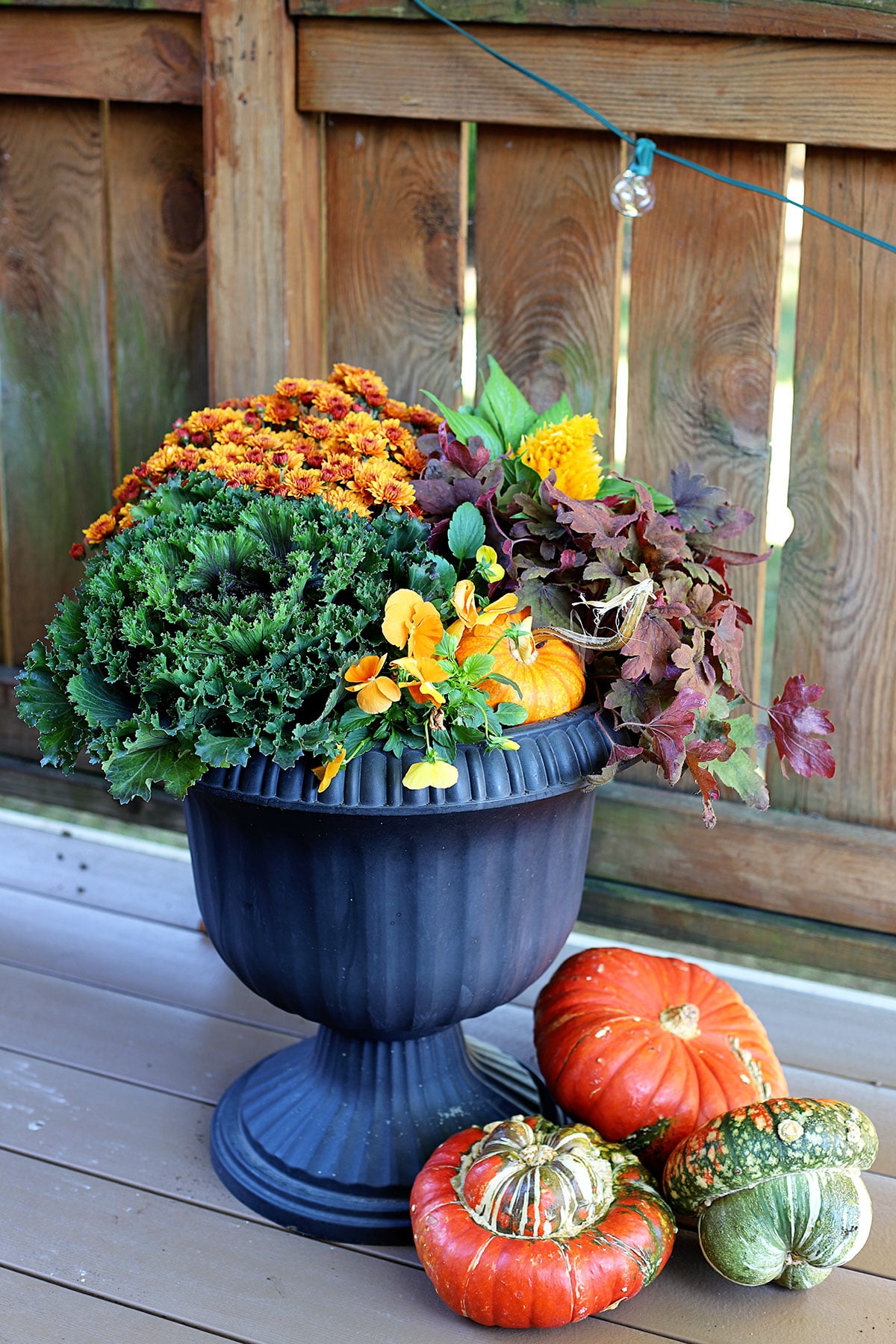 Learn how to make it HERE - Beginner Friendly Fall Porch Planter
Fall Folliage Container
If you want to go a different route and forego the typical fall mums, this one is based on using different fall plants with interesting foliage.
It uses millet (the tall plant with corn-like leaves), coral bells, foamflower and kale.
Without a mum in sight.
Unless of course, you consider the mums on top of the cabinet "in sight", I just couldn't do a porch with absolutely no mums whatsoever.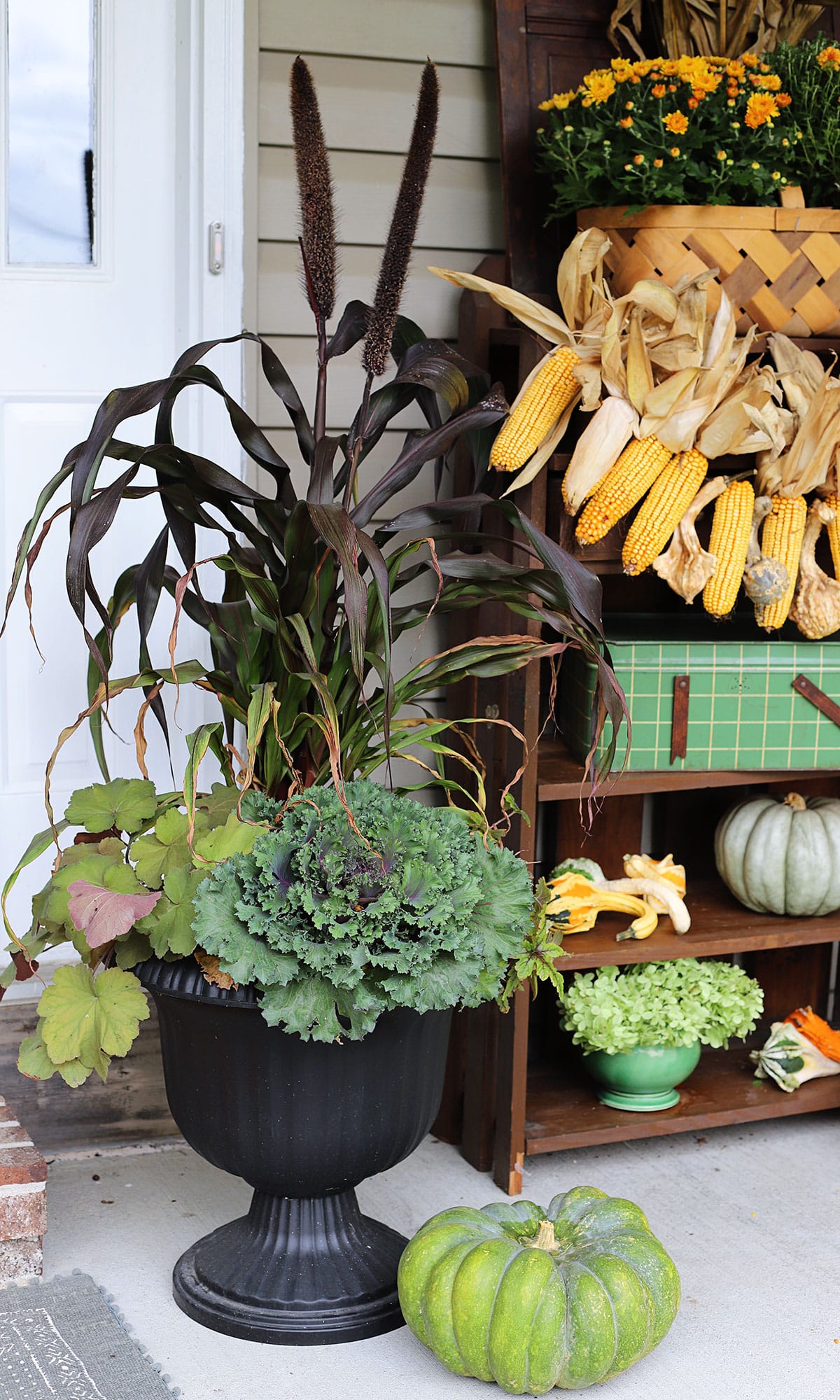 Learn how to make it HERE - Making A Fall Foliage Planter
Farmhouse Style Fall Planter
In this post, I rejuvenated a summer planter full of perky hot pink geraniums into a relaxed farmhouse-style fall arrangement using a galvanized tub as the container instead of an urn.
Although I LOVE a good urn full of flowers, I feel a galvanized tub lends itself more to an informal farmhouse look.
This fall container uses one large mum, cabbage, kale and one of my favorite plants to give height to a container - Purple Fountain Grass.
Most garden centers will still be carrying the fountain grass this time of year for just this purpose.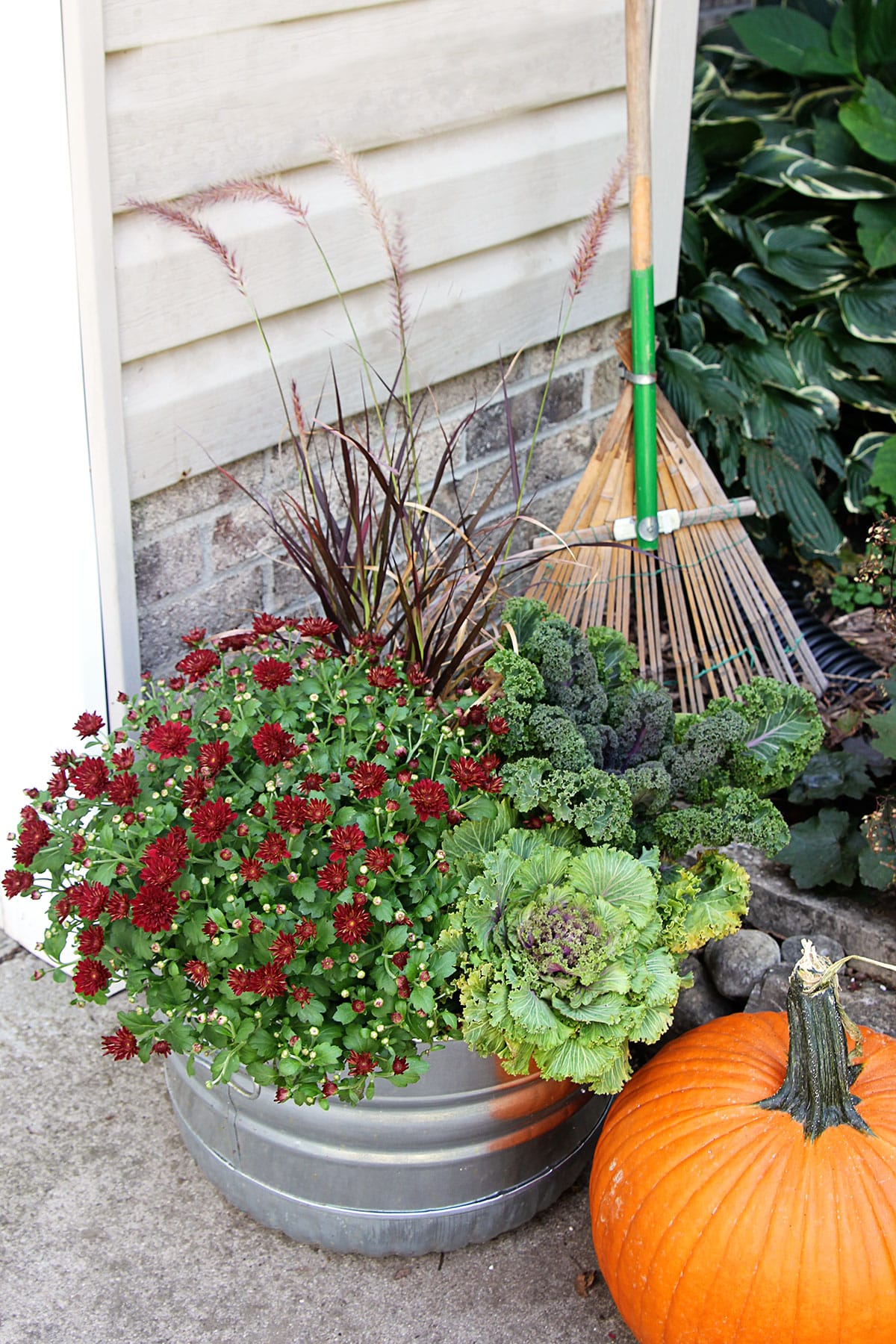 Learn how to make it HERE - How To Make Fall Outdoor Planters
Mums, Mums And More Mums
Although this next one isn't technically an actual container planting for fall, it is a way to group single containers together.
By using a few single mums and planting them in their own fun fall containers you can create the same impact as a single mixed fall container.
Lots of oranges and yellows give this porch a traditional fall look. Not to mention the much loved, often messy cornstalks.
I find almost all of my galvanized buckets, baskets and wooden crates at flea markets and yard sales. I discuss these and other thrifty finds for your porch HERE - 10 Porch Decor Ideas To Score At The Flea Market.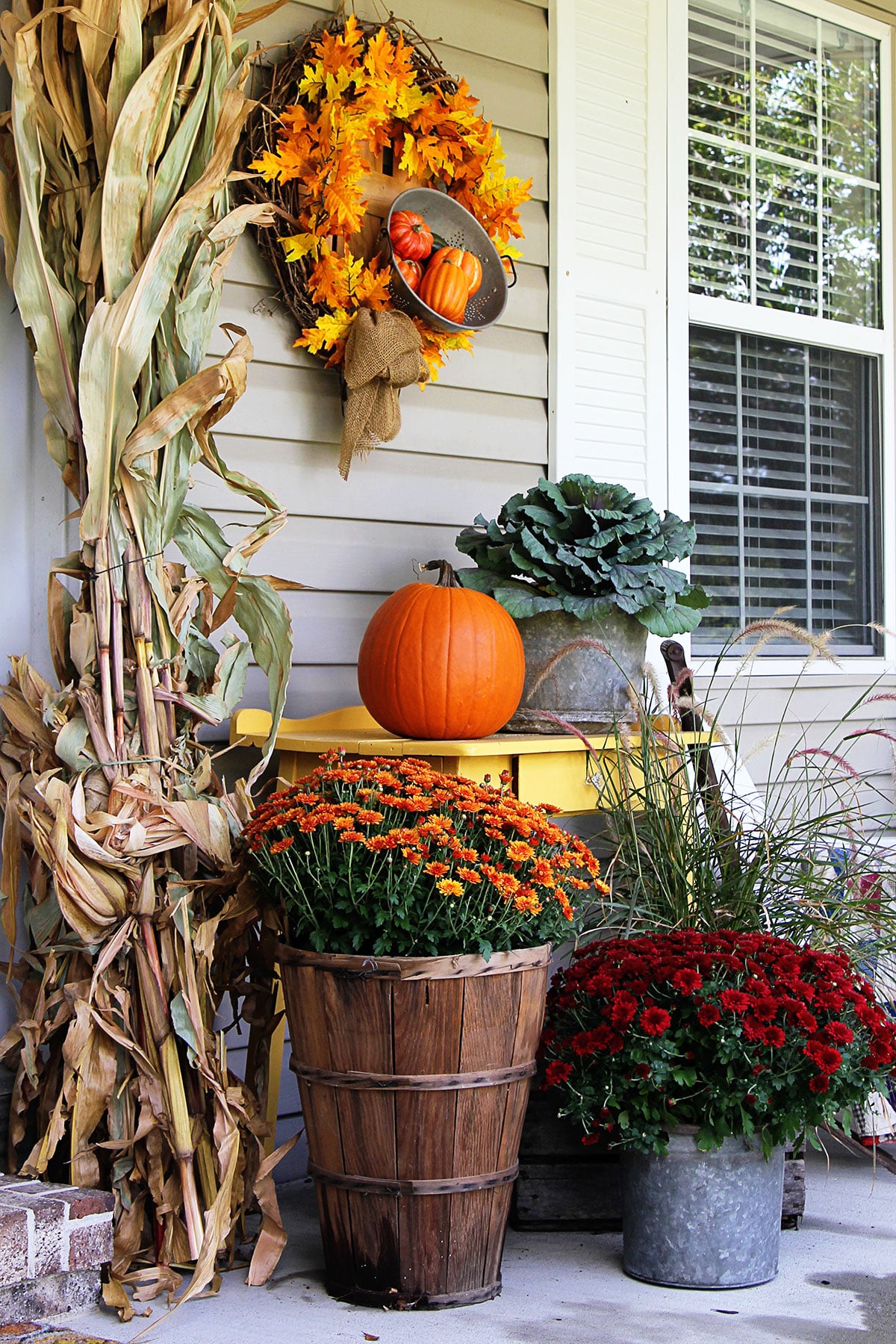 See the rest of the porch HERE - Fall Porch Decor Farmhouse Style
What About Thrillers, Spillers And Fillers?
Yes and no.
I feel like in my fall planters I don't rely on that as much as I would in my summer planters.
There's so much more going on with fall planters (pumpkins, vibrant colors, textures of baskets and wooden crates, corn stalks, etc) that it's just not as necessary to adhere to it all the time.

And the whole idea of thriller, spiller and fillers has sort of been overdone a bit? Maybe?
Normally if I want a spiller it's generally something like a heuchera (coral bells) and that just casually floats over the side of the planter a few inches. Nothing long and drapey. For something tall (thriller), I might use a grass plant or a millet. Or nothing.
Really, in the fall, just a single mum planted in a peach basket can do it for me! Don't be so concerned about the "rules" and just enjoy the creative side of gardening.
Best Fall Flower Planters From Around The Web:
Using Late Fall Perennials In Your Planter
A rust-colored coneflower (possibly Sunset Echinacea), purple fountain grass, kale, ornamental peppers and caramel-colored coral bells (heuchera) round out the pot.
The dark brown seed pods can be found at most craft stores in the dried flower section as well as on Amazon. They are a quick and easy way to give your planter a more nature-inspired look (although we're talking about flowers here so that's pretty nature-inspired all by itself).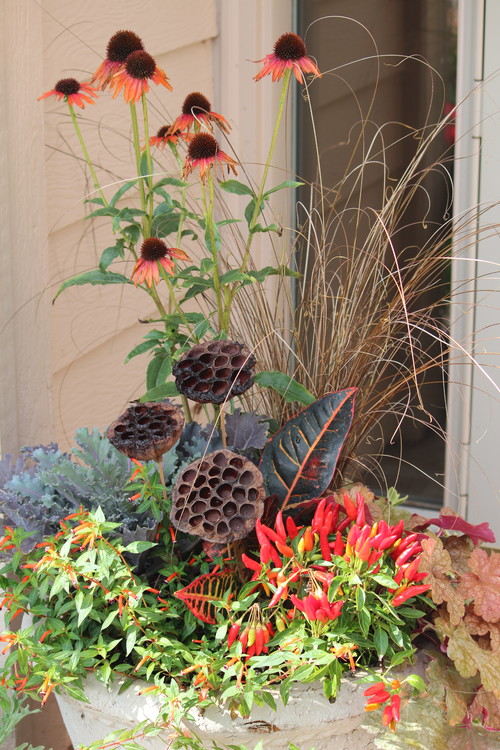 Muted Fall Colors In A Planter
I find the colors in this muted fall planter to be very soothing. Although I'm normally a colorful fall decorator, I'm loving the simplicity of this planter.
Fountain grass, sedum (the burgundy tufted plant in the middle), cabbages and a few gourds create this display. Not to mention a gorgeous urn.
Psst - I found an urn that looks very similar here, but it looks like it is on the expensive side and wouldn't be delivered for a few months. But it is a great planter!
As for the taller leafy plant on the left side of the urn, I have no idea what that is. And it's driving me crazy! I looked and looked online and can't find it anywhere, so if you know what it is let me know so I can sleep tonight lol.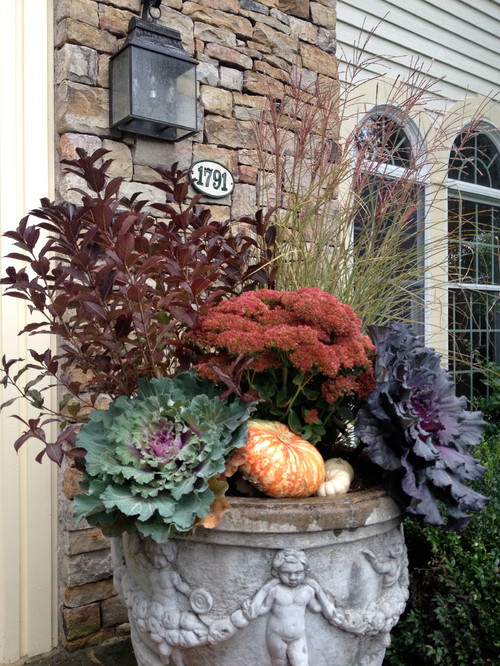 A Halloween Fall Planter
Although not a planter with actual plants in it, this assorted pumpkin tower is a colorful and fun way to greet guests.
Just start off with a store-bought wreath on top of a tall container, add an iron garden obelisk and fill it with pumpkins. Easy peasy!
The witch's hat on top can be added for Halloween and then removed for late fall Thanksgiving decor.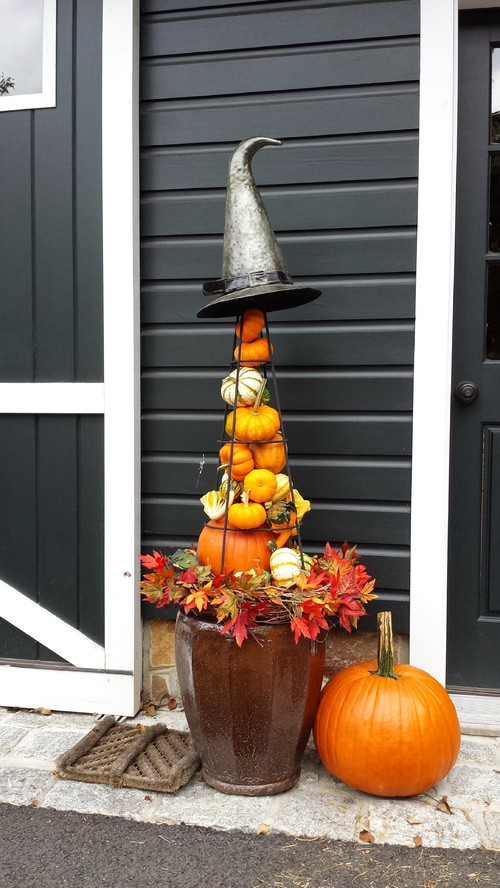 Plants And Fall Decorations To Include In Your Autumn Container Gardens
Chrysanthemums
Asters
Pansies
Coral Bells
Celosia
Ornamental Cabbage & Kale
Ornamental Grasses
Ornamental Peppers
Swiss Chard
Coleus
Crotons
Sunflowers
Black-eyed Susan
Creeping Jenny
Bittersweet Branches (bright orange berries)
Foraged Twigs From Your Yard
Pinecones
Pumpkins, Gourds and Mini-Pumpkins
Which is your favorite fall planter?
What will I do for my fall containers this year? Not sure yet, but I'm off to the garden center to see what fun plants they have in stock just as soon as I hit publish on this post!