It's been a little while since I've shown some of my thrifty finds, so I thought I'd show you what I found this week. Don't get too excited, because it's a short list.
Ta-da. This is a footed silverplated bowl that I bought at an estate sale on Friday. 50% off, so it was only $3.00.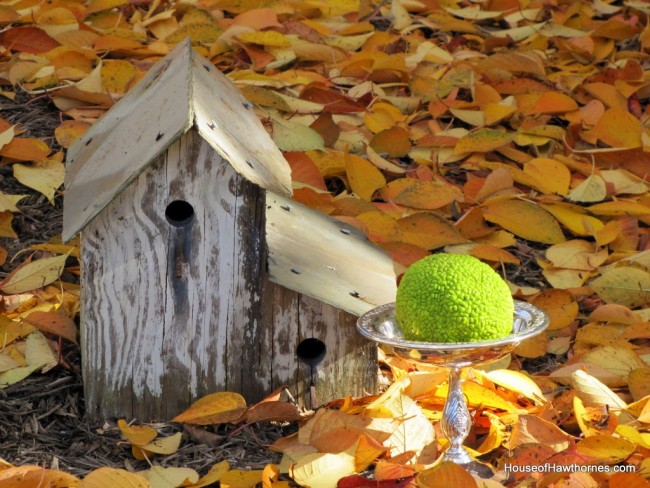 Doesn't it look quite fancy juxtaposed against the worn, chippy wood of the bird house?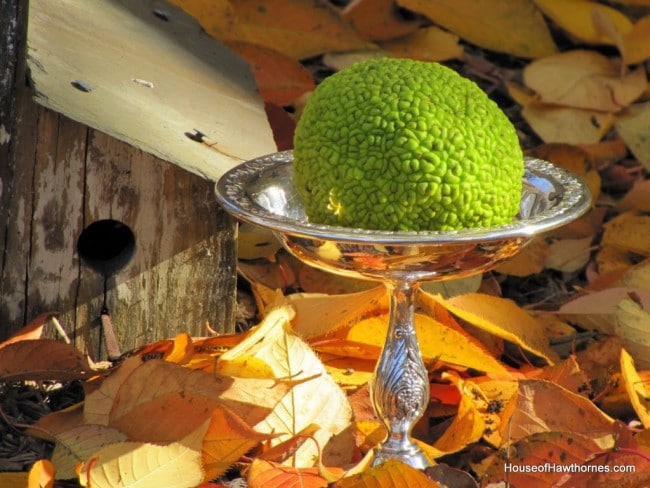 Well, I will admit that I felt a little foolish walking out the door to take these photos. Camera around my neck, silverplated dish in one hand and a piece of bumpy fruit in the other.
I was hoping the neighbor wasn't going to drive down their driveway and ask me what I was taking photos of. A bowl, why do you ask?
You see, I used to just take photos of my thrifty finds with the gravel driveway as a backdrop. Just sort of took the items out of my van, sat them in the gravel or the grass next to the driveway and snapped away.
Then I started to get all artsy fartsy and try to take photos in better locations. With more interesting backdrops.
Now I'm stopping my car alongside the road to pick up some hedge apples, because I can envision them looking cool in the silver bowl that I just bought. Let's rearrange that hedge apple so that the microscopic piece of dirt on it doesn't show. Oh, and wow, I can use the yellow tree as a backdrop, so I can take advantage of some of the fall foliage. And then if the leaves aren't quite in the right spot, I can throw some of them up in the air and see if they land in a more "natural" position on the ground.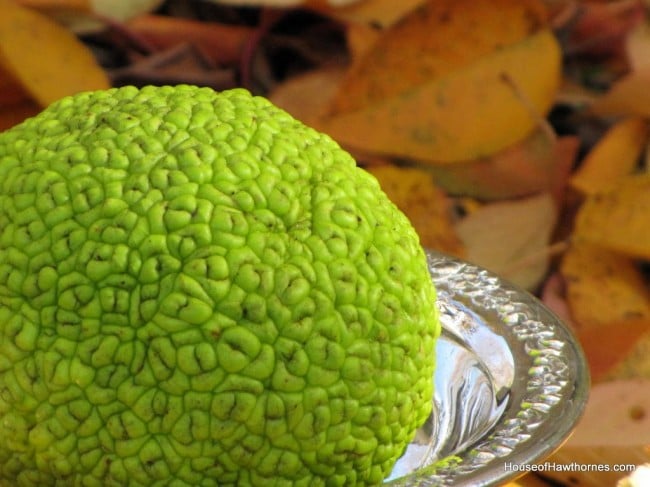 Where does this all stop? Am I going to try to make my trashcan look more photogenic by dragging it out to the flower beds? And then rearrange the garbage contents so that the macaroni and cheese box is at a better angle?
This whole photography thing is getting to be life changing. And slightly scary.
BTW, not saying I'll be stopping the artsy fartsy photos or anything. Just an observation on the life of a blogger.
Linking with Treasure Hunt Thursday at From My Front Porch To Yours and Farmhouse Friday at LaurieAnna's Vintage Home.