INSIDE: Turn thrift store baskets into outdoor planters in a few simple steps. They're an inexpensive way to decorate your porch for spring and summer. Find out how to make one here!
I've officially gotten the spring gardening bug. The only problem is it's still too early around here to plant very much in the ground.
But when you are a thrift store junkie it's always easy to find baskets and such to plant some early spring annuals in for a jolt of spring color on the porch.
On the porch, your annuals are much more protected and can be planted up in pots and baskets a few weeks before you'd safely be able to put them in the ground.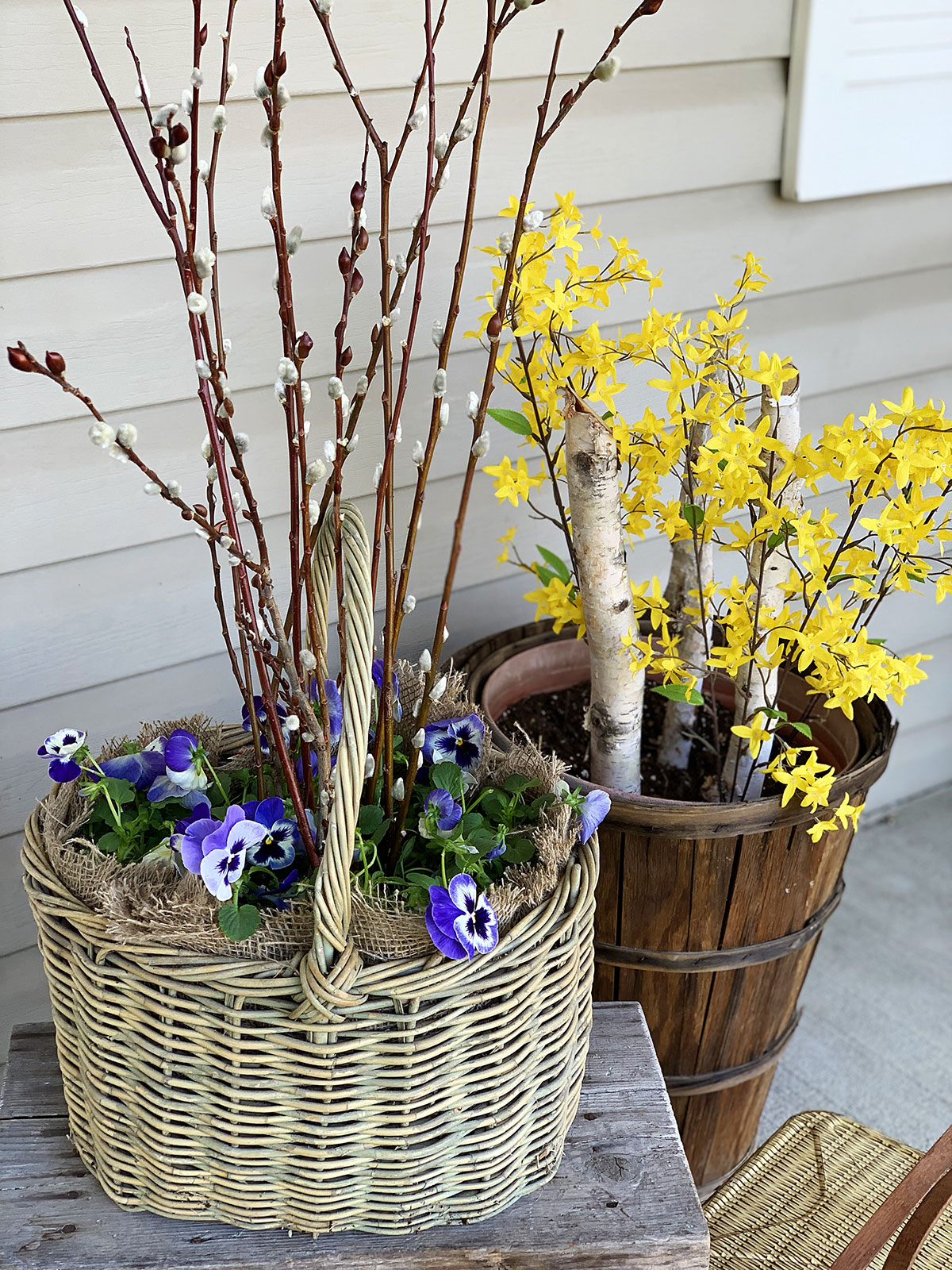 Today I'm going to show you how I prepare my baskets for planting so you can successfully make your own porch and patio baskets!
BTW, the pot to the back right of the pansies is similar to my Easy 5 Minute Porch Pot Refresh project from a few years ago.
(This post contains some affiliate links for your convenience. You can read my full disclosure policy here.)
How To Use A Basket As A Planter
Supplies
Basket
16-24 Pansies*
6-8 Pussy Willow Branches
Burlap Roll or Burlap Bag
Kitchen Garbage Bag
Scissors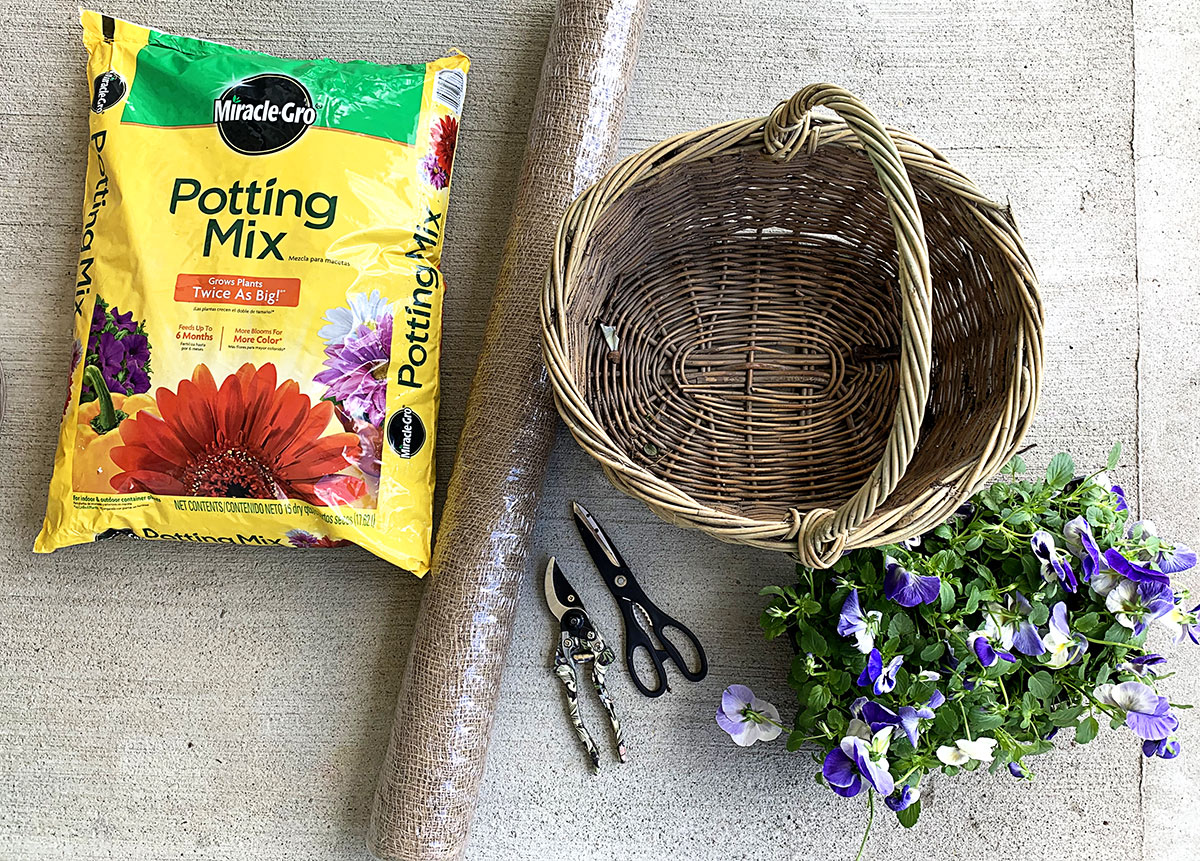 *OK, hear me out. Yes, 16-24 pansies is a whole lotta pansies for a basket! But around here pansies are a cool weather plant and by mid-June they will be leggy and not looking their best which generally gets them tossed out once the perky summer annuals arrive. So when I plant pansies in March and April it is for the instant gratification and the wow factor, not so much with proper spacing for future growth in mind! So yes, I use a lot of pansies!
Instructions
Time needed: 20 minutes
Step-By-Step
Cut Burlap To Size

The burlap is used to help hide the plastic bag so it doesn't show through the woven parts of the basket and also to help keep the dirt inside the basket.

If using a roll of burlap, cut out a section that will fully cover the bottom and sides of your basket. I cut out two pieces and layered them together to create a thicker lining (the burlap from the roll had a very loose weave).

You can also use a burlap bag or burlap from the fabric store for this project.



Line Basket With The Burlap

Loosely line the bottom and sides of the basket with the burlap leaving the extra hanging over the top. You will deal with that extra messy-looking part later.



Add Garbage Bag

Line the inside and sides of the basket with a garbage bag next. This is what will contain the dirt and help keep the soil moist.

Remember, the burlap is mostly decorative, the plastic is mostly functional.



Cut Holes In The Garbage Bag

I know I just had you put a garbage bag in there as a liner, but you do need to cut some small holes in the bottom of the garbage bag to allow water to drain a bit. Otherwise, water will sit in there and become stagnant (smelly) and may rot the plant roots.

Don't get crazy with the scissors, 4 -5 small holes no larger than an inch or so each in the BOTTOM of the plastic will do.



Add Soil

Put your potting soil in the basket.

If your soil is dry and fluffy, fill the basket halfway, pack it down a bit and add more soil to the top. Dry and fluffy potting soil will compact quite a bit when you later add water, so if you hand pack it down prior to planting your flowers will not sink down as much.



Plant Your Flowers

When taking your flowers out of the nursery packets spread out their roots a bit so they will branch out more and better absorb nutrients from the fresh potting soil.



Cut Back Burlap & Black Plastic

Now that you have your flowers planted use your scissors to cut back both the burlap and the garbage bag close to the rim of the basket.



Hide Plastic Garbage Bag

To hide the unsightly garbage bag fold it down and under an inch or so of dirt so just the burlap is visible.



Add Pussy Willow Branches

To add height and make this basket extra spring-ish I added 8 pussy willow branches to the middle. I used live branches I bought at the grocery store, but you could also use faux pussy willow branches from the craft store.



Water

Just water in the new plants and you are ready to display them on your porch or patio!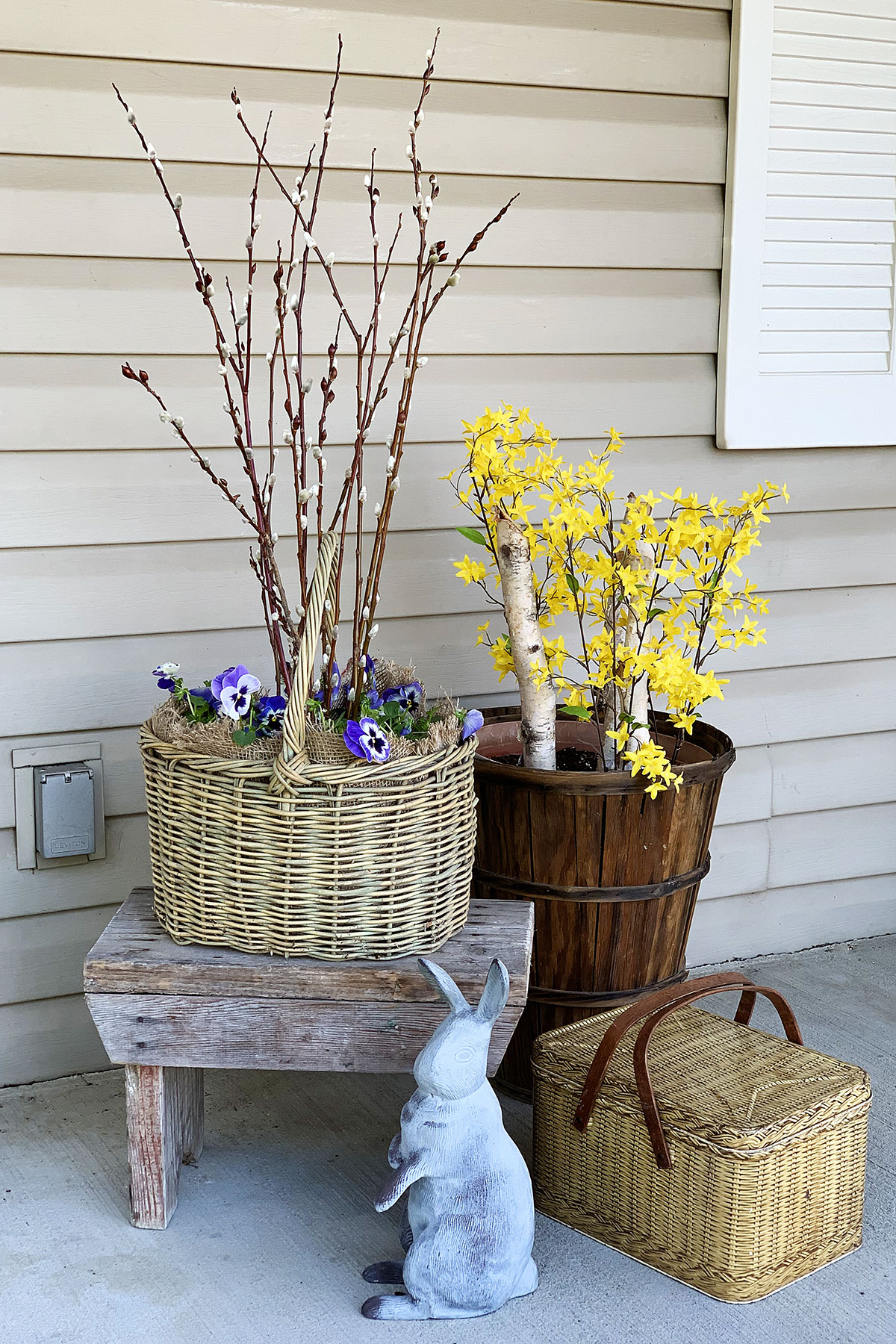 Frequently Asked Questions
Can You Plant Directly In A Basket?
Possibly - if the basket has a very very tight weave. And even then you will get water and soil runoff through the basket weave. It's never a bad idea to use a plastic liner to contain water runoff though.
How To Choose A Basket To Be Used As A Garden Container?
Look for baskets with a bit of depth to them. Although you can use shallow baskets for succulents since they don't have massive root systems, generally if you are using the basket for typical spring and summer annual flowering plants they will appreciate the extra legroom (rootroom?) of a deeper planter.

Whether it has a handle or not is up to your personal preference. It is never a good idea to use the handle to carry them around by though since the weight of the potting soil and plants are probably more than they were designed to hold.
How Long Will A Basket Last When Used As A Planter?
If used only during spring and summer and taken inside in the winter, you can expect a basket to last 2-3 years. With that said, I have had some baskets last 5 years, but those were always under the cover of the porch and not directly setting in the elements whatsoever.

If used year-round and setting out in the elements, you can expect them to last 1- 2 year max. After that the bottoms will tend to rot out and the wicker will become brittle.

You can spray the basket will an outdoor sealer if you want to try to keep them longer - a good choice is Rust-oleum Varathane Sealer for Outdoor Wood. But really since they are so cheap and so abundant at the thrift stores, I normally just let them live their true life and buy new (thrift store) ones every few years.
What Plants Can You Plant In Baskets
SPRING:
Pansies
Daffodils, Tulips and Hyacinths
Primrose
SUMMER:
Geraniums, especially the trailing varieties
Impatiens
Begonias
Succulents
Various Herbs - Chives, Mints, low-growing Basil
FALL:
Mums
Asters
Cabbage or Kale
Pansies (I'm not a fan of pansies in the fall, but some people swear by them)
Do you like using baskets in your flower gardens?