I like to make my own wreaths. It gives me greater control over colors and such and I can usually make one for a fraction of the cost of buying a premade one.
Sometimes I make traditional wreaths like my dried hydrangea wreath and my boxwood wreath.
Sometimes they're a little more "unique" like my watering can wreath (that lights up!!!), my wreath made from a dustpan and my tobacco basket birdhouse wreath.
Since this wreath is going to take me from spring to summer, I wanted something fun, so I decided to make a more unique/less traditional one this time around.
✨ BTW, today is Thrift Store Decor Wednesday, so make sure you hang around to the end of the post to see the rest of the team's thrift store repurposes for the month!
Upcycled Straw Purse Door Wreath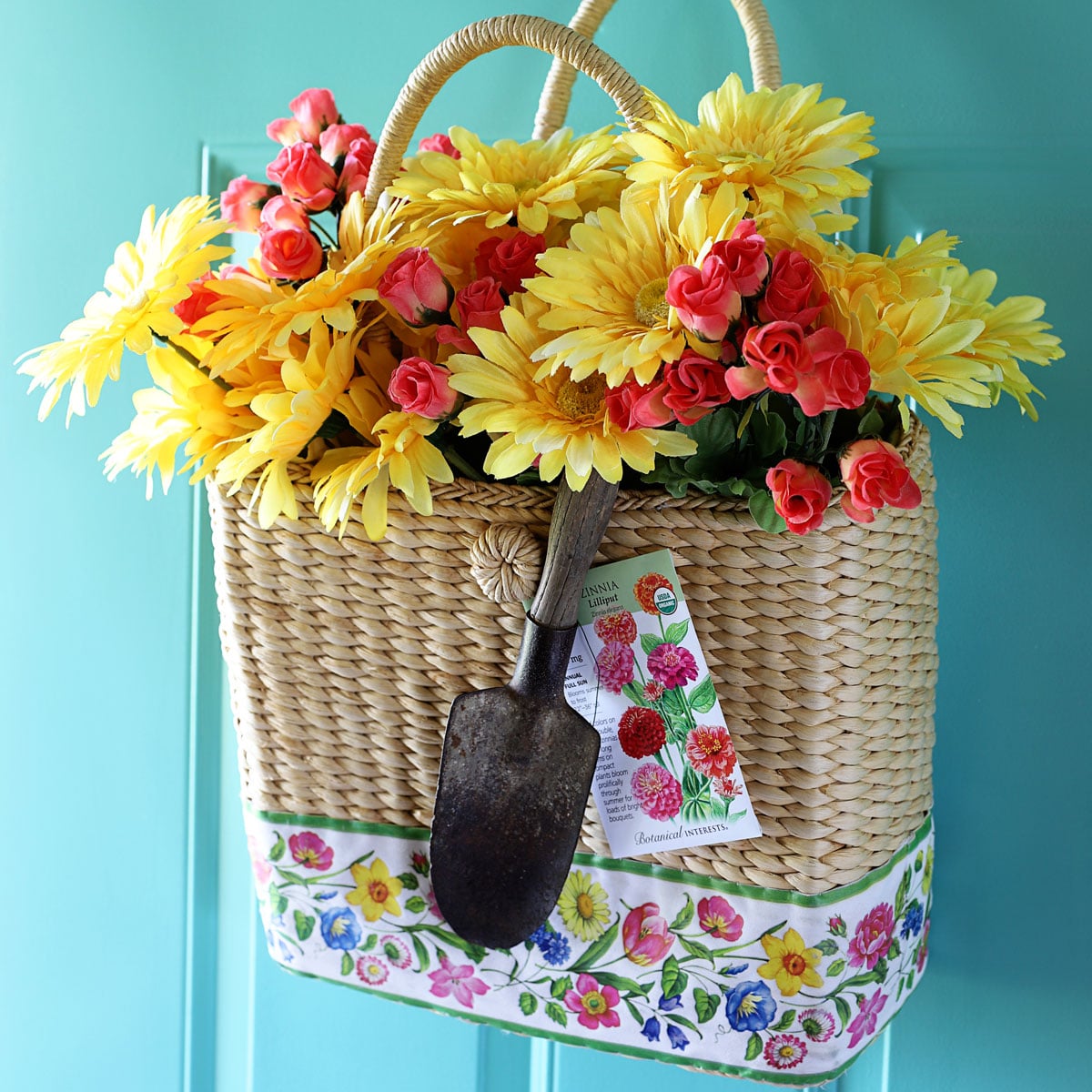 (This post contains some affiliate links for your convenience. You can read my full disclosure policy here.)
Supplies
Straw Purse (head to the thrift store or your closet for these, they're pretty common at the thrift stores this time of year)
Faux Flowers (I bought mine at Michael's on sale and with a coupon)
Optional
Gardening trowel
Seed Packet
Block of Floral Foam
Plastic Forks (you'll see why)
Instructions
OK, this wreath is so easy to make and self-explanatory I wasn't going to bother doing a tutorial on it.
But when did that ever stop me?
I found the straw purse in the clearance section of a local shop I frequent far too often. It's a Claire Murray from a few years ago.

Pretty much perfect for a spring or summer wreath!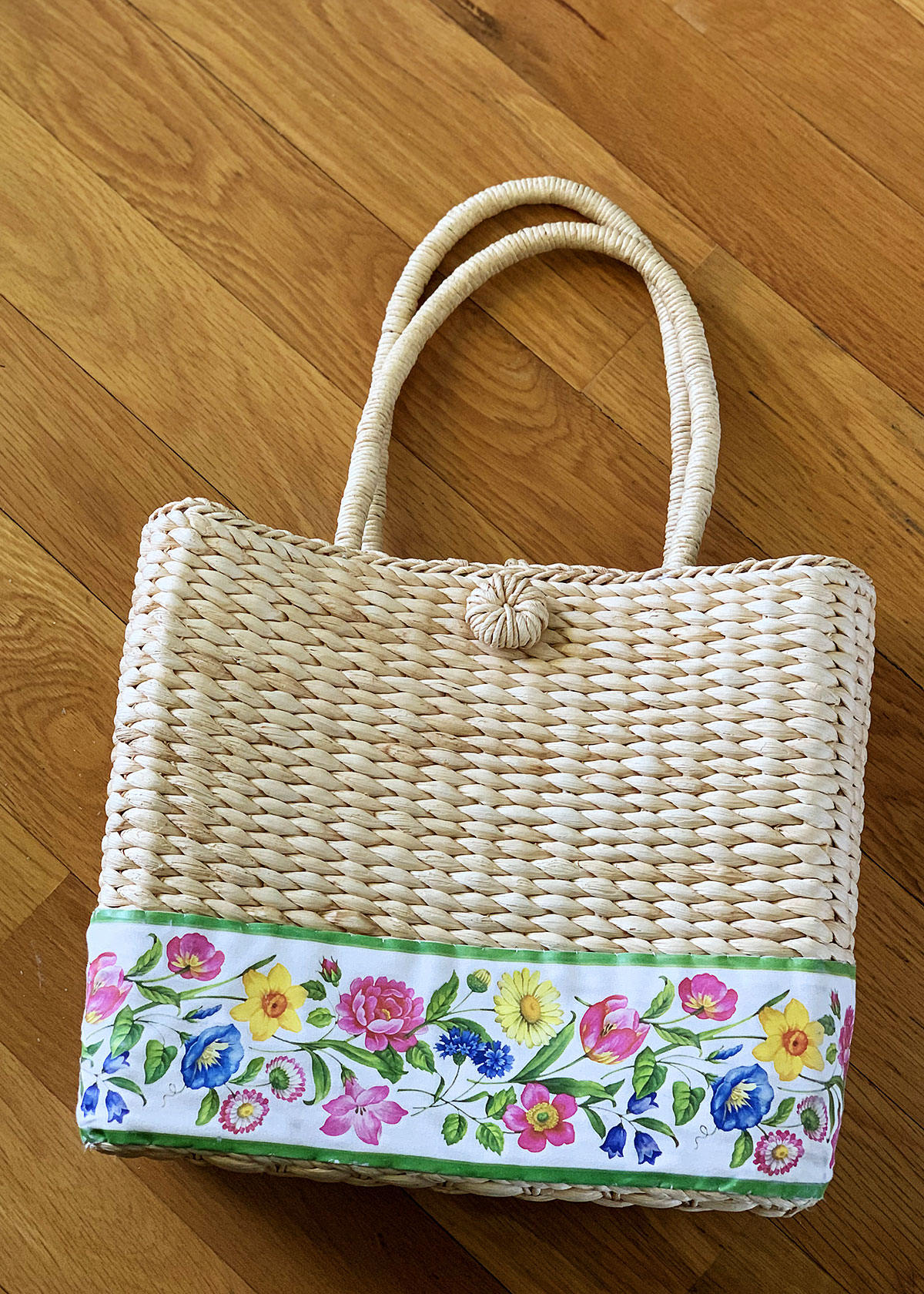 BTW, I refuse to look on eBay or Etsy to see what the purse is worth just in case it's a rare find. But I only paid a few dollars for it and I already had it in my mind I was going to be making a wreath out of it.
PRO TIP - You can achieve the same look by taking a plain straw purse and gluing a patterned ribbon around the bottom!
I bought an assortment of spring and summer faux flowers at Michaels.
I ended up not using the blue and purple ones because they were giving off too much of a 1980's vibe. So I'll just return those flowers to Michael's in the next few days.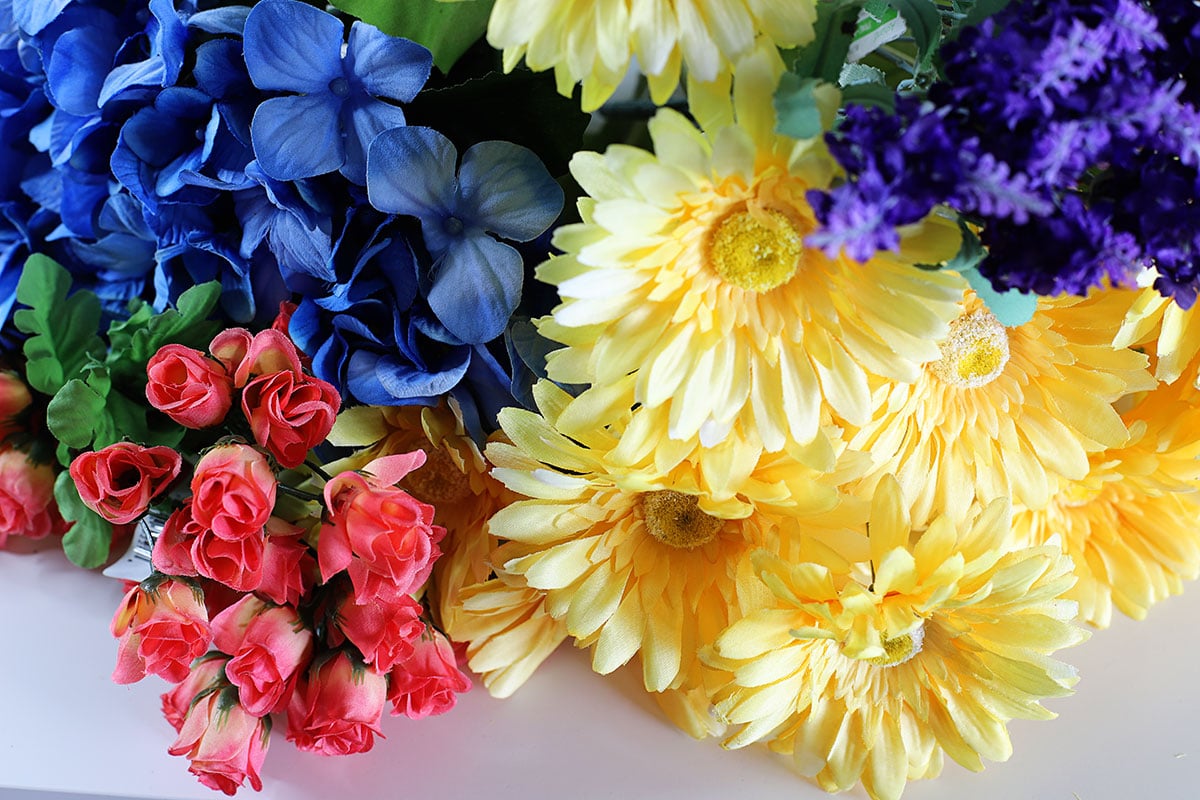 The flowers I used were 2 yellow daisy gerbera bushes and 3 dark coral rose bud bushes.
And here comes the super-intensive tutorial - put the flowers in the purse.
That's pretty much it.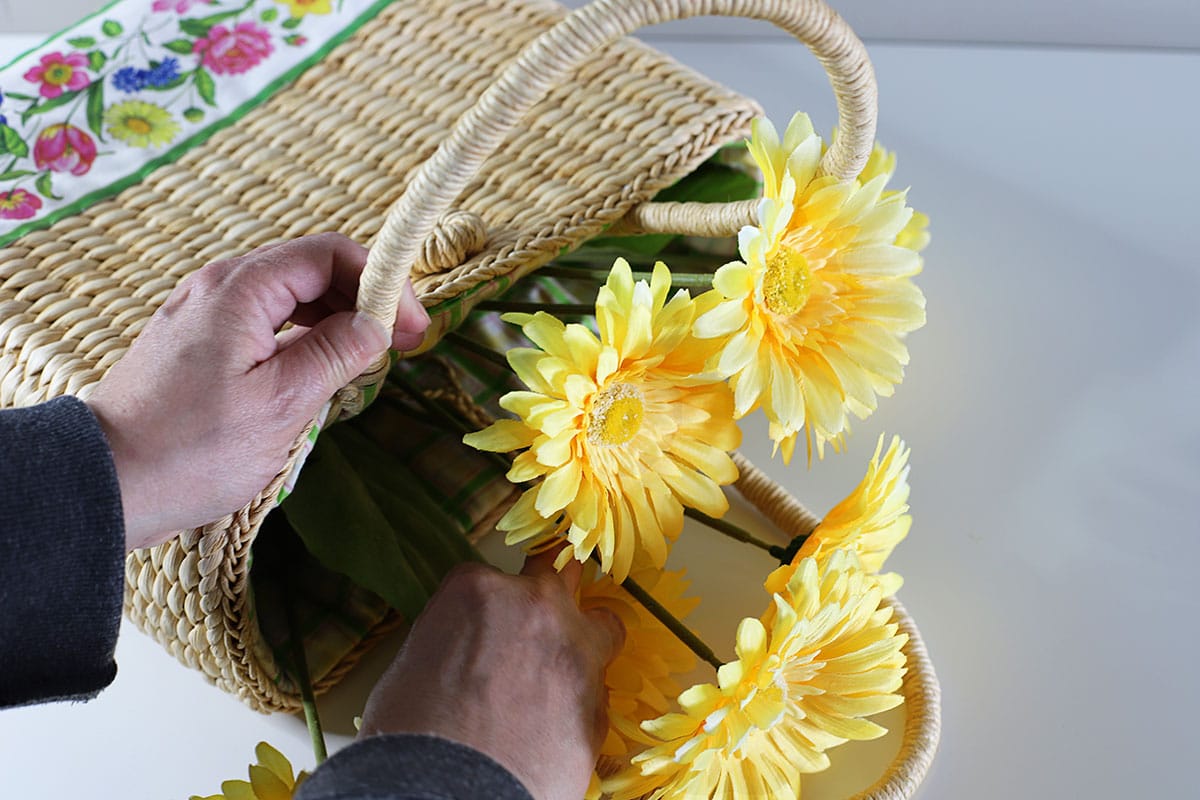 When you get the faux flowers from the store the stems are sort of smashed together. I just spread them out a bit when putting them in the purse.
If your purse is larger, you can use a block of floral foam in the bottom to stick the stems in, but in my case, the flowers sat nicely in the bottom.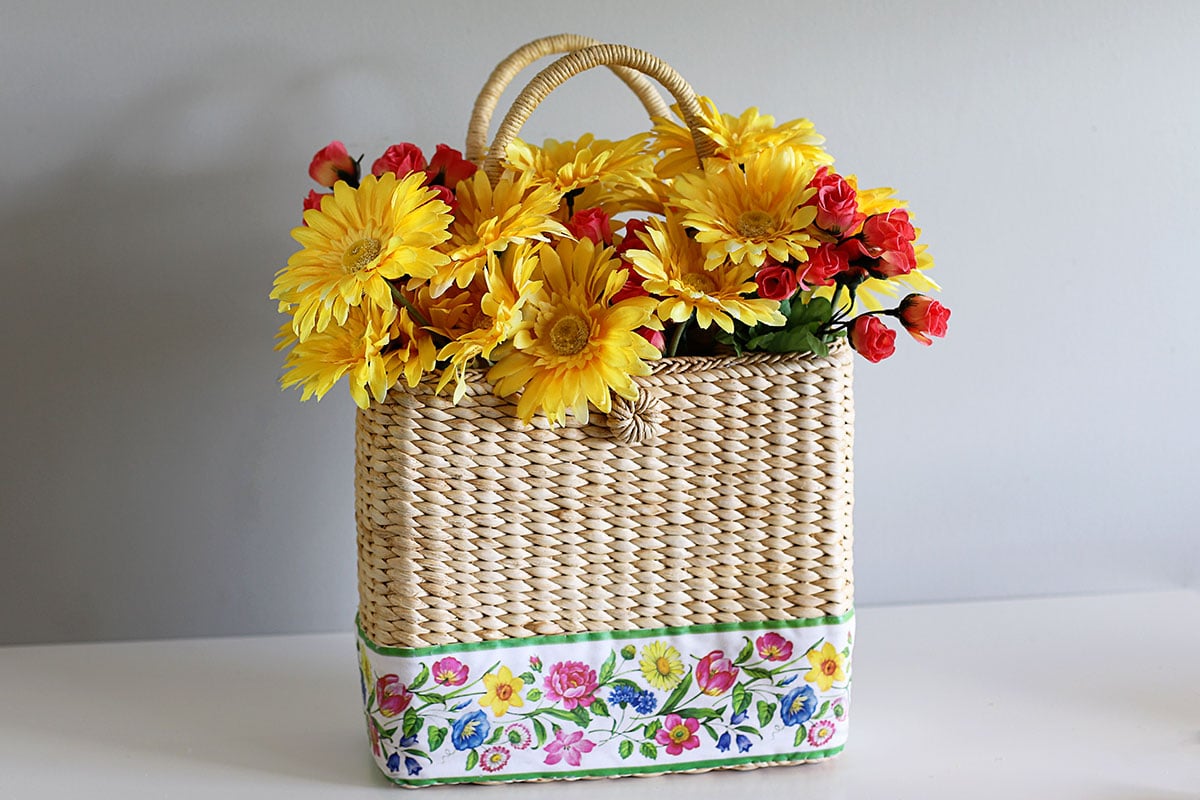 At this point I thought I'd be done with my 5 minute upcycle, but I felt the "wreath" looked a little too plain.

So I scoured the house and found an old wooden garden trowel and a pack of zinnia seeds to add to the look.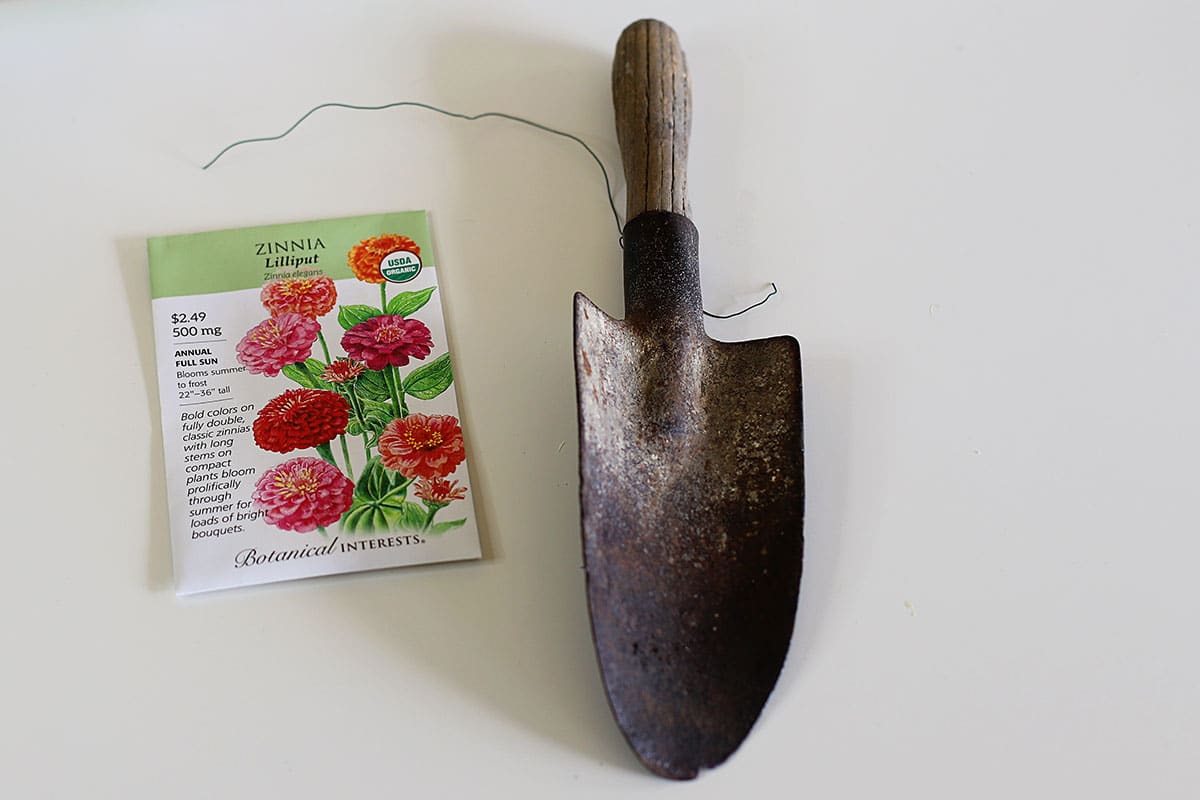 I just wrapped floral wire around the handle of the trowel and then wound the other end of the wire around the purse button closure.
Then I hot glued the packet of seeds to the back of the trowel handle (probably should have taken the seeds out BEFORE I glued the packet to the trowel).
Much better.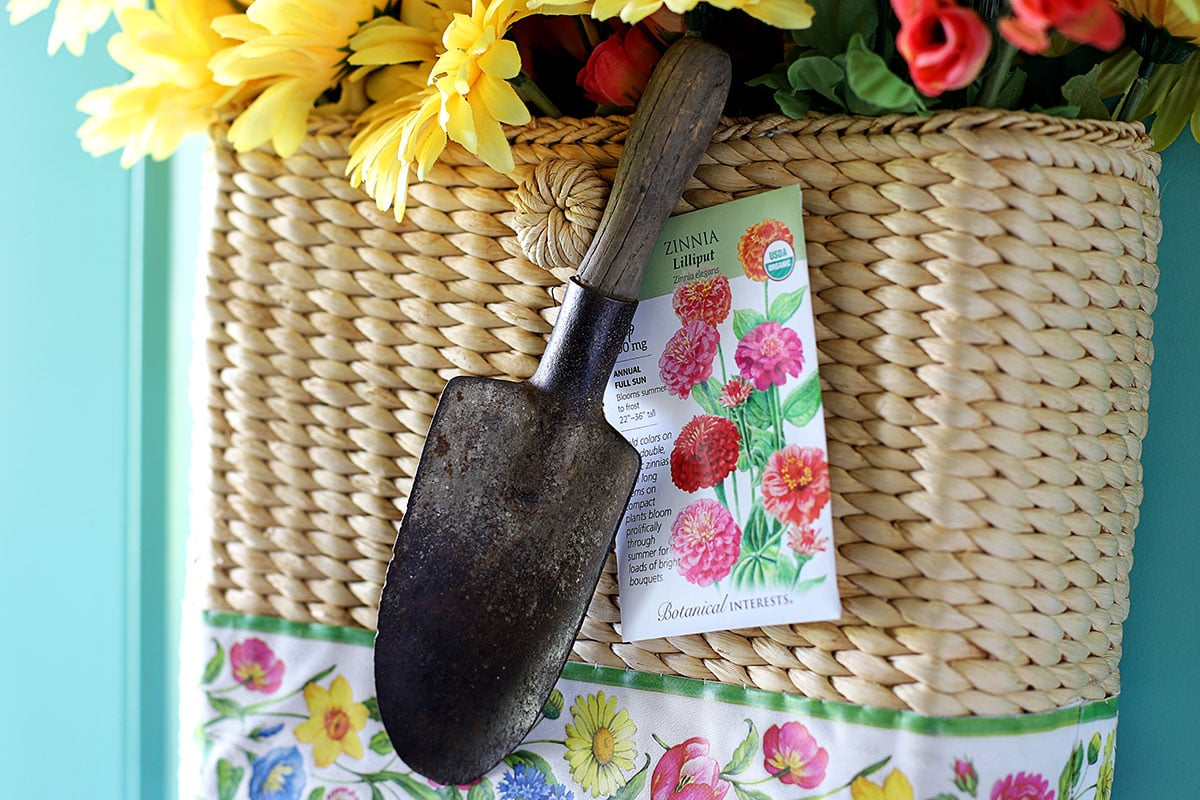 About Those Plastic Forks
So let's talk about those plastic forks.
We are blessed to have TONS of all different types of birds in our yard. Everything from Cardinals to Robins to Blue Jays. We even have those intensely annoying and ugly Grackles who eat all the birdseed out of my feeders in about 5 minutes.
But to go along with ALL THE BIRDS is the fact that I cannot have anything nice on my porch without them building a cute little nest and then proceeding to poop all over everything including the front door. Ew!
So a couple of years ago I started putting forks in any wreaths I put on my porch and they do a pretty good job of keeping the birds from nesting in my wreaths.
No one wants a pointy object poking them in the butt, now do they?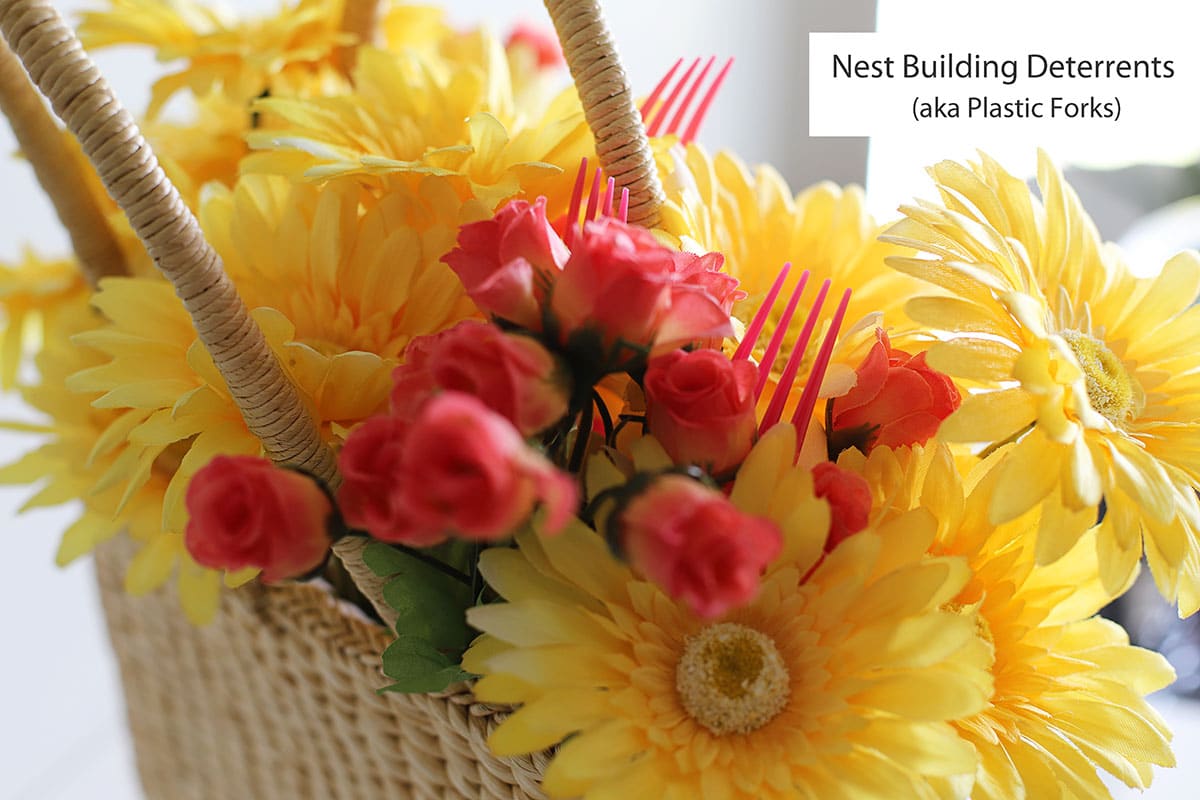 And before anyone calls me out for being a bird hater, I love the little things, but they have more than enough places to build a nest around here.
Maybe in the large and fancy Purple Martin house (which has plenty of space since the finicky Purple Martins refuse to use it), one of our 5 nesting boxes or one of the 4 gourds I dry, clean and drill out for them every year.
Or hey, here's an idea - one of the 30+ trees we have in the yard!
And why anyone would want to build a nest on a door that opens and closes all the time and the Amazon delivery guy tosses packages at daily I don't know.

OK, bird rant over. I really do enjoy watching them. Just not on my porch.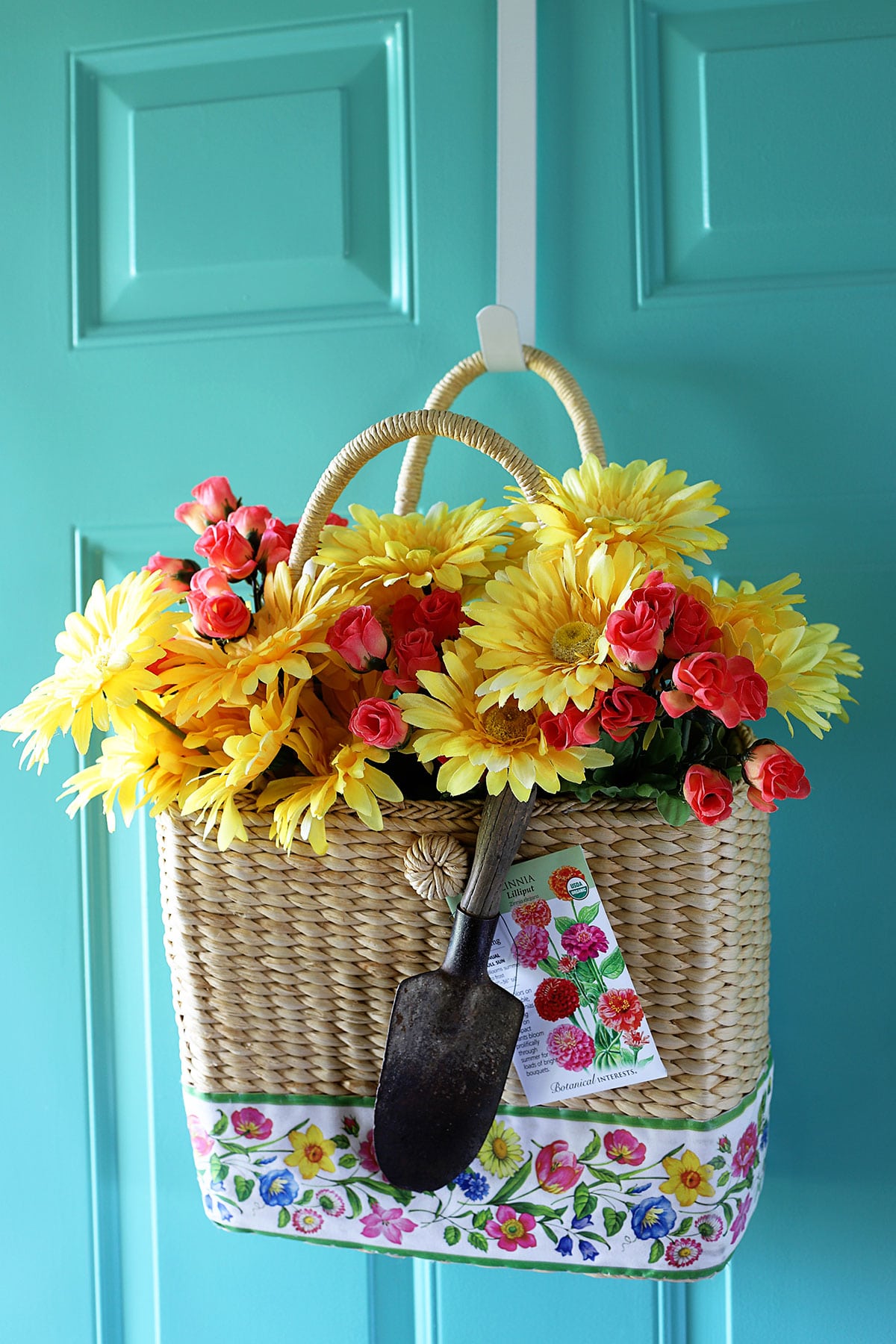 Thrift Store Decor Team Projects
Now let's go see what the other Thrift Store Decor Team members are up to today!
Mid Century Modern Table Night Stand Makeover - Organized Clutter
DIY Faux Concrete Bunny Rabbit - Our Southern Home
Weaving In A Circle On A Pizza Pan - Sadie Seasongoods
Vertical Herb Garden - Shop At Blu
DIY Oval Mirror Frame - Domestically Speaking
Repurposed Cabinet Door Flower Display - Petticoat Junktion
Wooden Bench Seat Makeover - My Repurposed Life
Summer Purse Upcycled Wreath - House of Hawthornes (that's me)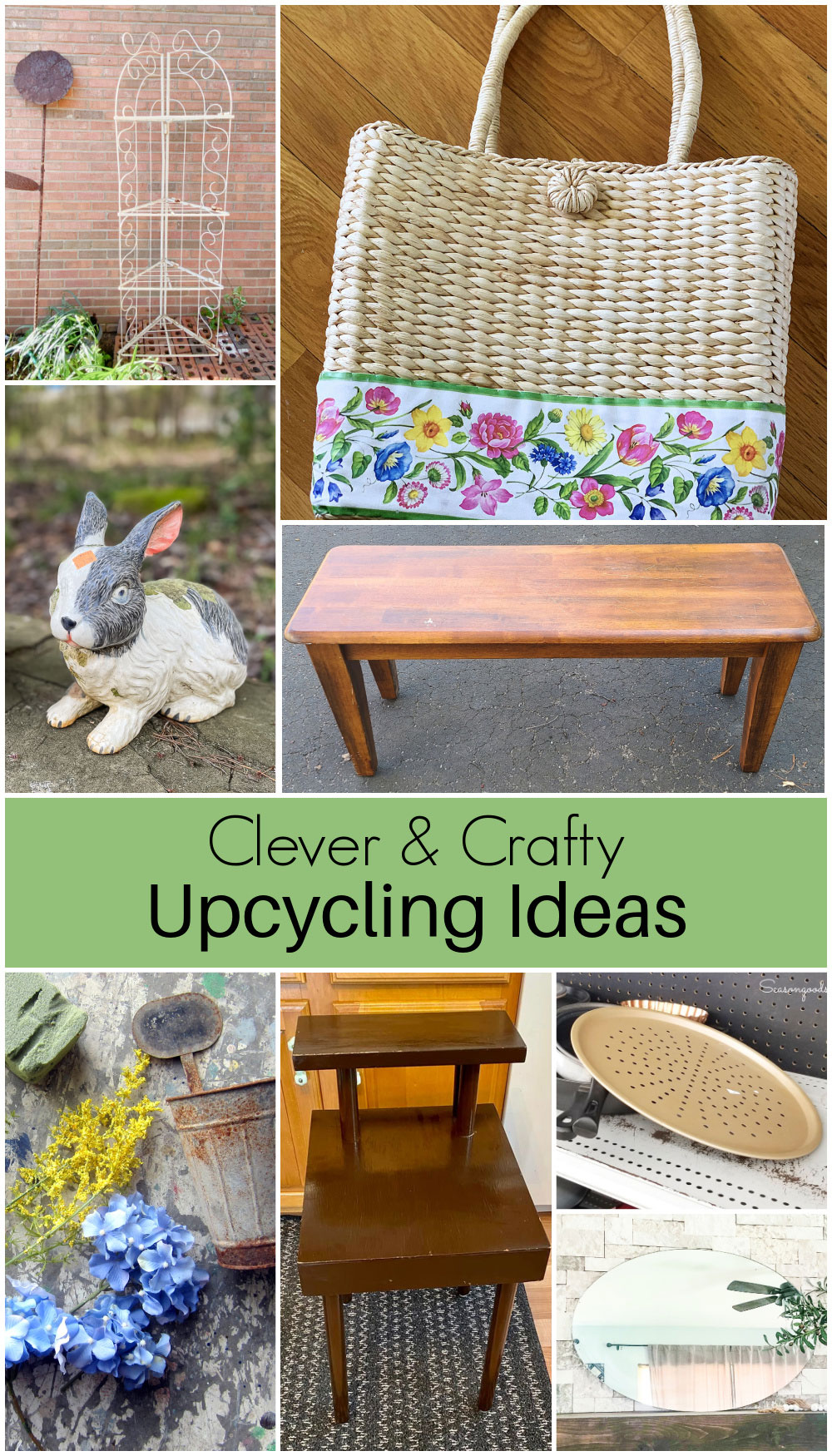 Check out the web story version of this article HERE.