Quick and easy spring porch pot inspiration for transforming your tired winter pots to beautiful spring porch decor. A great front porch decorating idea on a budget!
I decided to give my porch pot a little refresh for spring. Because it's the 1st day of spring and all. Yippee!!!
I'm all about using what you have and not spending a zillion dollars on something you're just going to change out in a few weeks, so instead of buying all new stuff for spring (who's got the time or money for that), I mostly worked with what I had or what I could buy for a few bucks.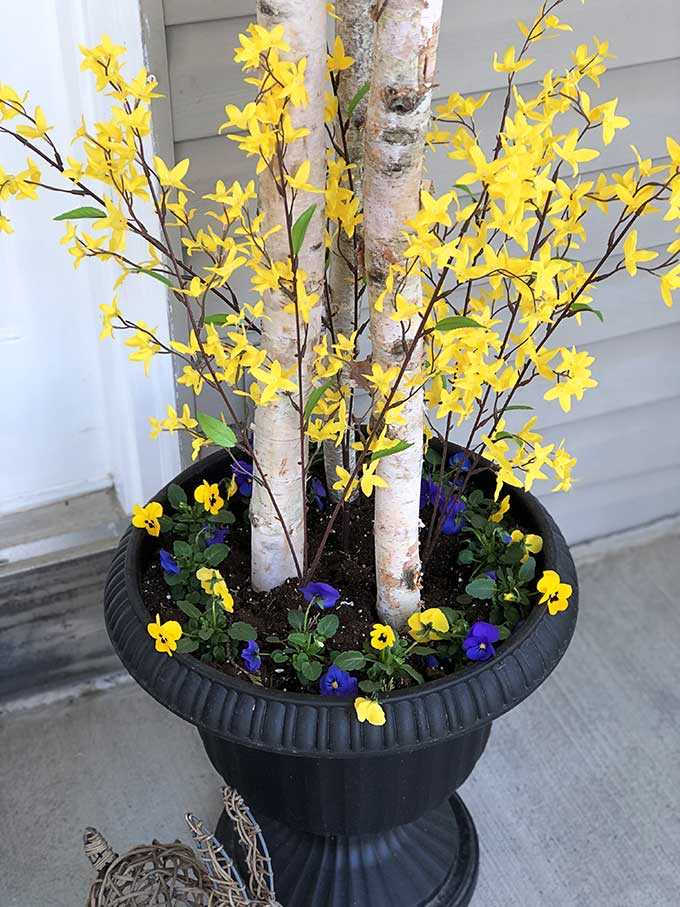 Now, the last time you saw my porch pot it looked very festive for the holidays.
Holiday Porch Pot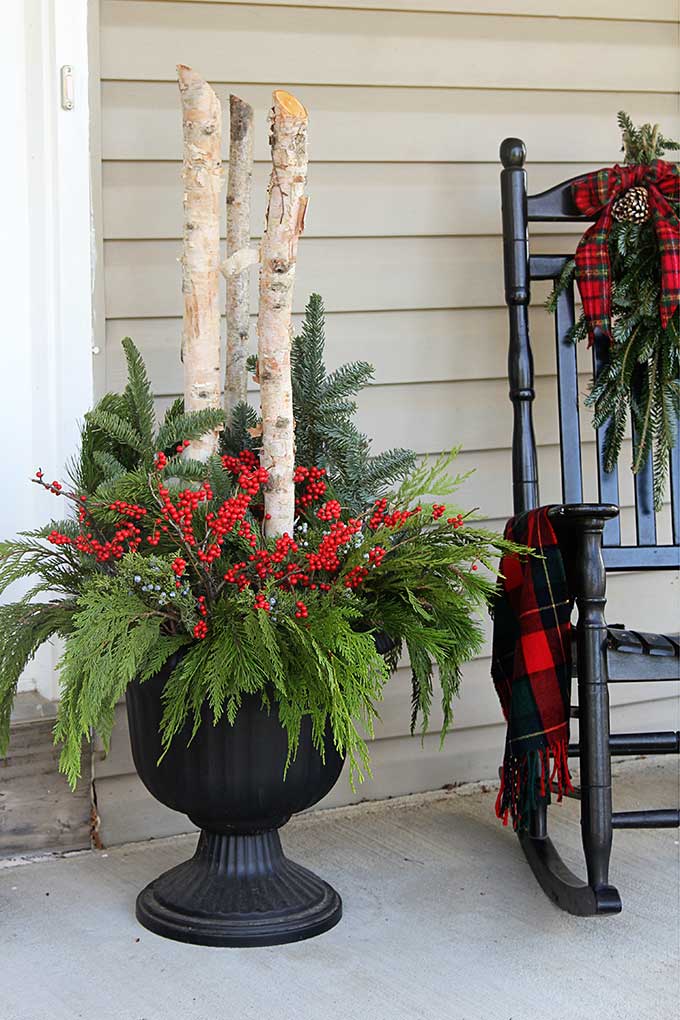 Ho ho ho!
I continued to keep the greens in my porch pot through the rest of the winter, since I don't like to have absolutely NOTHING on my porch after the holidays.
Winter is dreary enough without a bare front porch.
Winter Porch Pot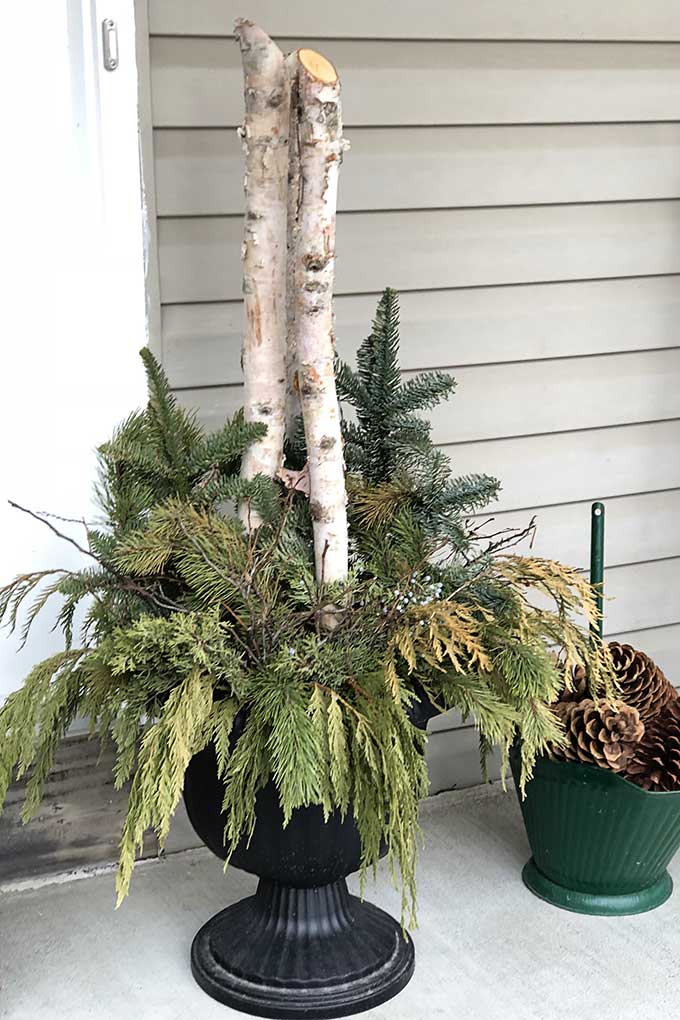 And actually the greens normally hold up really well until mid-February and only then slowly start to brown up a bit.
To be fair to them, I hadn't added any new water since I "planted" them on Thanksgiving (November 23rd).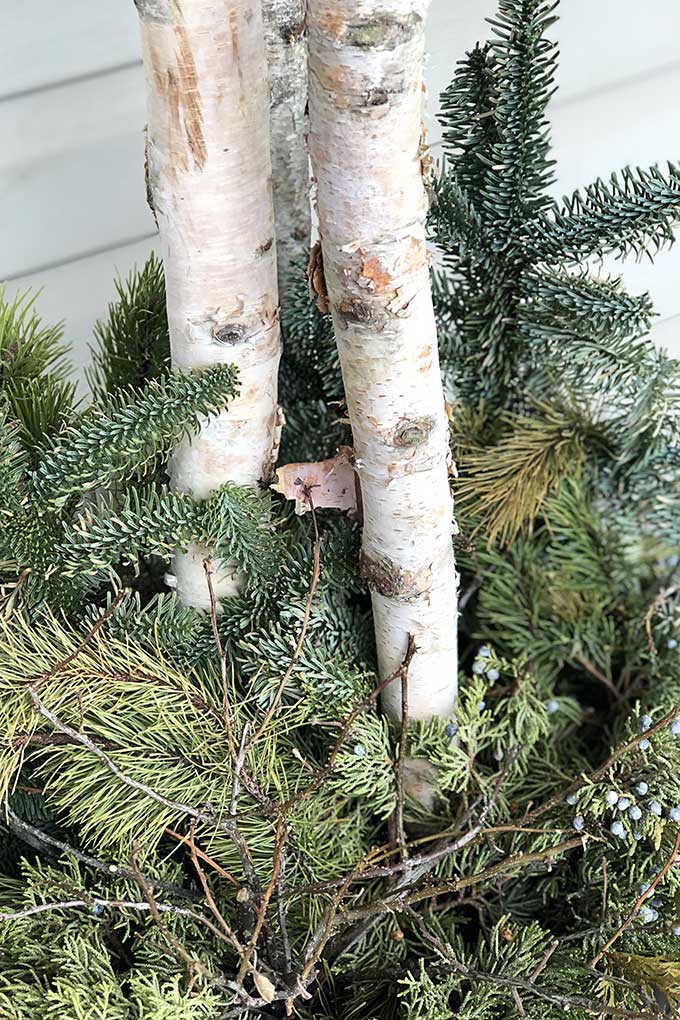 But now that winter is FINALLY over, I decided to clear out the greenery and was left with just the birch branches.
At first I was going to yank the birch out also, but then I got to thinking (I do that sometimes) and decided the branches could transition easily into spring.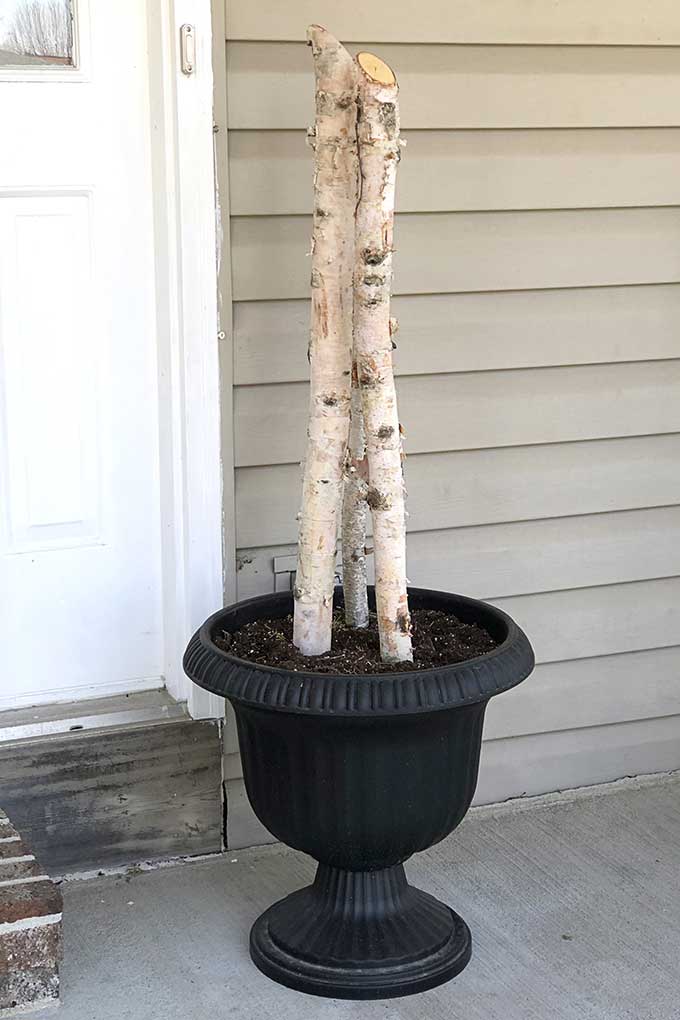 Trees = spring, right?
Spring Porch Pot
So I simply planted some pansies in a circle around the outer rim of the pot.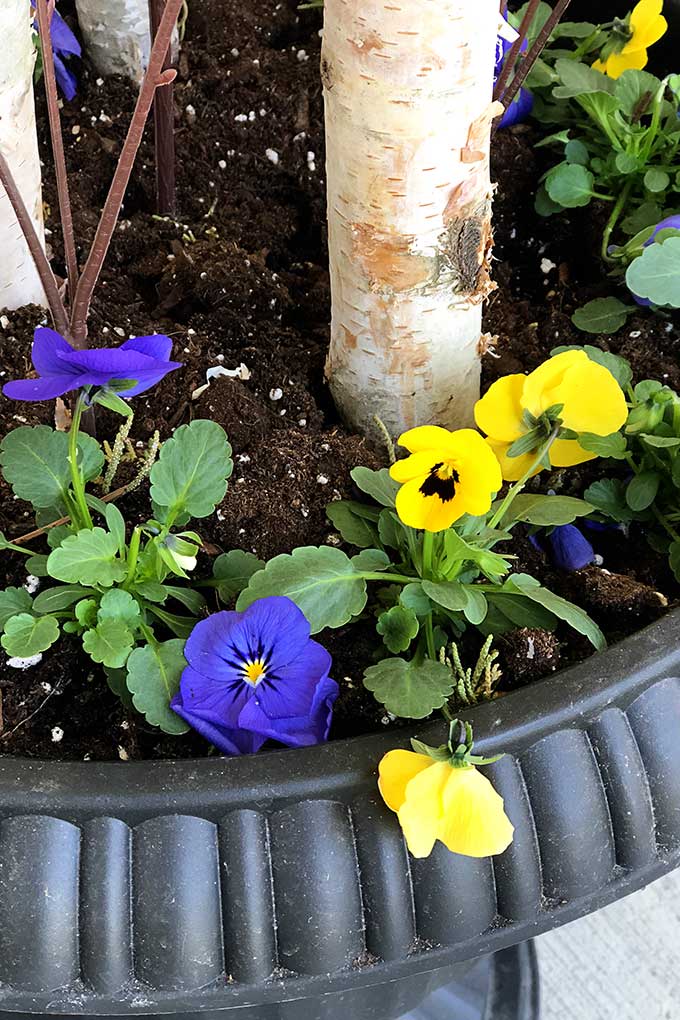 And tucked some very inexpensive fake forsythia branches into the center.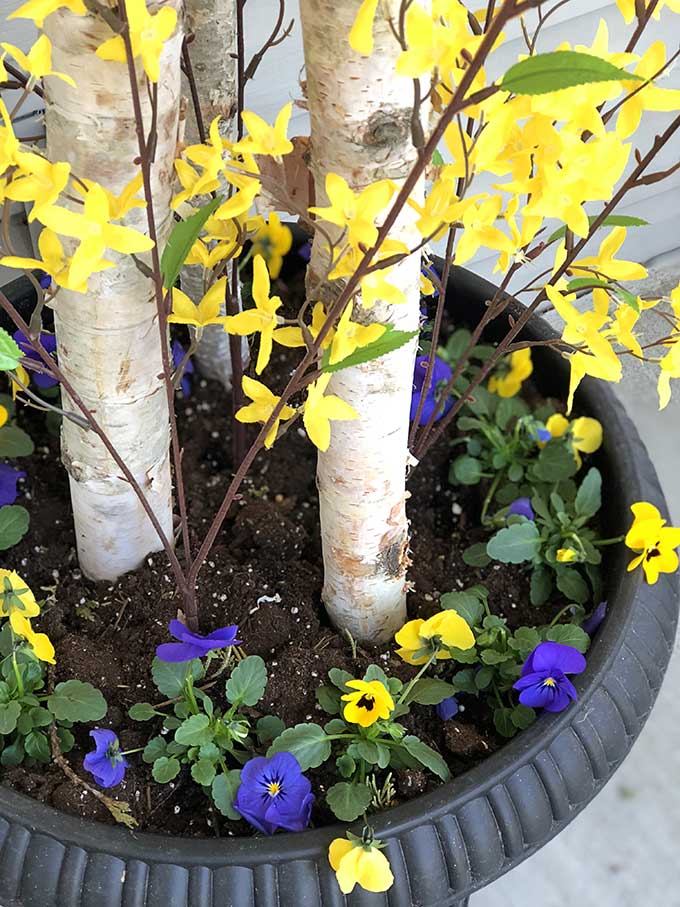 For half a second I thought about using real forsythia branches, but those wouldn't have lasted more than a week or so with the birds nesting in them.
Between the forsythia and the pansies I spent about $10.
$10 for a glorious burst of spring sunshine beaming down on my front porch!!!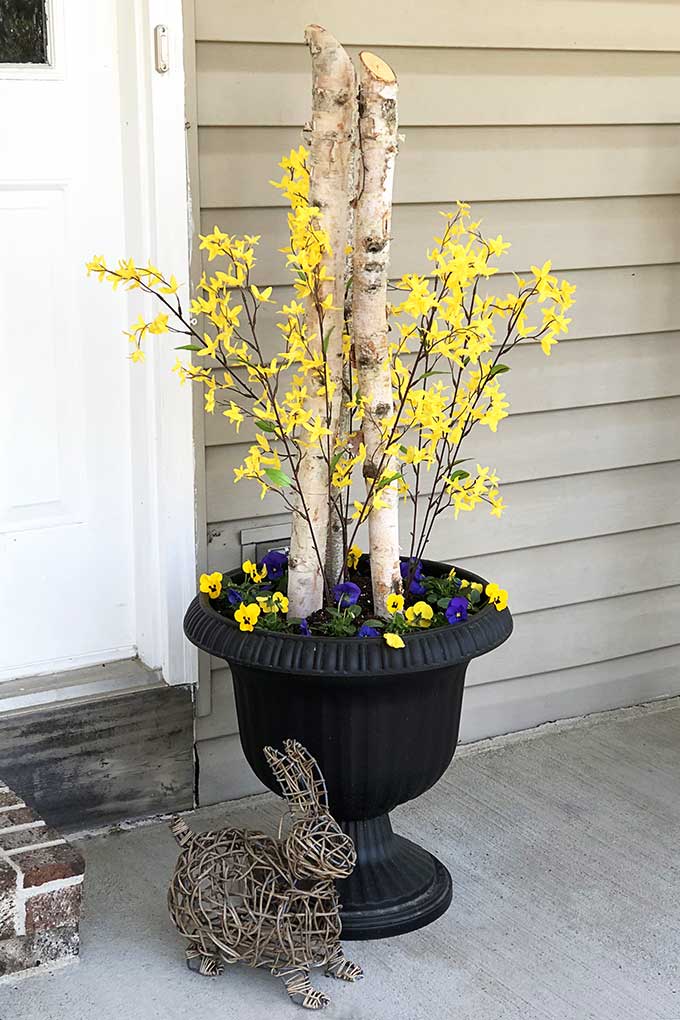 I really love the vertical interest and texture the birch branches bring.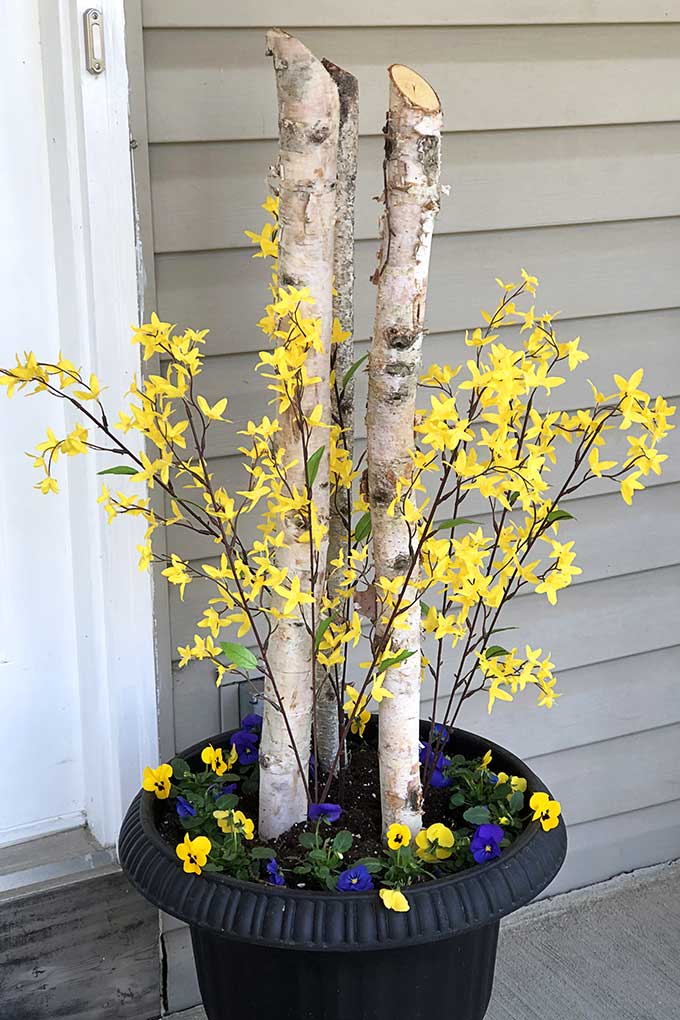 This little guy hopped onto the porch while I was taking photos (I know someone's going to ask where I bought him, but it was at Target YEARS ago).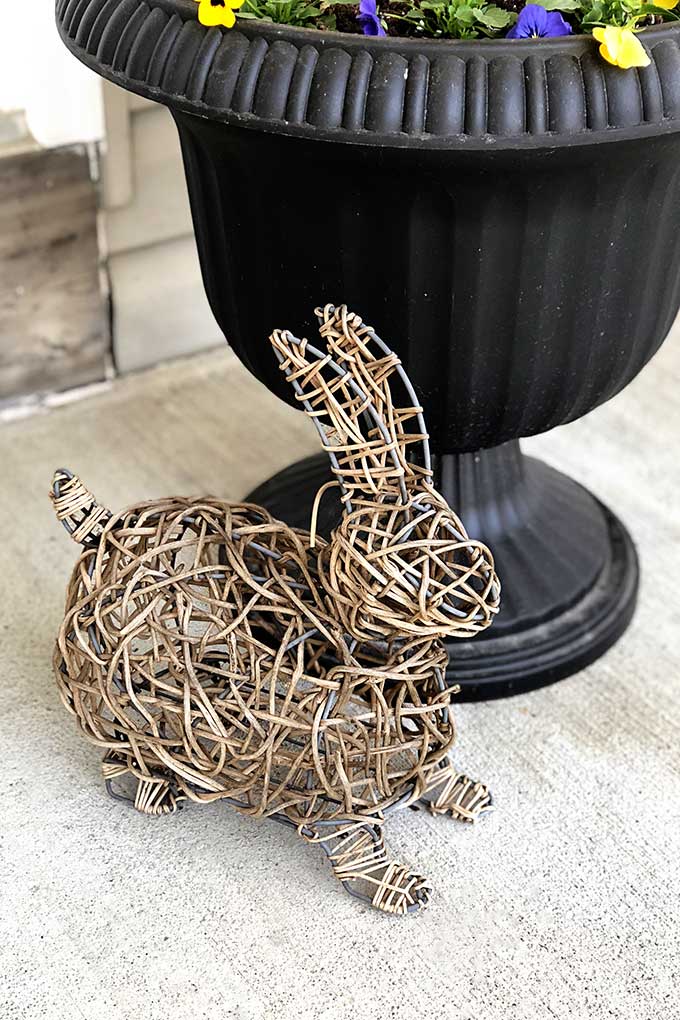 To top it off, I drug out my forsythia wreath for the front door that I have had FOREVER. Now I'm pretty much all set for spring.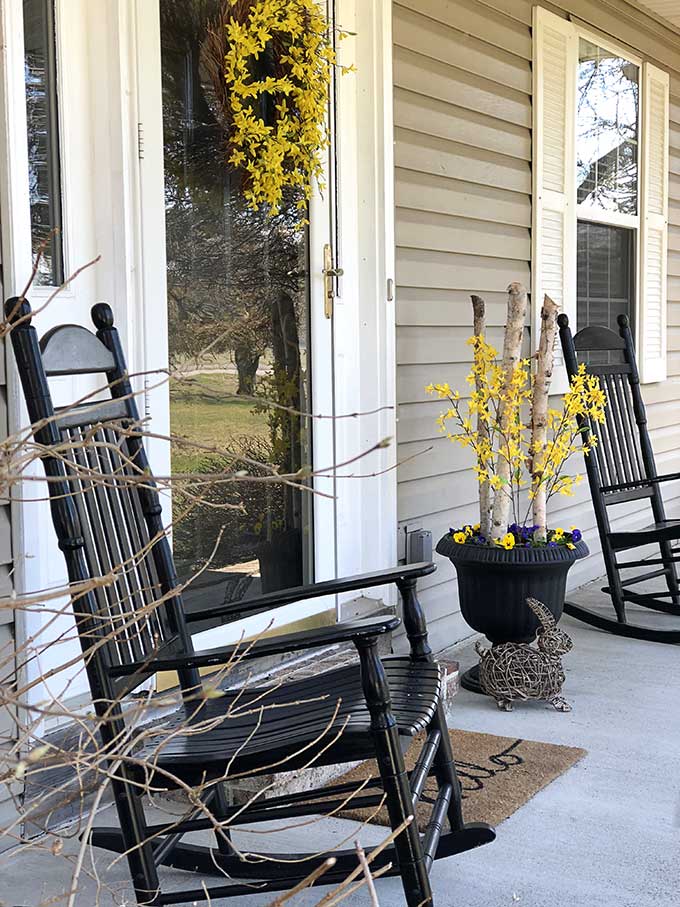 I didn't even try to get fancier than that, because spring pillows and a new doormat can wait until the weather warms up for good. OK, so I got tired of putting my rocker pillows in the dryer last year every time they got soaked by the spring showers!
BTW, both the rocker and pots can be found in my Amazon store, along with a super cute replica of the 1962 Barbie Dream House!!!

Do you decorate your porch for spring? Do you use what you have or buy new each year?
Other posts you may enjoy:
10 Porch Decor Ideas To Score At The Flea Market