The good thing about Pinterest is that you see all sorts of neat craft project that you just have to make.
The bad thing about Pinterest is that you see all sorts of neat craft project that you just have to make.
As in, they bug the bejeebers out of you and sit in the back of your mind nagging at your subconscious until you just have to run to the store at 9:00 at night to buy the supplies for the project.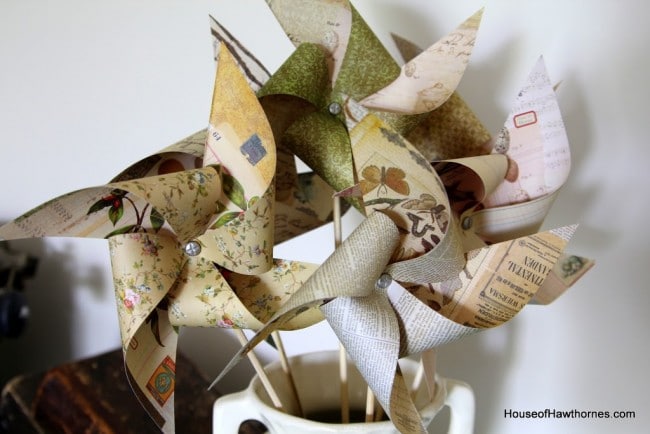 This was one of those projects.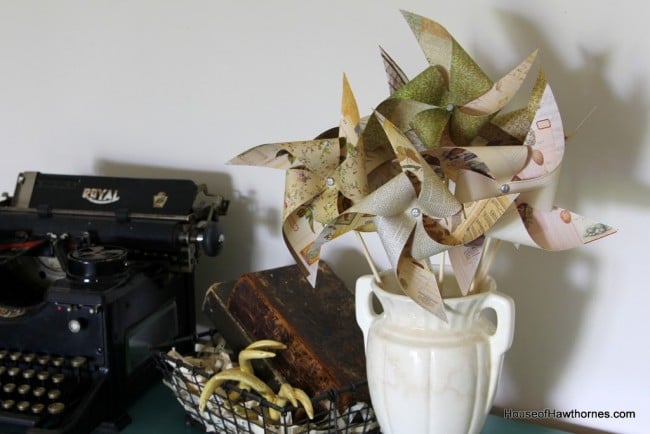 The supplies you will need are:
6x6 double sided scrapbook paper
wood skewers normally used for shish kabobs
scissors
ruler
paper hole punch
brads (found in the scrapbooking embellishment area of your local Michaels, JoAnns or Hobby Lobby)
a little bit of glue, if you are so inclined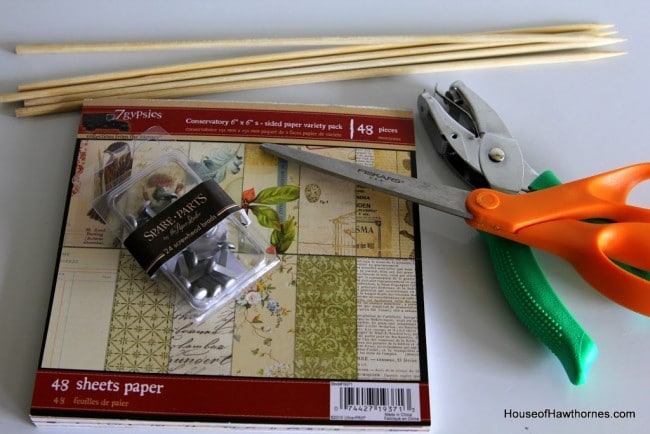 You could cut your own paper into the correct size, but the 6x6 paper was so darn convenient. The double sided paper is important, since you can see both sides of the paper when looking at the front of the pinwheel.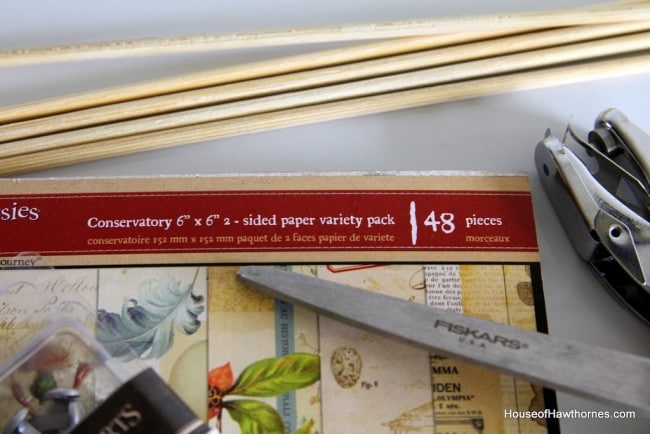 1. I folded my paper in half diagonally.
2. Then folded in half again. You could draw these lines instead, but I didn't want pencil marks on the pinwheel.
3. I took a pencil and put a teeny tiny dot 3" into the pinwheel (I know, there goes my pencil marks theory).
4. Cut 3" into each corner to that dot to create your pinwheel spokes.
5. Punch a hole in every other corner of the pinwheel.
6. Take the brad and thread it through the punched holes.
7. Until all holes are in the brad.
8. Push the brad through the middle of the pinwheel (I used a little knife to cut a slit so it wouldn't rip the paper).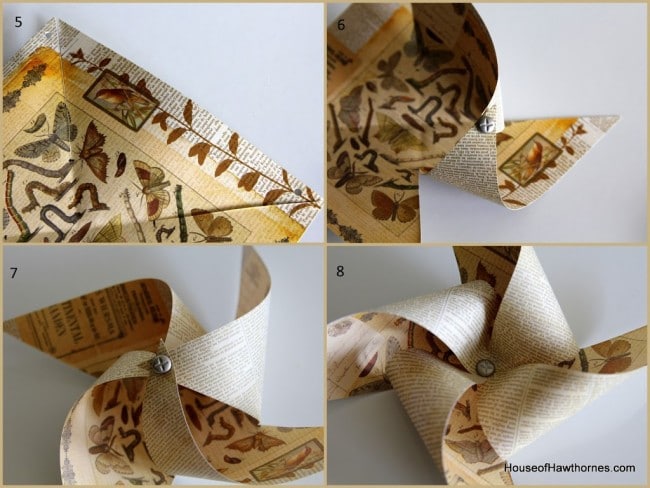 9. Turn the flaps of the brad over to hold the pinwheel together.
10. Attach your skewer to the pinwheel by folding the brad ends around the wood. You may need a tiny touch of glue to keep the pinwheel from sliding around on the skewer.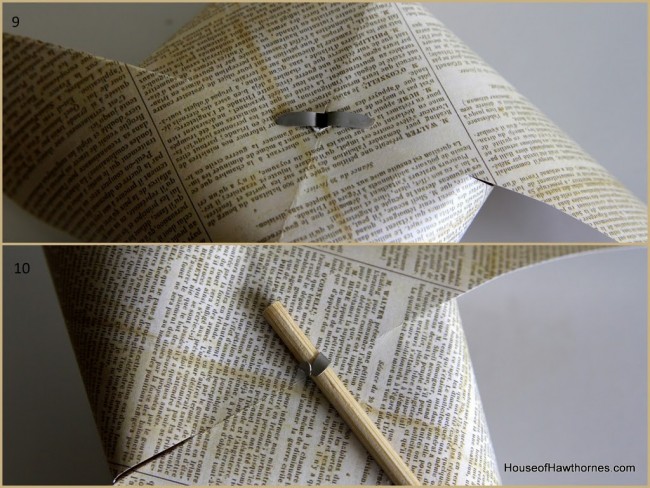 Voila. Pinwheels.
That don't really spin, but these are for eye candy, so we'll just ignore that little factoid.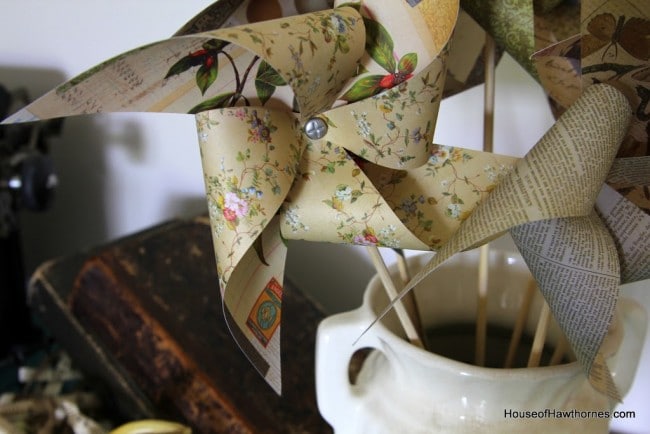 BTW, they make a zillion type of brads. All different sizes, colors and designs on them. I chose ones that looks like screw heads.
Your basic old fashioned all American slotted screws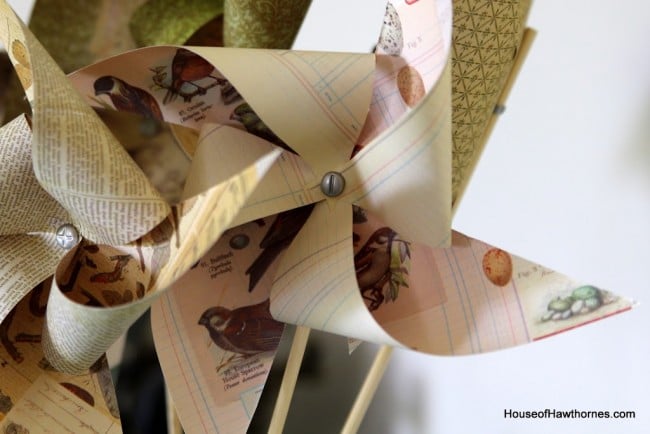 and your newfangled phillips head screws. Industrial pinwheels are all the rage.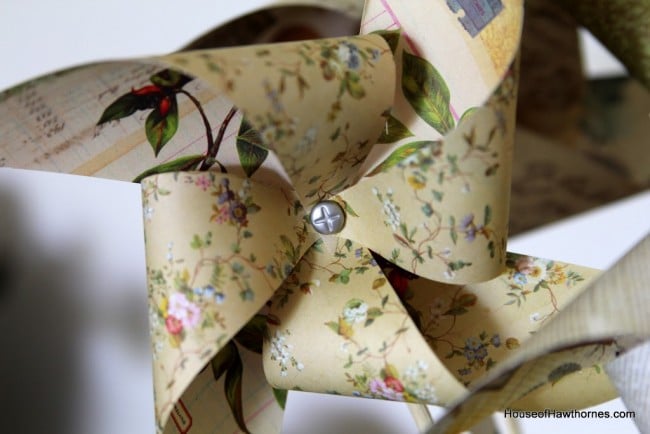 Happy pinwheeling!