You all know I'm cheap. Or I guess "thrifty" would be the trendier thing to say.
But when you have people coming over for holiday dinners, whether Thanksgiving, Christmas, Easter or whatever, you need pretty plates and you don't want to spend an arm and a leg for them.
So I thought I'd give you my suggestions for ways to find holiday dinnerware on the CHEAP.
Oh and before I forget, this post is part of our Farmhouse Friday series, so down there at the bottom you will find links to the other blogger's posts!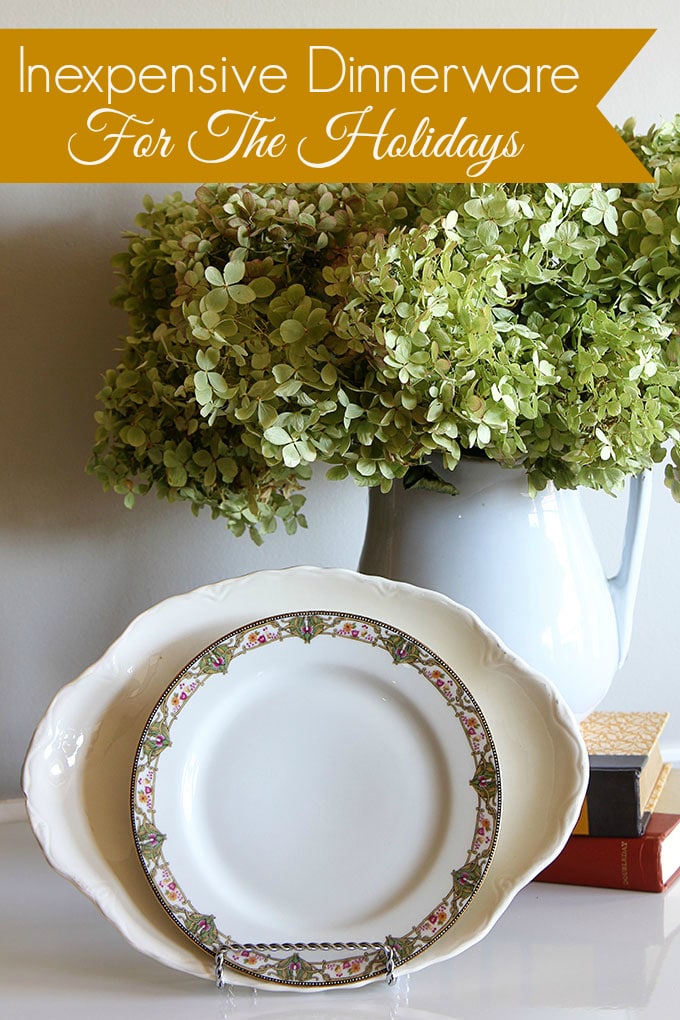 Finding Inexpensive Dinnerware For Holiday Dinners
Dust Off Your Wedding China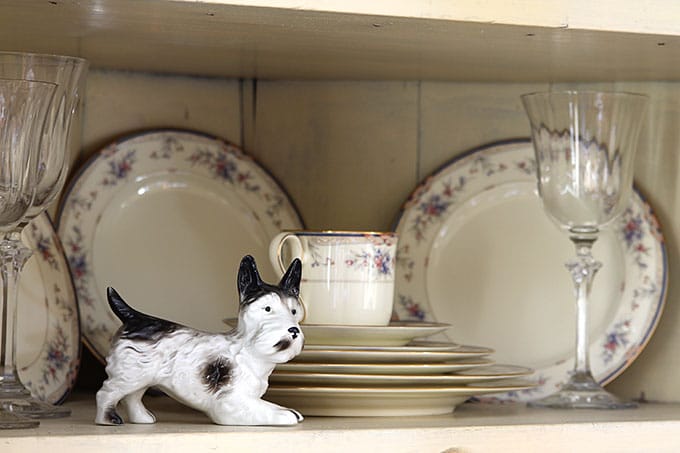 Yawn.
I felt I needed to start off with this, but when it comes to finding inexpensive dinnerware for your holiday get-togethers, there are so many more ways to go than the formal china of days gone by.
I mean, when was the last time you actually had a meal on your wedding china?
Mine is hanging out in my corner cupboard in the dining room and hasn't moved in years. It was EXACTLY what I wanted when I got married 20 odd years ago, but now it just seems too formal for my tastes.
See, I had to put a dog beside it to dress it down.
But if you have it and like it and want to use it, I'm not here to judge.
Oh, and in case you're wondering if I've gone nuts, it makes the "inexpensive" list because people bought it for you as gifts, you didn't buy it yourself. See, there is a method to my madness.
Mix And Match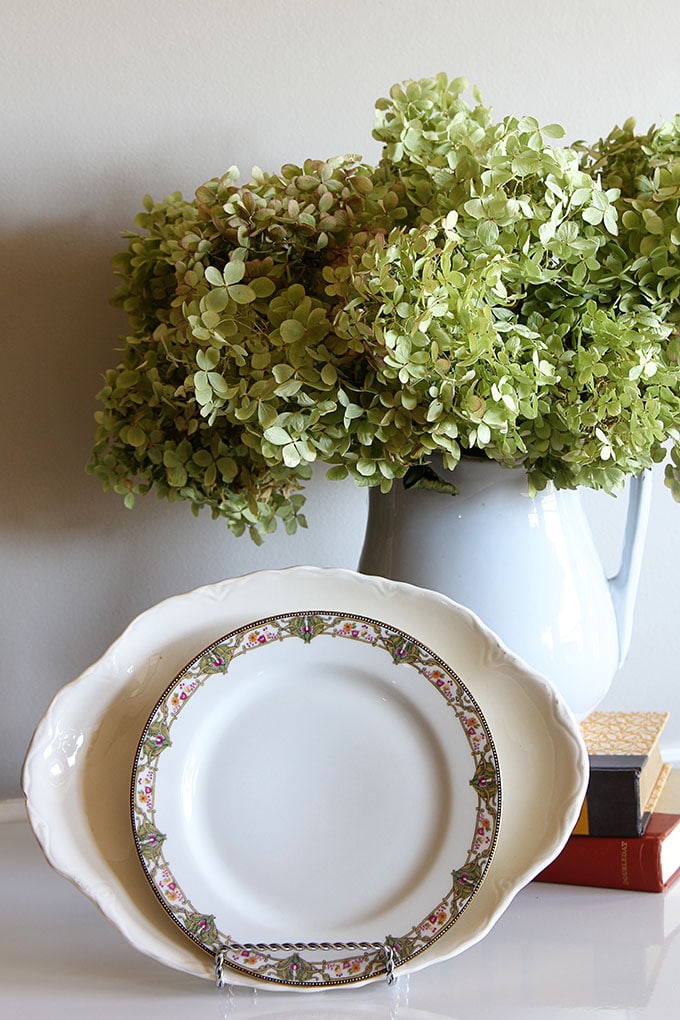 Nowadays, I am much more apt to use a piece of ironstone matched with some olded china. This is my MIL's china from the 50's matched with a thrifted ironstone platter.
The formality of the china salad plate vs the casualness of the ironstone works well together and has an eclectic farmhouse feel to it.
Family Heirlooms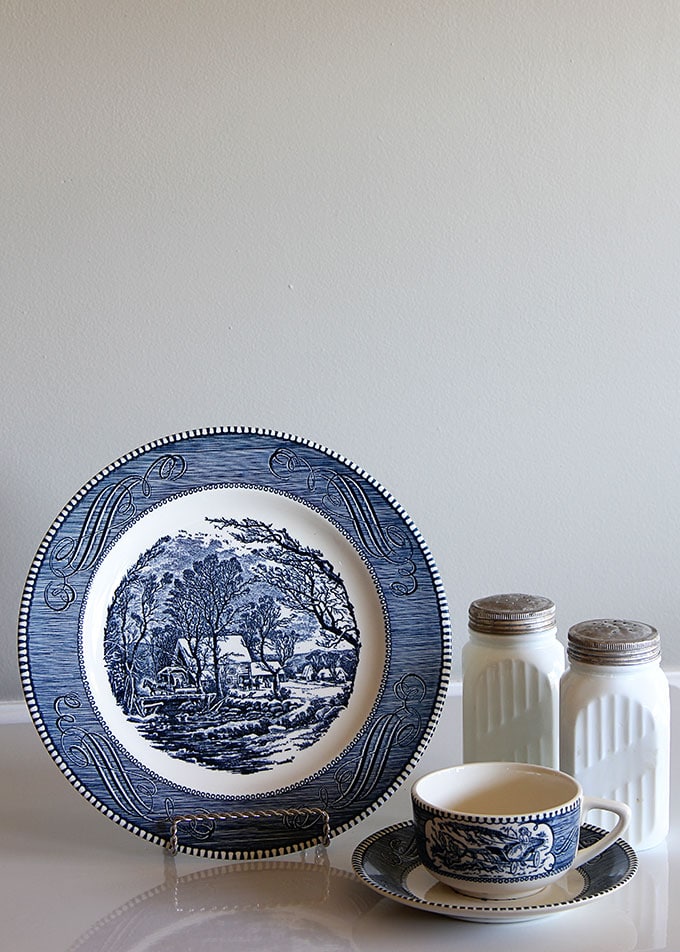 Another way to go is to use family heirlooms, like this set of my mother's Currier & Ives dinnerware by Royal China, which was given as a premium at A&P stores. As far as I can tell you got certain pieces for free when you were grocery shopping and then you could buy additional serving pieces.
And it means so much to me because it's what we always ate our holiday meals on!
It's not fine china by any means, but you see it ALL THE TIME at antique malls and thrift stores.
Thrift Store Finds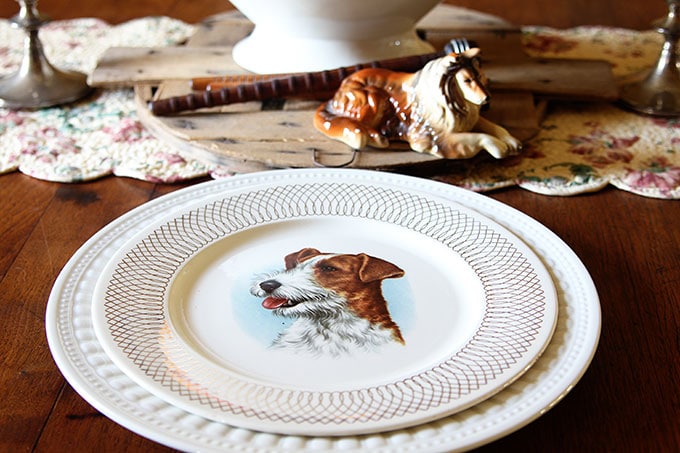 A fun way to build up your holiday dinnerware is to find items at the thrift store. A funky dog plate here. A set of more modern ironstone there.
It's as formal or non-formal as what you can find.
Just today, while getting in trouble at the thrift stores, I saw 4 sets of china just waiting for someone to nab them up. I don't think any of them were a whole set, but they were cheap and ripe for matching with other pieces.
BTW, old china is normally smaller than today's humongo dinner plates, so an old dinner plate can sometimes fit on top of a more modern plate to give you more bang for your buck.
Big Box Stores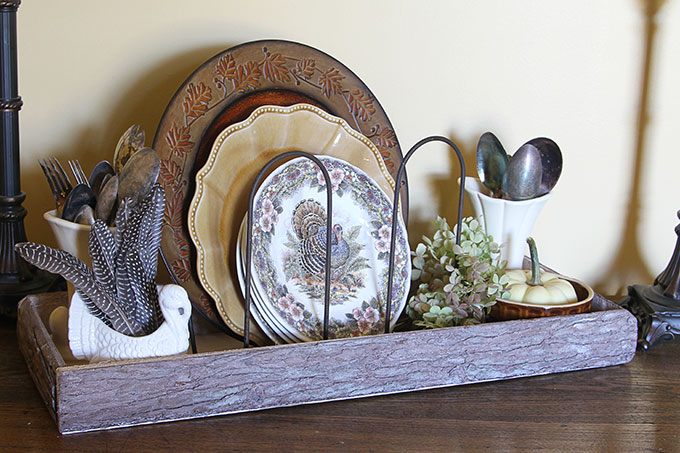 The Queen's Myott turkey plates were found at HomeGoods a few years ago and the brown plate is part of the Pioneer Woman's dinnerware collection at Walmart. The wood-look chargers were bought on clearance from Walmart a few years ago (they sell something very similar this year too).
They were all very reasonably priced and I like the Thanksgiving Day look of them all mixed together.
Those are some of my ideas for finding inexpensive dinnerware, what ideas do you have?
Do you still use your more formal china for the holidays? Or have you gone more casual in your place settings?
OK, enough about you (lol), go on over and check out the other Farmhouse Friday posts:
BUCKET OF BURLAP
HOUSE OF HAWTHORNES
FADED CHARM
TOWN AND COUNTRY LIVING
STONEGABLE