When I transition my porch from fall to Halloween it needs to be quick and easy.
And CHEAP.
I normally only keep my Halloween decor up for two weeks. Come November 1st at 7:00 am I am ready for it to come down, so no sense spending a lot of time or money on it.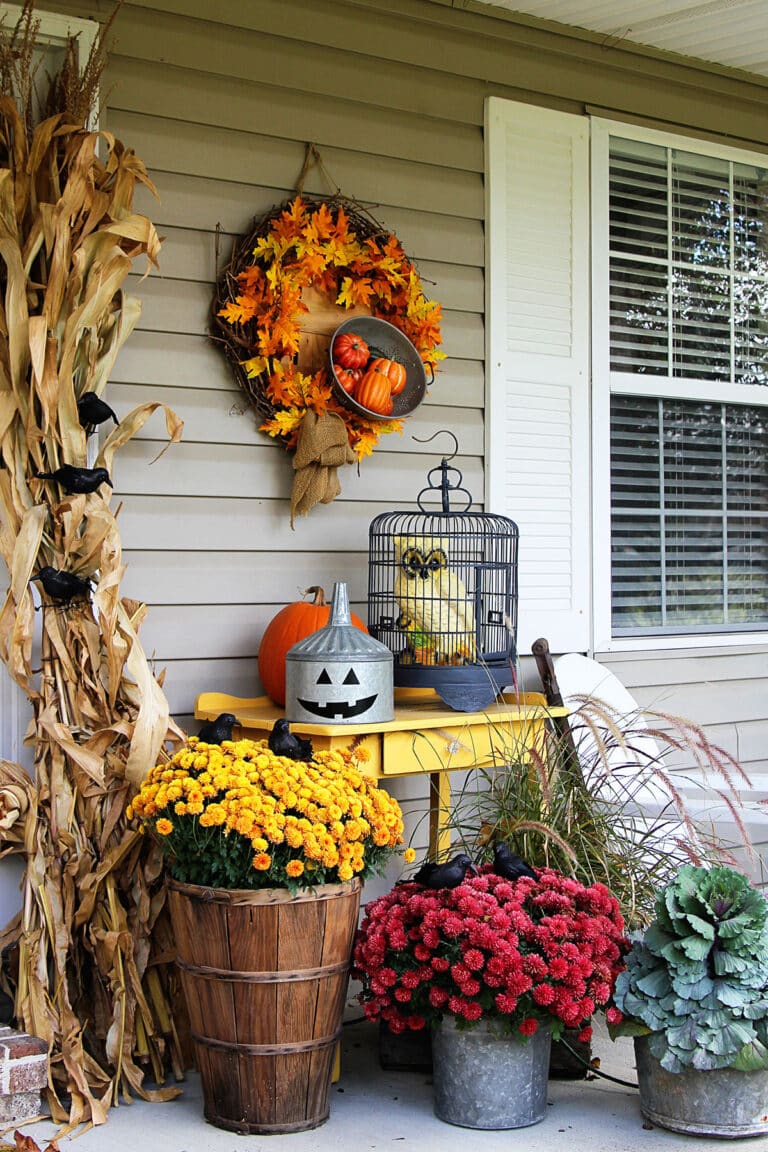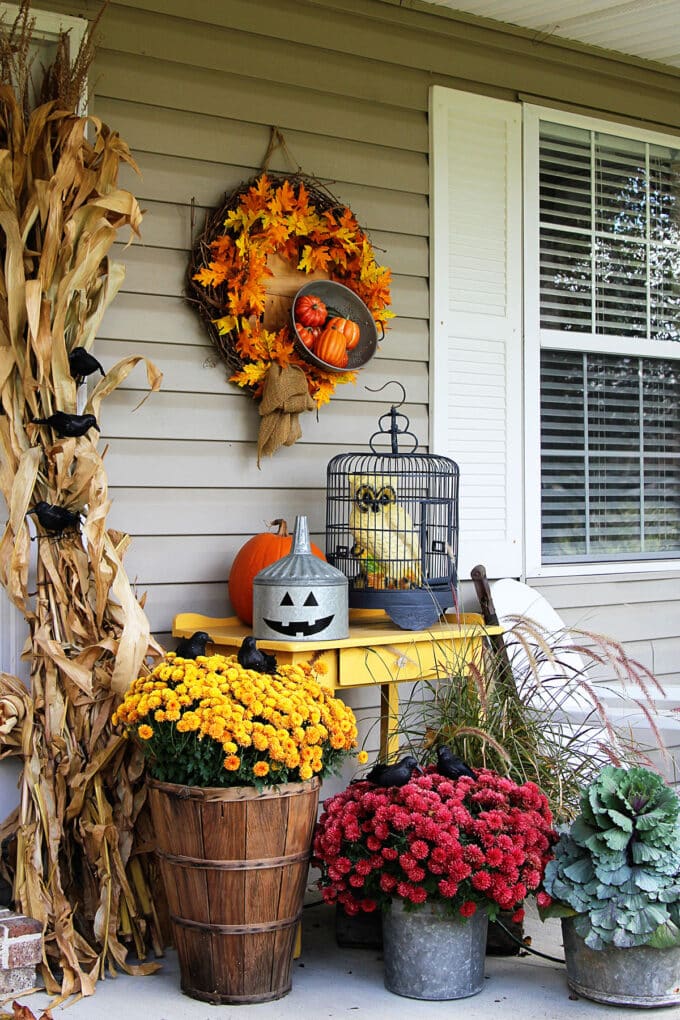 Here is what it looked like a few weeks ago: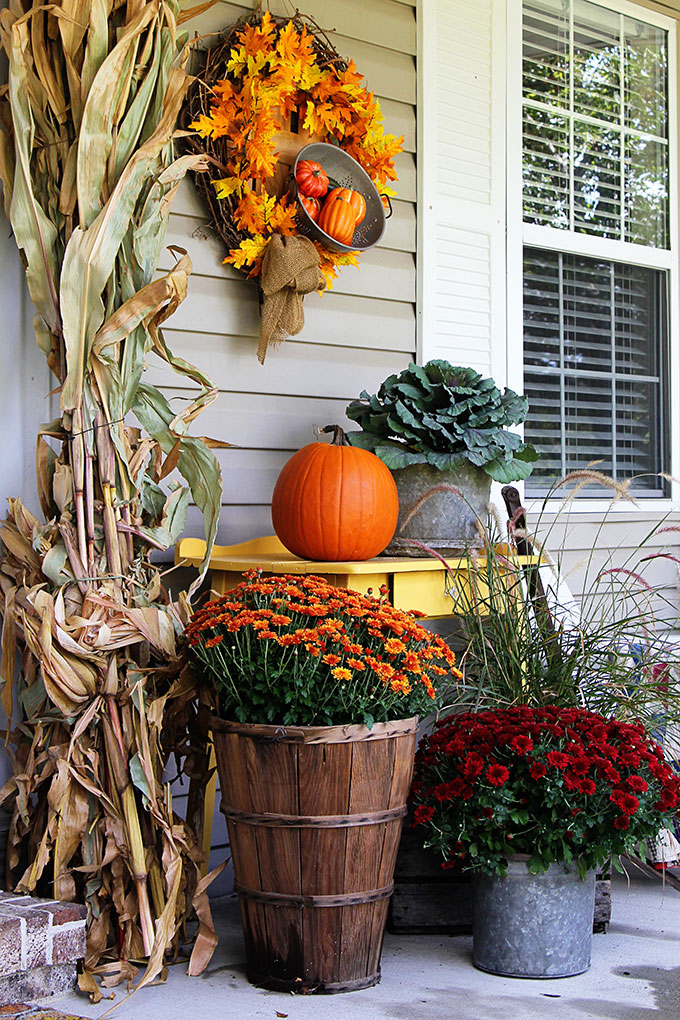 via Fall Porch Decor Farmhouse Style
This is all part of a home tour put on by the people at Hometalk. There will be links to other blogger's fall decor and projects at the end of the post (after you read my fabulous commentary on my project though).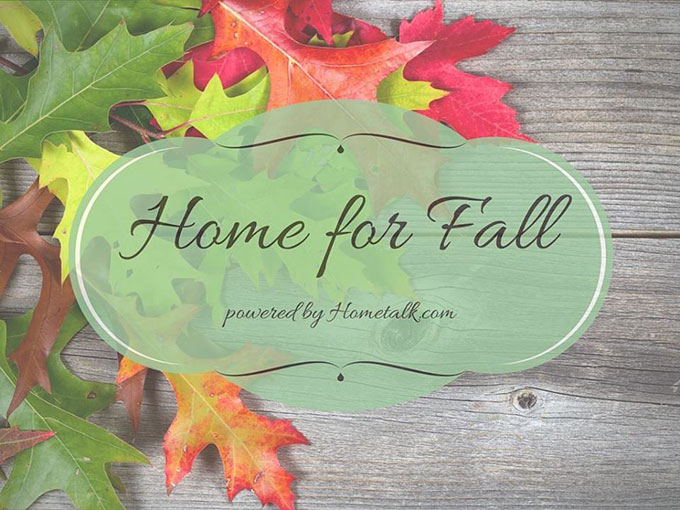 Most of the supplies I used are from the Dollar Tree.
They cost a dollar each.
You probably already figured that out, but just wan't to spell it out just in case we have some Dollar Tree virgins out there.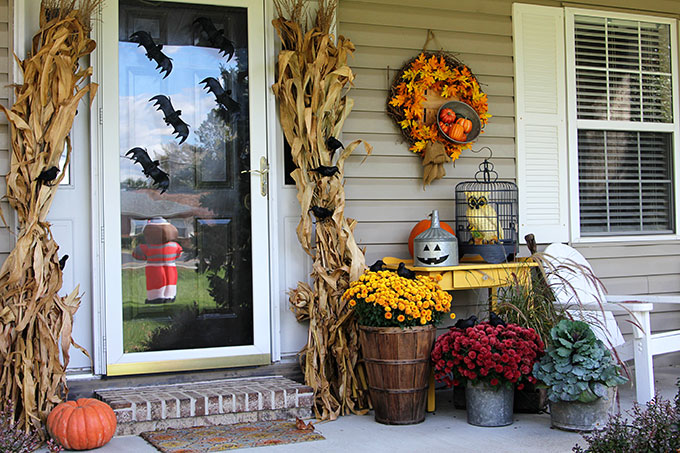 BTW, can you see the reflection of my inflatable Brutus Buckeye in the front yard? I get a kick out of people honking at him as they drive past.
I took some dollar birds (which have glitter one them this year???) and attached them to the cornstalks and mums.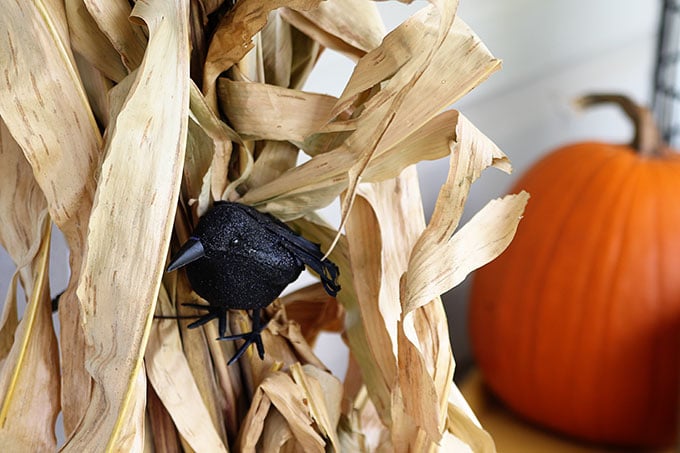 They have wire on their feet, so I just wound the wire around stems and we're good to go.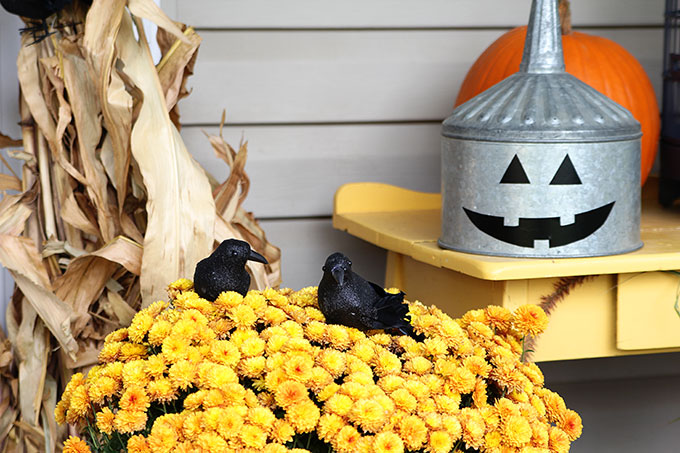 And then I used a hot glue gun to glue the bats to my glass storm door.
Yes, you heard me right. I used hot glue on my storm door.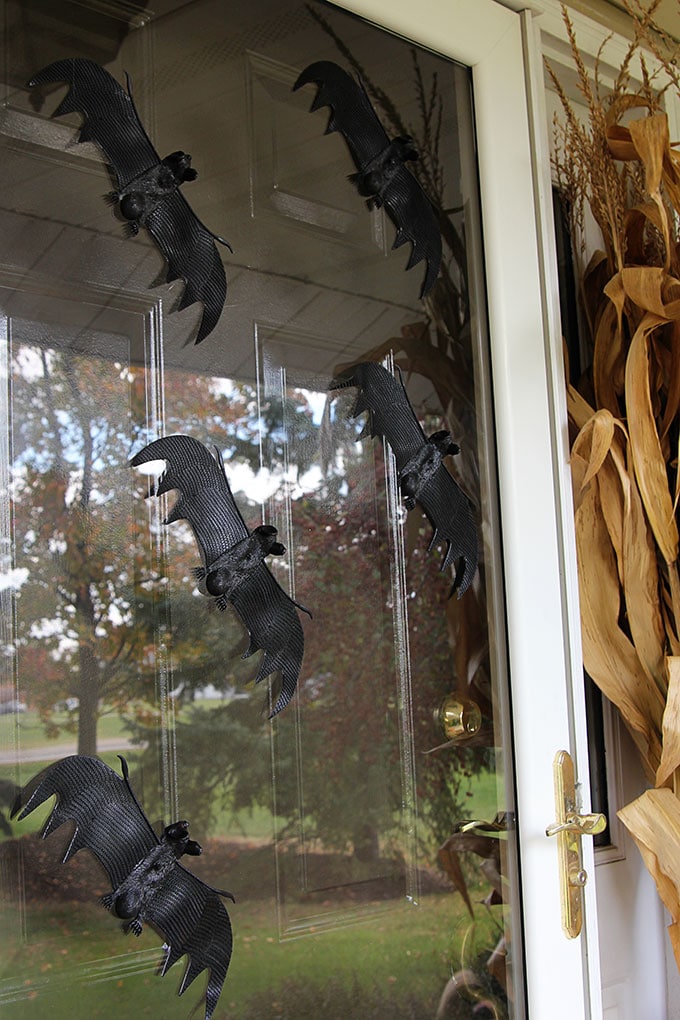 Needless to say, my husband wasn't home at the time to dissuade/kill me.
I actually got the idea from Jeanette from Country Design Styles who introduced me to hot glue guns and glass doors when she glued leaves to her front door for fall decor.
You just pick the glue off the glass when you're ready for it to come down.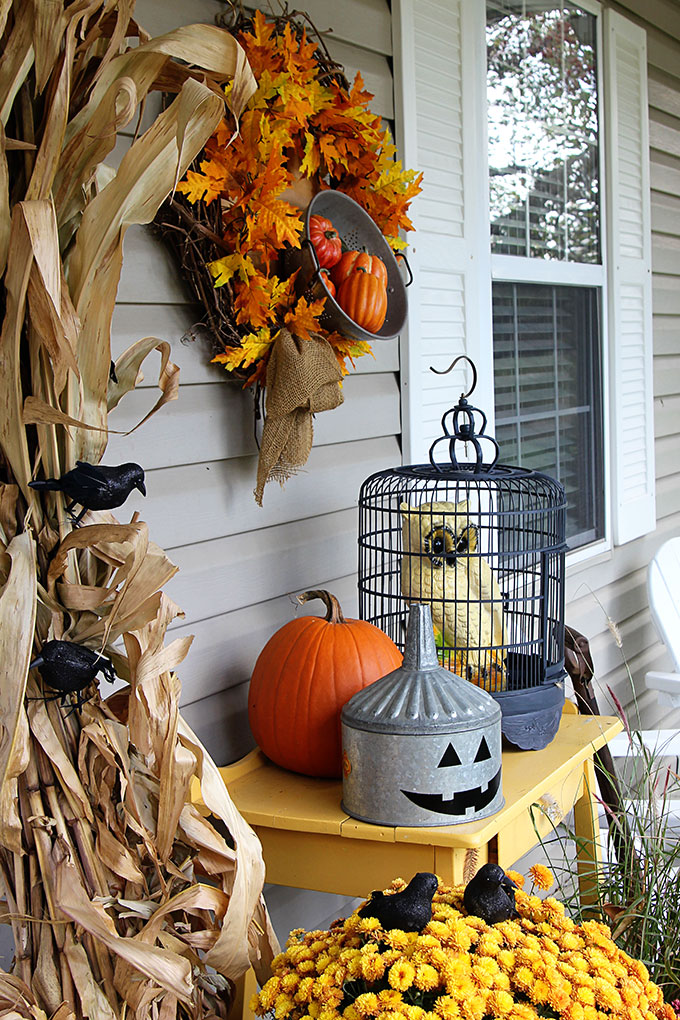 A tutorial for the funnel Jack-O'-Lantern can be found at Repurposed Funnel Jack-O'-Lantern.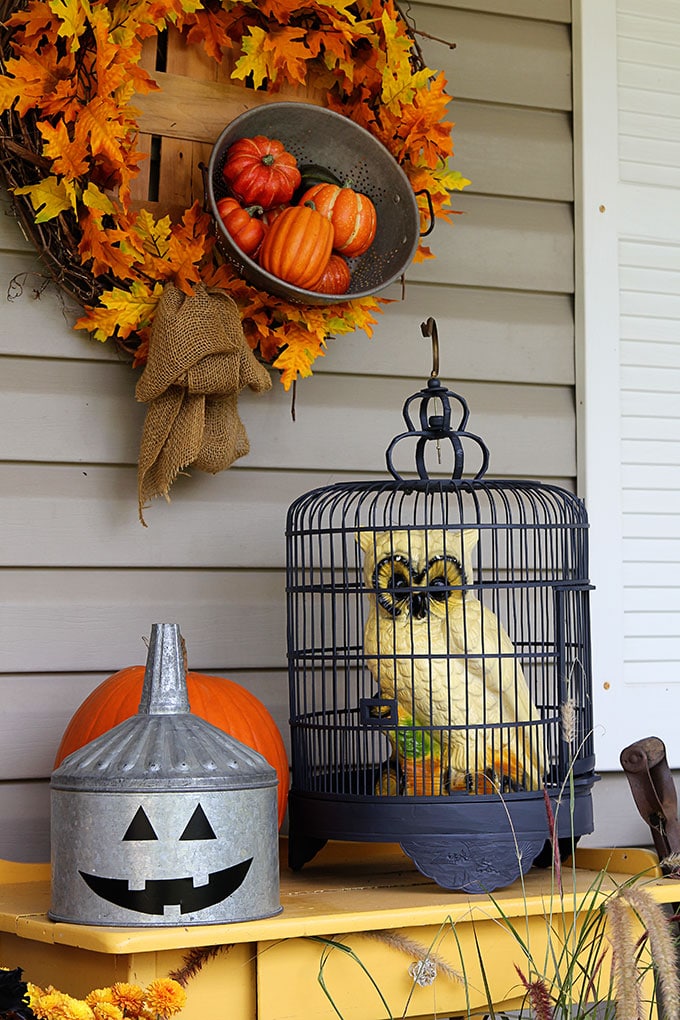 And the wreath tutorial can be found at Easy To Make Fall Wreath.
I haven't done a tutorial on the owl yet, because it's basically an owl I found at the thrift store and put inside a birdcage that I had painted dark grey.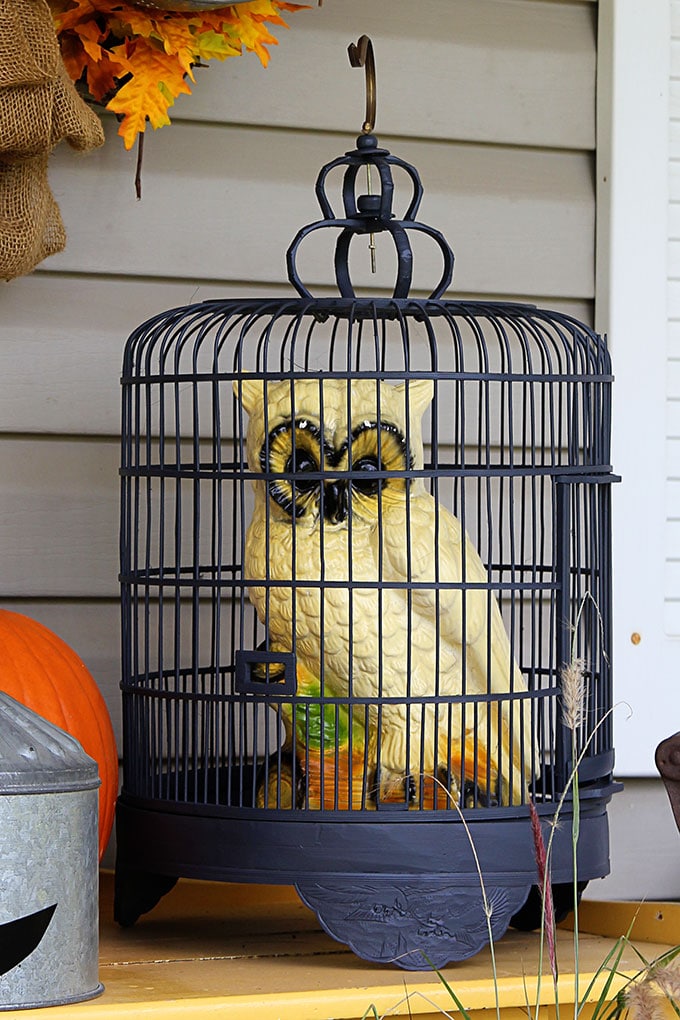 OK, I guess that's the tutorial then. Find owl . . . paint birdcage . . . insert owl. Done.
This is one of the Cinderella pumpkins that grew in our compost pile this year.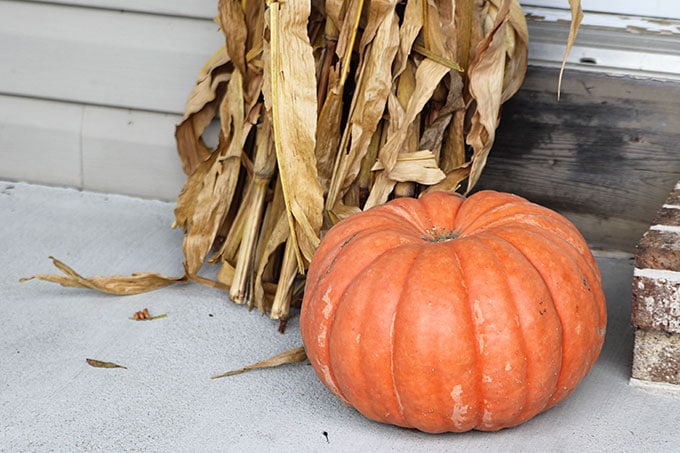 Every year we throw our pumpkins in the compost in November and the next year I am totally surprised that new pumpkins grow. It's like magic!
Except it's not, because we basically plant them there in the fall.
After Halloween is over, I can just take down the birds, bats and owl and I'm back to the original look and good to go until Thanksgiving.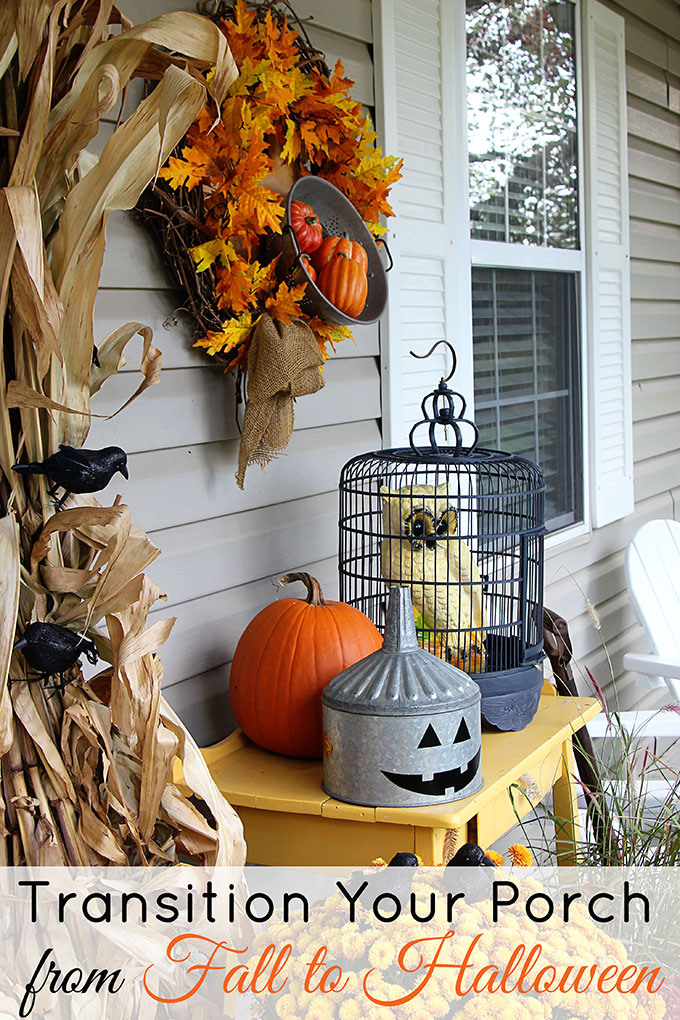 Other Fall Porches:
Halloween Porch Decorations
Simple Fall Porch Decorating On The Cheap
Rustic And Natural Fall Porch Decor
Now go on over and check out the other Hometalk Bloggers' festive fall decor and projects. There's some good stuff in there!!!