I absolutely adore my hydrangea bushes. I honestly can't think of a more beautiful flowering bush out there.
Most of mine are the Limelight Hydrangeas which produce the most gorgeous cone shaped blooms that start off as a lovely light lime green color in the summer, changing to gorgeous shades of pink, red and burgundy in the fall.
This plant really makes a statement.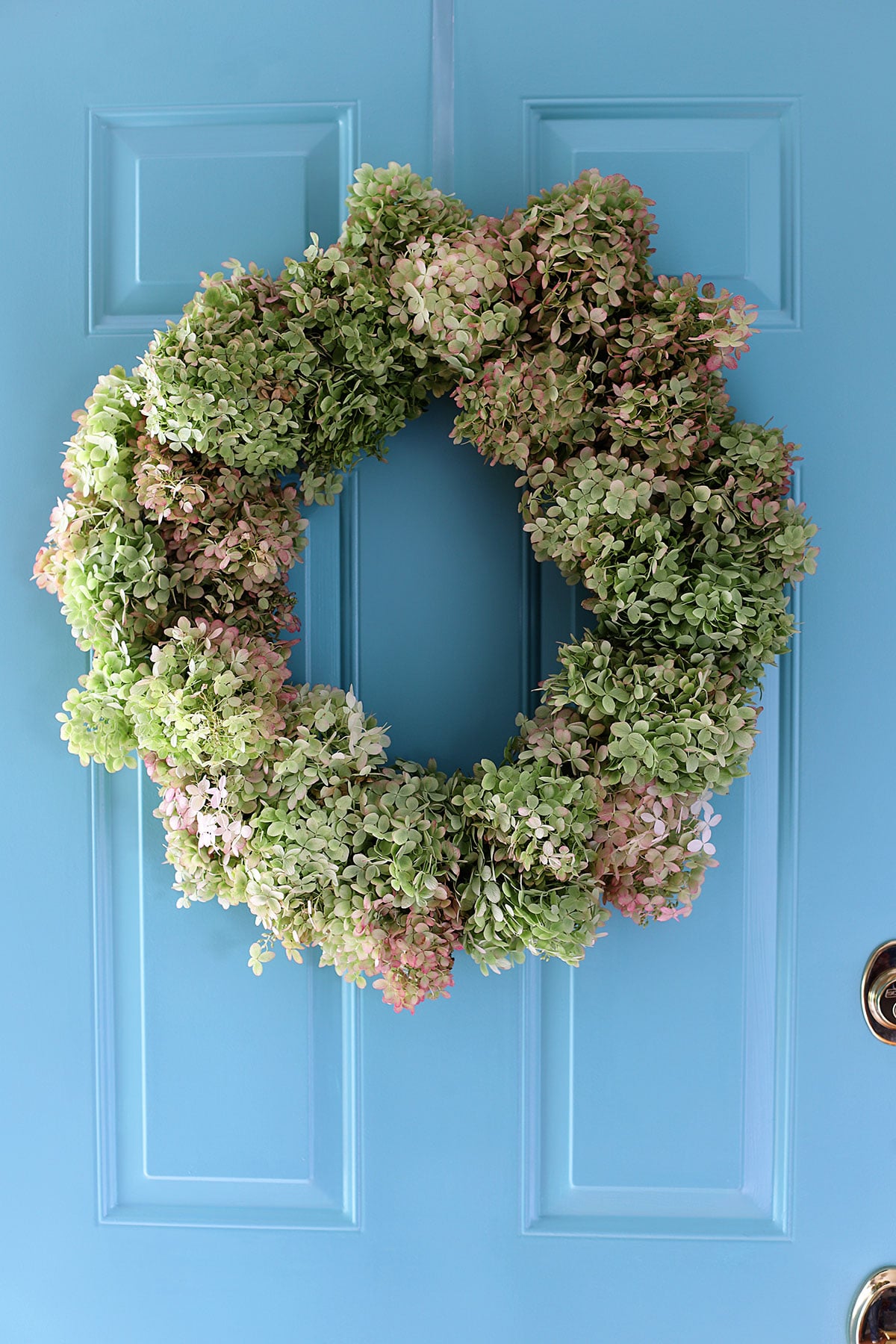 I wrote a whole post on tips for how to grow hydrangea and also one on how to dry hydrangea the easy way. Because half the fun of this plant is drying the blooms in the fall!
I've even shown you how to grow hydrangea in pots if you don't have the space for them in the yard. Or just want them to be mobile, so you can move them all over your patio.
I might be just a little bit obsessed with my hydrangeas!
Today I'm showing you how I am using some of my beloved Limelight Hydrangea blooms to form a wreath for my front door.
You might have noticed it on my front porch in my recent Simple And Subtle Fall Porch Decor story last week.
How To Make A Hydrangea Wreath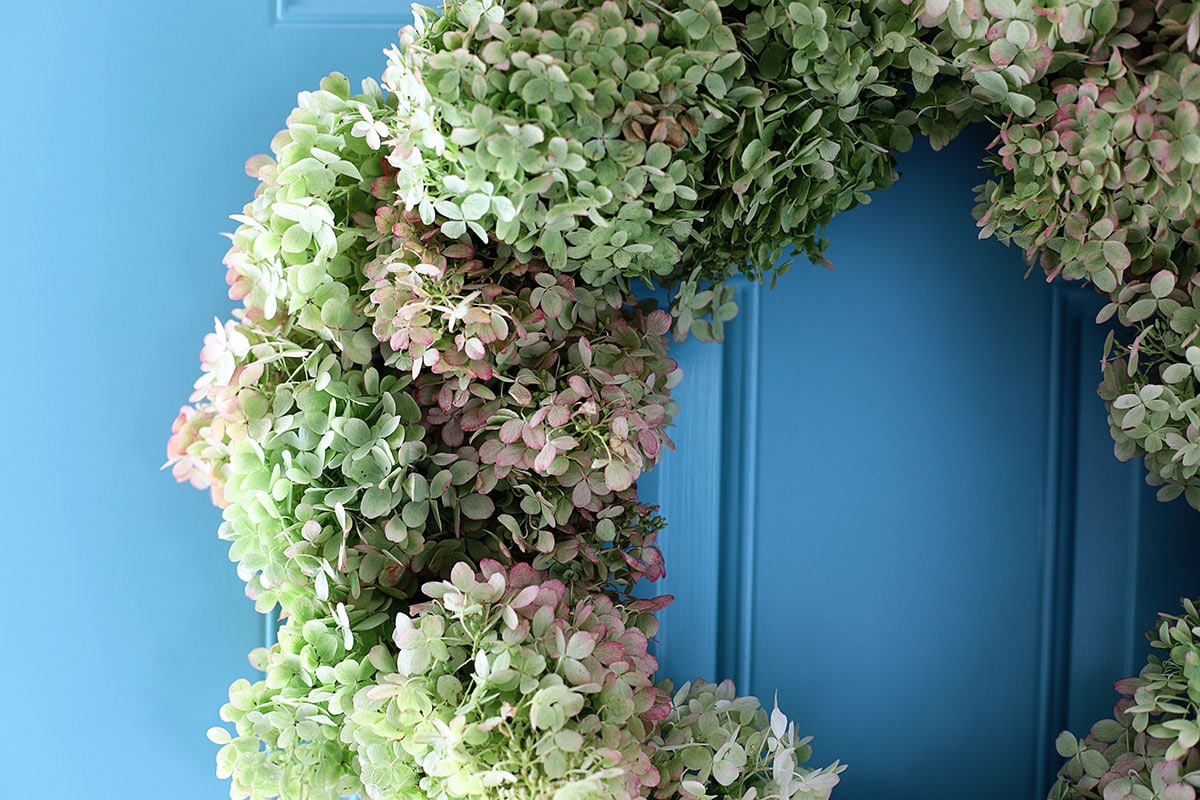 (This post contains some affiliate links for your convenience. You can read my full disclosure policy here.)
Supplies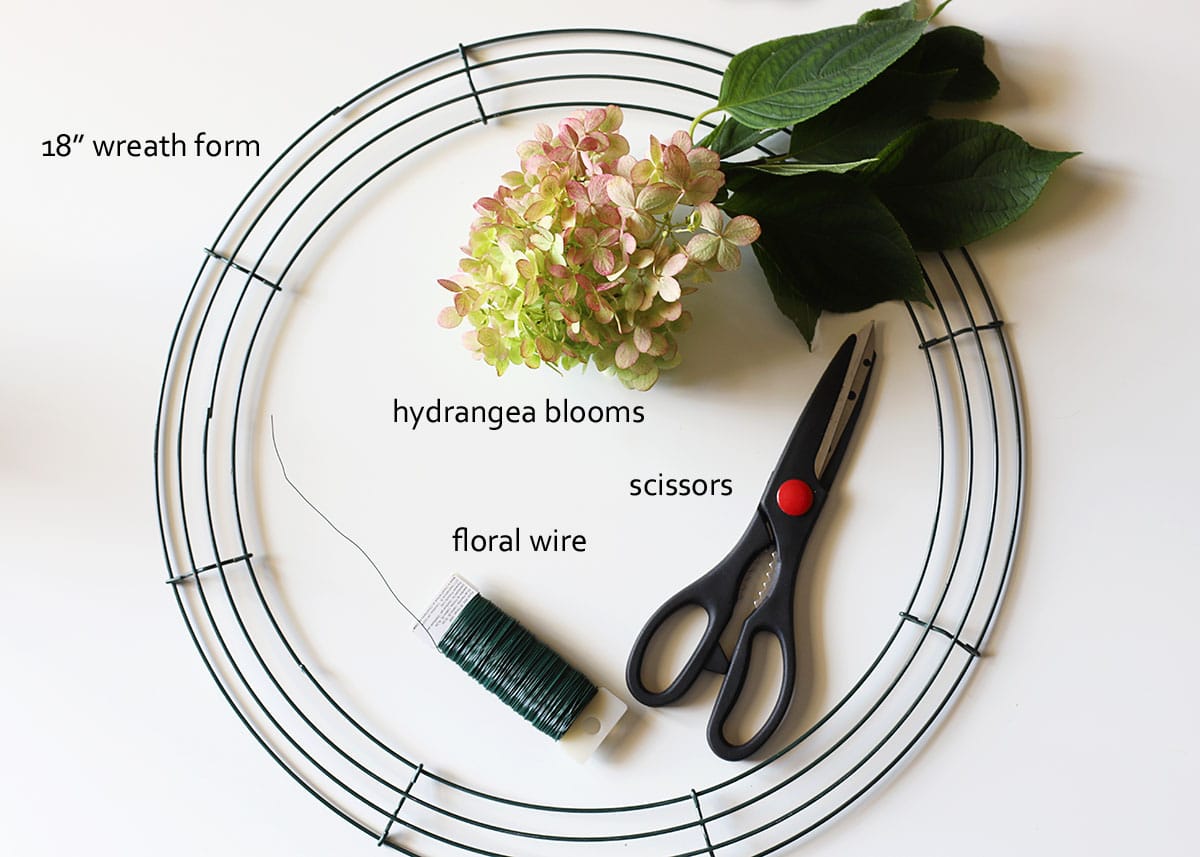 Fresh Cut Hydrangea Blooms
Scissors or Wire Cutters
So let's talk hydrangea blooms.
You are going to want to use blooms freshly cut from a hydrangea bush. Fresh cut hydrangea blooms are so much easier to work with than dried ones, because the stems are still easily bent and the flower petals aren't as easily crushed.
I used roughly 40 blooms on my 18" wreath form.
Which seems like a lot, but you are going to want to pack them in tight, because they do shrink up as they dry. Better to over-stuff than under-stuff.
When is the best time to cut your hydrangea blooms for a wreath? I wait until early fall when they have had a chance to show some variation in color and the petals feel almost paper-like. If you cut them too soon in the season, let's say July, the blooms will be too moist and will not dry correctly on the wreath form. In central Ohio, which is Zone 6a, I cut mine anywhere from late September to early October (the ones in my photos were cut September 23rd).
Instructions
Strip all leaves off the stems and cut the stems to roughly 4" long. Throw away or compost the leaves.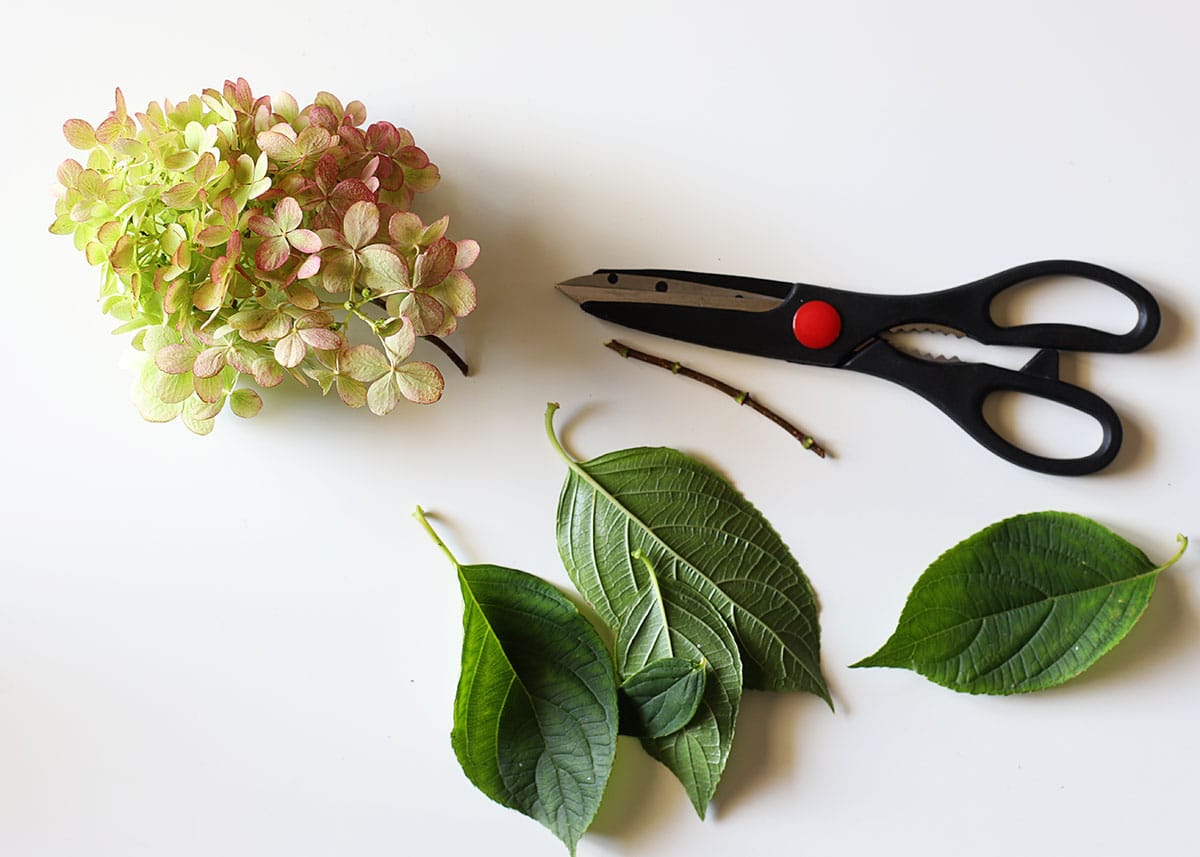 Loop floral wire around the wire form a few times to securely attach the wire to the frame.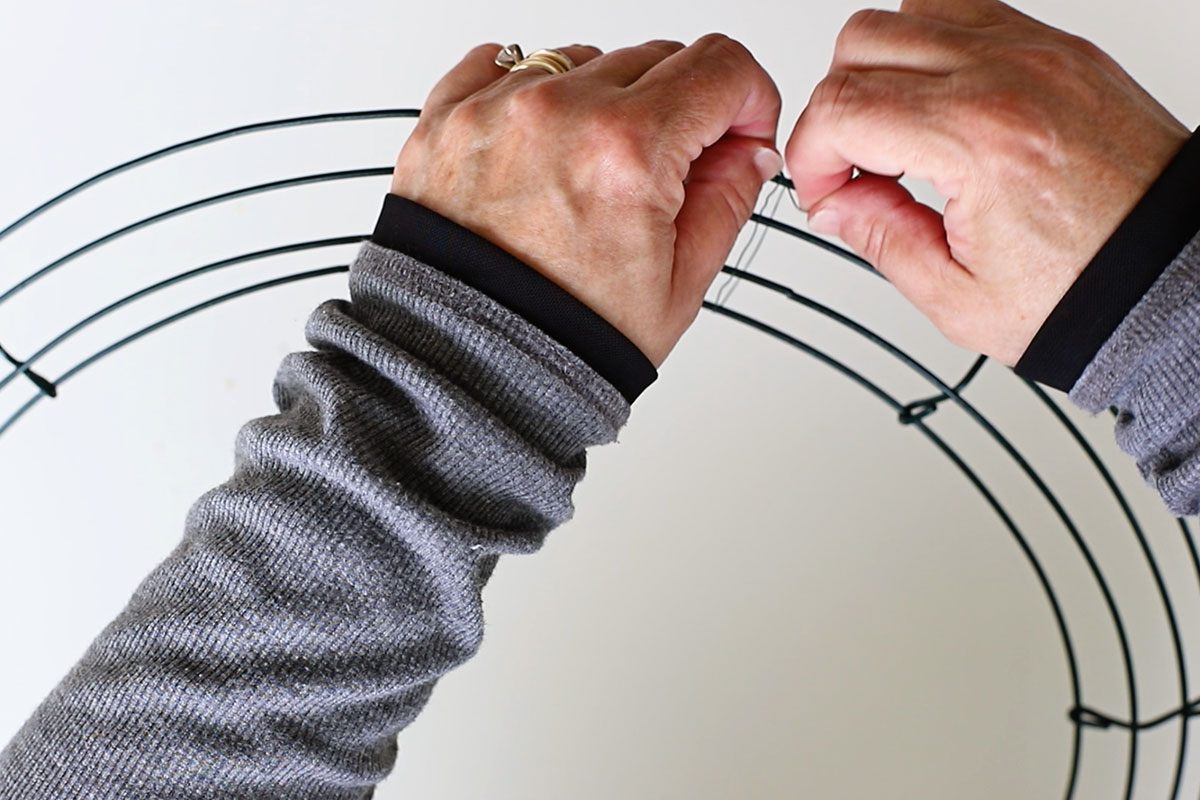 BTW, I use this floral wire (also known as paddle wire) ALL THE TIME. I always have a paddle of it on hand around the holidays for tying bows to wreaths or using as safety wire to keep the pine greenery around the front door in place. Seriously, you need to grab some of it when it goes on sale.
Lay your 1st bloom on the frame. Wrap the wire around the bloom and frame going from the front around the back and to the front again. Pull the wire very tightly as you go to hold it firmly in place.
You are going to go around the frame 3 times per bloom to make sure each stem is securely tied to the frame.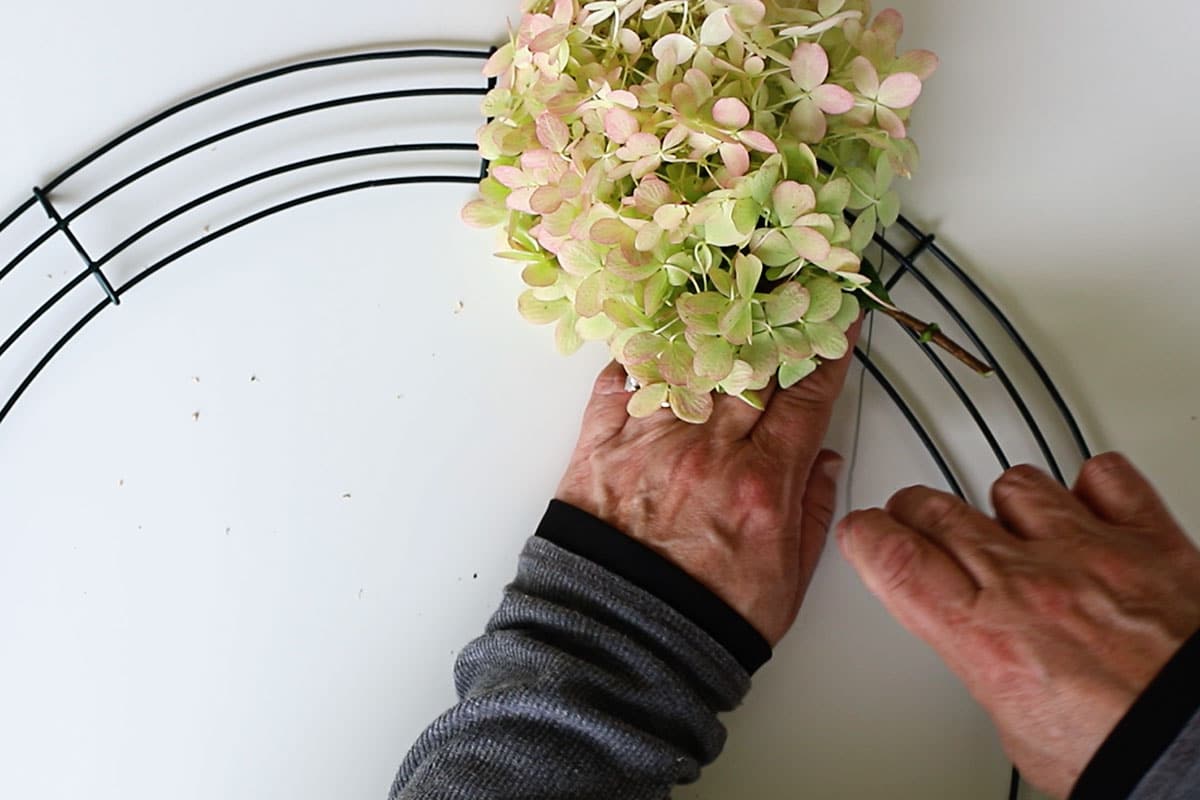 Lay the next bloom overlapping the 1st one and again wrap the wire around the bloom and wire form 3 times.
Remember you want to REALLY stuff these blooms on there, so when they dry there will not be empty spots showing through.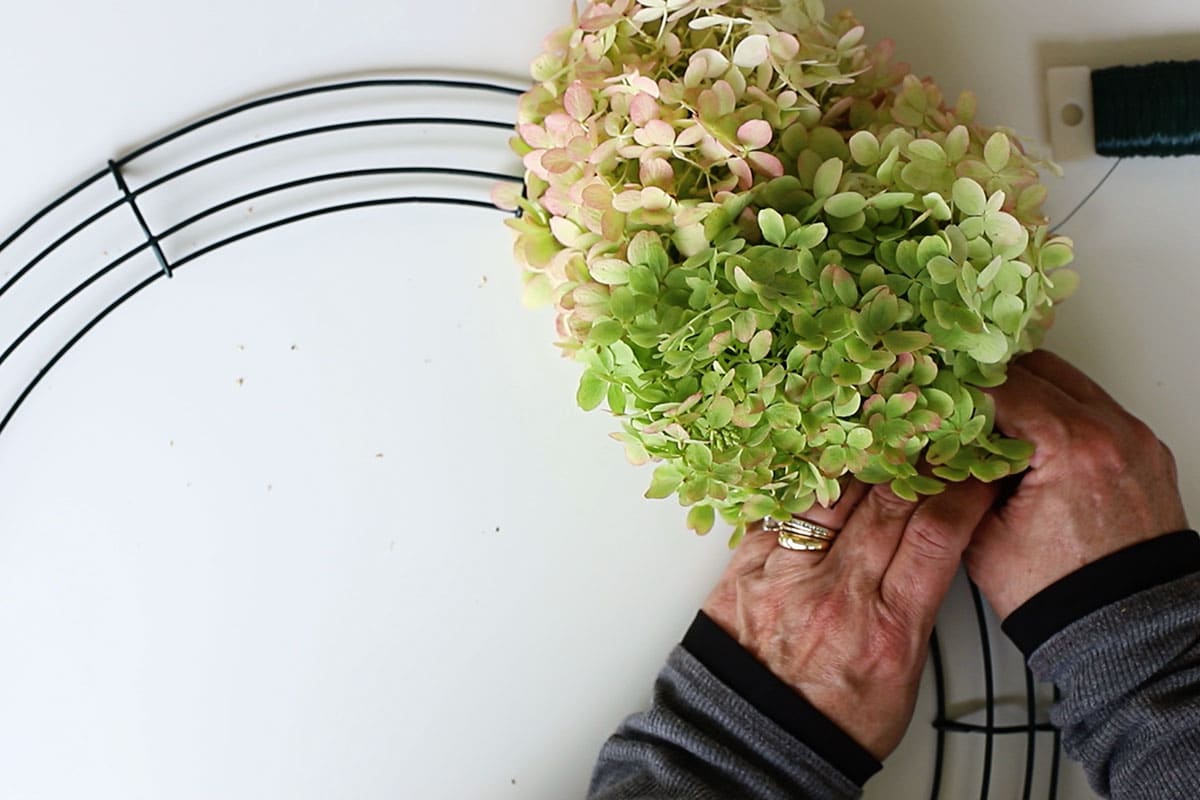 Keep going around the wreath form, bumping up the new blooms against the previous blooms.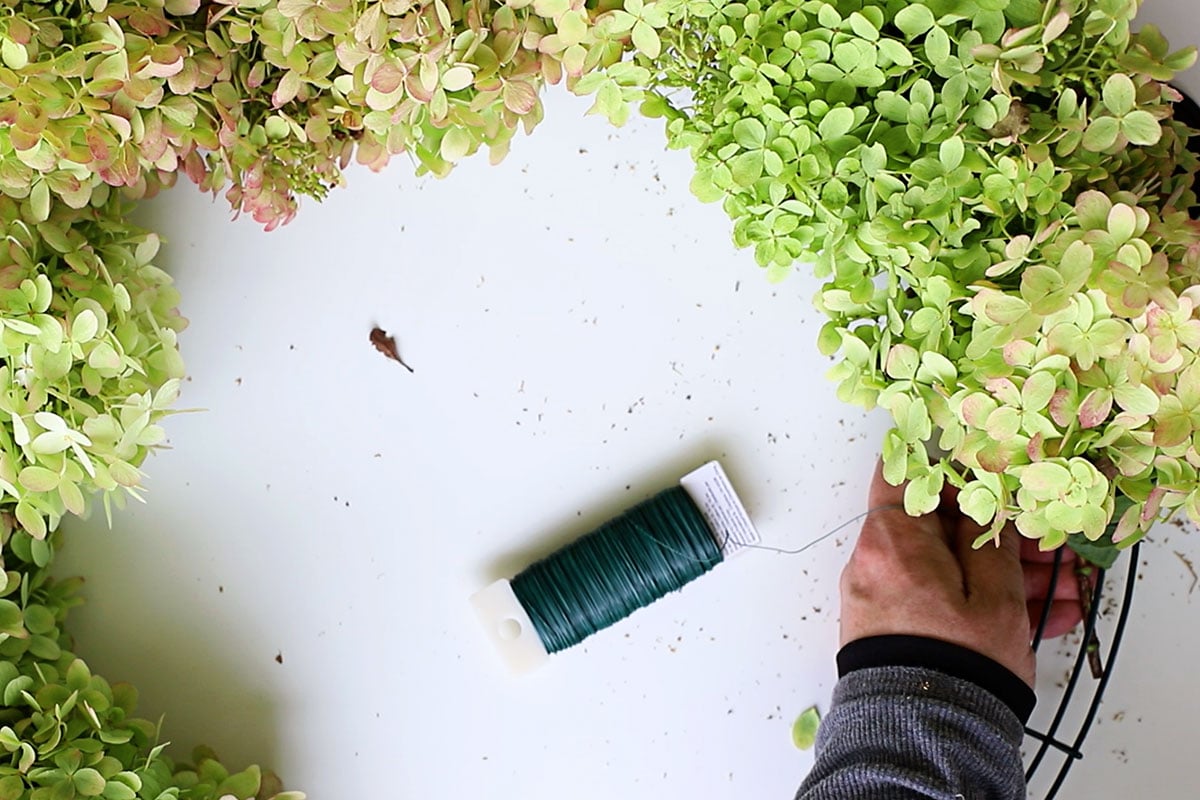 When you get to the end of the wreath, do the same with the very last bloom and tie the end of the wire to the frame.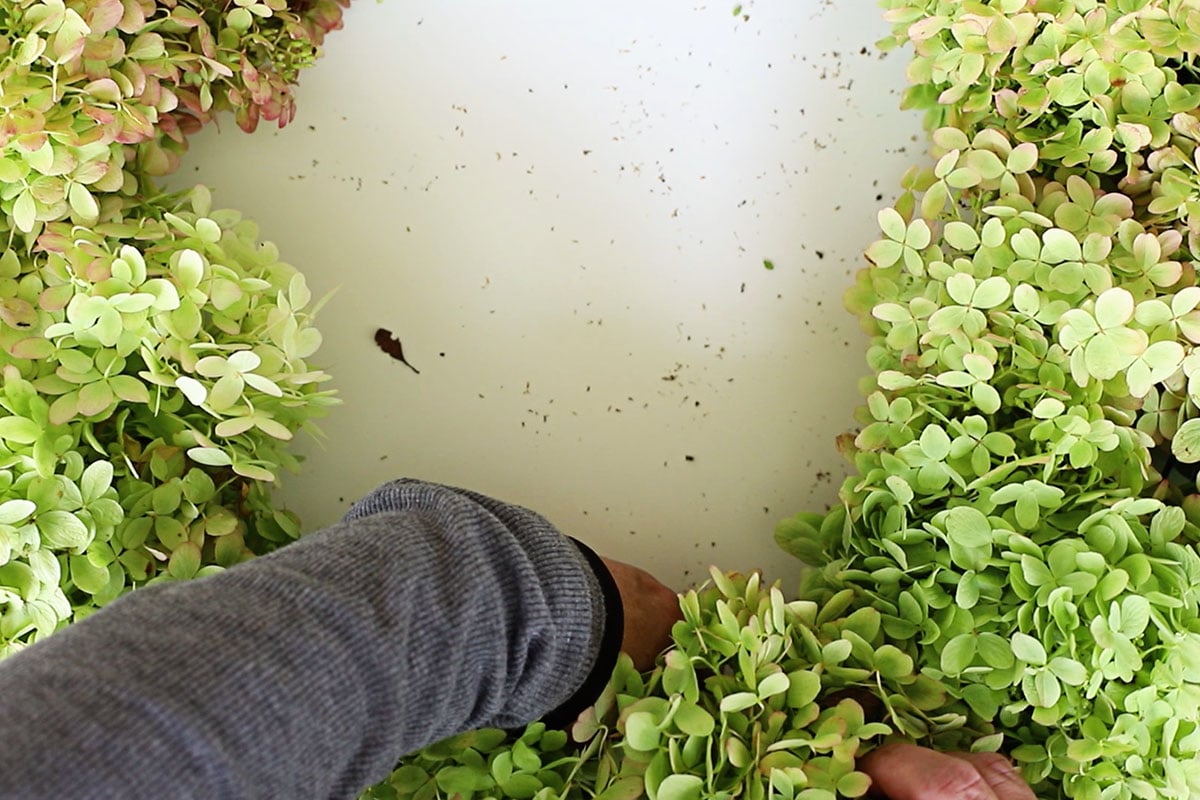 Stand back and admire your wreath.
Although your wreath started off with fresh blooms, it will dry naturally over the next few days and should be completely dry in 3-4 days.
I just LOVE the variations of color I get by using my Limelight Hydrangea for the wreath, but you could use other varieties of hydrangea also!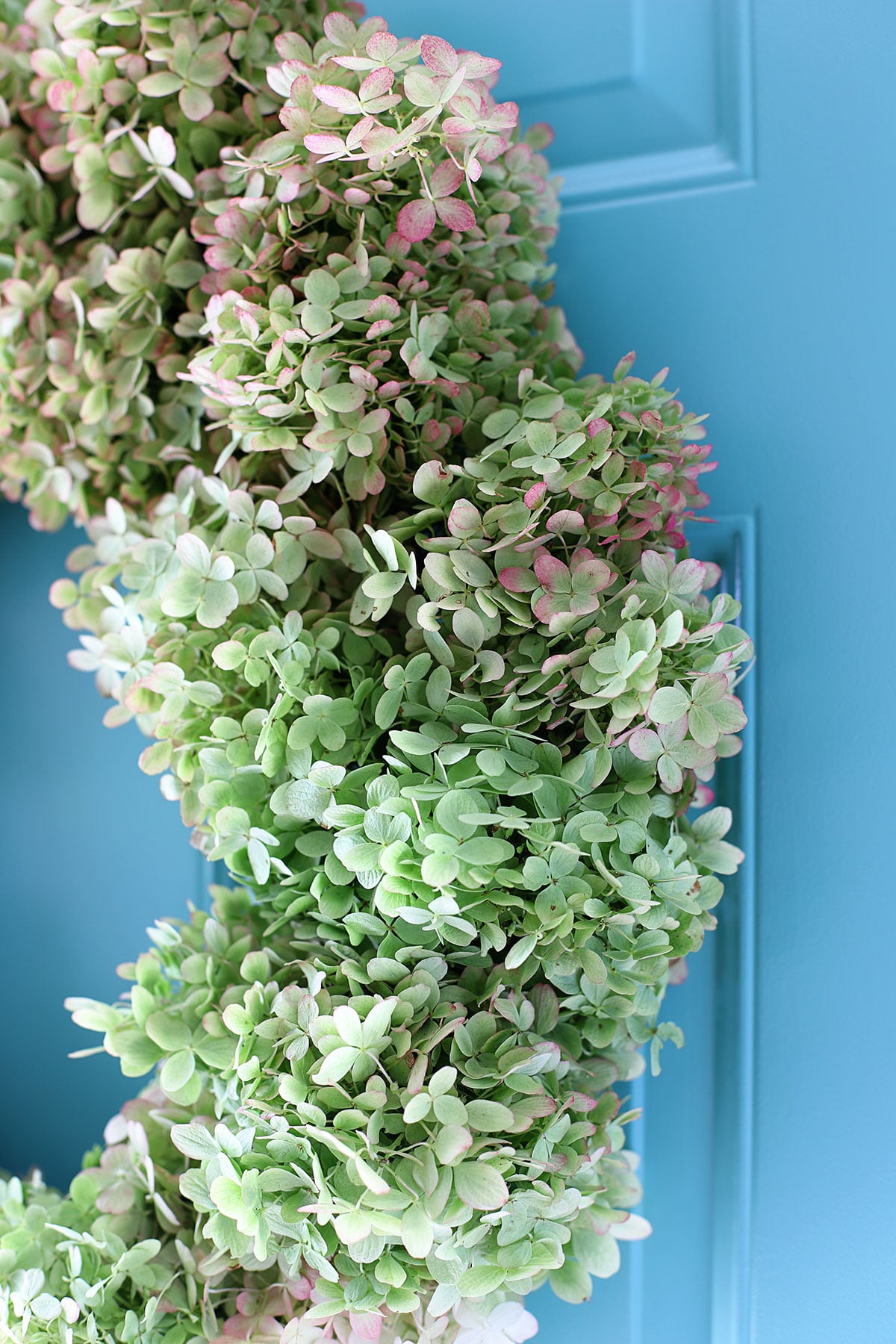 Tip For Making Your Dried Hydrangea Wreath Last
Once dried, you can spray the entire wreath with an aerosol hairspray (think 1980's Aqua-Net) to keep the little hydrangea florets from falling off when bumped into.
This is an optional step, but one I normally do as an added precaution since it's going to be outside in the wind and weather (although still on the porch).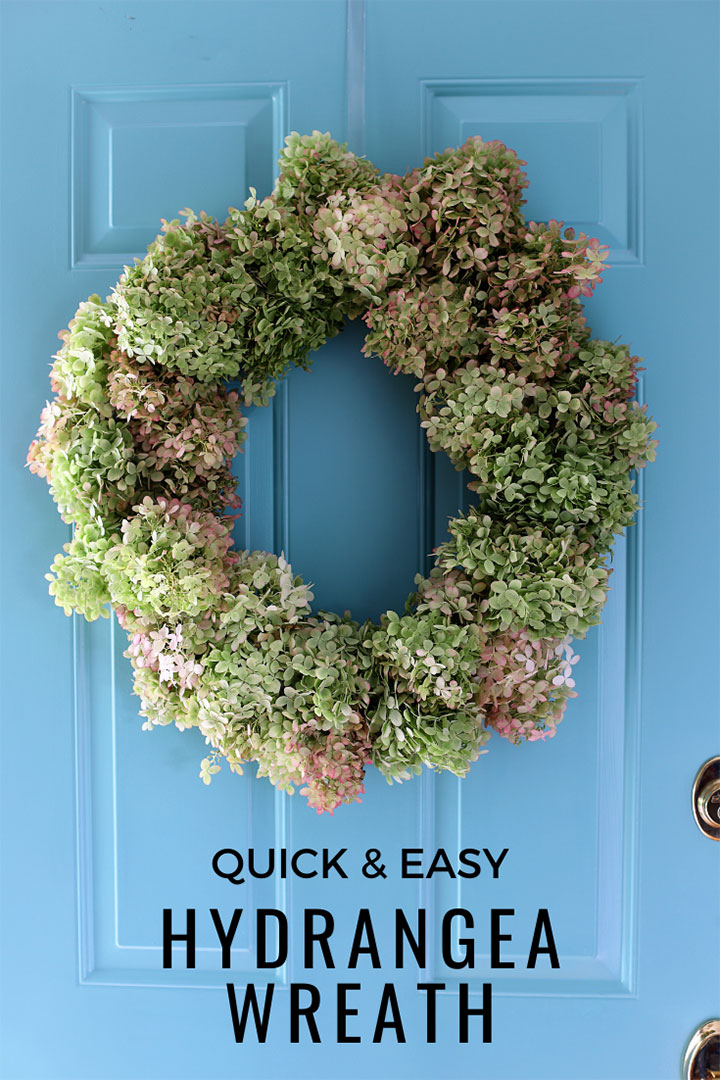 Have you made a hydrangea wreath lately? What is your favorite variety of hydrangea to use in your wreath?
View the web story version of this article HERE.
Other Posts You May Enjoy:
How To Grow Hydrangea In Pots
How To Grow Limelight Hydrangea
How To Dry Hydrangea The Easy Way