With this being 2020 and all that entails, I wasn't quite sure which way I wanted to go with my fall porch decor this year.
Do I deck out my porch like I normally do with all the traditional festive fall trimmings?
Cornstalks, mums and loads of pumpkins. Generally looking like fall has thrown up all over the place.
Or go for a more simple fall porch look?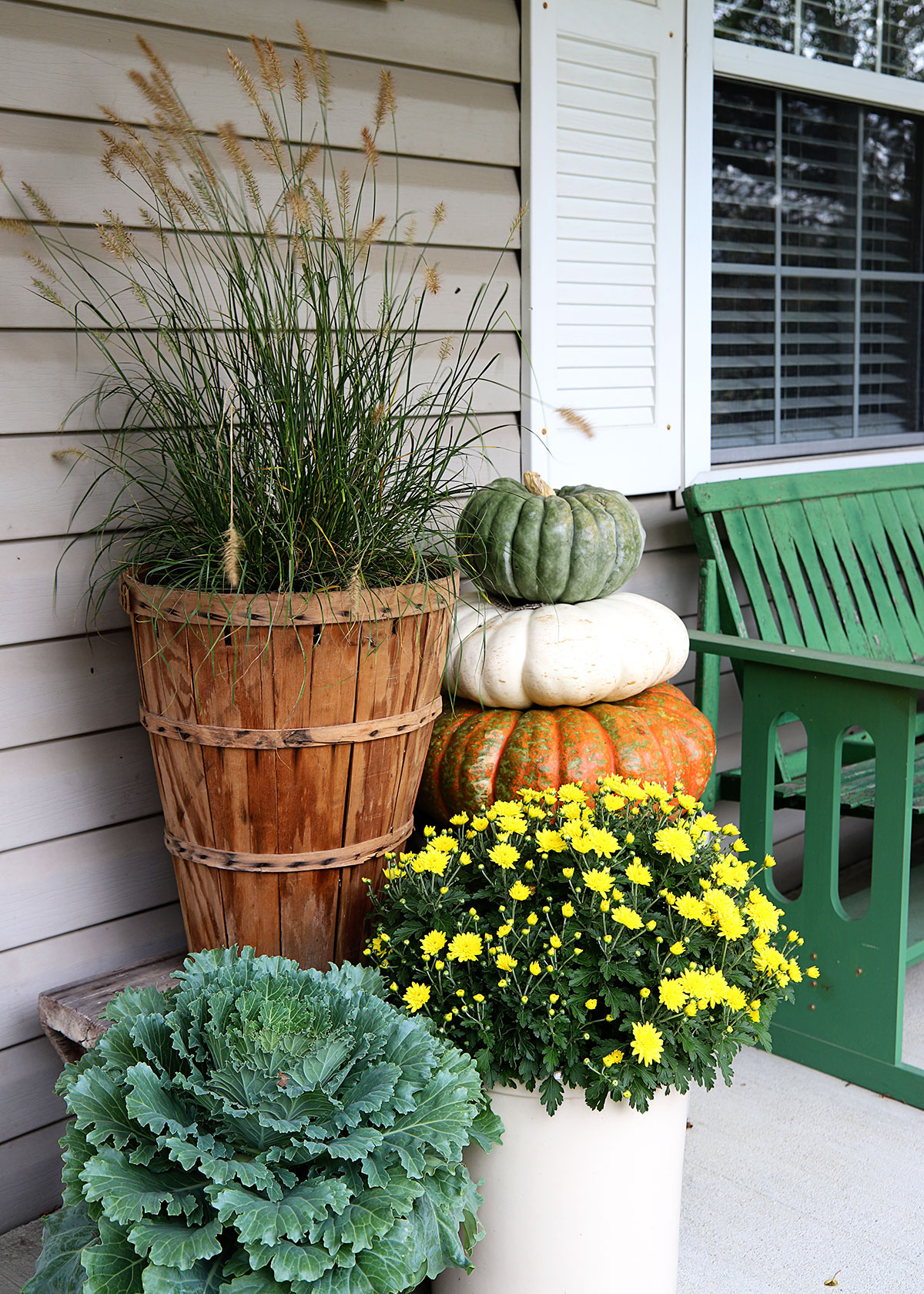 Calming and peaceful. A gentle hug from Mother Nature saying yes, this will all turn out OK.
Sure, there may be murder hornets coming to invade us and a giant asteroid hurtling through space may kill us any second, but we can still decorate our front porches, right?
In the end, I decided to go with a less throw up, more huggable fall look that is made with things that should be easily found at your local grocery store or can be DIY'd.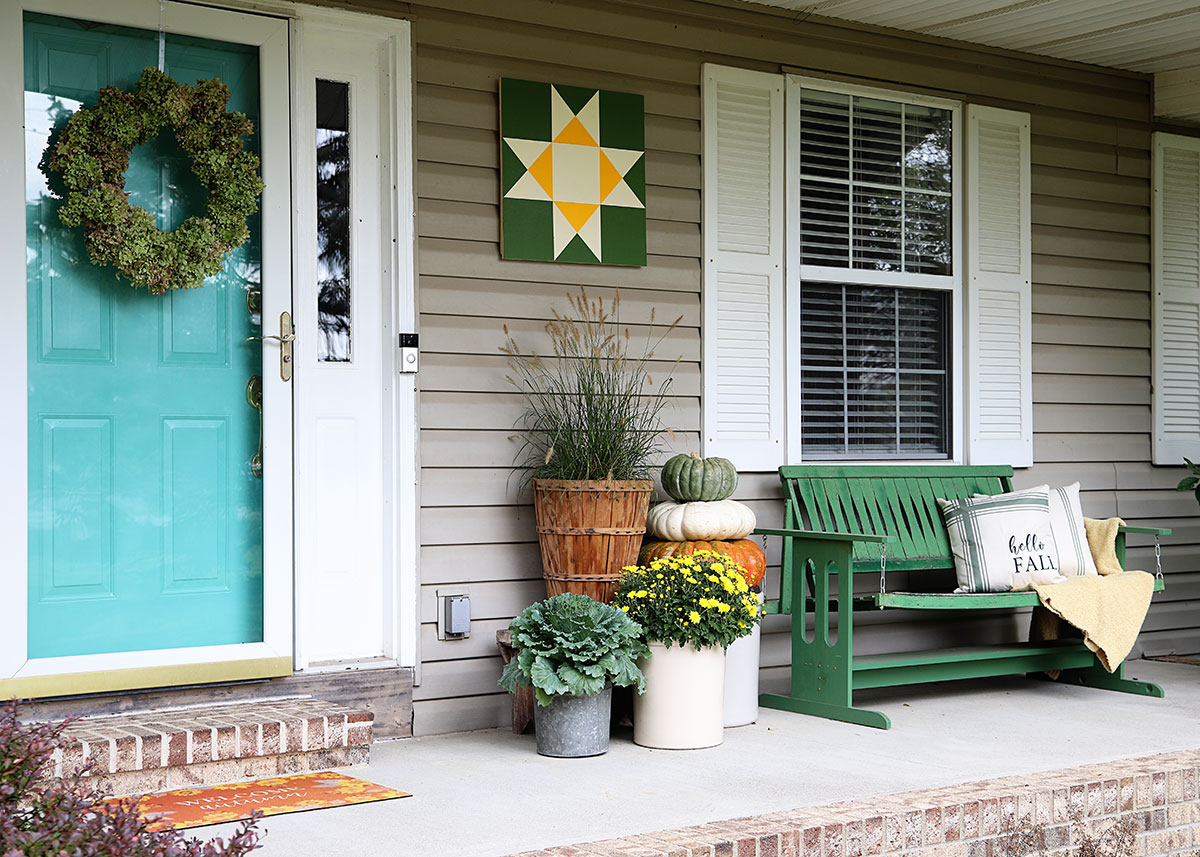 And if an asteroid hits my house, there will be less pumpkin guts and cornstalk husks for the neighbors to clean up.
I took the color scheme from my barn quilt I showed you how to make last week.
Everything is pretty much yellows and greens. Not a glowing orange Jack-o'-Lantern in sight.
Although I did pick up a slightly greenish-orange gourd for my pumpkin stack.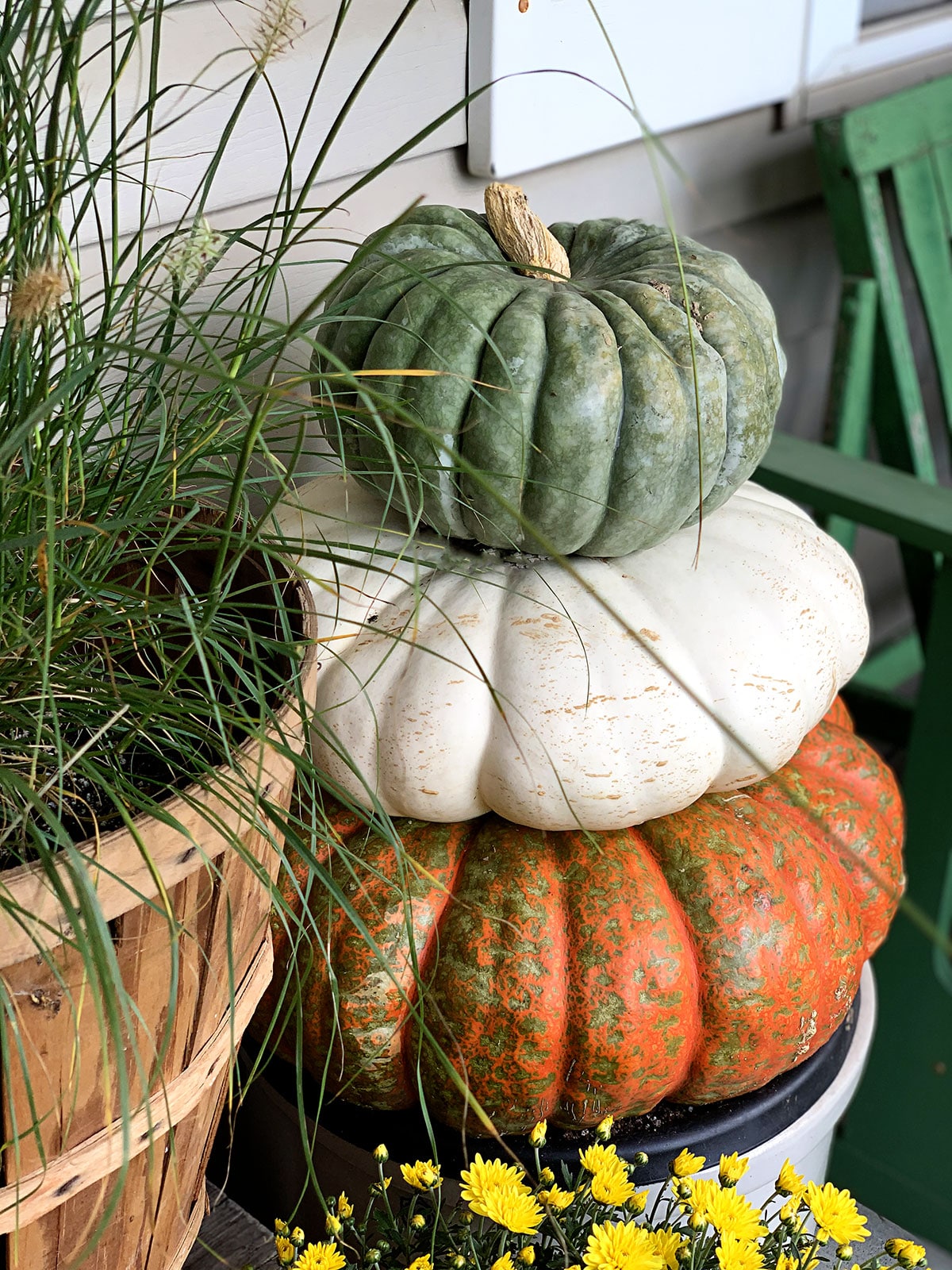 I was going to do a whole tutorial on how to stack pumpkins, but then I thought you might think I've gone mad. You stack them on top of each other, right?
Well, yes and no.
Pro Tips For Pumpkin Stacking
Cut the stems off the lower pumpkins so the ones on top will lie flat.
Cut up pieces of puffy shelf liner and stick the pieces in between the pumpkins to keep them from slipping around. This also helps with keeping them from gouging/denting each other.
To keep squirrels and chipmunks from making lunch out of the pretty pumpkin stack, spray the whole stack down with my Homemade Squirrel Repellent.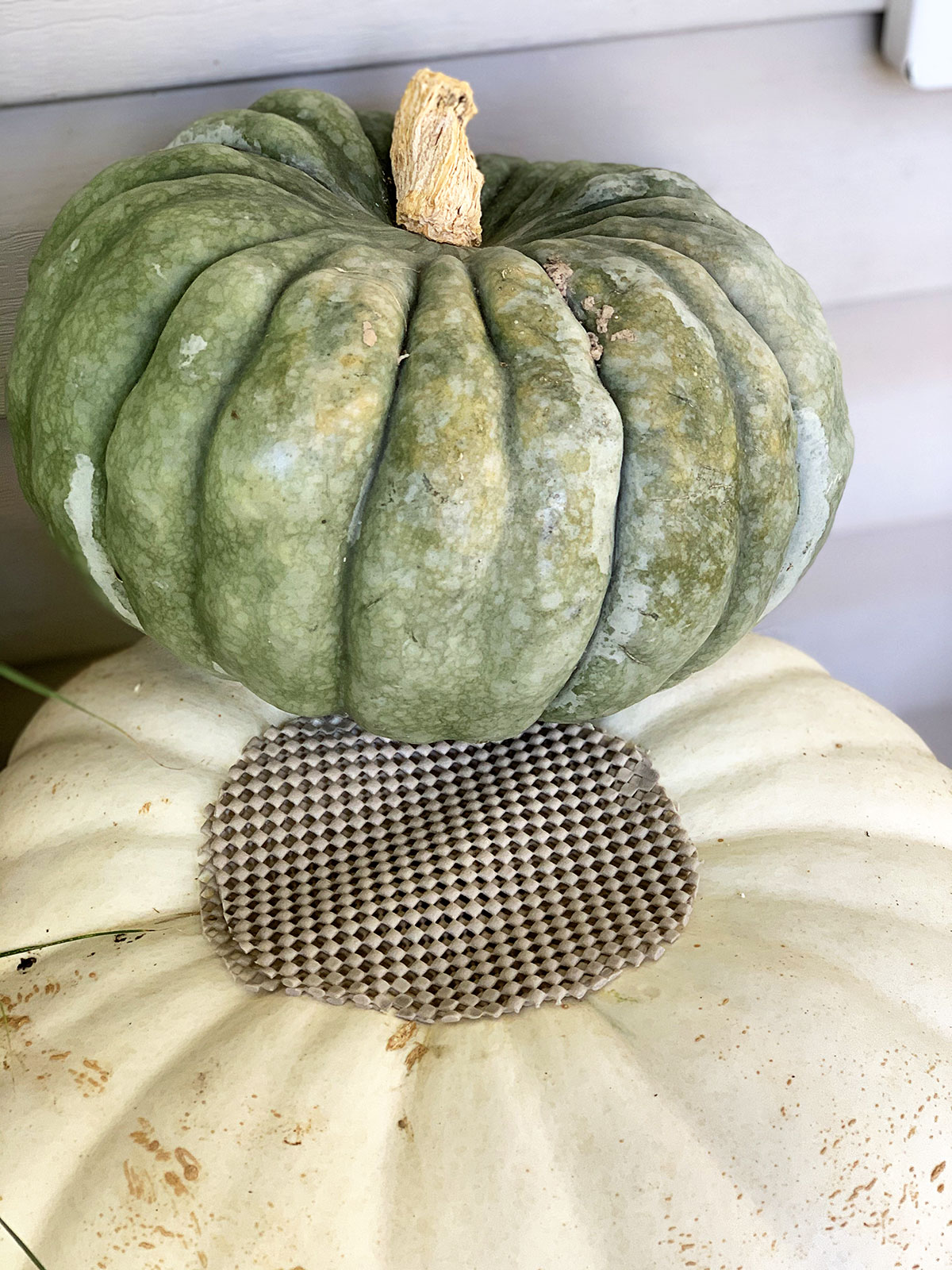 OK, back to the tour.
I kept my chippy green glider on the porch that I bought about this time last year.
Although it's not sit-able, unless you want to end up on the floor, I still love the look of it.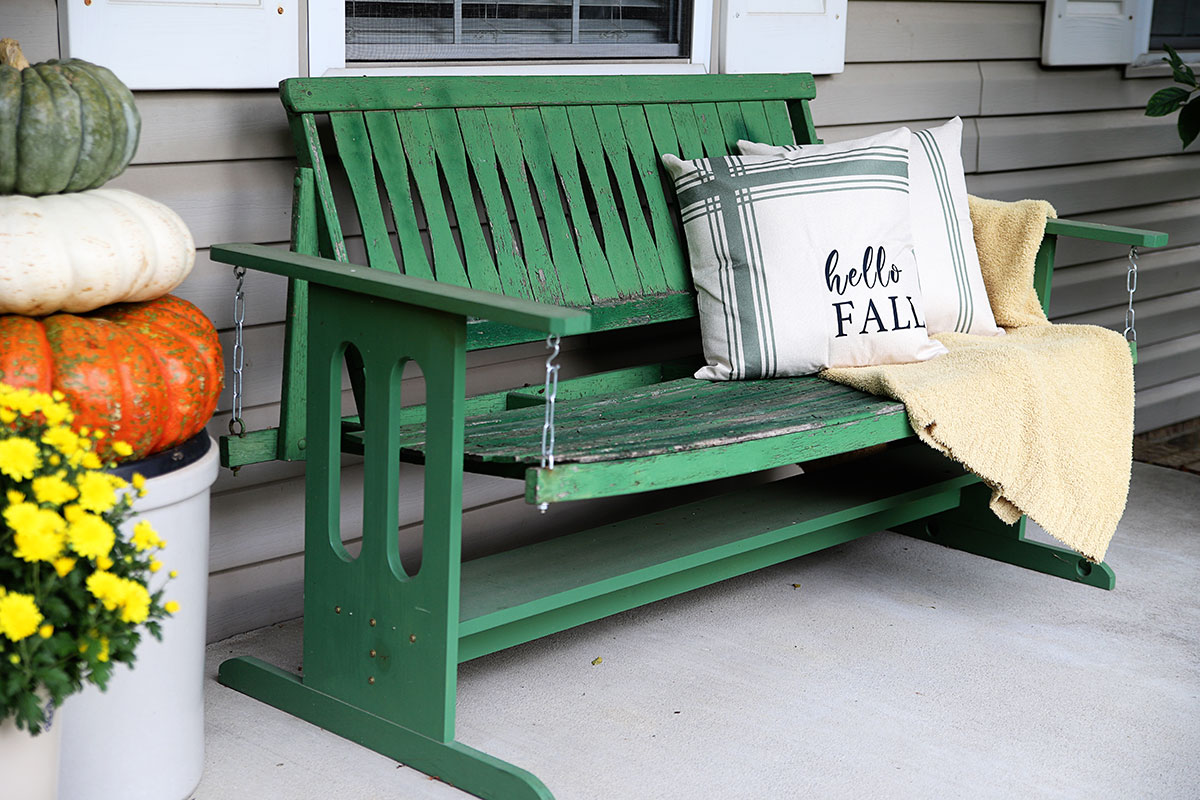 BTW, those cute pillow covers are some of those super cheap ones you keep seeing on Amazon thinking they are too cheap to be for real.
But I've bought a few different styles of them so far and they are far better than I expected. I'm not going to lie, they are a little thin and I'm not really sure what the fabric is, but the printing on all 3 sets I've bought is bright and crisp.
And for the price, perfectly fine to just buy and throw on the porch.
If a squirrel pees on them or the neighbor's dog drags them off the porch and starts chewing on them, oh well.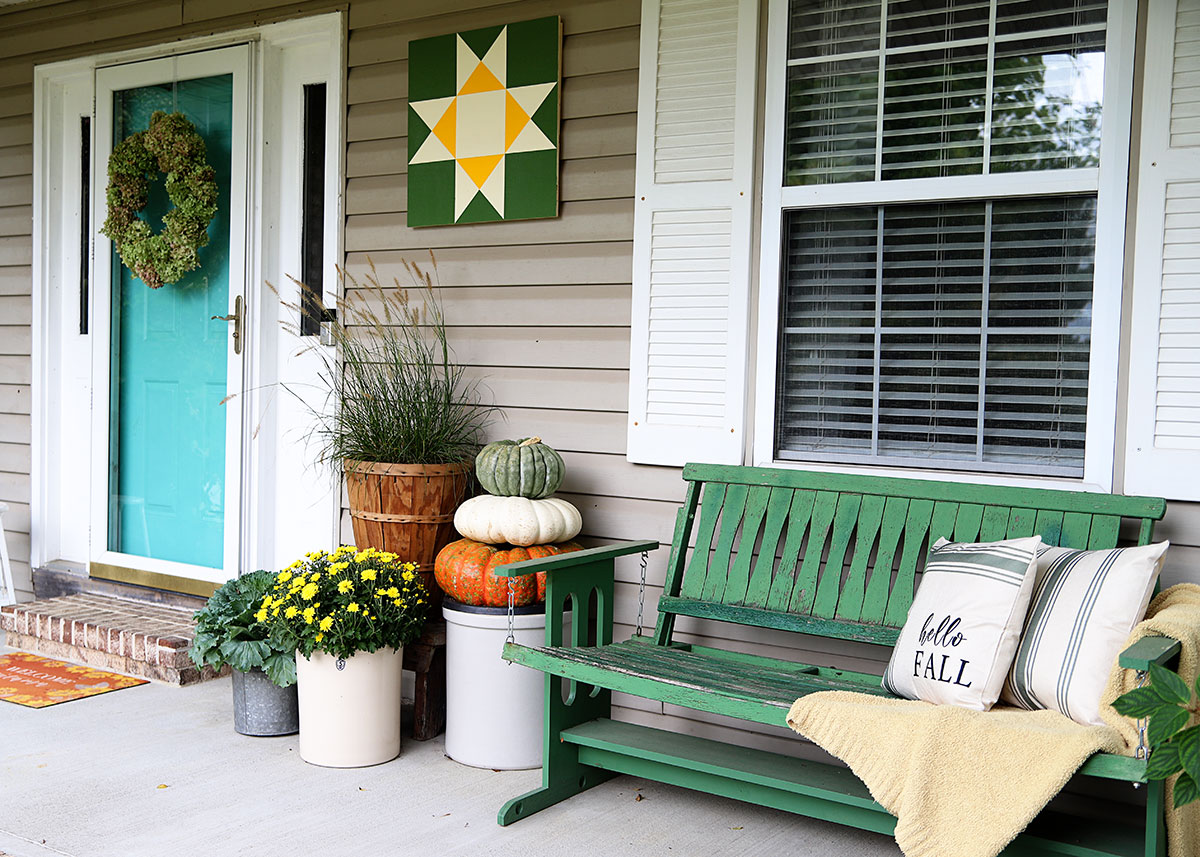 I don't have a terrific shot of the dried hydrangea wreath on the storm door (the glass glare is pretty harsh), but this is a photo I took right after I made it while it was still fresh.
I love the yummy variations in the blooms this time of year.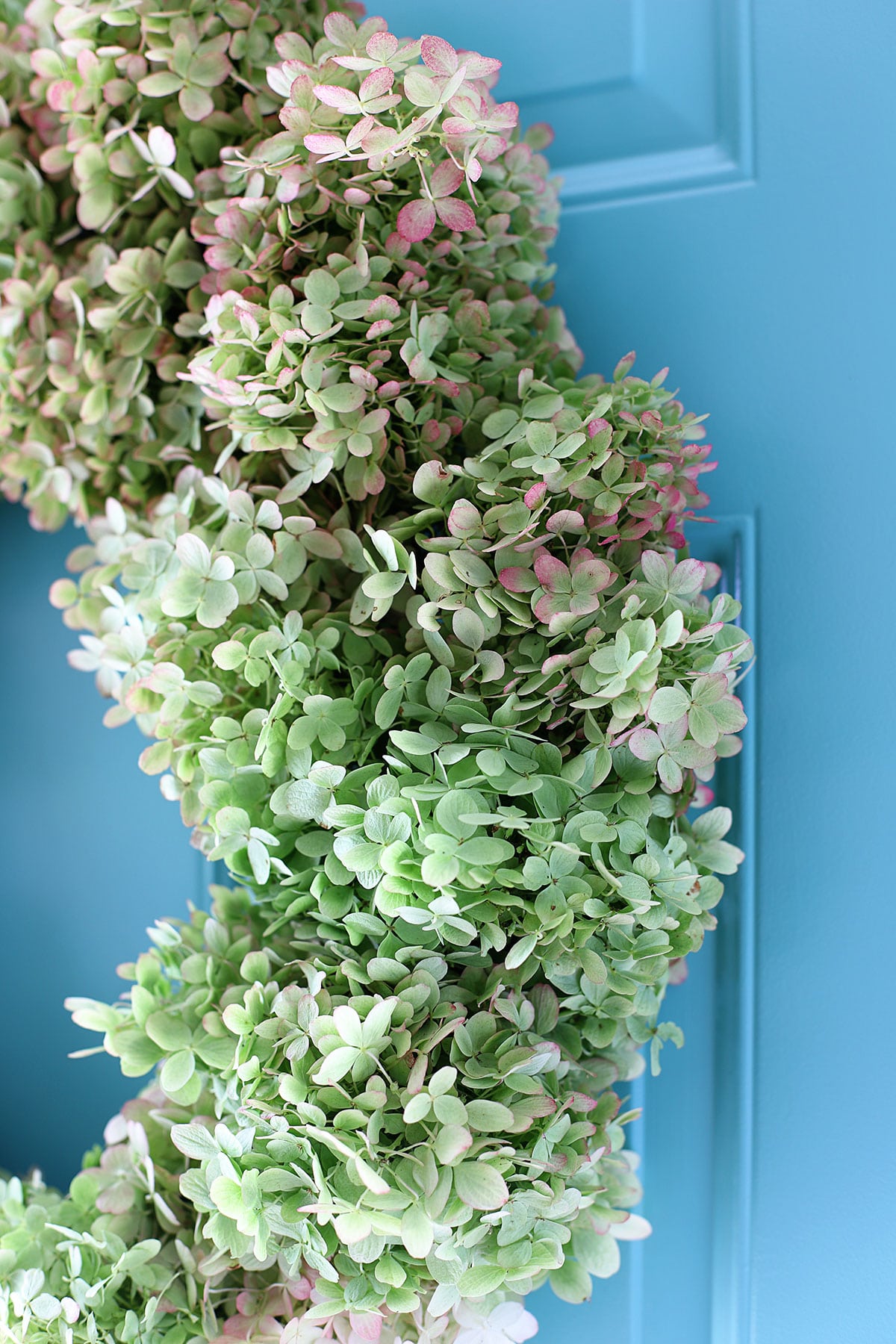 It's made from my Limelight Hydrangea and I normally wait until the blooms start turning pink and burgundy in the fall before cutting them. They pretty much dry to the same color as when you cut them, so timing is everything. I just posted a tutorial on exactly how I made the wreath HERE - Quick & Easy Hydrangea Wreath.
If you're interesting in growing your own hydrangeas, I have some tips and tricks on How To Grow Limelight Hydrangea HERE. And tips on How To Dry Hydrangeas The Easy Way HERE.
Uh, oh. Here I am worried about murder hornets and asteroids and it's really the aliens I should have been watching out for!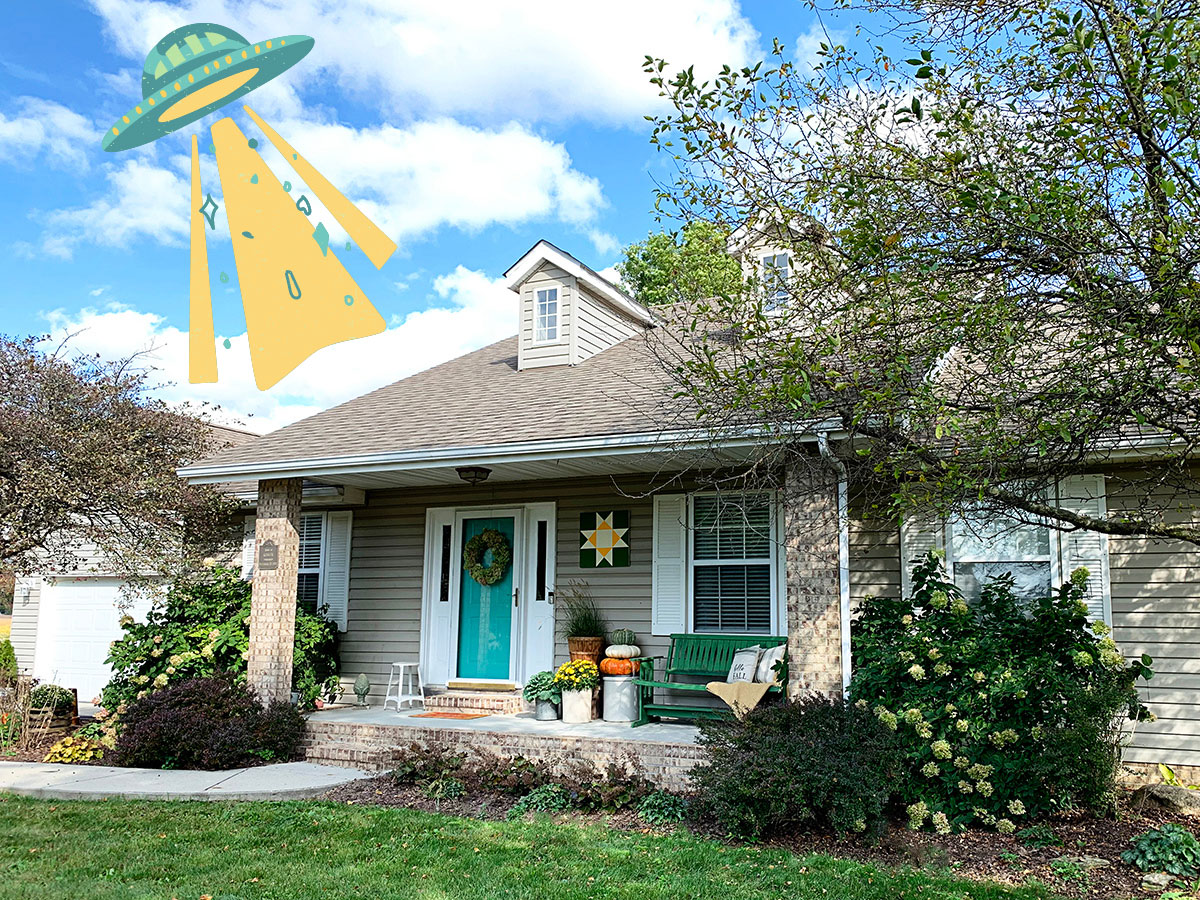 If you want to see porches with more traditional autumnal colors (ie fall threw up), I have plenty for you.
Some Of My Past Fall Porches: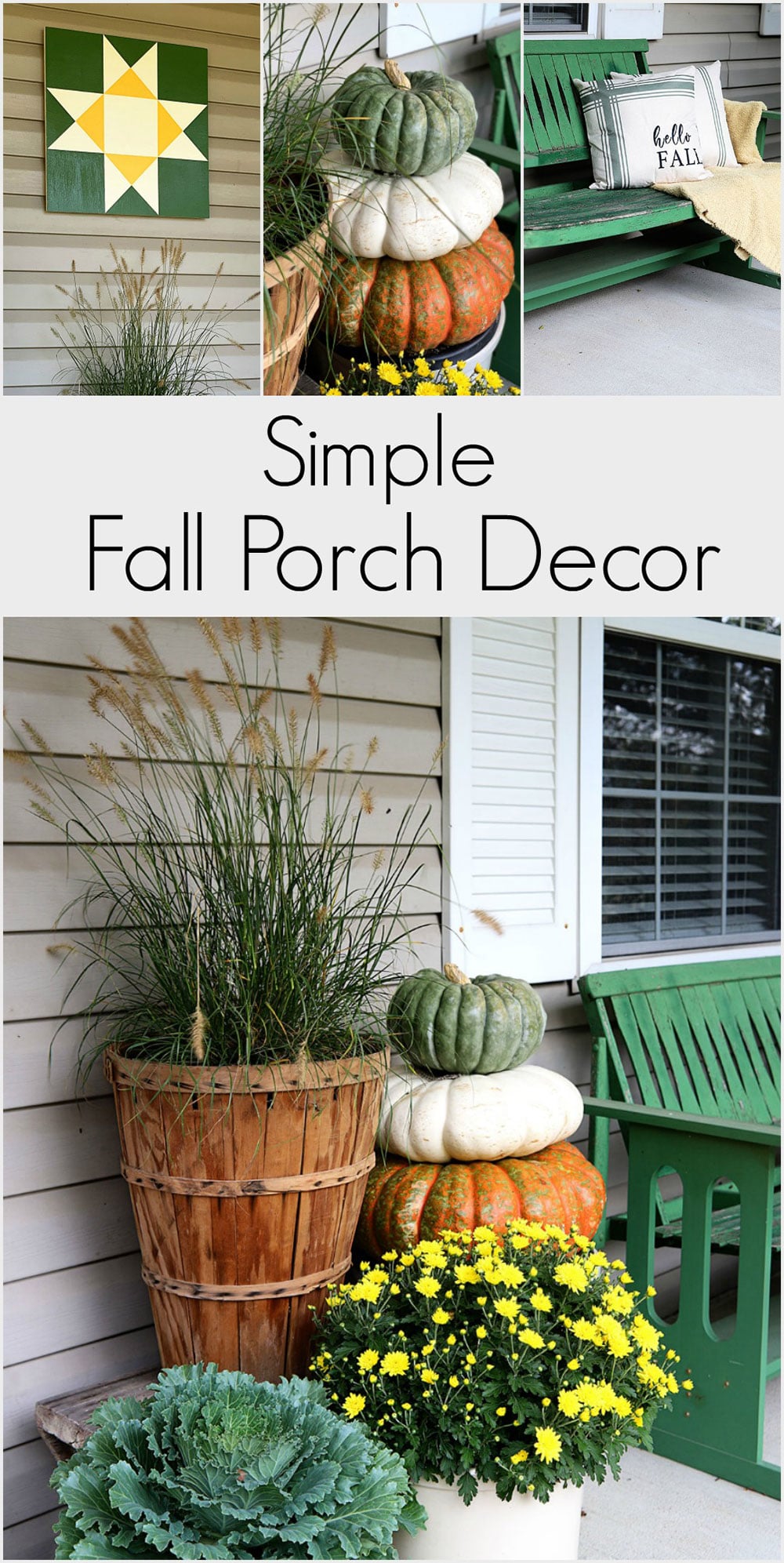 How did you decorate your porch this year?
Are you team Fall All The Way or team Peaceful And Calming?
Or team Pandemics Suck, So Why Bother?
View the web story version of the article HERE - Fall Porch Decor Web Story.