I love rustic camp themed decor. Thermoses, picnic baskets, old camp blankets.
And along that line, just about anything and everything birch bark.
I've used birch logs in Christmas planters for the porch.
Made a succulent plant out of a huge birch bonfire log.
And have even made a bird feeder out of a piece of birch.
So when I saw a glass vase at the thrift store the other day I knew what I wanted to make for today's Thrift Store Decor Team Wednesday.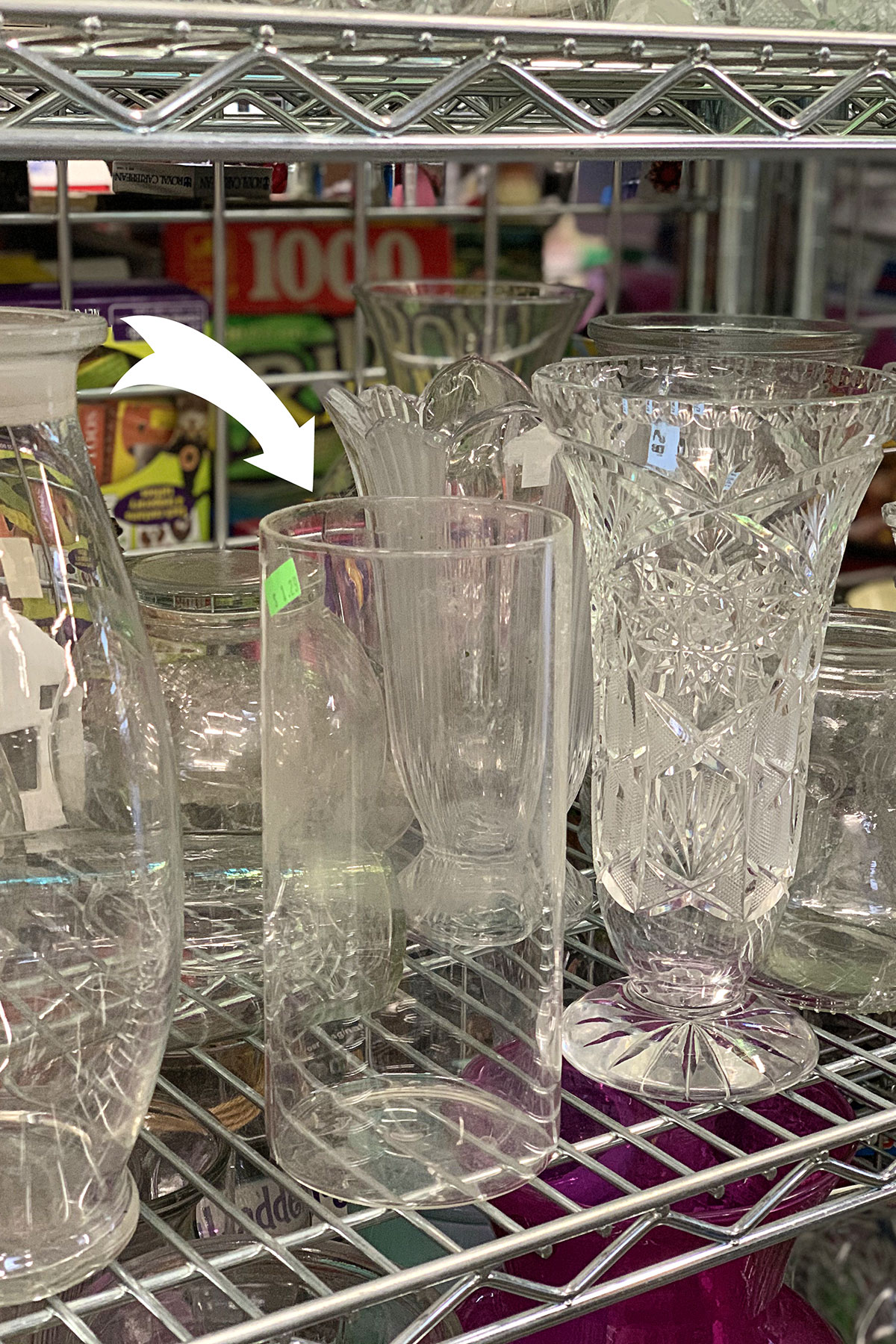 Let's make a rustic birch bark vase! Or two.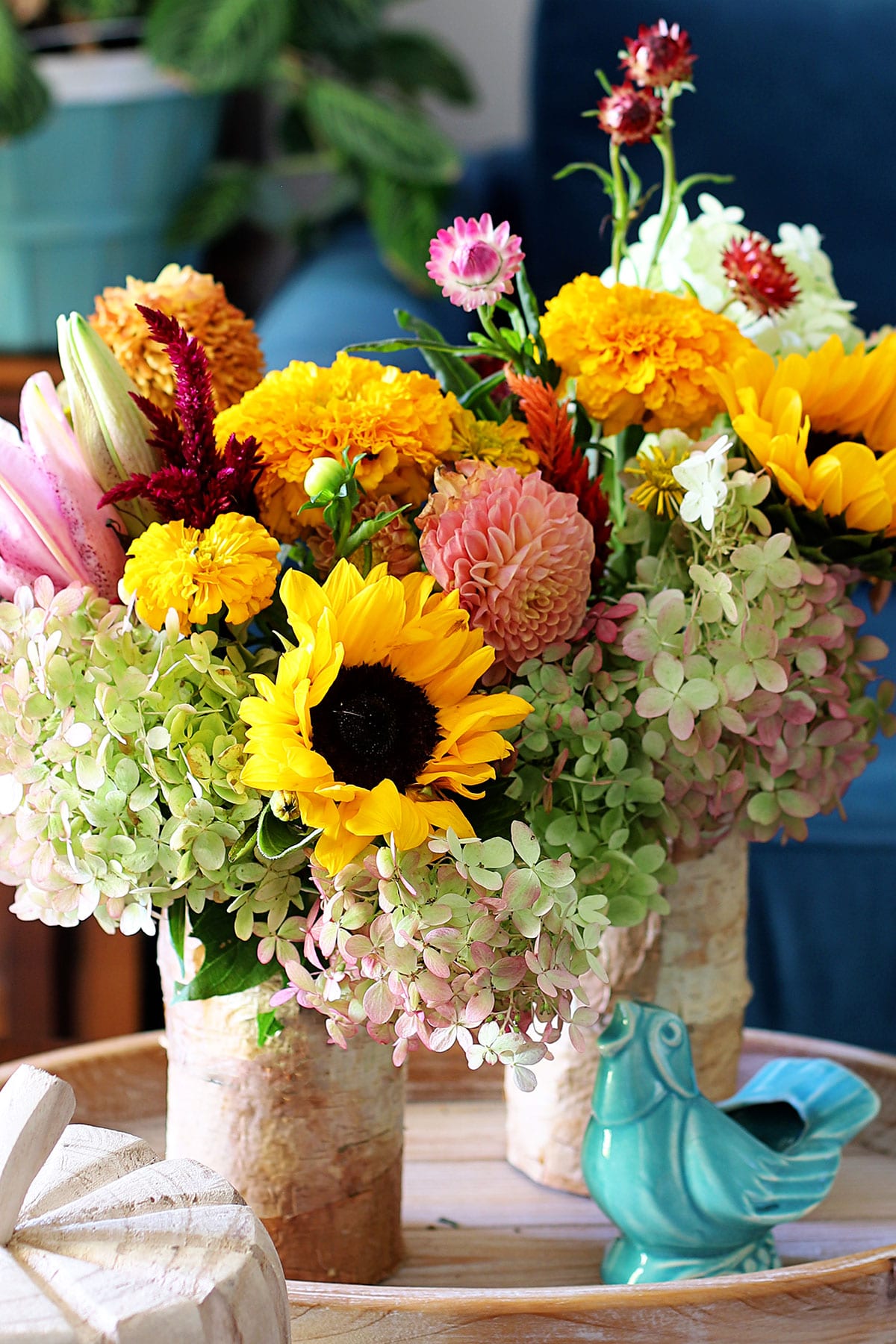 How To Make A Birch Bark Vase
(This post contains some affiliate links for your convenience. You can read my full disclosure policy here.)
Supplies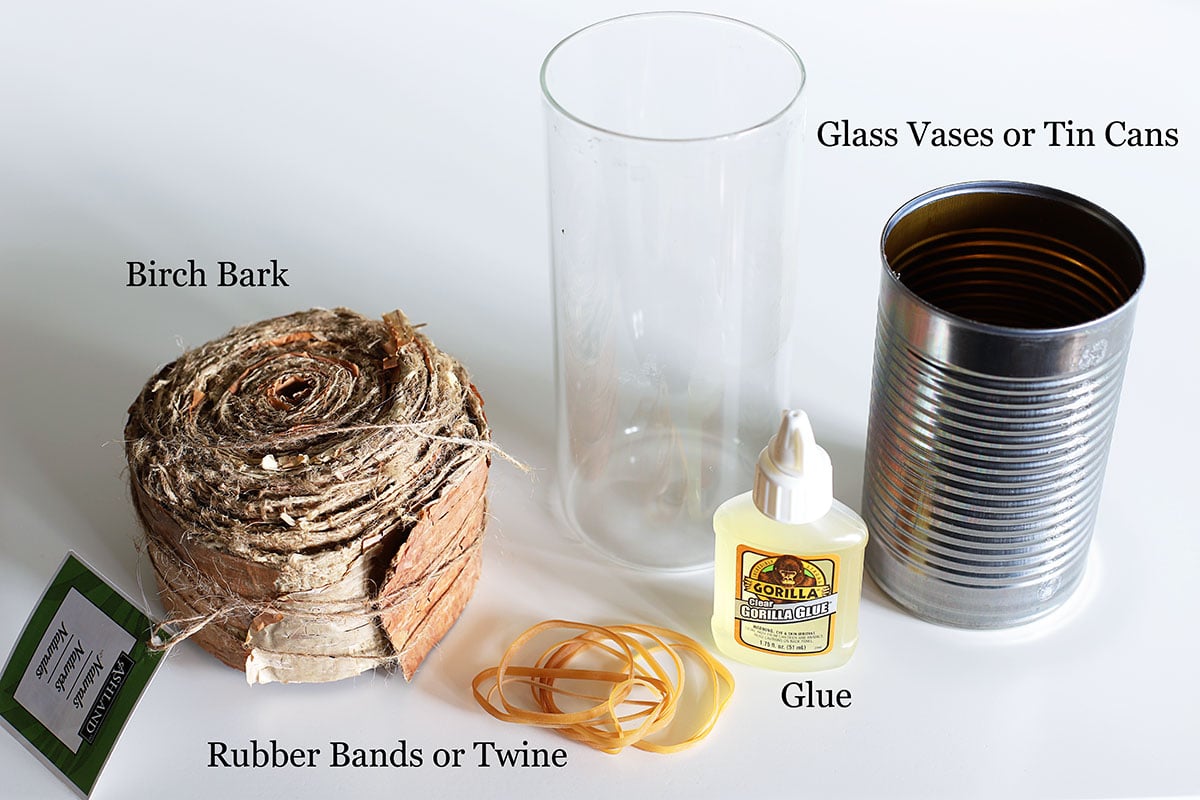 Glass Vase or Tin Can
Rubber Bands or Twine
Scissors
Instructions
Measure the circumference and height of your vase.
My vase was 7" tall and had a 11 ½" circumference.
Cut some strips from your birch bark that are long enough to go entirely around your vase once and overlap at least 1". So for my 11 ½" circumference I cut them to 13".
As for how many strips to cut? Chances are you are going to get some wacky number if you divide the height of the vase by the width of the strips, so you will have to decide if you want to cut the last strip to match evenly with the top of the vase. Or if you want a little extra standing up over the top.
I chose to just leave that little extra at the top.
Lay a couple vertical lines of glue at the bottom of the vase and glue your first strip down.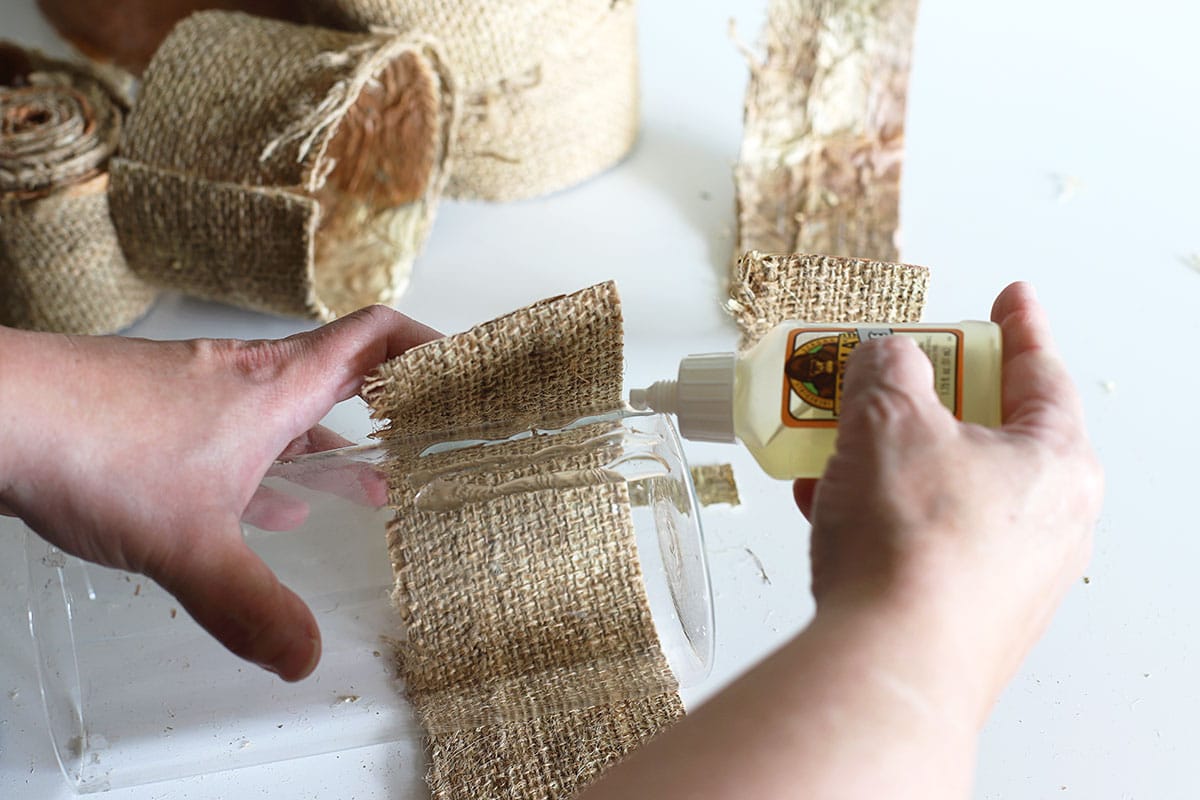 Wrap the strip on around the vase overlapping your initial glue down point by 1-2" and glue down that end.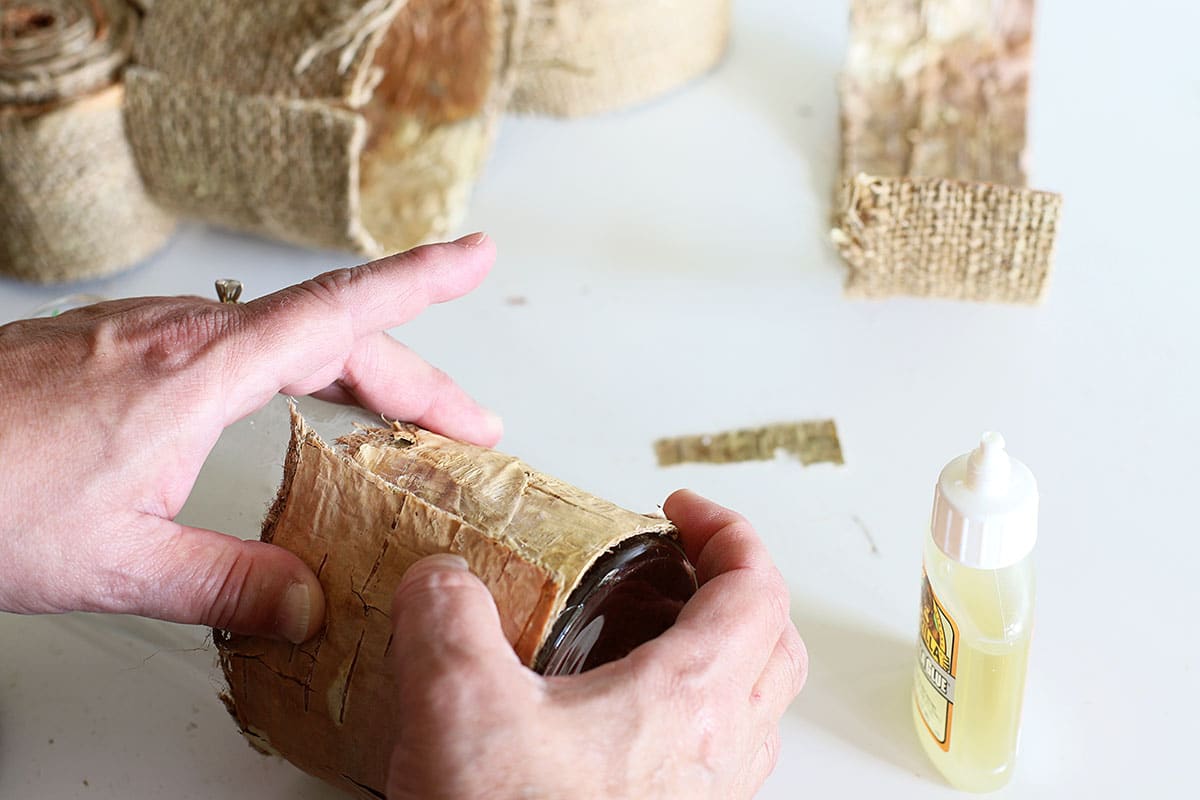 It will take a bit for your glue to set, so put rubber bands or twine around the birch strip to hold it tight while it dries.
I used rubber bands on most of my strips.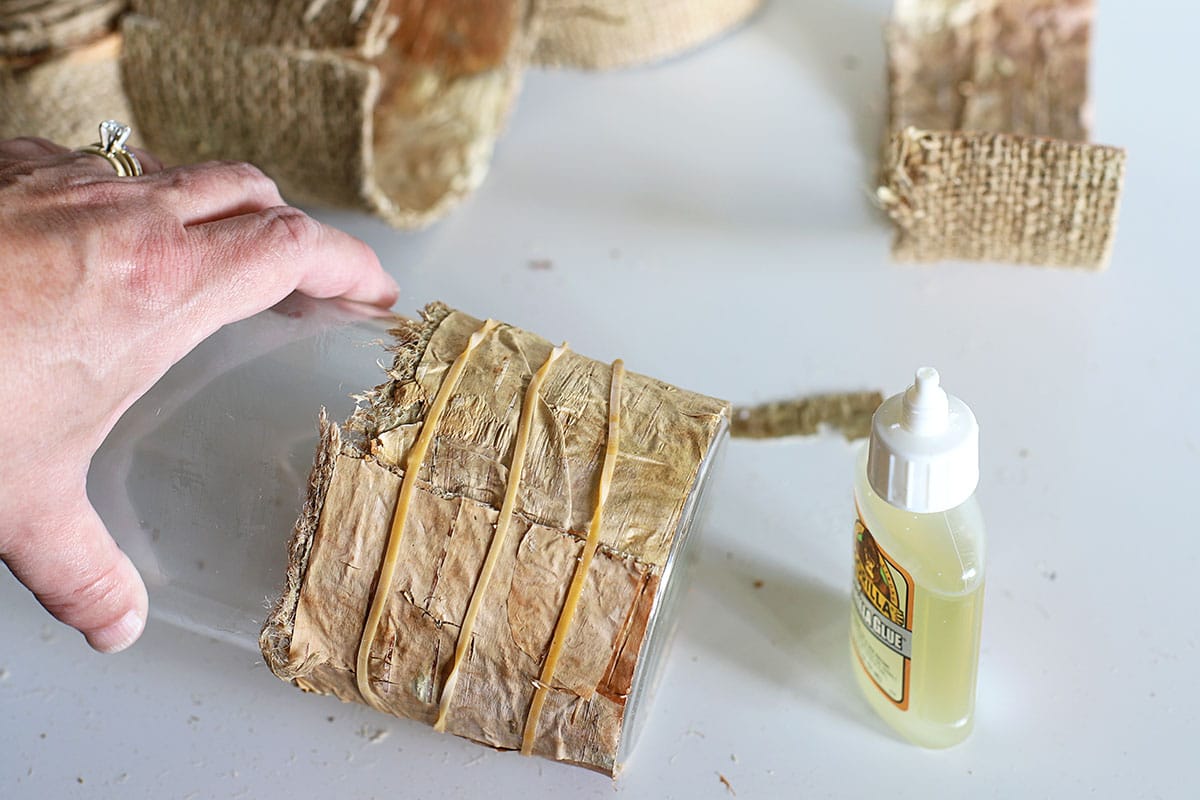 Do the same with the other strips of birch bark, making sure your overlap area is lined up in the back. That will assure that your vase will look perfect at almost any angle.
I ran out of "good" rubber bands when I was wrapping the tin can, so I used a mix of rubber bands, twine and a binder clip.
My definition of a "good" rubber band is one that is thick and only needs to be wrapped around the vase one time. For some reason, my tub of rubber bands had way too many big floppy ones.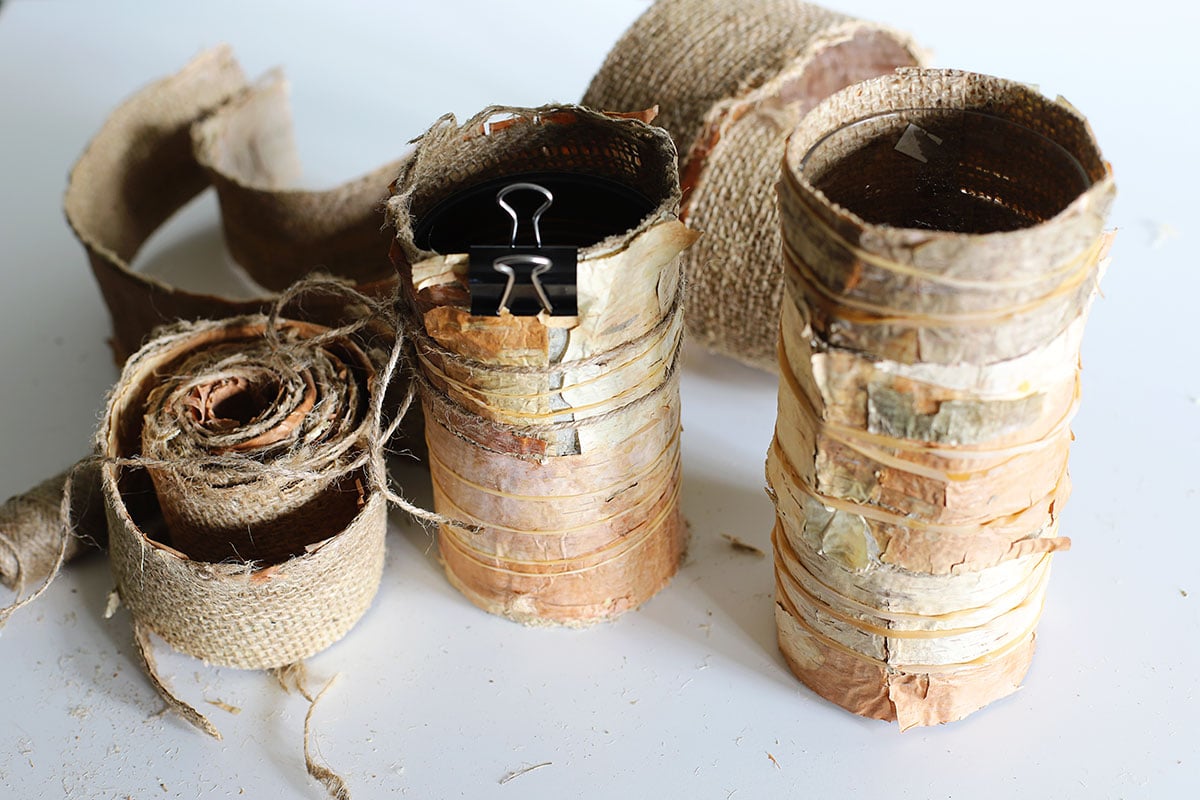 After the glue is set, carefully remove the rubber bands or twine and fill with flowers!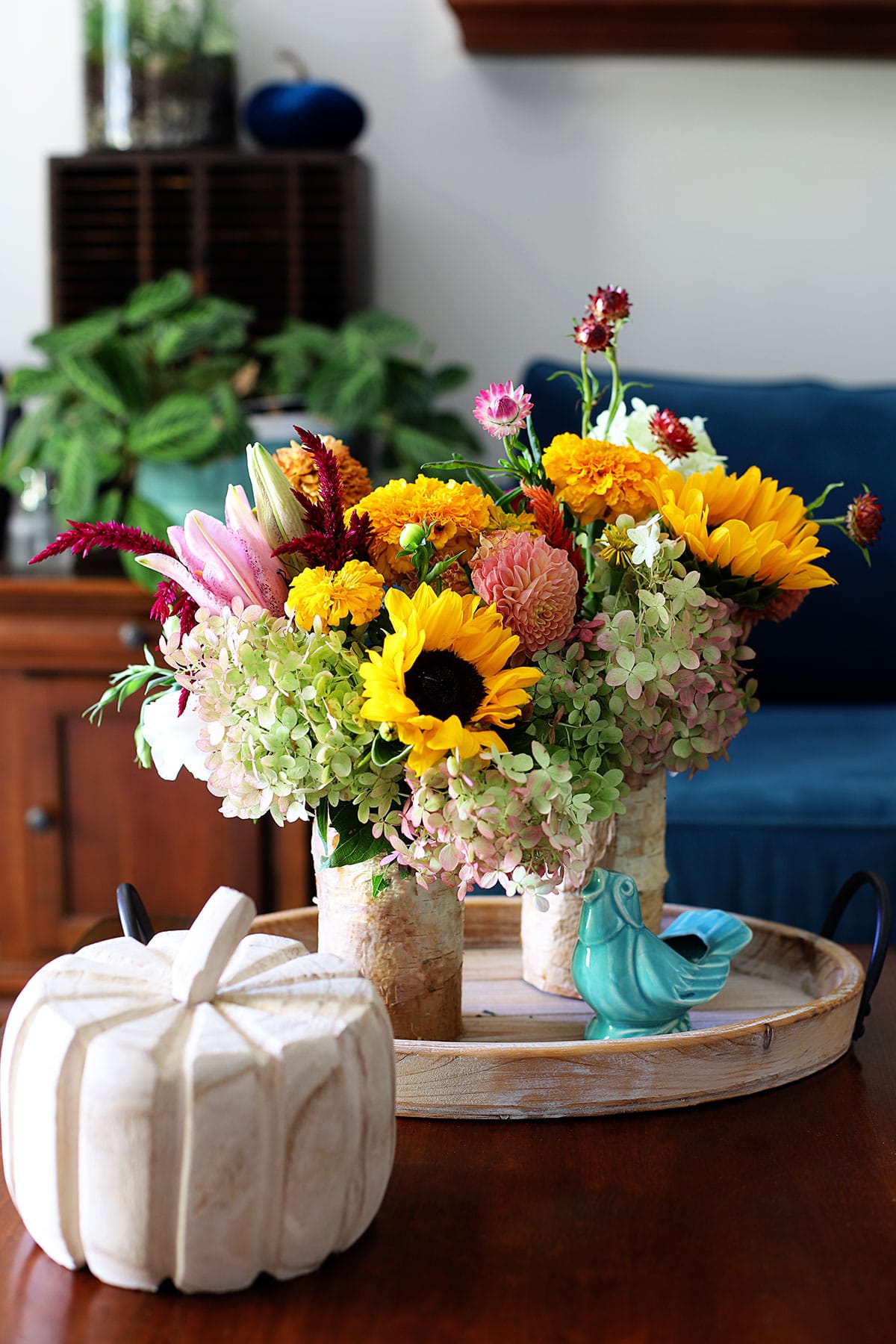 Disclaimer: I will not lie, this was a little bit of a messy project. The birch bark I used was paper thin birch bark glued to burlap, which on one hand makes it very easy to work with (yay), but on the other hand makes it a little on the fragile side. There was a lot of dusty little pieces of bark flying around.
I definitely would do the project again in a heartbeat. The vases are super cute!
But I would make sure my vacuum cleaner is standing by. Oh, and I wouldn't wear a fluffy sweater that attracted ALL the extra birch bark particles laying around.
What can you do with your bark vases:
Fall Decor (as shown above)
Winter Decor (imagine pine boughs and berries in these!!!)
Wedding Reception Centerpieces (this would be so cute as a centerpiece for a rustic themed wedding - you wouldn't need much more than the birch covered vases, some beautiful hydrangeas and a candle or two)
OK, so let's see what the other Thrift Store Decor Team ladies have made this month!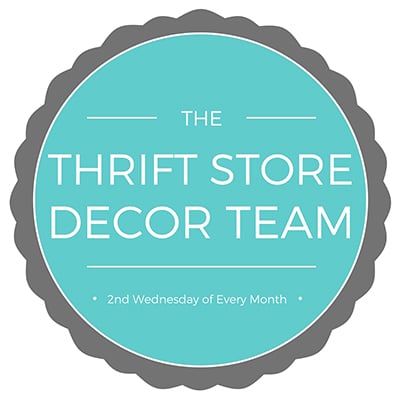 Paint Old Picture Frames - Petticoat Junktion
Halloween Ghost From A Wooden Cheese Board - Sadie Seasongoods
Baroque Mirror Memo Board - My Repurposed Life
Frying Pan Sign - Domestically Speaking
How To Paint A Basket - Our Southern Home
How To Make A Concrete Pumpkin - My Uncommon Slice of Suburbia
Rustic Birch Bark Vase - House of Hawthornes (that's me)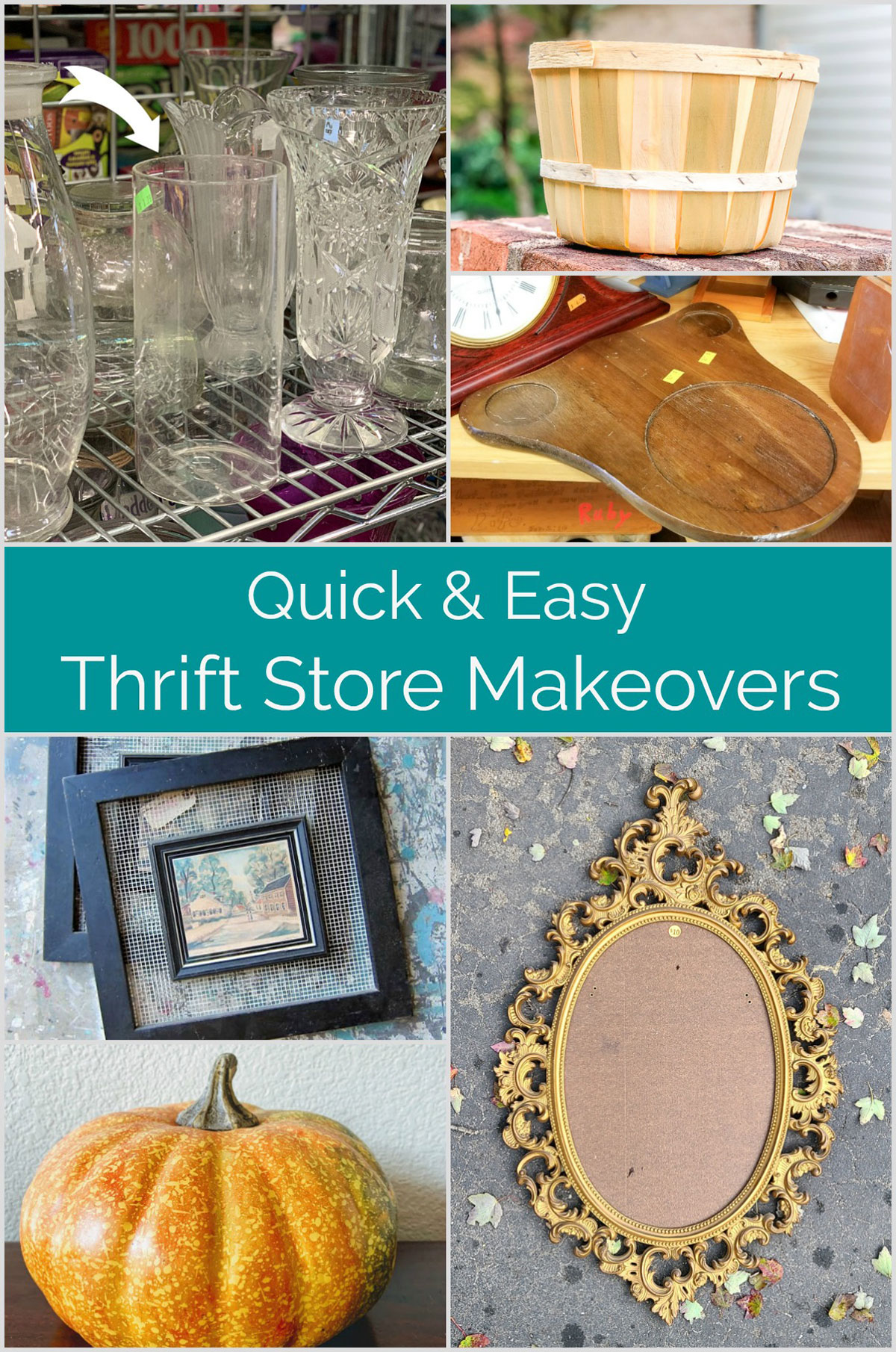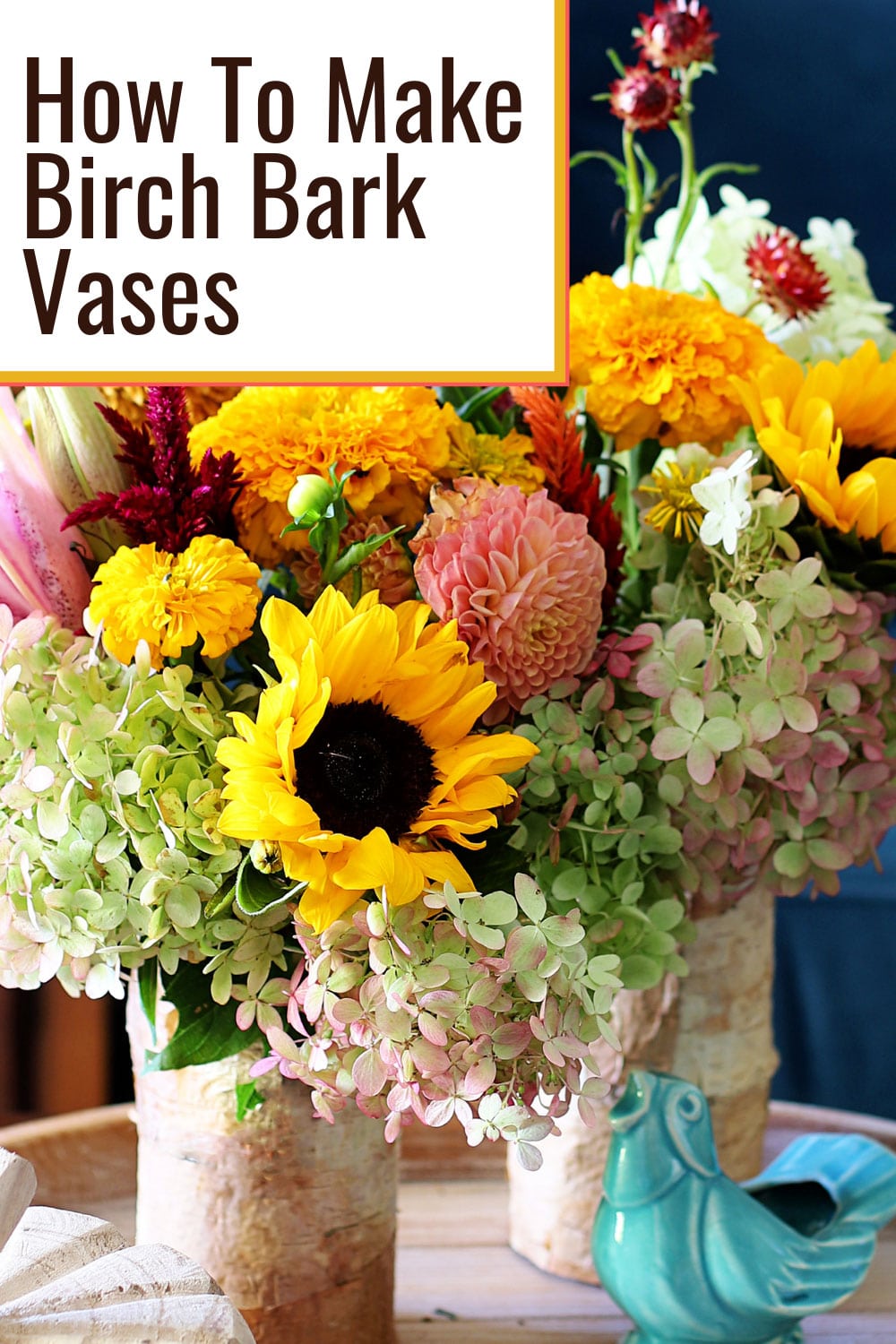 Other Post You May Enjoy:
Easy DIY Candles In Thrift Store Glassware