This inexpensive rag wreath DIY project is very EASY to make. You can use flannel for a fall home decor look or just about any other fabric for year-round use!
Today is a little different kind of Thrift Store Decor Wednesday because we are all doing a project using flannel!
You know how much I love fall and how much I love plaid. So I jumped at the chance to do a flannel themed project.

Why flannel? Well besides it being practically officially fall, our friend and Thrift Store Decor Team partner Sarah from Sadie Seasongoods has written a book about Crafting With Flannel. You can find it on HERE on Amazon.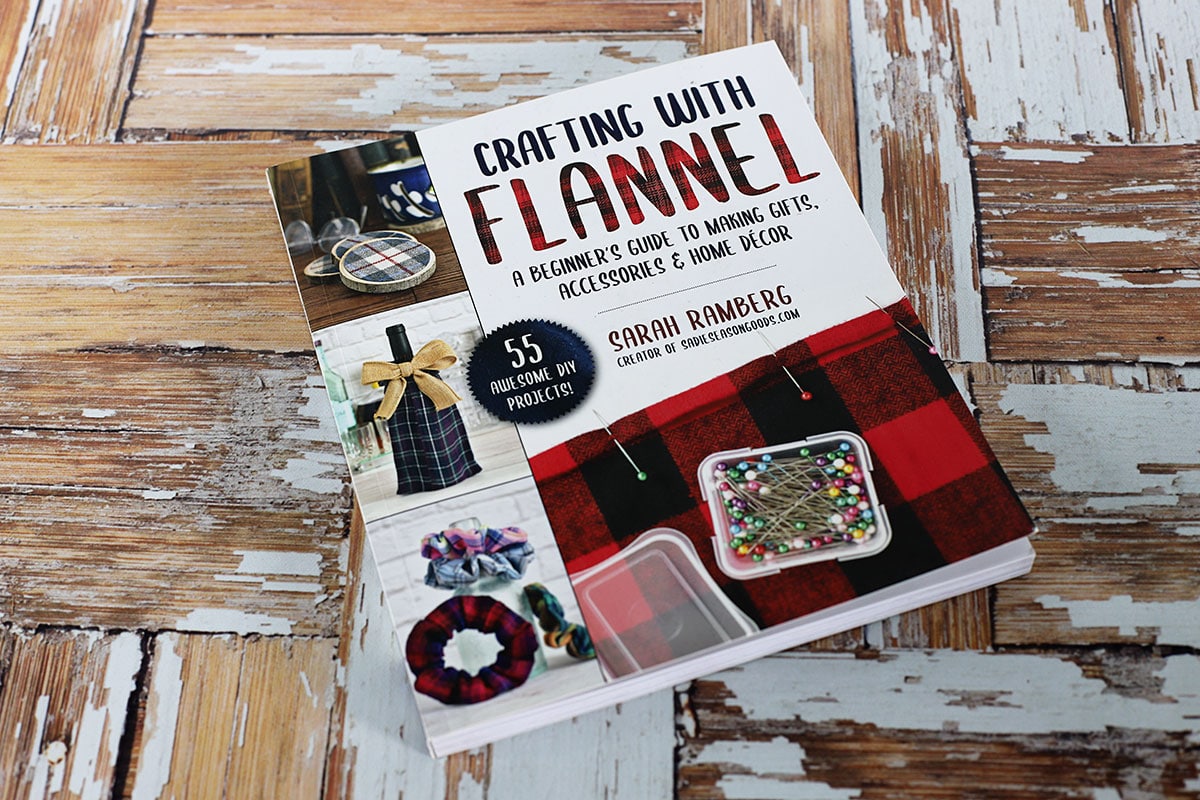 It's chock-full of all sorts of quick and easy projects to make with flannel. Either from upcycling thrift store shirts or buying fabric from the fabric store.
For my flannel project, I decided to make a rag wreath.
This project is perfect to do in front of the TV while watching your latest Netflix addiction.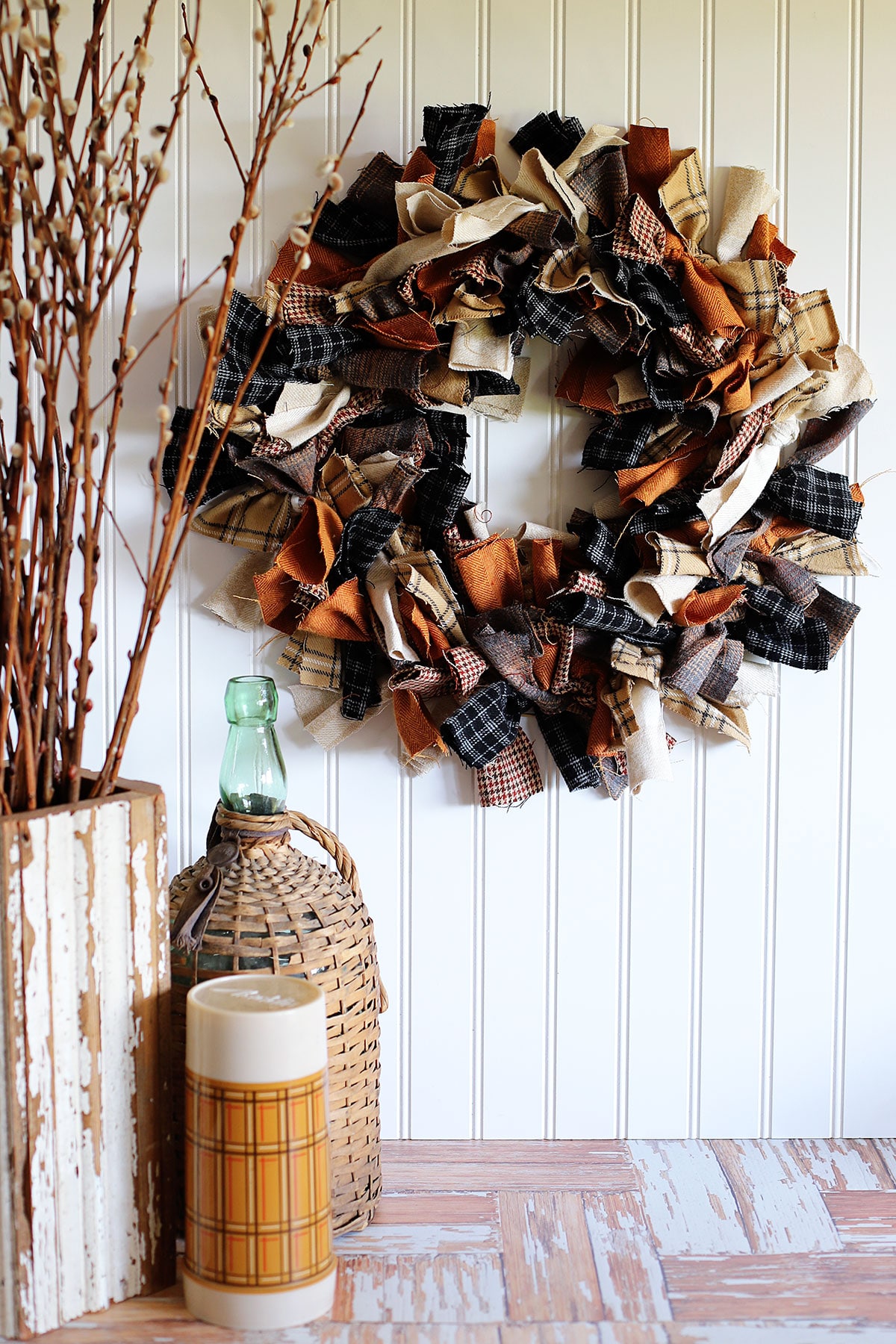 (This post contains some affiliate links for your convenience. You can read my full disclosure policy here.)
How To Make A Rag Wreath
Supplies: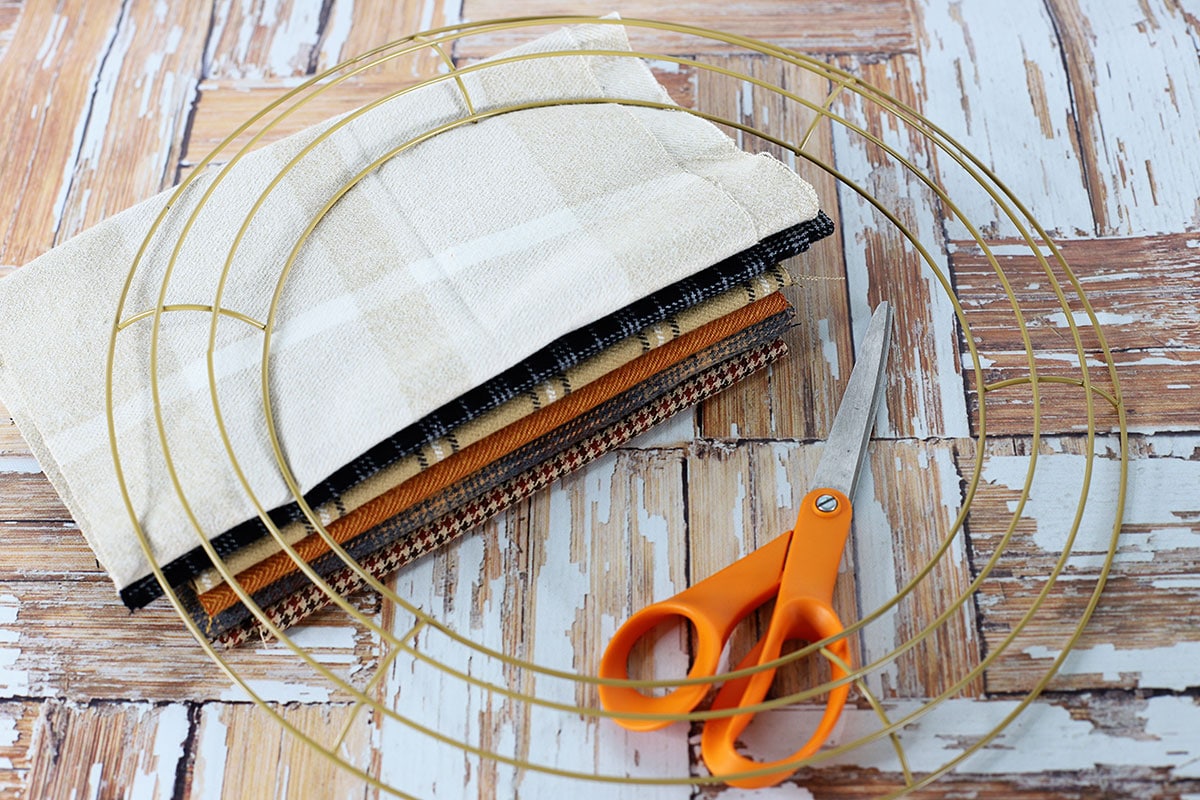 If Using Fabric By The Yard - Using 6 different patterns of fabric, have the fabric store cut ¼ yard of each fabric. This is from your basic standard bolt of fabric which is 42" wide. Each of the 6 cuts of individual fabric will be 9" tall by 42" wide - total yards of fabric used will be 1 ½ yards all together
If Using Fat Quarters - Buy 6 fat quarters which are each 18" tall by 21" wide (after cutting into strips, you'll ultimately get the same amount of strips of fabric as you would from the bolt)
If Using Thrift Store Flannel Shirts - 6 shirts should be more than enough to make a rag wreath if using the front, back and sleeves of a men's size shirt
14" Wire Wreath Frame (Dollar Tree has them for $1)
Scissors - these are my favorite old-lady scissors
Instructions:
Time needed: 1 hour and 15 minutes
Steps:
Cut Fabric Into Strips

Cut any salvage edges off the ends of your fabrics.

If using fabric cut from the bolt, it will already be at 9" tall, so you just need to cut it into 3" strips. I like to fold the 42" strip in half and cut every 3 inches, Mathematically there may be a tiny bit left over, but the strips don't have to be 100% matching in size.

If using fat quarters, your fabric starts at 18" tall, so cut that in half and then cut those two longer strips into 3" wide sections as above.



Arrange Fabric Into Stacks.

Put your fabric into stacks to make it easier to make sure you're alternating fabrics.

You will end up with 14 strips of each color fabric (84 total strips).



Tie Fabric Onto Wreath Frame (part 1)

You will only use the inner 3 rings to tie fabric to, leaving the outer 4th ring empty. The main reason I don't use the 4th ring is because it doesn't sit flush to the door if used.

Fold a 3" wide strip in half length-wise (it will then be 1 ½" wide by 9" long).



Tie Fabric Onto Wreath Frame (part 2)

Start by running the folded strip under one ring.



Tie Fabric Onto Wreath Frame (part 3)

Loop the ends over each other pulling tightly to tie a basic knot.



Tie Fabric Onto Wreath Frame (part 4)

Attach another strip to a different row.

Repeat this process over and over again, spacing the knotted strips out over the 3 levels of wire (remember you're not using the outermost wire). Push knots together as you go.



Tie Fabric Onto Wreath Frame (part 5)

My wreath frame had 6 sections, so I evenly distributed 2 strips of each color fabric to the 3 rows in that section and then moved onto the next section. This will use up 72 strips (6 fabrics x 2 strips of each per section x 6 sections = 72 strips).

You will then have 12 strips left over to fill in any empty spaces if needed. I ended up putting 2 extra strips on each of the 3rd outer rings per section.

Or you can just casually and haphazardly knot your fabric onto the frame not bothering to count strips of fabric per section, just making sure you don't have too many of the same fabric colors too close together. Both methods will create a beautiful wreath, it just depends how "precise" you want to be.



Fluff Fabric Strips

Turn your completed wreath over to the backside and make sure all "tails" of fabric are pointed toward the front. Shake your wreath to fluff it up a bit and re-arrange any strips to cover bare spots.



Hang Your Wreath

All that's left to do is hang your beautiful wreath on the door or wall.


Frequently Asked Questions
What Size Strips For A Rag Wreath?
To make a full looking rag wreath, cut your strips 9" long by 3" wide. Since the tutorial calls for folding over the fabric once lengthwise, an absolute minimum of 2" wide is required.
How Much Fabric For A Rag Wreath?
A total of 1 ½ yards of fabric is required for a 14" wreath form. To make a nice variation of fabric it is recommended to buy ¼ yard each of 6 different fabrics.
How Many Fat Quarters For A Rag Wreath?
For a 14" wreath 6 fat quarters are required (fat quarters are normally 18" tall by 21-22" wide.
What Kind Of Fabric Do You Use For A Rag Wreath?
I like to use flannel or a mid-weight quilting fabric. You can also use old sheets, pillowcases or thrift store shirts to save money.
Can You Hang A Rag Wreath Outside?
Yes, if your door is somewhat sheltered from the weather (porch, overhang or behind a storm door). Just keep in mind the fabric may fade in intense sun or run if it gets soaking wet.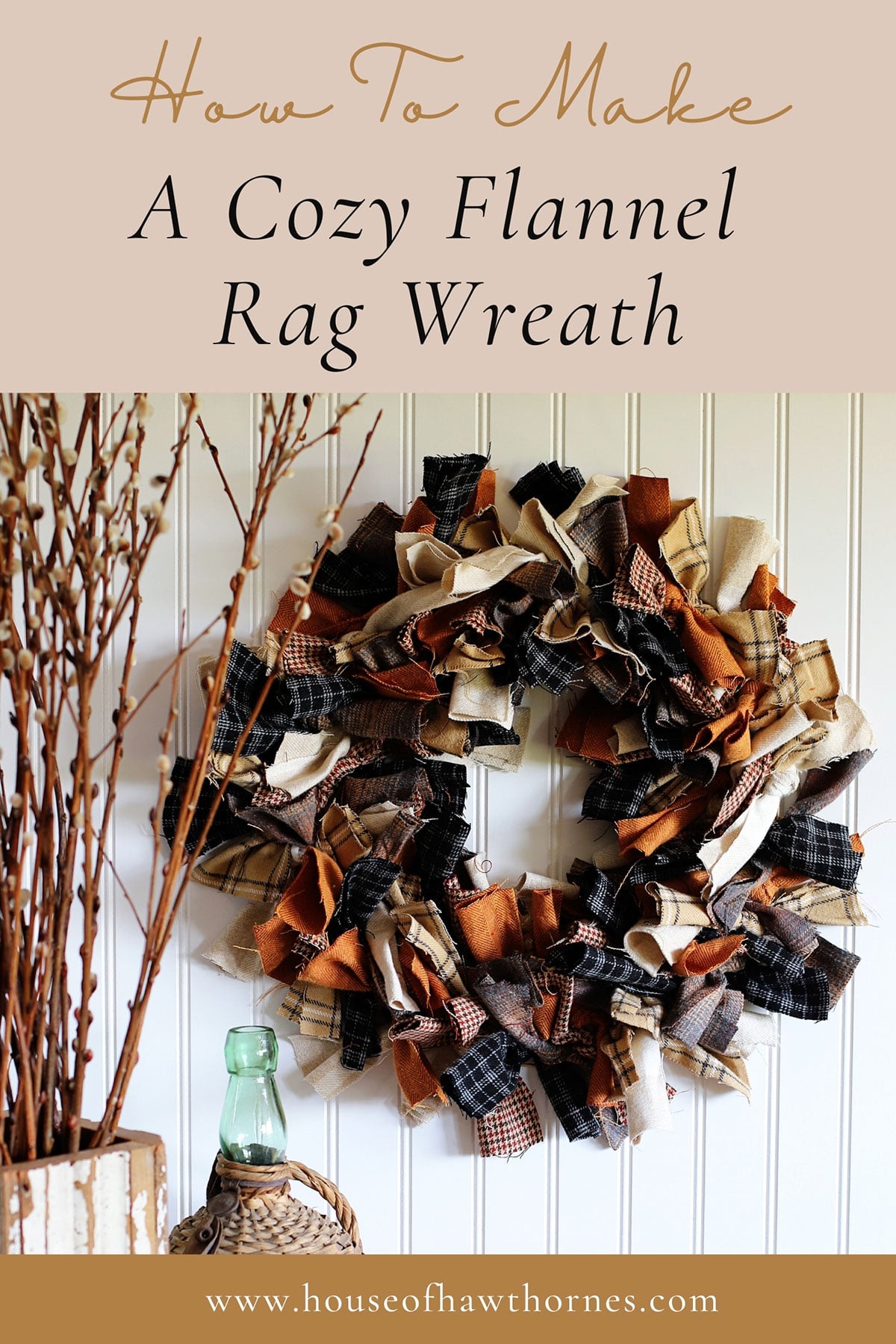 Alrighty then, let's get on to the other flannel projects!
Thrift Store Decor Team Projects:
DIY Flannel Scraps | Easy Projects - My Repurposed Life
Flannel Covered Books - Organized Clutter
Flannel Wrapped Wreath - Petticoat Junktion
No Sew DIY Flannel Pumpkins - Our Southern Home
Blue Fall Decor with a Pumpkin Throw Pillow - Sadie Seasongoods
Cheap Wreath For Fall - Reinvented Delaware
Easy DIY Fall Flannel Pumpkins - My Uncommon Slice of Suburbia
Plaid Pumpkin & Acorn - Domestically Speaking
Flannel Embellished Hand Towels - Shop At Blu
Rag Wreath DIY - House of Hawthornes (that's me)