Easy pour painting technique using common acrylic craft paint to create a no carve pumpkin idea. Cute and simple fall decor.
I'm not really sure if this is called a pour paint craft. a paint pour craft or even a drip paint craft??? But whatever you want to call it, it's a quick and easy way to decorate a pumpkin!
For years I have gone very traditional with my fall decor. Team Orange & Rust here.
But this year I wanted to stretch a little out of my comfort zone and try something a little less predictable. A little more modern.
And what's more modern than a paint splattered pumpkin.
Here's how you can make your own.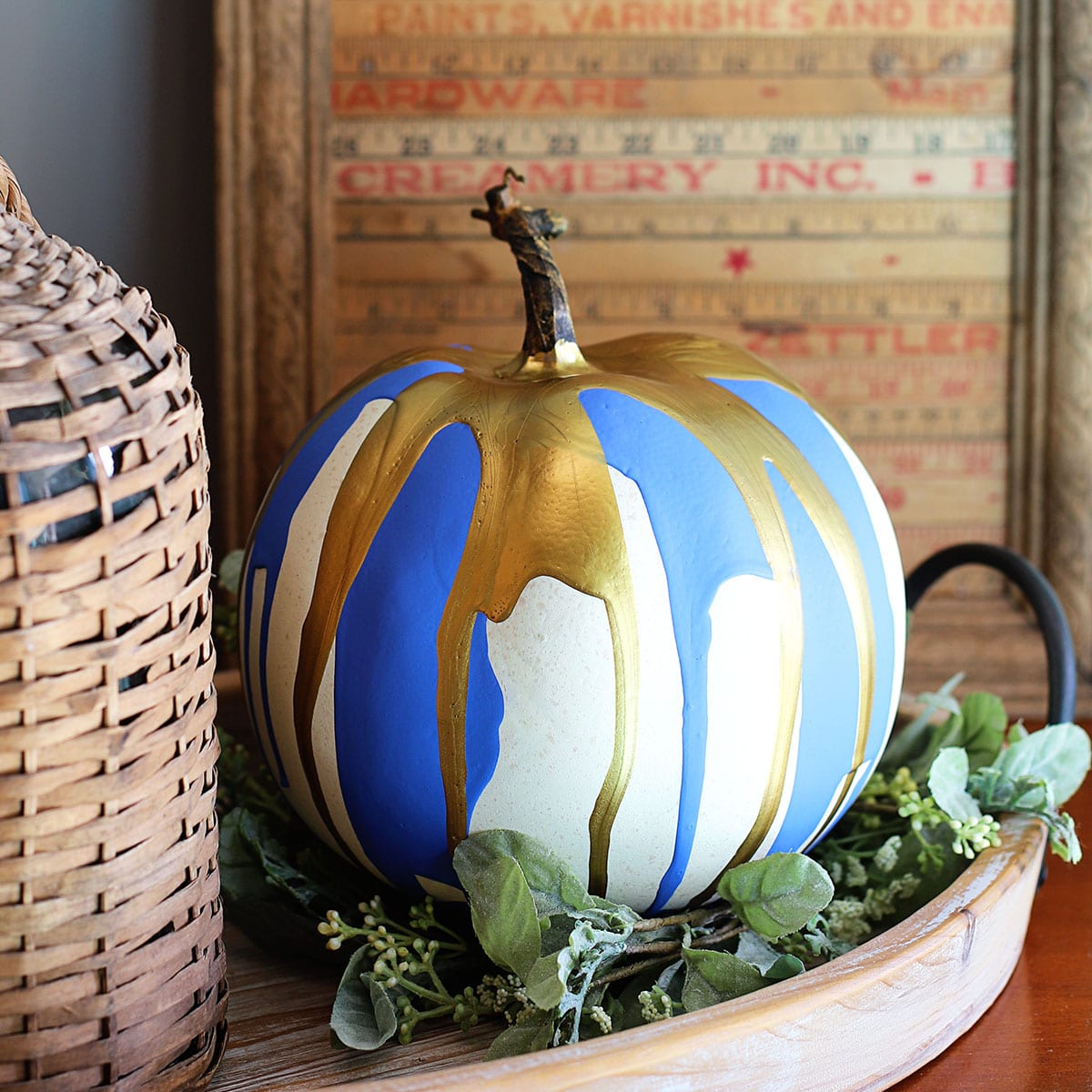 (This post contains some affiliate links for your convenience. You can read my full disclosure policy here.)
How To Drip Paint A Pumpkin
Supplies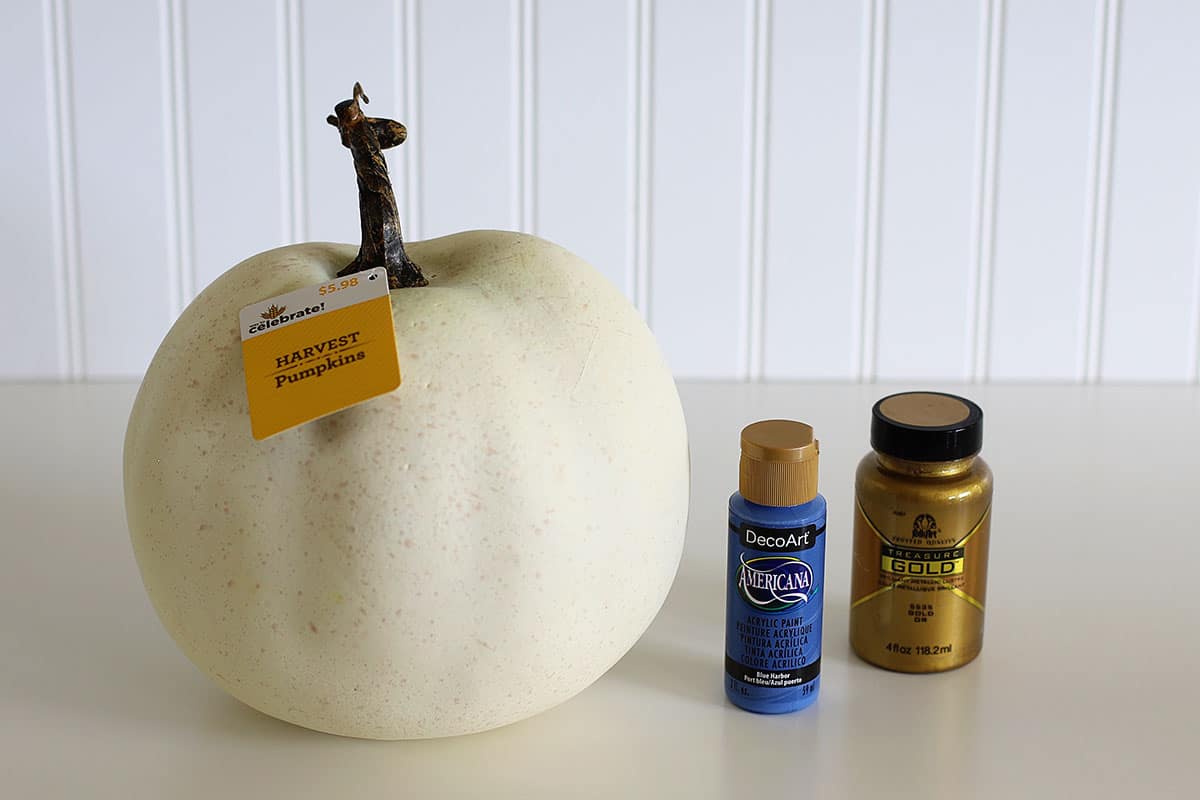 Time needed: 1 day
Pour Painting Pumpkins The Easy Way
Prepare Your Area

Lay down a painter's tarp, newspapers or old shopping bags to cover your surface. This can get messy.

Put a small dish or book on your protected surface and then cover that with a bit more of your newspapers or shopping bags. Place your pumpkin on top of your tiny man-made pedestal.

This is to elevate your pumpkin so the "drips" don't just sit and pool at the bottom of the pumpkin. It's not a good look.



Apply First Paint Color

In the indentation around the stem, add a heaping amount of your first paint color (in my case the blue). I used a full 2 oz. bottle of craft paint.



Make Your Drips

Once you have lots of your primary paint color by the stem you will want to tilt, rotate and tap your pumpkin on the table in order to continue the drips rolling down the sides.

When you do a typical pour paint technique on a flat canvas you add a pouring medium to the paint to make it pour more fluidly and smoothly. Since we are not doing a traditional pour paint technique here, we are not using a special pouring additive and the paint will be thicker.



Allow 1st Color To Dry

Once you get the desired look for the 1st color, allow it to air dry. This is going to be a thicker coat of paint than you probably have ever painted with before, so it will take quite a bit of time to dry.

I let mine dry 4 hours.

The paint on the sides was dried in about an hour, but the paint by the stem took a full 4 hours.



Apply 2nd Color

Repeat with your second color of paint.

I used a tiny syringe to place my gold color, since the bottle it came in was much larger and did not come with a squeeze top like typical craft paint. I have these readily available in my house since my son takes lots of medication using syringes, so if you don't own a syringe I probably wouldn't bother buying one just for this project.

The same amount of each color paint was used, but I just took this photo early in the "gold" process.



Allow 2nd Color To Dry

Just like the first color, the 2nd color will take about 4 hours to dry. To be safe, I would leave the pumpkin to set up overnight before your start decorating with it or touching it too much.

You'll notice in the time listed for the project it says it takes 1 day to make, but that's including the 23 hours & 45 minutes of dry time. The actual fun part of the project is 15 minutes max.


I have to say I was VERY pleased with how to gold color came out. It is very shiny and metallic looking which is not the case for all "gold" paint out there.
And the pumpkin looks fantastic with my wicker covered wine bottle and my Repurposed Yard Stick Craft fall vignette. Not an orange pumpkin or leaf in sight!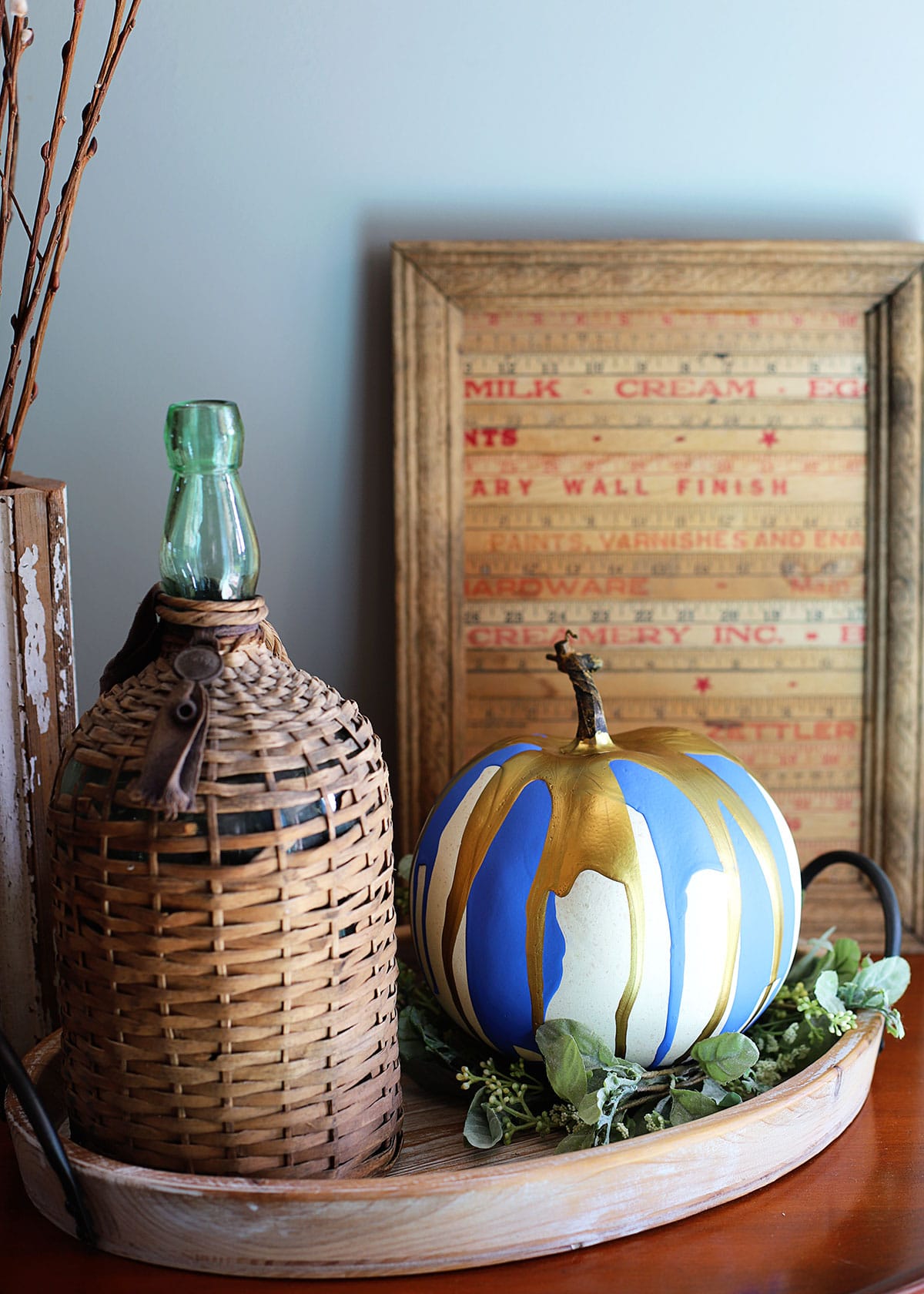 Frequently Asked Questions
Where Can I Buy A Faux (Fake) Pumpkin?
I found my medium sized fake white pumpkin at Walmart for $5.98. It's about 6" tall (8" inches if you include the stem). You can also find fake pumpkins at Joann's, Michaels, Target and Amazon.
What Kind Of Paint Do You Use To Paint A Pumpkin?
Acrylic craft paint is the easiest to work with. It dries quickly, cleans up easily (soap and water) and it comes in 14,582 colors. It's also fairly inexpensive if you buy it at the craft stores ($1-$2 a small bottle).

Oil based paint is very smelly, takes forever and a day to dry and you'll need paint thinner, turpentine or mineral spirits to clean up the brushes. If you are doing this project with children, you should definitely use acrylic and not oil based.

Of course you could use a can of spray paint if you just wanted to paint a whole pumpkin an entirely different color. That's not what we're doing in this project, but it's a thought if you just want an all over shiny gold pumpkin.
Can You Paint A Real Pumpkin?
Yes you can!

If you use a real pumpkin, pick out a pumpkin with a smooth surface area and not a lot of deep indents, warts and wrinkles. Make sure you wash off the pumpkin with soap and water and allow to dry thoroughly before painting.

I personally did not use a real pumpkin, because I wanted to use it again and again.

And really wanted to store the pumpkin for 10 months out of the year (said no one ever). Am I the only one with 10 fall decor storage bins in the basement?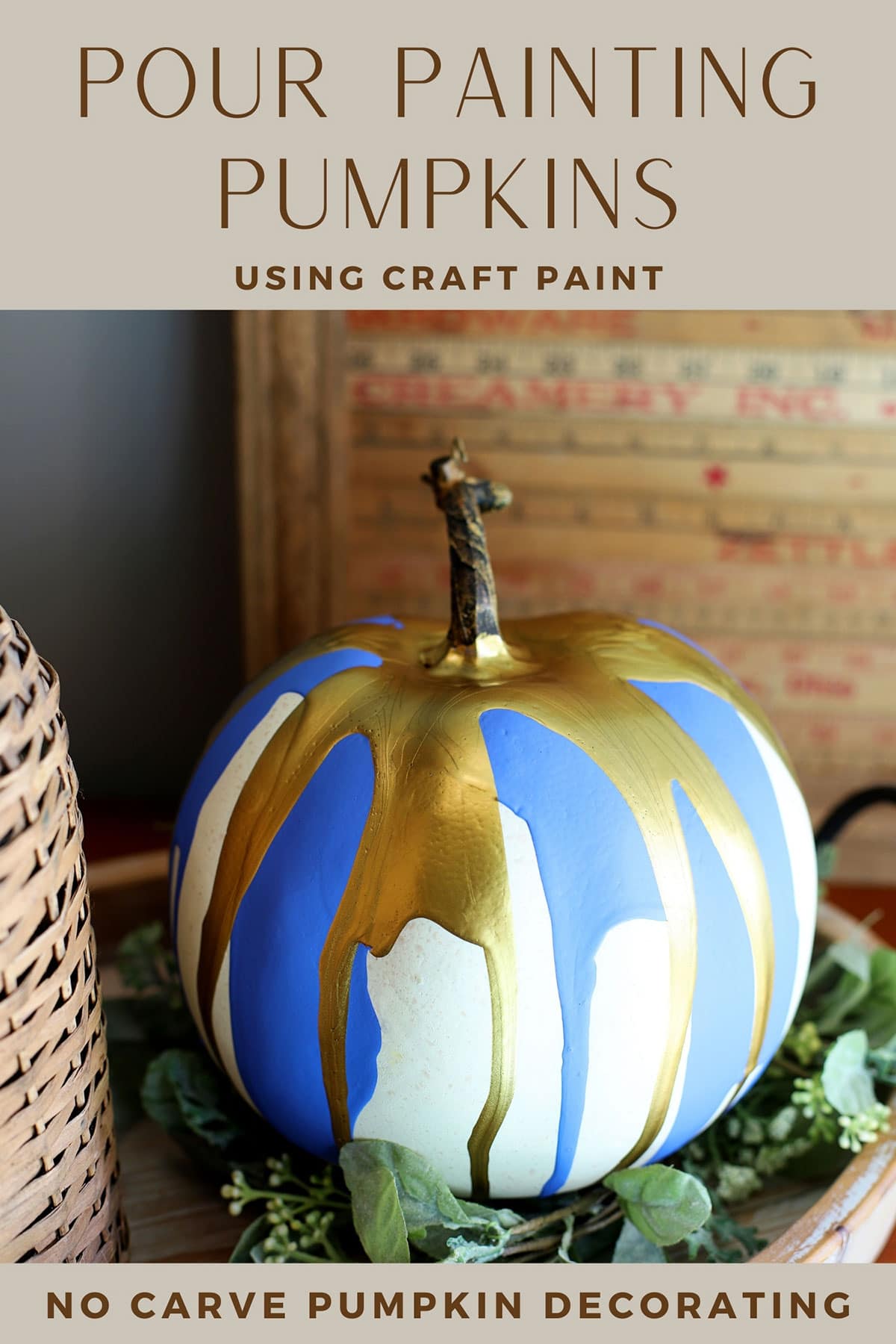 Other Posts You May Enjoy:
Making Faux Caramel Apples (for fall decor)