Last weekend was a busy one in Columbus, Ohio.
The Country Living Fair was in town. Plus the Springfield Antique Show and Extravaganza was taking place about a hour's drive from here. A girls kind of weekend!
Originally my plan was to go to the CL Fair on Friday while my son was at school and the Springfield Antique Show on Saturday. Well, my son was sick on Friday with a nasty cold, so not able to do the CL Fair that day. I was disappointed, but a sick kiddo always beats out a shopping trip. And that just left all the more money to spend on the Springfield show on Saturday.
Now, this was my first time going to Springfield and I was not disappointed. Springfield is normally listed in Country Living's list of Best Antique Shows and for good reason. They had over 2,000 vendors and I did not see a single vendor that was not worth looking at. Yes, some vendors had overblown ideas of what their stuff was worth, but there were plenty of vendors who had fair prices and some that even had really cheap prices. When I first walked into the place I was totally overwhelmed with the size of the show. Antiques and vintage items as far as your eyes could see and then some.
So I imagine you want to see all the stuff I bought, right? My big old pile of vintage finds?
Feast your eyes on . . .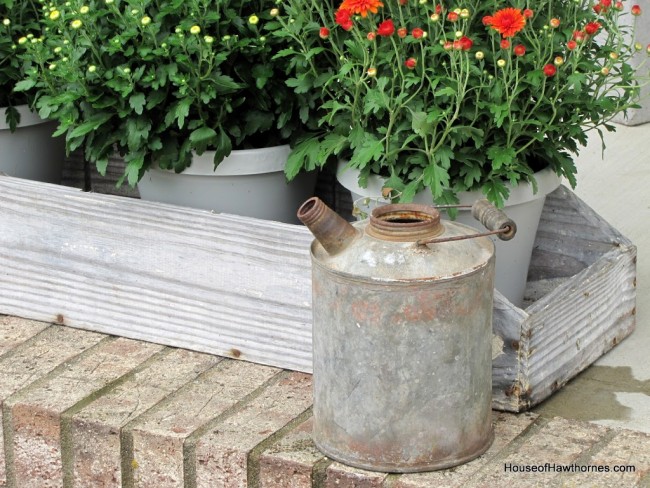 . . . my one and only purchase of the day.
A galvanized can with a spout. I don't even know its original purpose, but I was sort of feeling the farmhouse look of it. No I don't have a lid for it, but it was only $2.00 and I am picturing using it as a vase.
Why didn't I buy more stuff? The problem was that my husband wanted to go with me on Saturday.
I tend to be a solitary shopper. Although I love the company of others, I get distracted by other people's thoughts and opinions and then start second guessing why I really need another porcelain door knob or McCoy vase. And husbands have thoughts and opinions galore.
Honestly, my husband has never told me not to buy anything. But, he doesn't have the same taste in rusty, crusty stuff as I do. And all it takes is a little "it sure is rusty" or "it's falling apart" comment to blow my shopping mo jo.
Oh, well. At least I got to see a lot of really neat stuff.
Speaking of, I took my camera along like any good blogger does, but only took one photo all day.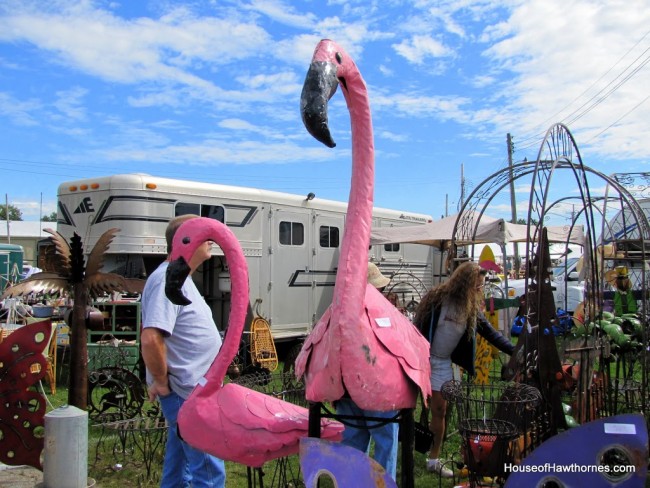 Yeah, doesn't exactly capture the essence of the show. After taking this huge metal pink flamingo photo I realized that it was just too packed of a venue to take photos and not get random bodies, arms or butts into the shots. So I gave up my romantic thoughts of artsy antique shopping photos.
Well, I have roofers replacing my roof today. For those of you with me last year, you'll remember my post about the little wind storm/tornado we had go past the house. Seems it caused a lot of roof damage that we didn't even realize at the time.
I had no idea it was going to be so traumatic to have a bunch of guys stomping around on my roof and making loud banging noises. I may have to hide in the basement for a while to escape the noise (if I can get an internet signal down there).