As I mentioned in my A Vintage Eclectic Summer Vignette post, I have a little bit more summer home decor in the living room to show you.
I know not everyone "decorates" their living room for every single holiday or season, but I like to add bits of summer into the house here and there.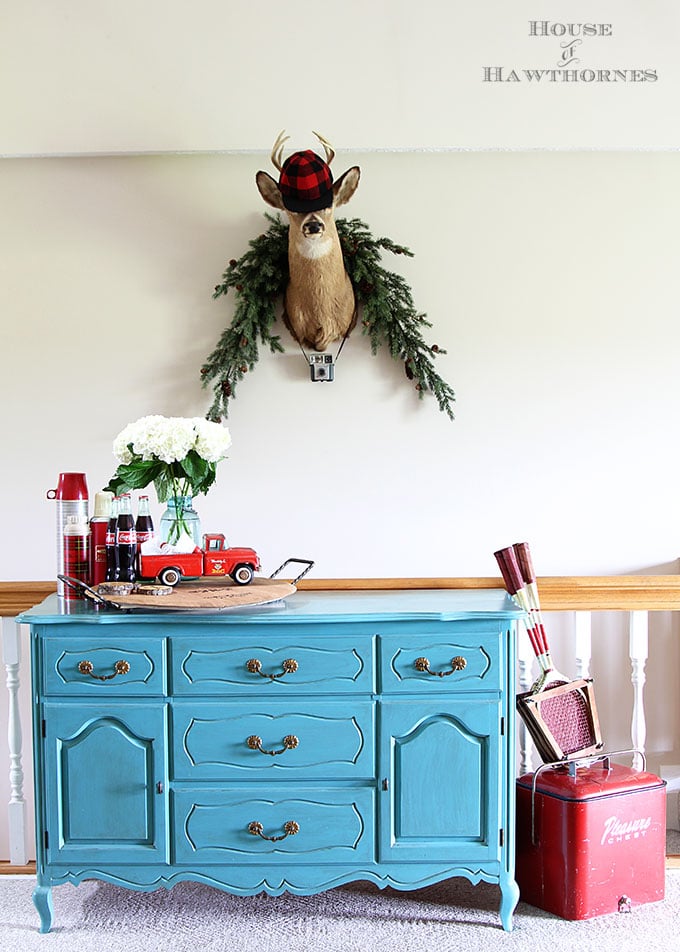 On the other side of the room (you know, the side with the huge beautiful HVAC vent in the middle of the wall), I continued on with the "loosey goosey vintage eclectic summer sports" theme. And threw in a sailboat to boot.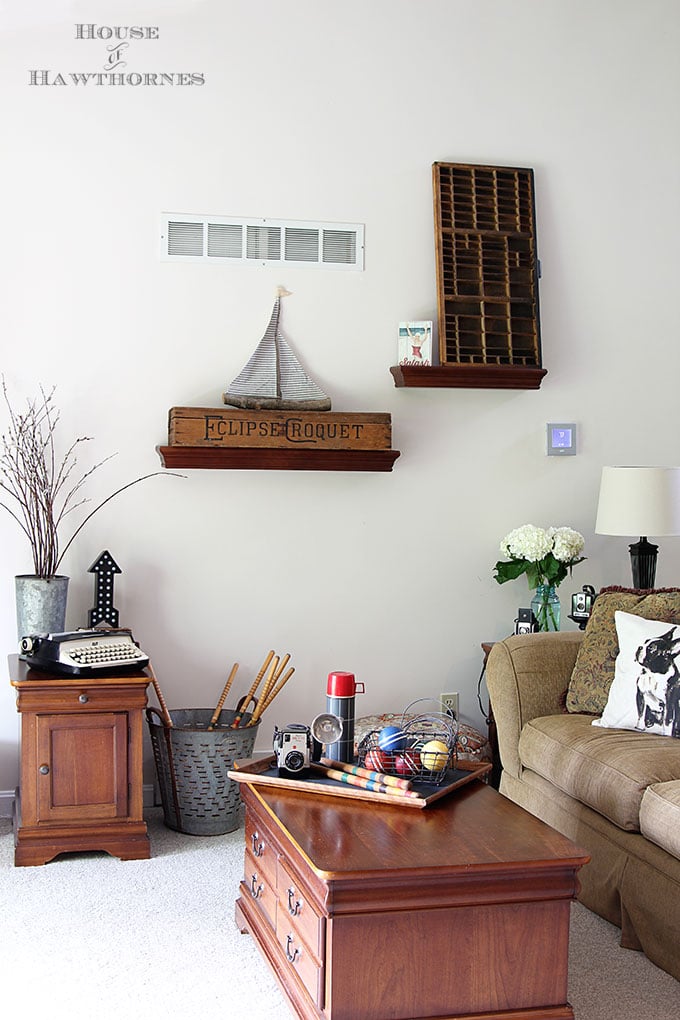 The tutorial for how I made the sailboat has turned out to be one of my more popular posts.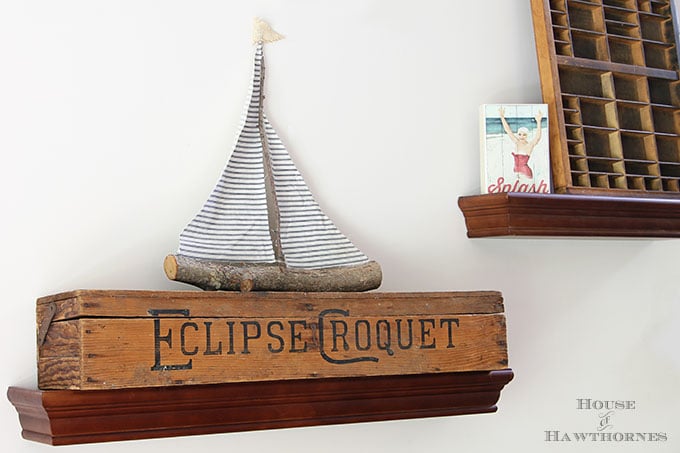 It's such a simple project that I'm sort of embarrassed that people find my blog through seeing THAT project on Pinterest, but hey, at least it keeps their expectations of my crafting skills low. I always say that if I can't finish a project in one sitting then I'll never finish it.
My living room is filled with thrift store and yard sale finds this summer.
Like this vintage Kodak Duaflex IV camera I bought at a yard sale. For eight bucks. I have no idea why I didn't scoop up all the other cameras they had for sale that day, all for the same price.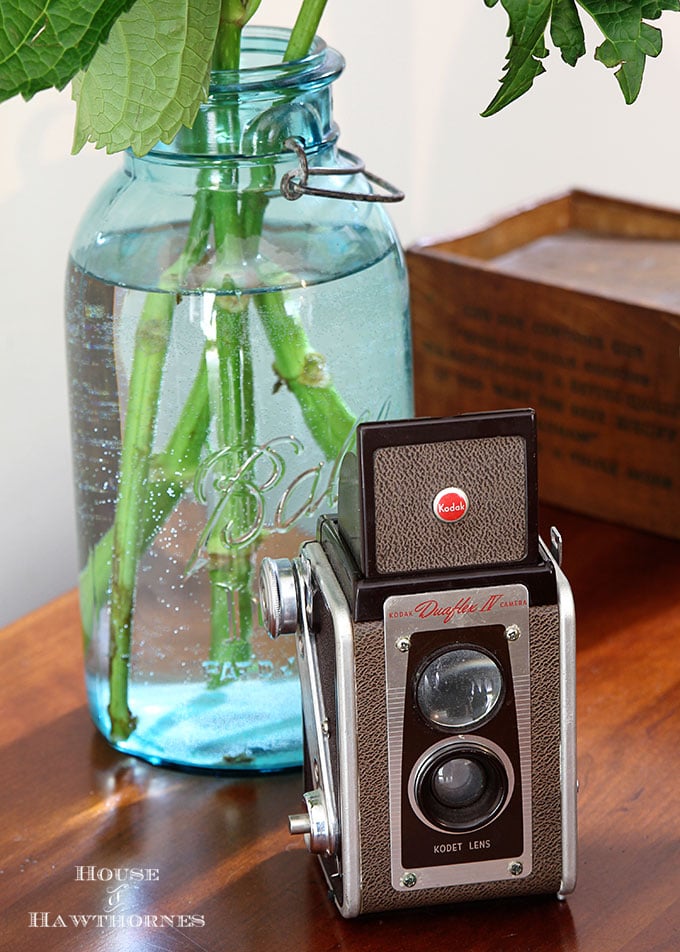 It even came with film in it!
Which I didn't realize until my husband was sitting at the kitchen counter with the camera opened up and a roll of film dangling from his hands. Wouldn't it have been fun to see what was on that film?
I found this vintage Brownie Bull's Eye camera at a local shop a few weeks ago. I love that it came with the flash apparatus. Heck it even came with some flash bulbs.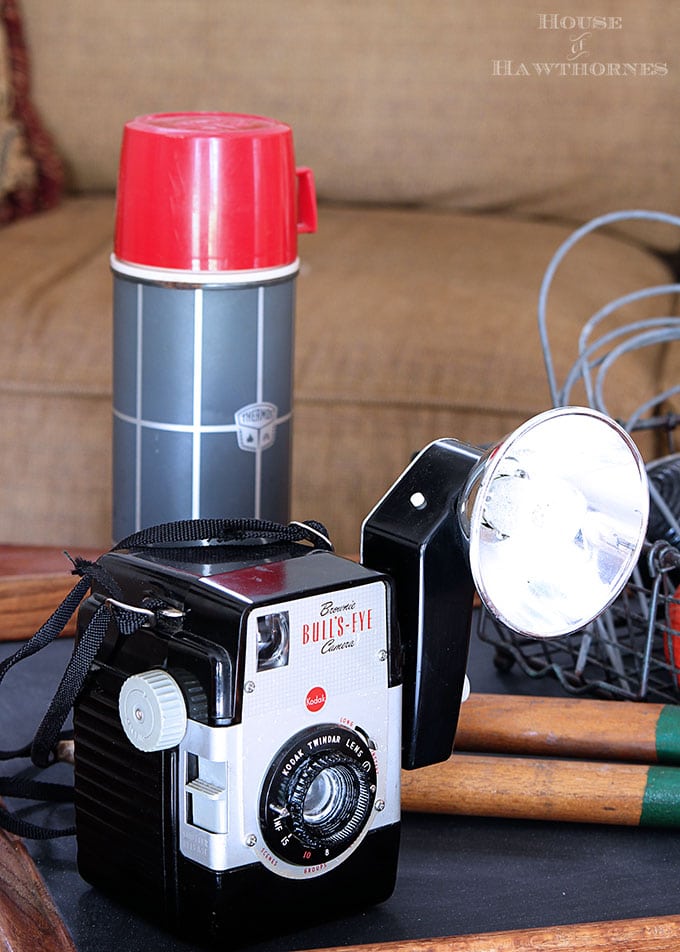 No film though.
My Smith Corona Galaxie typewriter is still one of my most favorite thifting finds. He's sexy. He's got that mid-century modern look about him. What's not to love?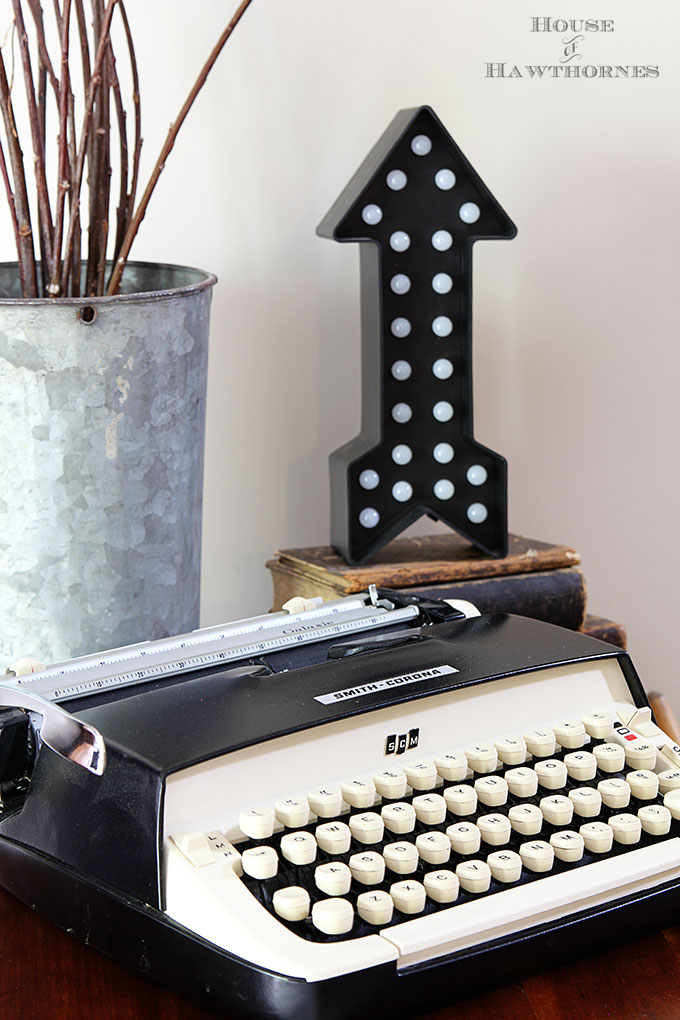 Not sure what a camera, a croquet set and a thermos have to do with each other, but it's not called eclectic decor for nothing. And it's all setting on a chalkboard used as a tray.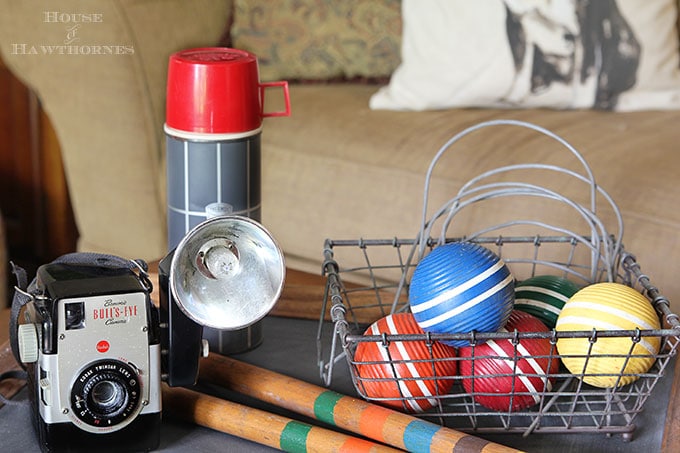 I normally have this vintage croquet box in my kitchen on top of the cabinets, but wanted to do something different for this shelf rather than the normal chalkboard or vintage frames that I've had in the past,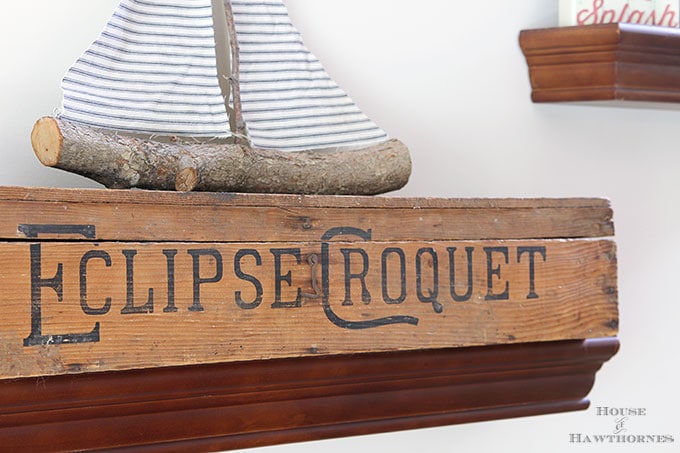 so I drug it down off the cabinets and added the sailboat on top of it.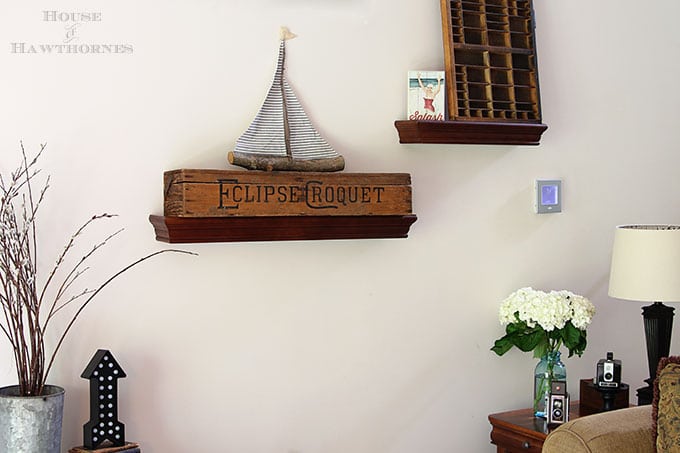 There's croquet mallets in my olive bucket below it, so it's not totally out of the blue there.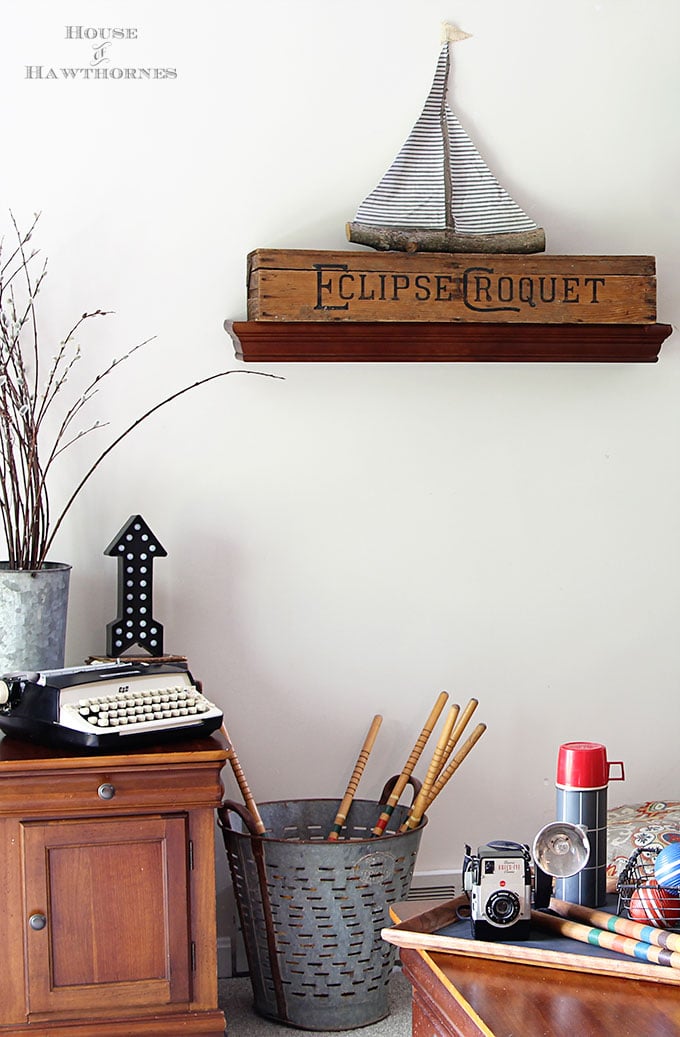 I bought that little vintage looking "splash" doo-dad on the other shelf from HomeGoods. I guess everything isn't from thrift stores and yard sales.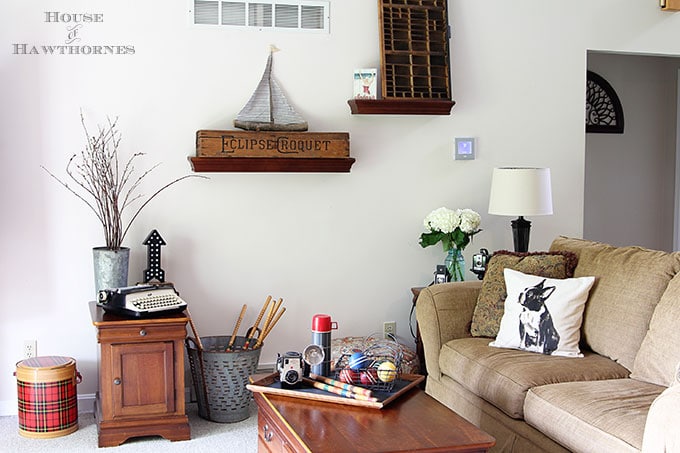 OK, I'm officially done with summer home decor tour. If you didn't see the first part, you can head over to my A Vintage Eclectic Summer Vignette post.
If anything in this post doesn't make sense or is spelled wrong, I'm going to blame it on my cold. My son had it last week and now he's letting me borrow it and all I can think of right now is going back to bed. My sweet, comfy bed.
Hope your weekend is turning out better than mine.