This week I've joined up with more than 20 bloggers on the Welcome Home Summer Tour With Balsam Hill to show you a little taste of summer decor in our homes.
I was going to show you my whole living room, but the problem is that I took 14,000 photos for this whole project.
So I think I'll have to break it down into two posts or else your eyes will glaze over.
And no one want glazed over eyes behind those pretty little sunglasses.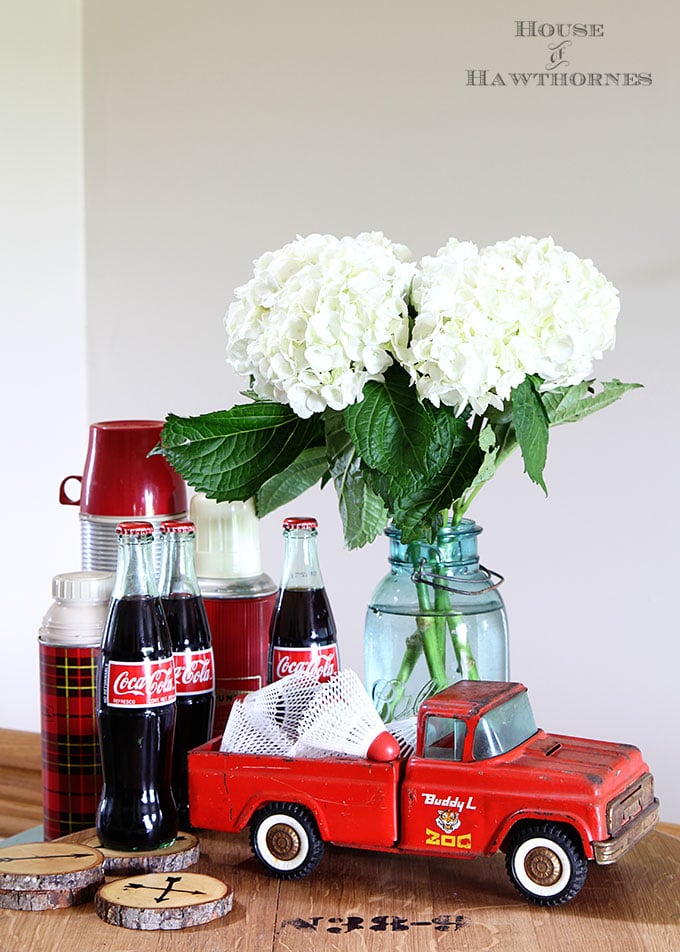 Before I begin, I want to tell you that Balsam Hill sponsored this summer soiree (believe me, I had to google how to spell that) and I was ecstatic when they sent me an item from their summer line to use in this post.
So, in short, this is considered a sponsored post, but all opinions are 100% my own. You can read my full disclosure policy if you have any questions.
So onto the par-tay!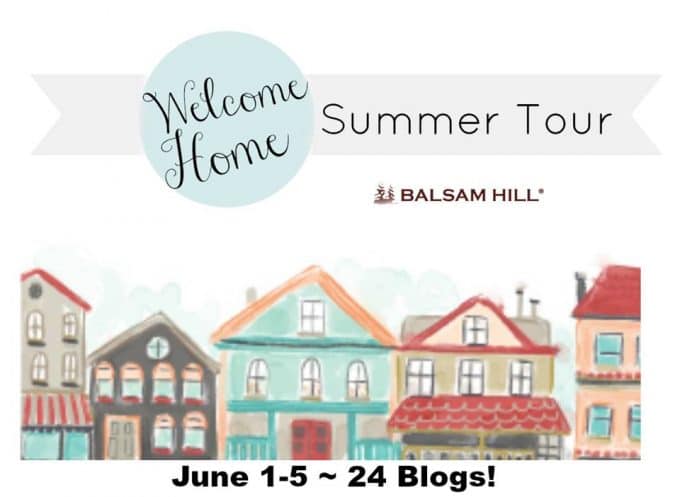 I don't normally decorate a whole lot inside my house for summer other than the good old red, white and blue that I put out for the 4th Of July. I wasn't quite ready to hoist myself up into the crawl space to get out my flags, so I decided to go with a "loosey goosey vintage eclectic summer sports" theme for my living room this year.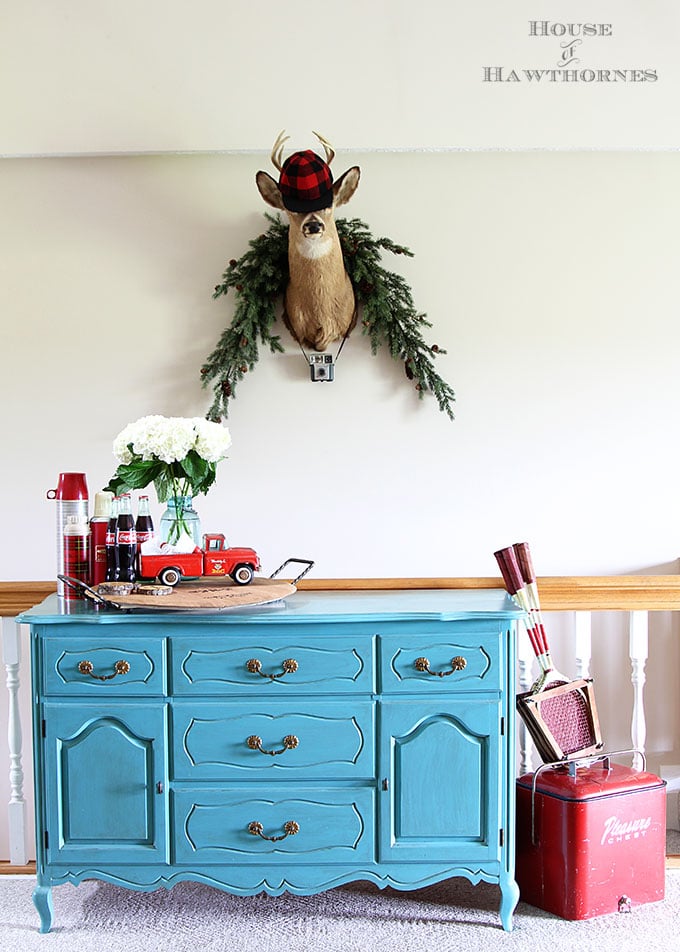 Since red is the main color, in a few weeks I'll just add some flags and such and I'll be set for the Fourth. I was thinking ahead, people.
You'll notice my dear deer friend from Christmas has not changed one bit.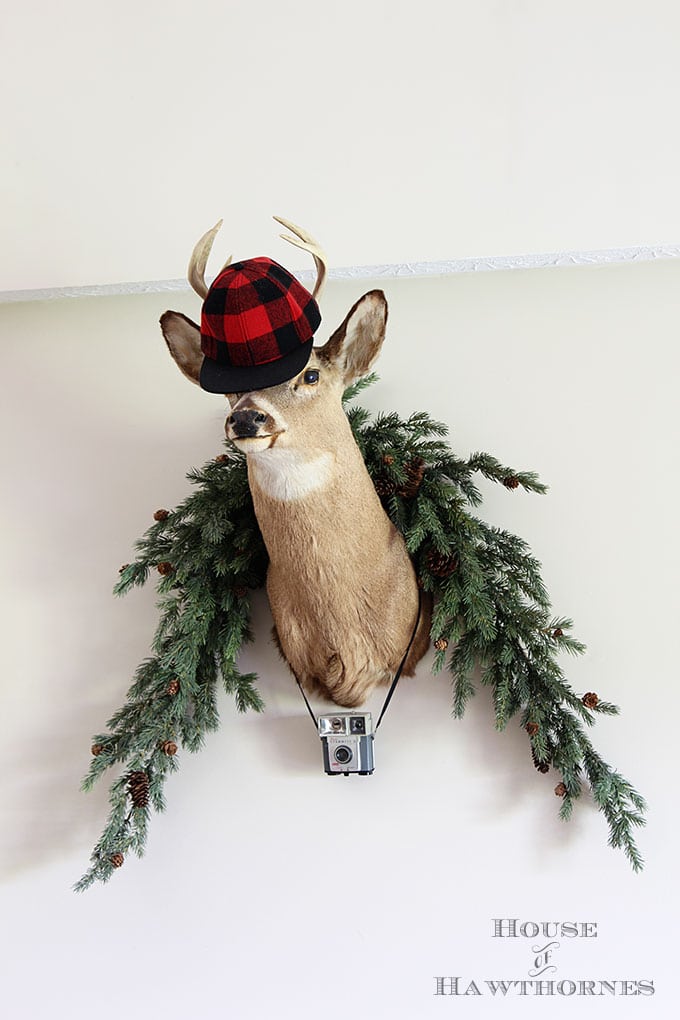 It may have something to do with him being hung over the stairway to the basement and hard to get to, so it's a little difficult to dress him up like a Barbie doll decorate him very often. I thought the "hunter" look sort of worked with the thermoses and coasters though.
Speaking of coasters, I have a tutorial on how to make these Arrow Wood Slice Coasters. SUPER easy to make and no wood burning tools needed.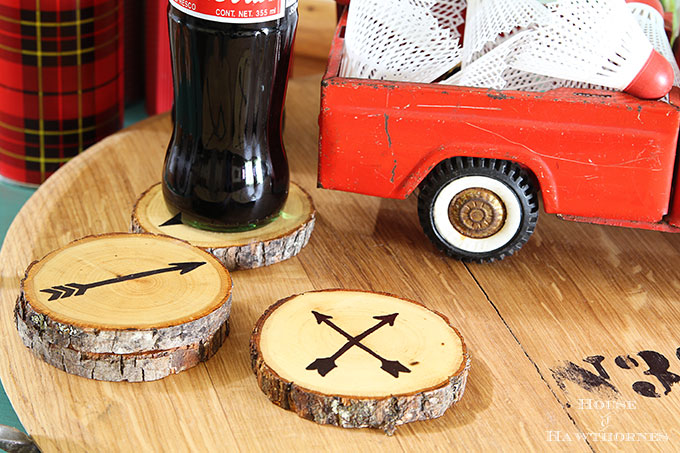 And the thermoses are from my ever growing vintage thermos collection. Or addiction. Sometimes its hard to tell the difference between the two.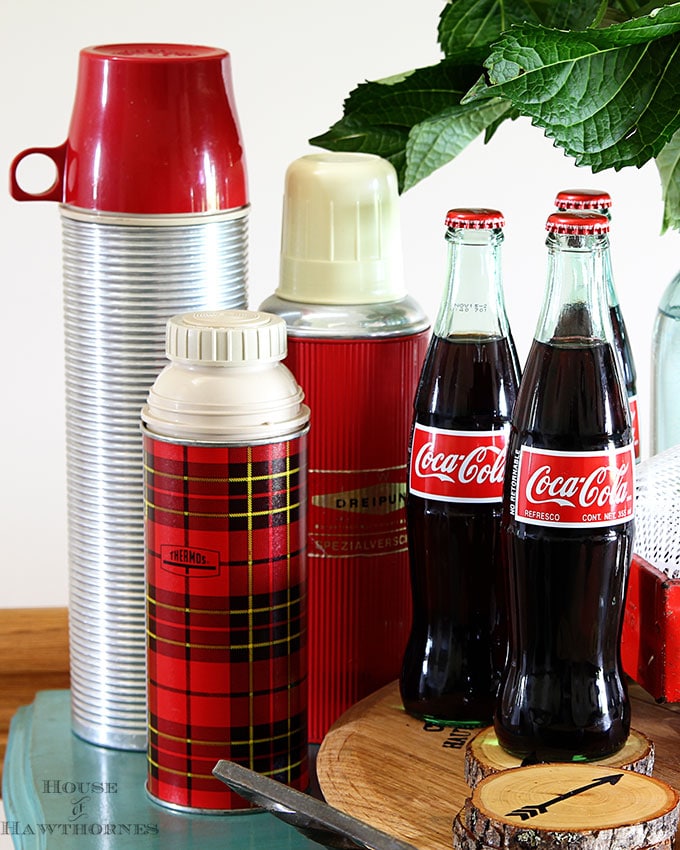 The Coke? It was red.
Not that I don't love my Coke, because that particular addiction isn't going anywhere, but I just wanted something else red in the photo and Red Bull didn't fit the bill.
Check out my awesome Wine Barrel Cheese Tray from Balsam Hill. This thing is HUGE!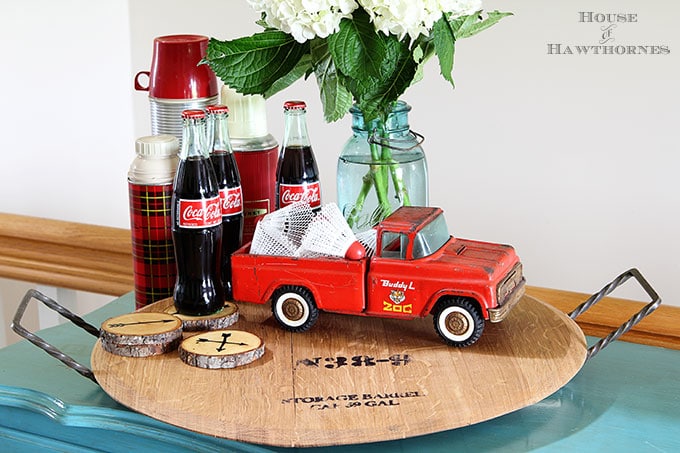 It's an actual top to a wine barrel, so it should have come as no surprise to me that it was this size, but I was honestly amazed when I pulled this out of the shipping box. It is very impressive.
It has iron handles on it and the top is treated with butcher's block oil and beeswax. Although it's made to be a cheese tray (get it . . . wine and cheese), I thought it would be cute as a summer serving tray.
Or place to park my truck.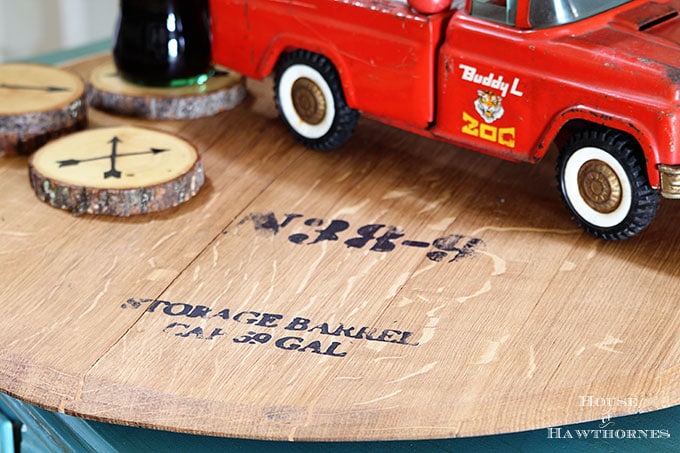 When you have a truckload of shuttlecocks you have to park them somewhere.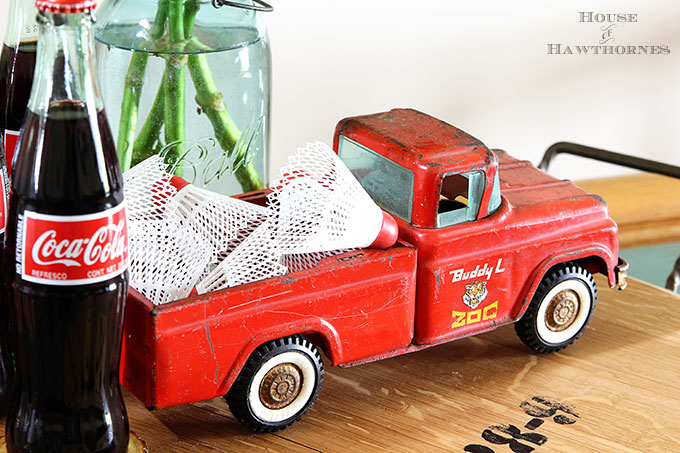 The badminton rackets and my Pleasure Chest are setting to the right to complete the summer sports theme.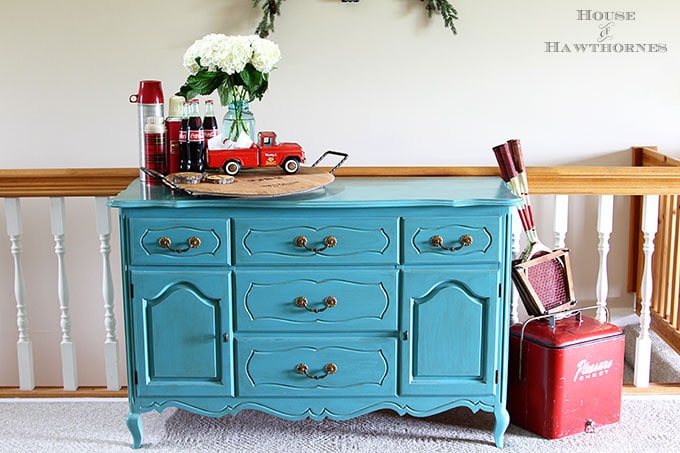 I'm really getting my money's worth out of that Pleasure Chest. It was on the front porch for my holiday porch a few months ago and last summer for my summer porch.
I was hoping to have my peonies in the photos, but they started to get all droopy and wimpy looking before I could get these photos shot. But since hydrangeas are my second most favorite flower in the whole wide world, I decided to go with them.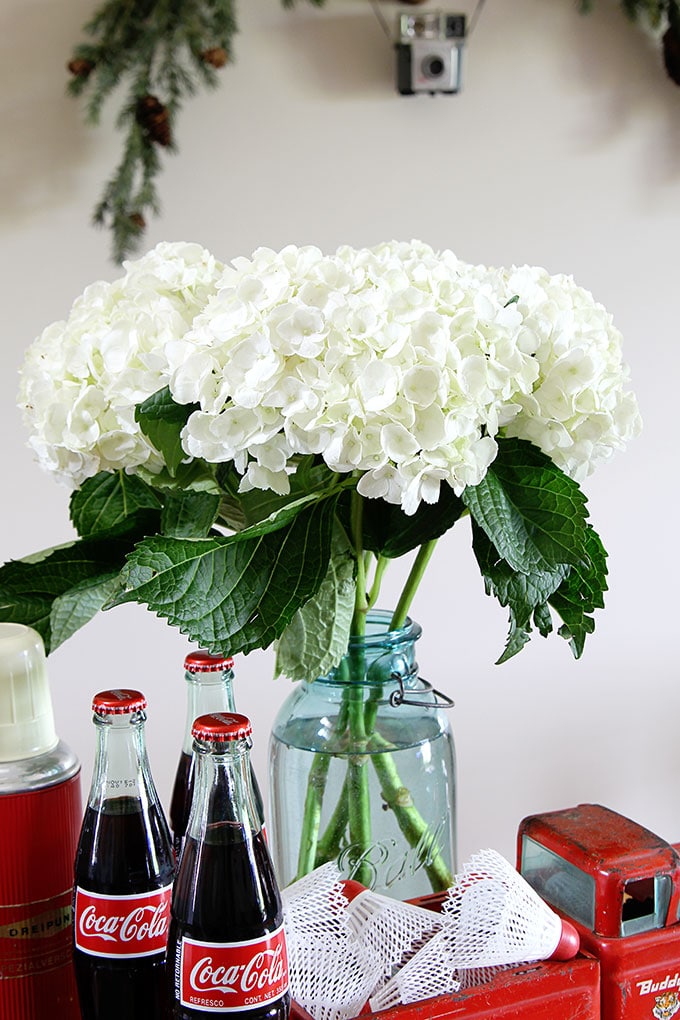 Shhh, they're store bought ((gasp)). Mine won't be blooming until later this summer, so I resorted to buying these at Kroger's.
Besides, there's just something about hydrangeas in a mason jar that shout summer to me!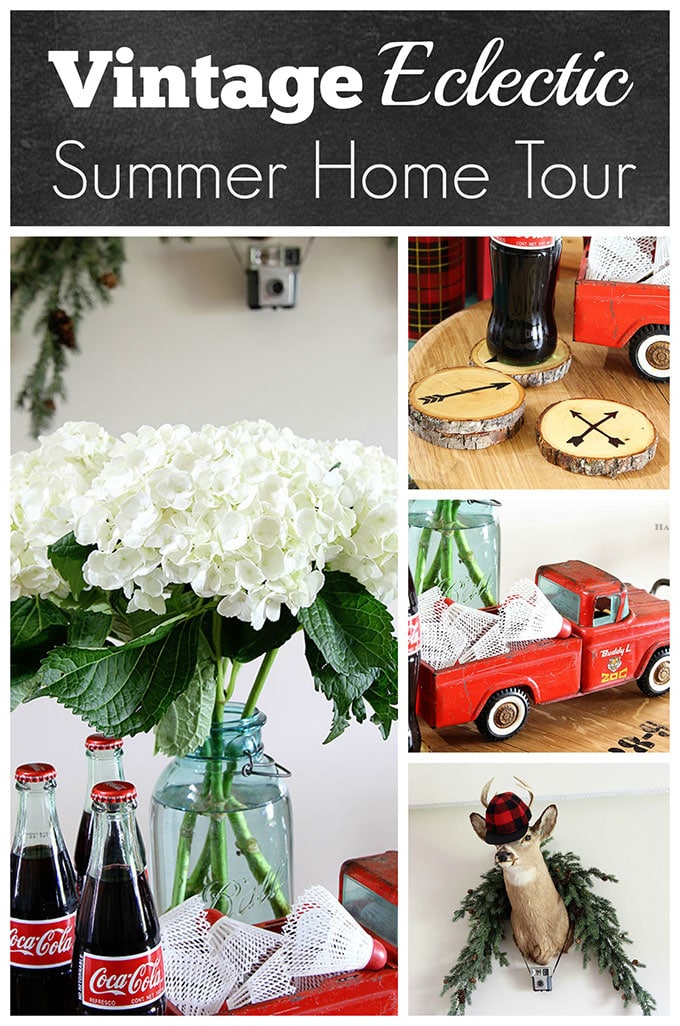 UPDATED: The 2nd part of the summer home tour is up now - Sailing Away Into Summer.
OK, enough about me, go on and visit the other homes in the tour. Today's other home tours are:
Setting For Four
House Of Hawthornes (hey, that's me, you're already here)
Girl In The Garage
Cedar Hill Farmhouse
Monday
From My Front Porch To Yours
White Lace Cottage
Tuesday
What Meegan Makes
Sondra Lyn At Home
Confessions Of A Serial Do-It-Yourselfer
Restoration Redoux
Thursday
Our Southern Home
Fresh Idea Studio
Sweet Pea
Friday
Serendipity Refined
Knick Of Time