A couple weeks ago, before I made the huge purging drop off trip to Goodwill, I was at the thrift store and found some silver pieces that were jumping up and down on the shelf and just begging to come home with me.
I really hadn't planned on buying any more silver, since I have quite a few pieces that I use in decorating already, but these were cheap and cheap is my middle name.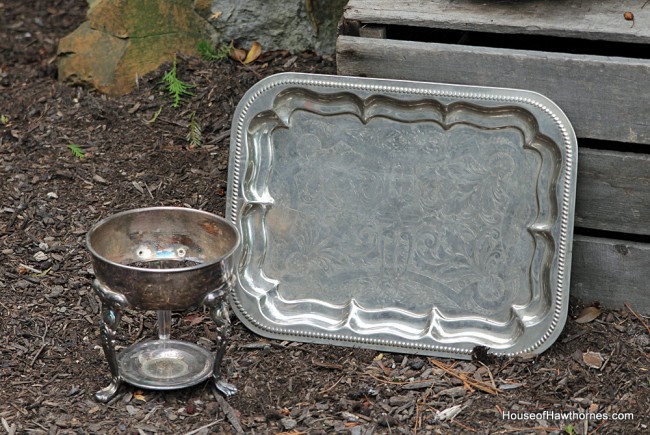 The tray is magnetic, so it is not real silver, but I am going to hang it on the wall in my office and use magnets to stick notes and things to it.
The chafing dish holder is now a replacement to the old chafing dish holder I had for my penny bowling ball. The original one wasn't entirely silver plate, so it got a little rusty from being outside.
BTW, that penny bowling ball post is by far the most viewed, Googled and pinned post I have ever done, which sort of makes me giggle. When I did that post I thought it was such a weird thing to make that no one would be interested. Who knew?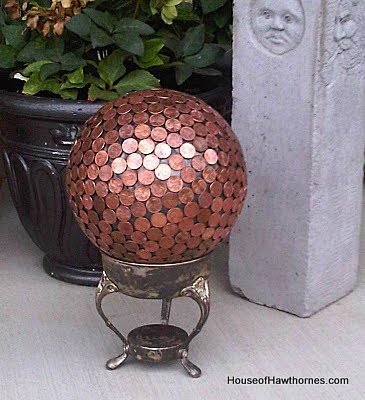 (Crappy cell phone photo)
Too bad the photos in the post aren't anything to write home about. I was fairly new to blogging back then and I think I took those photos with my cell phone. Sure, I could go back and re-shoot the entire thing, but I don't think that would be organic or authentic, plus I don't feel like making another one of those things right now.
This other larger tray is silver, but it was really really scratched up on the serving part, so I painted it with blackboard paint and it will accompany its cousin on the wall of my office.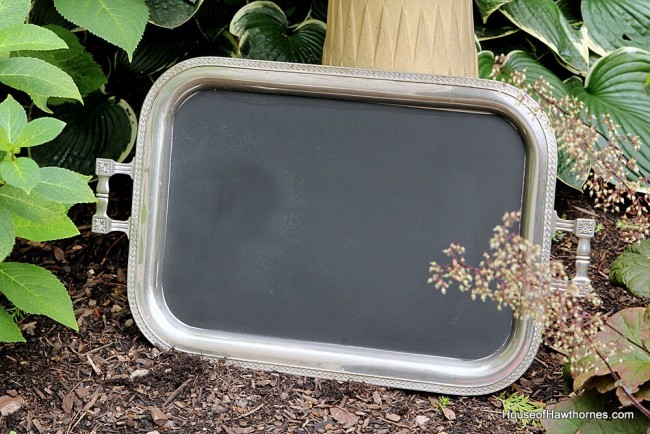 One as a chalkboard, one as a magnet board. When these were purchased by the original owners years ago, they probably had no idea they would be hanging on the wall in some crazy lady's office.
Speaking of my office, today I spent a few hours dusting, cleaning and vacuuming it, so that at some point in my blogging life, I can actually take photos of it. It's like laundry rooms, if you're a blogger, it is de rigueur to take photos of your office space. It will be a cold day in heck before I show you my lint trap and half used bottle of Tide in the laundry room, so the office will have to do.