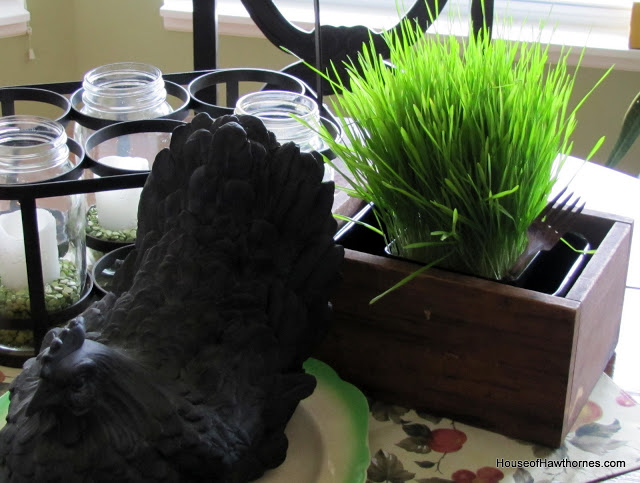 I had my first trip to an IKEA store this weekend. There is one on the outskirts of Cincinnati and since we had nothing in particular to do on Saturday, we decided to make a trip of it.
I know a lot of people love, love, love IKEA. But I thought it was OK. Just OK.
I will say that they have a heck of a marketing/staging department because their showroom displays were awesome. I'm just not attracted to build your own furniture anymore. They have some nice inexpensive home decor and organizing items though.
I did manage to find a couple things to buy. I couldn't make the 100 mile trip and not buy anything!
Two 79 cents dishtowels that I plan to make into pillows if I ever finish the other 100 projects ahead of them on my project list.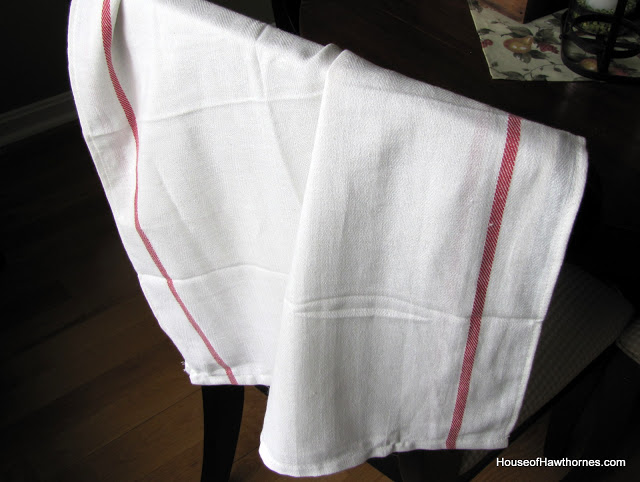 And some inexpensive cardboard boxes for my husband's office to store his office junk in (I believe they were 2/$3.99).
Some day when I'm brave I will show you his office space. See that unsightly jumble of cords to the left in the photo, that's just the tip of the iceberg of a mess.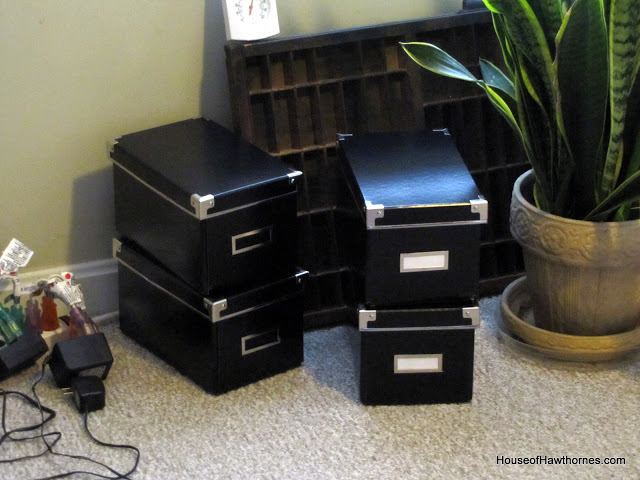 I did see this pretty cool small 9"x5" wooden planter box that came with a galvanized metal tray in the bottom.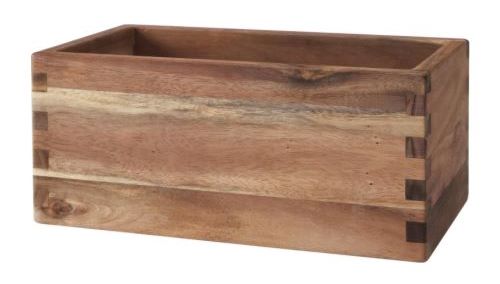 (IKEA.com)
It was only $5.99, but they were sold out of them. So when I came home I decided to make my own.
I dug out my wooden chemistry box.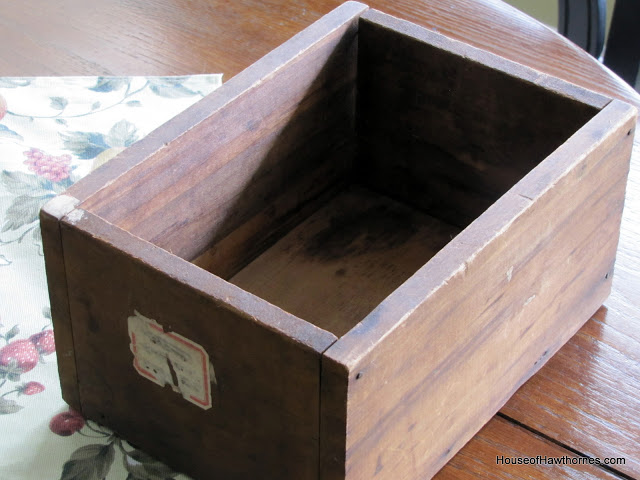 I found this in an antique store a few years ago. When I took Chemistry classes in college they used to hand out your "ingredients" for your lab experiments in these boxes. And then you would trudge back to your lab desk and attempt not to create any explosions.
Then I took one of my enamelware bins (what the heck are these called - refrigerator dishes?),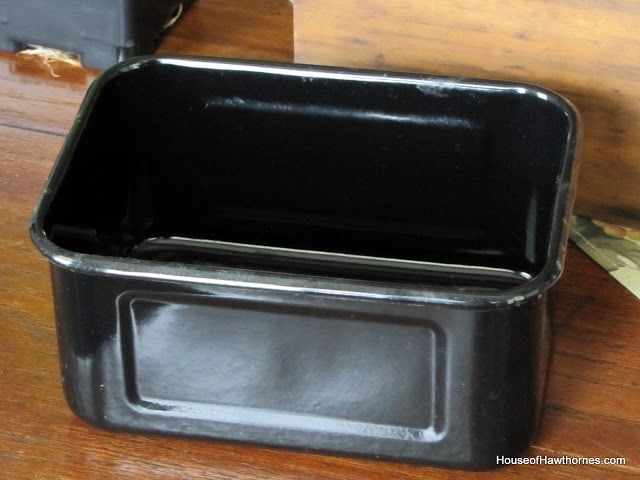 put some wheat grass (available at your local grocery store)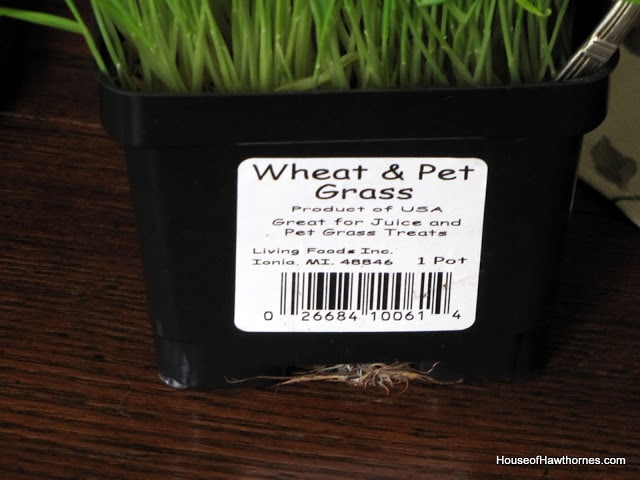 in it.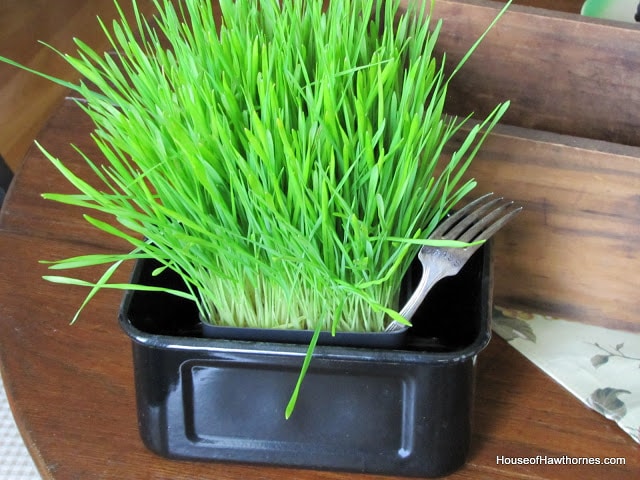 I stamped a fork and stuck that in the pot also. It says GRASS, although the R didn't stamp correctly. I think I got a defective R stamp, I'm sure it wasn't the stamper person's fault (me).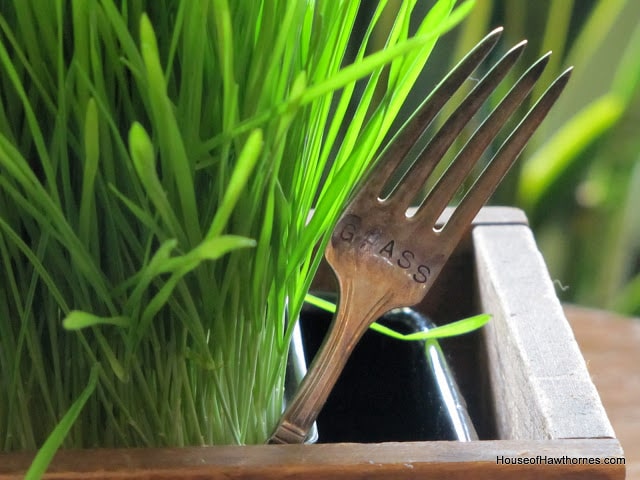 Then I put the whole thing in my chemistry box and called it a day.
Thanks for the idea IKEA, but I have it under control!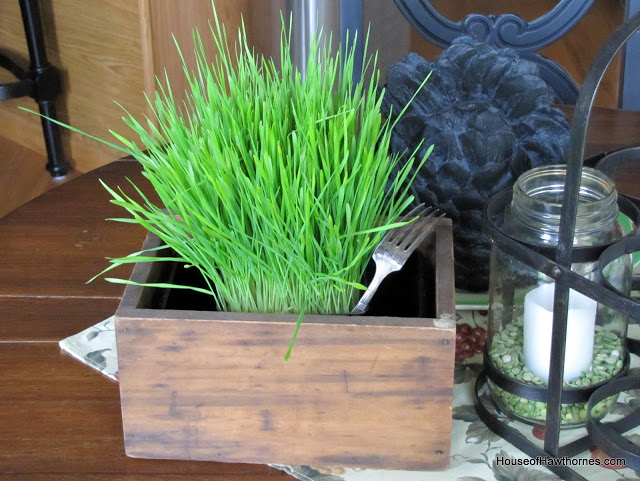 Linking with Thrifty Thursday at Tales from Bloggeritaville.