I am totally counting on that whole "March comes in like a lion and goes out like a lamb" thing. A big, soft, cuddly, WARM lamb that is wearing a bikini and has a margarita in her hand.
But until the lamb arrives, I thought I'd do a little bird vignette on my living room credenza to get me in a spring state of mind.
My vintage bird nest home decor spring vignette.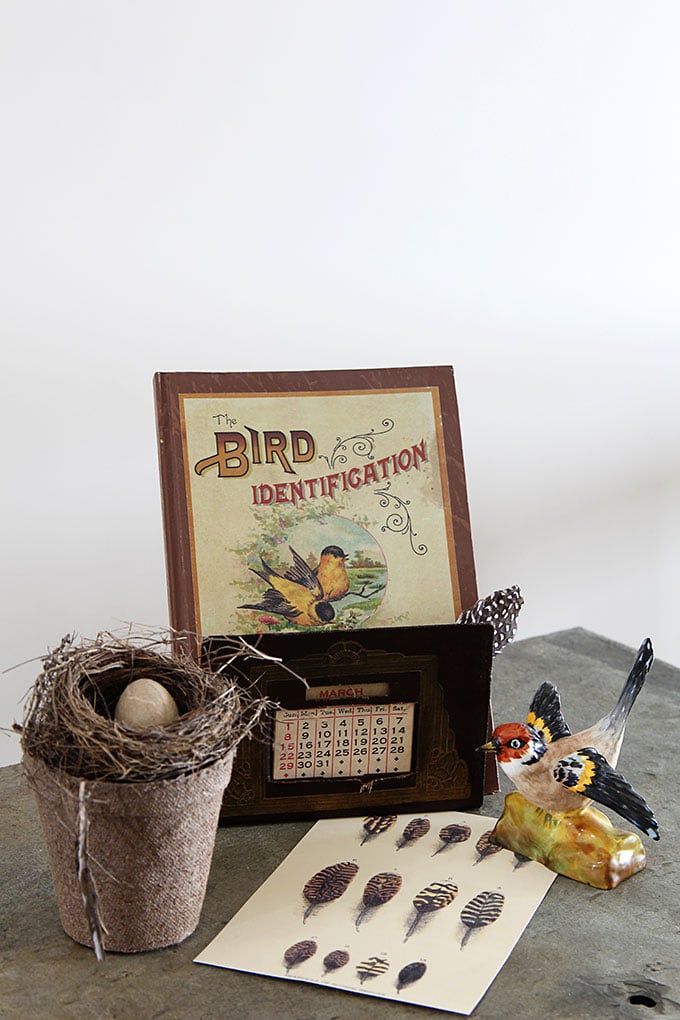 Unfortunately, if I used real birds my dogs would just eat them, so one of my china birds will have to do.
This is a real honest-to-goodness bird nest that I found in my driveway last summer.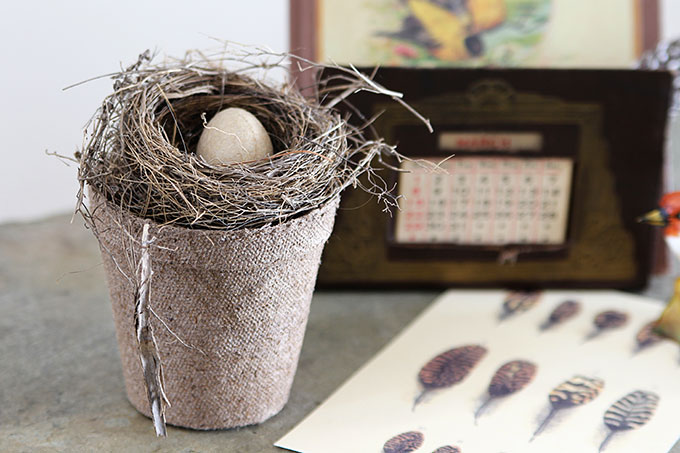 It was just laying abandoned on the ground and since it wasn't all buggy and wormy I brought it inside for spring decor. The birds probably wouldn't have used it once it hit the ground, right?
If you don't have access to a real live nest, the craft stores have very realistic nests this time of year.
My bird is bone china and is marked Crown Staffs England on the bottom. I believe it's a male European goldfinch.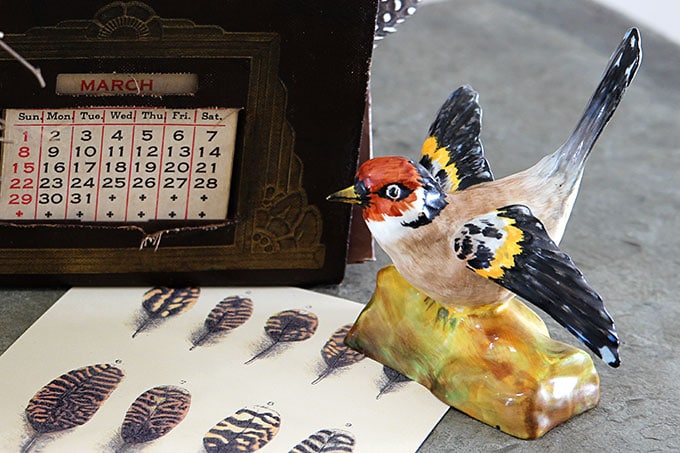 How do I know? Good old Google came to my rescue.
Because honestly, unless it's a big red cardinal wearing a t-shirt that says "Hey look, I'm a cardinal!", I'm lost when it comes to bird identification.
I see this type of china bird ALL THE TIME at estate sales. I think they're sort of fun and funky without being all grandma-kitschy. OK, if you have 60 of these things lined up on a shelf, then maybe it would lean toward the grandma-kitschy side, but a few here and there are OK in my book.
I bought this old perpetual desk calendar at the antique mall a few years ago.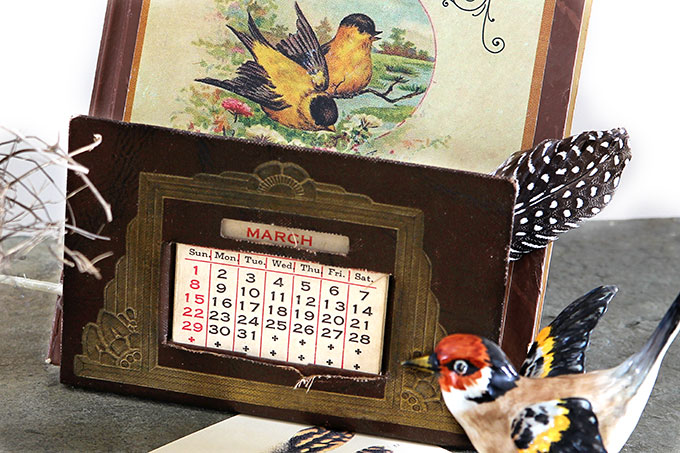 It comes with different calendar inserts, so you just flip through and find the one that corresponds to what that month's calendar looks like (31 days and the month starts on a Sunday) and slide it in. And then slide in the part that has the month's name and you're good to go for the next 31 days or so.
You can see more of my feathered china friends in The Birds Are Flocking.
Have you started decorating for spring yet?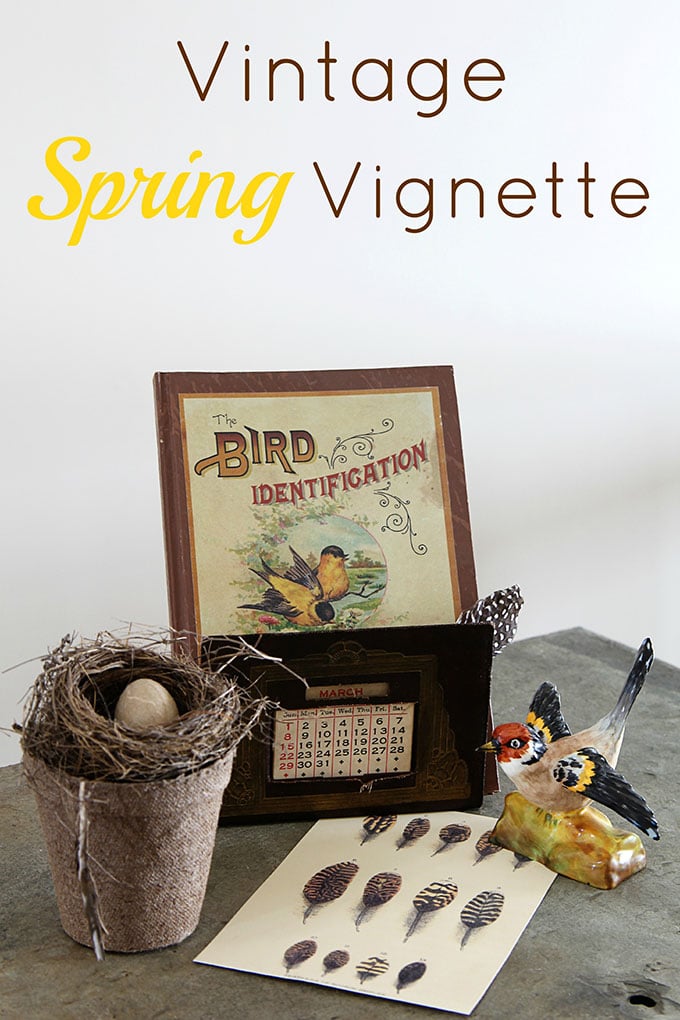 Public disclaimer: I don't condone stealing nests from innocent little birdies. Only use them from the wild if you KNOW no one is going to come back looking them.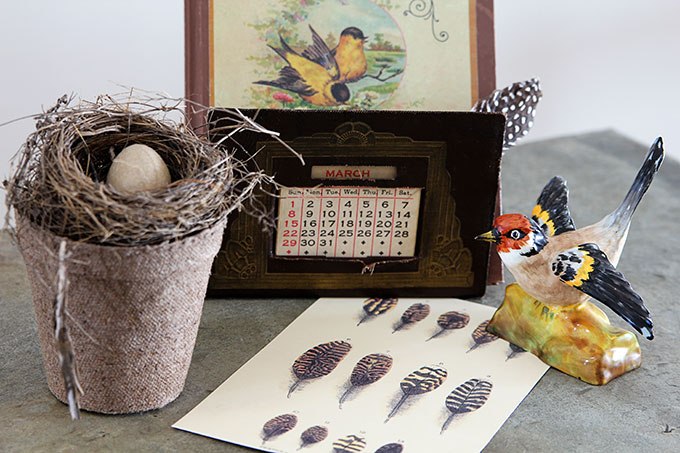 BTW, the bird feather print is from The Graphics Fairy. My number one source for vintage printable goodies.