Well, it's done. My mid century modern chair restoration project is complete. Zip-A-Dee-Doo-Dah and alert the media. She's finished a project in less than a year.
Oh yeah, it was way back in August when I first showed you this gem of a mid century modern chair I bought at a yard sale for a buck.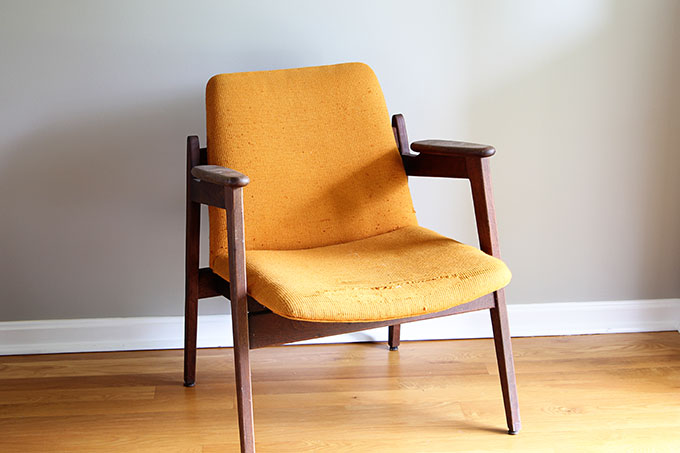 As in 7 months ago!!!
As in this is the longest recorded restoration job in the history of the world.
In reality, the project could have been finished in a few days or a good weekend. But no, I had to him-haw around about every single decision on this project.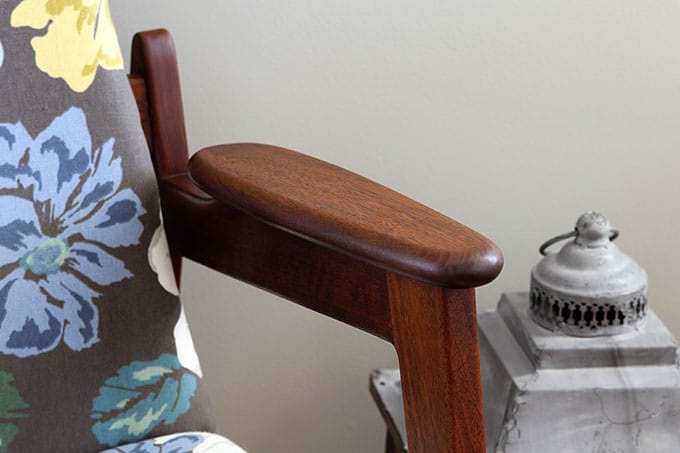 Do I want to use the existing padding? (Heck no, and you'll see why in a minute.)
Do I want to go loud and fun with the fabric? Or more mellow and traditional? (You can see that Mrs. Loud And Fun won that one.)
Do I really want to redo this stupid chair in the first place? (I started to call it the "stupid chair" somewhere around the second month into this project.)
After months of decisions and starts and stops on this chair project, on Saturday I had had enough and just finished the darn thing.
And you know what?
It feels good to finally get the chair D. O. N. E. And I love how it turned out!!!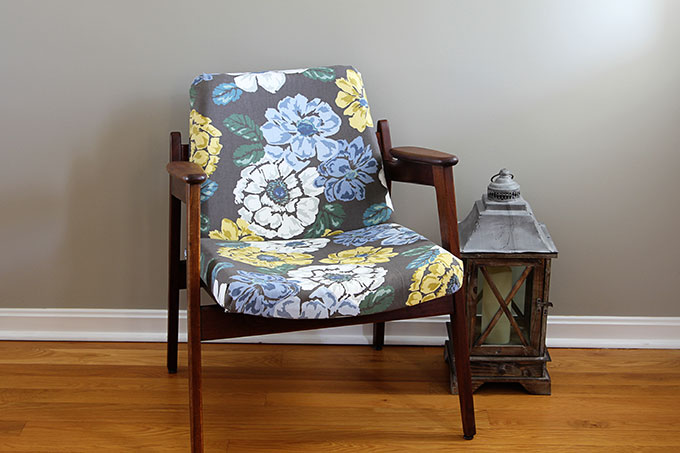 Betty Draper is looking pretty sexy with her fancy new designer dress!
If you remember, it had this super groovy orange fabric on it from the Mad Men era.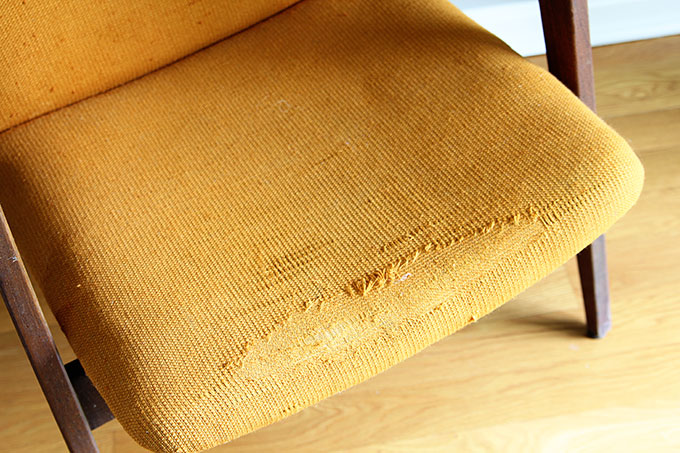 That was snagged all to heck.
Oh, if we could count the butts that have sat in this thing over the years!
My biggest dilemma in this project really was finding just the right fabric.
I found some wonderful atomic fabrics online that would have looked very retro-chic on this chair, but in the end decided to go outside of the traditional mid-century modern fabric designs and go with this more modern gray and blue floral that kept jumping out at me at the fabric store.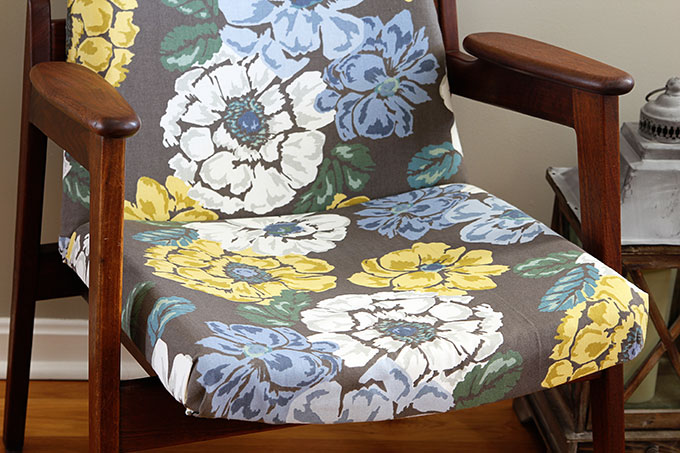 I know. I know. Not everyone will like my fabric choice. Remember it only took me three months to decide, so go easy on me.
A Mid Century Modern Chair Restoration Tutorial
Before we go any further, please use all necessary protective equipment when doing this project, including gloves, eye protection, particle masks, etc. I will not be held responsible for you sanding your fingerprints off, inhaling 40 year old butt dust or anything like that. Seriously though, be safe, not sorry.
My first step was taking the chair apart.
It was basically a seat attached to a wooden frame with 8 screws, so it was not hard to take apart at all. So I will break the project up into two parts - the wooden frame and the seat.
Refinishing The Wood: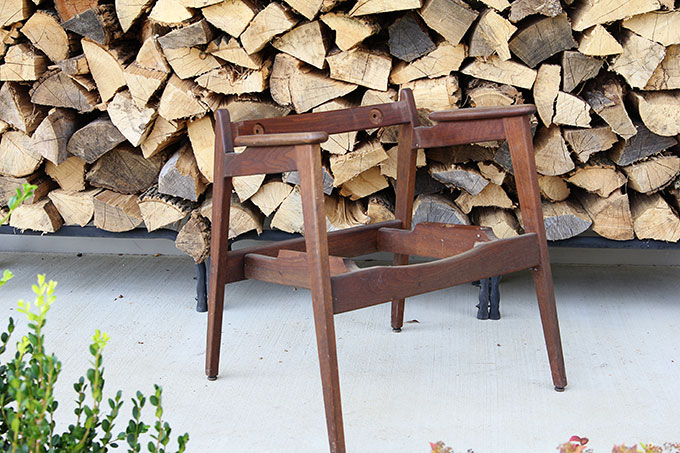 The wood on the chair was very very dry and in need of a lot of tlc. So I decided to use Watco Danish Oil finish to freshen up the wood.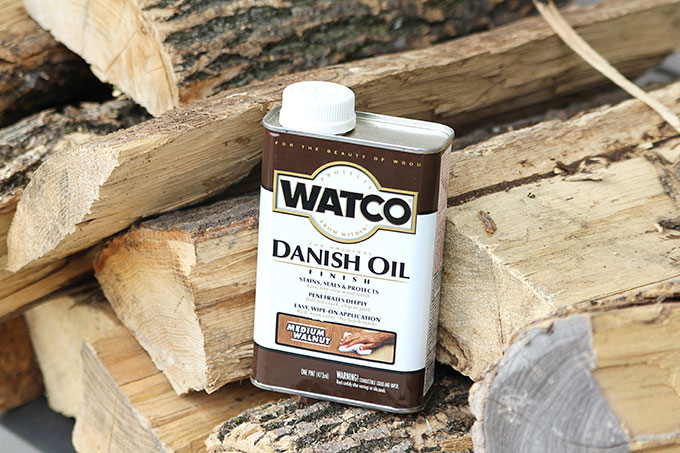 Watco stains, seals and protects in one fell swoop by soaking into the wood and spicing up the color from within rather than just setting on top of the wood. It gives it more of a hand rubbed oil finish rather than a stain with varnish type of finish. Although it comes in different colors, I chose to use the medium walnut since it looked closest to the original color of the piece.
I gently sanded any nicks and gouges on the wood, so the final finish would be even. My wood did not have a varnish on it, it was just wood that had been treated with an oil finish in the past, so there was no need to go all wild and crazy with a sander on the whole piece. Thank God, because it might have taken me two years to finish it in that case!
I took a paint brush and GENEROUSLY applied the Danish oil onto the piece and let that sit for 30 minutes. And then generously applied a second coat for another 15 minutes. I believe the directions on the can mentioned to "flood the surface", so really you can't put too much on.
After the 45 minutes had elapsed I took pieces of an old white sweatshirt and wiped the surface dry. It will be fully dry and ready to use in 8-10 hours.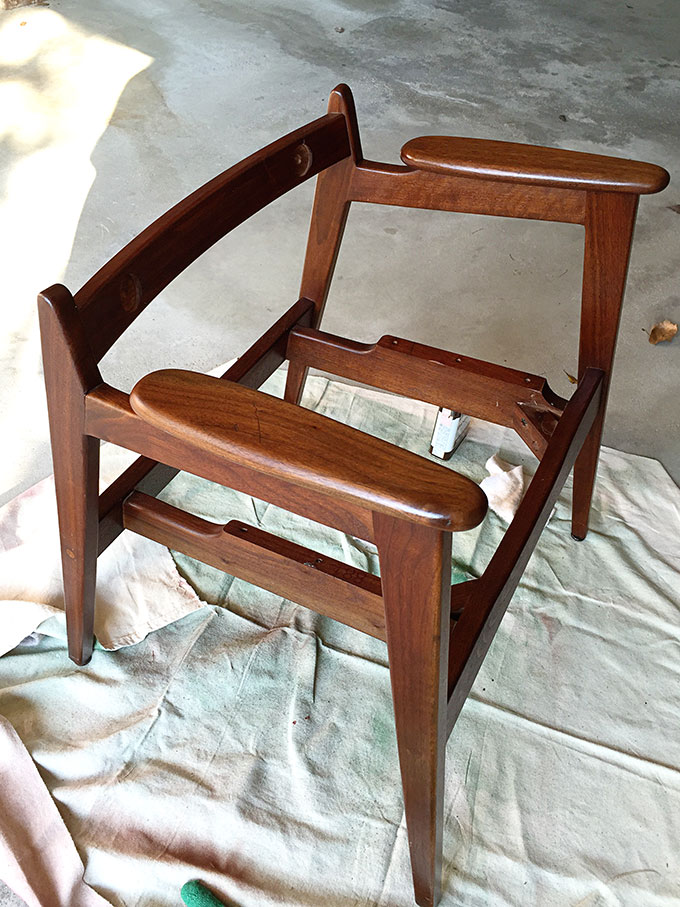 So really, me waiting another 4 months to put the chair back together was just a little lazy over-protective of me.
I love, love, love how the finish turned out. So much so that I will probably use this product again when I freshen up my dining room chairs this spring.
BTW, this isn't a paid advertisement for Watco, I just ran across this product and fell in love with it and now I want to marry it.
Reupholstering The Seat: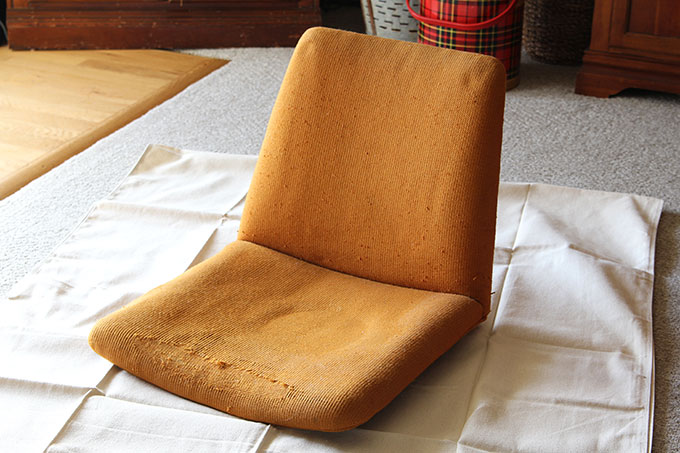 You need to remove the old fabric and padding.
There I said it.
As much as you want to just throw some new fabric over it and go about your life, you will need to actually remove the fabric and padding that has had approximately 49,000 strange butts sitting on it over the last 50-60 years.
Keep the fabric that you take off in case you need to use it for patterns for the new fabric later on (and I did use it).
I started by taking off the back and bottom fabric (the black fabric in the photo was on the under-side of the chair).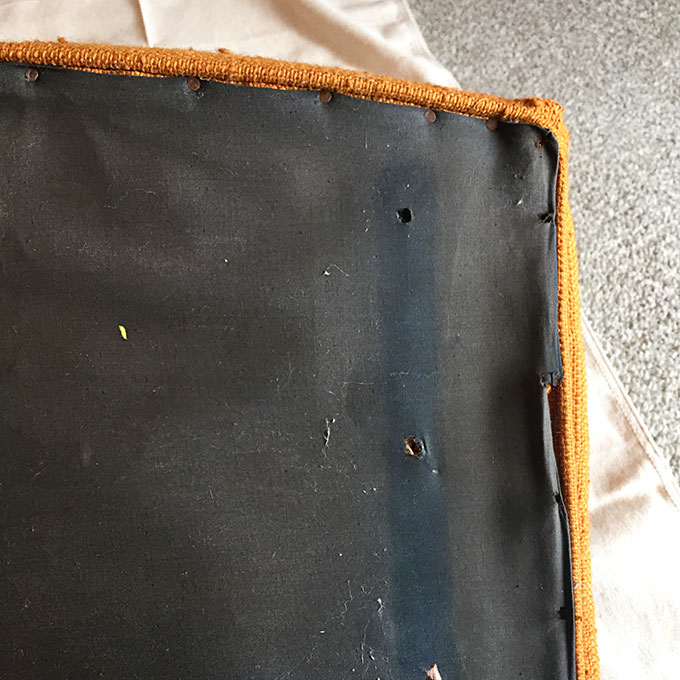 The chair had both nails and staples holding the fabric onto it, so I just used a putty knife and pliers to pull the nails out. I found a handy upholstery staple remover at the craft store that made taking out the staples easier.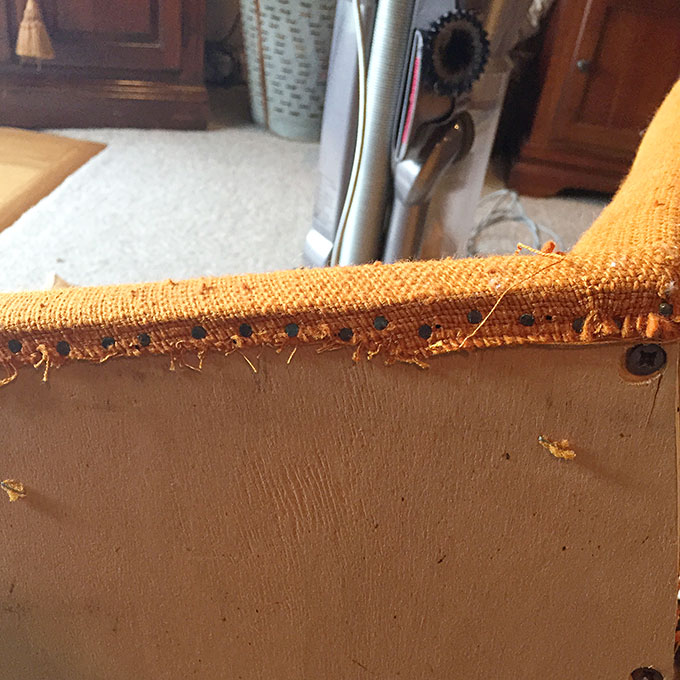 After removing all those nails and staples, I was covered in a fine yellow dust (hence the vacuum in this photo). I was perplexed and a little grossed out thinking maybe it was rat poo or something.
I ended up taking the top of the seat (where you put your back) apart from the bottom of the seat (where you put your butt). And then took the seat parts outside since I had a feeling it may get messy.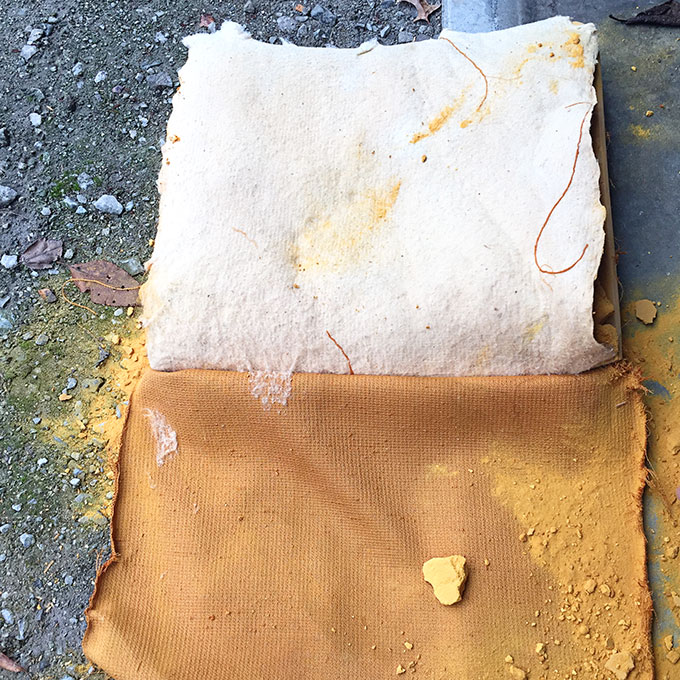 And it got messy. Very very messy. The cushions had disintegrated over time into a powder.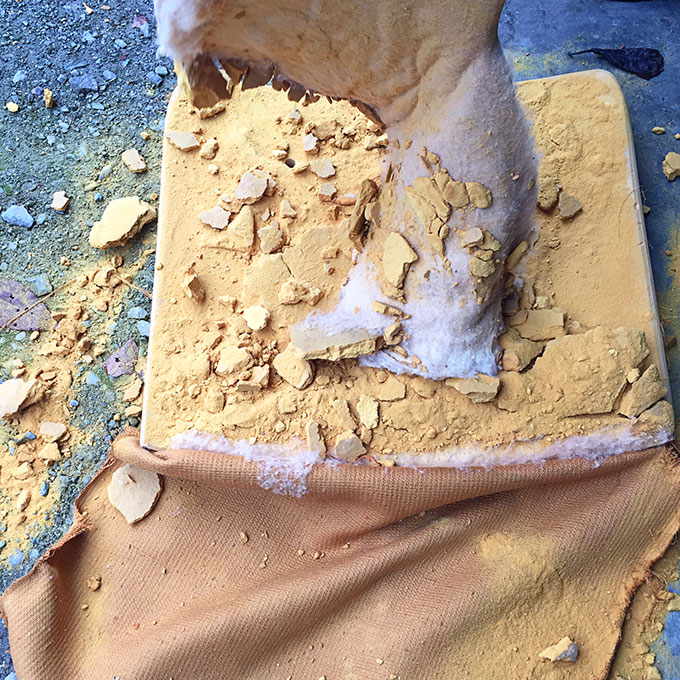 After using the leaf blower to blow all the nasty dusty stuff off the floor of my husband's garage, I still had more staples and nails to remove.
I really do not want to see another nail in my life!
Eventually, I was left with two clean wooden parts of the seat.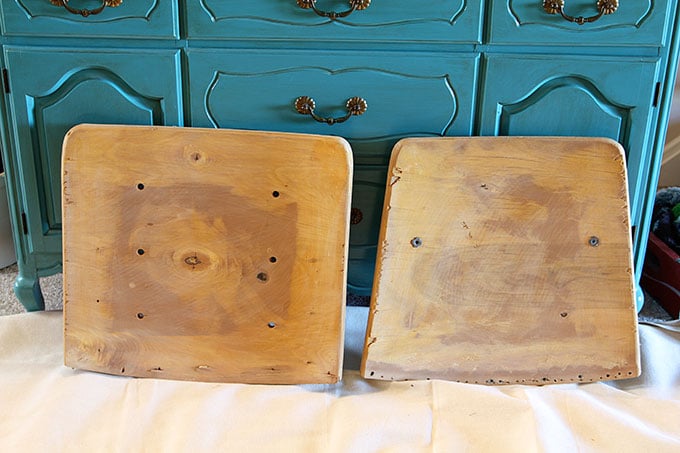 I replaced the dusty padding with brand new clean and smell-free padding that I bought at JoAnn Fabrics. In hindsight, I probably would have bought a 1" padding to go more with the style of the chair, but this 2" padding will do in a pinch.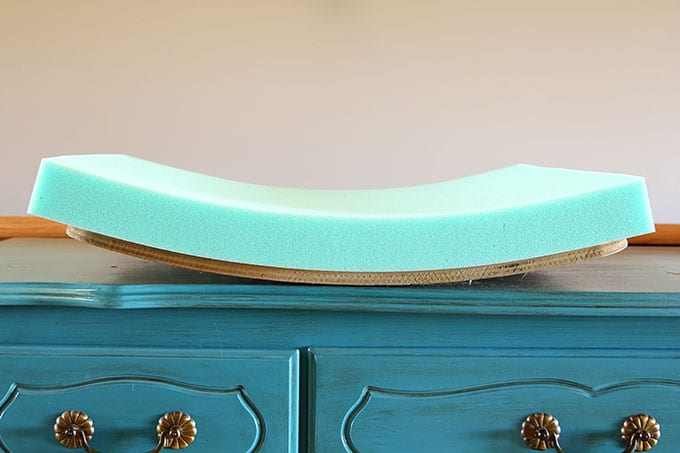 I covered that padding with cotton batting, wrapping it around the back to keep my upholstery fabric from rubbing up against the edges of the wood.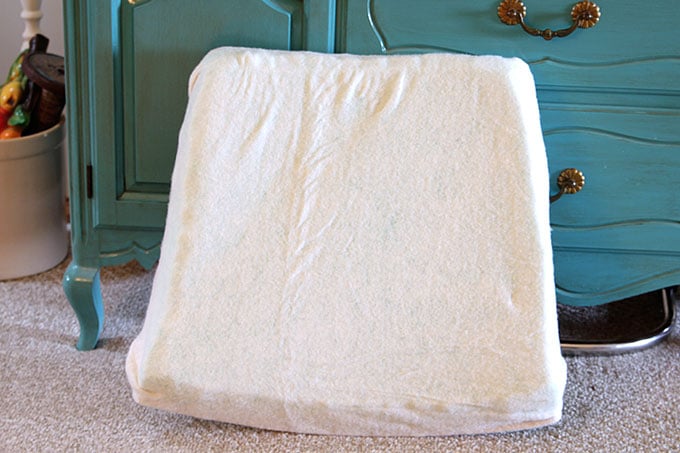 Think of it as Spanx for your fabric.
I then wrapped the upholstery fabric around that and stapled it into place.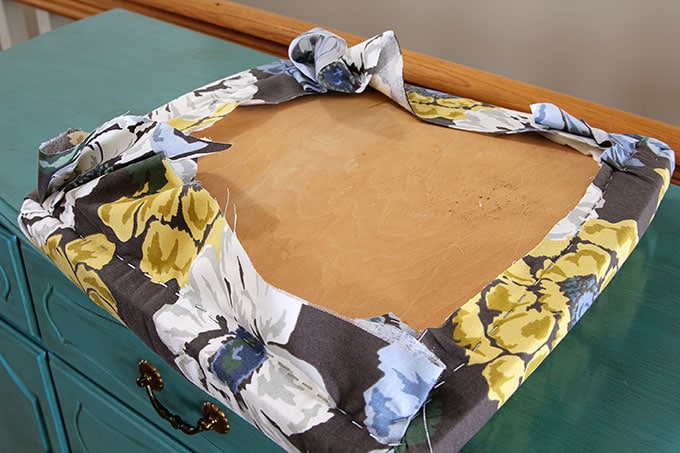 For the most part, I used the pneumatic stapler which makes it SO MUCH EASIER than using a regular hand staple gun. Pneumatic all the way, baby!
I trimmed around the fabric, cutting closer to the staples, to get rid of the excess bulk.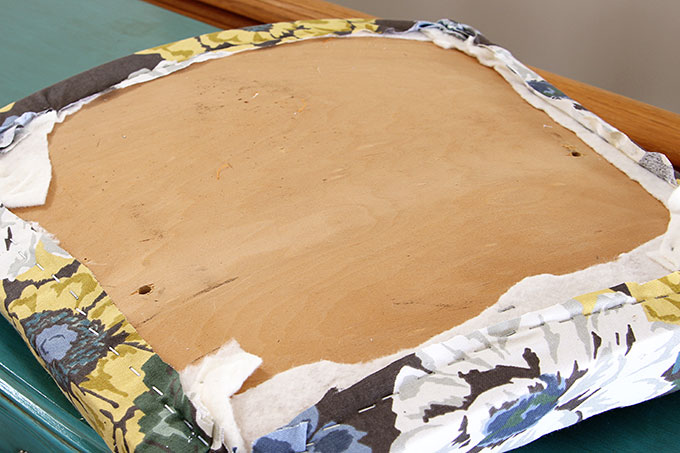 Luckily for me, this part will all be covered by fabric, so neatness and straight lines are not that important.
For the back of the top and the bottom of the seat I wanted to cut the fabric closer to the actual shape needed, since these two pieces will give it a finished, tailored look.
So I used the fabric that I had removed previously to make a little pattern. I just cut out my new fabric about an inch larger all around.
I used cardboard tack strip to staple the right side of the back piece to the top of the back of the chair (is that confusing?).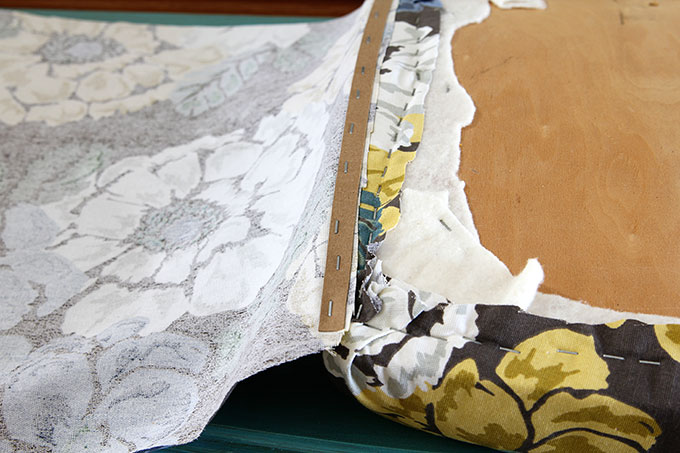 And then flipped the fabric back down against the top and used tack strips with tacks already in them to adhere the sides. These make very crisp and clean lines.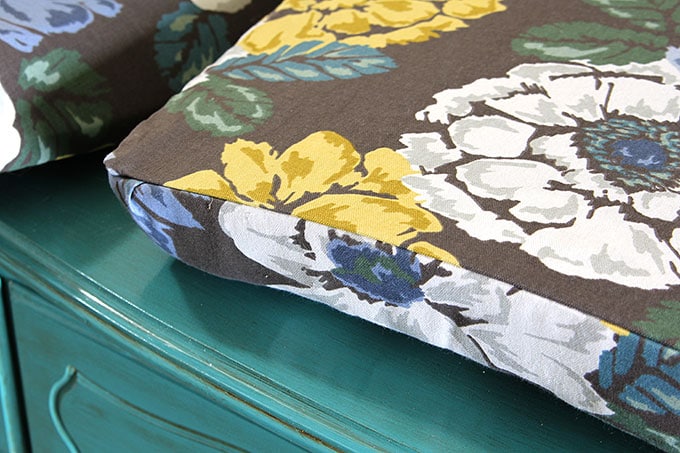 The bottom of the seat was covered in this black upholstery dust cover fabric, which is made for the bottom of chairs. I just used staples to attach it, since it won't be seen.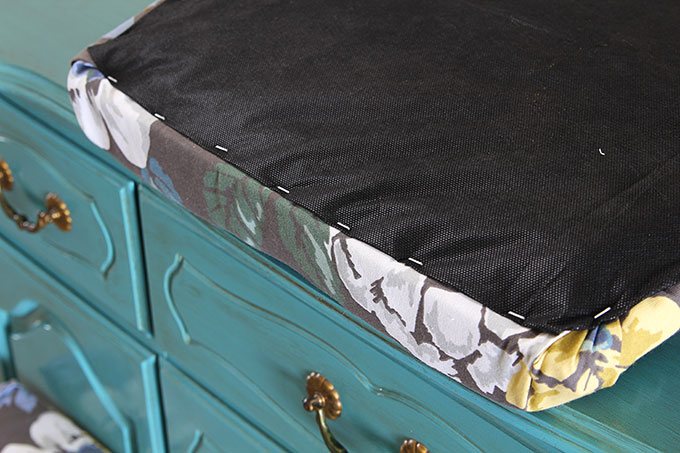 Quick, go look under your sofa and I bet it's sporting this same black fabric underneath it.
And then I just had to put the chair back together and IT WAS DONE!!!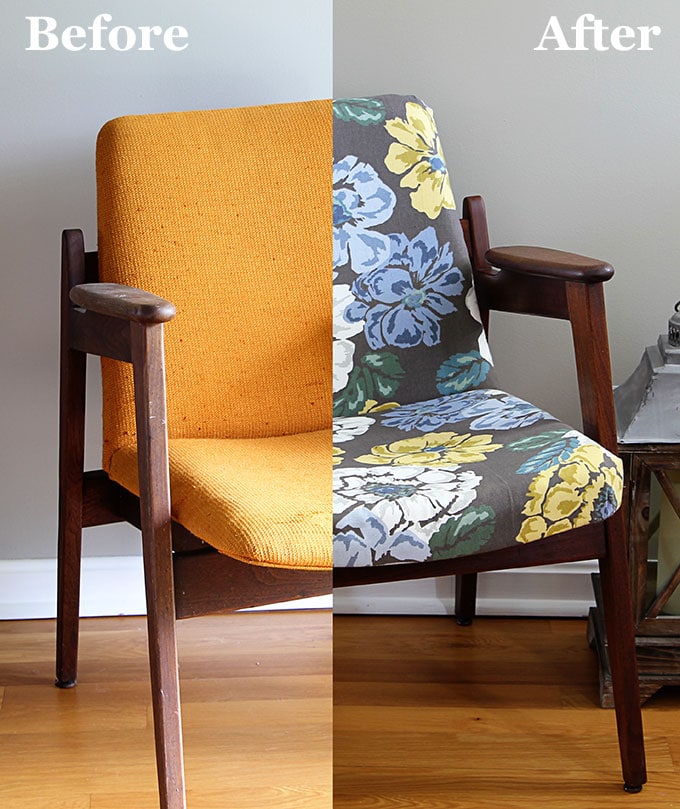 Some useful links for your reading pleasure:
I first learned about Watco Danish Oil while reading Rurally Screwed's article about restyling their mid century modern chair. Their chair had a varnish on it and has instructions on how they dealt with THAT!
The Sweet Escape recovered a mid century modern chair in a dress. Not like my Betty Draper chair metaphor kind of dress, but a real dress. Betty would be jealous if she knew that little tidbit!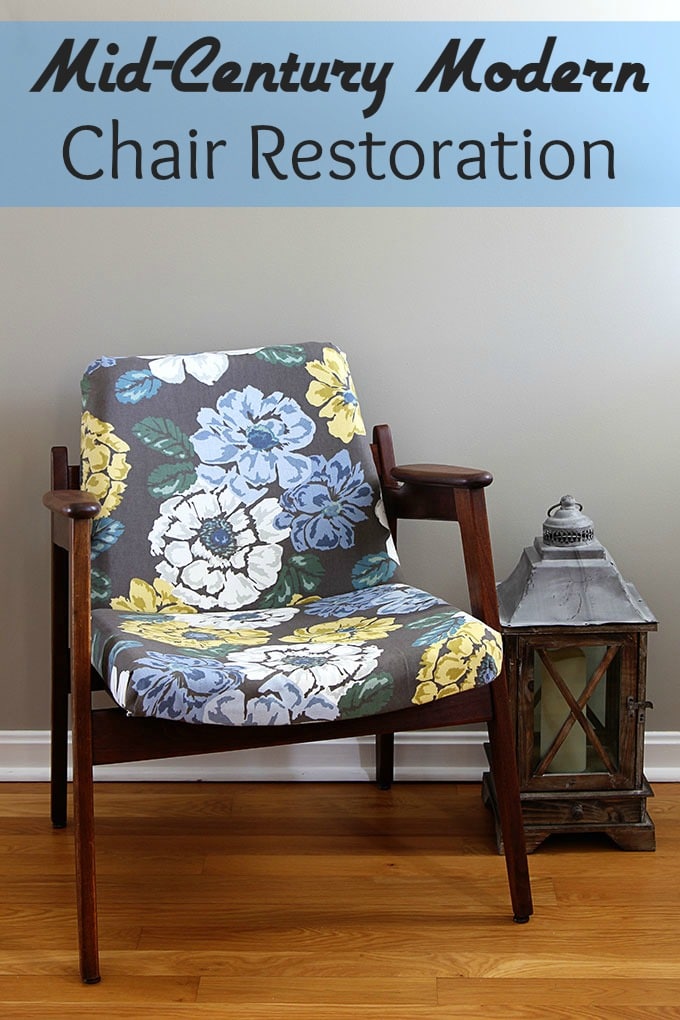 So, honest opinions. My choice of floral fabric. Yes? No? Are you color blind, Pam?