Wow, I love summer!
Always have.
From the time I was a little kid, when summer meant a whole lot of kicking off my shoes and running barefoot through the grass. Having nothing in the world to do but ride my bike, swim and hang out with my besties.
To now, when summer means a whole lot of kicking off my shoes and walking very slowly through the grass, avoiding piles of dog poo and poison ivy. Having nothing in the world to do but read books, yard sale and hang out with my besties (aka my husband and son).
But summer now includes hanging out on the porch.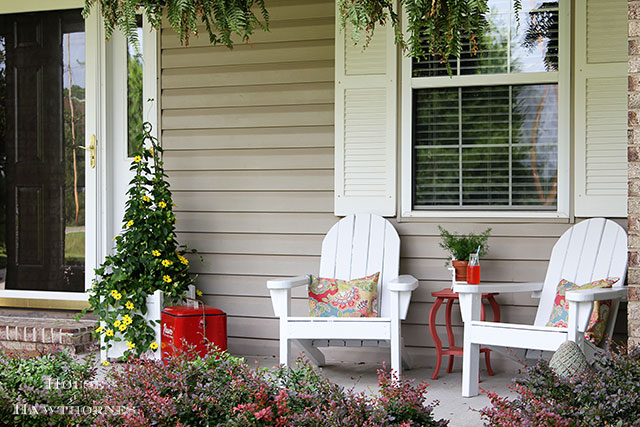 We never really had a porch per se when I was growing up. More like a entrance pad and I don't think we ever had chairs out there and we surely never decorated it. At all.
So I like to do a little sumpin' sumpin' with it now. (If I have to Google how to spell sumpin' should I really use it in a sentence?)
Sometimes I get carried away with it and you can hardly walk out here.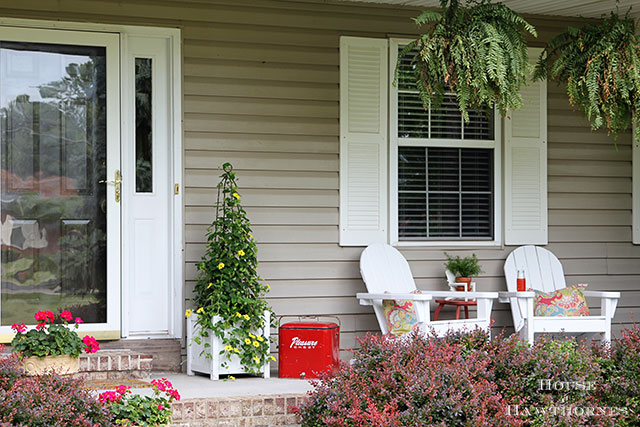 This year I tried to use restraint.
Well, except for the glass of pink lemonade. I just wanted an excuse to a use a cute paper straw and one of my Starbucks bottles.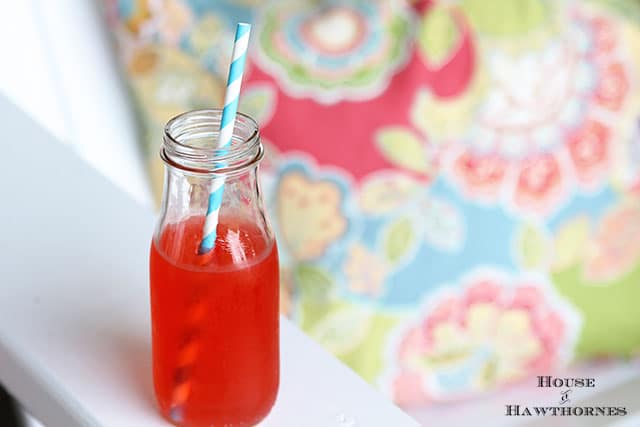 Something to note. If you put lemonade on the porch for a photo shoot and forget about it for a few days. The ants will find it. It's not a pretty site.
Let's talk Adirondack chairs.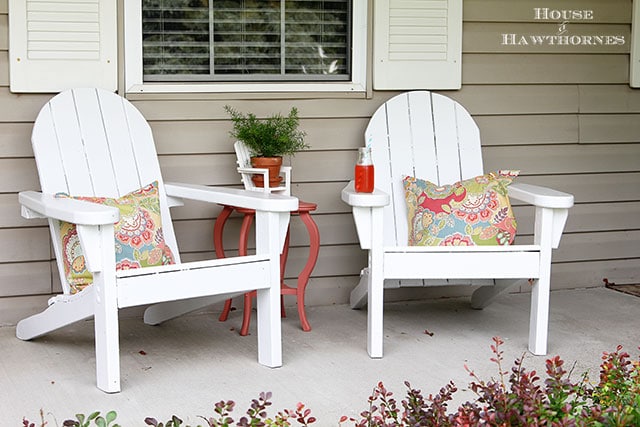 Is there any chair out there that is more comfy than an Adirondack?
Sure, a vintage metal motel chair could give them a run for their money. But I'll put my money on the Adirondack.
I love how they support your back while giving you a nice solid place to put your beverage.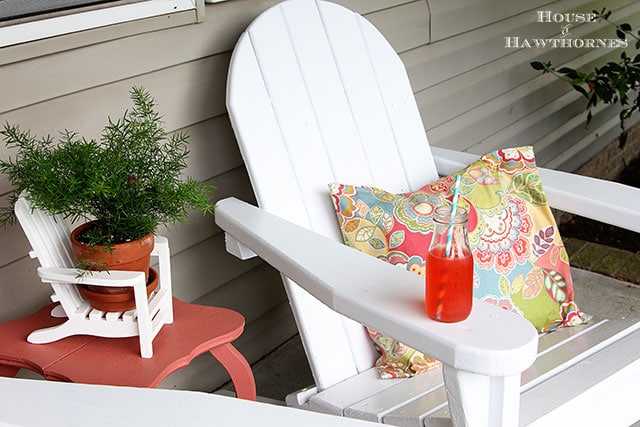 No need for a side table. Just plop it right down on the arm.
I've had my black rockers on my porch for quite a while and had the Adirondacks in the back yard. But this year I decided to go all wild and crazy and move my Adirondack chairs up here front and center for all the world to see.
My Black-eyed Susan vine (Thunbergia alata) is another thing that's been upgraded to porch-worthy material.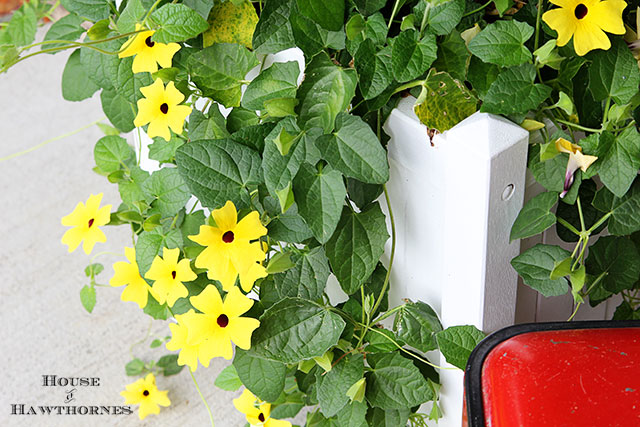 Do you remember the Seinfeld episode when Elaine talks about her dates being sponge-worthy? Not quite the same thing. But sort of.
It was a pleasure to show you my porch all decked out for summer.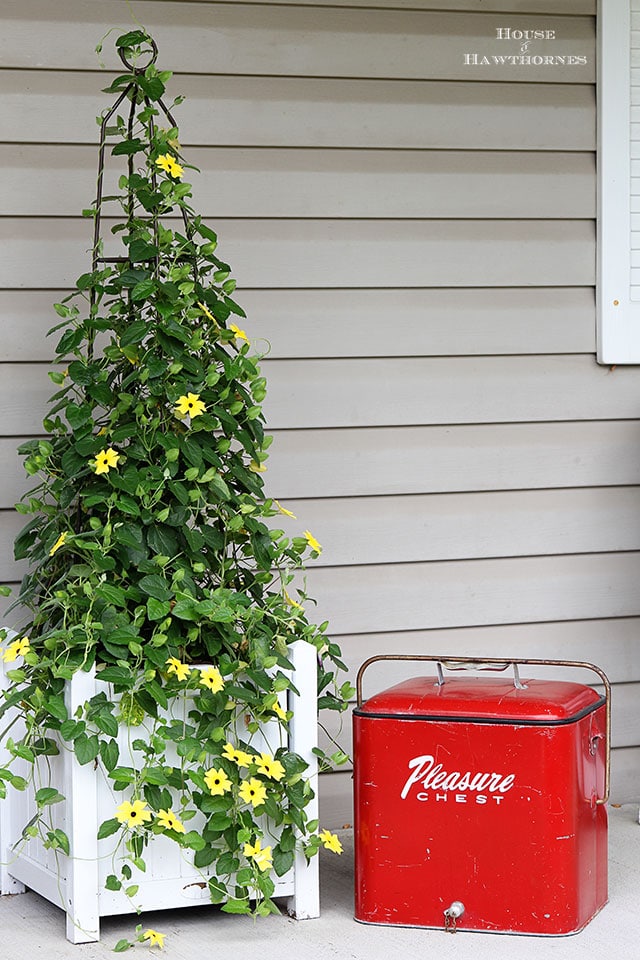 Get it. It's my pleasure. The pleasure chest.
Ha! I crack myself up sometimes.
I could make some boob jokes. But that is just too obvious, now isn't it.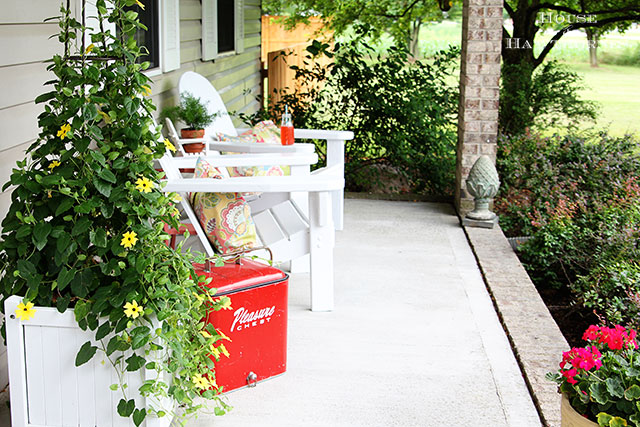 I bought the chest a few weeks ago and I love it. I have visions of it with flags sticking out of it for the 4th.
That brings me to the elephant in the room.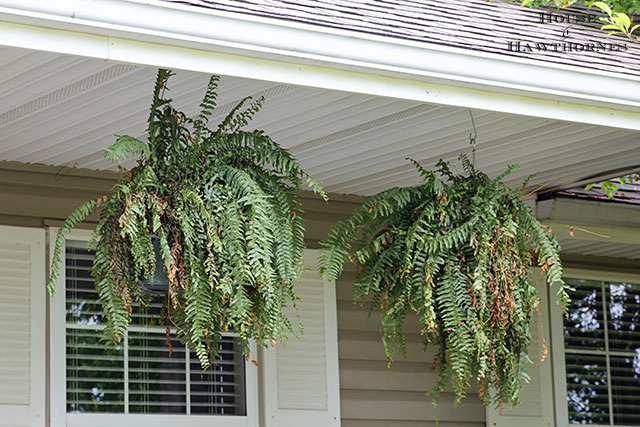 My stupid ferns.
About a week after I put them up here I noticed birds flying in and out of them. Why do they have to build nests in every pot, hanging basket, and shelf I put on this porch?
So anyhow, I feel guilty about watering them now and getting the eggs and nests all wet. Do eggs float?
So they are just getting whatever water they get from rain. Call me many things, but I'm no baby bird destroyer.
Although I may be a fern destroyer by the time the birds vacate the nest.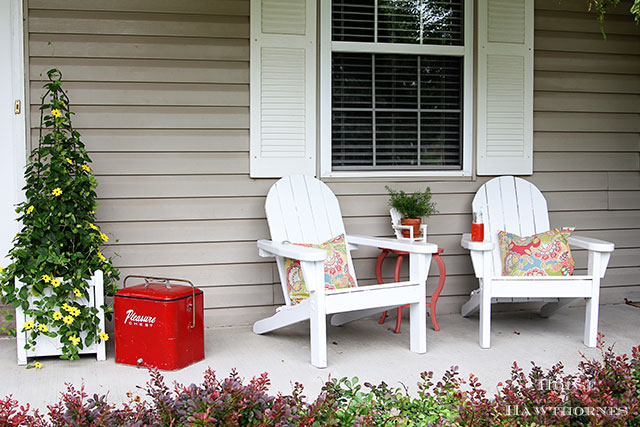 Do you use your porch a lot in the good old summertime?