I've always had a thing for vintage kitchen scales.
I've used them for years in home decor like in this fun fall table decor post from a few years ago. And a few different scales can be found in this post about Christmas thrift store finds.
So when I first saw this vintage scale at the thrift store for $3.99 I was excited to do something with it.
Sure, I could have left it as is, but it is a very common scale I see all the time when out thrifting.
If I had to guess, I think this scale with the fruit and veggies on the dial is from the 1960s or 1970s. I've seen a few of these in Avacado Green, Harvest Gold, etc, so I'm leaning more toward the groovy 70s.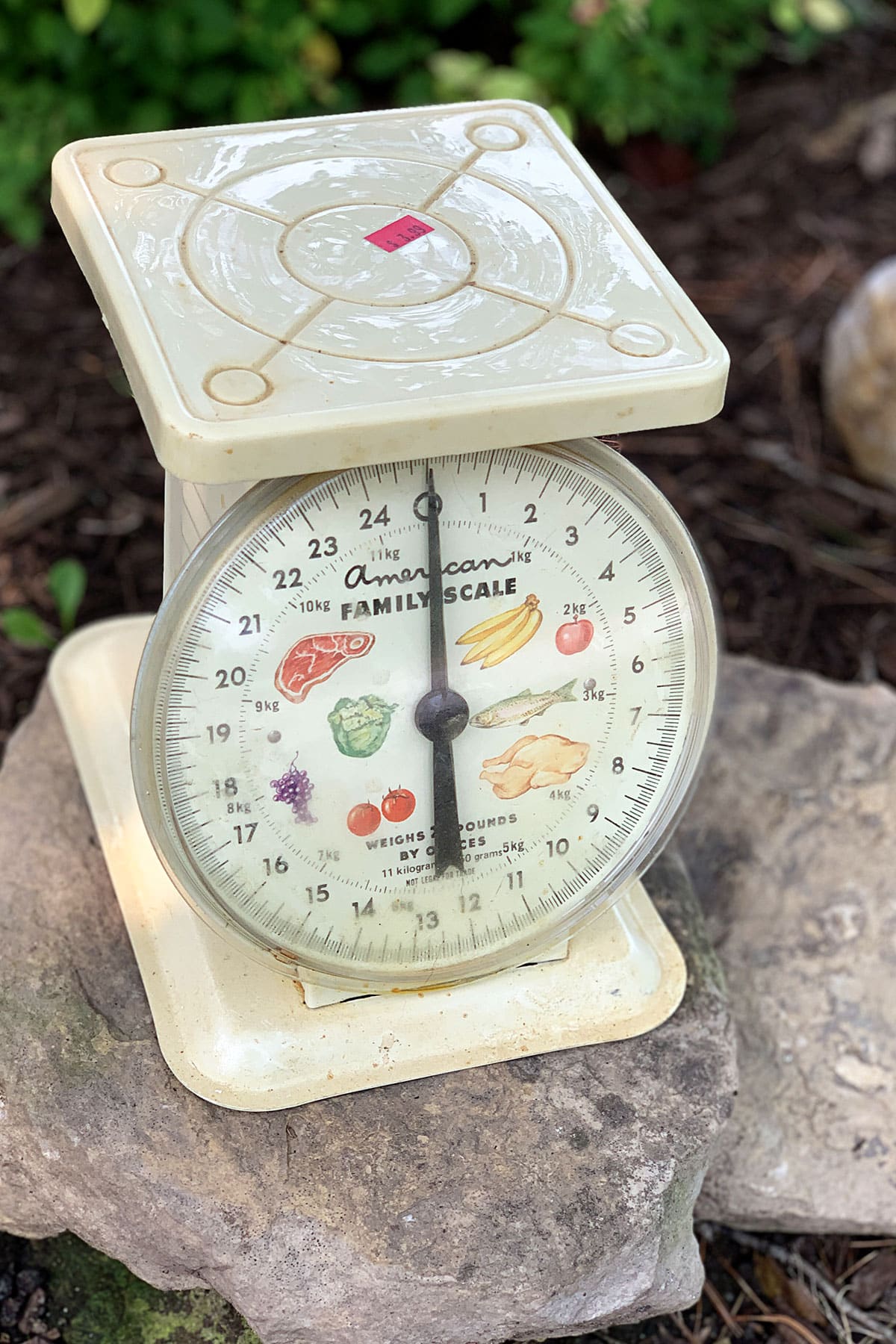 ✨ BTW, today is Thrift Store Decor Wednesday, so make sure you hang around to the end of the post to see the rest of the team's thrift store repurposes for the month!
The very vanilla scale had all of the 3 things I look for in thrift store repurposing projects:
My Top Rules For Thrift Store Upcycling
Item must be inexpensive. I normally upcycle items in the $1-$5 range and rarely if ever go over $10 unless it's an extraordinary piece.
Item must be fairly commonly found at thrift stores around the country. If you will never be able to find something similar at your own thrift store, then there's no sense in showing you how to fix it up because you're never going to find one.
Item cannot be a priceless antique that people online will skewer me for painting. Or gluing something onto it. Or basically "ruining". I have a low tolerance for people attacking my creative virtue.
So the scale was just ripe for a makeover.
And since it's getting close to fall (yes, I am well aware it's early August), I am going with a slightly Pottery Barn-esque fall pharmacy vibe. If that's a thing.
(This post contains some affiliate links for your convenience. You can read my full disclosure policy here.)
Repurposed Vintage Kitchen Scale Tutorial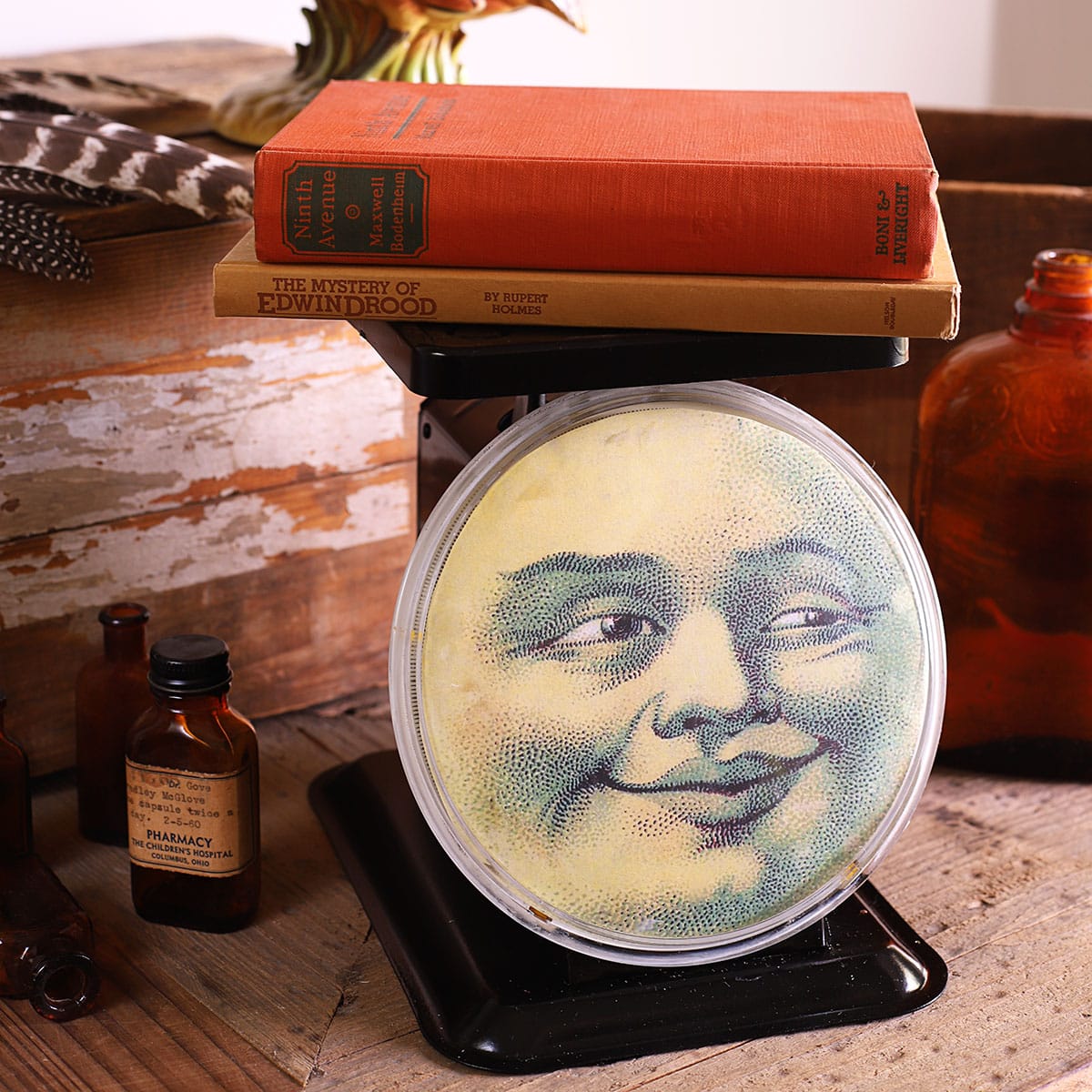 Supplies:
This is one of those projects that is so darn simple to make I sort of feel silly typing out the instructions. But hey, here we go.
Instructions:
Time needed: 1 hour
How To Repurpose A Vintage Scale
Thoroughly Wash Your Scale

Chances are your thrift store scale is dirty and grimy from sitting on the shelf at the thrift store for a while. I washed mine in the sink with soap and water. I did not submerge it though since you don't want the inside to fill up with water and rust.



Tape Off Dial And Spray Paint

Using painter's tape, tape off the plastic covering the dial. Then spray paint. I used two coats of paint.

If you're confused about the bright yellow coloring of the scale in the photo below, read on.



Remove Painter's Tape

After the paint has dried, remove the painter's tape.



Print Out Your Man In the Moon Face

Go to The Graphic Fairy's site and download one of her moon faces. I printed it out on cardstock paper, but regular printer paper would work fine.



Attach Your Moon Face

Remove the plastic covering over the scale's dial. There are two tabs toward the bottom of the plastic covering and one near the top. If you push on those tabs the plastic covering will pop off.

Cut out your moon face and slide it into the back of the plastic cover. Reattach the plastic cover to the "scale".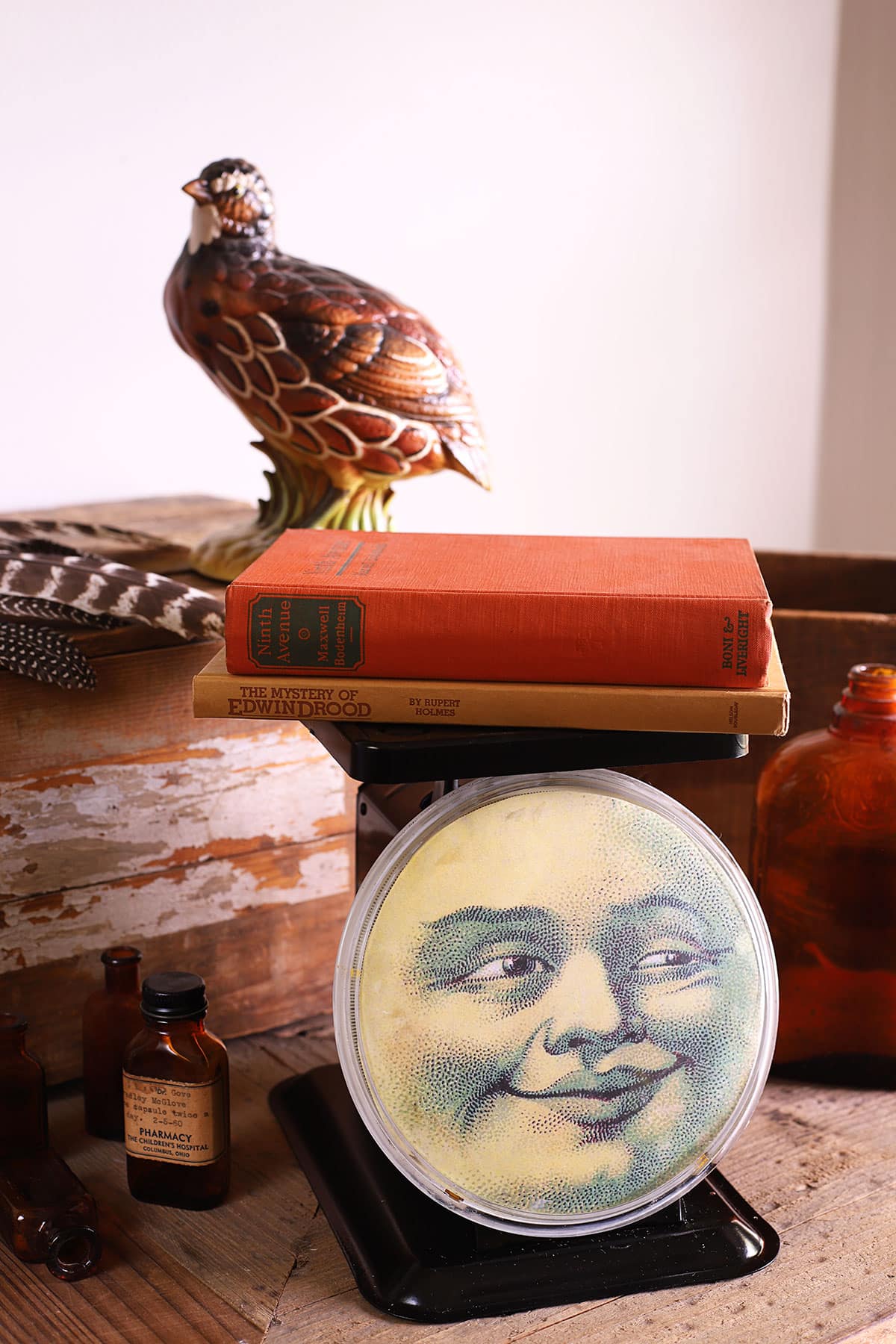 How To Pivot When A Project Goes Wrong (Oh, So Terribly Wrong)
You would think my project today was simple enough. Paint a scale black. Add a moon face. Ta-da, you are done!
The problem is it started out being something TOTALLY different. So I thought I'd quickly take you through my process for what to do when your very well-intentioned and thought-out crafting project goes south quickly.
My first thought for this makeover was to paint it a fun color and use a stencil I have been dying to try in a project.
Hence why I painted the scale a bright yellow and stenciled a vintage camper on the top. It was supposed to be in Hudson Bay Blanket inspired colors (like I did in my Hudson Bay Blanket coasters post). I was going to sit it among some of my vintage thermoses and it was supposed to create a cozy fall centerpiece.
As you can see, the stencil didn't work out well on the top of the scale. Way too blotchy and with the grooves on the top it just had too many spots for the paint to seep through.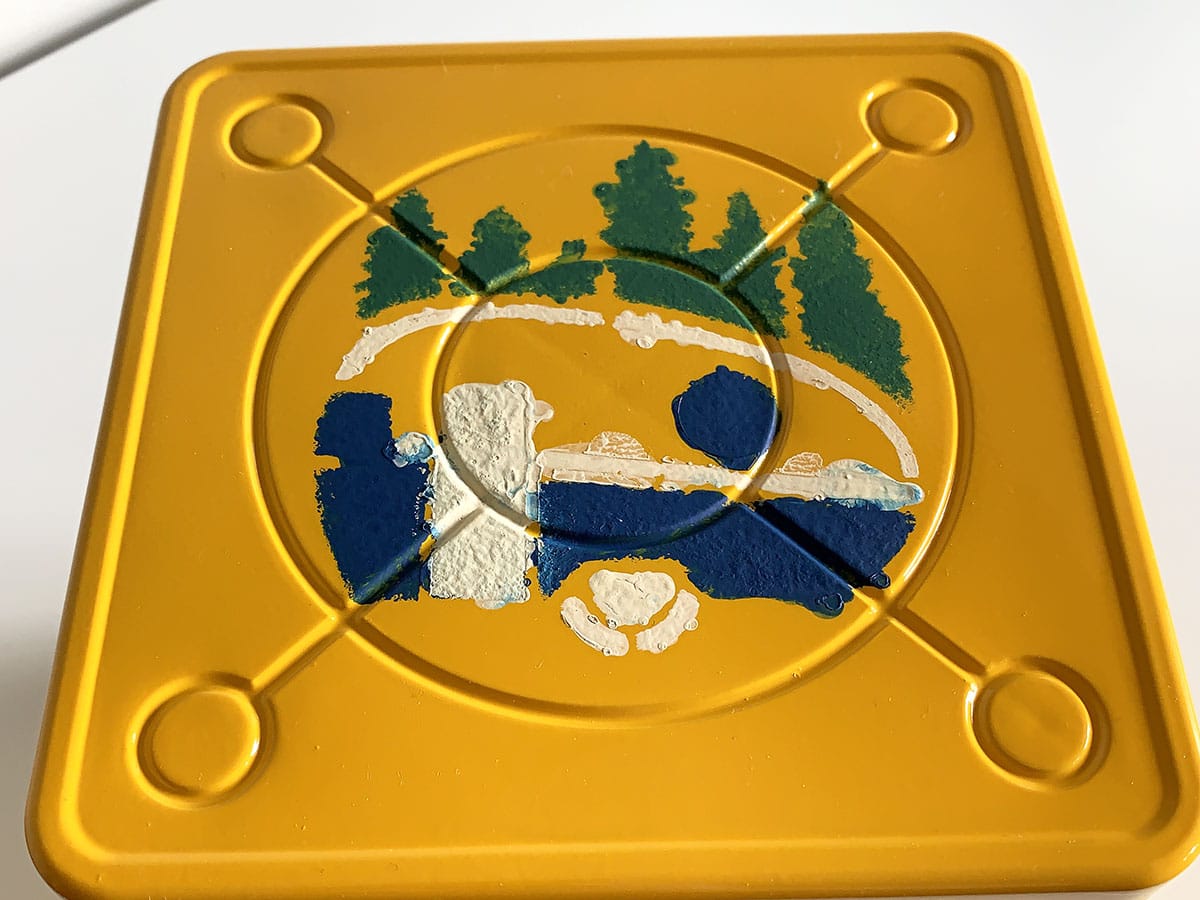 And I HATED the color!
I thought it would be a nice golden yellow for fall, but it was just so in-your-face bright! Like sunshine bright. It was Rust-oleum Painter's Touch 2X spray paint in Golden Sunset - Gloss finish in case you want to hate on the color too.
So then with that idea thrown out the window, I decided to lean into the yellow a little bit and paint a sunflower on the top of it. Sorry, no pictures of that fiasco. Let's just say there is a reason I normally use stencils and don't paint freehand.
So then I took a step back and thought a bit. The round dial sort of looked like a pumpkin. Yet I didn't want an orange scale. What would I do with it the other 10 months out of the year? So that led me to another round fall shape and I landed on the fall Harvest moon theme.
Painting it black just seemed logical and would allow me to keep with the theme yet still be able to use it other times of the year (since the face just comes right back off).
So in conclusion, do not be afraid to scrap your original idea if it doesn't go as planned. There may be something even better out there.
And not so yellow.
Now let's go see what the other Thrift Store Decor Team members are up to this month!