Well, deck the halls with boughs of holly . . . it's Christmas at the tin dollhouse!
Is it bad that I stole the bird's home and made it into a Christmas decoration?
I won't get in trouble with Santa for that, will I?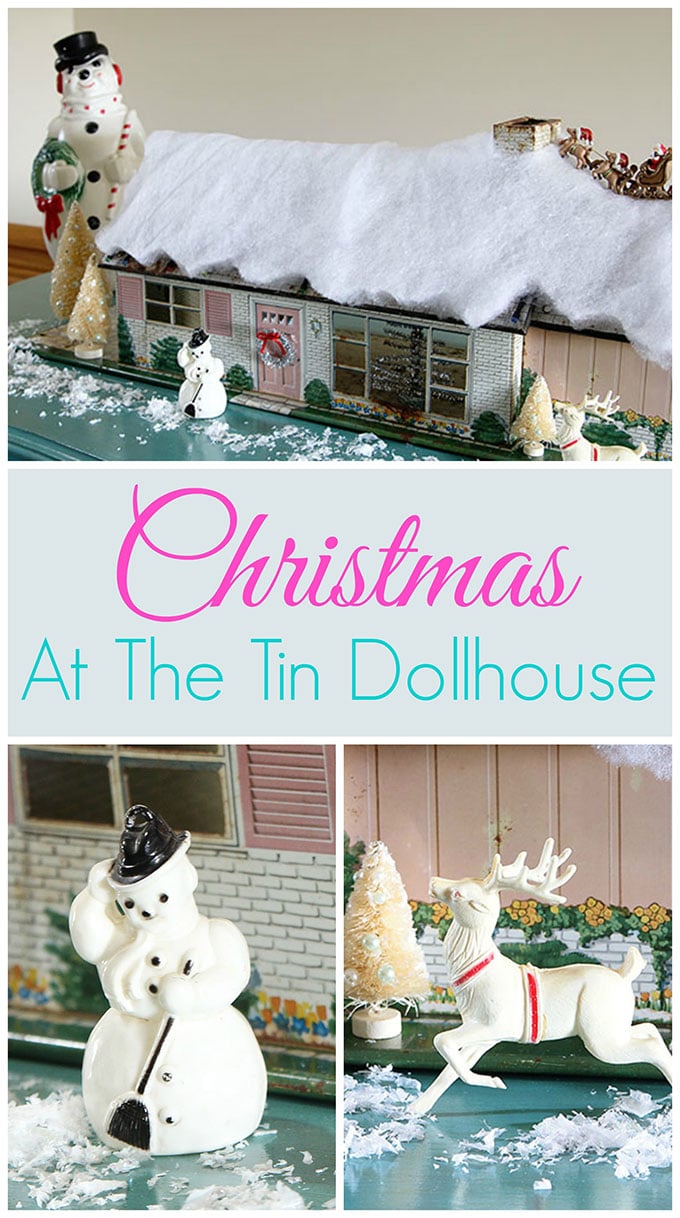 But since the birds weren't overly impressed with my dollhouse turned birdhouse in the 1st place, I kicked out the ungrateful birds (don't get your tinsel in a tangle, that's a joke, no birdies were harmed), brought the house inside and started decorating it for the holidays.
I actually think I've played with this tin dollhouse more than the one I got as a kid.
A little snow here (just in case you were wondering, it's fake snow).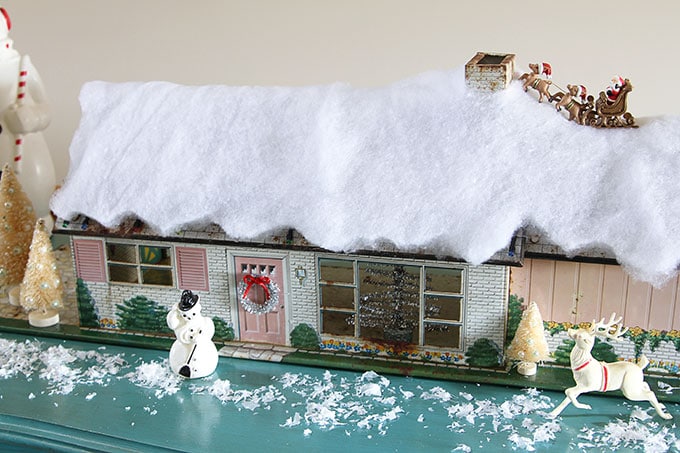 A few bottle brush trees there.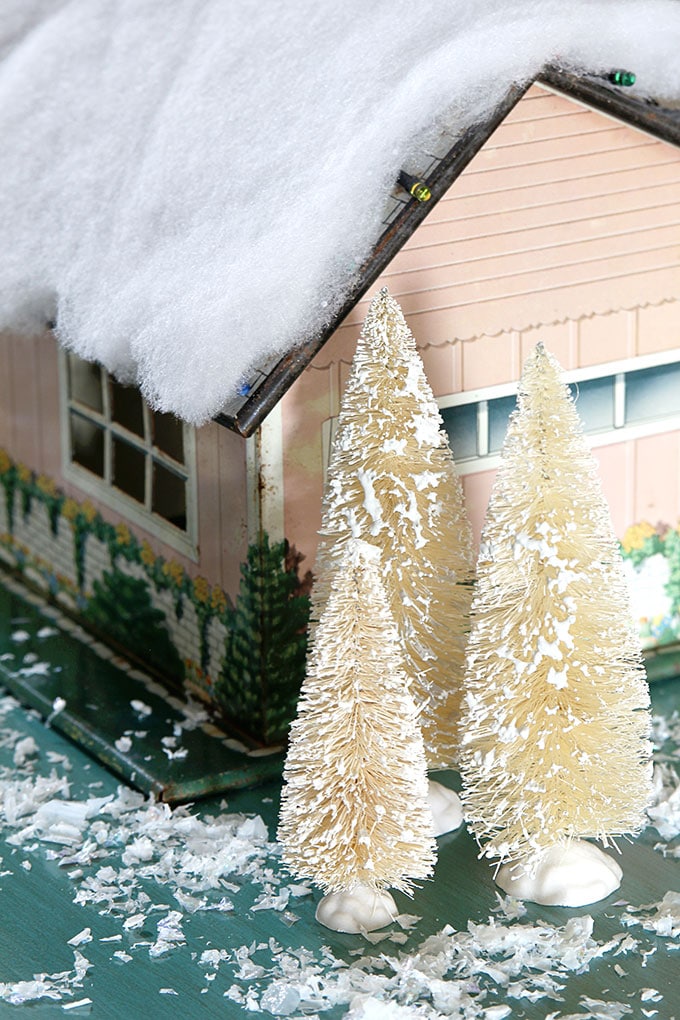 A little Santa action on the roof.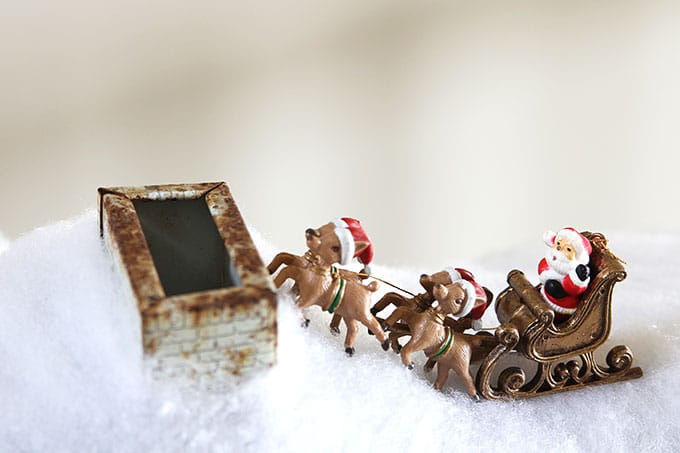 And a few vintage ornaments turned kitschy lawn decor.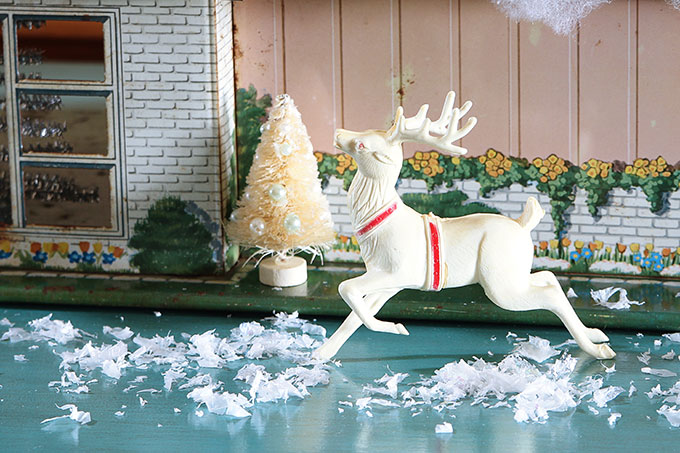 Even a tiny little mid-century modern silver tree for the living room.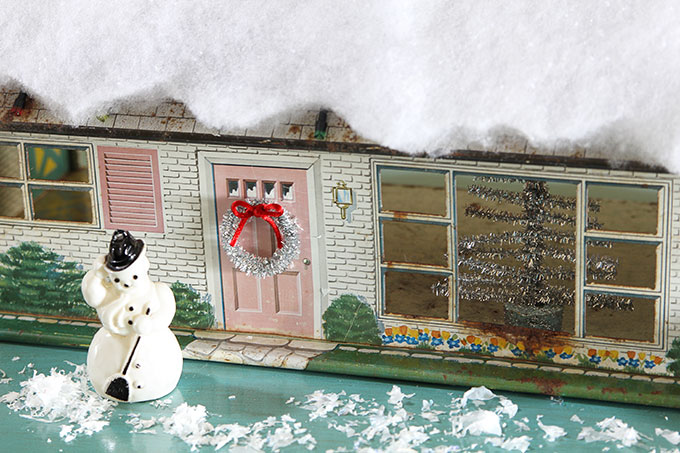 One of my readers, Ann (Hey, Ann!), told me about a video Kate from Retro Renovation did on making a mini tinsel tree. It was perfect for my picture window, because if you have a picture window you just HAVE to have a tree in it.
While you're at it you can see how Kate makes a vintage ornament wreath also. I need to make one of those this year.
Let's not look too far inside the dollhouse though.
The previous renters had to move out quickly and they took all the furniture with them. I'm thinking of filing a complaint against them, but then again they've probably flown off to Florida by now.
Oh, and I almost forgot to show you the coolest part!!!
I climbed up on my little ladder and strung Christmas lights on the roof!!!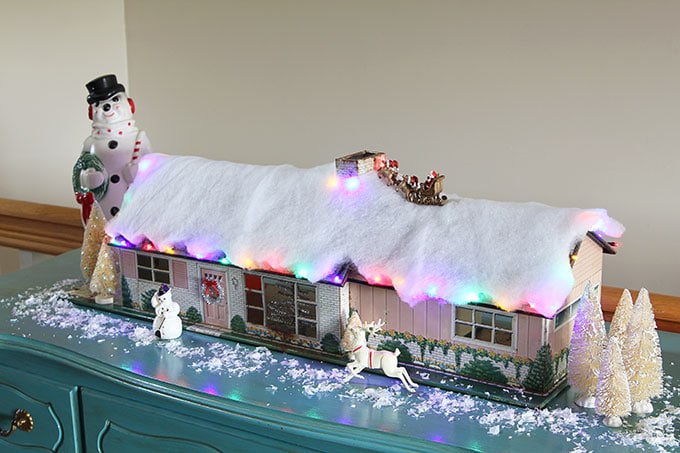 It's a battery operated set I bought at Walmart and it has all these different patterns it can make. I left it on "steady" for this photos, but they can blink and all sort of things.
Probably cause seizures too if you look at them too long.
More birdhouse/dollhouse/Christmas house shenanigans:
My tutorial on how I repurposed the tin dollhouse in the first place - Vintage Tin Dollhouse Repurposed Into Birdhouse (from July)
And my thoughts on the birds not appreciating my efforts - Tin Dollhouse Birdhouse Update (from early November)