It's Christmas porch decorations day!!!
I get so excited to decorate my porch every year for the holidays. I spend days (months?) trying decide what to do each year.
Will it be Kitschy?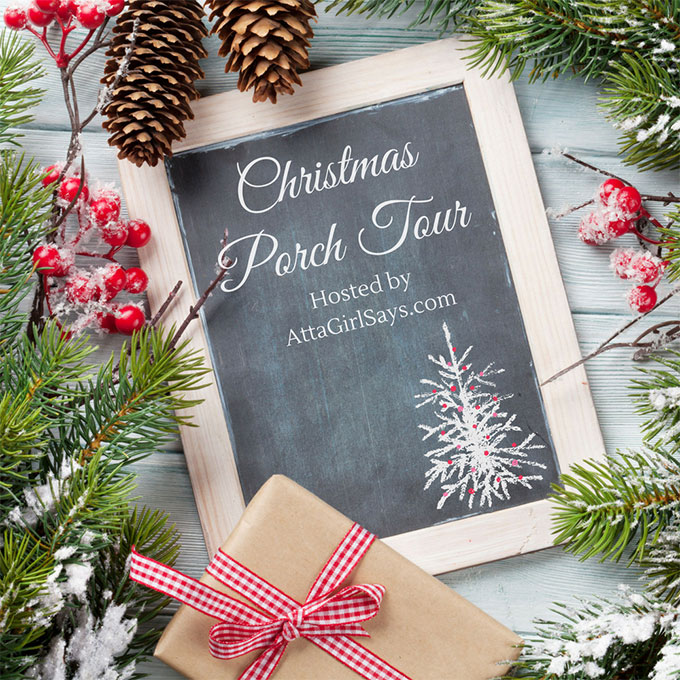 Vintage?
Farmhouse?
Traditional?
It's always such a big decision. But a fun one.
And today I'm extra-excited to be joining 7 other bloggers in a Christmas Porch Tour, hosted by Amy at Atta Girl Says. At the bottom of the post I'll link to the other girls so you can drool over their festive porches!
So drum roll please . . . .
Where's The Little Drummer Boy when you need him?
This year I decided to go Rustic Farmhouse Plaid With A Hint Of Nature.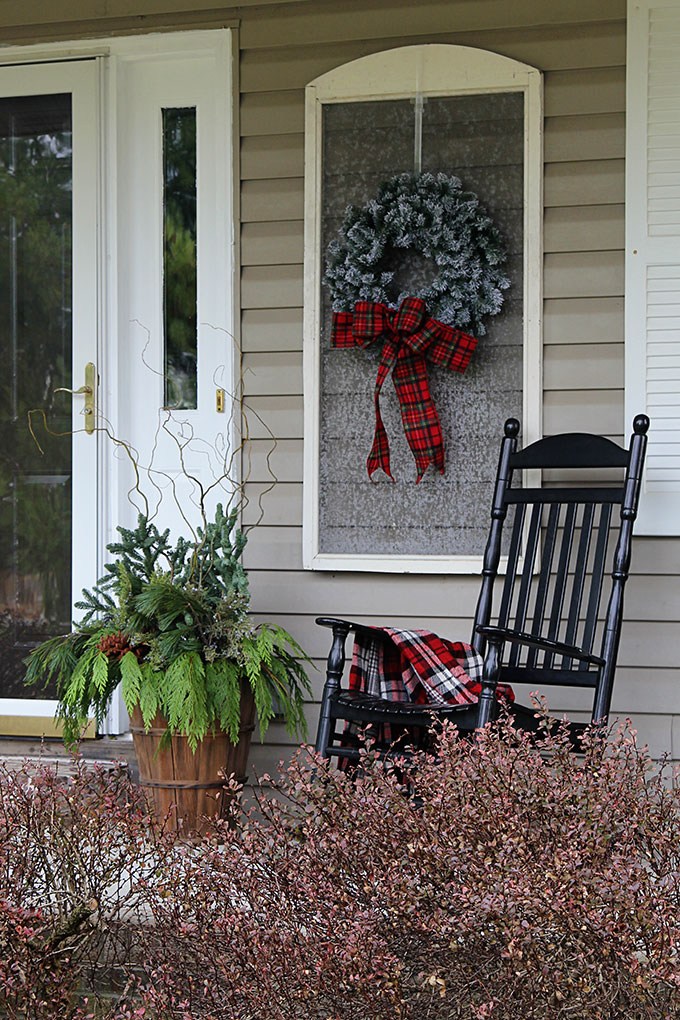 Huh?
Just roll with me here.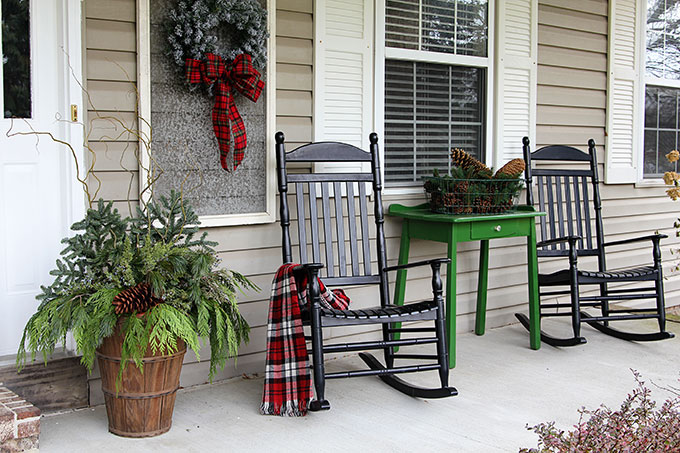 It all started with this yummy arched screen I had bought a few weeks ago at a local shop. When I bought it I had NO IDEA in the world what I was going to do with it.
But come one, how often do you see an arched screen?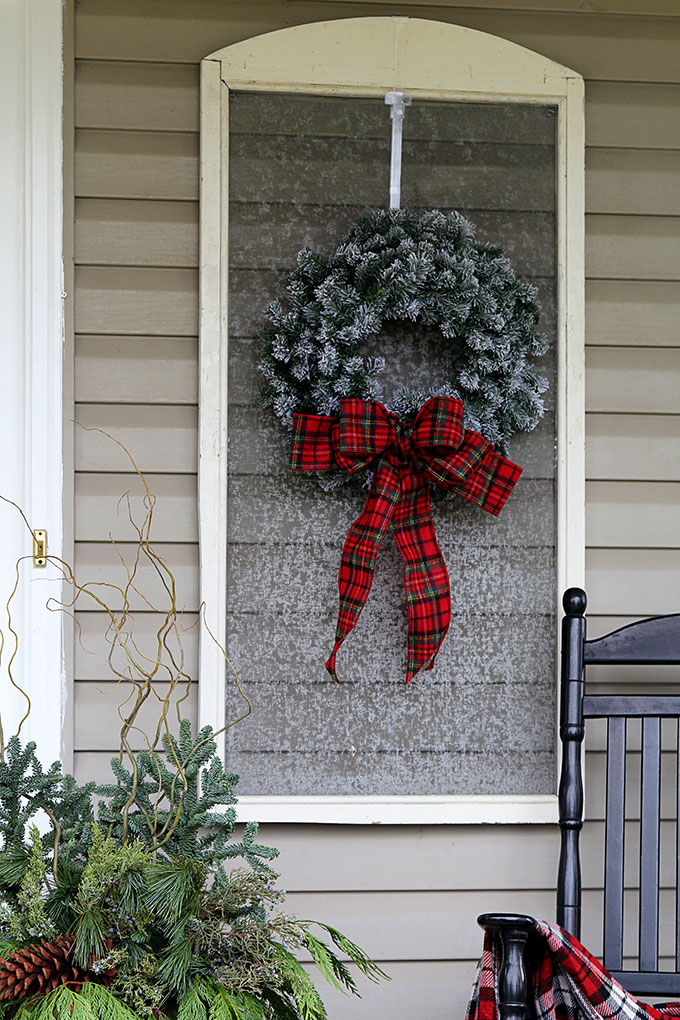 I had the screen setting in the garage the day I brought home the flocked wreath from JoAnn's.
I had actually bought the wreath to put in my dining room, but on the way home from JoAnn's I noticed the wreath was de-flocking itself all over my front seat.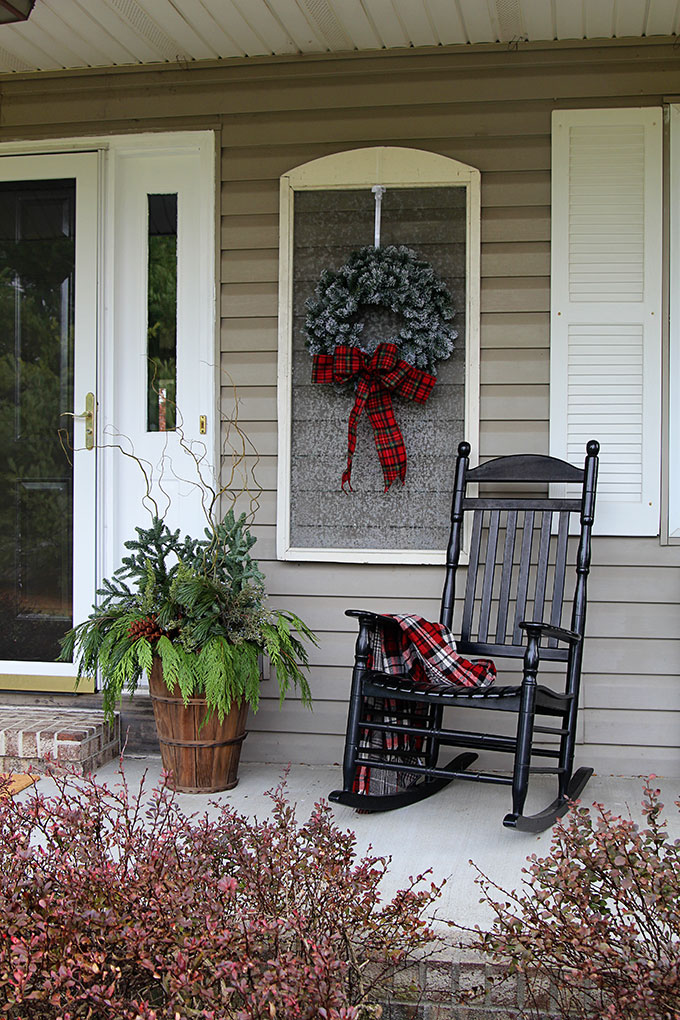 Since I didn't want to get flocking all over the house just yet (that stuff is wicked), I hung it on the screen for safekeeping until I was ready to start decorating the house for Christmas.
And it never moved again.
Since the wreath looked so perfect on the screen, I knew they both needed to be the focal point of my porch decor.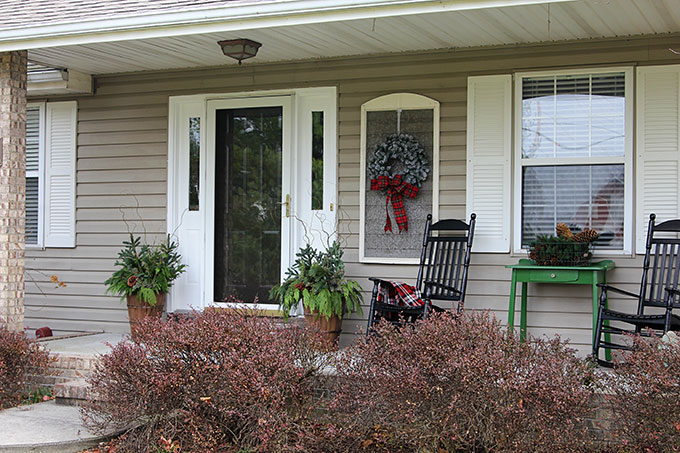 As I was hanging up the screen, I noticed that my peach baskets, that at the time had fall mums in them, looked sort of spiffy next to the screen.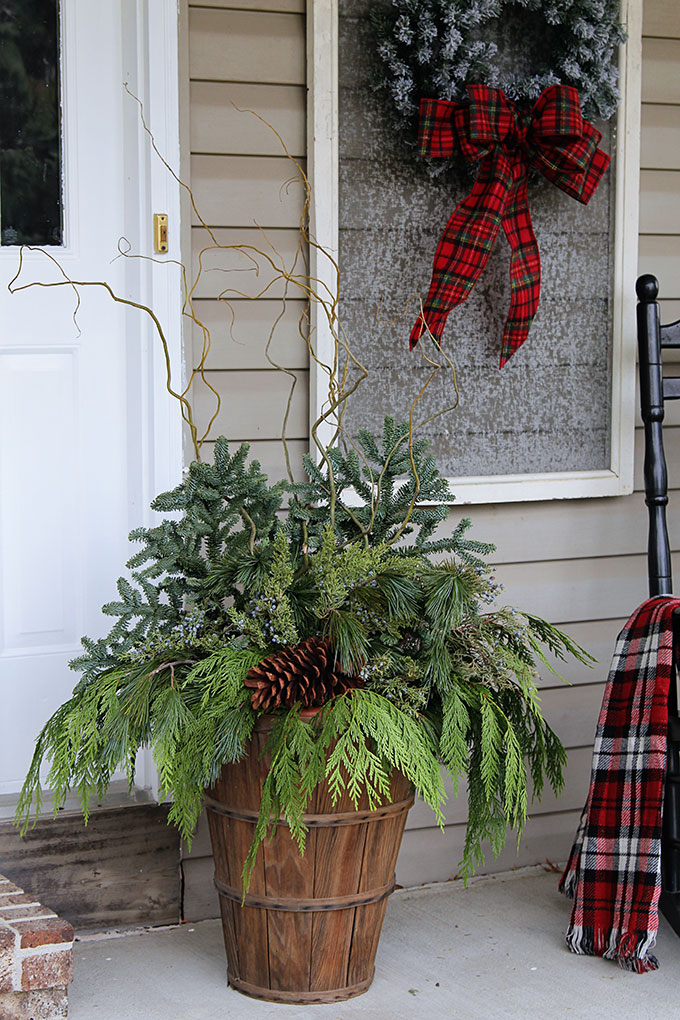 Since I couldn't very well have dead mums hanging out on my porch for Christmas, off I went to the local nursery to buy the greenery for some winter porch pots.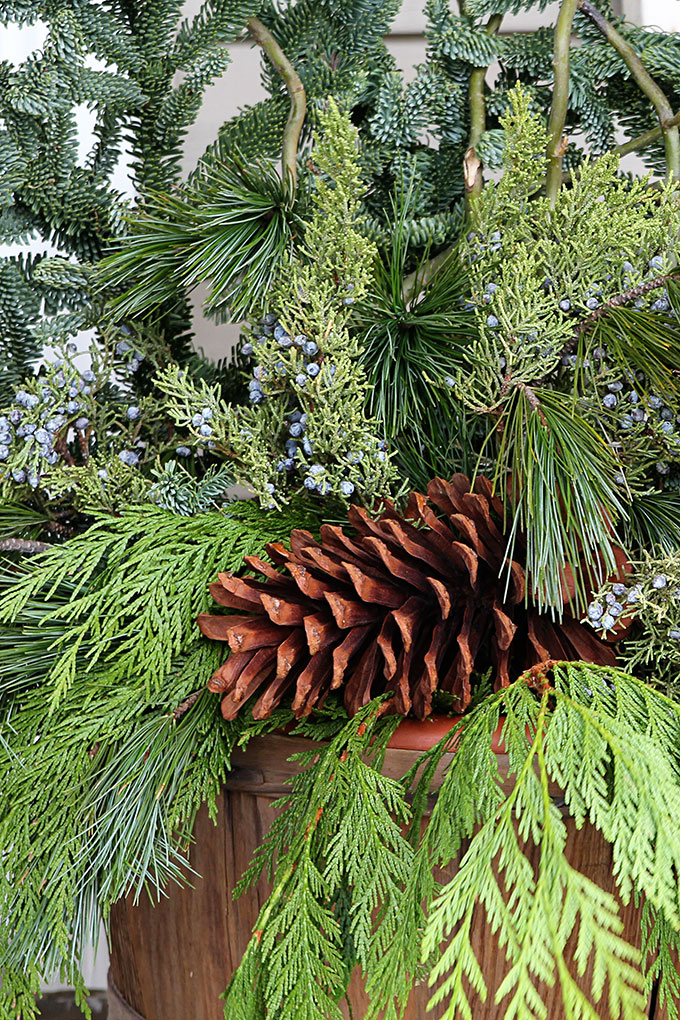 The rest just sort of fell into place after that!
The plaid throw is actually one of those large blanket scarves. I bought it at Kohl's, but I don't see it on their online site.
It's plaid on one side and herringbone on the other and if it comes back to their site I'll link to it for you. Because it really is that special!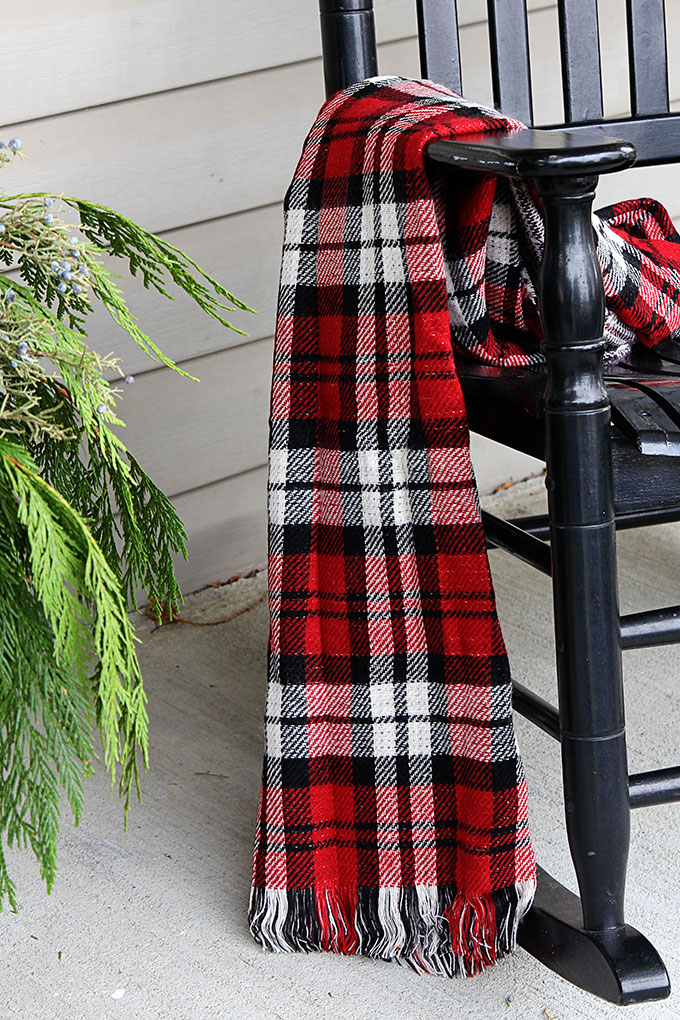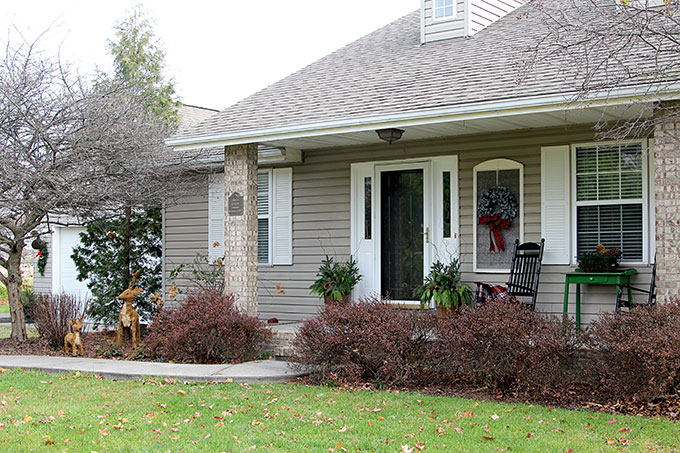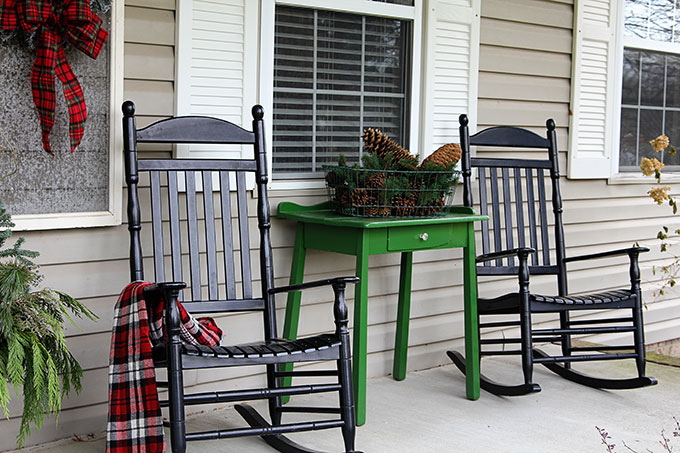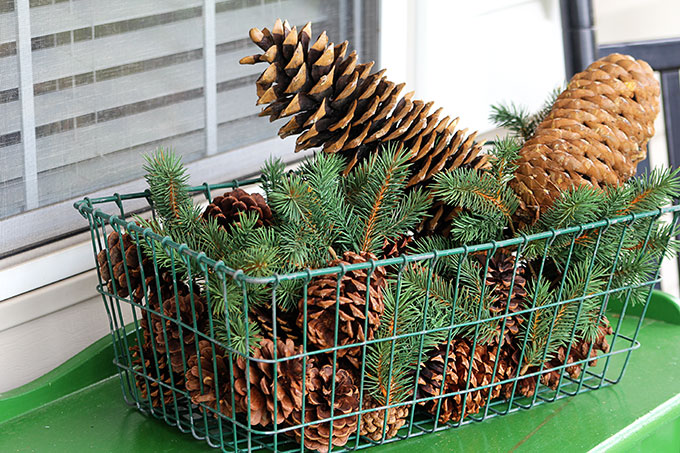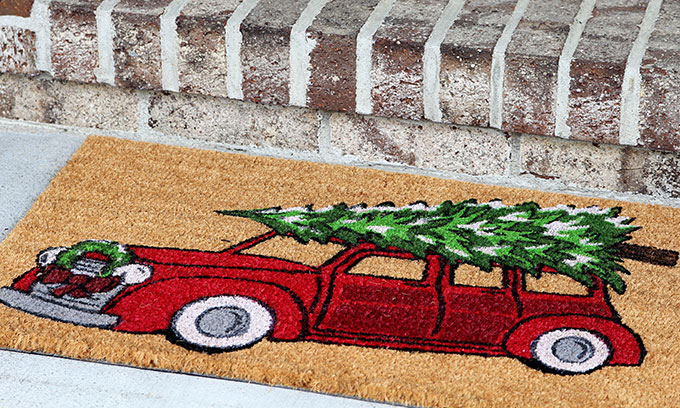 Sometimes it just takes a little nudge from flocking flying all over the place to create the Christmas porch of your daydreams.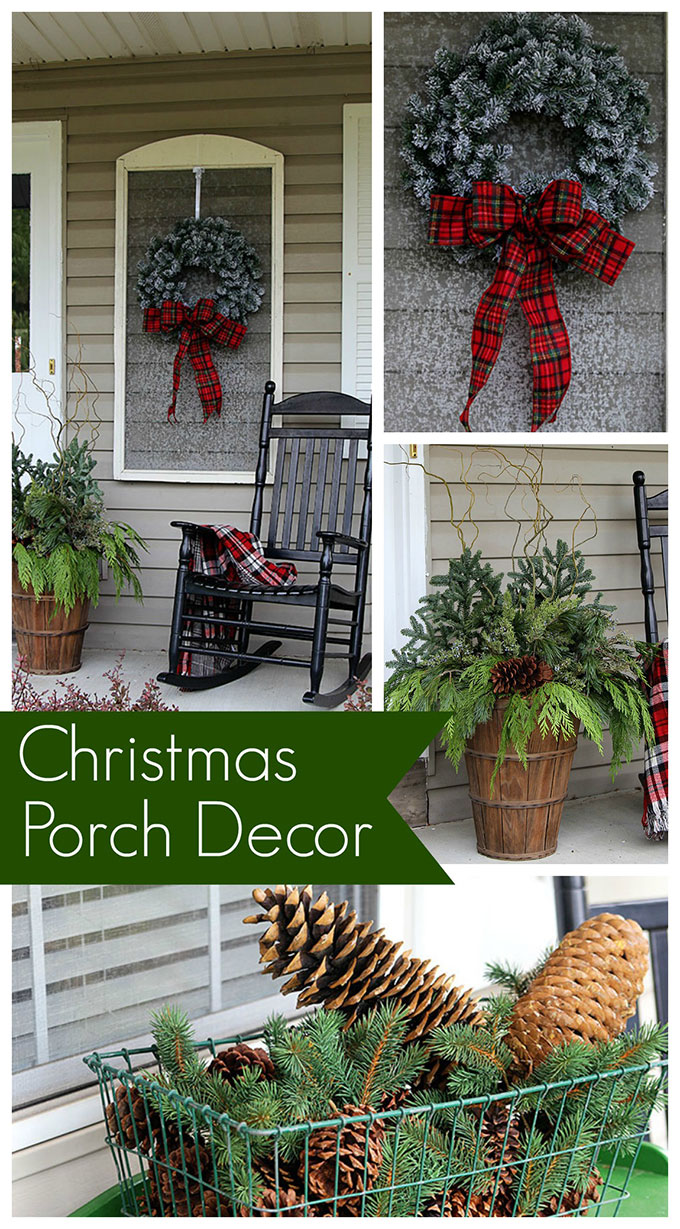 Source List:
Plaid Throw - Kohl's (it's actually a scarf, but I don't see it on their online site)
Ribbon For Bow - Michael's
Flocked Wreath from Hell - JoAnn's
Doormat - I bought it at Meijer's in Columbus, Ohio, a small grocery store chain store in the Midwest
Tall Orchard Baskets - found at yard sales, but you can find them on etsy or at Agri Supply
Locker Basket - found at an antique mall, but similar ones can be found on Amazon
Large Sugar Pinecones - bought at the local nursery, but they can be found on Ebay and Etsy
Arched Screen - Yeah, good luck with that one 🙂
(This post contains some affiliate links for your convenience. You can read my full disclosure policy here.)
Other Holiday Porches Over The Years:
Vintage Lodge Inspired Christmas Porch Decorations (2019)

Adding Retro To Your Christmas Porch Decor (2018)
Jolly Reindeer Front Porch Christmas Decorations (2017)
Porch Decor To Take You Through Winter
Have you put out your Christmas porch decorations yet this year?
Now on to the other porches!
Whether your style is vintage, rustic, farmhouse, French country, traditional or cottage, we hope you'll find lots of inspiration as you deck your halls for the holidays.
Click on the links below to visit all of these gorgeous Christmas porches.
Atta Girl Says | Cottage at the Crossroads | Cottage in the Oaks
House of Hawthornes | Our Southern Home
Postcards from the Ridge | Refresh Restyle | Worthing Court