I only had two good finds at the garage sales this weekend. I went to a housing development not far from my house which was having a neighborhood sale. They had a ridiculous number of houses participating in the sale, but a lot of baby stuff and not a lot of stuff for us who are past the baby buying years (old???). But these two urns/planters caught my eye. They were only $4.00 each and heavy weight.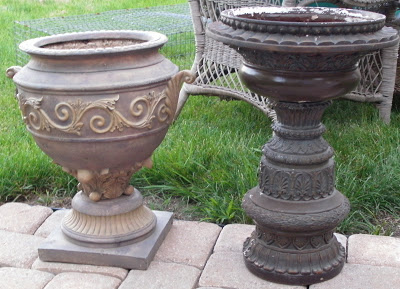 This one needs a coat of spray paint because the brown finish is bleached out on some parts, but I liked the detail on it.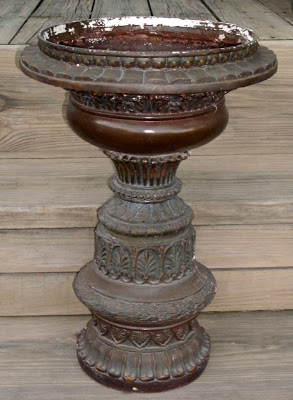 This one is in perfectly good shape. Not a darn thing wrong with it.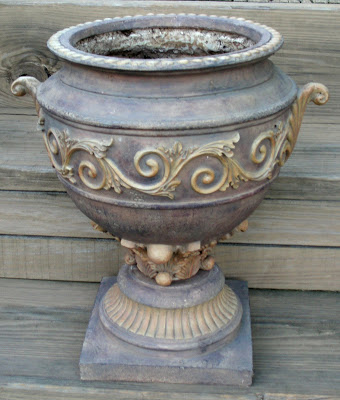 And when I flipped the planters over they both had price tags from JoAnn Fabrics on the bottom and they were originally priced at (drum roll please) $99.99 each. Now we all know that no one ever pays full price for anything at JoAnn's so I would say even if they were bought at ½ price I still got $100.00 worth of urns for $8.00 which isn't a bad deal.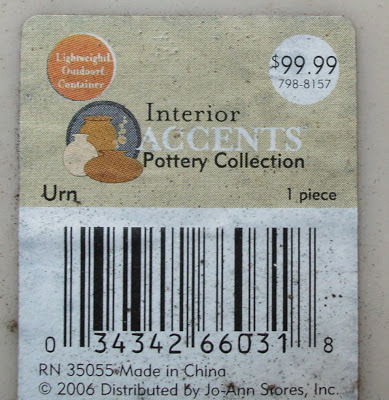 On Saturday my husband, son and I went to our very first auction. The way that I got my husband to attend was that they had listed an old motorcycle in the auction ad and he was interested in seeing what it was. Turned out it was way too beat up to be a good restoration project for him, but it got us to the auction.
The auction was in this great old farmhouse.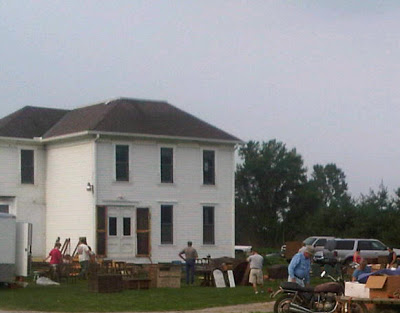 They had stools which I think might be piano stools.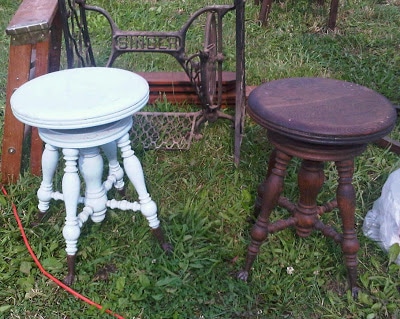 Old metal motel chairs.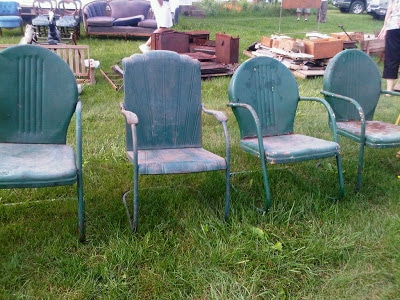 Old chippy picture frames. They sold for $5.00 each.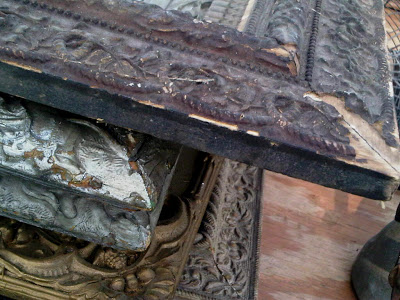 This child's wooden cart was what I was coveting, but it sold for well over $100.00 and I wasn't going to go that high.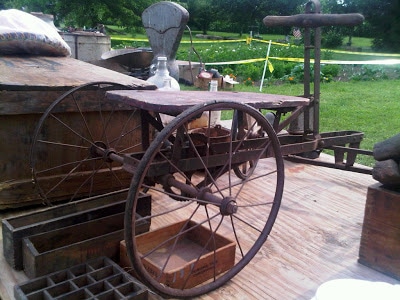 I loved this cart and I know I've seen them made into coffee tables somewhere.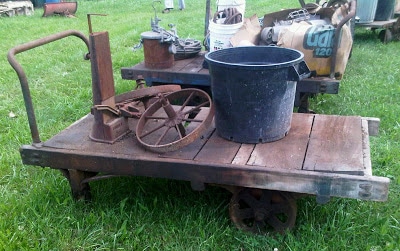 This was a weird item. It's an old rocket ship ride from an amusement park.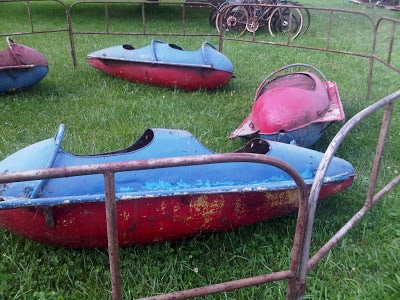 Now, you're going to ask me what I bought. ABSOLUTELY NOTHING (insert tears and a pouting session here)!!!!!
Since it was my first auction I wasn't quite getting the hang of the bidding. I bid on things that I really wanted and all the sudden they were much more than I thought they were going to go for, so I freaked out and stopped bidding and then lo and behold the next bidder would win it.
It was sort of frustrating and I had nightmares last night about all the really neat things I missed out on buying, but I'm looking at it as a learning experience.
There's always next week.