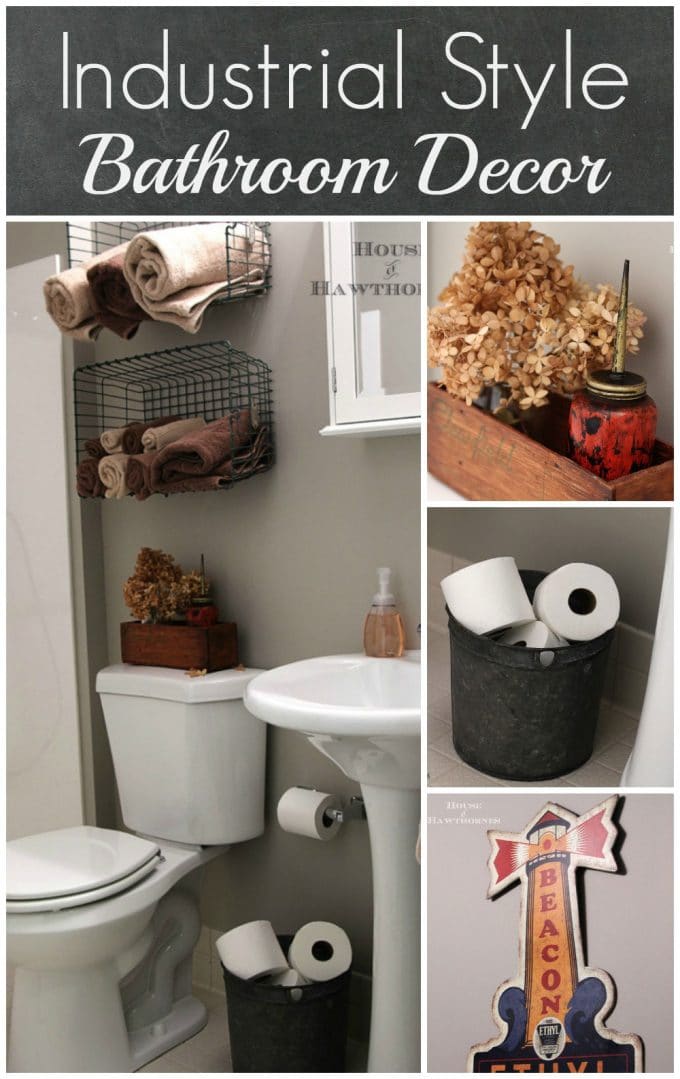 In the fall, we had our son's bathroom remodeled from your typical small full bath to a accessible bathroom with a roll in shower area.
This has been a lifesaver in our household. Lifting a 80 pound child out of his wheelchair, into the bathroom and then up over the bathtub was doing a number on my back. Add to that the safety concerns of picking up a slippery wet child and this project was a necessity.
This allows us to roll his special shower wheelchair right into the room and into the shower. Lifesaver, I tell you.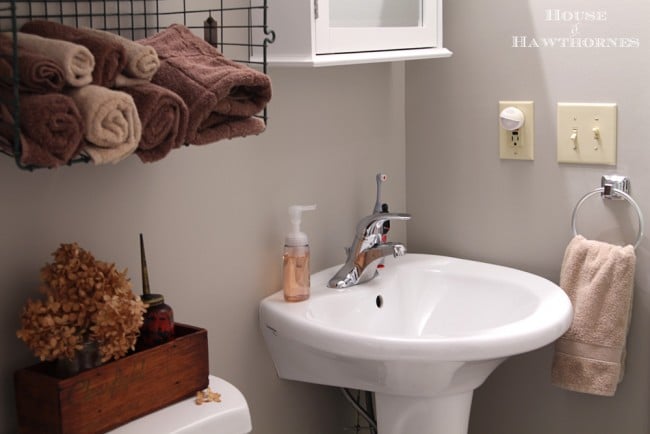 I'll show you the decor photos first and put the technical information down toward the bottom, so all of you who want to bail early can just scroll through the pretty stuff.
This is what the bathroom used to look like. Bathtub with tub surround and shower, a typical toilet and vanity area. To give you perspective, the room measures roughly 5 ½' by 9'.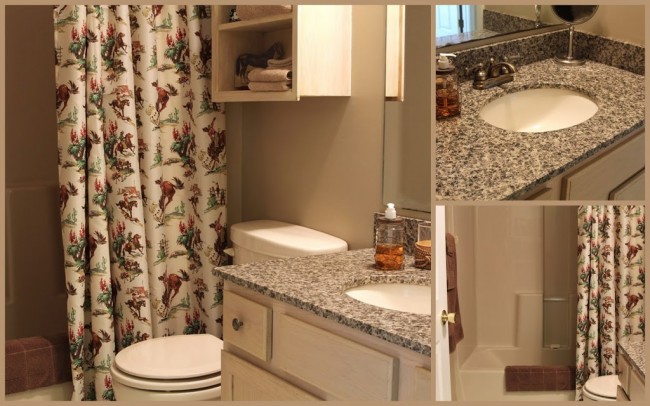 I sort of liked it as is with the vintage cowboy theme going on and little granite topped vanity, but this remodel had very little to do with looks and everything to do with function. So out with what was not working and in with something that would work.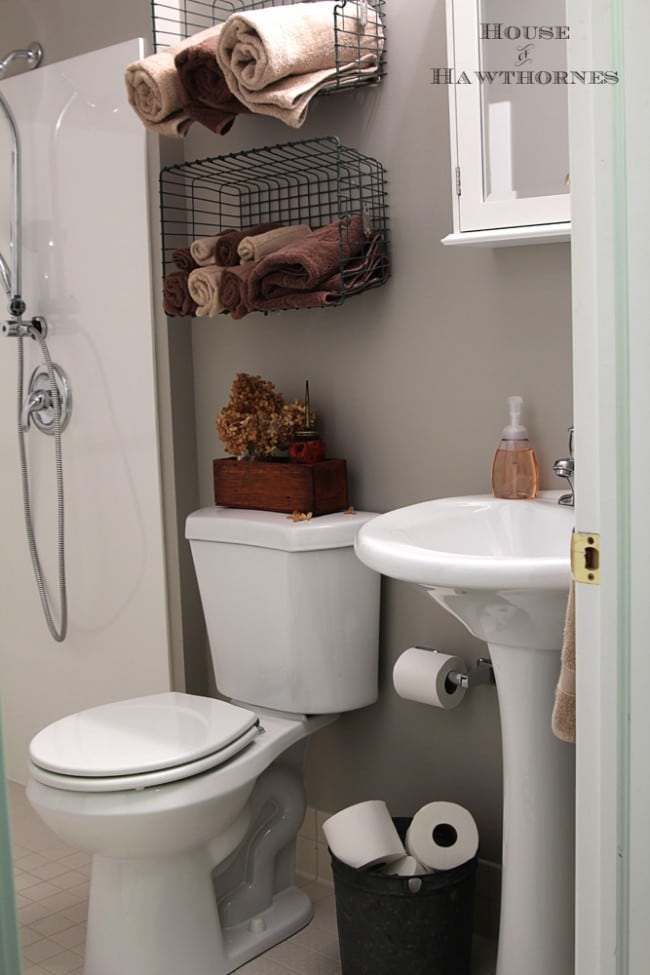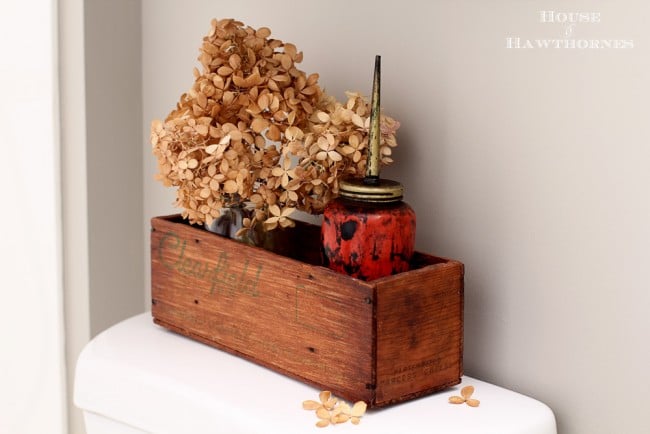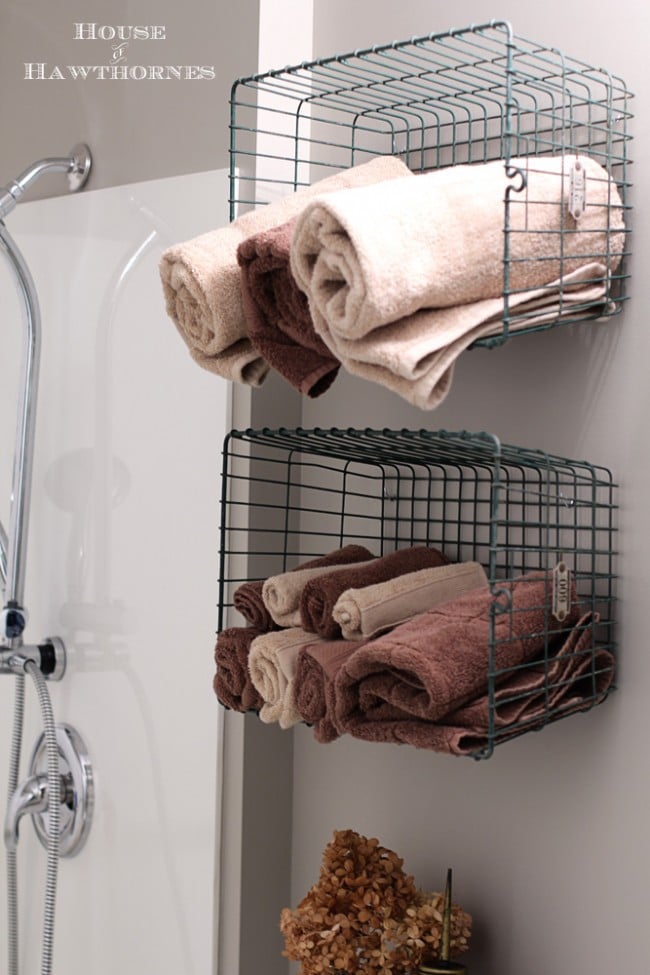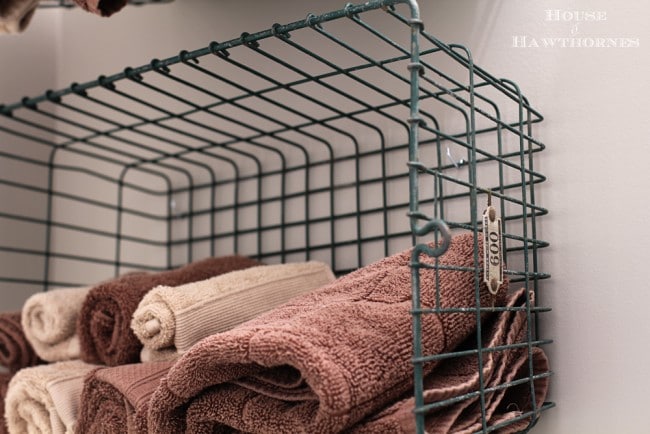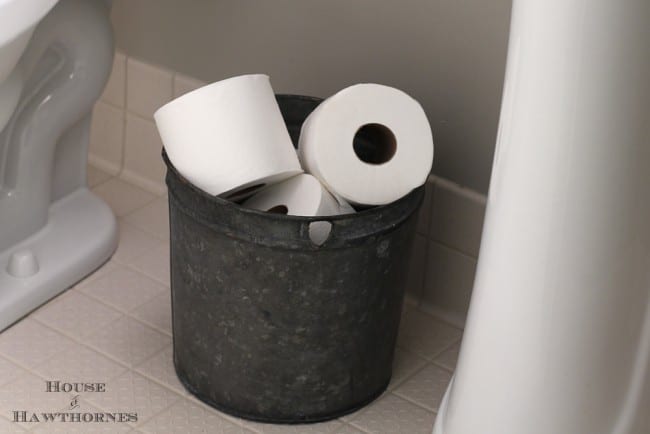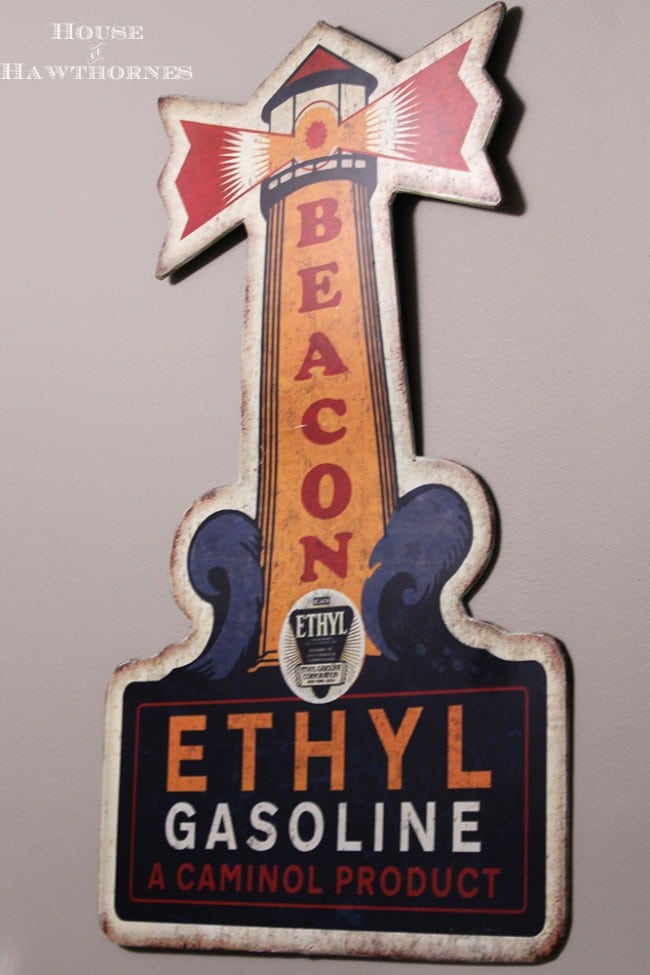 Buying guide:
The wall color is Martha Stewart's Bedford Gray, but in Home Depot's Glidden paint.
The metal sap bucket, oil can and locker baskets were antique store and barn sale finds.
The Beacon Gasoline sign was from Hobby Lobby. I bought it when it was 50% off, because no one ever pays full price for anything at Hobby Lobby. Ever.
Now for the technical stuff.
This was not a DIY project. At all. Way too much plumbing, hvac, permits, inspections and structural stuff were involved.
I don't have any photos of the remodel in progress, because it honestly made me want to throw up. Having someone hammer, saw and drag stuff in and out of my house was a traumatic experience. The thought of taking a photo of it made me queasy. Yes, I have issues.
So in a nutshell, the room was demolished. Pam passed out and stayed in the fetal position for the next three weeks.
During that time, the sink and toilet were moved to the right to make room for a larger shower area. That means that the plumbing had to be redone. Although it's not technically handicap accessible, we opted to have a pedestal sink rather than a roll under sink, since my son doesn't actually ever roll up to the sink himself.
The shower area was increased as much as possible (and code would allow).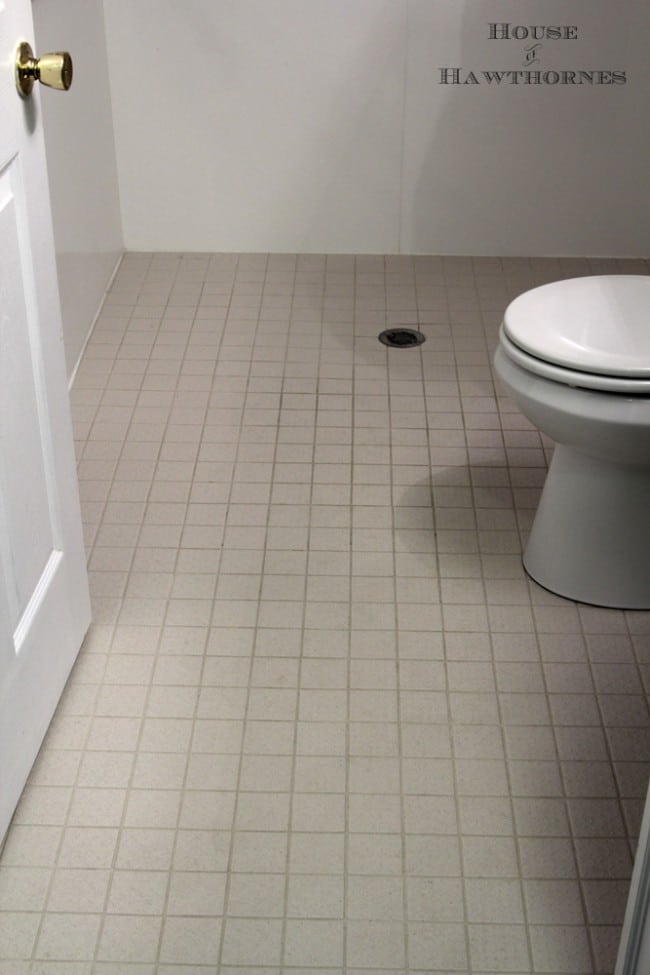 In order for the shower area to be able to be rolled into and the floor area to drain properly (there's no barrier or lip to keep water in the shower), the floor joists were cut and angled (this is the part that freaked me the heck out), so there is a slight slope toward the drain. Bracing was then installed in the crawl space below this area to reinforce the floor.
The hvac vent was moved from the floor to the wall, so water would not run into it.
Tile underlayment and rubber membrane were installed over the entire floor, because technically the shower floor is the whole room. Not that it really ever gets that wet past the shower zone, but, just in case, you want it to be very waterproof. The tile has an x like raised pattern on it, so it is pretty much non slip.
A movable shower head was installed and sheets of a cultured (man made) marble were used for the surround area. Grab bars were installed for the safety of the caregiver.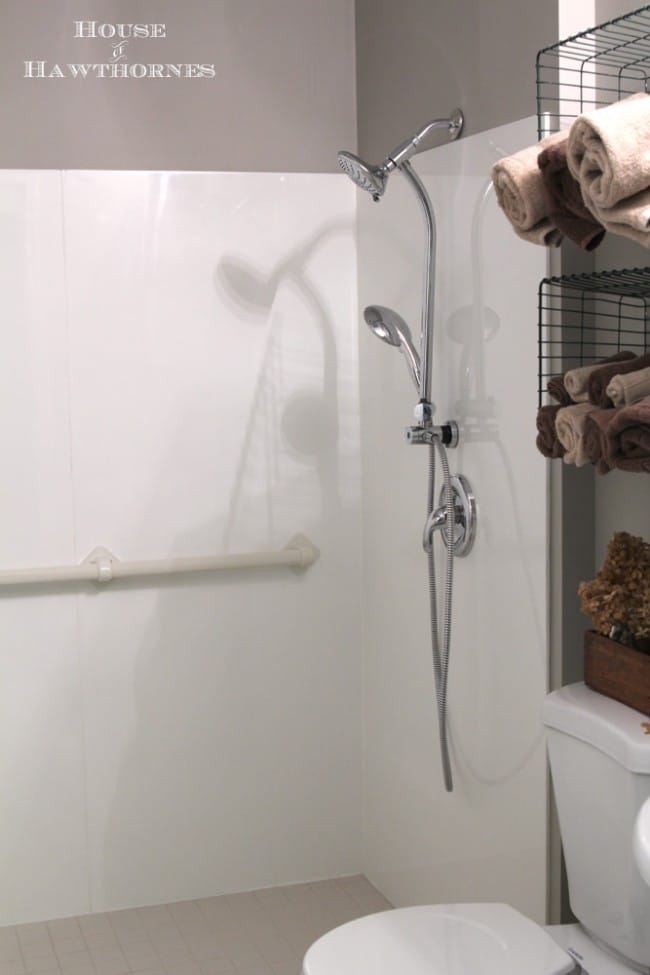 You may be asking, "Where's the shower curtain?"
Whoever is bathing my son stands right beside him in the shower and uses the handheld shower to bathe him. We tried it with the shower curtain and it seemed to just get in the way more than anything. And my husband kept banging his head into it. We've had no issues with over spray and when we have guests that will be using the shower, I have the tension shower rod and curtain ready to temporarily hang for them.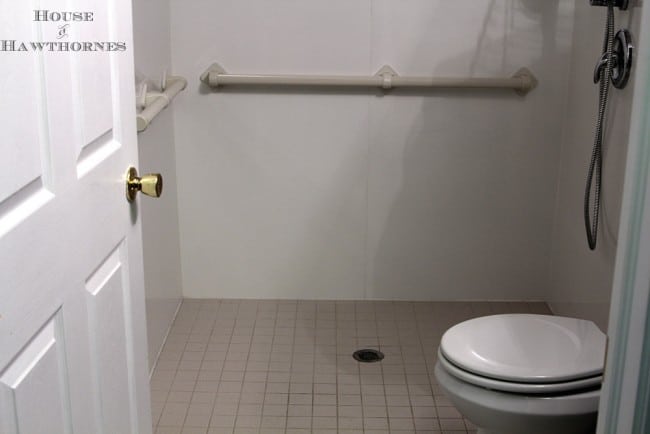 This was one of the best things we've done to our house to make it more convenient for a wheelchair.
OK, If anyone made it all the way through this post, you deserve an award! I don't have one for you, but go buy yourself something pretty. Maybe an oil can or two.