I always try to do something fun and extra festive for the planters on my porch for the holidays. And hopefully make something that will last LONG past Christmas, so it will be able to stay on the porch throughout the rest of winter.
Around here there's not a lot of prettiness happening in mid-January, so it's sort of nice to pull in the driveway and not have a cold, empty, bleak looking porch staring me in the face.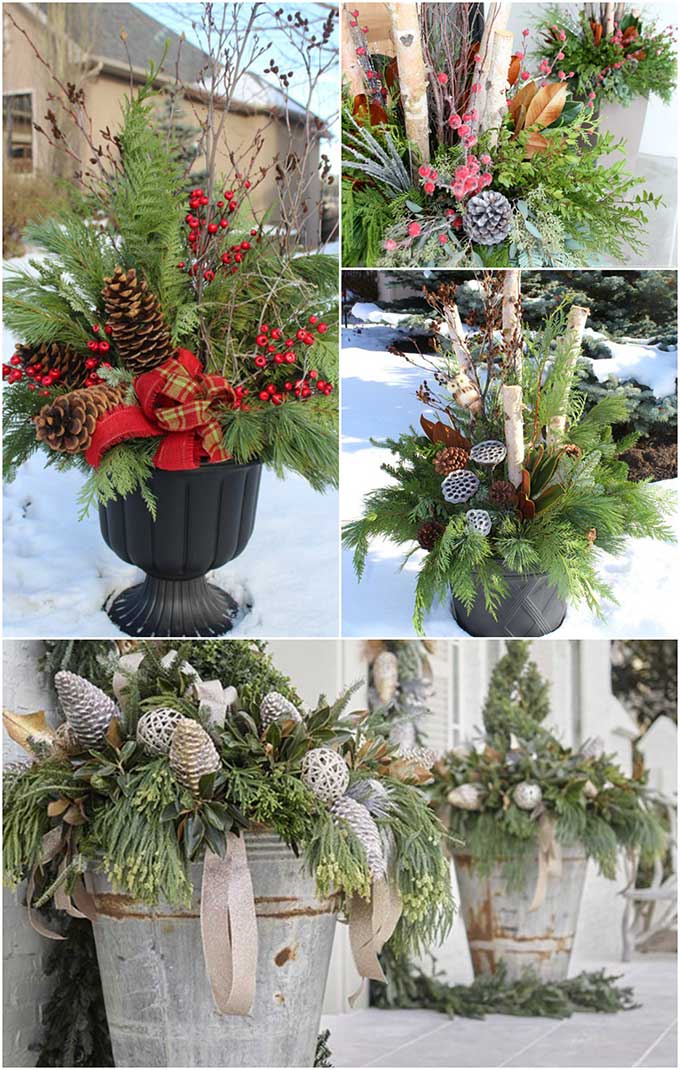 Last year I made my outdoor planters with traditional greens, birch branches and bright red winterberry.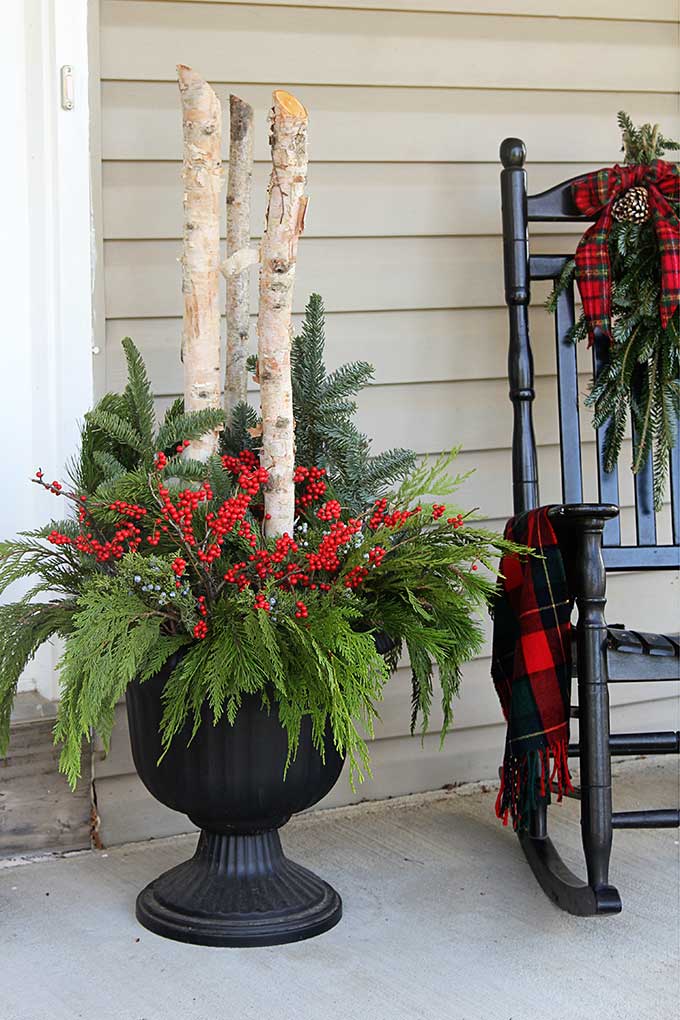 See How I Made It HERE: How To Make Outdoor Christmas Planters
And the previous year I made my pots with a rustic design with curly willow, pinecones and greenery all "planted" in a peach basket.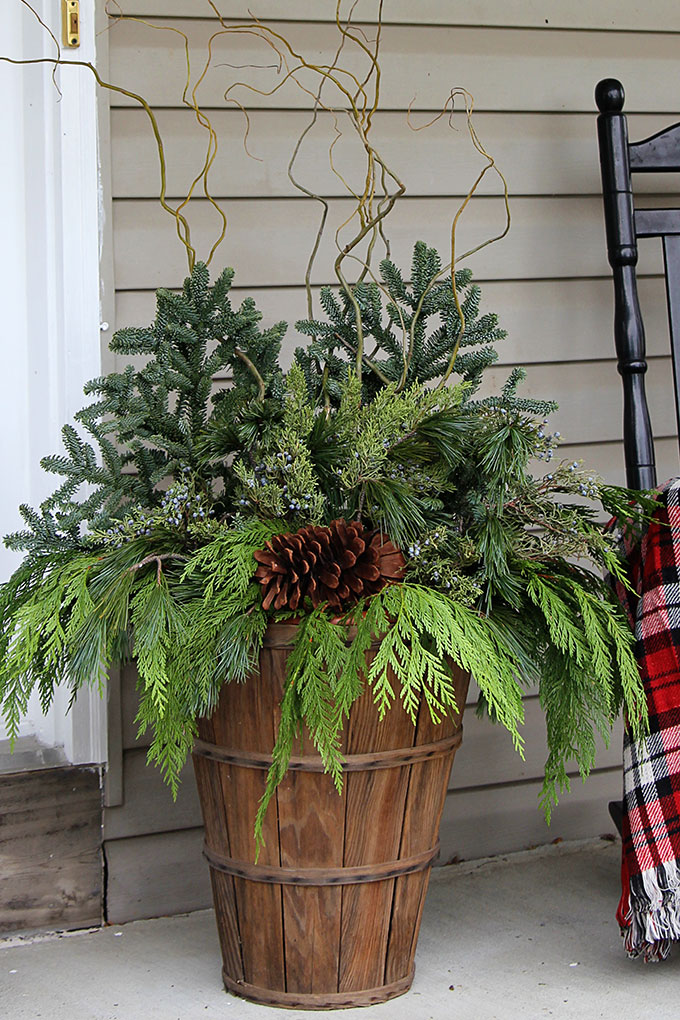 See How To Make Your Own HERE: How To Make Winter Porch Pots
NOTE: These types of planters are RIDICULOUSLY EASY to make. You can see a step by step tutorial including a video on my How To Make Winter Porch Pots post!
This year, who knows what I'll come up with eventually, but I have been looking for some new ideas. Here are some that I found that spoke to me.
These MASSIVE planters sure do make a statement.
If I made those I would definitely fill in the bottom with plastic milk jugs or styrofoam to make them a little lighter, because large planters can get pretty heavy.
A similar look is this planter with the birch branches, seed pods, and magnolia leaves. There's even a cute little owl peeking out there.
Not sure if it's "real" frost or just made to look that way, but the muted frosty tones of these planters are gorgeous!
The pop of green berries and seed pods make for a more neutral natural decor look.
These containers themselves are just amazing!!! Throw in the topiaries and the silver and gold accent pieces and they certainly have a festive look.
And who says you have to plant something in a pot? This watering can full of holly and winterberry is GORGEOUS!
Photo by Housepitality Designs
There's a nice assortment of fruits and nuts in this planter to add some color. They even have some pinecones painted white!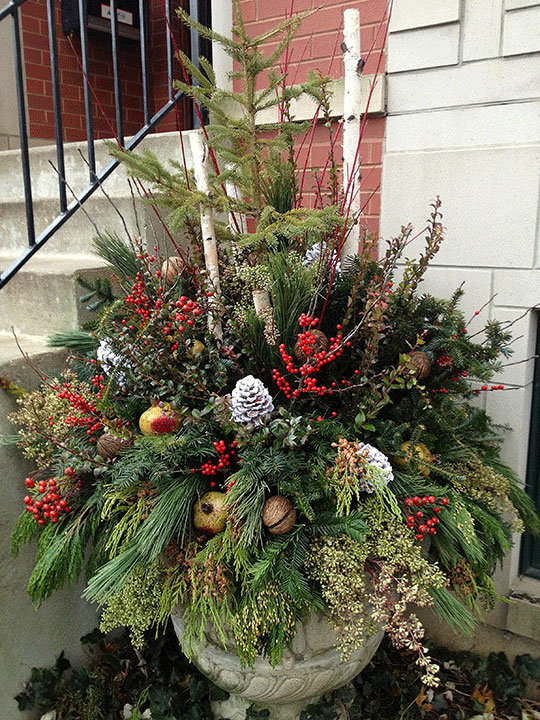 Similar in style to my black urns, this is a nice pop of color while still staying natural.
Although I normally stay "natural" with my urns and planters, I think this burst of colorful Christmas balls and painted twigs are a fun look!
I had a big lighted reindeer named Rodney on my porch last year, so maybe I'll extend the "whimsy" to my winter planters this year!
The branches on this one make the perfect spot for the cardinals to sit.
I love the formality of a urn on the porch.
I don't know if I like the door to the house better than the planters, but it shows that lower profile planters can work very well on a porch. I really do like that door though!!!
And if two pots are good, then three are definitely a statement.
And don't think you need to stick with natural colors or traditional red and green, blue can be a show stopper too! This one has a blue pot AND blue accents.
This one sticks with a more traditional planter and just adds blue and white where it counts!
You don't have to do the same thing in each container either. This is a good example of using different sized containers and planting slightly different plantings in each.
If you live in a warmer climate you can get away with some ivy in your planter also.
Or what about some holly instead of pine? In my book, holly isn't used nearly as often as it should be.
OK, now that you've had a look around, which is your favorite?
Check out the web story version of this article HERE.