I can hardly believe it's Memorial Day weekend! Wasn't I just baking Christmas cookies?
I haven't even had time to go on my "let's try to stuff my big old butt in a bikini diet" yet (oh, the image of that is so not a good thing).
And now it's time to bring out the red, white and blue and start celebrating the start of summer and remembering those who died while serving their country.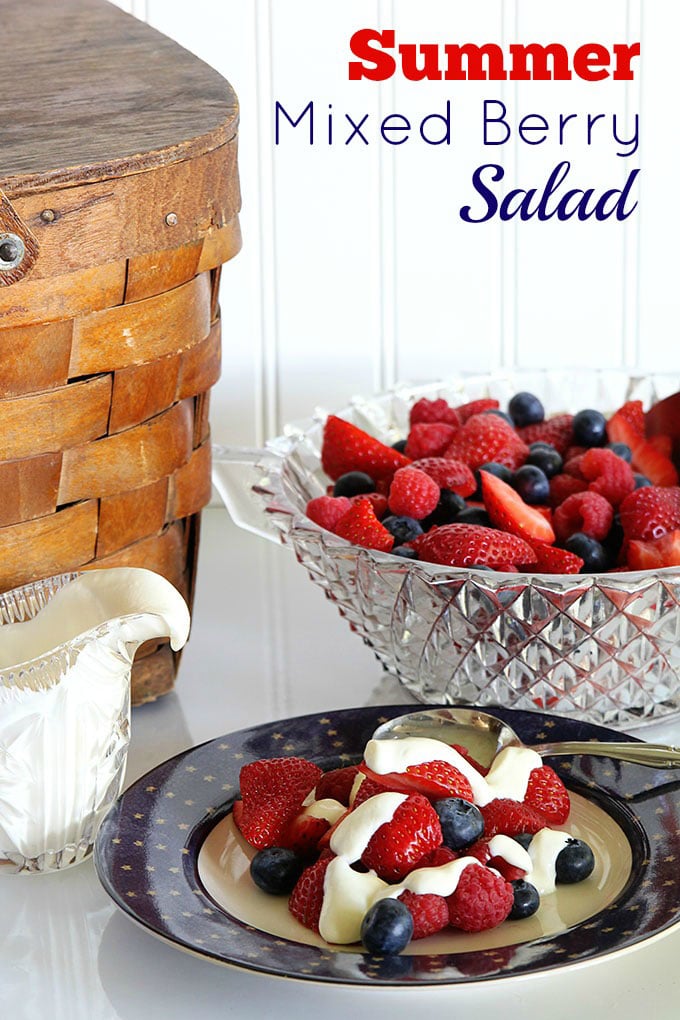 A little picnic or two doesn't hurt either.
I do have the PERFECT side dish for you to take to your picnic though!
A Summer Mixed Berry Salad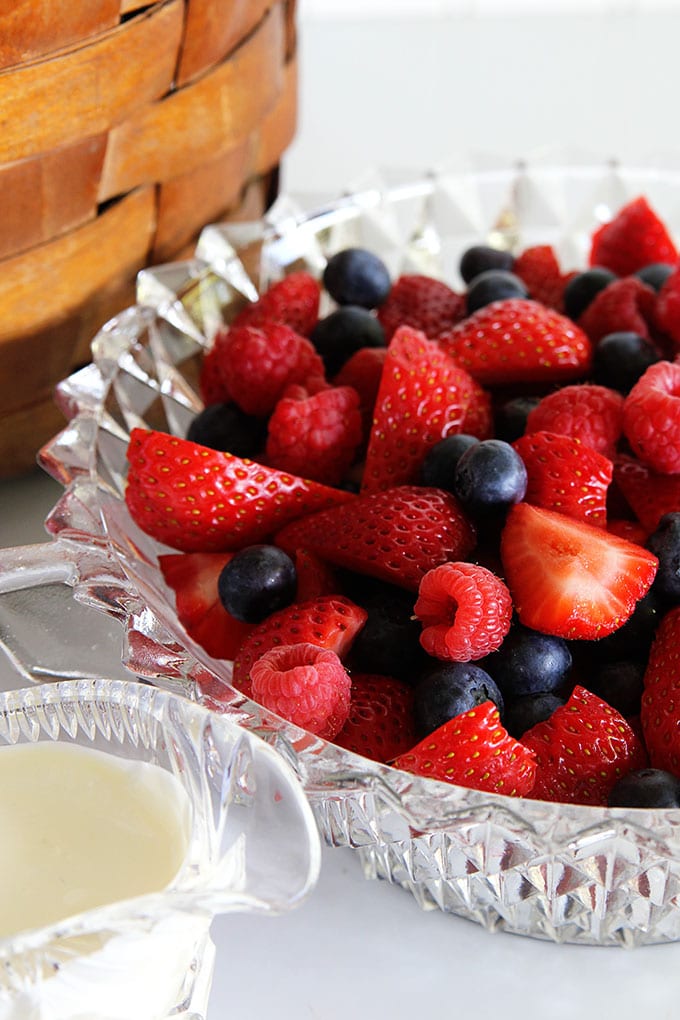 Isn't she purdy all red, white and blue like that?
Psst - this would be PERFECT for 4th Of July also (see previous mention of red, white and blue). Or Tuesday. Any old day will do.
And it's SUPER EASY to make also.
Really.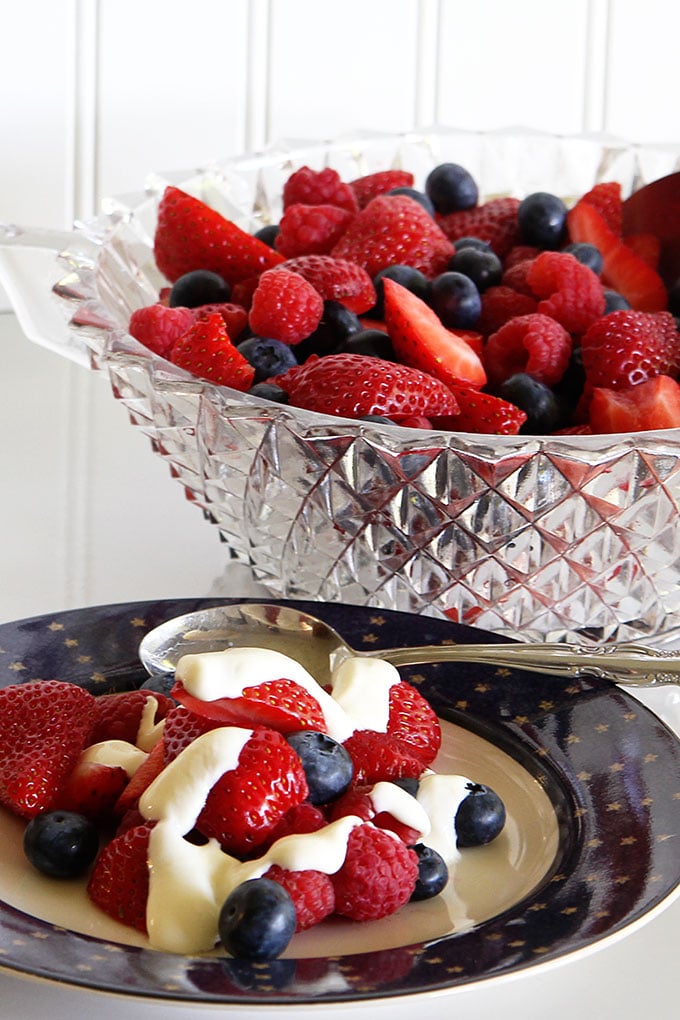 The hardest part of this mixed berry salad is making the dressing, because that involves using a measuring spoon (gasp).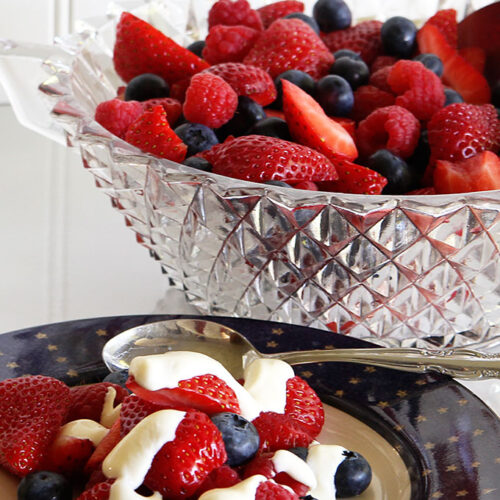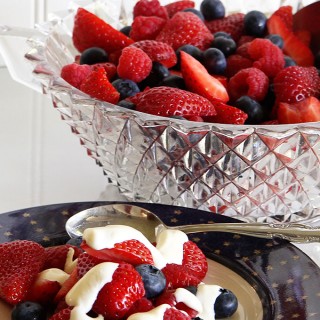 Mixed Berry Salad With Honey Citrus Dressing
Yum! This quick and easy summer mixed berry salad with sour cream honey dressing will be the perfect healthy side dish for your next barbecue or picnic!
Print
Pin
Rate
Ingredients
2

cups

strawberries cut in halves

1 - 1 lb container

2

cups

raspberries

2 - 6 oz containers

2

cups

blueberries

1 - 1 pint container

1

cup

sour cream

2

Tablespoons

honey

2

Tablespoons

orange juice
Instructions
Remove hull from strawberries and cut strawberries in half.

Gently mix strawberries, blueberries and raspberries.

Prepare sour cream mixture by whisking the honey and orange juice into the sour cream.

Put the sour cream honey dressing in a small bowl or pitcher next to your salad and allow your guests to drizzle it on their summer berries as desired .

You may also make individual ramekins of the dressing for your guests to use as a dip if you prefer.

Then just sit back and wait for the compliments to pour in.
Nutrition
You can also make this salad as a mason jar salad with the dressing at the bottom and the berries layered on the top (red, white and blue of course).
Just screw the lids on them and throw them in your vintage cooler and they're good to travel.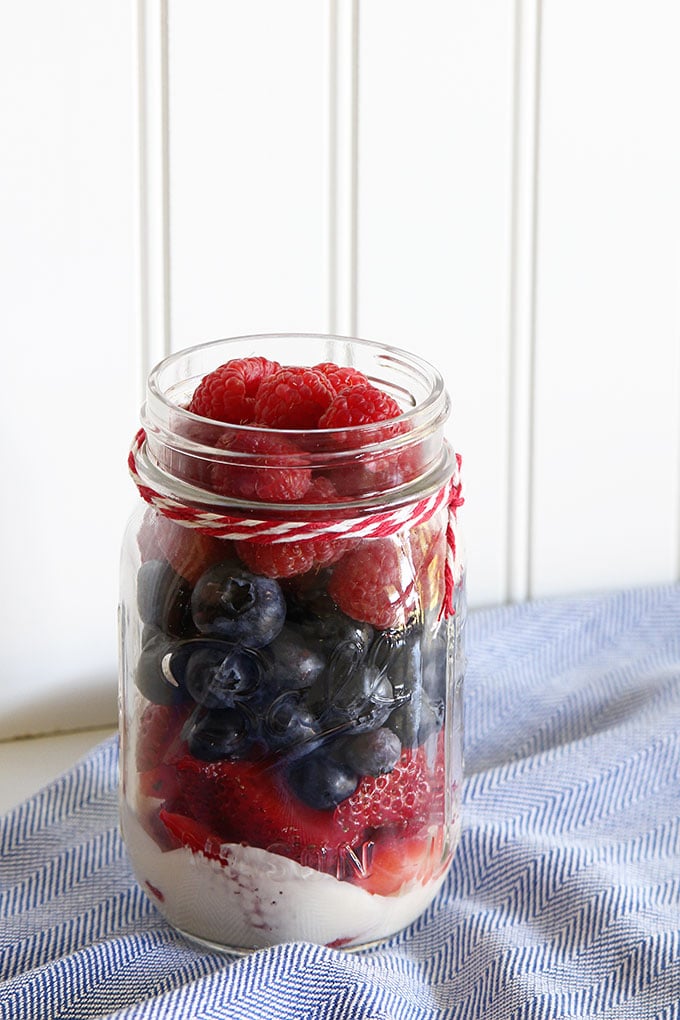 Super cute and you would look so stylish if you brought these to Aunt Martha's summer shindig.
Of course, if Aunt Martha is over the age of 60 she would probably think you are nuts for asking her to eat out of a canning jar.
Assuming Aunt Martha doesn't do Pinterest, of course.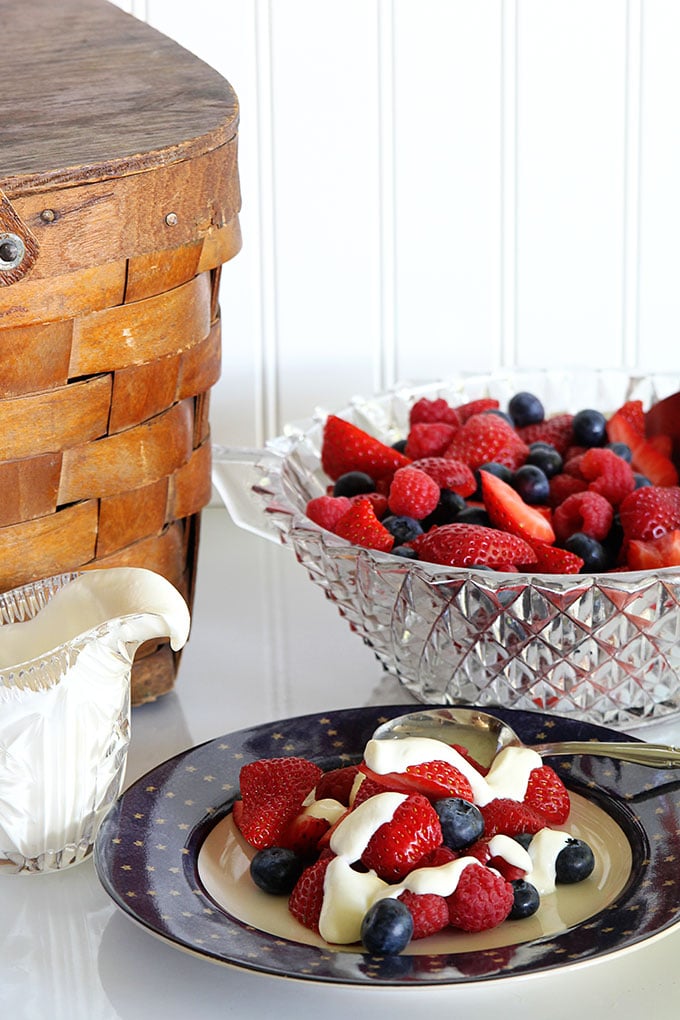 Do you see the little bit of dressing slowly dripping down the mouth of the pitcher? Yeah, I won't even get into how long it took me to perfect that "casual" look!
Today is also Farmhouse Friday so please stop by and visit all the other farmhouse bloggers and see what PATRIOTIC things they have up their red, white and blue sleeves:


BTW, Farmhouse Friday is going to take a break over the summer months. I'd say there's lots of crops to be attended to, but my two tomato plants, row of lettuce and pepper plant only take up so much time, so it's more of a "we'll be sipping mojitos at the pool on Fridays" kind of break.
Here's some other fun patriotic decor ideas and summer recipes I have cooked up for you. Please feel free to browse around:
Retro Picnic Supplies For Your Fourth Of July Barbecue
5 Unique Potato Salads For Summer