On Thursday I told you that I was going to have a busy day on Friday with a barn sale and some church rummage sales. I was so pumped up about all the possible thrifty finds out there just waiting for me.
BTW, I originally wrote this as one extremely long post and decided to break it up into two days worth. You'll thank me for that.
So today, let's start with the barn sale:
It was at French Hen Farm in Marysville, Ohio which is about 45 minutes from where I live. Pop on over to her blog HERE to see some photos of the displays she has. You won't regret it. I'll wait until you get back…
…see, wasn't that worth it! Very cute set up and displays. And oodles of cool one of a kind stuff.
This is the second of her sales that I have been to and they always draw quite a crowd. A very, very large crowd. That would be my only negative thought of the sale is that it is really, really packed, but you can't blame them for being successful.
Really, they have some of the coolest items for sale and the stuff gets snatched up quickly. So if you see it, you'd better take it. While standing in line to check out, I kept seeing people in front of me holding my stuff. Stuff I would have bought if I had gotten there earlier, but sadly Tim Horton's was calling my name and caused me to be later than I expected to be. Curse those Timbits!
Here's my haul from the barn sale (chair not included, just for display). Can I add that the haul would have been a heck of a lot larger, but I had high hopes for the remainder of my shopping day, so I didn't want to put all my eggs in one basket so to say (a little chicken farm humor).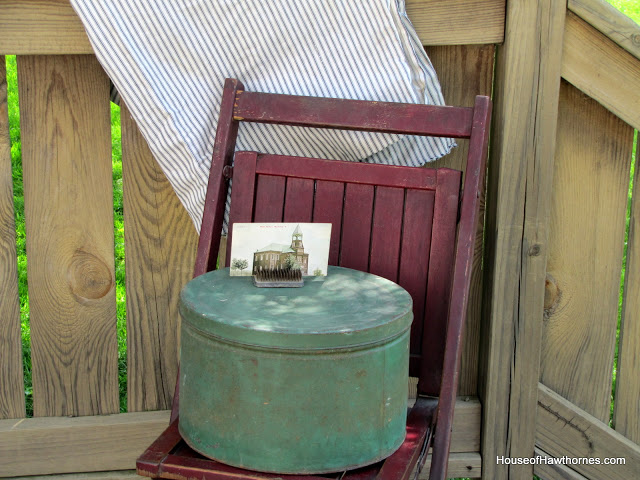 I spied this tin and had to have it. It will be awesome to use in my office for storage. I'm always on the lookout for weird items to store stuff in.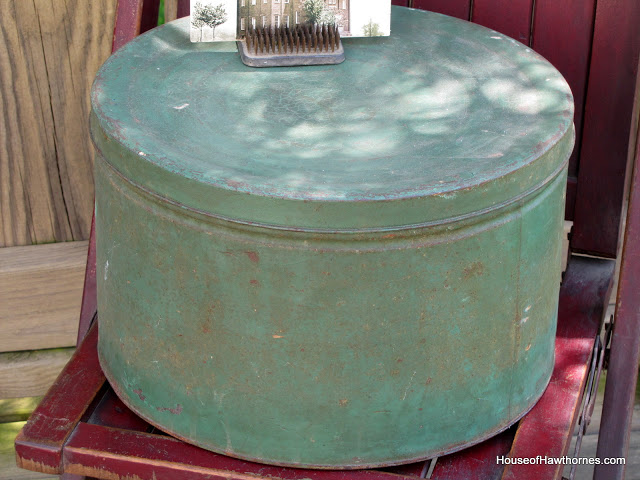 It has a great slightly rusty patina to it.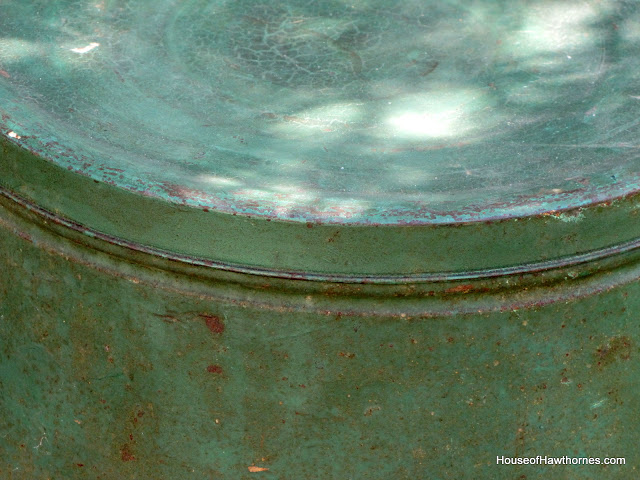 I also bought this cute little metal flower frog. The postcard is from my vintage postcard stash.
Tip – don't put a metal flower frog in the bottom of a basket and cover it with other things and then forget about it and end up with metal prongs under your fingernails. Not that that is what happened to me or anything.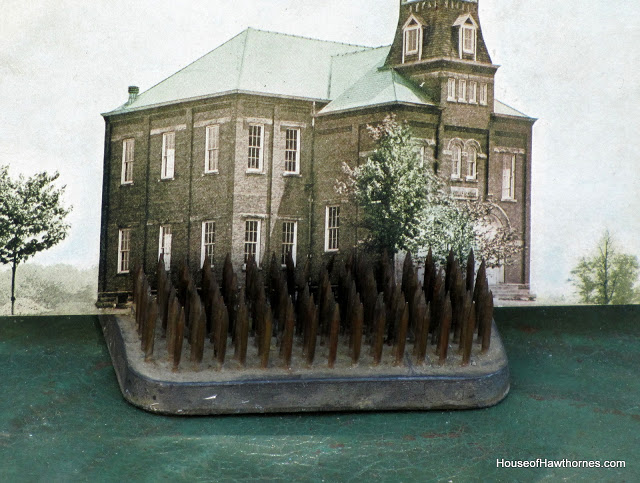 I also bought this vintage ticking fabric.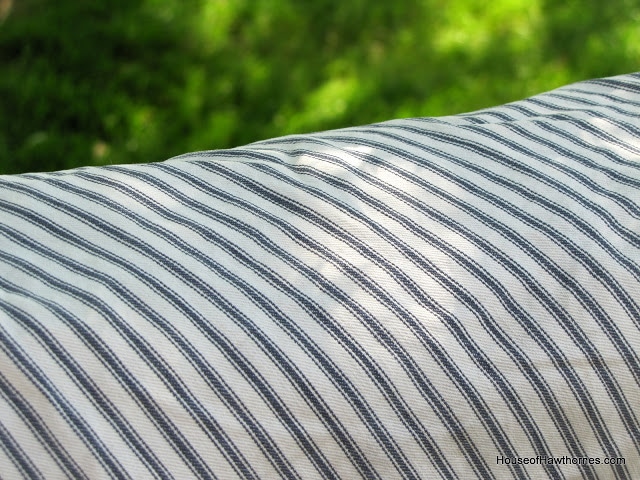 It was rolled up like this when I bought it and, like I mentioned previously, you need to grab things when you see them at the barn sale, so I didn't have time to unroll it and inspect it prior to buying it.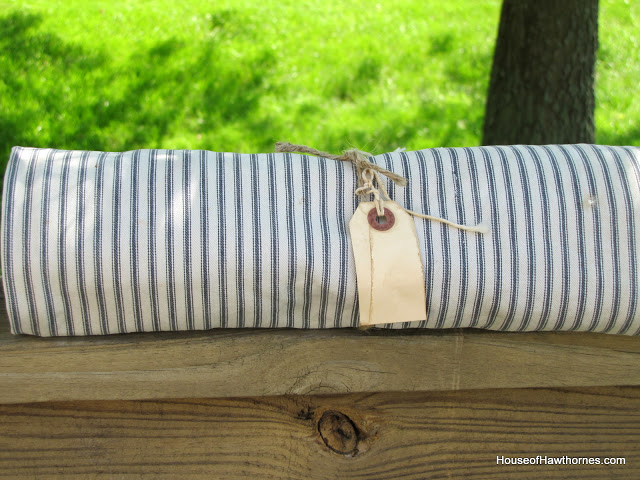 Dumb move. When I got it home and unrolled it, I found that quite a bit of it was unusable. Unless you go for the holey, ripped look.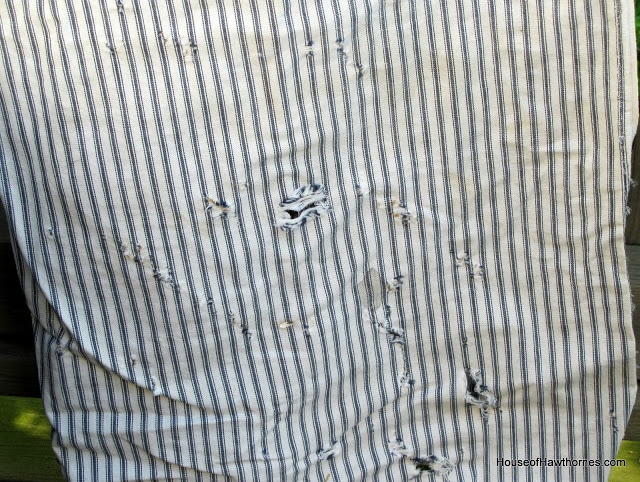 I may still be able to make some very small pillows out of it. Very small.
But since I had bought the fabric to make some pillows for my Adirondack chairs, I'll end up running to JoAnn fabrics for some new ticking fabric for that project. You live and you learn and next time I will unroll.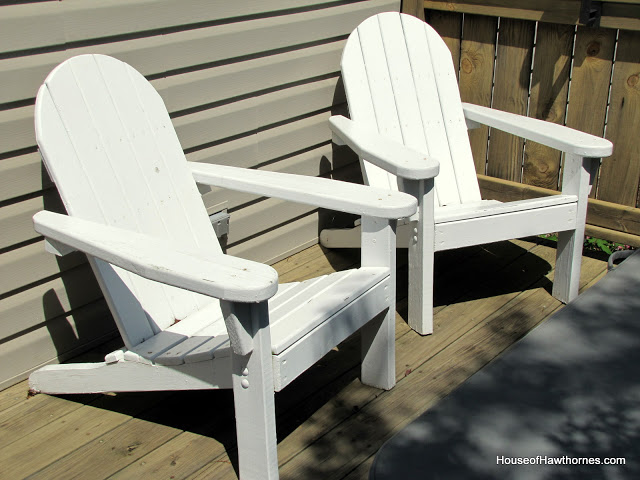 Tomorrow I'll show you the loot from the church sales.
Linking with Linda at Coastal Charm for her Nifty Thrifty Tuesday get-together and Rhoda at Southern Hospitality for her Thrift Share Monday.
Edited to add: Linda from French Hen Farm left a very nice comment apologizing for the fabric problem. It was very sweet of her to stop by!