Last week on Urban Farmhouse's blog she mentioned a friend's barn sale that was going to be held on the weekend. BTW, if you haven't been to the Urban Farmhouse store's site you have to peek in. She has some very cute stuff in there.
So I got up extra early on Friday and drove over to check it out. And. It. Was. Spectacular.
The barn was located in the picturesque town of Granville, Ohio. On the drive there, as I got closer to the sale, they had signs pointing me in the right direction and each sign had a huge bouquet of dried hydrangea tied to it. That alone told me that I hadn't made a wrong decision in driving all the way out here.
Turning into the driveway of the beautiful old barn we were met by a man waving us in on horseback. As I stepped inside the barn I was transported to vintage heaven. There were screen doors, silver platters, furniture, industrial looking baskets, skeleton keys, shiny brite ornaments, rolls of vintage wallpaper and more. Everywhere I looked there were more and more great finds.
I could easily have bought just about everything in there, but I had to limit myself to just a few items. Christmas is coming up, so didn't want to blow $500.00 in one shot (and on items just for me, me, me).
This is part of what I bought.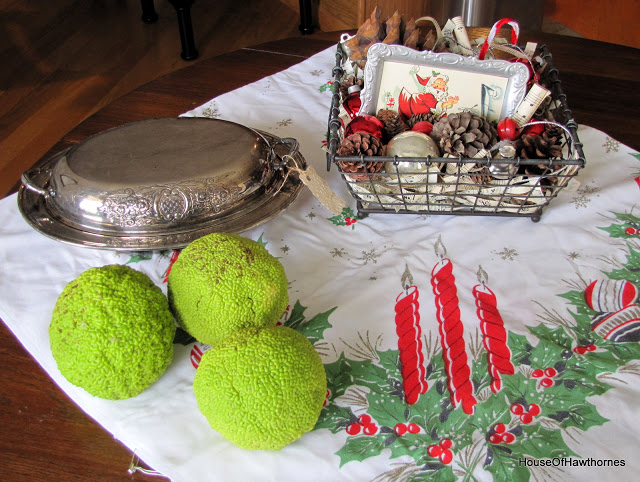 A vintage tablecloth for $5.00.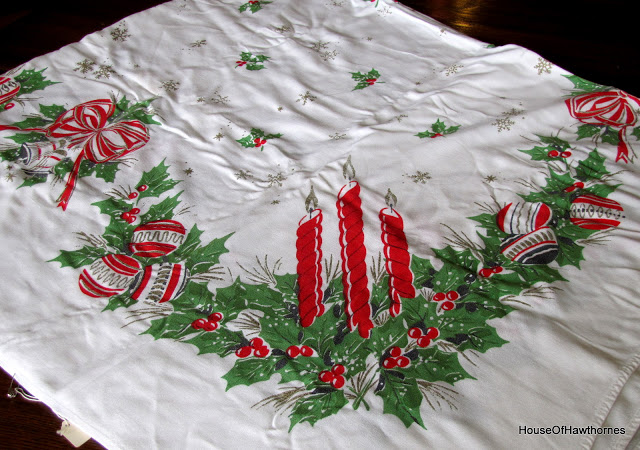 It has fairly bright graphics on it so I can't imagine it has been used more than once or twice.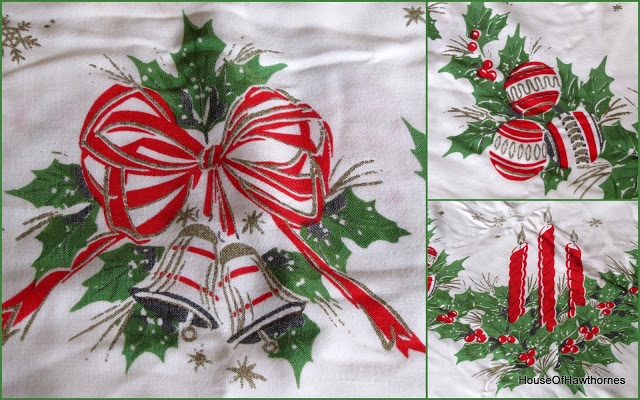 And this basket o' Christmas.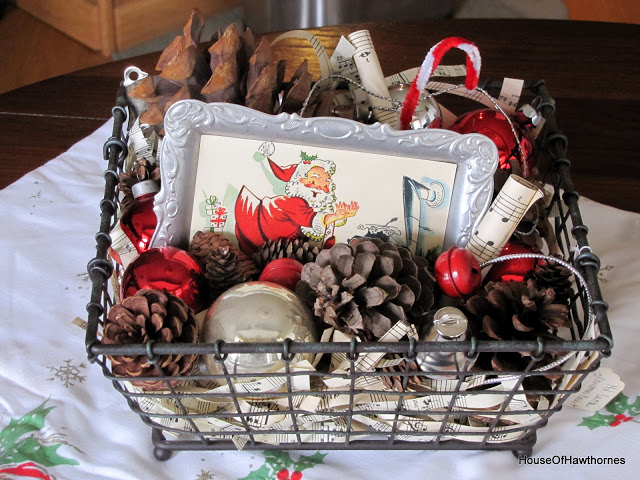 It has vintage sheet music shredded in the bottom and is filled with pinecones, silver and red ornaments (vintage I think), silver bells, red jingle bells, a silver santa tray,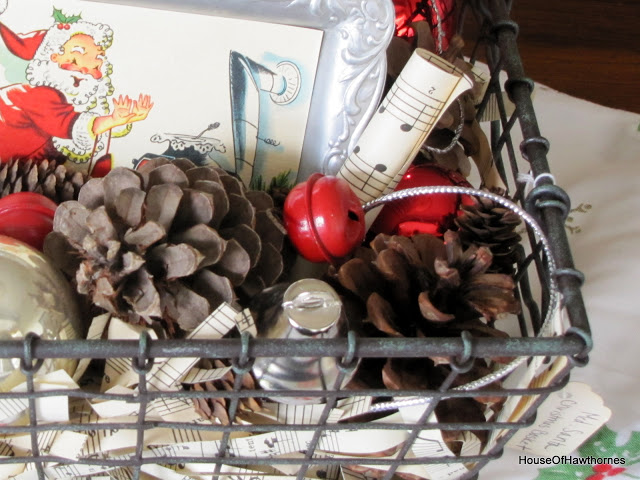 mini rolls of sheet music and a chenille candy cane. All in a vintage industrial looking basket.
And it was only (cough, cough) $20.00. I will admit that I have had second thoughts about having bought this, because it is something I could so easily have made myself. But sometimes you need to just buy yourself something that makes you smile. And every time I look at this I grin!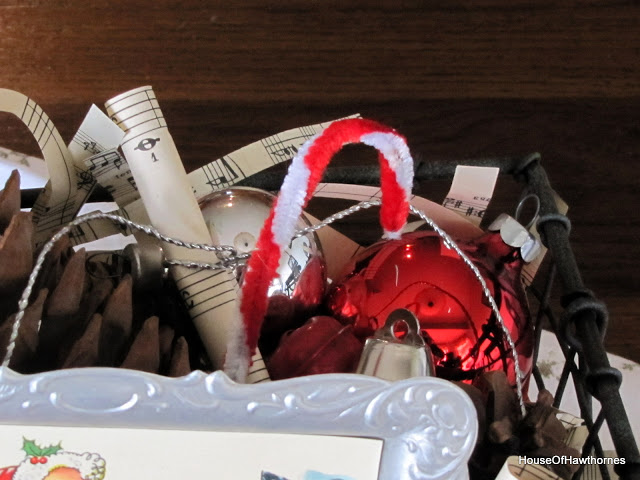 I bought this silver plated veggie dish for $15.00 which is WAY more than I have ever paid for a piece of silver,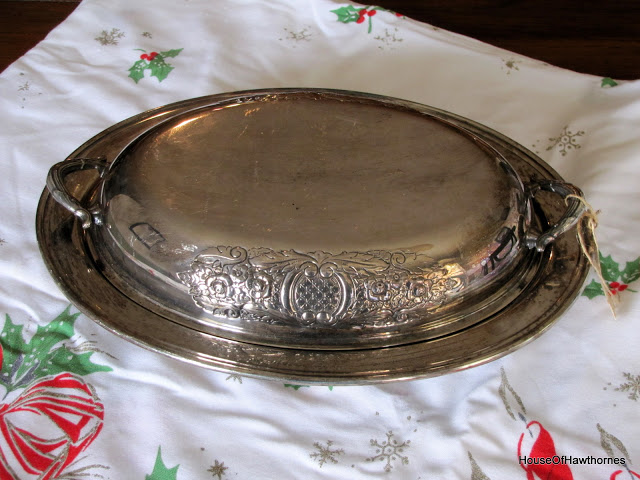 but it actually has the glass insert in it. I see these all the time at thrift stores and have never found one with the glass in it still (hence why I paid $15.00 rather than $1.91).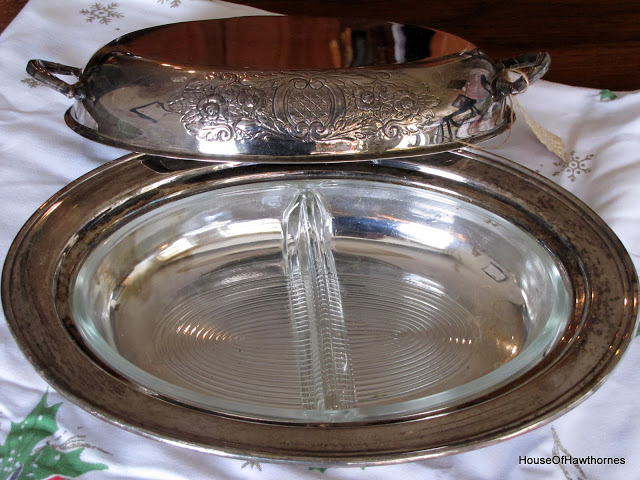 It has some great detail on it.
This will be sitting on the Thanksgiving table this year. Green beans and corn I think.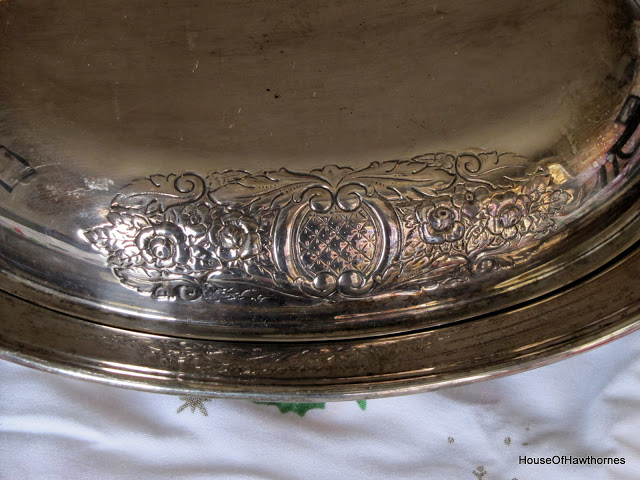 Oh, and these bright green hedge apples.
I learned from another blogger that they are supposed to repel spiders and since I have a ton of spiders in the basement right now I just had to buy them. 3 for $1.00.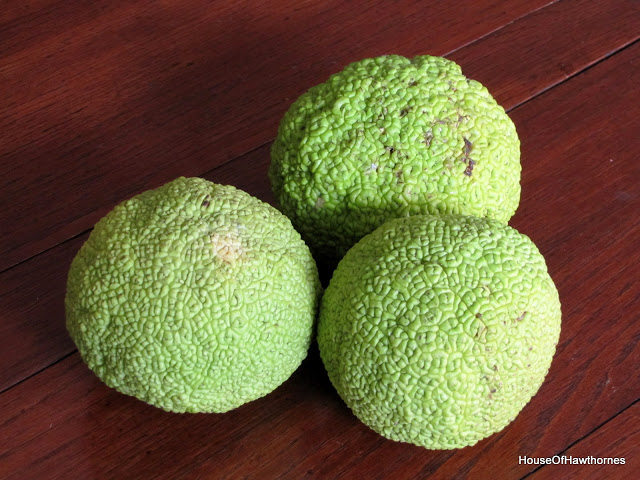 And my absolutely favorite find of the entire day. This $5.00 chair frame.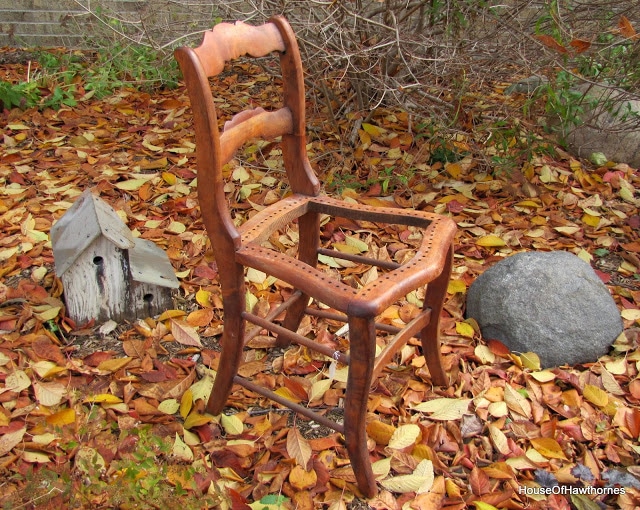 They had a bunch of them hanging on pegs on the barn wall and for $5.00 I just had to take one home with me.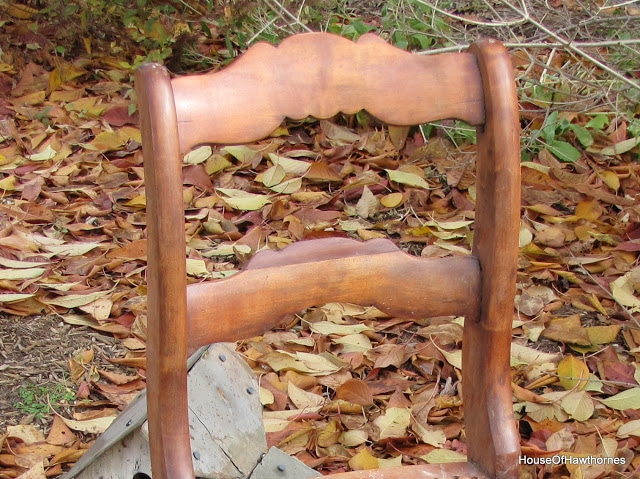 It said "project chair" on the tag, but since I have enough projects awaiting me in the garage, I am going to hang this on the wall in my basement/family room. As is.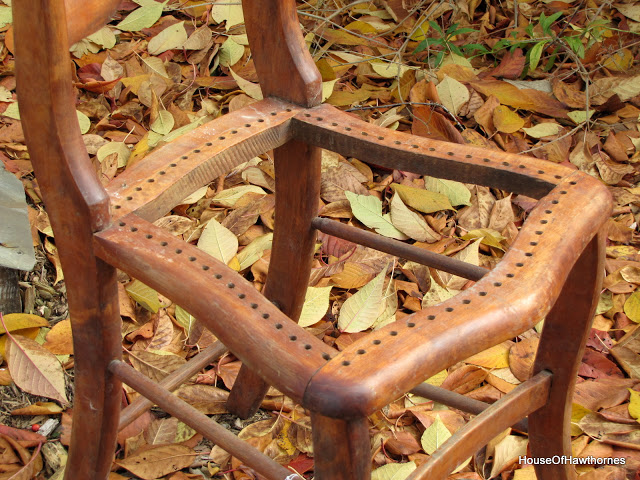 And maybe the nicest part of the sale was when I left. At the door I was met by a nice older gentleman and a boy with a Kawasaki Mule utility vehicle type thing and they loaded my purchases up on the back and drove me down the hill to my car. It was just so darn cute! I mean you're shopping out of a barn and they have all the amenities of Macy's.