I don't know who started the DIY pipe decor trend for home decor, but I salute you! Or lift a plumbers wrench to you or something. 😉
I love the hint of modern style industrial pipe projects can add to any home. Honestly, it's hard to think of a style that wouldn't benefit from at least a touch of this modern vibe!
Plus, these projects seem to work in practically any room in your home, so your options are seemingly endless. I've seen pipe decor in the bathroom (like my ultra-popular DIY industrial pipe shelves project), in the living room, entryway, and even in the laundry room, just to name a few! I'm even seeing some pop up in nurseries lately. There really is no right or wrong with these fun DIYs.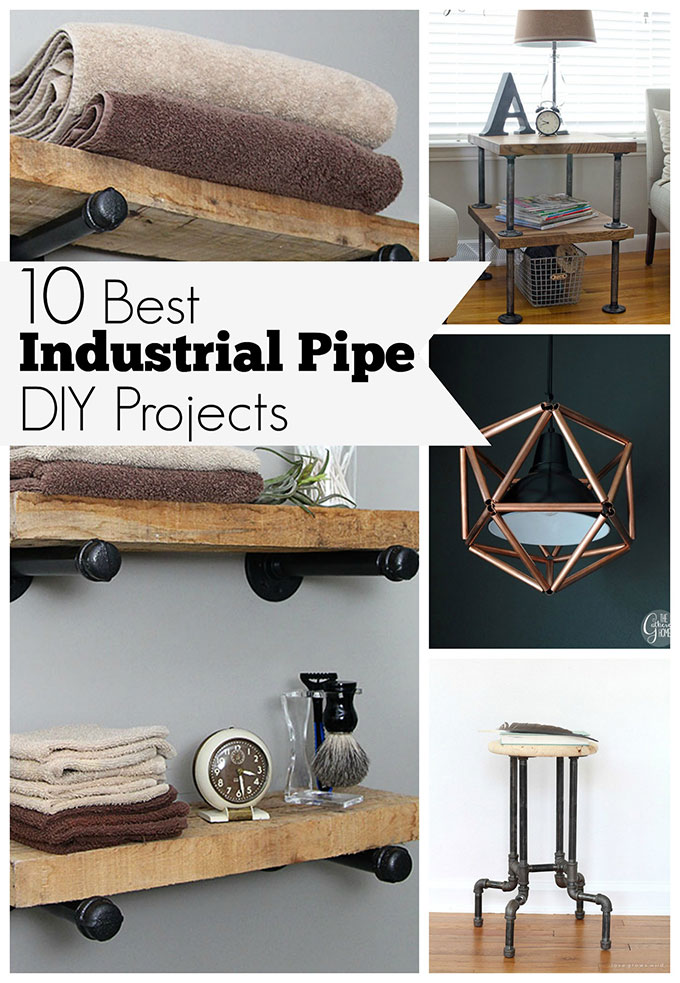 12 Amazing Pipe Decor Projects to Try
I think part of the appeal of these DIYs is that they are easy to make and fairly affordable. Plus, they are as sturdy as all get out and somewhat MacGyver-ish, which is always fun.
You're not using a potato and a screwdriver to make a flying car or anything, but it sure is satisfying to screw together a bunch of odds and ends and come up with something you can sit a cup of coffee on.
So, I gathered together some of my favorite pipe decor projects from around the internet to share with you. Hopefully, these fun DIYs will give you the inspiration to try a project of your own.
(This post contains some affiliate links for your convenience. You can read my full disclosure policy here.)
1. Industrial Pipe Side Table
I love this pipe side table from The Golden Sycamore! Not only is it simple to put together, but it just looks so fantastic. I'm always a fan of tiered shelving, and just like she styles it below, I'd keep the top most clear as a landing spot for drinks. Then, keep the second layer as an area where you can stash coffee table books or magazines.
I could see something like this working well for toy storage too -keep kids' books on the middle shelf and a basket of toys on the very bottom.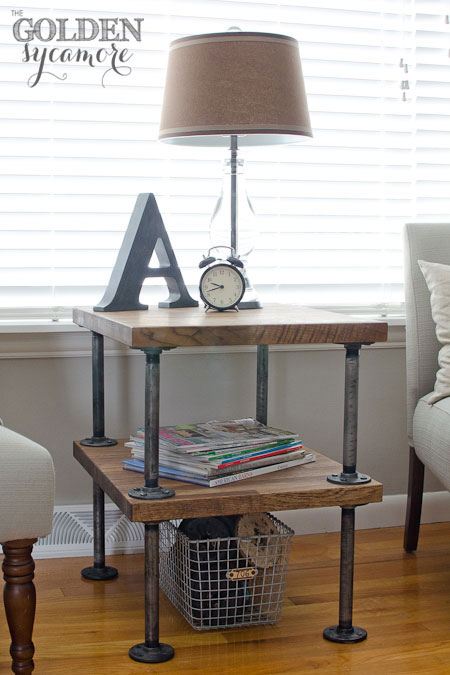 2. Copper Pipe Light Fixture
This lovely DIY light fixture from The Gathered Home is genius! At first glance, you'd never know it was made from pipes found in a local home improvement store. While there is some geometry involved in this pipe decor, she walks you through the entire thing.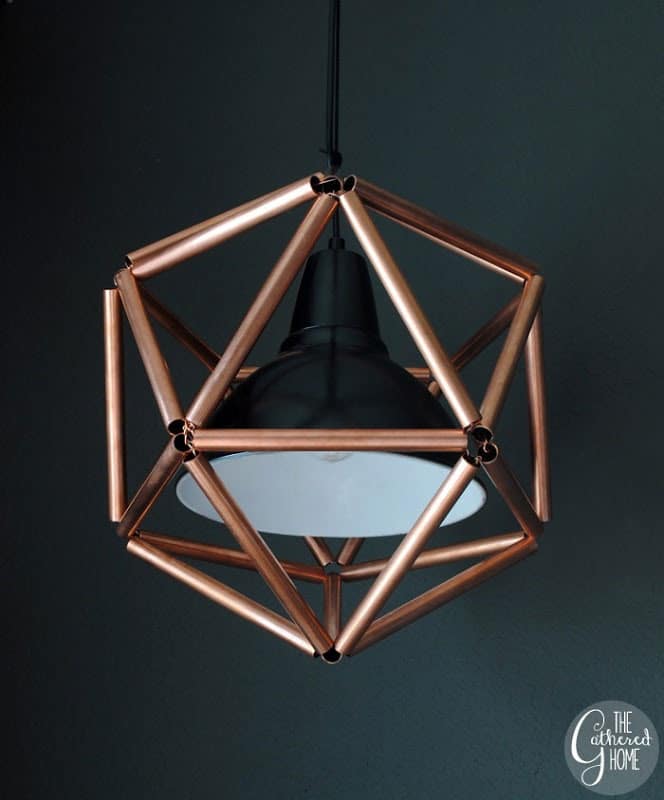 3. Pipe Stool
Looking for an unexpected, edgy piece to add to your kitchen? Try this DIY industrial pipe stool from Love Grows Wild. This is a fairly straightforward project that will be admired for years to come.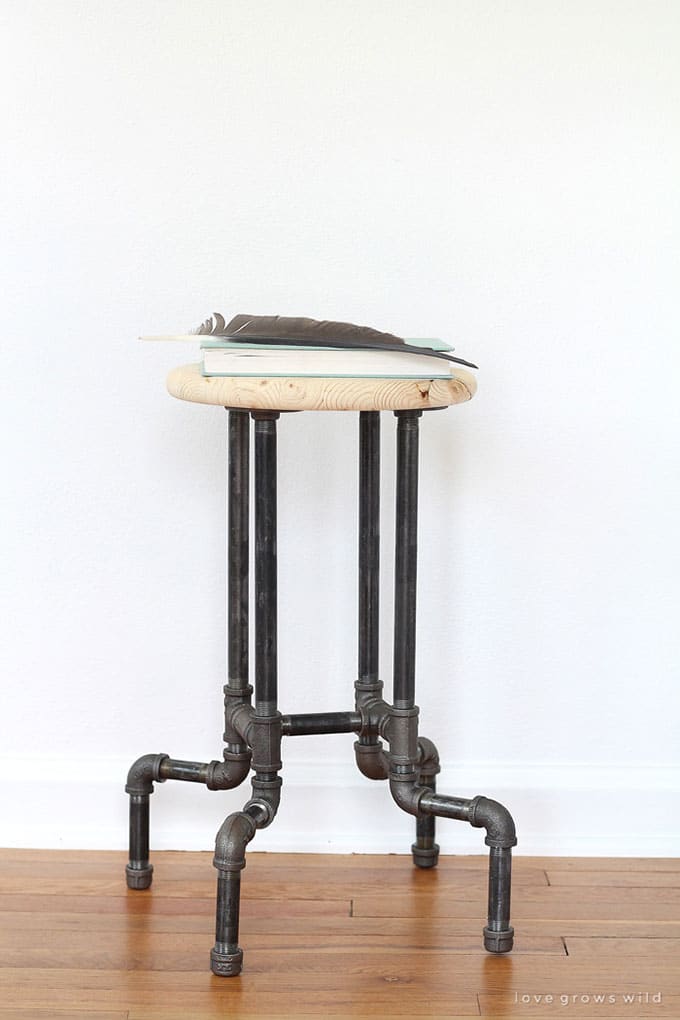 4. Paper Towel Holder Pipe Decor
Linda at Itsy Bits & Pieces combined practical and pretty in this DIY industrial paper towel holder. This is a simple and highly useful DIY piece that even a beginner could do. I like how she mounted it vertically, but doing a horizontal one tucked under the cabinets might be a better fit for your space depending on your layout.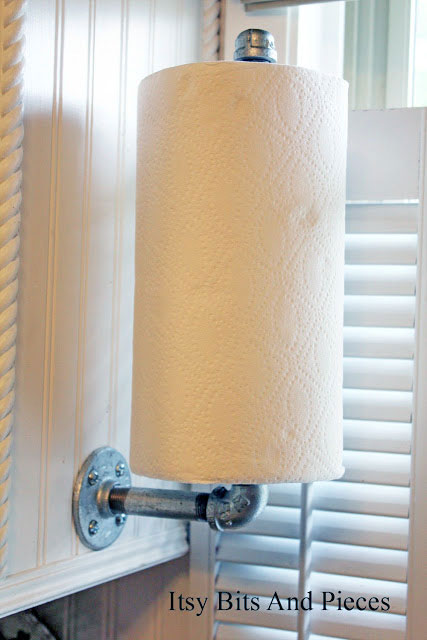 5. Floating Industrial Pipe Shelving
Okay, I'm a bit partial to this one, but that's because it's hanging in my bathroom! I can personally attest to just how sturdy these shelves are and how well they work. Plus, they are cute too! I wrote out an entire tutorial on how you can easily make your own industrial pipe shelves for your own space.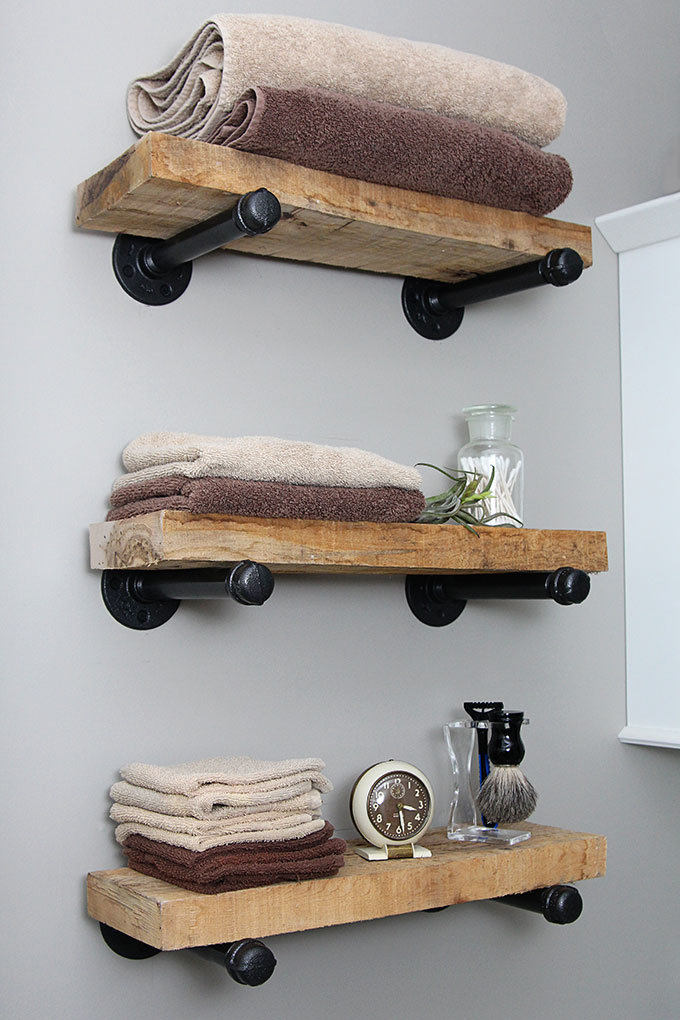 6. Pipe Dining Table
This dining table looks totally high-end, like something you might find at Pottery Barn or West End. However, this project from Designer Trapped In A Lawyer's Body is a DIY. You could easily swap out the wood stain for something lighter or make the pipes a metallic color if that fits your style better too. This DIY pipe dining table is totally versatile!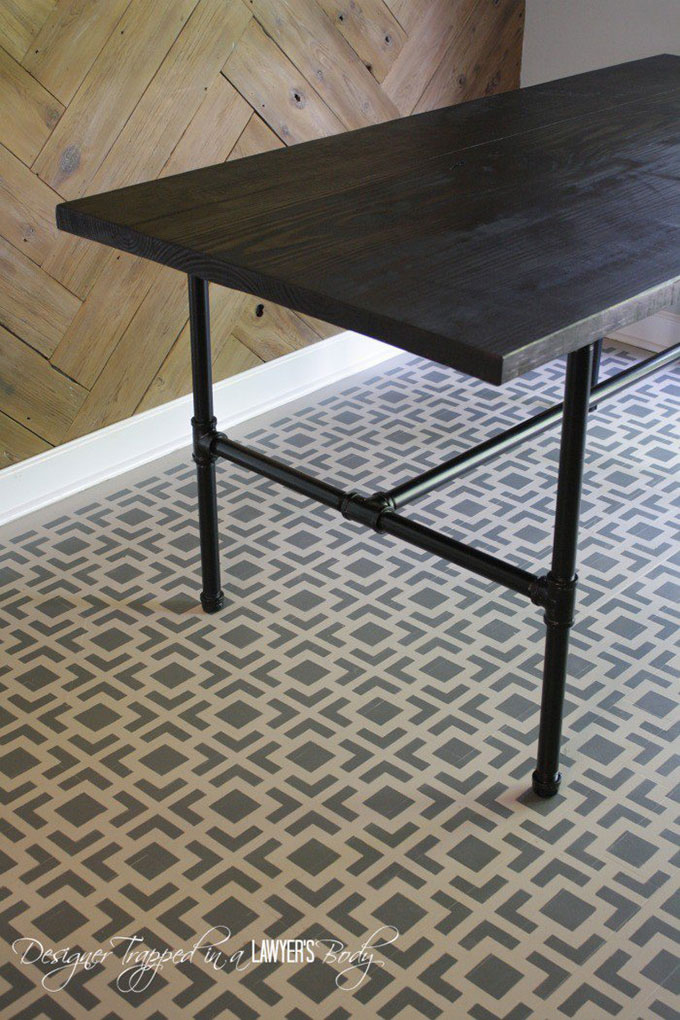 7. Industrial Calendar Pipe Decor
This is an unexpected element to add to any office for a more masculine edge. Taryn Whiteaker built this piece with her kids—it's that simple! Honestly, the most challenging part about this industrial desk calendar may be creating all the numbers.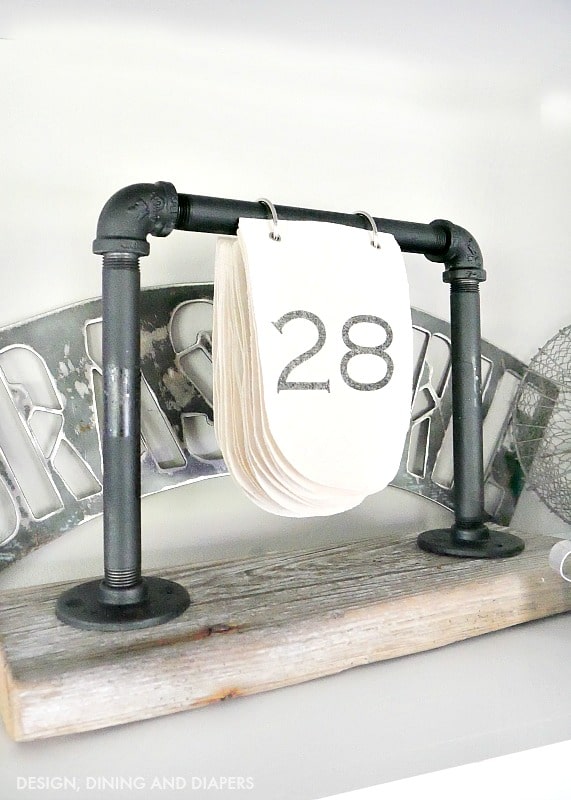 8. Magazine Holder
Lovely stained wooden dowels and copper pipe fittings come together to create this custom copper magazine holder from Table And Hearth. This would be a great DIY gift - you could fill it with the recipient's favorite books or magazines for an added touch.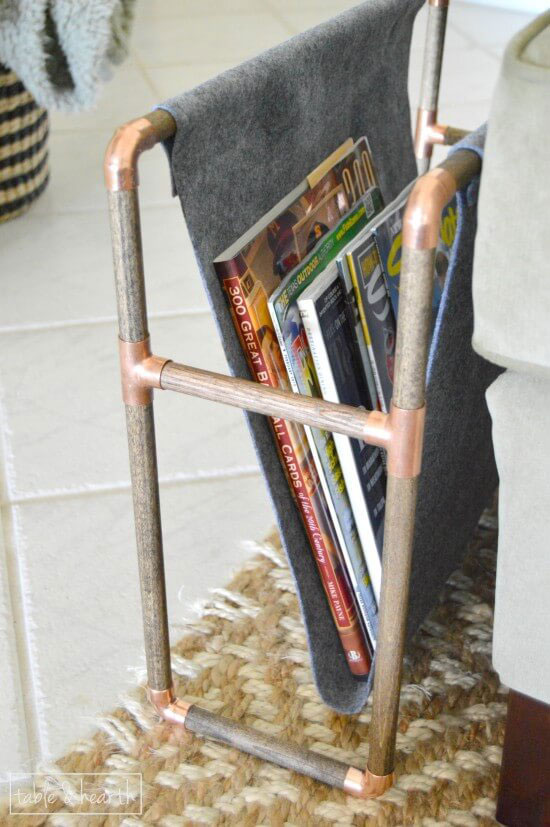 9. DIY Curtain Rods
This brilliant DIY Industrial Curtain Rod comes from Sincerely Saturday. Not only do these pipes make for a sturdy and smart curtain rod, but she made hers into a double rod so you can decorate to your heart's content.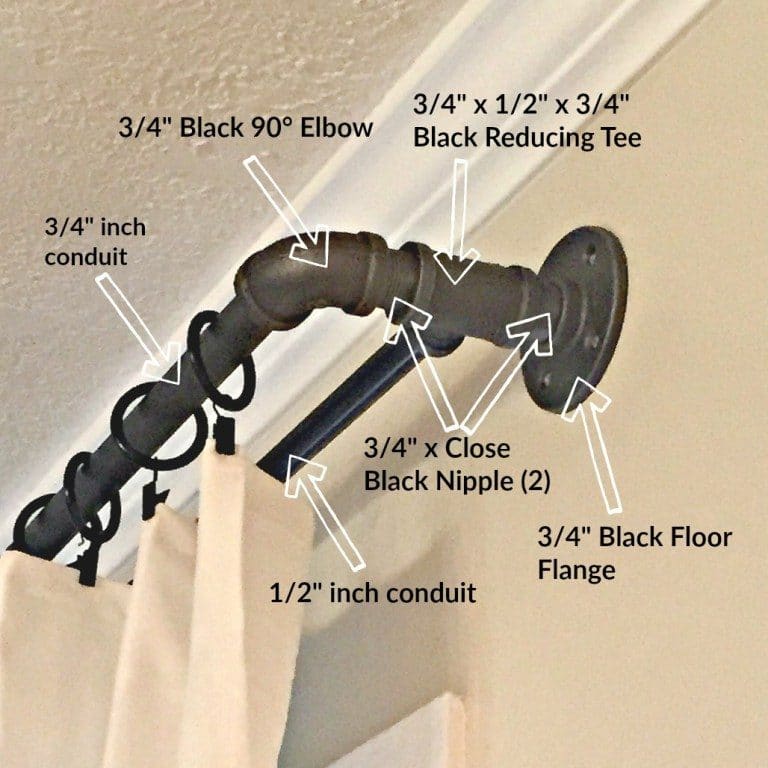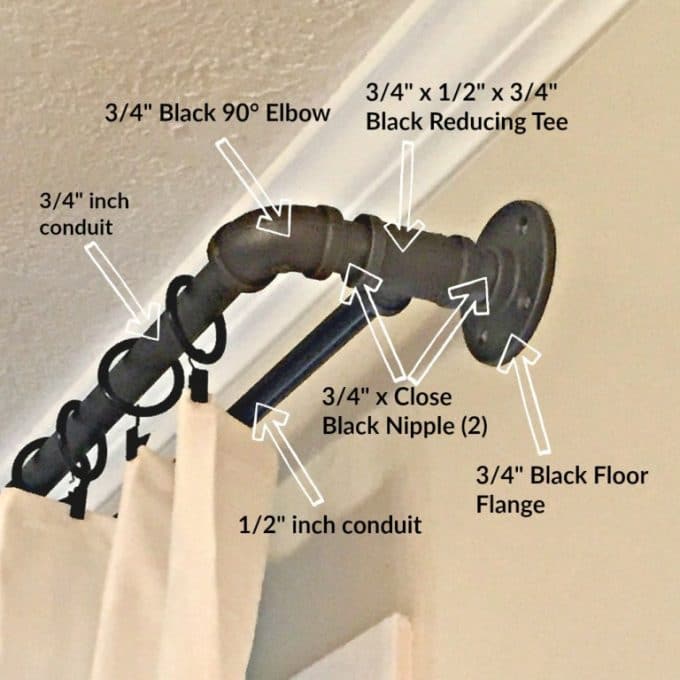 10. Copper Pipe iPad Holder
Here's another pretty and practical DIY for your kitchen! A Bubbly Life's DIY copper pipe iPad holder would look fantastic in kitchen styles ranging from farmhouse to modern and everything in between.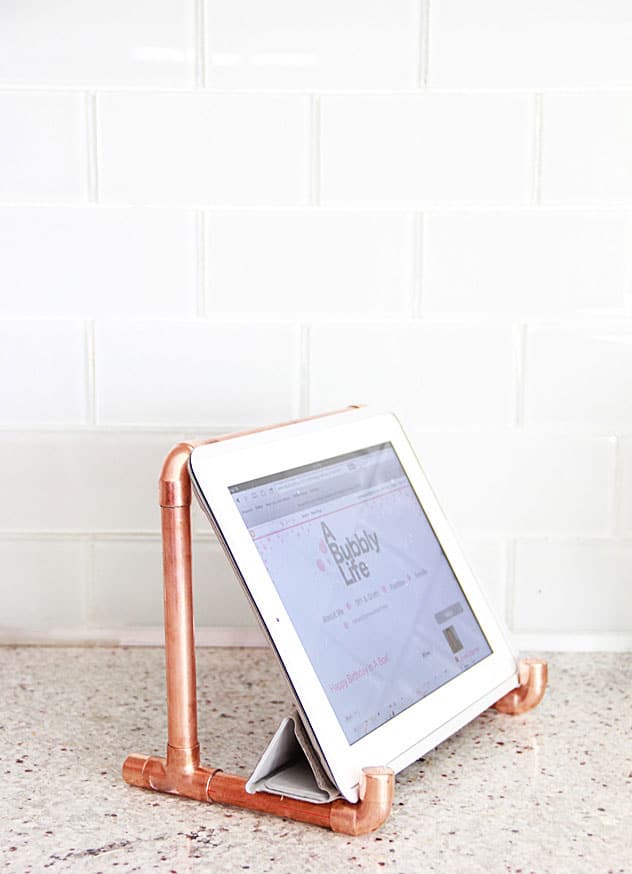 11. DIY Pipe Lamp
This funky and fabulous DIY Pipe Lamp from Nellie Bellie was inspired by an Anthropologie lamp with a price tag that almost hit $3,000! This DIY version may take a bit of time, but it will cost far, far less.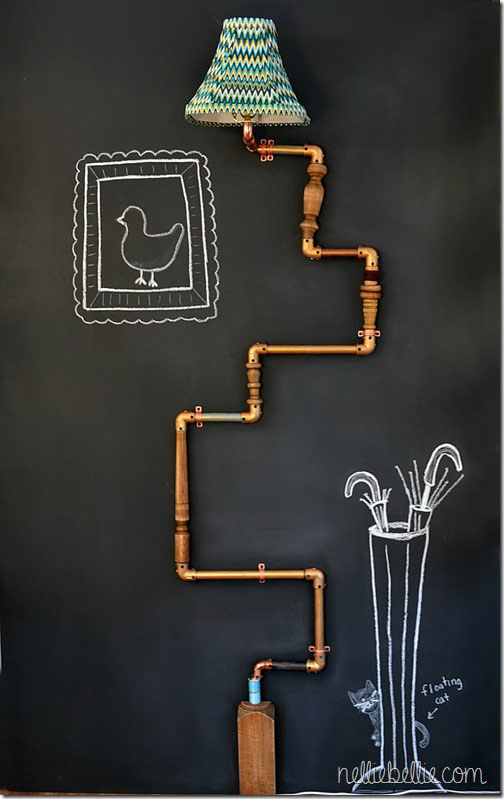 12. Pipe Dog Bed
This awesome industrial pipe dog bed comes from James & Jamie over at The Cavender Diary. I love the vibe of this spot for your best fur friend.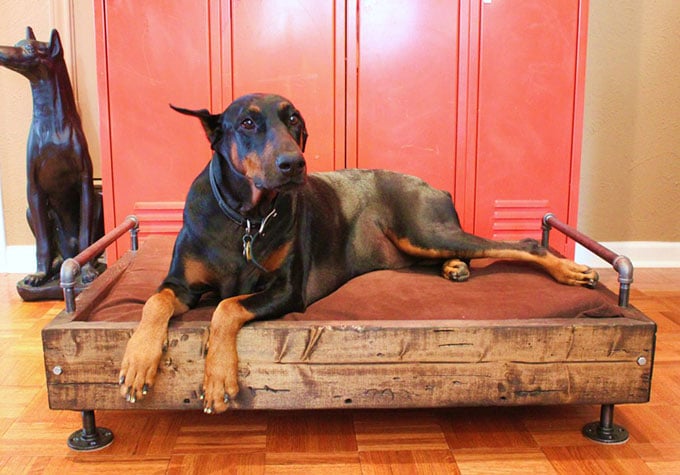 BTW, James also wrote the book (literally) on industrial pipe projects - DIY Industrial Pipe Furniture And Decor: Creative Projects For Every Room Of Your Home. There are LOTS more projects listed there, from firewood log racks to jewelry holders to full-blown pieces of furniture.
The man's seriously into his pipe!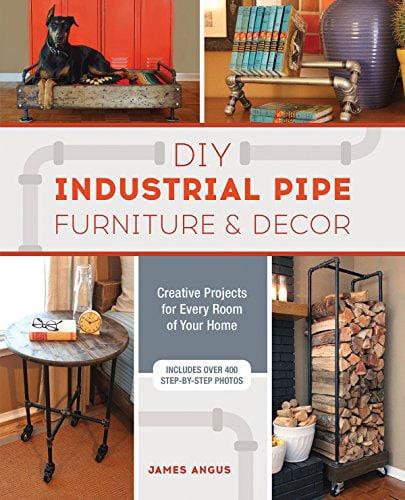 What's your favorite way to use industrial pipe? And don't say plumbing.
More DIY Ideas with a Modern Twist:
DIY Industrial Pipe Shelves
DIY Zinc Topped Table
Coffee Pot Terrarium