OK, I've got to admit I may, just may, be getting a little older. Getting older is better than the alternative, I guess.
And as I get older, my knees start creaking and my back starts aching whenever I do a little too much in the garden.
So I've put together a list of some of my favorite gardening tools for helping us baby boomers stay active out in the garden!

(This post contains some affiliate links for your convenience. You can read my full disclosure policy here.)
Best Gardening Tools For Seniors
I have a version of this I bought for my son two years ago. It's awesome for him to be able to do some gardening from his wheelchair (we modified the height of the legs so it's the perfect height for him to reach things while sitting in his chair). But wheelchair or not, I would have bought one of these for myself.
These come in different sizes based on how large of a garden you are wanting and you can either put them in the yard or on the porch.
OK, this is not a sponsored post for Ryobi ONE 18Volt powered tools, but I might be sort of addicted to them. We have a garden shed full of traditional garden tools that either have to be plugged in (I have a serious fear of cutting into the cord when I'm trimming my hedges and electrocuting myself) or run on gas. Am I the only one who can't start a gas powered ANYTHING for the life of me? I just don't have the biceps to pull that tiny little cord.
These Ryobi One 18V tools are lightweight and you just pop a rechargeable battery in them and off you go. No walking out to the tool shed, making sure there's gas in it and begging someone to start it for me. Just grab and go!
Just like the Ryobi leaf blower, it's lightweight.
A huge bonus is you do not have to pump this up all the time like you have to do with the manual spray tanks. I don't know about you, but all that pumping wears me out! It is so much easier to just have it automatically shoot the fluid out at the touch of the button!
I have knee issues, so if I'm going to get down on my knees I need a little extra support to get back up (or else you'll see me rolling around on my back in the garden like a turtle and that's not pretty).
What I like best about this is it can flip over from being a kneeling bench to being a chair to sit on while you garden. Plus it has little pouches where you can store your tools!!!
I do not own a set of these yet, but it is on my Mother's Day list. The rounded grips give you extra oomph (aka leverage) with the tools so you get more done with less work (and I'm all for less work).
So much easier than dragging a heavy hose around and much less of a tripping hazard. Sure you can buy one of those funky As Seen On TV flexible hoses, but I've never had one of those last more than a few months. I've had my coiled one for 3 years now.
You do need to buy one a little longer than you would normally buy, since you don't pull them out completely straight. I'd say a 50 footer is closer to a 40 footer.
I thought my husband was nuts when he bought me these, but they are SO EASY to pick up leaves and debris with. Sure, you feel like the Incredible Hulk while wearing them, but you can pick up so much more in one scoop than you can with just a rake and your hands.
I'd say I don't mind dealing with yard cleanup in the spring anymore, but that would be a lie. I HATE spring cleanup, but the Hulk hands do make it faster!
No need to constantly squeeze the handle, your thumb controls the spray! It also has 8 spray patterns depending on what and where you're watering. I replaced all my old-school spray nozzles with these guys last year.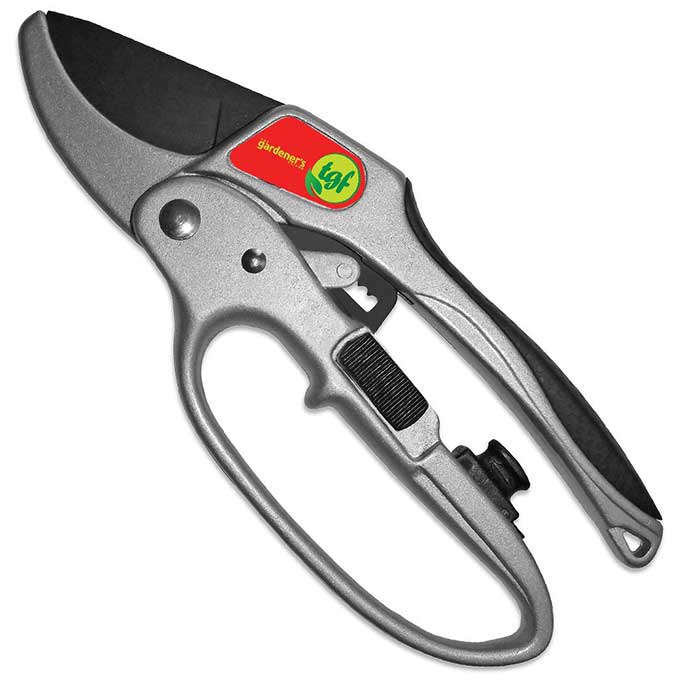 I have a pair of scissors with this type of grip, so when I saw the same type of grip in these pruning shears I grabbed them up. They are the ratcheted type where you can cut very small things like when you're deadheading annuals up to larger things like very small branches.
Where To Buy Gardening Tools For Seniors
I linked to all the items listed on Amazon, except for the Ryobi tools, so just click on the photo or the tool name and you will be taken to the tool on Amazon. Ryobi tools are MUCH more reasonable on the Home Depot site, so I linked those 2 tools at Home Depot instead!
And don't forget, you can shop online at Home Depot and have the items all ready for you to pick up (see below). Saves you from wandering down the aisles looking for this and that or waiting for your online order to arrive via UPS!
How To Use Home Depot's
Order Online & Pick Up In Store Option
It's really easy to order online with Home Depot and then pick up your order at your local store. All you have to do is put it in the shopping cart called Pick Up In Store Today.
Here are where those Ryobi battery powered tools can be found online:
Once you have picked out all your items and put them in the Pick Up In Store Today shopping cart, just Check-Out like normal. Your items will be waiting for you all nice and neatly put together at the front counter at your Home Depot store. I love having them do all the shopping for me and then I can just quickly pop in, grab my cart full of stuff up front and get back home FAST.
Remember – put your items in the shopping cart called Pick Up In Store Today and it will be ready for you when you get there.
And just a tip – Home Depot has some reconditioned Ryobi tools you can find HERE if you want to go the even more less expensive route. Those are not found in your store and can only be shipped, but when I ordered a reconditioned chain saw recently it arrived in 2 days. They don't have everything, but it may be worth a shot to look.

OK, I have to get out of here and get some planting done. I bought some new hostas yesterday and they aren't going to jump in the ground themselves.
Other posts you may enjoy:
How To Grow Limelight Hydrangea