Having a gorgeous display of flowers planted in your porch containers is a great way to welcome people into your home. It sets a bright, beautiful tone right off the bat.
And depending where you live, it's just about time to start scheming and planning and plotting what flowers you are going to plant in your containers this year!
So to give you some ideas and inspiration I have compiled some pretty darn cute flower container ideas that would look lovely on your porch this year!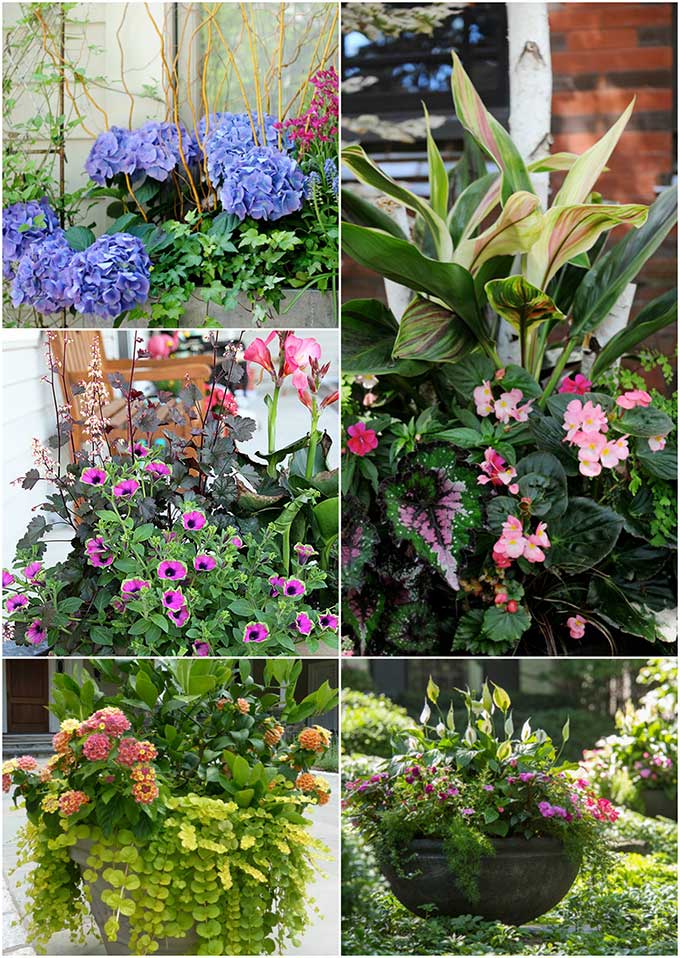 Let the planting begin!
Colorful Flower Container Ideas For Your Porch
A variety of blue hydrangea, some ivy and a few well placed twigs make this planter POP!
You can find the twigs either at your local garden center or in the floral department at the craft store.

The peace lily in the middle of this planter gives a modern look to this planter of impatiens and asparagus fern.

One of my favorite plants to add to combo planters is the chartreuse margarita potato vine. It just gives your planter a nice jolt of color!

The Victoria Blue salvia (annual) in front of the container plays nicely off the purples and muted greens of these succulents.

I LOVE the how the bright green and burgundy leaves of the coleus plays off the bright green leaves of the creeping Jenny (moneywort) spilling over the edge of the container.

Another gorgeous coleus along with some lavender false African violet and what appears to be pink geraniums. This is a great color combination.

OK, I have to admit I have no idea in the world what the tall greenish-brown plant is, but I want one. It looks tropical and a real statement piece for the patio. Could it be a banana plant?

This appears to be a potted rose bush (maybe one of the knock-out varieties) with purple lantana and some million bells growing around it.

The purple trailing plant in the bottom is a wandering jew plant I believe. It's normally grown as a houseplant around here but looks wonderful in this container. The tall purple flower in the back is heliotrope. It's one of those old-fashioned flowers that just does not get enough attention these days!

The wonderful orange colored canna adds height and matches the new guinea impatiens below.

A hibiscus tree with sweet potato vine growing under it. Just lovely.

And a yellow hibiscus tree with blue plumbago and petunias planted beneath it. I adore plumbago and have an entire post devoted to How To Grow Plumbago.

Here's another planter with a rose bush as the center and million bells planted on the perimeter.

I love using a grass plant in the middle of my urns. You can change out the surrounding flowers with the seasons as the grass still looks fabulous in the fall. This appears to be purple fountain grass.

I can't even begin to guess what this gorgeous plant with the variegated foliage is, but I want one. Now.
If you know what it is, leave a comment below. The whole combination of flowers and that plant are amazing.

Creeping Jenny and peach colored lantana are a wonderful combination for a flower container. I'm guessing it may be the bandana peach variety of lantana since it has both yellows and shades of peach on the same plant.

More creeping Jenny along with a colorful coleus, some pink double impatiens and some sort of wonderful red-hued plant in the middle.

You gotta love some pots full of succulents. No flowers, a whole lot of interest and not a lot of upkeep.
A win, win, win!

I have to say this one is my favorite. A succulent tucked in among a pretty peach colored dragon wing begonia. They pair so well together in an understated elegant sort of way.

This appears to be mandevilla planted in a container along with dusty miller. A gorgeous and tropical look.

What's your favorite planter combo for your porch?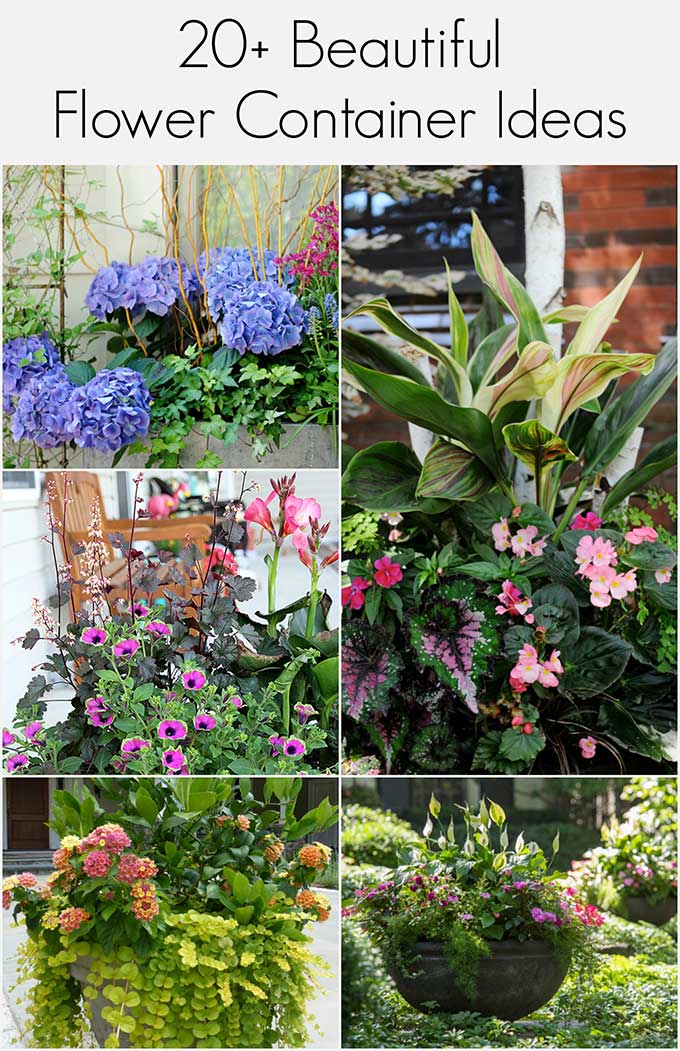 You may also like:
5 Steps To Beautiful Garden Planters
Black Eyed Susan Vines - AKA Heaven On Earth