I have the worst time with charging cords and electronics cluttering up my countertops.
What started out with one or two cellphones being plugged in has turned into a mess of cords going every which way. I'm pretty sure they have wild parties at night and multiply like crazy when I'm sleeping!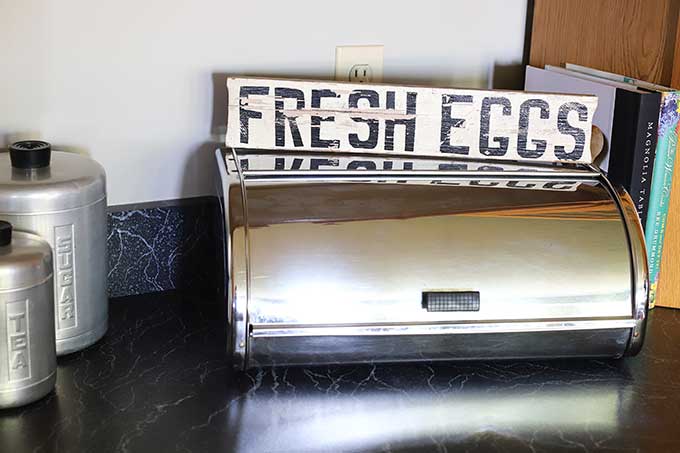 It's not only a crumby decorating dilemma, you're toast when you can't find the right cord. My solution was to go against the grain here and use a breadbox as a charging station because:
it looks like it belongs on my kitchen counter
it's nice and roomy
I can't stop repurposing thrift store finds
OK, now I'm done with breadbox related puns. Not because I don't WANT to use more, I just can't THINK of any more.
(This post contains some affiliate links for your convenience. You can read my full disclosure policy here.)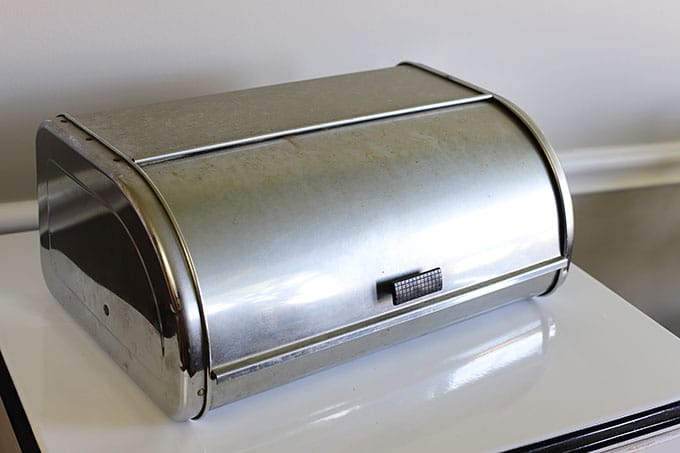 Repurposing A Breadbox Into A DIY Charging Station
DIY Charging Station Supplies:
Cool breadbox from the thrift store
Drill
Drill Bits
Velcro Strips
Contact Paper
Appropriate safety gear - eye protection, gloves, etc
Instructions:
Thoroughly clean your breadbox. If it's grimy, discolored or basically OLD, you can use a mixture of baking soda and lemon juice to get the grime off, if plain old dish soap and water won't do the trick.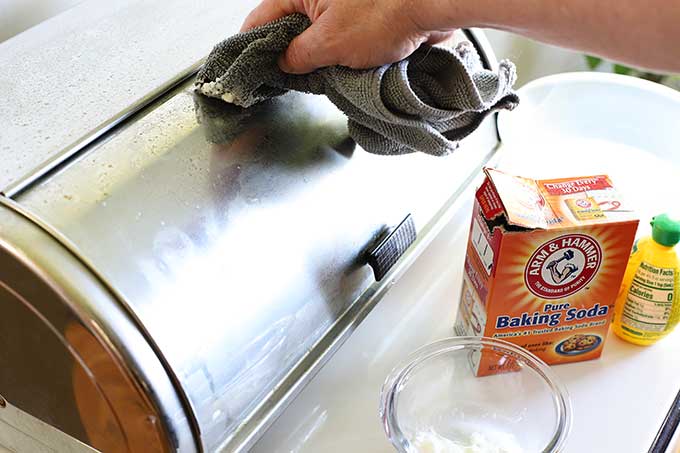 Drill a hole in the back of the breadbox large enough for the plug of the power strip to go through.
My power strip had a 2 ft cord which was perfect, since I didn't want too much cord hanging out the back to clutter up the counter, yet it would be long enough to plug into the nearest outlet (a very important thing not to overlook).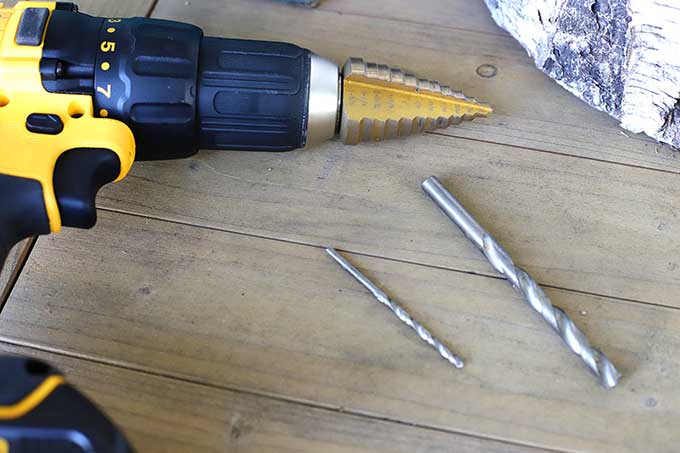 Use a very small drill bit to start a pilot hole.
Then use a slightly larger drill bit to make the pilot hole larger.
Finish it off with the step bit to make a hole large enough for the plug (remember the fat plug itself has to go through, not just the cord).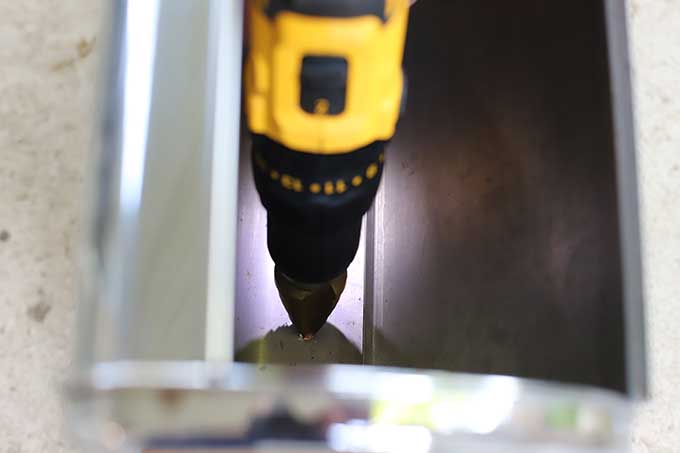 File down any stainless steel shavings around the hole.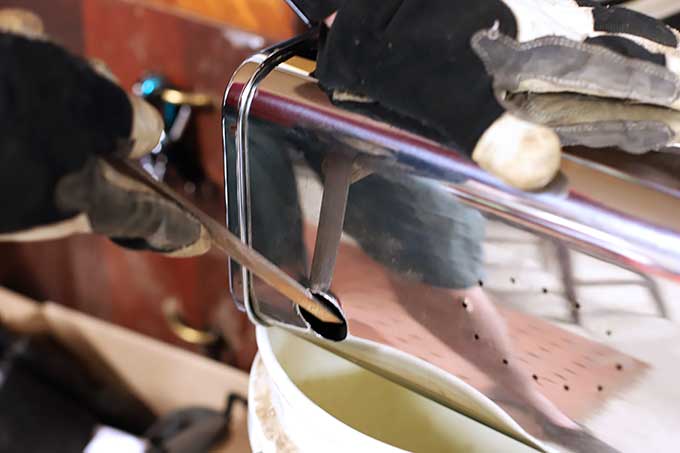 Oh, and did I had shavings! This is what it looked like before I started using the metal file.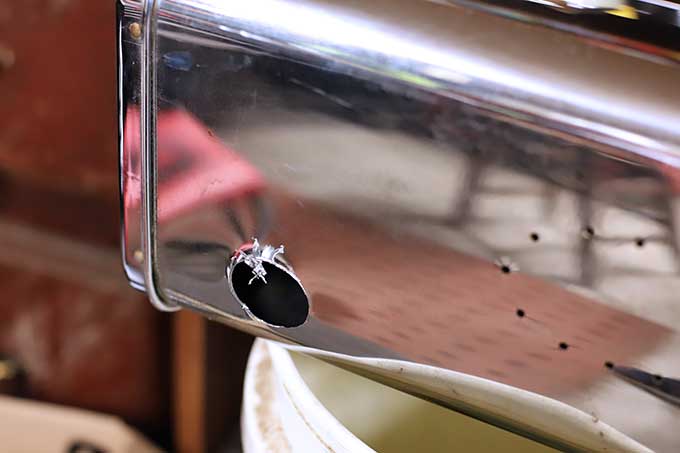 You don't want to get jabbed by that!
Use contact paper or shelf liner to line the bottom of the breadbox and as far up the back as you can get.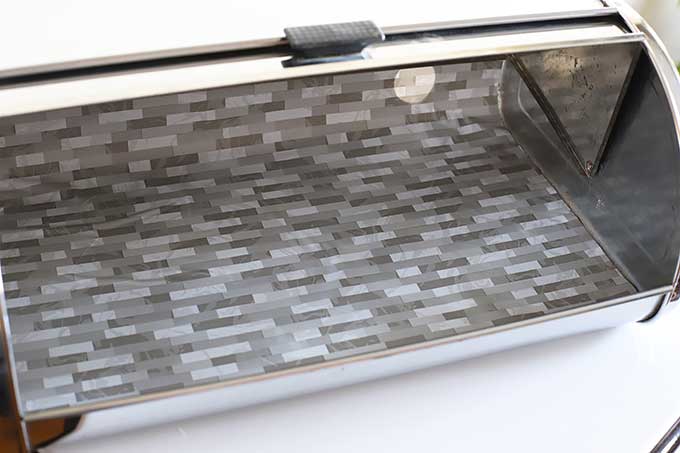 Cut slits in the contact paper where the hole is and wrap the contact paper around the backside.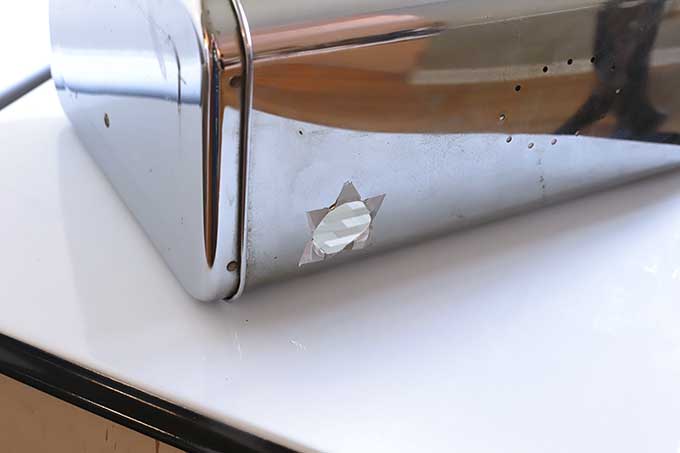 Add velcro strips to the back of the power cord and adhere it to the inside back of the breadbox.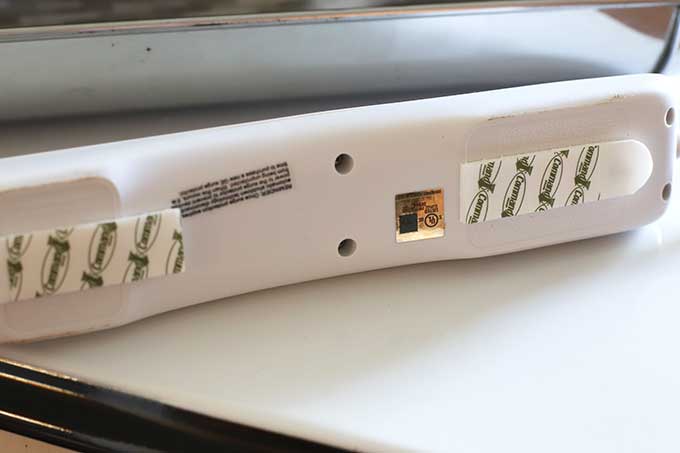 I used the Command Strips I had on hand, which were rated to hold 12 pounds each and were total overkill. Smaller velcro strips would work just fine.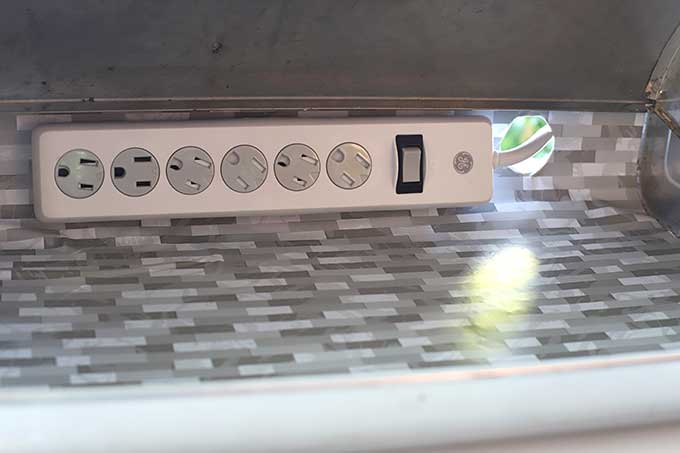 Plug in the power strip and your electronics and get to charging!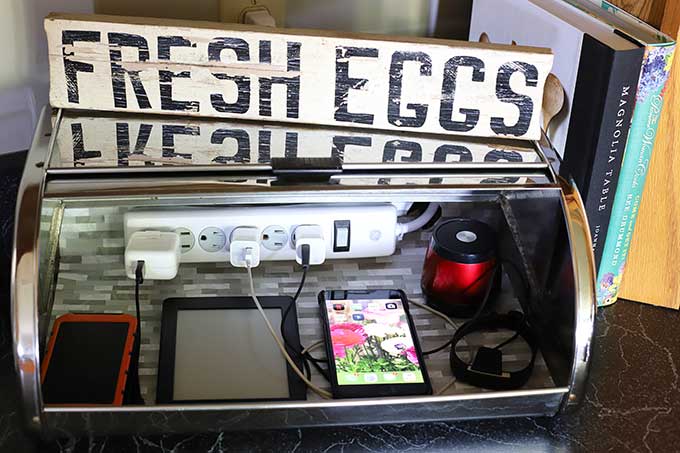 As a bonus, did you notice the vintage kitchen canisters in the first photo?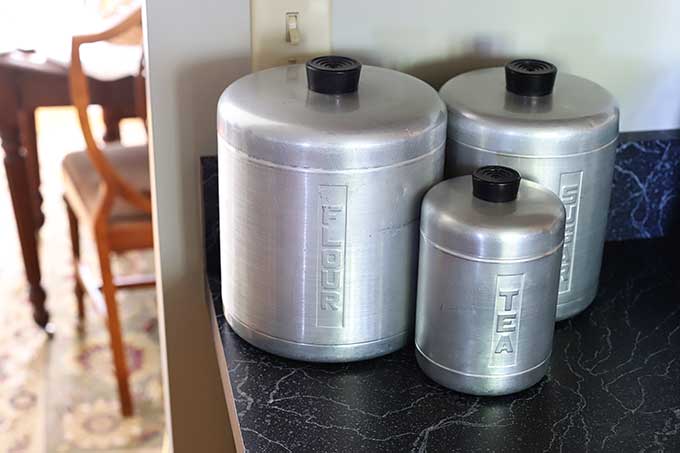 Did you think they had baking supplies in them? Not at all, I use them for dog treats. No need to be confined to labels around here!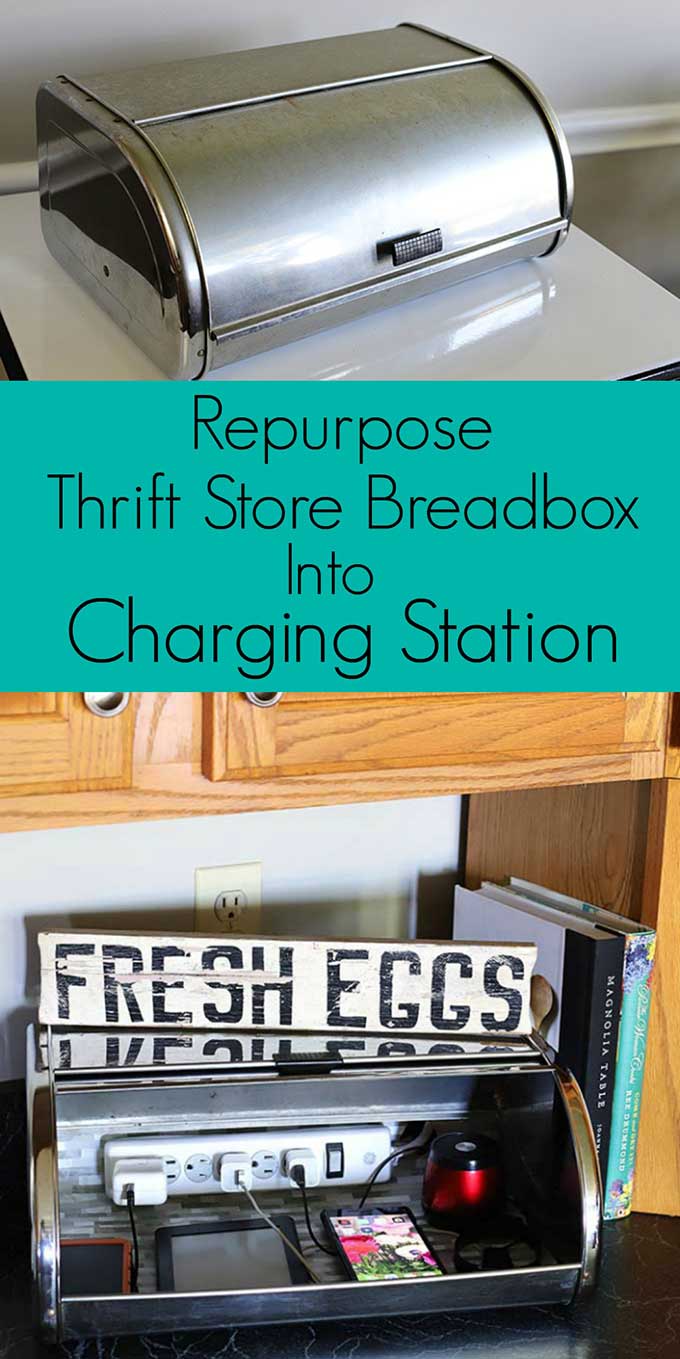 And if that wasn't exciting enough, my friends from the Thrift Store Decor Team have a few repurposes for you today also! Go check them out!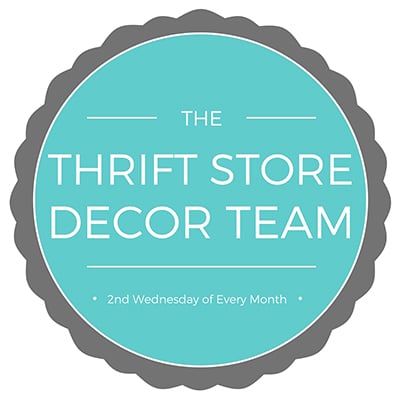 Refresh Restyle - Vintage Wood Bowl DIY
Petticoat Junktion - Metallic Spray Paint Makeover
My Repurposed Life - Wind Chime Makeover
My Uncommon Slice Of Suburbia - Accent Table Makeover
Sadie Seasongoods - "Retrending" From Country Decor To French Farmhouse
Domestically Speaking - DIY Nautical Oar
Our Southern Home - Chandelier To Lantern Makeover
House Of Hawthornes - Breadbox Repurposing (that's me)
Other posts you may enjoy:
DIY Earring Holder
DIY Industrial Pipe Shelves
Baking Soda Paint Thrift Store Makeover