This moist and yummy blueberry coffee cake recipe is full of delicious fresh blueberries with a crumbly streusel topping. A perfect dessert for summer parties and 4th of July picnics!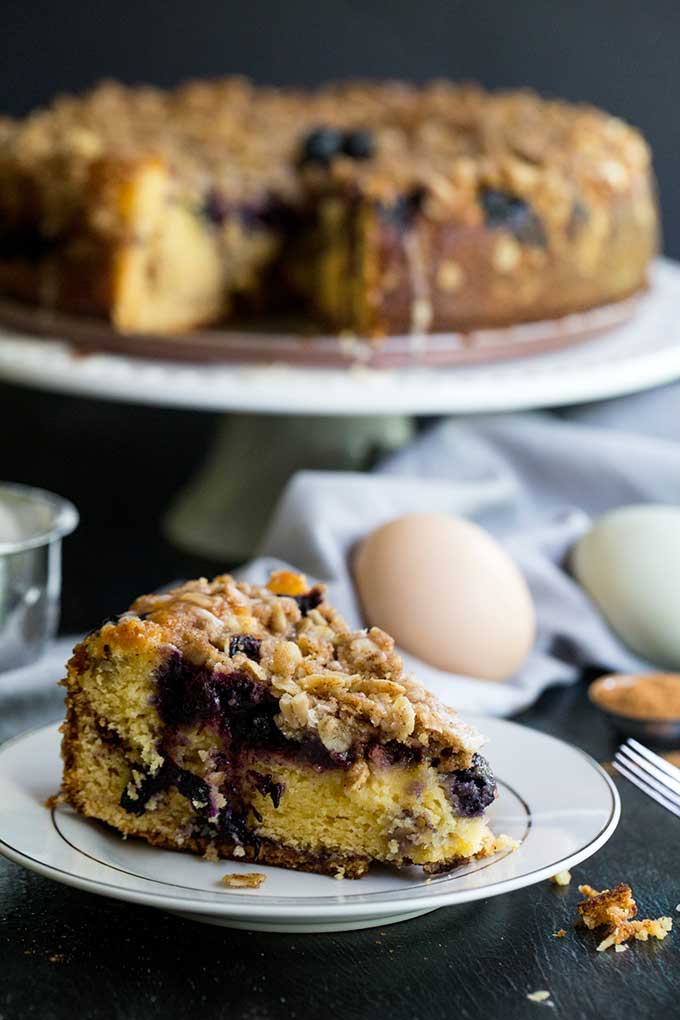 Blueberry coffee cake is one of my favorite desserts to make for the summer holidays. Basically it doubles as a dessert AND a breakfast dish and how many foods can you say that about!
Heck, you can even tuck a slice into your lunchbox (vintage plaid of course) and have it for lunch. Eat it all the livelong day!

It is a pretty easy dessert to whip up and if you want it to look "fancy" you can make it in a springform pan like I did.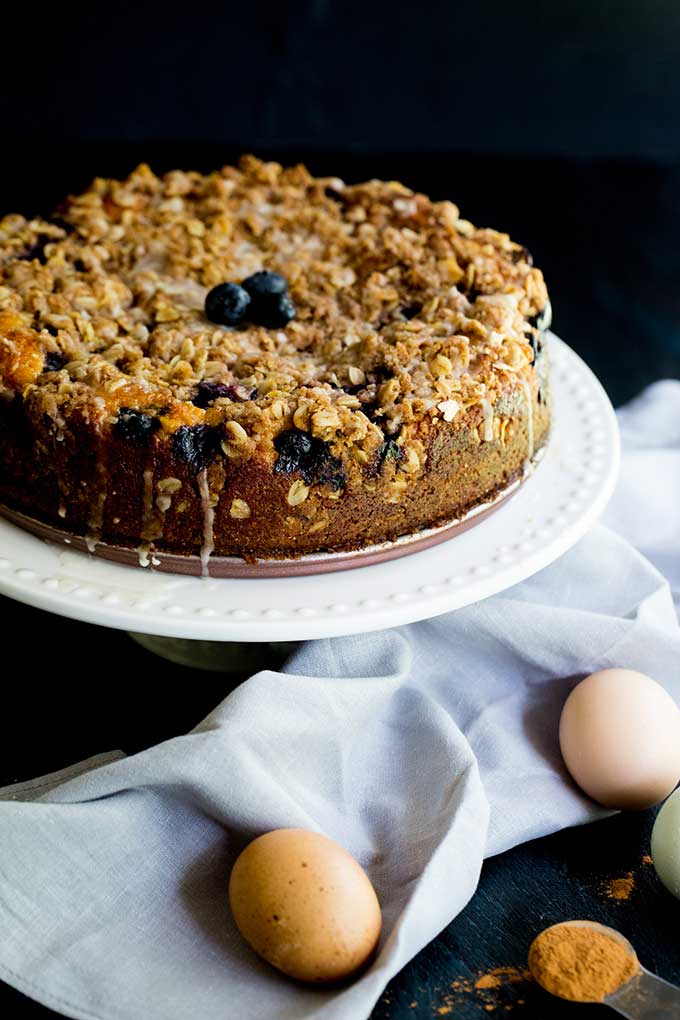 I don't know why, but seeing the naked sides of a cake makes it extra fancy.
Seeing the naked sides of people . . . not so much.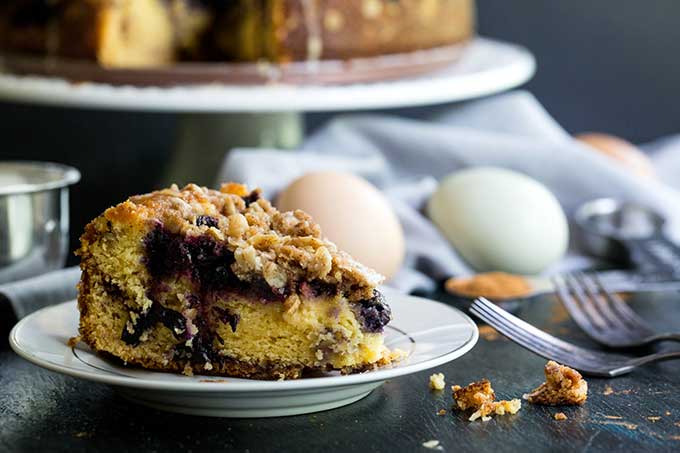 And it's a great one to make for a picnic where you need to bring something, but you don't want to just stop at the grocery store and bring a big old tub of potato salad!
Have you ever done that, but put the store-bought potato salad in your own bowl and then acted like you had made it?
No? Just me?
OK, enough chit-chat. You probably have a picnic to go to or a weekend to start gearing up for! On to the recipe!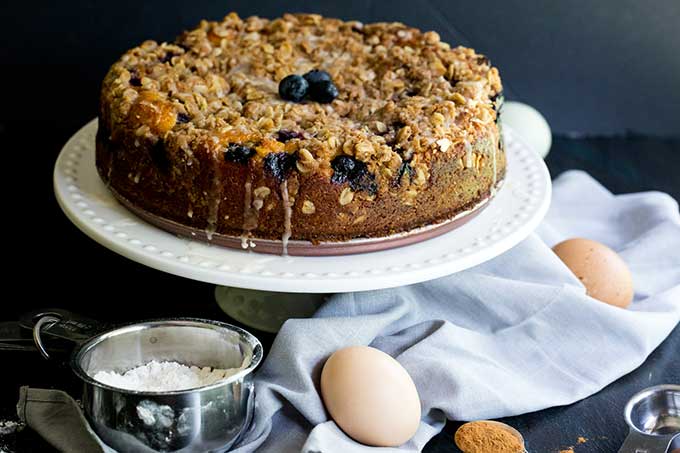 Blueberry Sour Cream Coffee Cake Recipe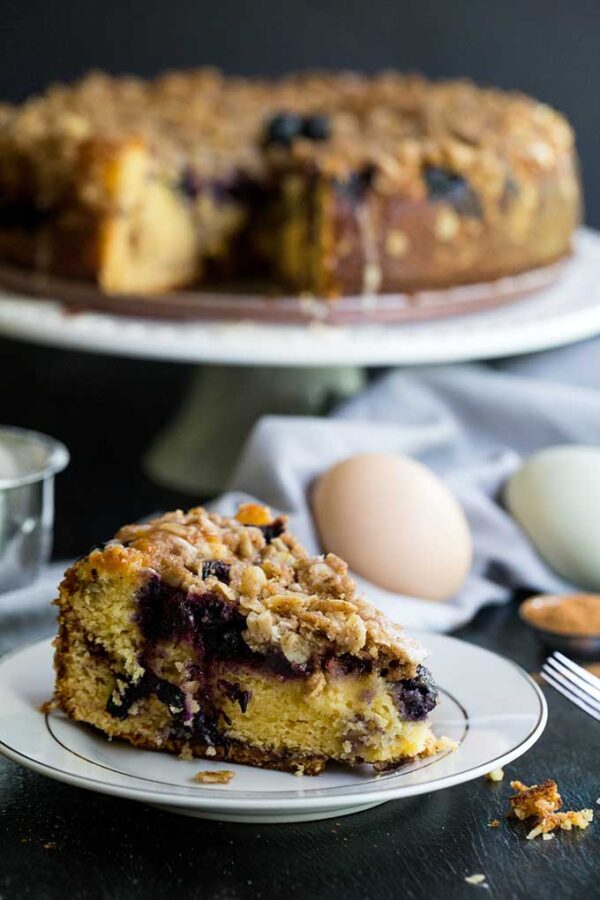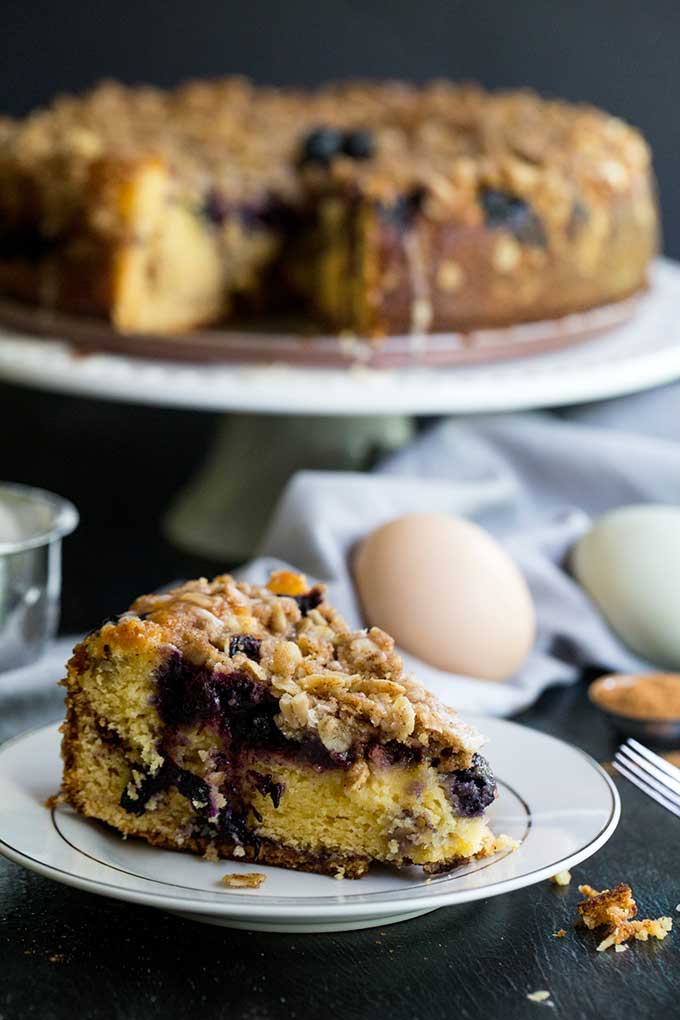 Blueberry Sour Cream Coffee Cake
Keyword:
Blueberry Coffee Cake
Ingredients
Coffee Cake
1

cup

flour

1 1/4

tsp

baking powder

1/2

cup

sugar

6

tbsp

unsalted butter

at room temperature

1

egg

1/2

cup

sour cream

1/4

cup

milk

1

tsp

vanilla extract

2

cups

fresh blueberries
Struesel
1/2

cup

flour

1/4

cup

brown sugar

firmly packed

1

tsp

ground cinnamon

1/4

cup

oats

(old-fashioned rolled, not instant)

1/8

tsp

salt

4

tbsp

unsalted butter

at room temperature
Glaze (optional)
1/2

cup

powdered sugar

1-2

tsp

milk

1/4

tsp

vanilla extract
Instructions
Streusel Topping
In a small bowl, combine flour, brown sugar, cinnamon, oats and salt. Cut in butter with a fork until mixture is in a crumbly state. Set aside.
Glaze
Whisk powdered sugar, vanilla and milk in a small bowl until smooth. Set aside.
Coffee Cake
Preheat oven to 350 degrees. Prepare a 9 inch springform pan with cooking spray on sides and parchment paper on the bottom.

Add the flour and baking powder to a medium size mixing bowl, mix together well and set aside.

Cream sugar and butter together in large mixing bowl bowl using an electric mixer.

Add the egg and mix until well combined.

Mix in the sour cream, milk and vanilla extract.

Add your flour/baking powder mixture to your wet ingredients, mix well and then gently stir in blueberries.

Pour your batter into your springform pan and top with your streusel mixture.

Bake at 350 degrees for 45-50 minutes until a toothpick inserted into the middle comes out clean.

Cool for 15-20 minutes, remove from springform pan and drizzle glaze over top of coffee cake.
Recipe Notes
If you prefer you can add the blueberries to the top of the coffee cake prior to adding the streusel mixture instead of folding them into the batter.  Or go all wild and crazy and add 1/2 to the batter and 1/2 to the top.    
Some Coffee Cake Facts For You:
Eat them. Often.
No, you don't have to drink coffee when you eat coffee cake. Any wet liquid works just fine.
No, there is no coffee actually IN the cake.
Blueberries burn if you can't wait for the cake to cool before popping a fork full into your mouth. It's a occupational hazard of baking at times.
Any plans for the pre-holiday weekend?
There are a lot of estate sales calling my name and a front door to paint. Guess which one is getting put off if I run out of time.
Other summer recipe ideas:
Easy 4th Of July Desserts
More Patriotic Fourth Of July Desserts
Blueberry Crostata Recipe
Summer Mixed Berry Salad
Unique Potato Salads For Summer Picnics