I've been sort of quiet on the thrifting front this summer. As with all lovers of thrifty finds, my house was getting overrun with STUFF. I joke about it being a hoarding situation, but it's more of a I really shouldn't buy anything else until I find a place to display my last set of finds situation.
I can't keep piling it up on my dining room table, now can I?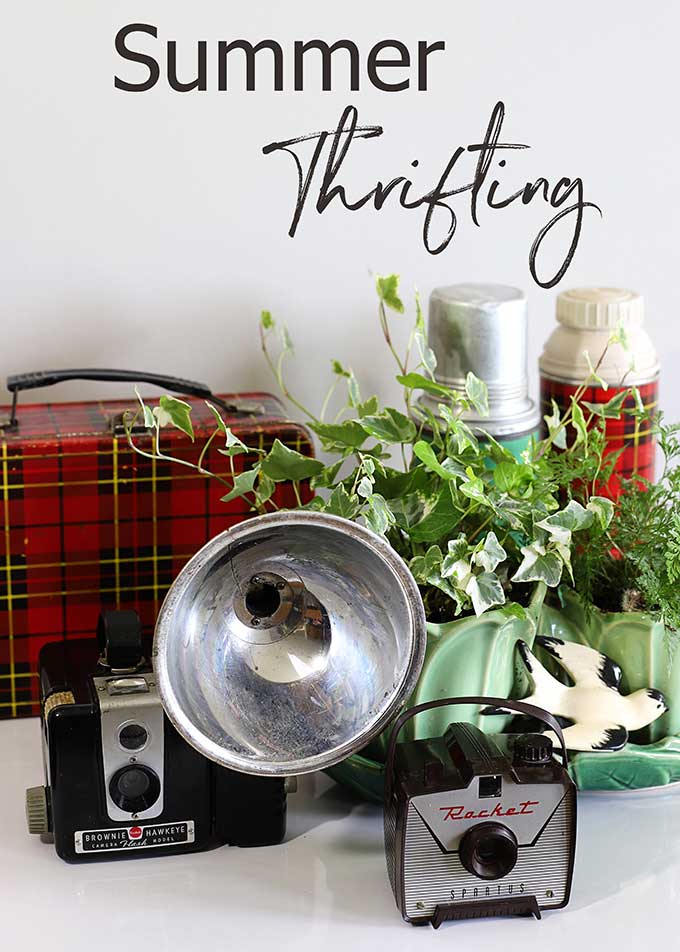 I blame it on blogging really. It seems before I started this whole blogging journey, I kept the incoming coolness matching the outgoing not-so-coolness. Something comes into the house, something goes out of the house. Peace and order is achieved and all is well.
I'm not quite so good at that concept anymore, so I have tried to keep my purchases to a minimum this summer.
Except for a few items I just COULD NOT RESIST.
Hoo knew I had a thing for owls?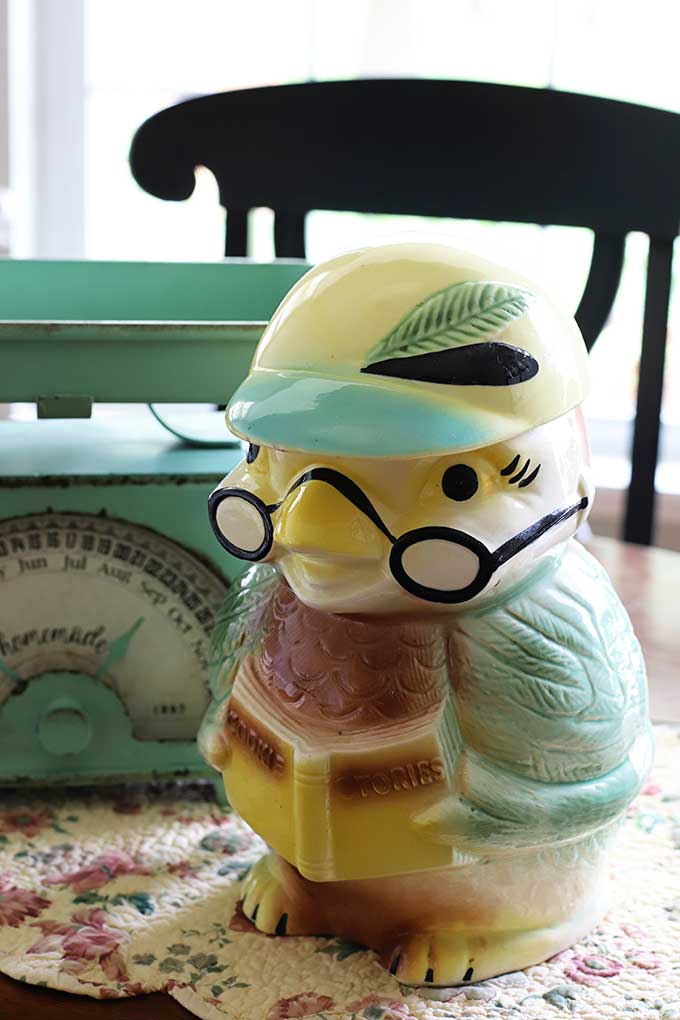 I found this vintage Robinson-Ransbottom owl cookie jar at a yard sale for a couple bucks and snatched him up. Pretty sure he's a boy since he has a baseball cap on (sexist, much?).
Robinson-Ransbottom (their pottery has RRP Co. Roseville Ohio imprinted on the bottom) was made not too far from here in Roseville, Ohio, so I find a lot of it at garage sales and church rummage sales in the area.
He looks sort of funky and eclectic setting on my kitchen table. And pretty much useless, since there are no cookies in him because of this whole stupid dieting thing.
And I bought both of these cameras for under $2. Total.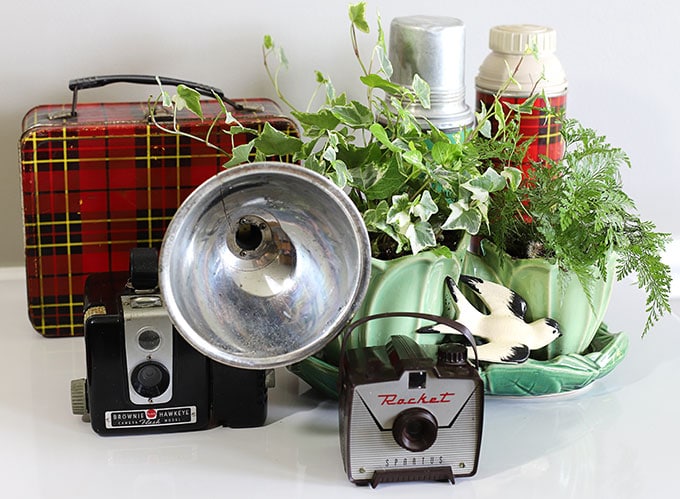 The Brownie Hawkeye was $1 and the Spartus Rocket was 75 cents. For that price, I just couldn't leave them behind!
I found this milk glass hands dish at a church sale for a buck I think. I've seen these many times and never knew Avon made them until I turned it over to look for a makers mark.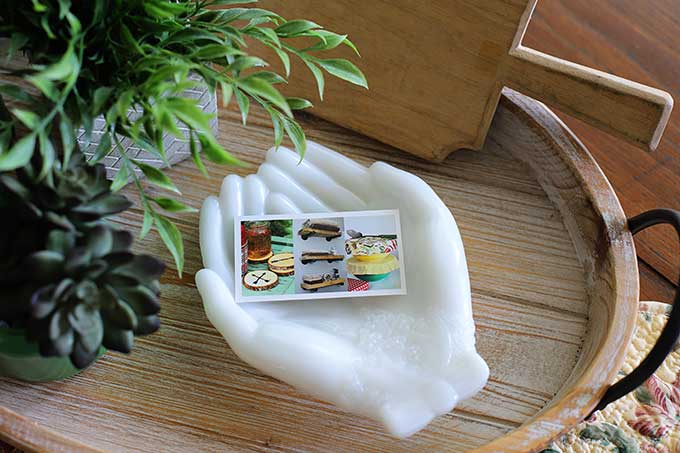 If I can trust Google, I believe these were originally made in the late 1800's by a British manufacturer to hold calling cards (thus why my business card is setting in mine), but Avon "borrowed" their idea when they mass-produced these in 1969 and called it a Touch Of Beauty Soap Dish.
It's a little too small for a full bar of soap, so it must have been for those fancy little round soaps your mom bought and put by the sink but you were never allowed to use and then they just collected dust and you eventually threw them away because they were gross.
Those soaps.
I also bought this wooden crate thingie at the church sale. I have no idea in the world what it is, but when do you ever find a cool old heavy duty crate for a few dollars?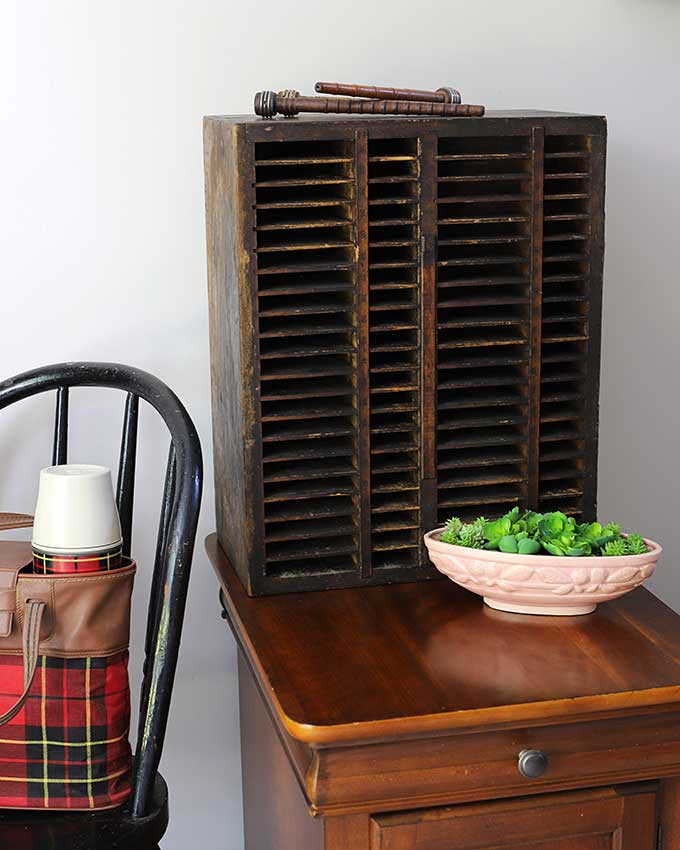 With numbers on it!!!
You're probably thinking, "girlfriend, that's something you did not HAVE to buy". But it has such a great vintage industrial farmhouse vibe and looks so good in my living room!
Of course, I had to buy it!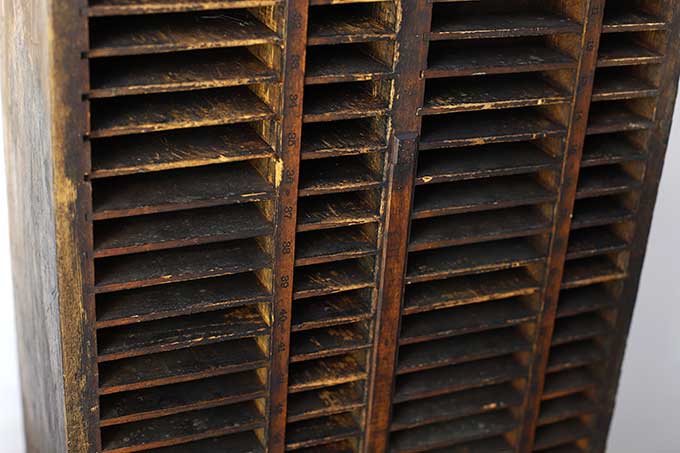 It's BIG too. Probably about 2 foot tall.
I think the consensus on facebook was it was a cabinet to hold letterpress stuff. If you have any better guesses let me know!
OK, besides owls, I have a thing for cardinals. In the spring we always have little baby cardinals running around the yard. I think we're their personal baby hospital.
So of course I had to buy these vintage Miller Studios chalkware cardinals when I saw them from an Instagram seller.
That's right, I said Instagram.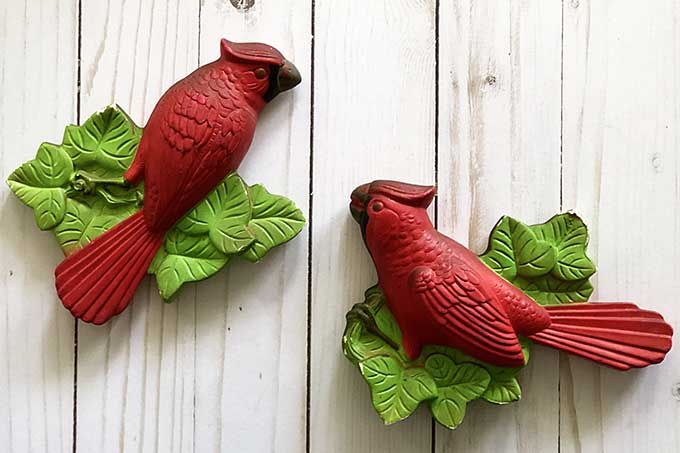 Did you know people sell stuff through our beloved Instagram, the purveyor of perfectly staged homes with perfectly karate chopped pillows and perfectly dust free coffee tables?
Gina at Vintage Junk In My Trunk has the coolest eye for odd vintage items. She has an Etsy shop also, but I tend to follow her on Instagram because buying on Instagram is so much fun.
The way it works is she'll announce that she's having a sale at let's say 7:00pm tonight. Then you set your timer on your phone to go off a few minutes before that time comes so you can run over to her Instagram page and wait anxiously for her to post a few items.
There's no bidding, it's just the first person who claims it gets it, so it pays to sit there and keep refreshing your screen until the item you've been dreaming about all day pops up for sale!
I don't think Gina invented selling on IG, other sellers do it that way too. But Gina is the only one I've bought from so far.
And this is where my photography skills go down the drain. I couldn't decide how to photograph these items so they looked more attractive, short of baking a pie for you. But the whole diet thing rears its ugly head again.
I bought a BIG hammered aluminum serving tray, a Fire-King jadeite colored pie pan and two vintage melmac coffee mugs.
I do not drink coffee.
I do not need anymore non-used coffee mugs.
But they reminded me of summers spent camping, so for a few dollars I get some happy memories percolating in my head.
I couldn't decide if the jadeite colored pie pan is really considered jadeite or not?
Does anyone know if they are really collectible or if they are newer reproductions? I have seen them at antique malls before and they are not anywhere near the price of the other jadeite pieces.
What have you found while out thrifting this summer?
Other Posts You May Enjoy:
Alternative Uses For Vintage Planters
How To Make A Succulent Planter Out Of A Typewriter