Today is Christmas Porches Tour day!!!
It's the day I get to team up with some amazing bloggers to show you what we've been up to on our porches for the holiday season!
I am so EXCITED! And if I'm being honest, a little bit scared!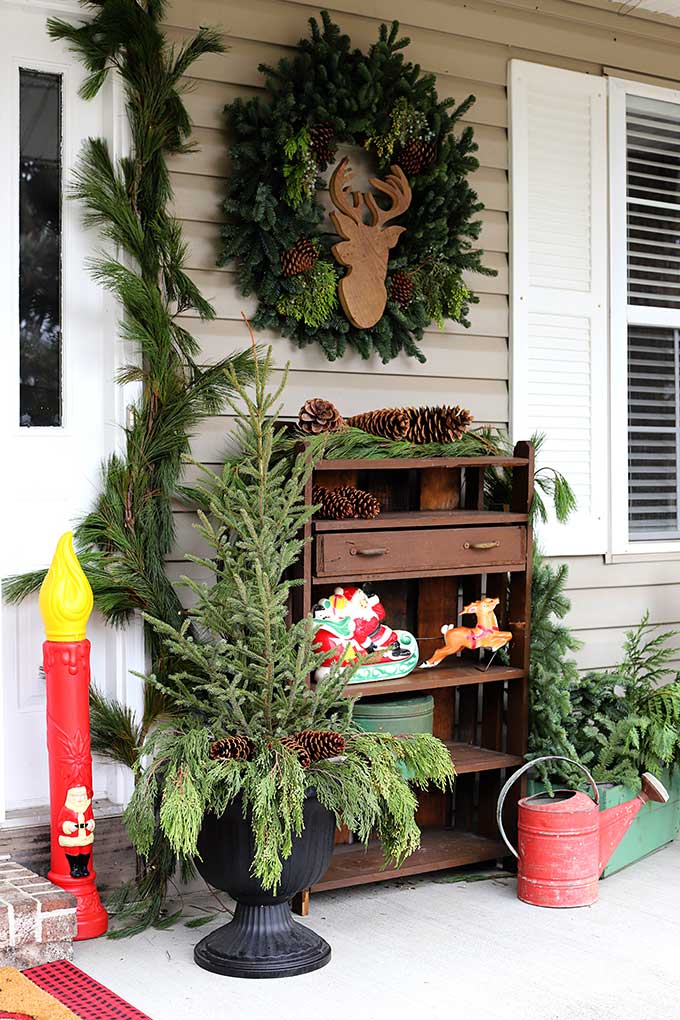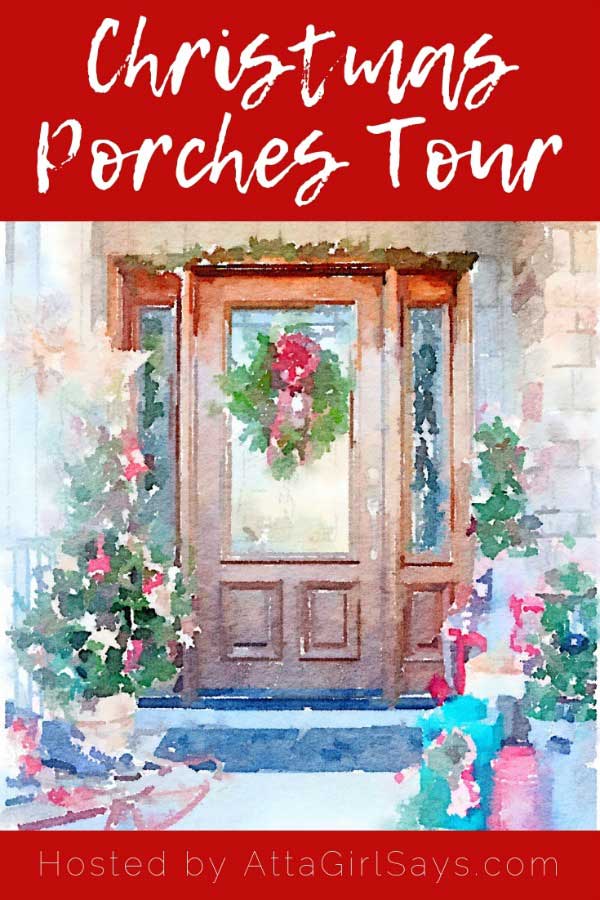 This is the only official tour I do for the holiday season and I always want to put my best foot forward. But my best foot might just involve a few blowmolds and I know kitschy vintage pieces aren't everyone's thing. Gasp.
And then I got to thinking (I do that sometimes), that I want to show you how you can use some retro pieces mixed in with your rustic or traditional decor and have something sort of special.
And not in the "Bless her heart" sort of way, but in the "Good golly, she's convinced me to dig grandma's blowmolds out of the basement" sort of way!
At the end of the post you will see links to the other bloggers' porches.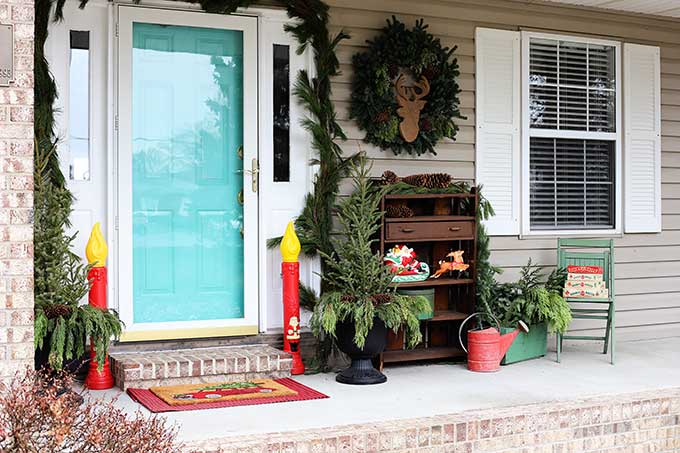 5 Tips For Adding A Little Retro To Your Christmas Decor:
Use your more rustic or traditional decor as the base and then add in a couple fun and funky retro pieces as the accents.
It will probably be easiest to set up the entire porch with the rustic decor first and then add in the retro goodies second. That way your mind isn't going back and forth when trying to see what looks good together. One design era at a time, people.
Flea markets, thrift stores, estate sales, antique malls, Etsy and Facebook Marketplace are all excellent places to find retro Christmas decor.
Add a little bit of whimsy! Retro Christmas decor was fun, bright and a little bit funky and a lot of the time it was plastic. Don't shy away from plastic!
Just go for it! It's easy to second guess yourself when all you see right now on the internet is gray walls and shiplap, but if you want to dive into a little retro Christmas decor, dive in the deep end and don't worry about your beehive hairdo getting wet.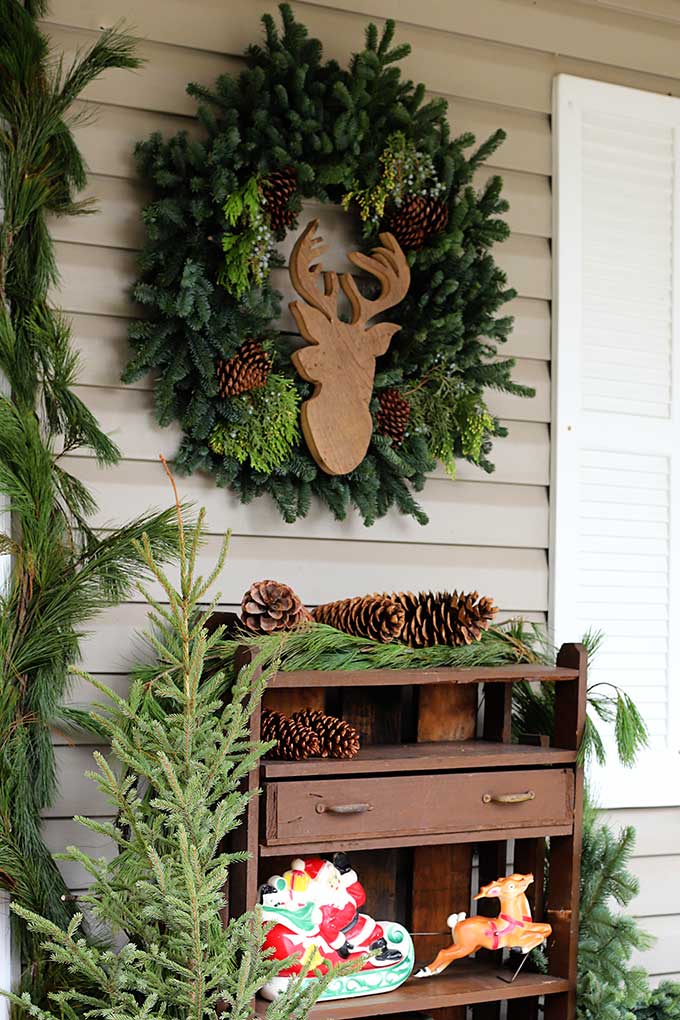 The Retro Front Porch Christmas Goodies
This small blowmold Santa sleigh and reindeer is a fun vintage piece. He's very nostalgic looking.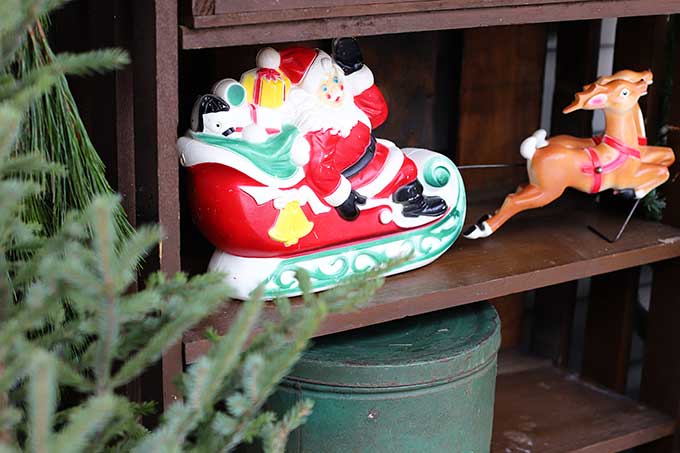 As are the vintage blowmold candles.
I wasn't 100% sure I was going to put the candles on the porch or not.
I bought them a few years ago and I generally keep them on the back porch at Christmastime, but I thought they would UP the kitschy Christmas factor out front this year.
So I promoted them to the front porch and am so glad I did!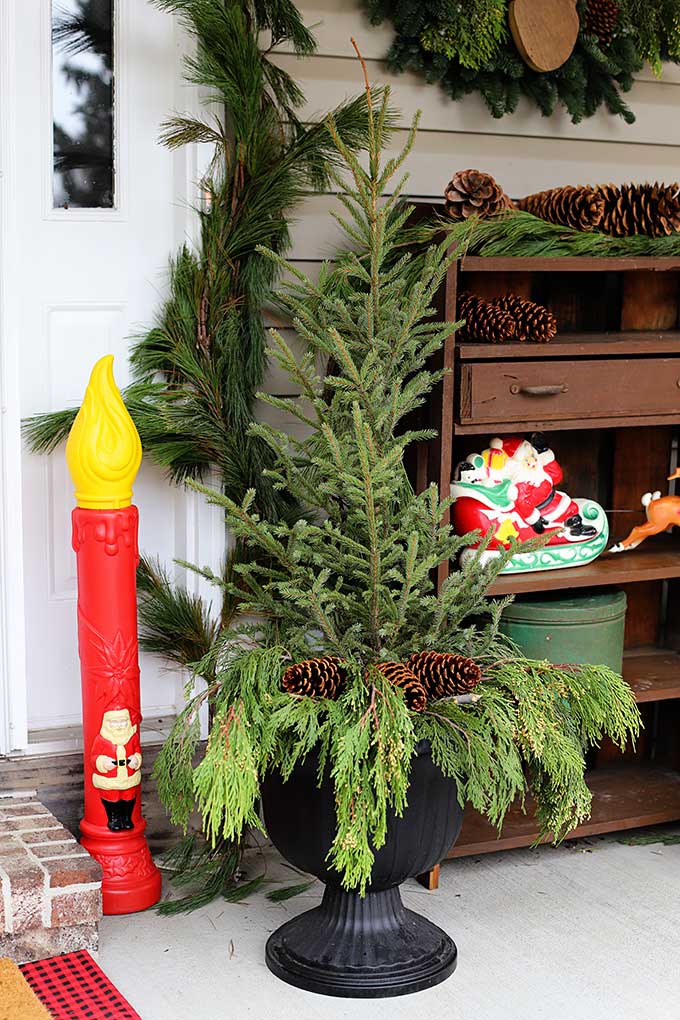 By the way, a tutorial for the porch urns can be found here - Easy Holiday Front Porch Planters (and as the name implies, they really are that EASY to make).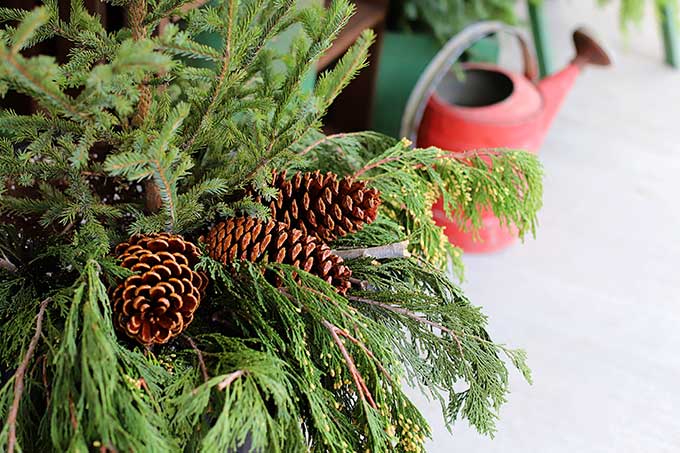 You can't go wrong with a stack of Shiny Brite boxes. Ever.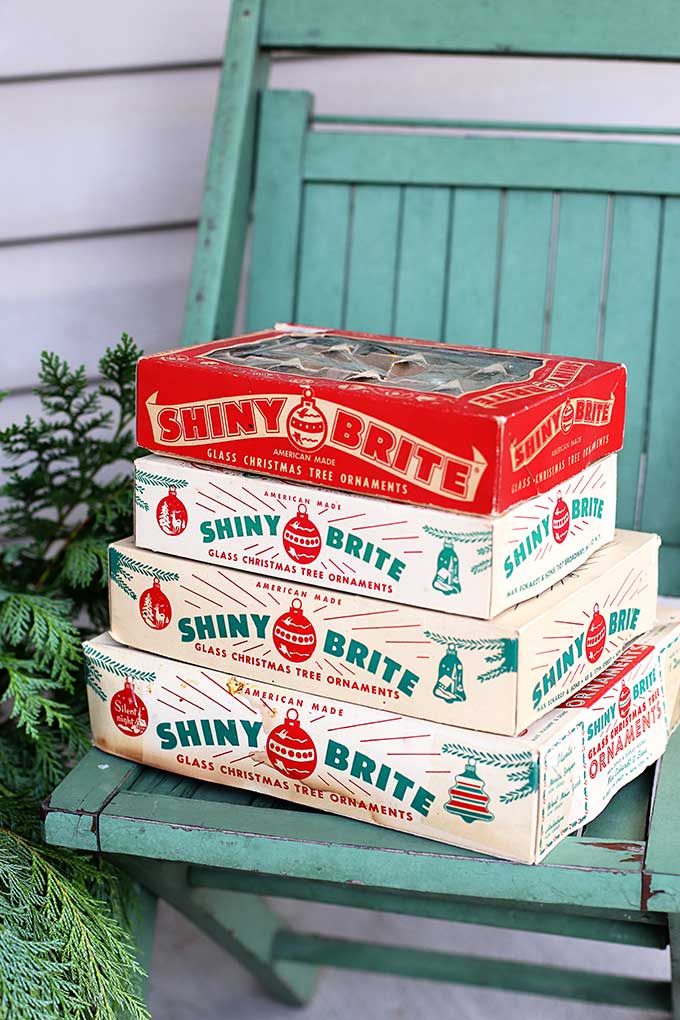 I joked on Instagram that these only lasted on the porch long enough for me to take photos, because, although everything else is on the porch is there for real, these were here just as "props".
Not going to leave my babies out in the cold, wind and rain!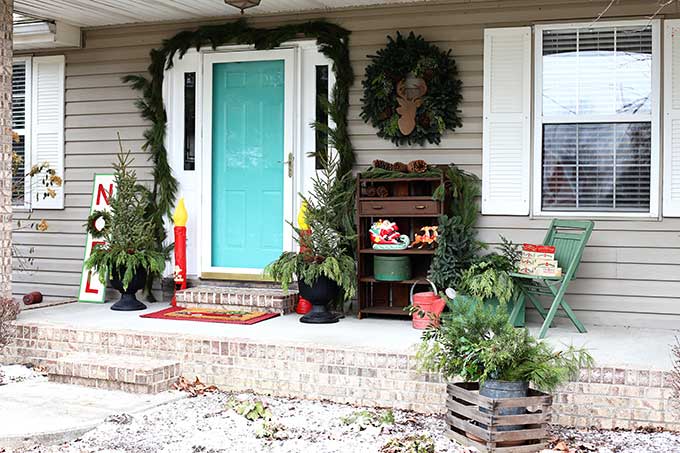 On the other side of the porch I put the second candle along with a sign I made a few years ago.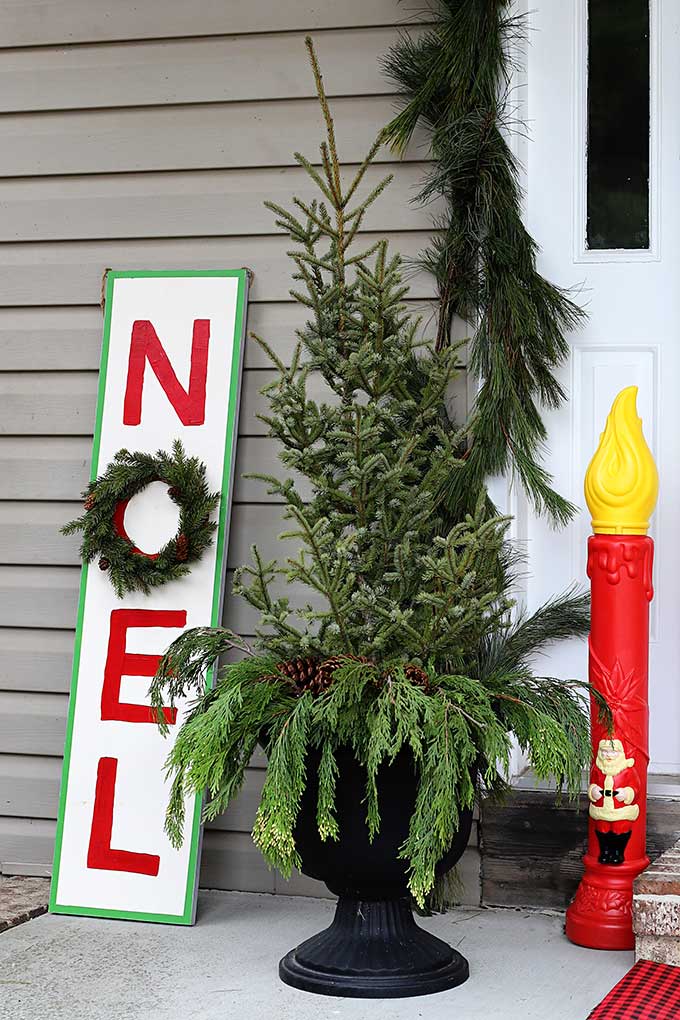 I didn't bother to make a tutorial for the porch sign, because it's basically a piece of wood I bought at Home Depot painted with the word NOEL and a wreath hung around the O. Simpler than simple.
The Rustic Front Porch Christmas Decor
I hung fresh greens around the doorway.
It's takes about 20 feet of pine garland to go from one end of the doorway up around and over to the other end of the doorway.
Since the local garden center had 25 foot rolls of garland at a good price, I used the extra 5 feet to drape over the top of my brown wooden cabinet thingie. I first showed this shelf on my fall porch - Simple Fall Porch Decorating On The Cheap.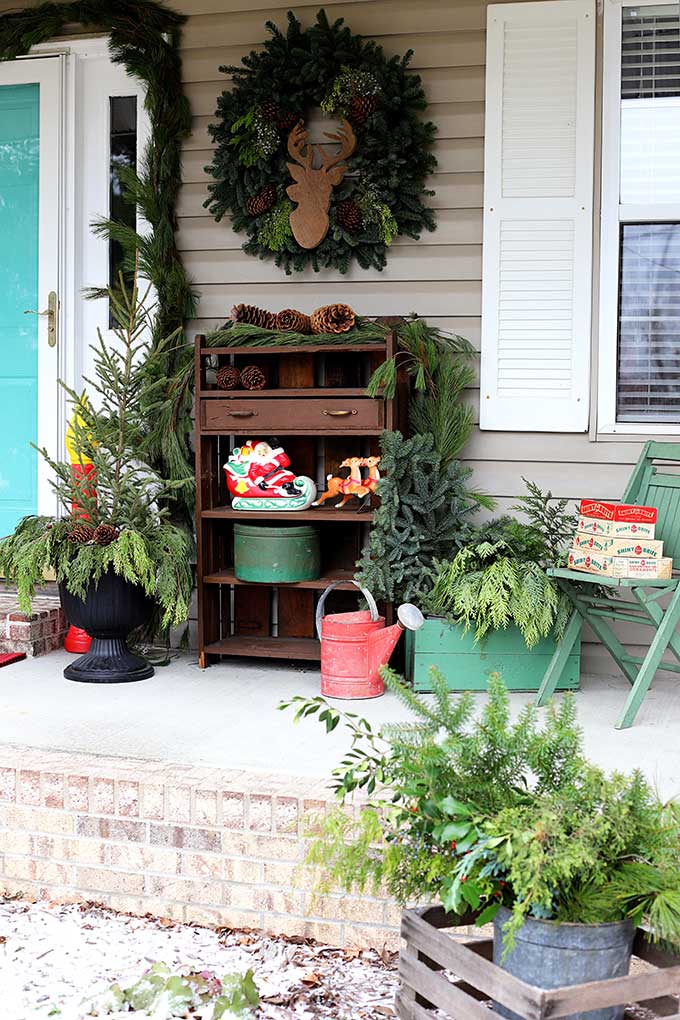 The HUGE pinecones on top of the cabinet are sugar pinecones. Sort of hard to see in the photos, but they are pretty impressive as far as pinecones go!
I found the deer head silhouette at a local craft sale a few months ago (I link to a similar one in my "Where To Buy Christmas Porch Decor Online" section below) and wired it to a behemoth live winter wreath. It's 36" wide across and fits perfectly in this space between my door and window.
And then I placed some bundles of live winter greenery (mostly cedar, spruce and holly) in a galvanized tub in front of the porch and in the green wooden box beside the cabinet.
I think I may have put the garden center owner's kid through college with all my greenery. Seeing as how we have at least 7 huge pine trees in our yard, I probably could have gone the natural scavenge-for-yourself route, but I love the variety of greenery at the local mom and pop garden center.
(This post contains some affiliate links for your convenience. You can read my full disclosure policy here.)
Where To Buy Christmas Porch Decor Online:
22" Fresh Christmas Wreath (great size for typical front doors)
36" Fresh Christmas Wreath (same size as I used beside my door)
Blowmold Christmas Candles (mine are actual vintage ones, but these are a similar look)
And don't forget I also have an Amazon shop where I list a whole bunch of Christmas goodies!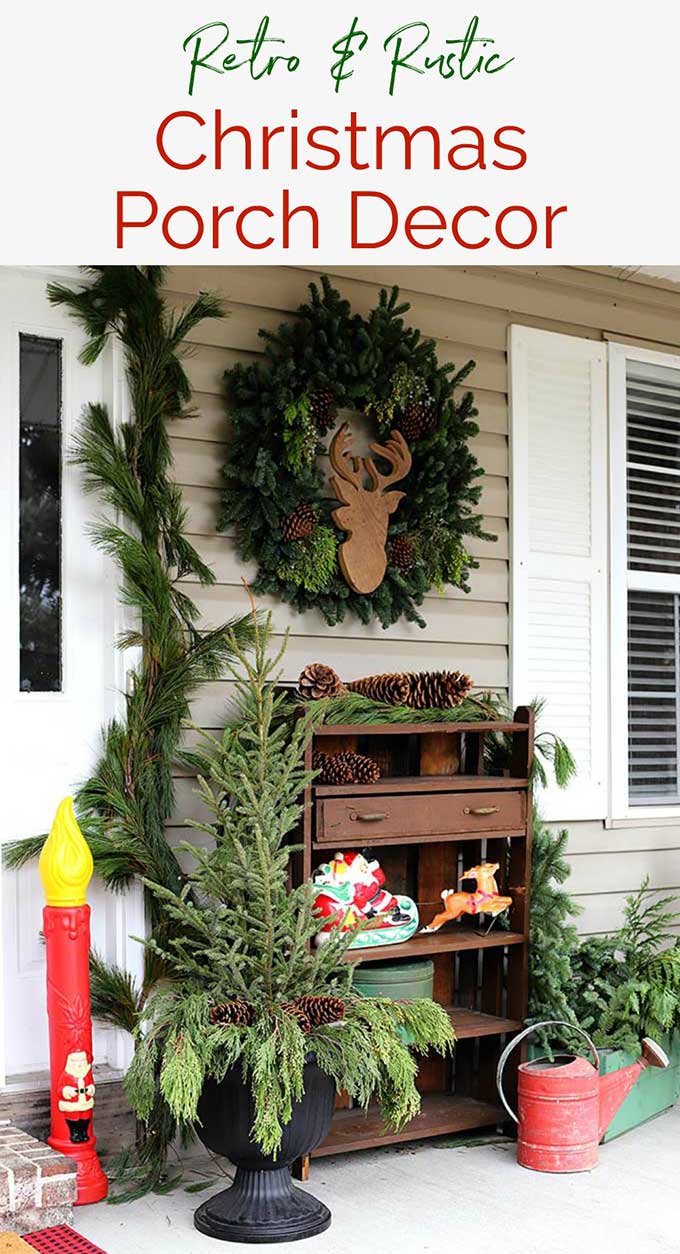 Other Post You May Enjoy:
Front Porch Christmas Decorations (circa 2017)
Christmas Porch Decorations (circa 2016)
Where To Buy Reproduction Vintage Christmas Decorations
Now scoot on over and see what everyone else has done to their porches this year!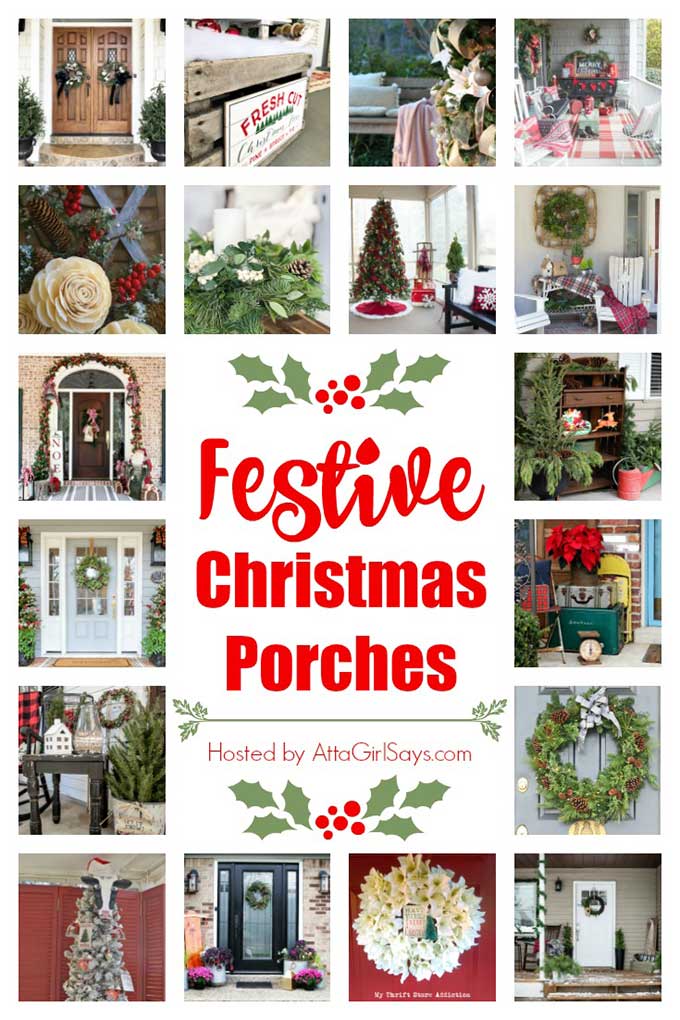 Christmas Porch Tour
Follow the links below for the full Christmas porch tour lineup, featuring 18 home decor bloggers. Be sure to visit everyone for lots of ideas to add festive touches to your porch and other outdoor spaces.
Monday, Day 1
My Thrift Store Addiction // Postcards from the Ridge // Cottage at the Crossroads
Petticoat Junktion // House of Hawthornes // DIY Beautify
Tuesday, Day 2
Sweet Pea // Duke Manor Farm // StoneGable
Sand Dollar Lane // Atta Girl Says // Our Southern Home
Wednesday, Day 3

North Country Nest // My Creative Days // Worthing Court
2 Bees in a Pod // Major Hoff Takes a Wife // Craftivity Designs