Crafting with vintage handkerchiefs is a great way to use those family heirlooms you have inherited. And much better than squirreling them away in an old shoebox where you'll never see them. If you don't feel comfortable using your grandmother's handkerchiefs for crafting you can always pick some up at your local thrift store.
My grandmother must have been one snotty person.
She passed away when I was fairly young, but one of my biggest memories of her is that she always had a hankie or two stuck in her blouse. At first sniff, she'd whip one out to wipe her nose or my nose and then stuff it back where it came from. All moist and gooey.
Since I've inherited quite a few of her vintage hankies, I'm always scouring the internet looking for ways to repurpose them.
These are some of my favorite crafts you can make out of your very own vintage hankie stash.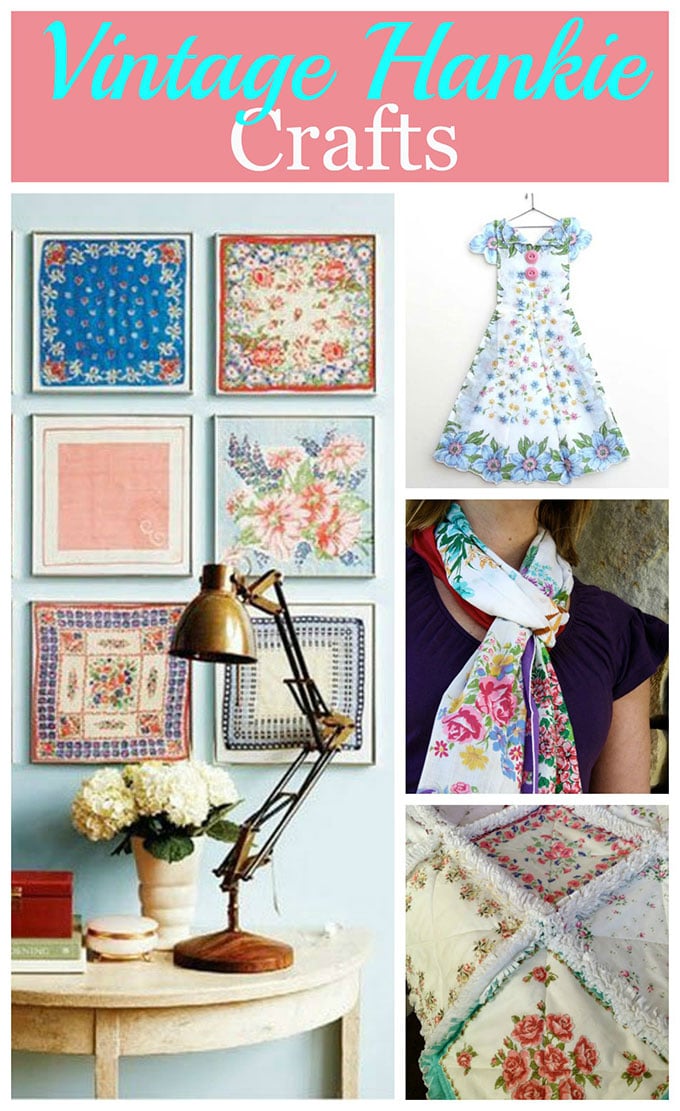 Where To Buy Vintage Handkerchiefs
If you don't have a zillion and one vintage hankies in your stash, you can always find them for sale on etsy or ebay. Do a search under "vintage handkerchief lot" or "vintage hankies lot" (LOT is the important word) and you should be able to find them in large enough quantities for your crafting projects.
Thrift stores, estate sales and flea markets are also really good places to find old hankies.
I rarely pay more than $1 or $2 for a hanky.
How To Clean Vintage Handkerchiefs
Since someone may have actually "used" these hankies before, it is a good idea to wash them up prior to crafting with them. Plus sometimes, just from having been folded, they get discolored marks on the fold lines.
I prefer to hand wash my hankies in a PH neutral soap like Ivory (the bar soap, not the liquid dish soap) and see how they look afterward. Just fill a basin with cool water, submerge the bar of soap in the water and swish it around to get a little soap bubble action going and gently soak the hankies for a few minutes (5-10 minutes maximum).
Follow up by rinsing your hankies in cool water to get all the soap residue off the fabric.
Dry them by blotting them between two white bath towels, being careful to not twist the hankies. Never wring them out. Ever.
Lay them flat to finish drying. DO NOT hang on the clothesline as the weight of the wet fabric may tear any delicate areas of the linen.
After cleaning, you may want to iron your handkerchiefs. Just be very careful.
Lightly spritz them with water before ironing rather than using starch and iron on a lower setting. If you have a pressing cloth, use that. And if the hankies are embroidered, iron them on a padded ironing board (or a couple towels) and iron from the backside so as to not crush the needlework flat.
This is normally where I end my cleaning process, if a handkerchief looks good at this point I use it in my craft. If not, I simply do not use it and find another one I like to replace it. But occasionally you will find a hanky that you really, really adore that has more issues that make it worth more steps to clean.
How To Remove Stubborn Stains And Smells From Linens
So if there's still any yellowing, stains or odors, I move on to using a product called Retro Clean for a 2nd try at cleaning. This product can normally get the majority of the problems out of the fabric without fading the original colors.
Although I have never tried it myself, you can also use the old lemon/salt/sun trick if there are any left over stains. Gently rub a mixture of fresh lemon juice and salt onto a stain and set the fabric out in the sun to dry. Rinse the handkerchief thoroughly and the stain may have just magically disappeared.
Now that your handkerchiefs are all nice, clean and pressed, you are ready to start crafting with them.
Crafts Ideas Using Vintage Hankies
Sarah at Sadie Seasongoods has made some adorable bracelets out of vintage hankies! You can wear a memento of your grandma around on your wrist!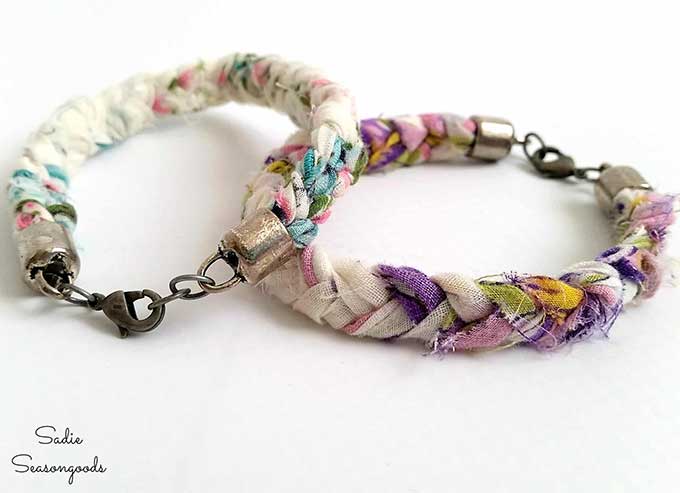 Bev at Flamingo Toes has an awesome tutorial on making Vintage Hankie Curtains .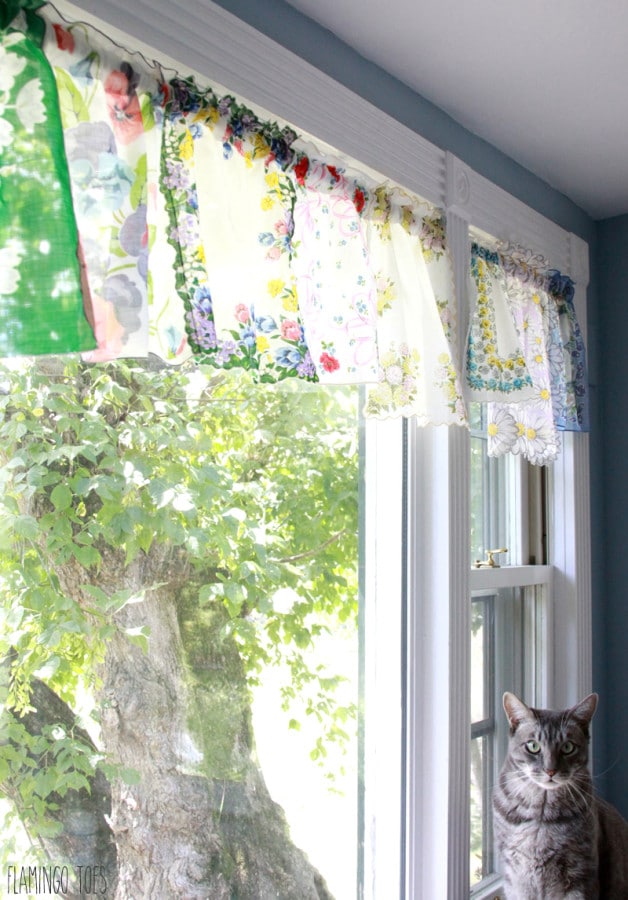 How To Make A Handkerchief Quilt from ZeedleBeez is an easy to follow tutorial for making a family heirloom. Sort of like wrapping yourself up in grandma's love.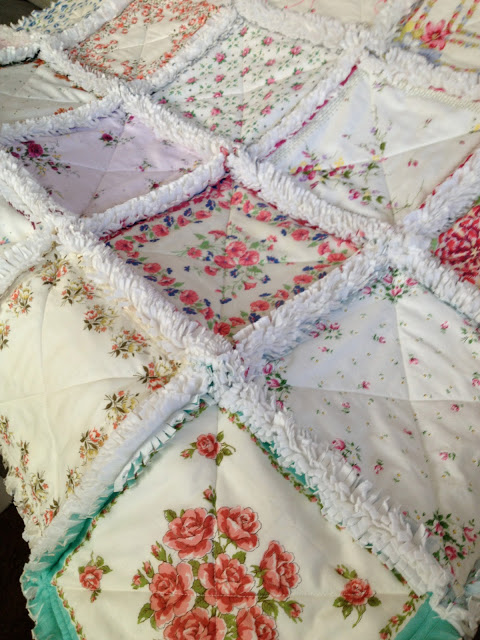 A Vintage Hankie Pillow Cover Tutorial from Anna at Noodlehead is a winner.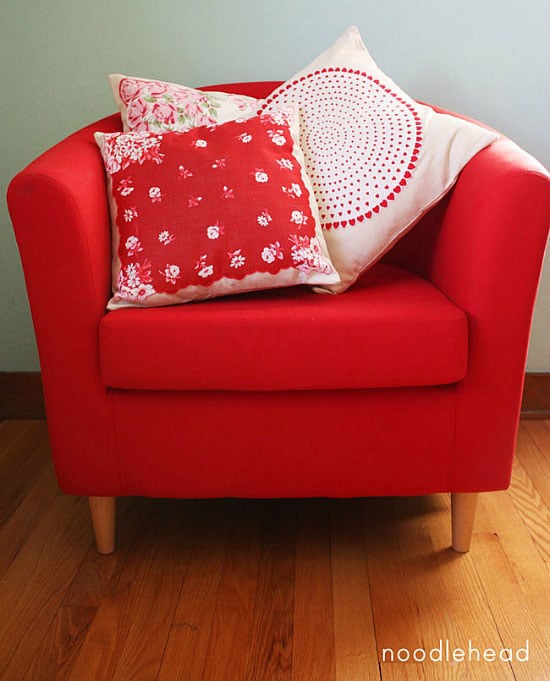 Polkadot Chair's Vintage Hankie Burp Cloths are totes adorbs (totally adorable to all of us people over the age of 25).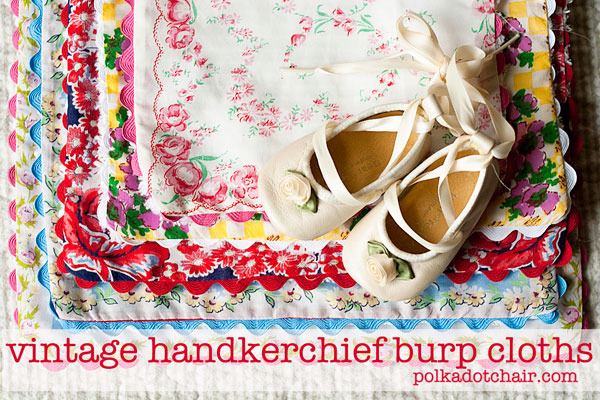 Cindy at Skip To My Lou's Handkerchief Scarf has my heart skipping a beat. Very creative and yet so simple.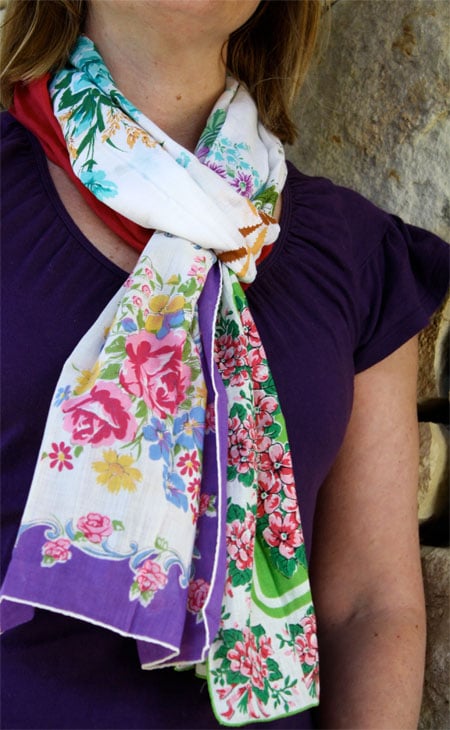 Beach Vintage's Tissue Holder!!! I mean, a tissue holder . . . made out of a hankie? The irony is not lost on me!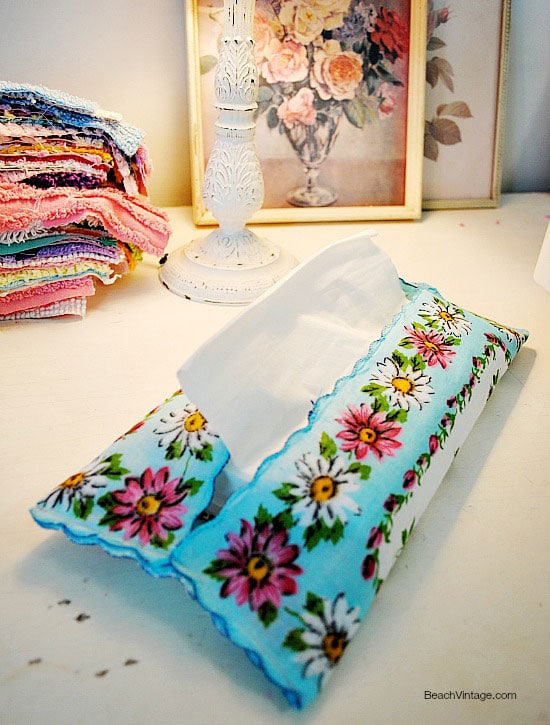 Apartment Therapy shows how framed antique handkerchiefs can become instant wall art. And who doesn't like a quick and easy weekend craft project.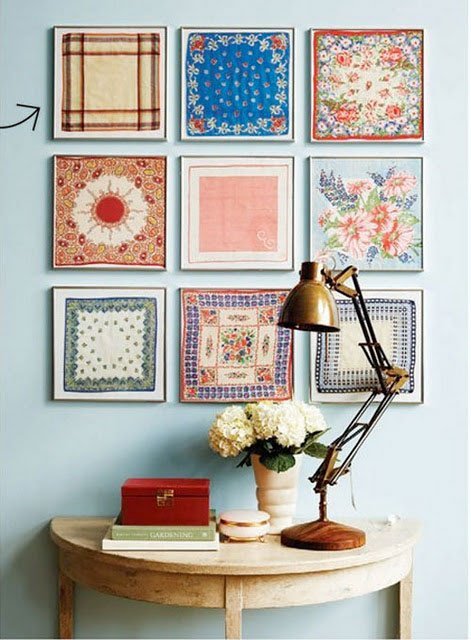 Bumblebee Linens has a tutorial for making a VERY SIMPLE Hankie Pincushion by repurposing vintage hankies.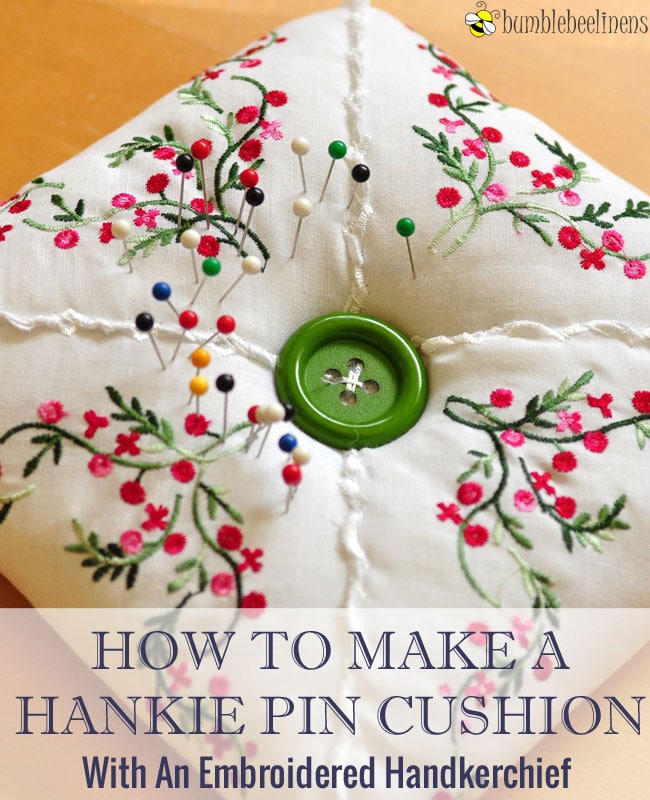 If you don't want to make your own hanky craft, you can always buy a hanky dress from The Hanky Dress Lady on etsy or check out her blog.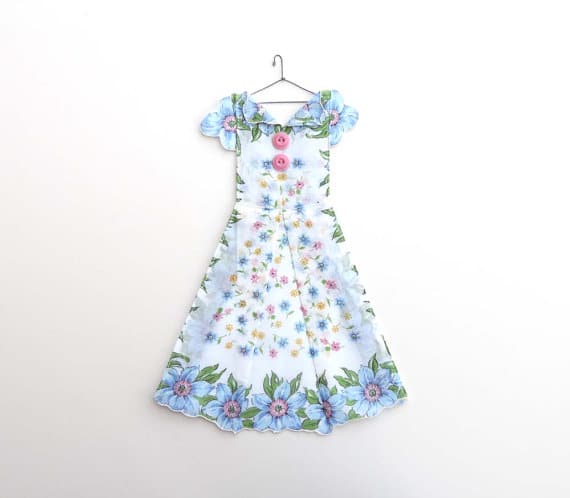 (Oops. I just recently noticed she hasn't updated her blog or etsy shop in quite a bit).
A slightly different variation on this dress can be found at Quill Cottage - How To Make A Vintage Hankie Dress. Or there is a video on YouTube by Brenda's Quilt Room on Handkerchief Dresses (she is ultimately making a quilt out of them, but she goes into quite a bit of detail on the steps to make the dresses).
Have you made any crafts with vintage hankies lately?
More posts you may enjoy:
DIY Reusable Bowl Covers (with cute vintage style fabric)
Easy DIY Candles From Granny's Candy Dish
100 Best Trash To Treasure Projects (Thrift Store Upcycles)