Tons of outdoor fall decorating ideas and inspiration to cozy up your porch, patio or deck for the autumn season.
I sort of have a love affair with all things fall.
And my front porch.
Put them together and you have my infatuation with fall decorations for outside the house.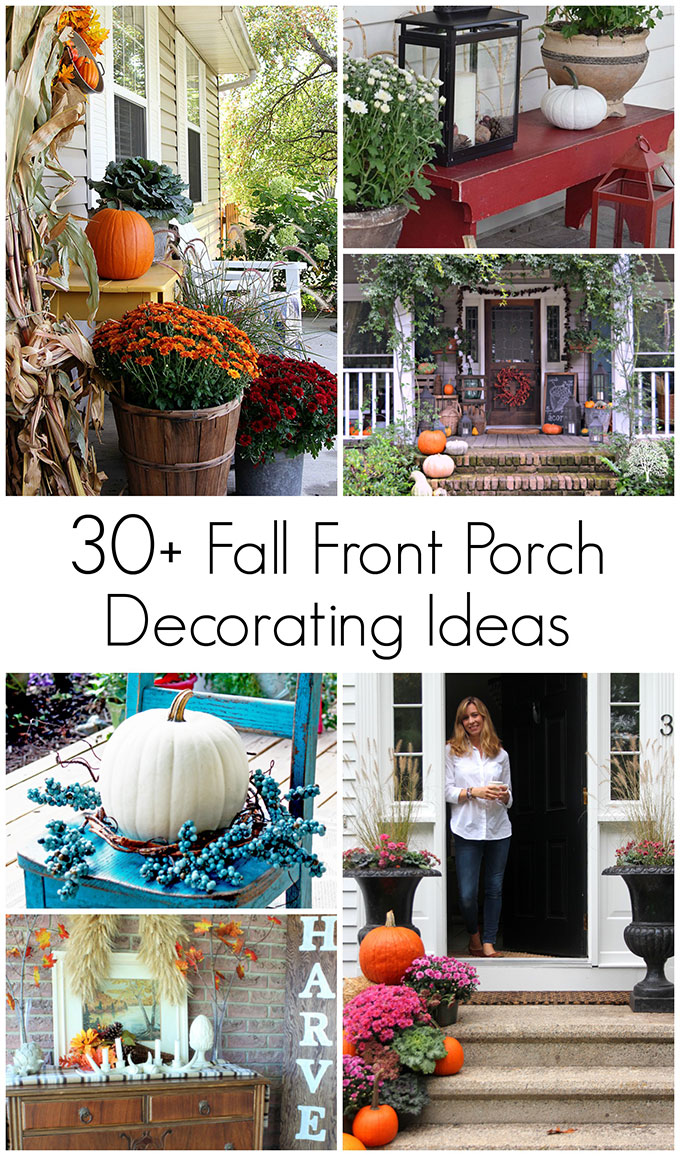 So while you're taking one last dip in the pool this weekend, scarfing down one last s'mores or enjoying one last sip of margarita before pumpkin spice season kicks in, come with me on a tour of some pretty fantastic fall porch decor.
There's enough traditional oranges, neutral creams and even a few jolts of bold color to please everyone, so let's get your fall inspiration flowing.
Fall Porch Decor
I'm going to start with a few of MY fall porches, like my Fall Porch Decor Farmhouse Style (circa 2015),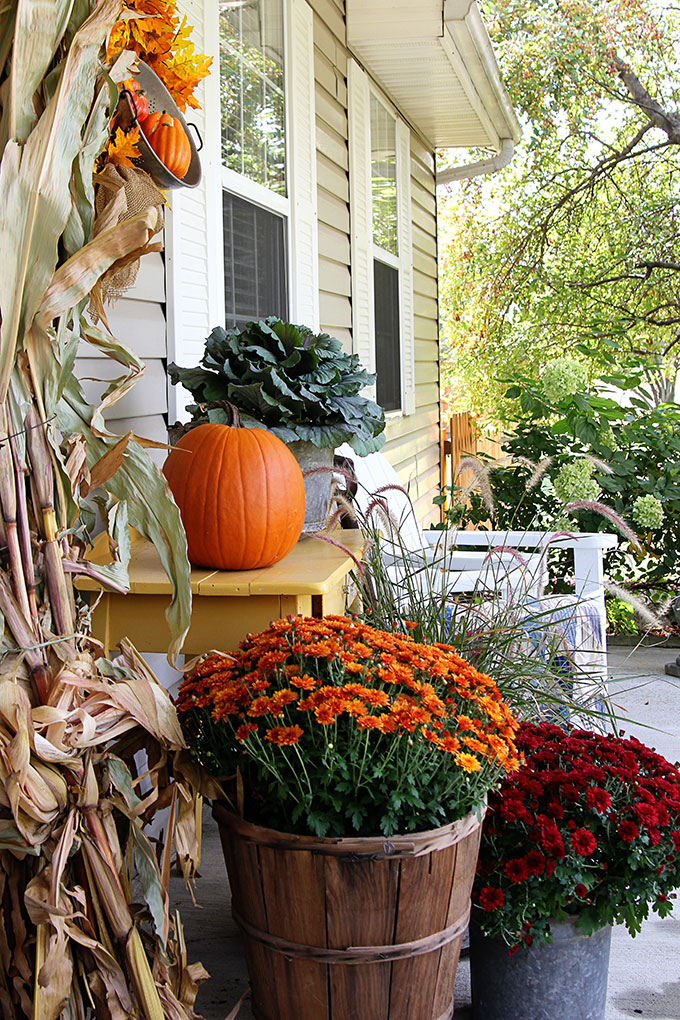 last year's porch Front Porch Fall Decor: Farmhouse Porch Decor With COLOR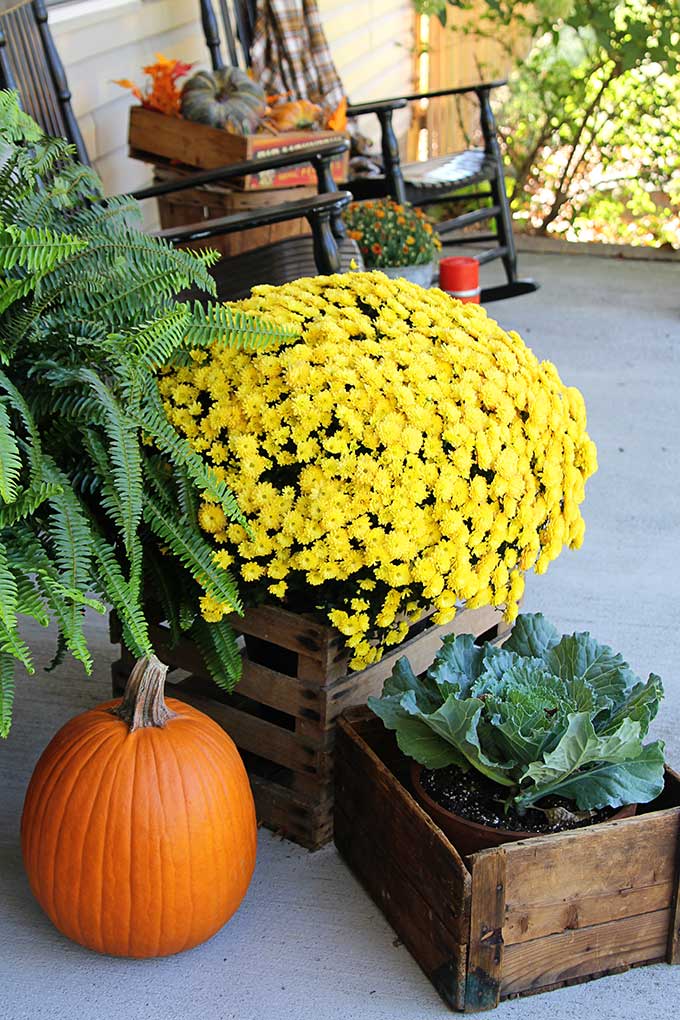 and from way back in 2013, my Fall On The Porch with the oh so trendy for 2013 burlap chevron pillows (which I still love, btw).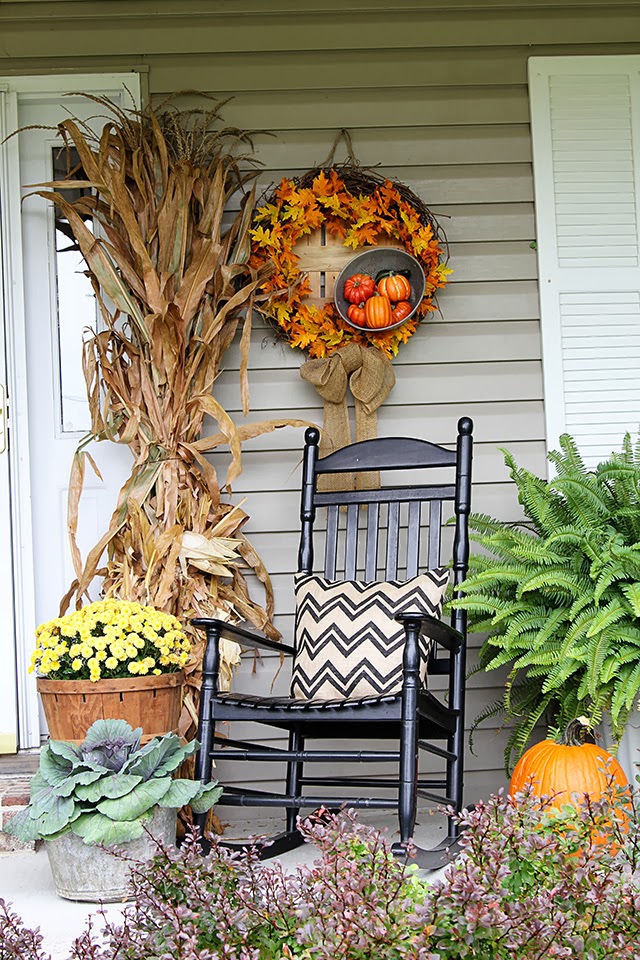 And on to other people's porches (not that I am ON their porch, just . . . well, you know what I mean).
Where The Smiles Have Been's gorgeous traditional fall porch decor goes so well with her traditional brick home!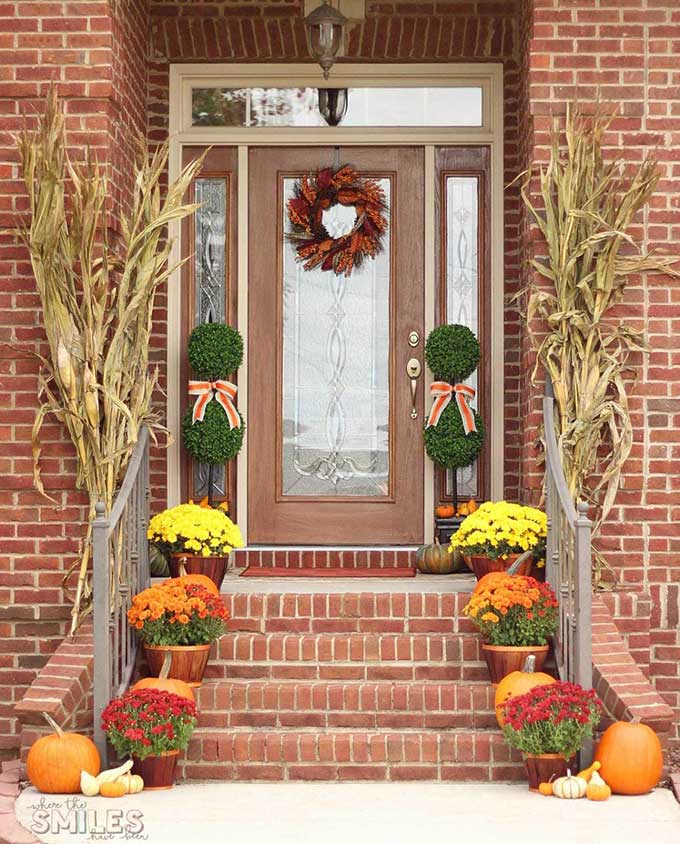 This dresser on A Purdy Little House's front porch kills me! I love how she can decorate it for the seasons and that huge Harvest sign she handmade is pretty neat too!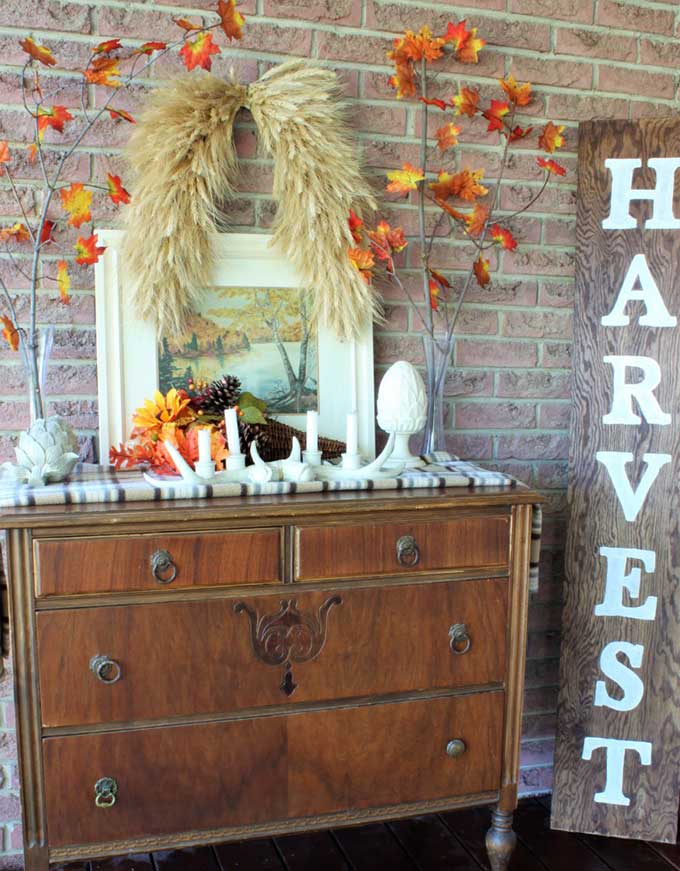 Simple Nature Decor's Simple Fall Outdoor Porch Ideas has a calming neutral pallet.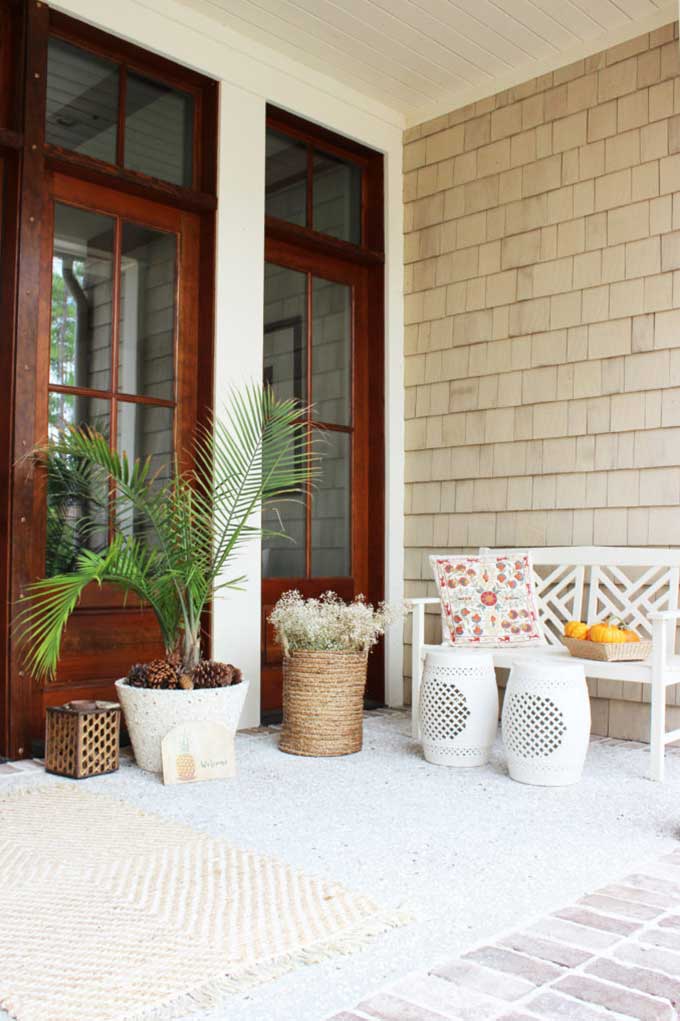 Daune's fall outdoor decorations at Cottage In The Oaks never disappoints. This is one of my favorite Autumn porches she's done.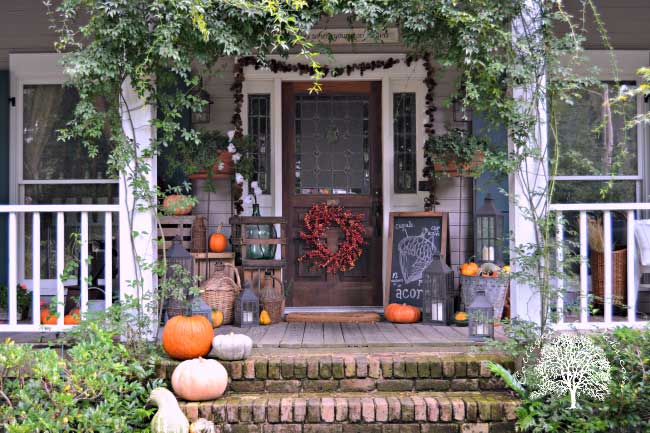 You can see her other autumn porch ideas here:
Lisa from Shine Your Light shows her Classic New England Fall Front Porch decor. And she's even standing in the doorway welcoming us in!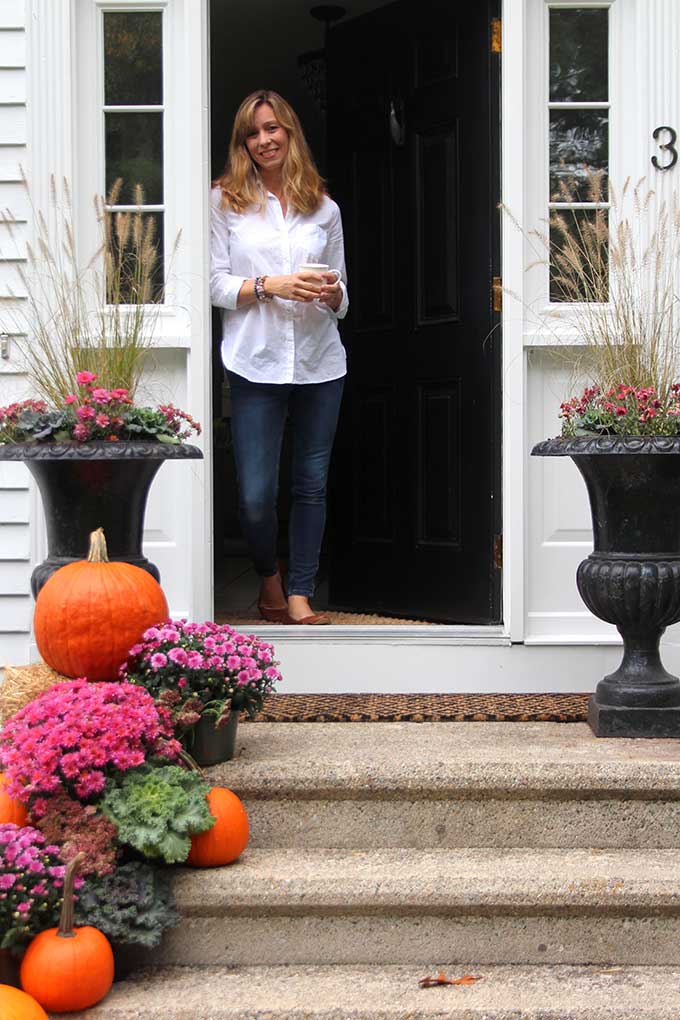 And a total change of pace from all the oranges, rusts and neutrals, this Coastal Fall Porch from Sand Dollar Lane had me at aqua!!!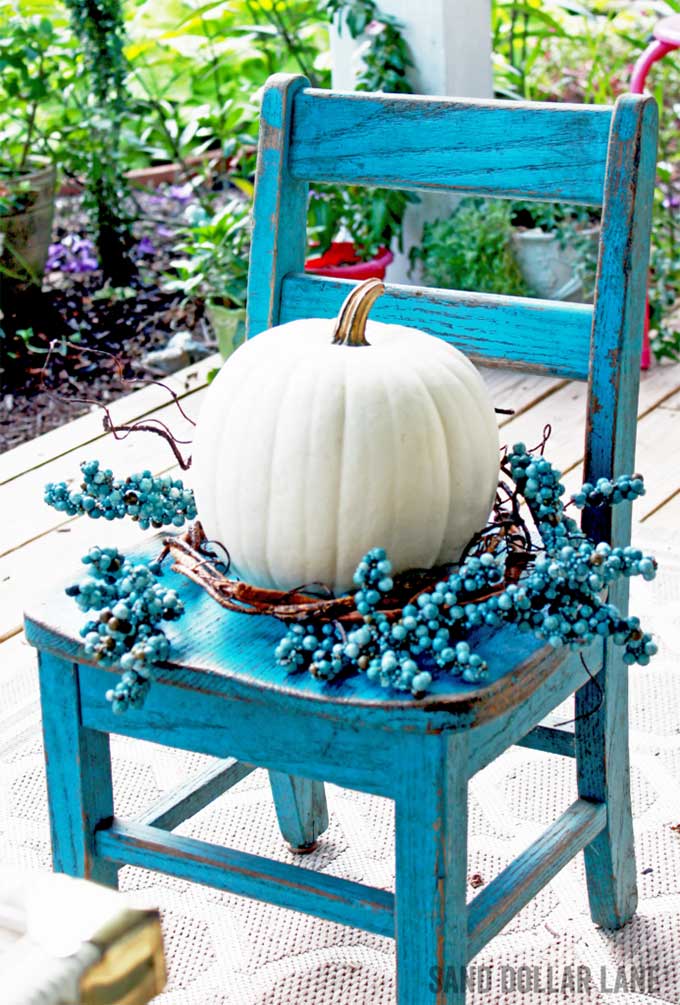 Lots of great vintage and farmhouse porch ideas can be found on this Cozy Farmhouse Style Fall Porch from Making It In The Mountains. She has a wonderful chalkboard on the other end of the porch made from an old door!!!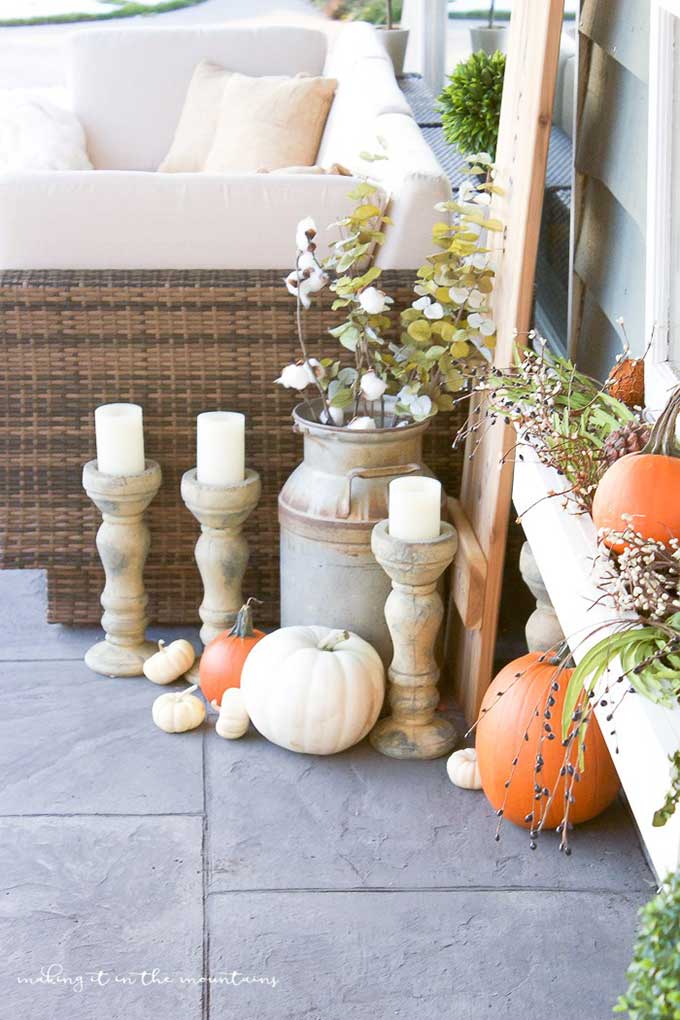 Leo and Jane's Festive Fall Porch from Cottage At The Crossroads with her topsy turvy pumpkins and aqua wheelbarrow is always a fun one. How can you not smile at THAT!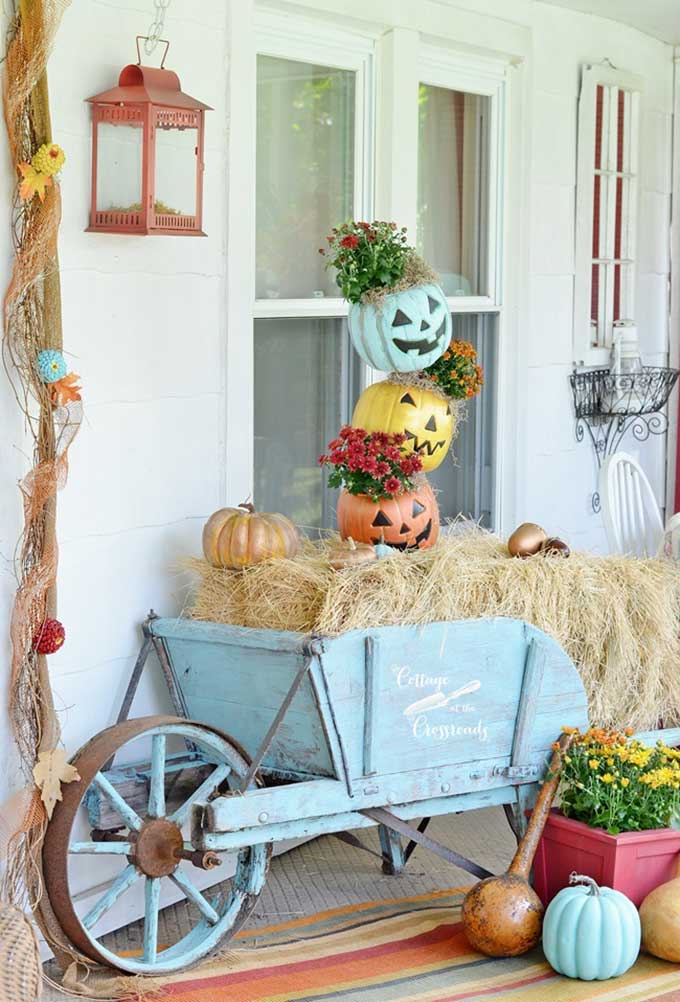 Their Aqua Autumn Porch is equally as fun.
Farmhouse On Boone's Fall Farmhouse Front Porch is a study in neutral fall decor! All the creams and blacks she decorates with is very soothing to my senses and reminds me of my sister's home.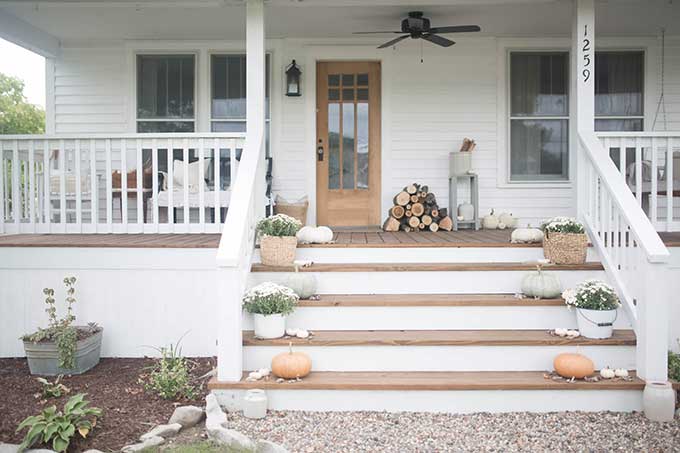 I love a little crimson red on the porch for fall (me being an OSU Buckeye and all), so this bench mixed with heirloom pumpkins and lanterns on Timeless Creations' front porch speaks to me.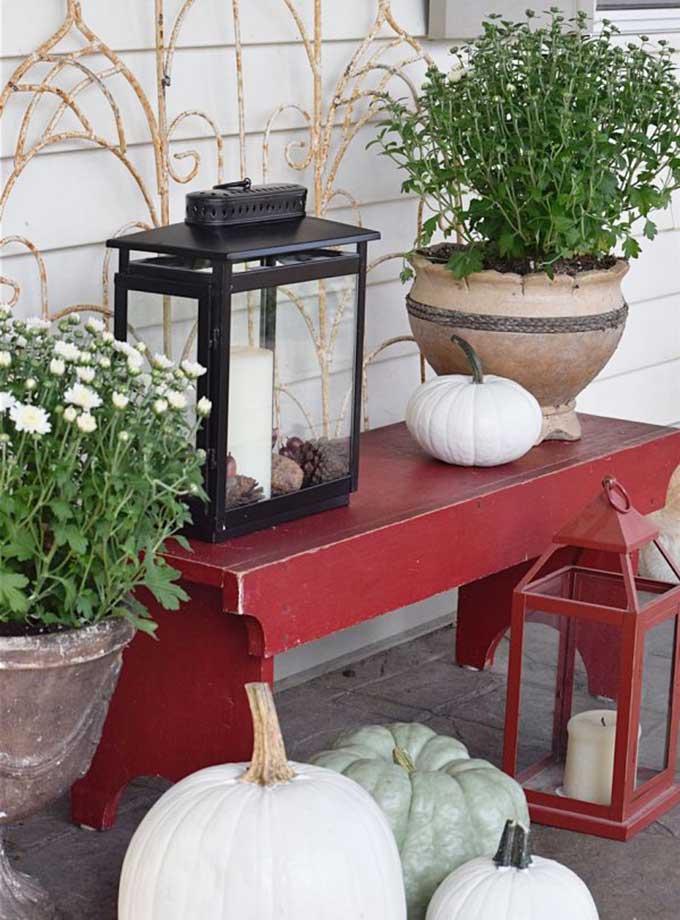 First of all, the garland over the door is amazing and add in all the wonderfully traditional fall decor on Confessions Of A Plate Addict's Fall Front Porch and you have one heck of festive fall porch!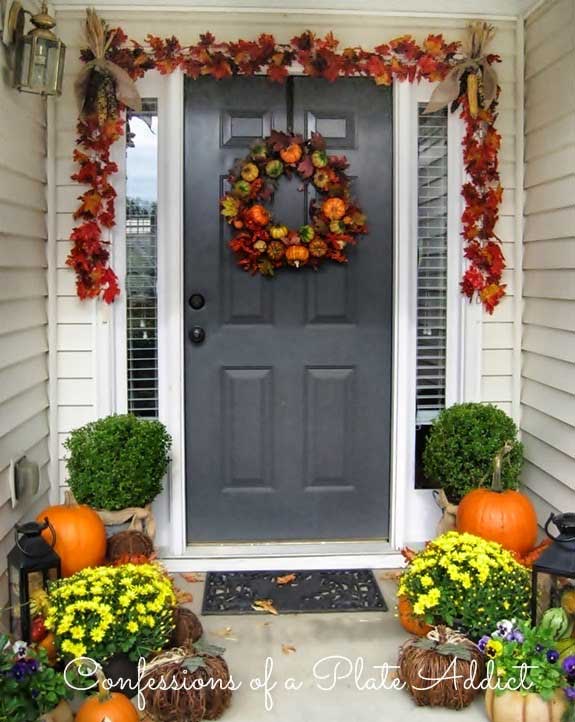 For me, the highlight of Patti from Hearth And Vine's fall front porch is the two GORGEOUS Limelight Hydrangea wreaths she made with her very own hands!!! She has a tutorial for how she made the hydrangea wreaths on her blog also.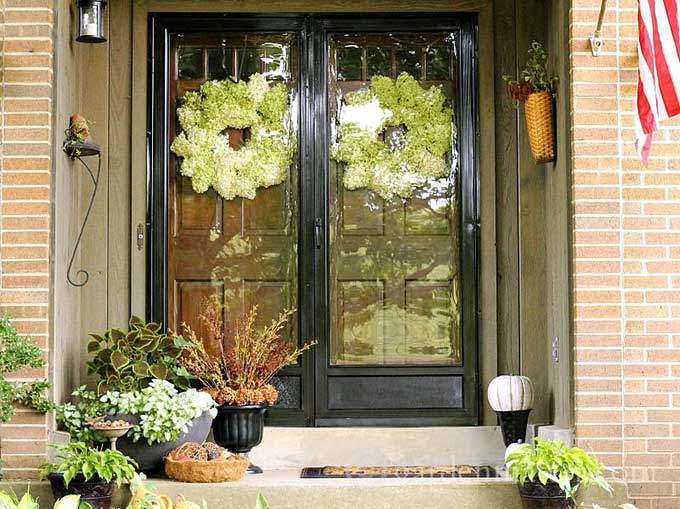 Laura from Inspiration For Moms does a wonderful job of decorating with lots of black and white in her Neutral Fall Home Tour . I don't think I've ever planted a white mum, but I will this year!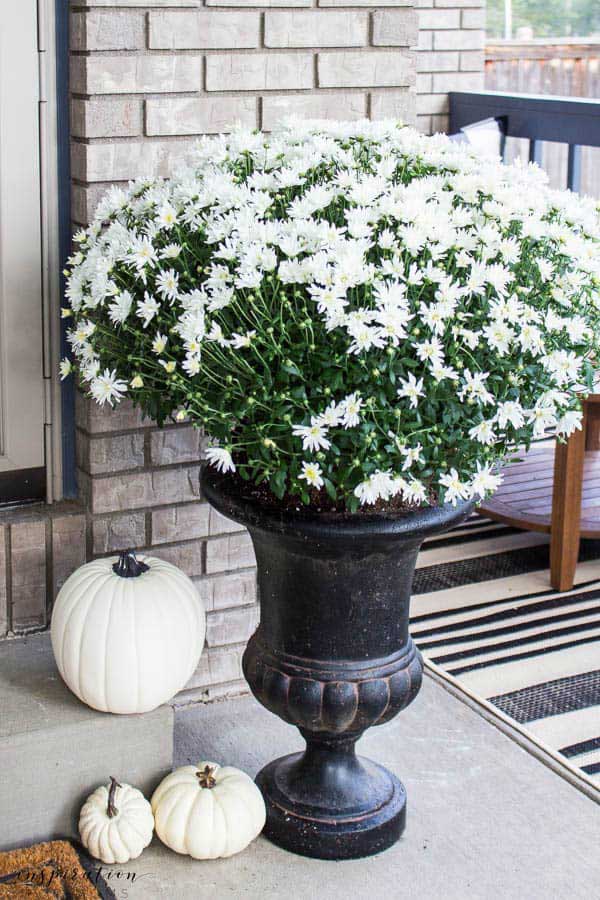 Since I didn't want to weigh down your computers with 14,592 photos, here are some other fall porch ideas and inspiration you can check out.
Unoriginal Mom's How To Create A Cozy Fall Front Porch
Green With Decor's Fall Patio Decorating Ideas
Chatfield Court's 5 Tips For Creating A Welcoming Front Porch
Ugly Duckling House's Welcoming Fall House Tour
Domestically Creative's Cozy Fall Front Porch
2 Bees In A Pod's Hello Fall Front Porch
And 2 Bees In A Pod's Fall Front Porch Gathering
Create And Babble's Fall Front Porch
Our Crafty Mom's Outdoor Fall Entry Decorating Ideas
Well, I think that gives you enough ideas for what you can do with your fall porch this year! Grab a Starbucks Pumpkin Spice something-or-other and get out there and get to work creating your own fall porch masterpiece!