Painting your front door will give you loads of instant curb appeal. Learn how to paint your front door the easy way.
In my last post, Front Door Colors That Pop, I showed you some door colors that I was lusting after. I ended up going with Glidden's Capri Teal, it's like turquoise and green had a love child and named it Wonderful.
But love child or not, repainting my front door was not without its obstacles.
First of all, the last time I painted it I did not take the time to prep it exceptionally well and it showed. I had a lot of bubbling and chipping going on and no one wants a bubbly, chippy front door to greet their guests.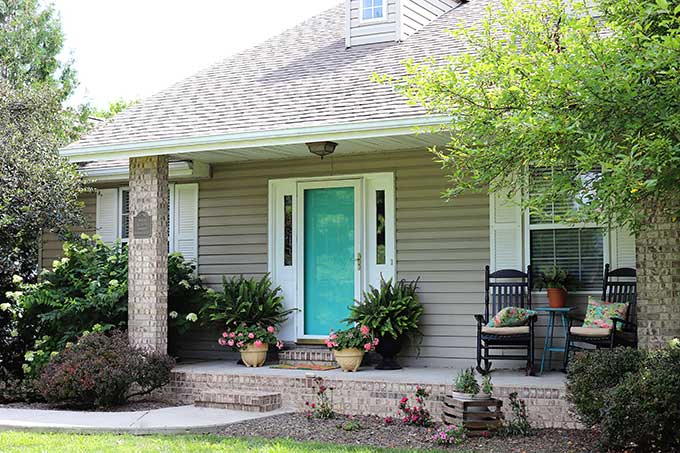 Secondly, this is a West facing door that gets a ton of afternoon sun and is sandwiched behind a glass storm door. It has been painted a very dark brown color and it was just too much for that door.
It's like when you're at a summer picnic and it's 95 degrees with the sun baking down on you and you decide it's a good time to wear a black sweater. Mohair at that.
Nope, not a good idea.
Here's the steps I took to paint it right this time!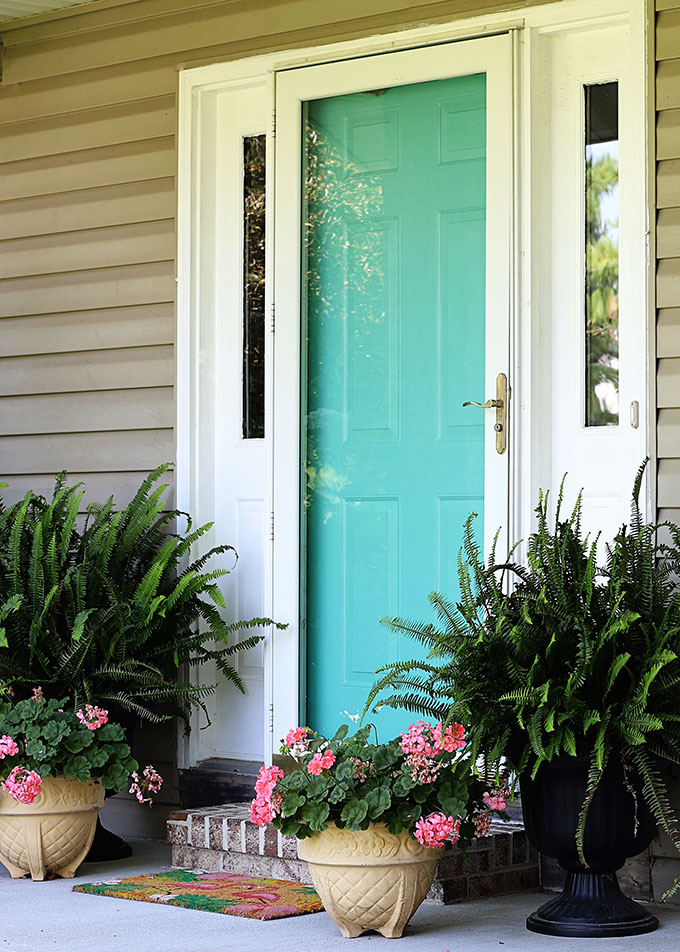 (This post contains some affiliate links for your convenience. You can read my full disclosure policy here.)
How To Paint A Front Door
Materials:
Sandpaper - fine grit
Damp rag
Paint brush
Low nap or foam roller and roller tray
Screwdriver (to remover door hardware)
Quart of paint
Quart of primer (somewhat optional, explained below)
Ready Strip Safer Paint And Varnish Remover (optional based on the condition of your door)
Hard plastic putty knife (only if using the paint stripper)
Instructions:
Take a good look at your door and decide if you can just paint it or if it needs to be stripped. If the current finish is smooth, in nice shape and you're just basically painting it to change the color, then there's not going to be a lot of prep work involved. Count your blessings and try not to gloat about it!
If the current paint is bubbly, chippy or there are a lot of dents and dings in the door you need to fix, then stripping is the way to go. You will get a much smoother and long lasting finish by going the extra step in this case.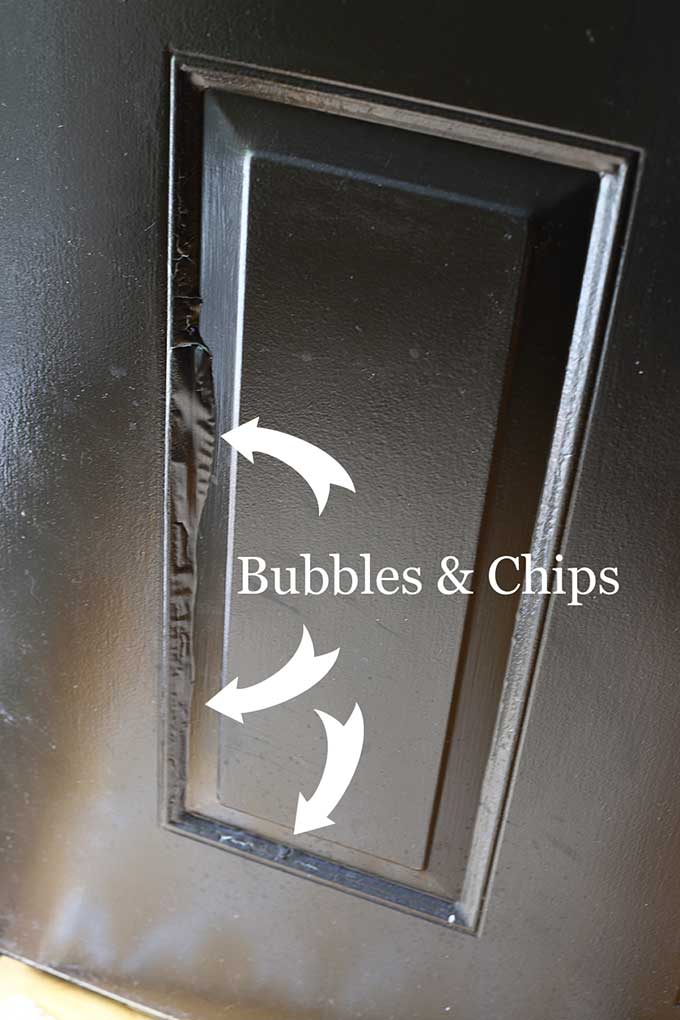 So if this applies to you, skip down to where it says How To Strip Your Metal Front Door and then come back up here to start on the painting portion.
Remove your door hardware. You could tape it off with painter's tape, but really to do it right, you want to remove your doorknobs and lockset.
If your door has windows, mask off the edges of the glass.
Clean your front door by washing it down with a wet rag. This will get rid of any dust, dirt or bugs that are stuck to your door. The paint will adhere better and you will have a smoother finish.
Sand out any imperfections and then do a quick once over of your door with a fine-grit sandpaper to give your surface a bit of a tooth. Make sure to wipe over the door again with your rag to catch any dust particles. For this "tooth" step remember you are just gently running sandpaper over the door, not sanding it for real.
If you are painting over a totally different color you should use a separate primer. If you are painting over a color in the same color family I would suggest a paint with primer already in it.
Apply the primer by covering the door completely. Allow to dry.

Paint your door. Use a paintbrush to paint the edges and corners of the door along with the edges around the recessed/raised panels.

And then paint the recessed/raised panels and the rest of the flat parts of the door with your roller.

No matter how hard you try, how well the paint is made or even if the paint has primer added to it, you're going to want to put two coats on. I have yet to meet a one coat paint that actually covered well enough that I was satisfied with one coat.

After the paint has dried thoroughly you can remove any painters tape, put your door hardware back on and be back in business.
Note: I actually did not shut my door completely for a few days just to give it time to cure before basking it in the sun, but then again you know your neighborhood better than I do. Safety first!
How to strip your metal front door
Since my front door was in such bad shape, I decided to strip it first.
The stripper I used was Ready Strip Safer Paint And Varnish Remover and is safe for indoor use, very low odor (honestly, I couldn't even detect an odor at all with it) and can be used on vertical surfaces (ie you can keep your door on its hinges). What I liked about Ready Strip is it turns from green to white when it's ready to be removed plus there is no special neutralizer needed between the paint removal step and the painting step. You just wipe the door down with plain water.
I just brushed on the stripper and let it sit overnight. Although it starts to work in 60 minutes and can be ready to be removed within 4 hours, it seemed like 12 hours was the magic time when stuff came off easier.
You just use your putty knife to gently scrape off the paint that does not just fall away from the door.
And if you space out and forget that you started to strip your door, then you will be happy to know you can still get the stripper off the door by spritzing it with water and it loosens up again.
Note: Be sure to put on a THICK enough layer of this product. It has a pudding like consistency and should entirely cover the surface.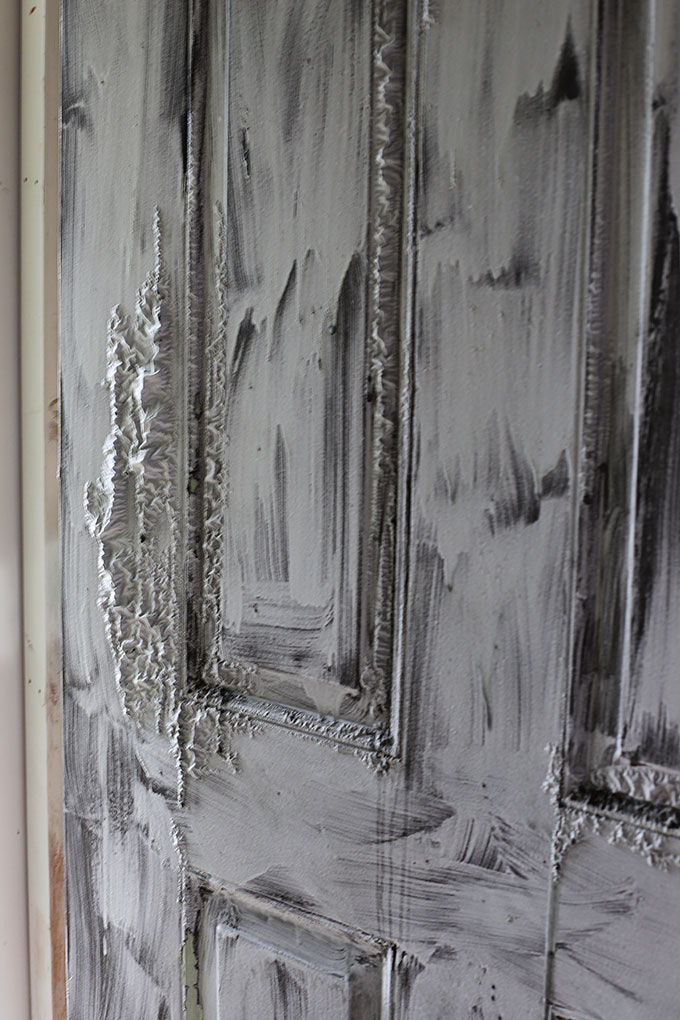 (the bubbly areas are where it was put on sufficiently and the paint came off super easily)
Why am I stressing this point? It ends up I did not put the stripper on heavy enough in all areas the first go around.
Where I did apply it sufficiently, it came off AMAZINGLY easily. I could literally grab an edge of paint and it just basically fell off the door in huge strips.
Where I put it on too light, I had to tug and pull on the remover to get it up. Not horrible, but it was slow going and got old fast.
I might have even had a minor meltdown on facebook about it!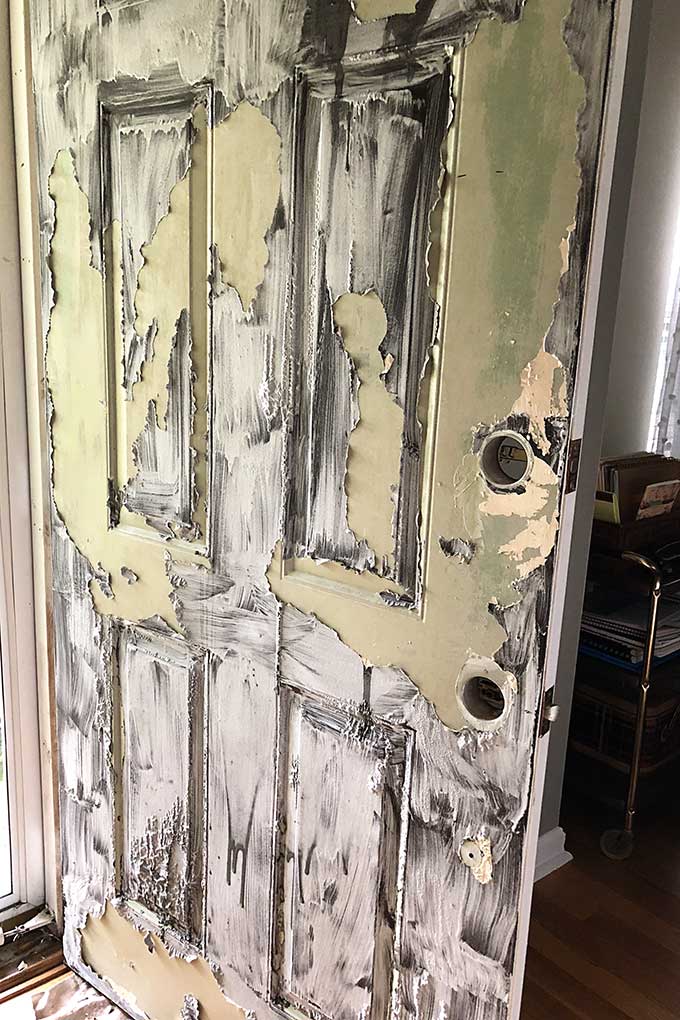 (at this point I was thinking what the heck have I gotten myself into)
I ended up putting a 2nd coat on some of the areas to make it easier. Again, my mistake not the product's!
Just trust me, apply this thickly and it will be the easiest stripping you've ever done!
Aren't you proud of me? I've totally avoided using any "stripping" puns here.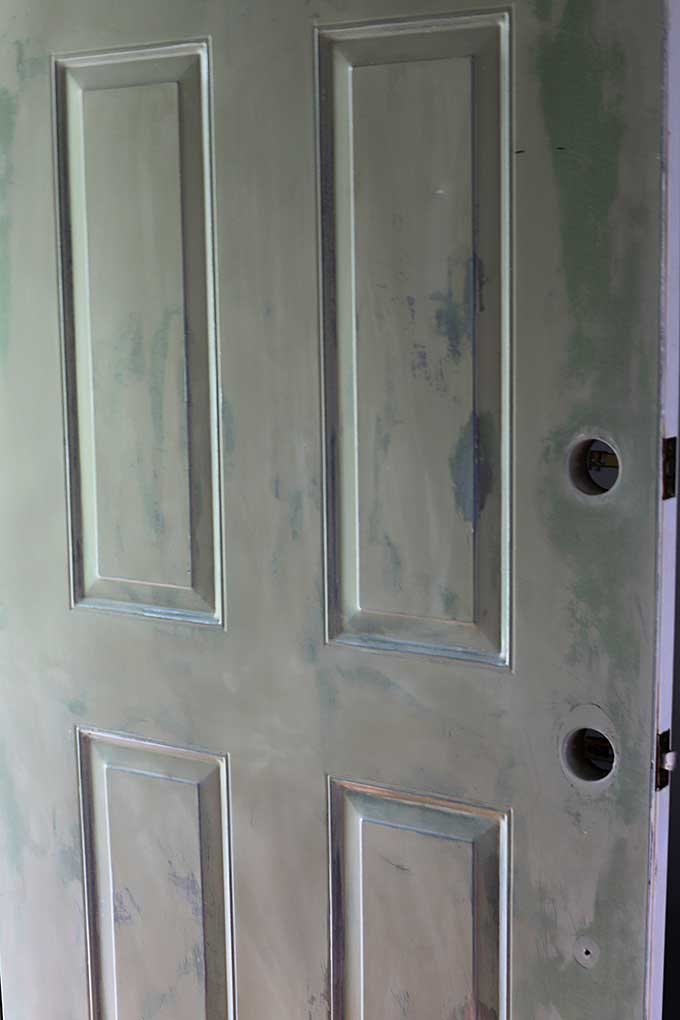 (stripped and ready for primer and paint)
Frequently Asked Questions:
How to paint a front door without removing it?
I had a lot of questions on facebook about why I didn't remove the door and lay it flat.
It comes down to 1) I'm lazy and 2) I didn't want to go without a front door for very long and most importantly 3) there was really no need for it.
The stripper I used was fine for indoor use (check your product though because MANY are not) and it was thick enough to cling well to vertical surfaces, so it just made more sense to keep it on the hinges!
Best paint for a front door?
The primer I used was Behr Premium Plus Multi-Surface Primer & Sealer and the paint I used was Behr Premium Plus Ultra Stain Blocking Exterior Paint & Primer.
Even though I had used a primer on the door first, I used a paint that included primer just to ensure full and thorough coverage.
Both of these are latex paints, but if I had used oil-based paints on the door previously I would have used oil-based this time (you generally don't want to use Latex over oil-based).
How To Tell If Your Old Door Paint Is Latex Or Oil?
To tell if the old paint on your door is latex or oil, you can put a small amount of one of these onto a cotton ball or cloth - rubbing-alcohol, hand sanitizer, acetone or nail polish and then rub it over a small area of the door.
If the paint is OIL based there will be no color than comes off onto your cotton ball/cloth.
If your paint is LATEX based there will color residue on your cotton ball/cloth.
What sheen to paint a front door?
I used a semi-gloss sheen to paint my front door. Normally I'm a flat or eggshell kind of girl because they hide flaws better, but a semi-gloss or gloss can be cleaned more easily and will also stand up to nicks and dings better. So semi-gloss it was!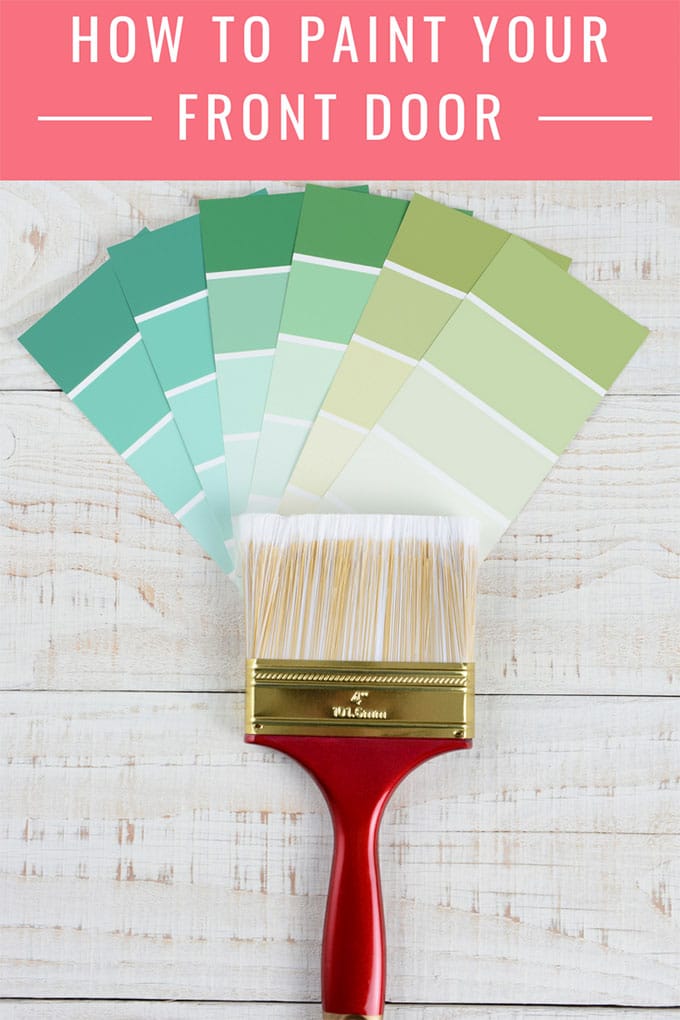 View the web story version of this article HERE.
Other posts you may enjoy:
DIY Industrial Pipe Shelves
DIY Zinc Topped Table
DIY Wood Slice Owl