I've got another gigantic post for you today. Go let the dog out, grab yourself a cup of coffee and settle on in.
Because it's my annual fall front porch post, people!
No just throwing a mum on the porch and calling it a day. Oh no, if the neighbors aren't thinking that I've gone a tad nutso, then I haven't done my job.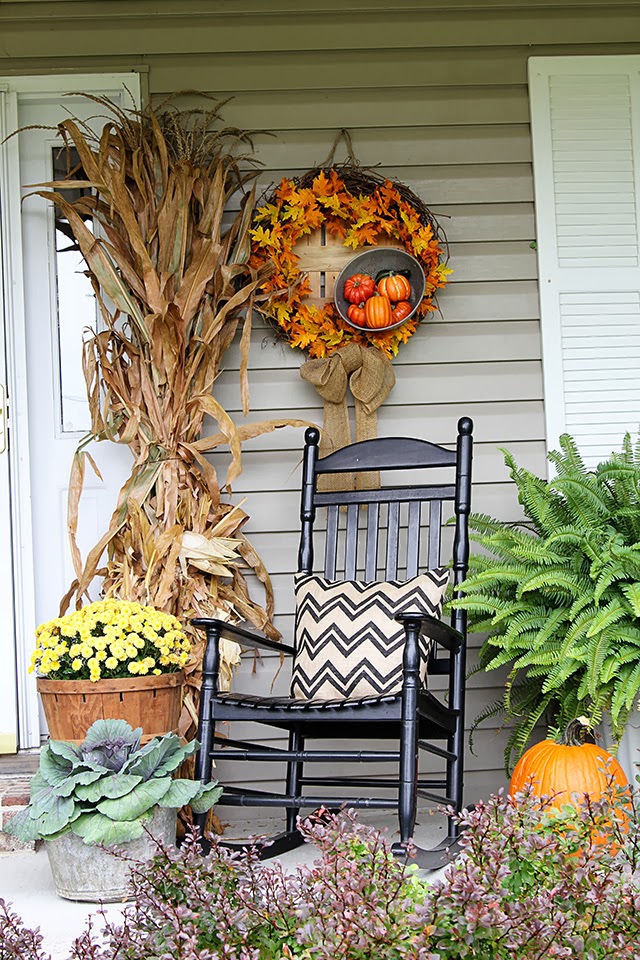 Before I get too far into this fall festiveness - If you are here to see my fall home tour, you can take a peek at it.
And you are more than welcome to come sit on my porch and have a look around too, of course.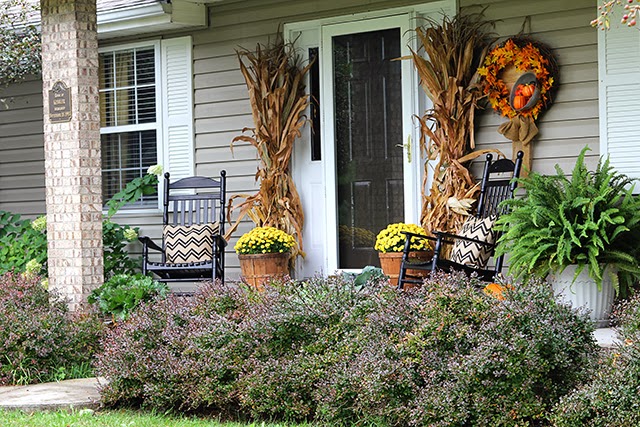 First of all, you will notice that my gigantic pumpkin that miraculously appeared in our compost pile this year is NOT on the porch.
Still trying to figure out how to get him out of the compost and on display. Anyone have a backhoe?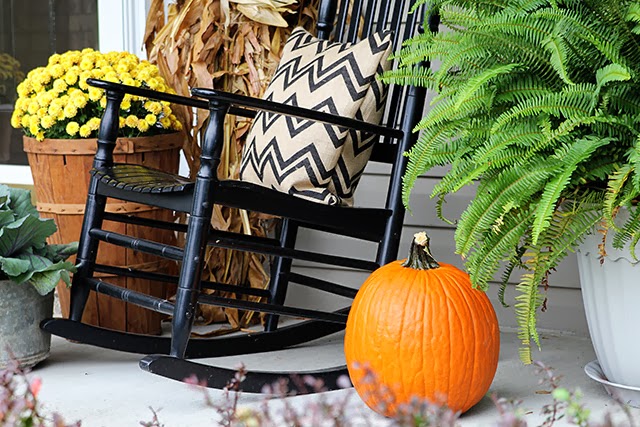 And yes, that is a fern you see on my fall porch.
It was still looking so pretty that I couldn't stand to get rid of it yet. Let's just pretend I live in the South instead of in Ohio.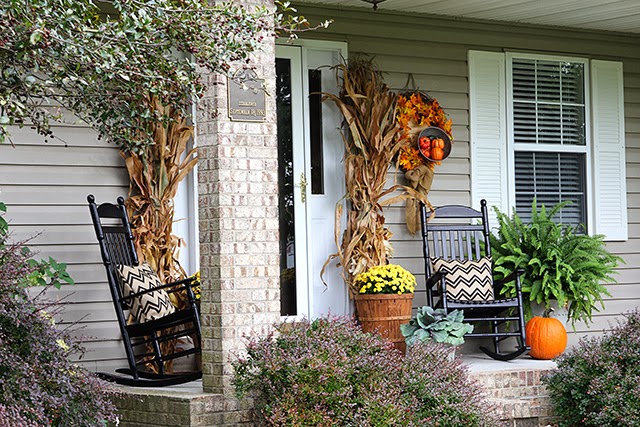 I put the wreath that I made a few weeks ago on the wall of the porch. We sort of have that empty space just sitting there and it begs to have something fill it up.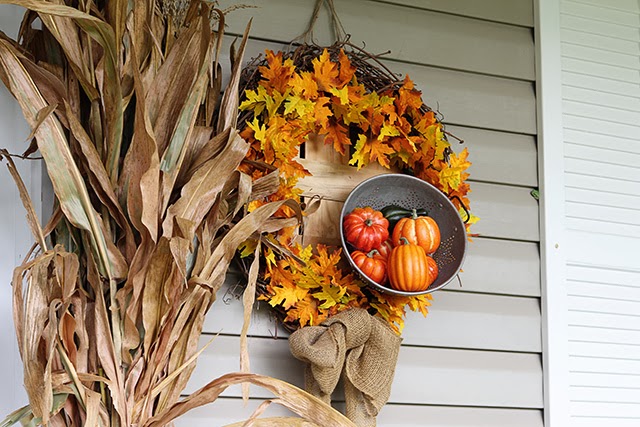 Besides, it's so 2012 to actually put your wreath on your door.
Last year, I looked for these tall bushel baskets everywhere and I couldn't beg, borrow or steal one. This year I was practically tripping over them at every yard sale I went to.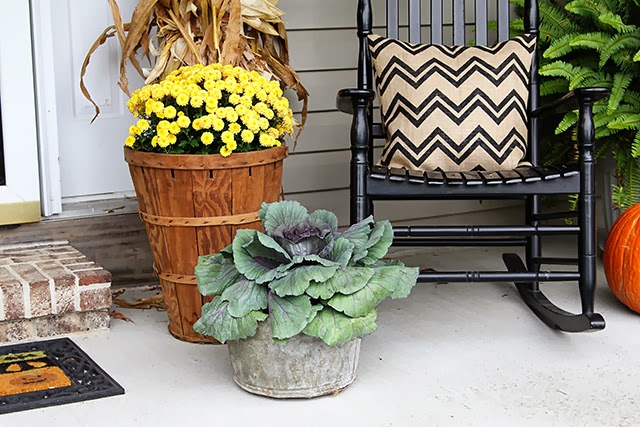 I made the chevron burlap pillow covers from fabric I found at Hobby Lobby. I actually used a sewing machine this time. No iron on Stitch Witchery stuff or staples. A real, honest to goodness, plug in the wall sewing machine!
I potted up some cabbage in a rusty bucket that I bought at a barn sale in June.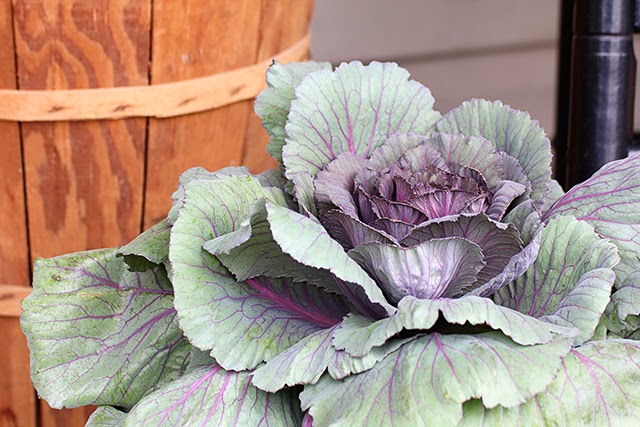 And some kale. I think it's kale?
I'm not good with my veggie identification, but it looks too frilly to be called cabbage.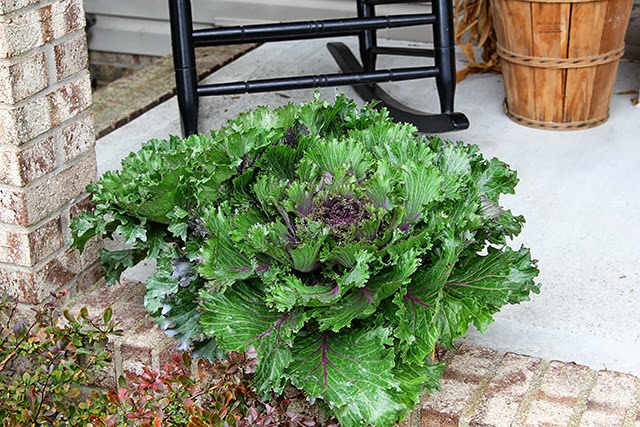 So, that's the porch in a very big nutshell.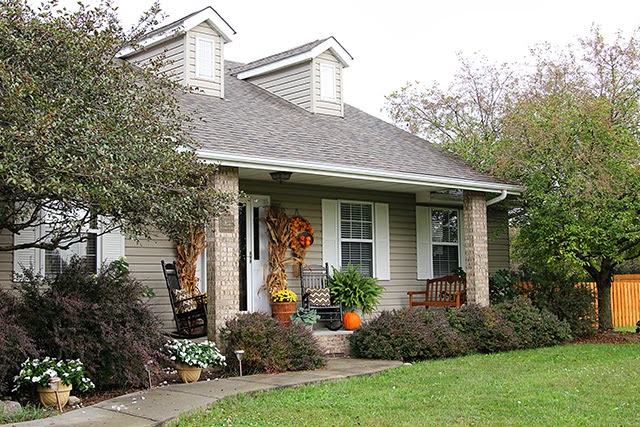 When I came to the garage, I tied it into the porch by using more cornstalks and some mums.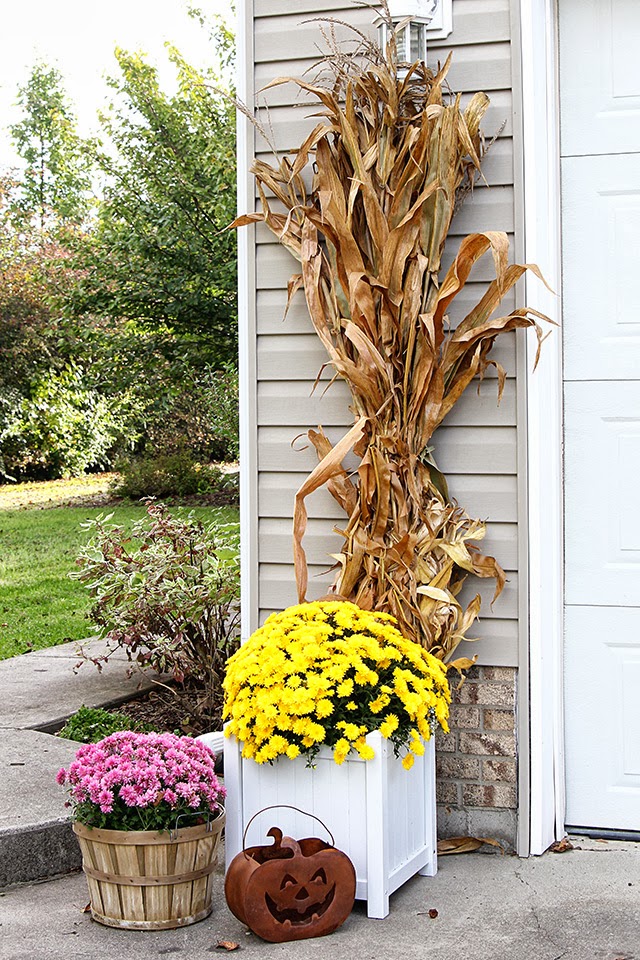 The rusty metal pumpkin rounds out the vignette.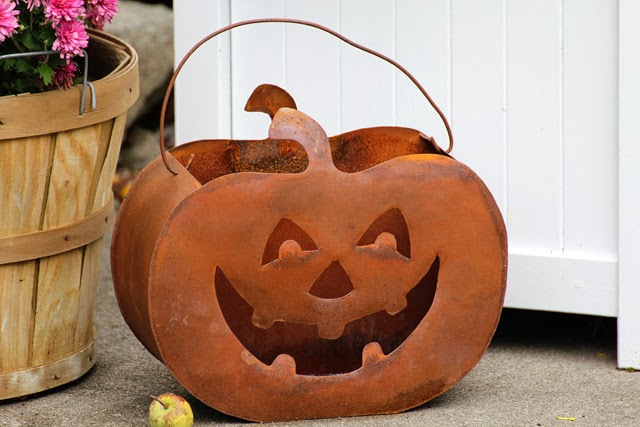 See that tiny little apple placed so strategically beside Mr. Happy? It just magically fell out of the tree and rolled over there when I was taking the close up. Sort of a gift from Mother Nature.
Gosh, while I'm blathering on about outside decor, I might as well show you the back porch.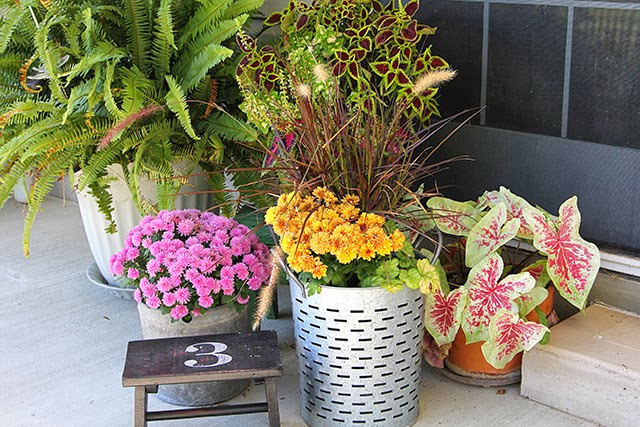 Yeah, not a lot to see out here. I've pretty much just bunched all my plants together by the back door and put away all the furniture and doodads.
But you can see this area from the inside of the house, so I like to have a little something something out here.
View the web story version of this article HERE.
Other Fall Porches You May Enjoy:
Fall Porch Decor Farmhouse Style
Simple Fall Porch Decoration On The Cheap
Rustic And Natural Fall Porch Decor