Festive front porch fall decor mixing traditional with farmhouse for a perfect fall look!
And by farmhouse I DO NOT mean all neutral and off-white with a hint of greige mixed in. No way, no how.
I'm Team Colorful all the way.
I guess I'm a farmhouse rebel like that.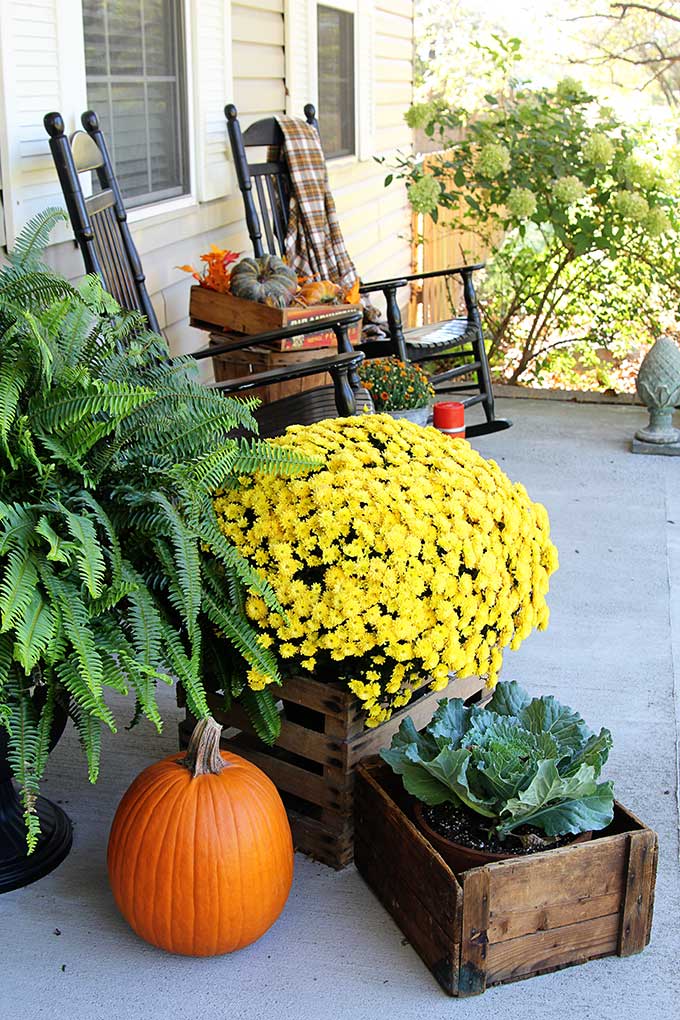 And today this fall loving rebel is happy to be participating in the Welcome Home Fall Tour.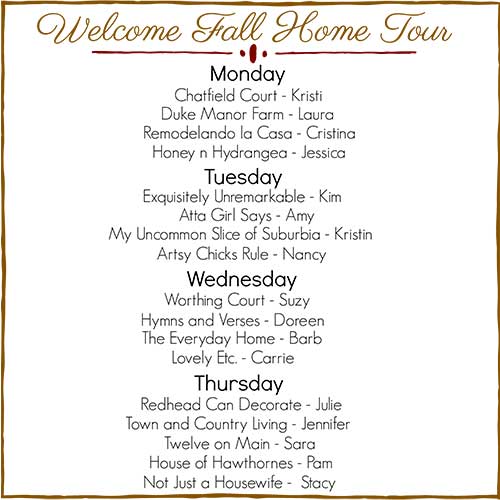 If you are coming from Jennifer at Town And Country's house, WELCOME!
There's some cocoa in that thermos there, so grab a cup and let's hang out a bit.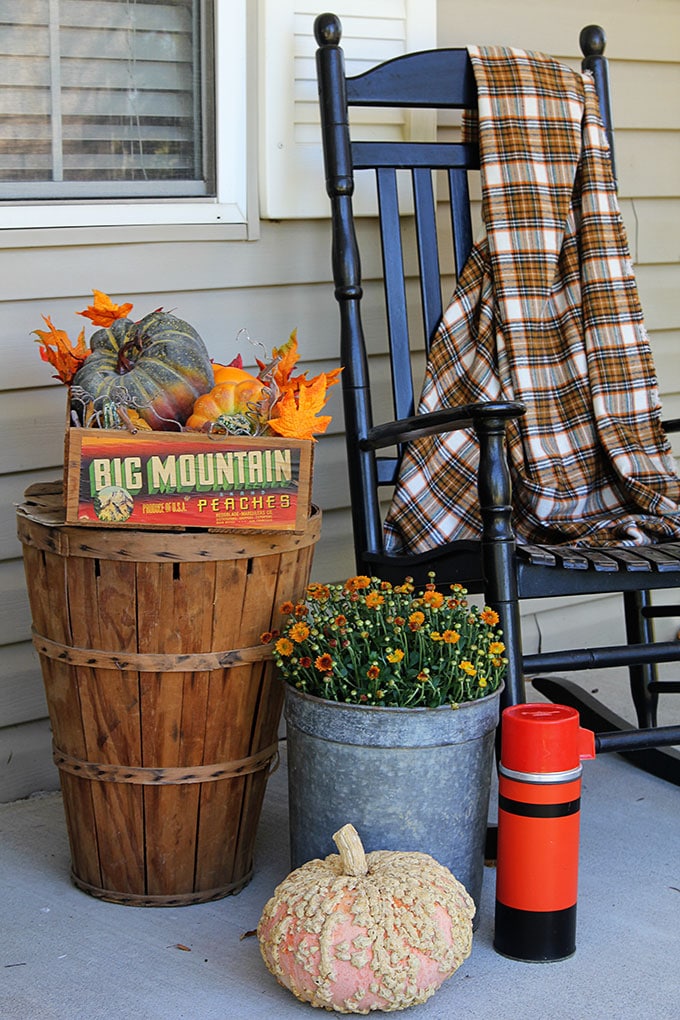 On my fall porch I like to combine a little bit of traditional and a little bit of farmhouse. And a whole lot of natural fall elements.
For Traditional Front Porch Fall Decor
My black rocking chairs are always a hit.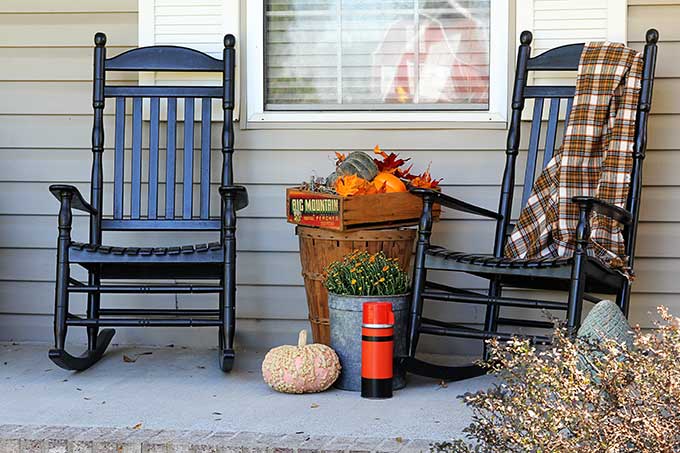 The plaid throw is actually just a piece of plaid fabric straight off the bolt from JoAnn Fabrics and casually tossed on the back of the rocker. Shhh - don't tell anyone.
Porch urns are another traditional element for my porch decor.
In the spring I wrote an entire post on how we should ditch the urns and be more creative with our porch planters and looky here, I've got urns on my porch!
For some reason, I didn't take a close up photo of my urns with the Kimberly ferns in them (thinking maybe you wouldn't notice my hypocrisy?). But you can see them on either side of the front door.
For Farmhouse Front Porch Fall Decor
Wooden crates full of mums and cabbage/kale are a no-brainer.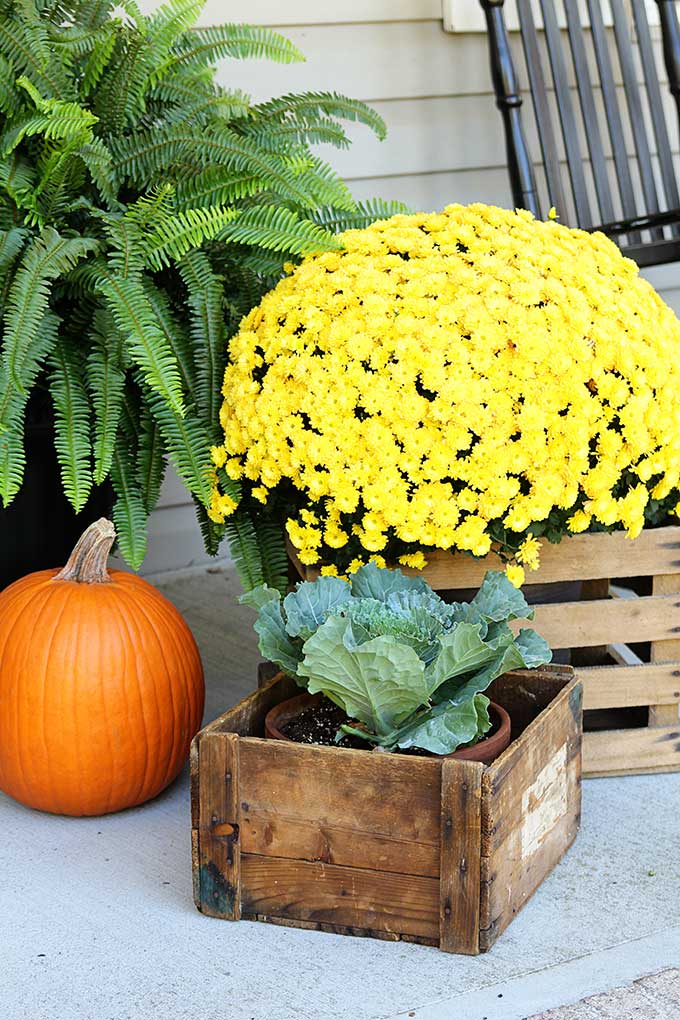 As are bushel baskets.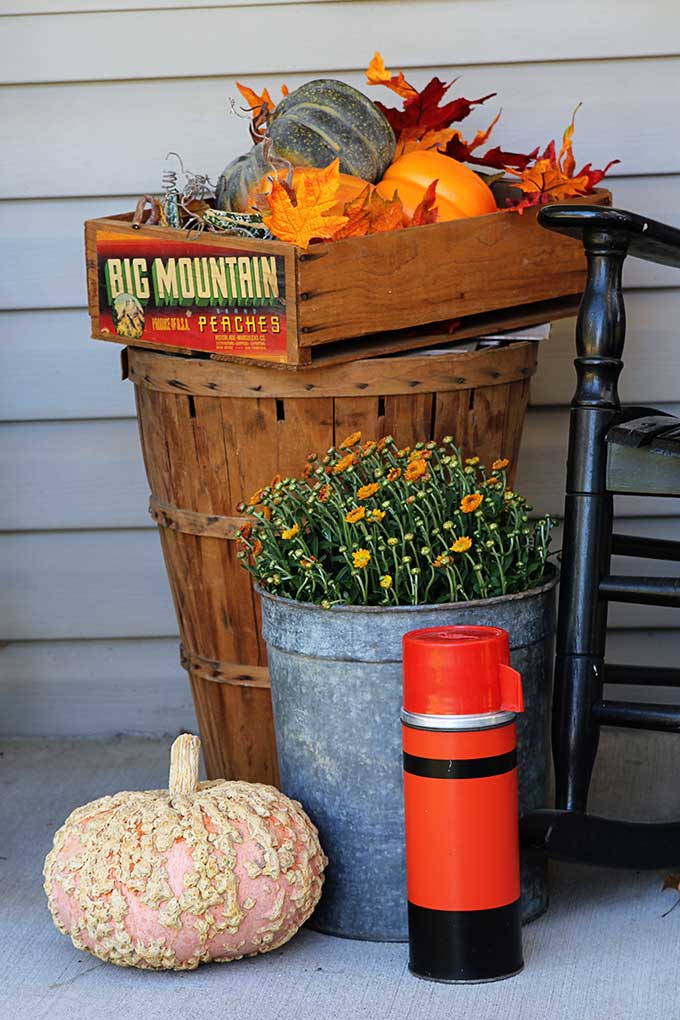 These tall ones are technically peach baskets. Which sort of makes it ironic that I have a peach crate setting on top of the peach basket.
But I figured that out just now when I was writing this post, so I guess it's just ironic that I didn't put two and two together before now.
Or I have no idea of the definition of irony.
I found the wooden peach crate at my favorite vintage/farmhouse store a few weeks ago. It was one of the items I showed you in my 10 Fall Porch Ideas To Score At The Flea Market.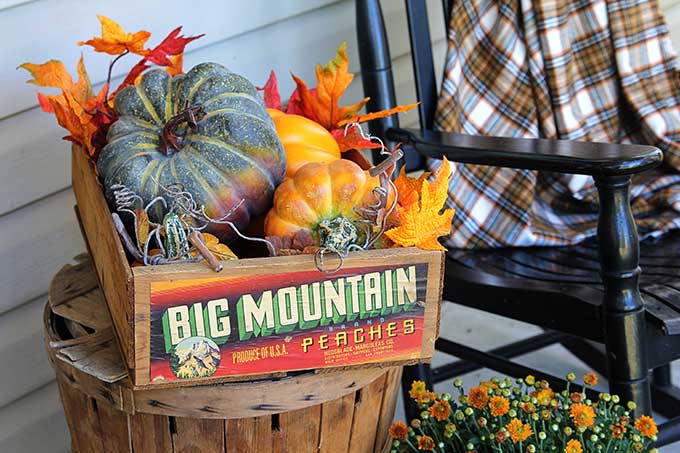 Peaches don't shout fall to me though, so I filled it with faux pumpkins and leaves instead.
Hmm, let's talk about my wreath.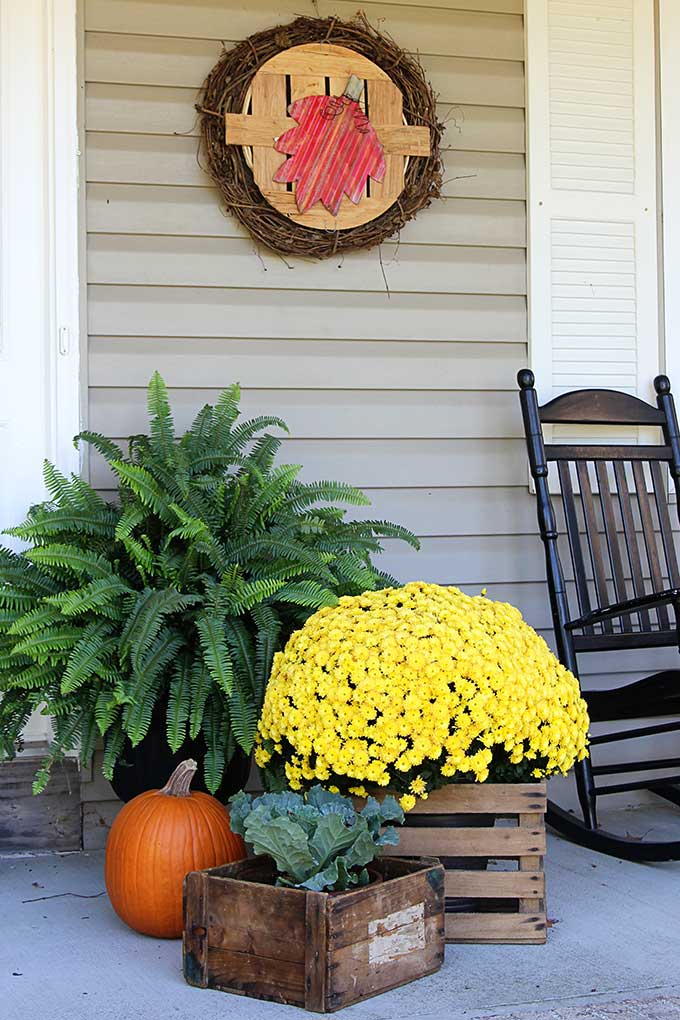 I made a smaller grapevine one the other day with a cute little pumpkin and owl on it but it ended up being too puny to work for the porch.
So I whipped together this one using a larger grapevine wreath, a bushel basket lid and the metal leaf I bought at the Country Living Fair.
In short, I don't love it. It'll stay here until I put my Halloween stuff out. I'm tired of making wreaths.
For Natural Front Porch Fall Decor
Of course, real pumpkins are always a good idea to jazz up your fall porch.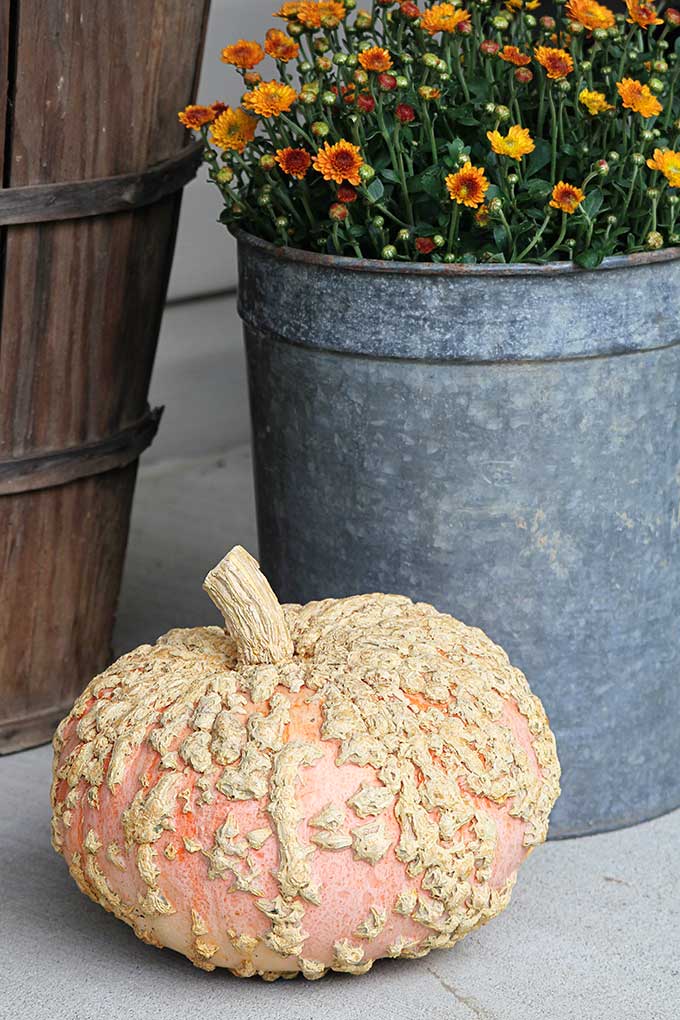 This is a peanut pumpkin, or as my husband refers to it, the pumpkin with a disease.
I also have the standard deep orange pumpkin by the front door and the mums and cabbage/kale to round out the natural elements.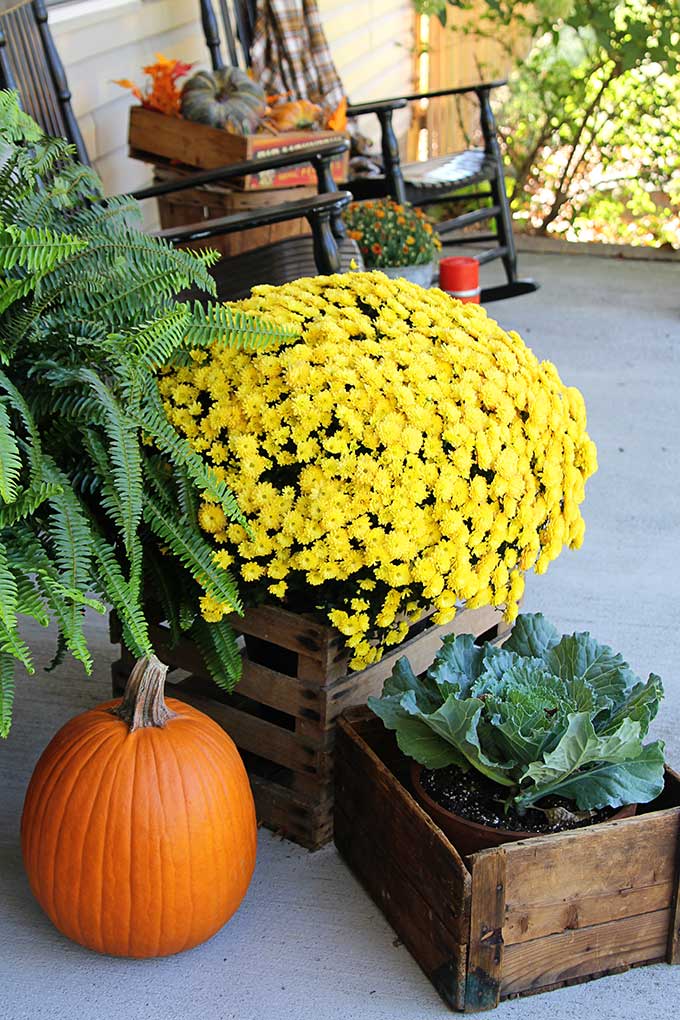 In past years I have occasionally used corn stalks on my porch also. But with the ferns still kicking it, I felt corn stalks might be sending a conflicting message.
Besides, no offense to corn stalks, they can be a little messy.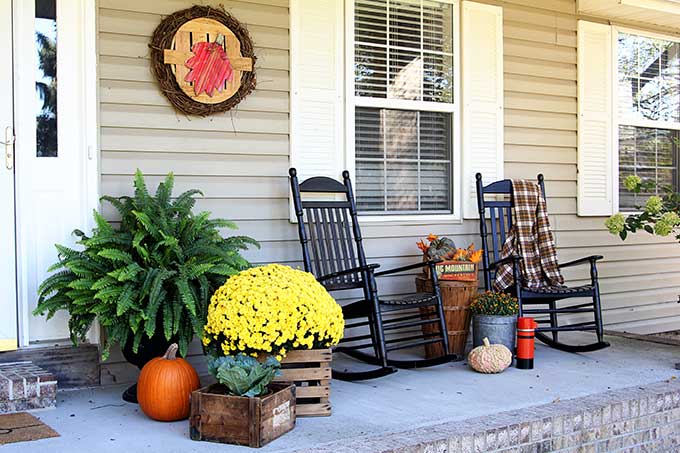 If you want to see how I transitioned this porch decor to a Halloween look you can see it on my post titled Halloween Porch Decorations.
OK, that's all I have to show you, so I'm going to have to ask you to get off my porch now.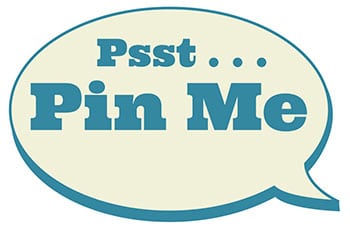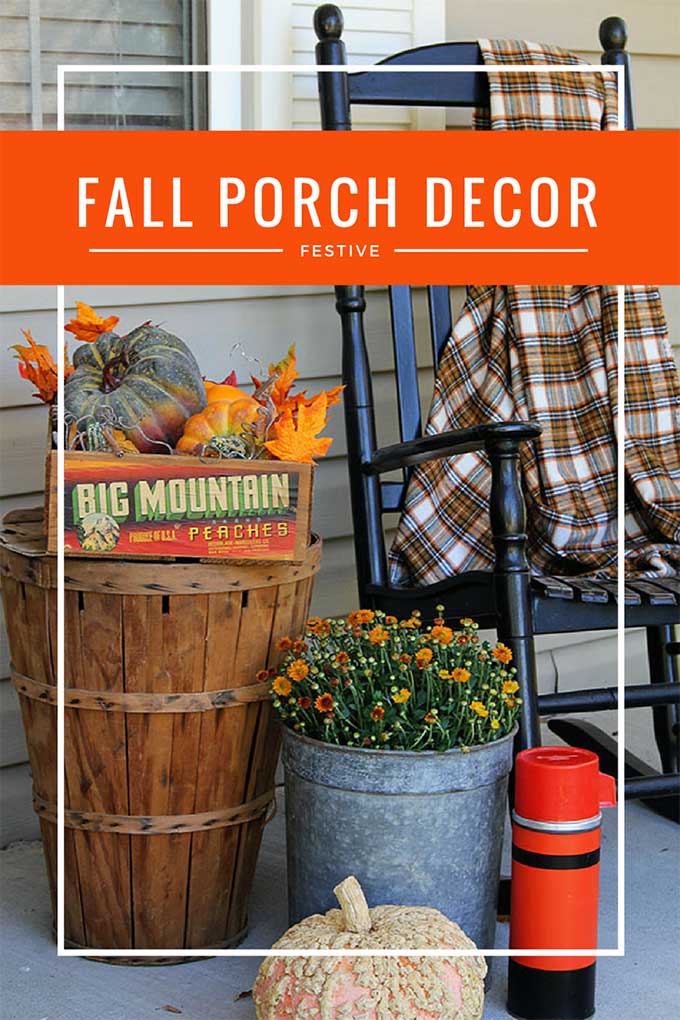 You can run over to Stacy at Not Just A Housewife's gorgeous home. She would love to have you visit with her for a bit and maybe she'll actually invite you inside her house.
The whole list of participants in the Welcome Fall Home Tour is listed below. Feel free to visit them, mingle a little bit and get a whole lot of fall inspiration.
Monday, October 2

Chatfield Court / Duke Manor Farm / Remodelando la Casa / Honey n Hydrangea
Tuesday, October 3

Exquisitely Unremarkable / Atta Girl Says / My Uncommon Slice of Suburbia / Artsy Chicks Rule
Wednesday, October 4

Worthing Court / Hymns and Verses / Lovely Etc.
Thursday, October 5

Redhead Can Decorate / Town and Country Living / House of Hawthornes / Not Just a Housewife
And a HUGE thank you to Kristi from Chatfield Court for hosting this party!
A cryptic message for those who read my last post - red and white stroller and possibly using it for Christmas decor (hello, it's the perfect shade of red)!!!
Other posts you may like:
How To Make Fall Outdoor Planters
Simple Fall Porch Decor On The Cheap