Learn how to repurpose vintage snack sets into garden art. Glass snack plates, found at almost any thrift store, can be upcycled into a cute owl in no time!
Or is it hoo knew?
Hard to tell when there's an owl involved.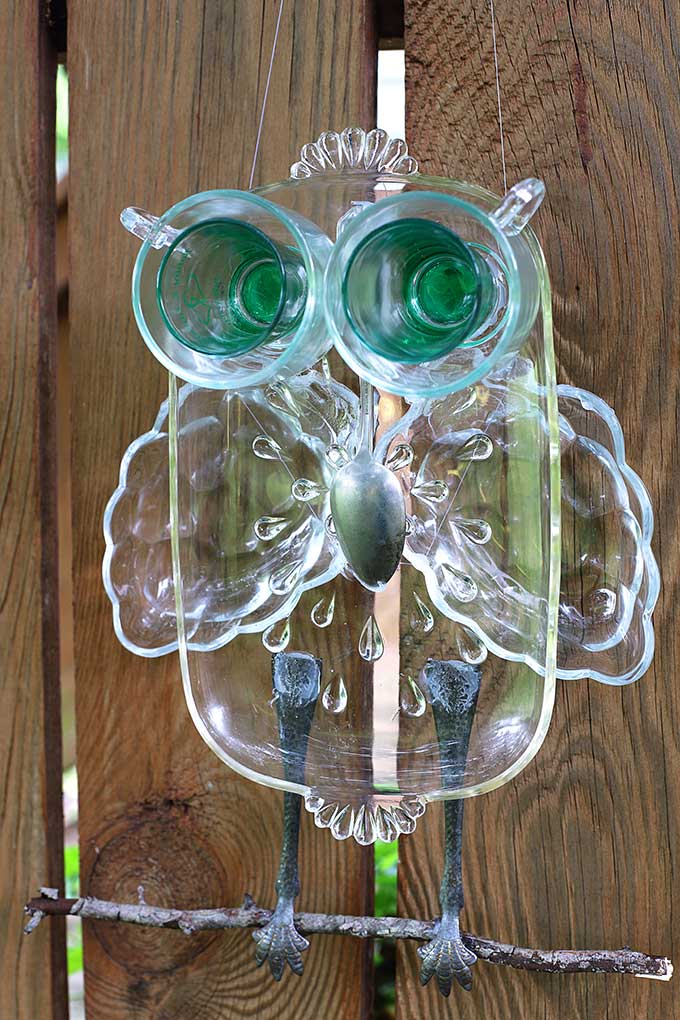 I always run across these vintage snack sets with cups at the thrift stores. They were the paper plates of the 50's now turned clutter in Grandma's china cupboard.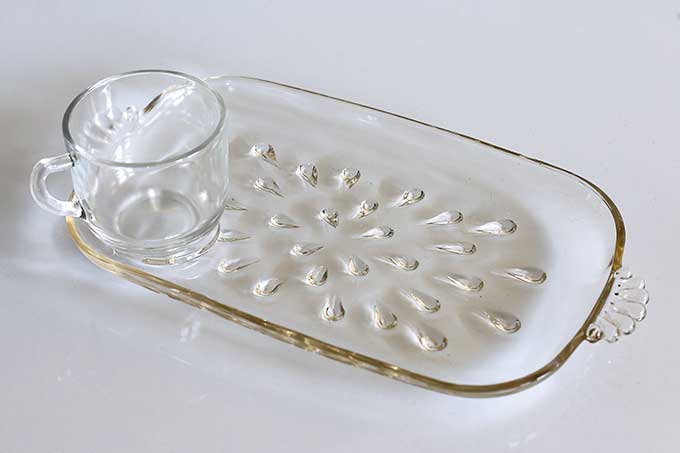 I get it though.
If you are downsizing or just short on space who needs glass snackware that you use once every 40 years?
I turned one glass snack set into a bird feeder a few years ago, so this time I decided to turn one into a bird.
Well an owl. Same difference I guess.
(This post contains some affiliate links for your convenience. You can read my full disclosure policy here.)
How To Repurpose A Vintage Snack Set Into Garden Art
Supplies: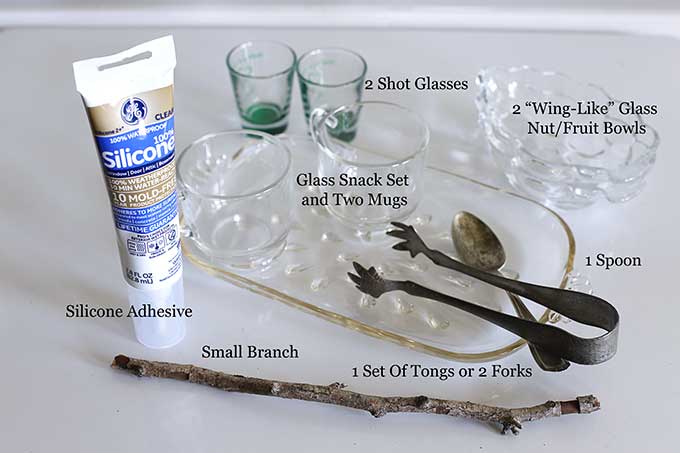 Silicone Adhesive - GE 100% Waterproof Silicone Caulk for Windows & Doors - Clear
Glass Snack Set (from thrift store)
2 Mugs (from thrift store)
2 Shot Glasses, colorful if you can find them (from thrift store)
2 Glass Nut or Fruit Bowls (from thrift store)
1 Spoon
1 Set Of Tongs or 2 Forks
1 Small Branch (from yard)
Instructions:
Basically glue it all together with your silicone caulk and you're done!
But no fear, I have made a video to walk you through the steps a little more than THAT:
If you prefer, you can watch an
ad-free version of this tutorial on my YouTube Channel HERE
.
To hang your owl, you can wrap fishing line around the wings and tie in back.
Warning - using the handles on the cups (aka his eyes) might be a little risky. We don't need his eyes popping out of their sockets now do we?
Tips For Making Garden Art:
All sorts of glassware can be found at thrift stores. Don't be afraid to mix and match patterns and colors. Hello, green eyes!
Wash your items before attempting to glue. Dirty or greasy glassware does not make the best surface to adhere items to.
Dry fit your items together before bringing out the glue/caulk.
Glue in pairs, let dry and then glue some more. There is no way you are going to be able to glue everything together at once without something sliding out of place.
To make your piece last longer, bring inside during the coldest harshest winters. Most of my pieces CAN stay outside, but I just prefer to not push it.
Be adventurous. Color outside the lines. Have FUN making your pieces.
What Is The Best Glue For Garden Art Projects:
In my opinion the GE 100% Waterproof Silicone Caulk for Windows & Doors - Clear is the best to use for gluing glassware together. It is made for wet and outdoor conditions. Even though it says it's a "caulk" it is an adhesive also.
Whichever adhesive you choose, make sure it is for outdoor use.
And since today is the 2nd Wednesday of the month it's time to visit the other members of the Thrift Store Decor Team: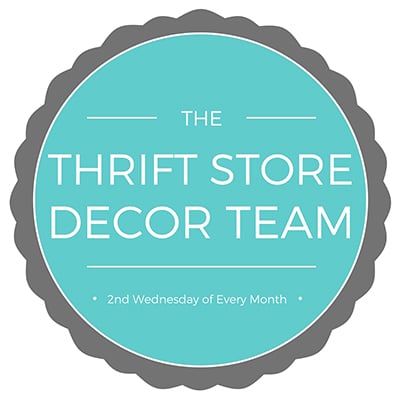 Thrift Store Decor Team
Refresh Restyle - Thrift Store Basket Refresh
Domestically Speaking - Copper And Burgundy Mercury Glass
My Repurposed Life - Small Footstool Makeover For Camper
Petticoat Junktion - Rooster Lamp Makeover
Our Southern Home - Embroidery Hoop Wreath
My Uncommon Slice Of Suburbia - DIY Magnolia Wreath
Sadie Seasongoods - DIY Wall Art From Repurposed Architectural Salvage
House Of Hawthornes - Repurposed Vintage Snack Set (that's me)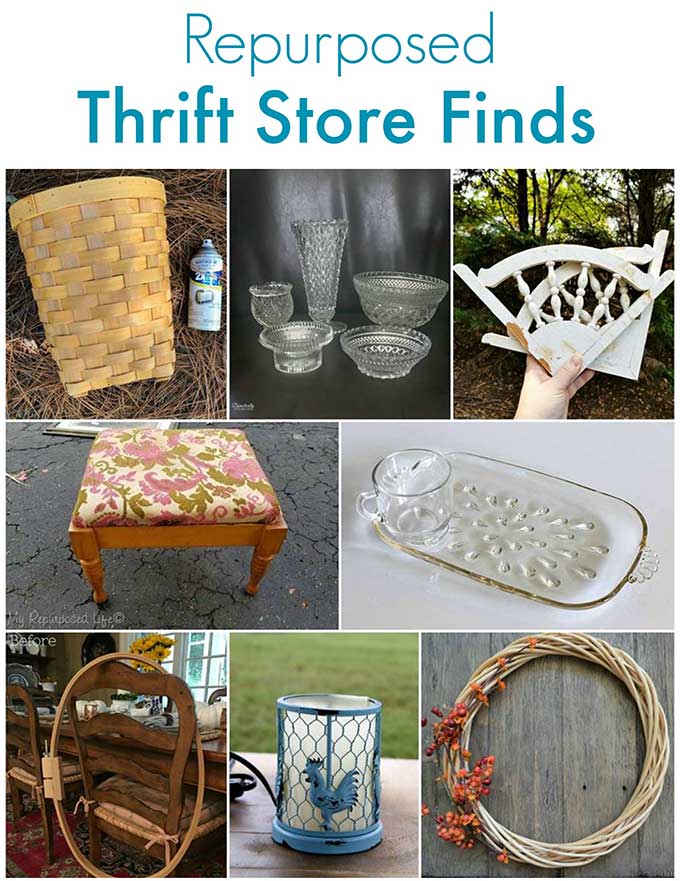 Other projects you may like:
How To Make A Penny Bowling Ball (If you don't make fun of the poor photography, here is another piece of garden art. It just so happens I made it way back in 2010 before I knew how to use a camera!)