Learn how to make a DIY Stove Top Home Fragrance with just a few ingredients. A quick and easy potpourri recipe to make your home smell fresh and cozy!
There are lots of ways to cozy up your home - surrounding yourself with family mementos and antiques, putting snuggly soft pillows on the sofa, a comforting plush throw thrown across the arm of a chair.
Even a soft fluffy dog lying at your feet would cozy up your home (my Labradoodle is lying on my feet as we speak).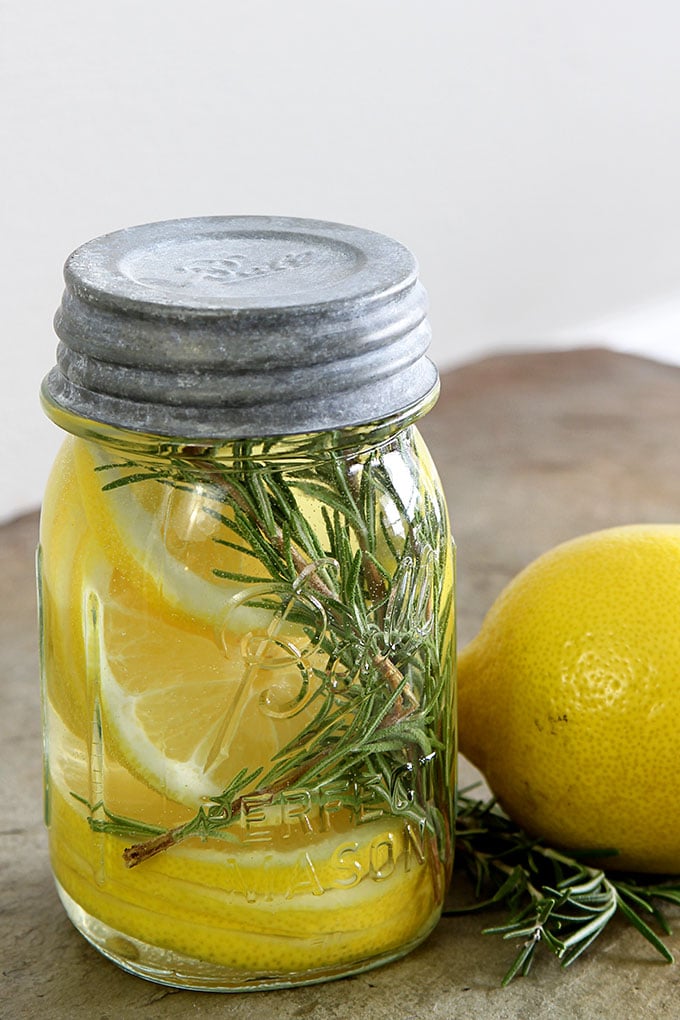 But scent is also a great way to give your home that cozy farmhouse feel.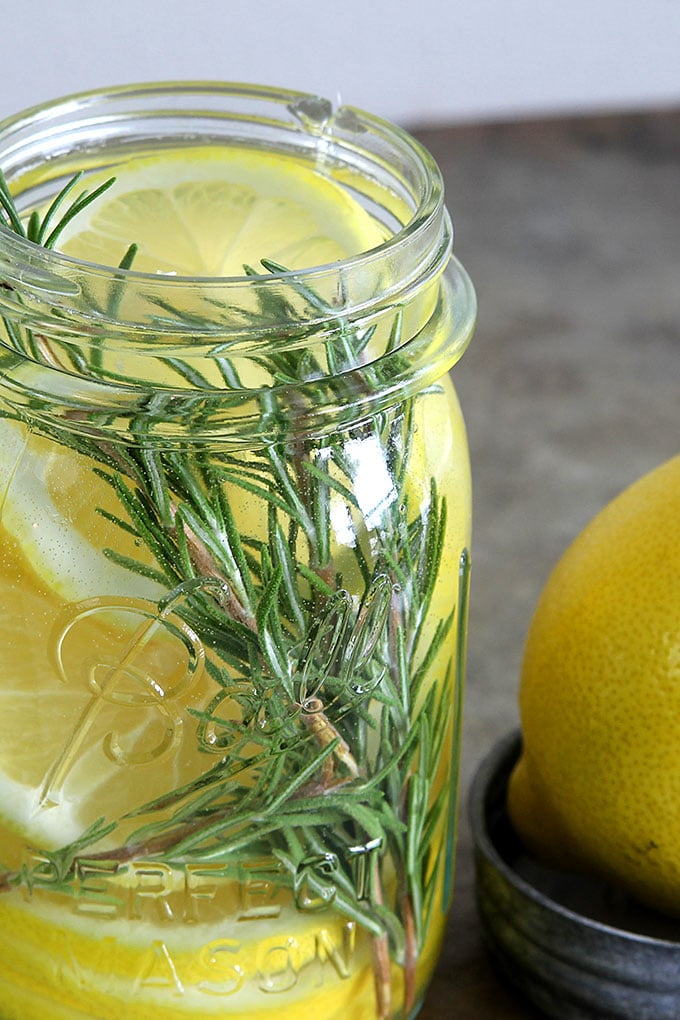 How do I make my home smell good?
Sure I could burn a candle or spray some store-bought scent into the air, but with my son's asthma-like issues and my sensitive nose, I prefer a lighter scent like this lemon, rosemary and vanilla scent I'm going to show you how to make.

And it is all-natural.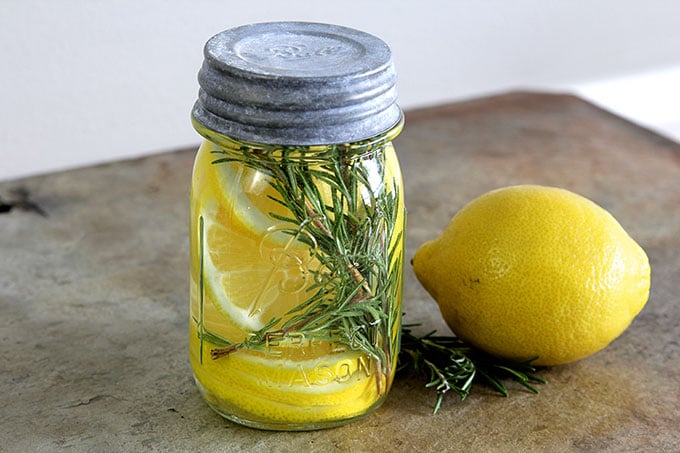 Lemon And Rosemary DIY Stove Top Home Fragrance
Ingredients:
Pint sized mason jar
2 small lemons
2-3 sprigs of rosemary
1 teaspoon vanilla extract
Water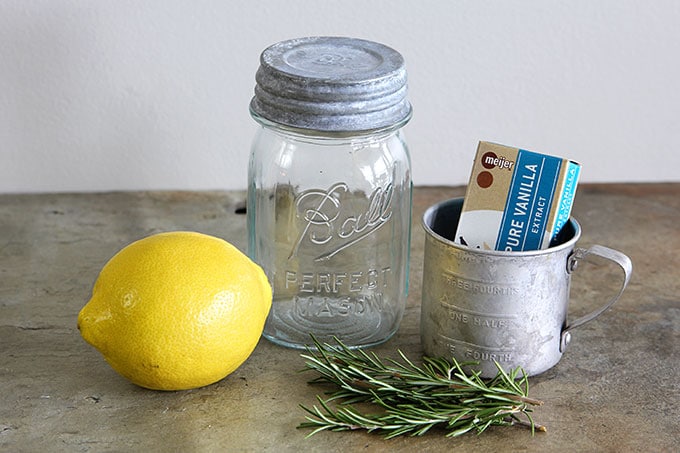 Instructions:
Cut lemons into thin slices
Put sliced lemons, rosemary and vanilla into pint sized mason jar
Fill jar with water and cover with lid
Jar can be refrigerated for 1-2 weeks
When ready to use, pour contents of jar into a sauce pan along with an extra cup of water
Bring water to a boil on the stove and then reduce to a low simmer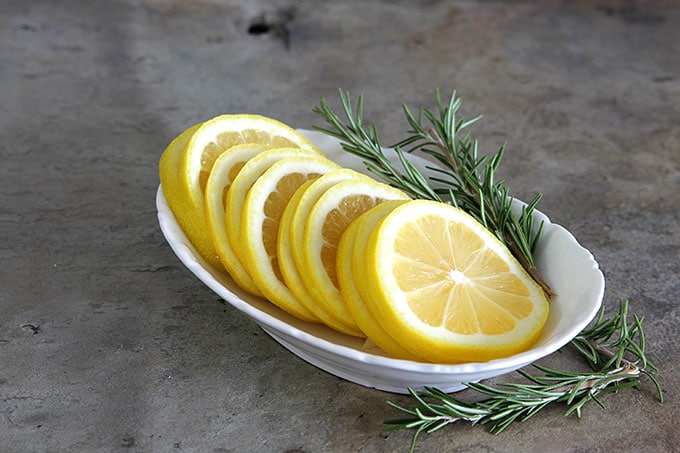 Safety tips:
Add more water during the day as the water evaporates.
Do not leave it unattended.
Turn handle of the pot away from the edge of the stove so no one dumps the hot water on themselves.
Do not leave the house with it on the stove, because that goes hand in hand with Do not leave it unattended.
Did I leave out anything?
Oh yeah, DO NOT LEAVE IT UNATTENDED!
This is my pot on the wood stove. I normally use a cast iron one, but the black cast iron pot didn't show up as well on the black stove, so it was the cute farmhouse white enamelware pot for the win.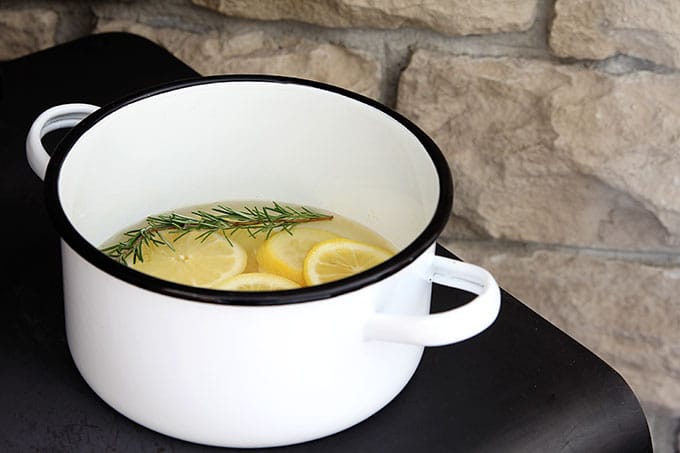 And BTW, I don't leave it unattended.
And to keep up with my crafting faux pas, like leaving the sewing needle in my Valentine's Day banner, the cute vintage mason jar that I used for the photos has a big old chip out of the rim! Glad I'm not drinking out of it!
I may need to start wearing my glasses when I'm taking photos.
So pin to your heart's content.

And before you run out to the kitchen and start slicing up all your lemons here are some more posts that you might enjoy:
Homemade Squirrel Repellent Recipe
Natural Ways To Repel Mosquitoes Without Bug Spray
How To Identify And Treat Poison Ivy
Lazy Girl's Guide To Drying Hydrangea
(This post contains some affiliate links for your convenience. You can read my full disclosure policy here.)