I spent the better part of my childhood running around in the woods.
Not that I was raised by a pack of wolves or anything (although in my teenage years I may have thought otherwise). Just your normal climbing trees. Fishing. Camping. You name it.
My brother used to get poison ivy all the time. But I managed to stay poison ivy free.
Of course, I used to sort of brag about being far superior to my brother. Like I was above all that silly poison ivy stuff and all that.
Then all of a sudden, when we moved into this house ten years ago, I started to be affected by it. Oh, no!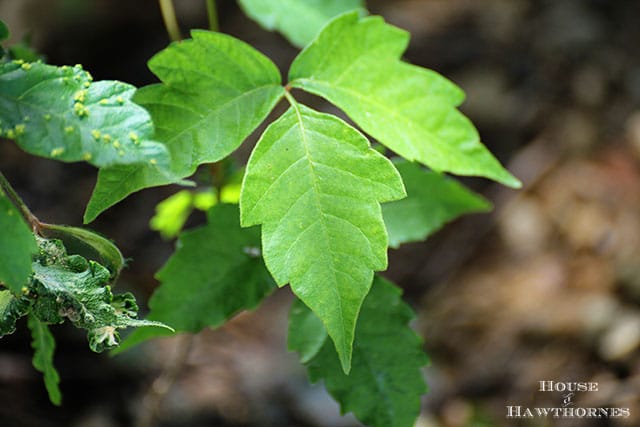 The first year it was just a few tiny pin sized spots on my arm. I didn't even associate it with poison ivy, just assumed I was mildly irritated by something.
The next year it was a whole 'nother story!
One day I casually weeded a flower bed out by the road. I remember seeing a questionable plant, but I was immune to that stuff, so I didn't give it its due respect. Big mistake.
Bada bing, bada boom. A few days latter I noticed the tiny raised spots. Then they started itching. I obliged them.
Over the next few days it just got worse and worse. The tiny spots turned into raging blisters and next thing I knew I had blisters on top of blisters on top of blisters.
My reign as Little Miss Immune To Poison Ivy was over.
(This post contains some affiliate links for your convenience. You can read my full disclosure policy here.)
The story ends with me having to go to the doctor and get some steroids and a drying agent (Domeboro Astringent Powder, sold at the pharmacy) to finally kick it out of my system. This was after weeks of me trying to treat it myself and finally coming to the realization that my arm might just fall off if I didn't seek some professional help.
Why now and not when I was a kid? Who knows?
There are different theories why some people wait until later in life to be affected. Maybe I had been immune and I lost my immunity. Maybe I just had to have a lot of exposure for it to pop out. Maybe it was the number of years between exposures.
I mean, it's been at least 25 years since I've climbed a tree.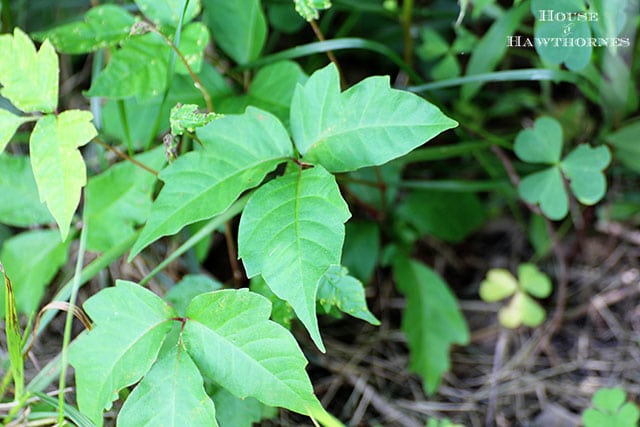 Since the Summer Of The Itch, there are some things I have learned about the dreaded poison ivy.
How To Prevent Poison Ivy:
I always wear gloves when weeding.
I am super careful when taking off my gloves. I sort of peel them off like a doctor does, making sure not to touch my wrists when taking off the opposite hand's glove.
Every single time I come in from weeding I run cold water over my arms from the elbows to my fingertips. Never hot water. Always cold, so the pores close.
Then follow that up with washing my entire arms with poison ivy soap using cold water again. I use Burt's Bees' Poison Ivy Soap myself, but there are other brands out there. Regular old soap is not enough.
Since I've been doing the rinse in cold water/poison ivy soap method, I have not gotten any serious bouts of poison ivy.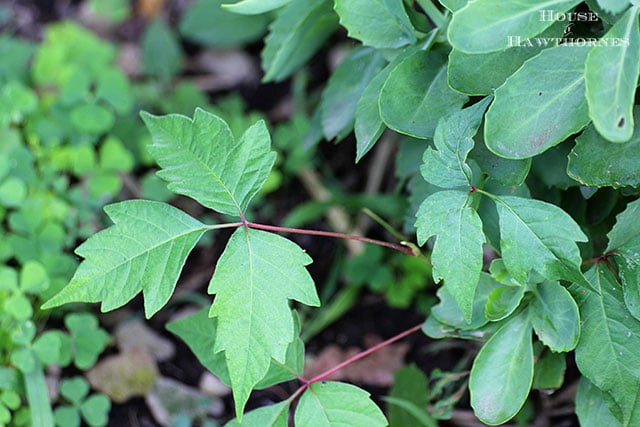 And now that you know how to prevent it, you might want to know what it looks like.
How To Identify Poison Ivy:
Leaves of three, let it be. It rhymes. It works.
Unfortunately (or fortunately?) there are other plants with three leaves also that are perfectly harmless. If you just go with that rhyme, you are missing out on our other three leaved friends. So read on.
The middle leaf is normally on a longer stem than the other two.
The outer two resemble mittens.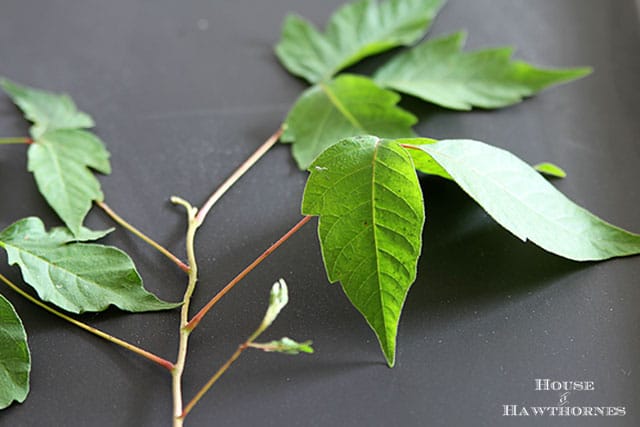 (See, cute little mittens. Just don't put your hands in them.)
The veins that run across the leaf are non-symmetrical (not directly across from each other).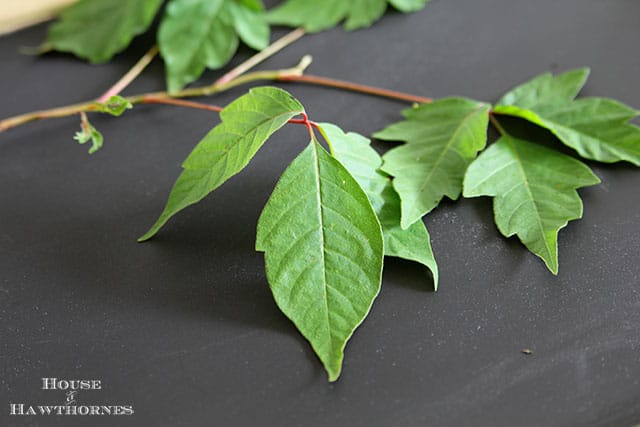 (Notice the veins on the left do not meet in the middle with the ones on the right)
The sets of leaves on a vine are non-symmetrical (not directly across from each other). In the photo below you can see a set of three leaves go to the right and then above it a set of three leaves go to the left and so on – they do not meet in the middle.
The leaves have pointed ends, not round.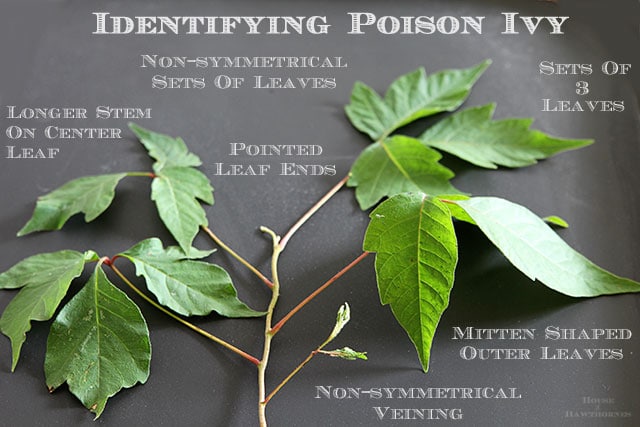 Wondering how I got those photos?
Snack, anyone?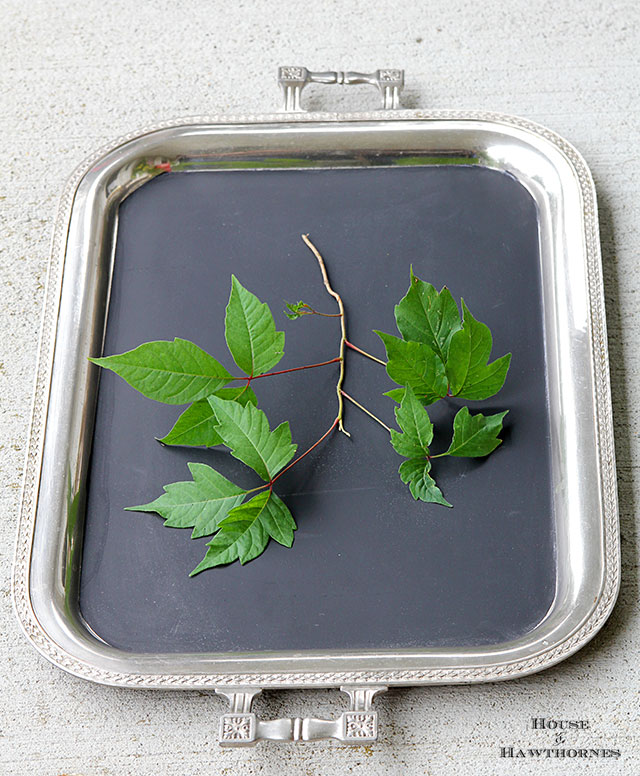 Yes, I cut a piece of poison ivy and placed it on my chalkboard tray. Another case of not giving poison ivy its due respect.
It's been two days since I took those photos, so I think I'm in the clear on this case of stupidity.
Is poison ivy a problem for you? Or can you roll around in it naked and come out OK?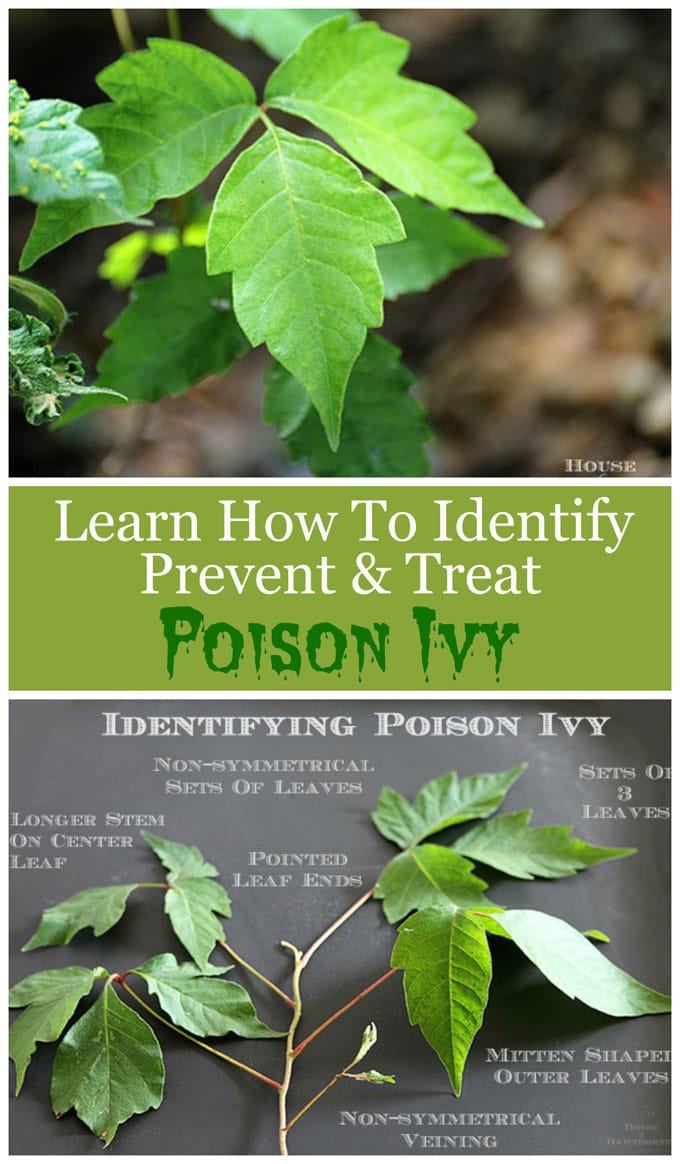 Other Post You May Enjoy:
Natural Ways To Repel Mosquitoes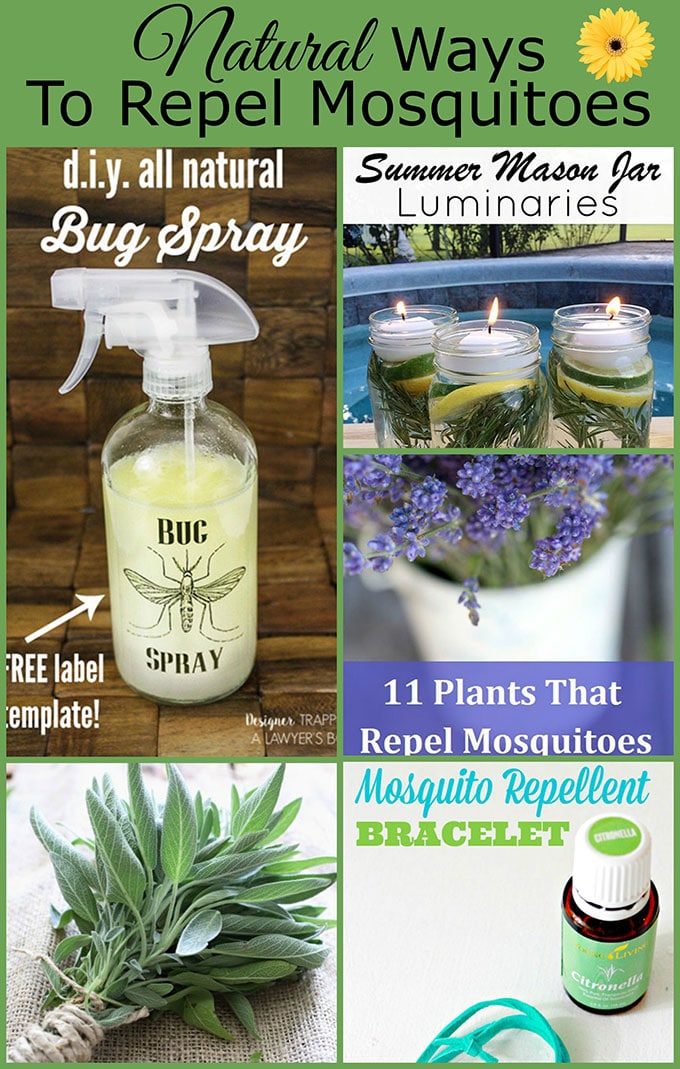 How To Grow Peonies Your Neighbors Will Envy