Do you love to collect vintage postcards?
I have TONS of postcards I find when out at estate sales, barn sales and festivals. Some are holiday related, some are from places I vacationed as a kid, some are just odd.
I think I'm partial to the odd ones. Take for instance my Mutilated Bunnies Easter Postcard. Not your typical Easter Bunny delivering eggs to all the good little girls and boys kind of Easter postcard.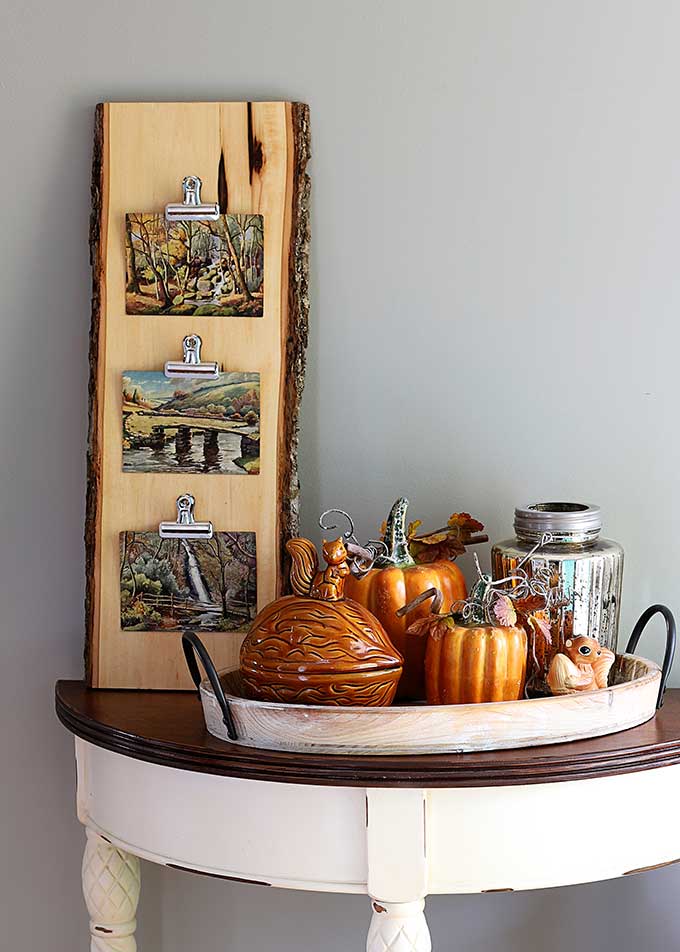 But for the most part, my vintage postcards just sit in my desk collecting dust.
I decided to find a cute way to display a few postcards that also allowed me to EASILY switch out postcards as the seasons pass. Or as my mood changes. You can't stare at dead bunnies all the time, now can you.
Warning - this is one of those simple projects. I love quick and simple projects because I just don't have time in my life to do long drawn out projects often! If it's too involved and takes days and days to complete, chances are it won't ever get finished (hello, crocheted scarf from 2004).
(This post contains some affiliate links for your convenience. You can read my full disclosure policy here.)
DIY Postcard Display
Supplies:
Walnut Hollow Basswood Plank (roughly 23" long by 9" wide - I couldn't find a link for you on Amazon, but they have them at all the chain craft stores)
Stain (I used Minwax Polyshades Satin in Classic Oak)
Foam Brush
Thumbtacks
Postcards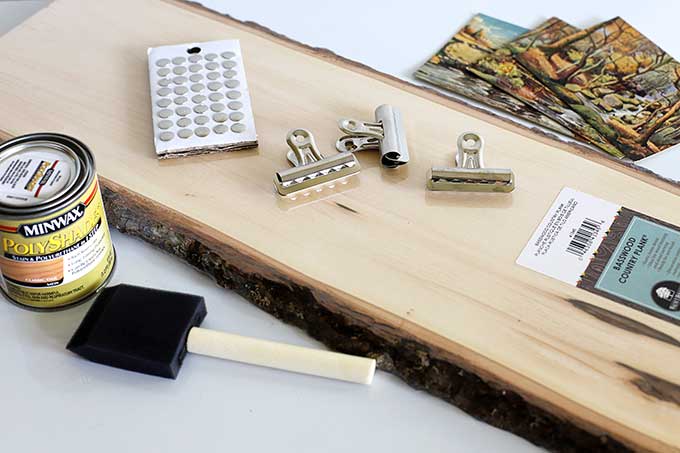 Instructions:
Stain your board.
I used Minwax Polyshades because it has a slight tint along with a polyurethane. It is very easy to control the darkness of this stain, so if you want it darker you use more coats, if you want it lighter you use less coats.
I just wanted a very light tint to the wood so it didn't look so brand spanking new, so I used only one coat.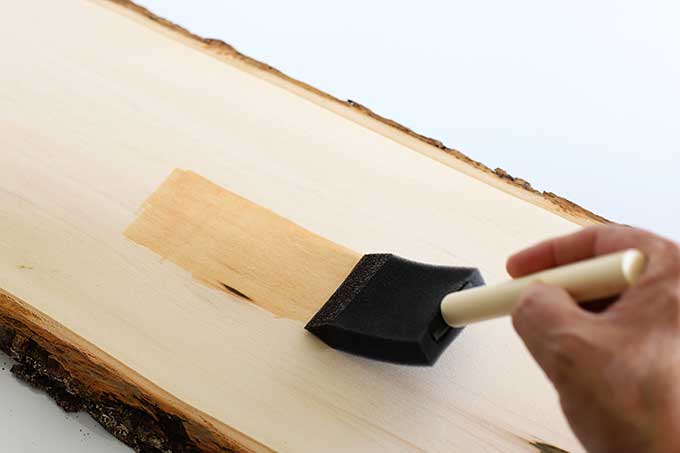 After the stain has dried, line up your clips where you want them.
I just eyeballed it to what I thought looked good, but you could use a ruler if you want to be precise.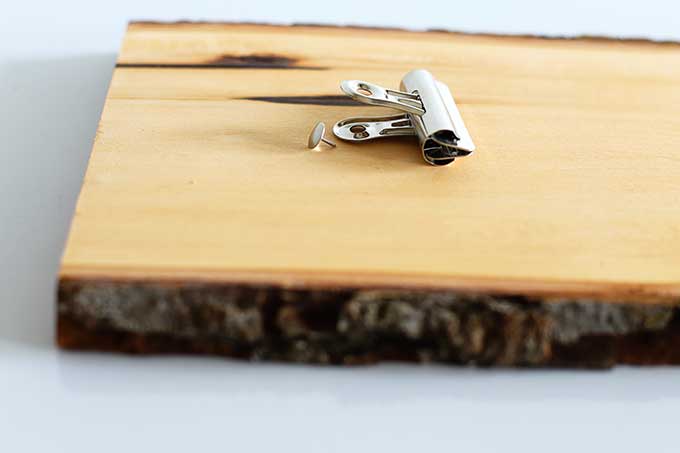 And then you push a thumbtack through the back circle of the clip and into the wood to hold the clip in place.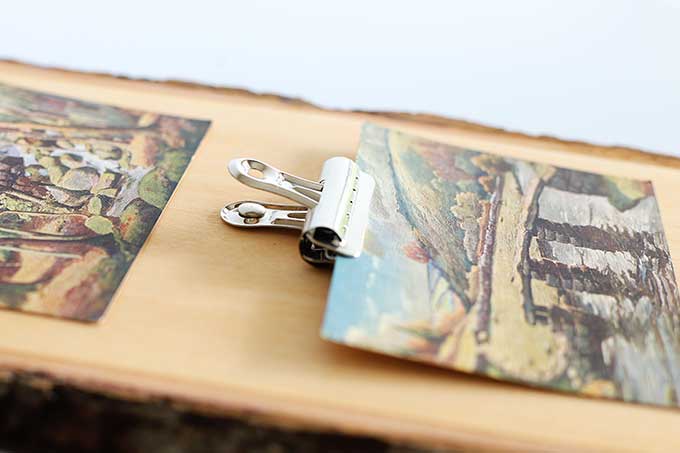 You may be asking, Why didn't you use a nail, silly girl?
Basically, you can't get a nail in the back and hammer it down without smashing the front part of the binder clip. And a thumbtack can more than hold the weight of a measly little postcard.
Now, quit asking questions.
BTW, the postcards I used were found at a local vintage/farmhouse shop. They were from a set of English postcards by Herbert Truman depicting waterways in Dartmoor, England.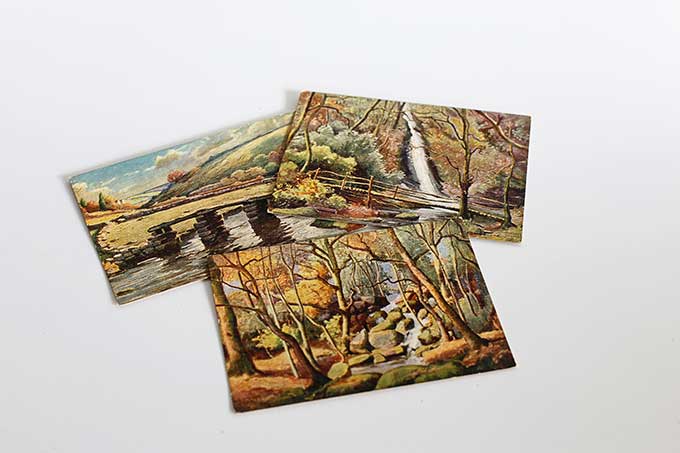 I had just finished binge watching Outlander when I bought these and thought they reminded me of some of the scenery from the show.
Which is probably WAY more info than you were looking for, but I thought I'd get that out of the way!
I have plans to trade out the postcards seasonally.
You know, Christmas postcards for Christmas, Easter postcards for Easter, 4th of July postcards for the 4th of July.
I could go on, but I think you get the idea!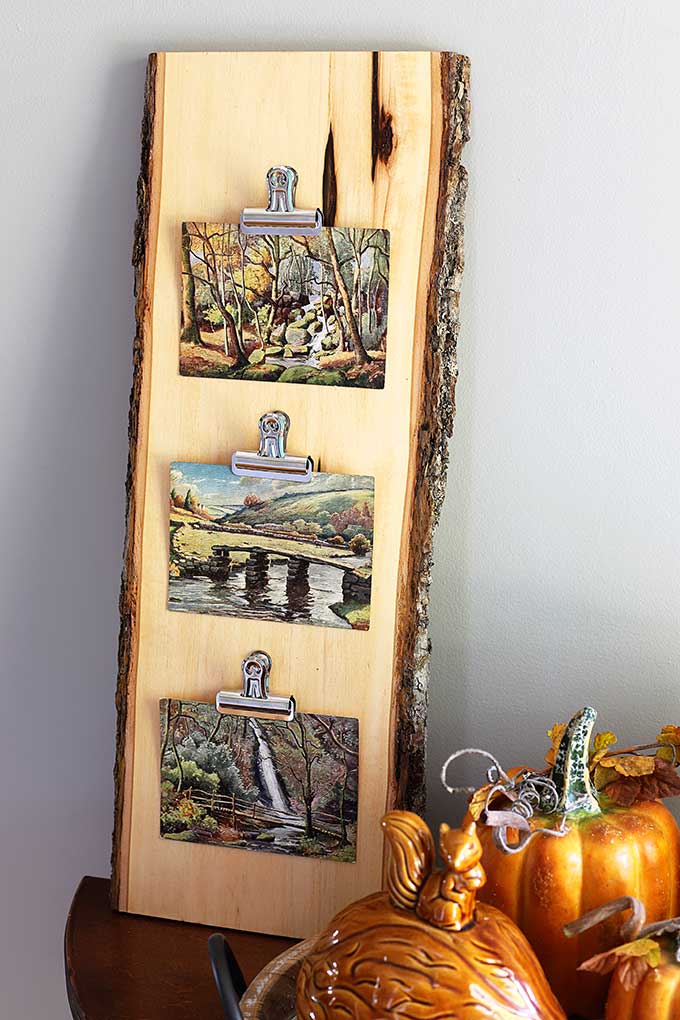 NOTE: You can easily make this a wall mounted postcard display by attaching a simple picture hanger to the back of the wood (one of those sawtooth ones or the stick-on velcro Command ones).
What fun ways have you come up with for displaying your vintage postcards?
Other Posts You May Enjoy:
Easy DIY Candles In Granny's Candy Dish
How To Make A Succulent Planter Out Of A Typewriter And Not Piss Off The World