Learn how to make a FUN succulent planter arrangement in a shallow bulb bowl.
And when that bowl is actually a vintage McCoy bulb bowl, all the better!

Now, I don't plant things in my McCoy planters very often, just because I don't want to mess them up with getting hard water deposits caked on them or take the chance of discoloring them.
They've made it through all these years unscathed without me messing them up.
But I do occasionally use them as the good people at McCoy Pottery intended.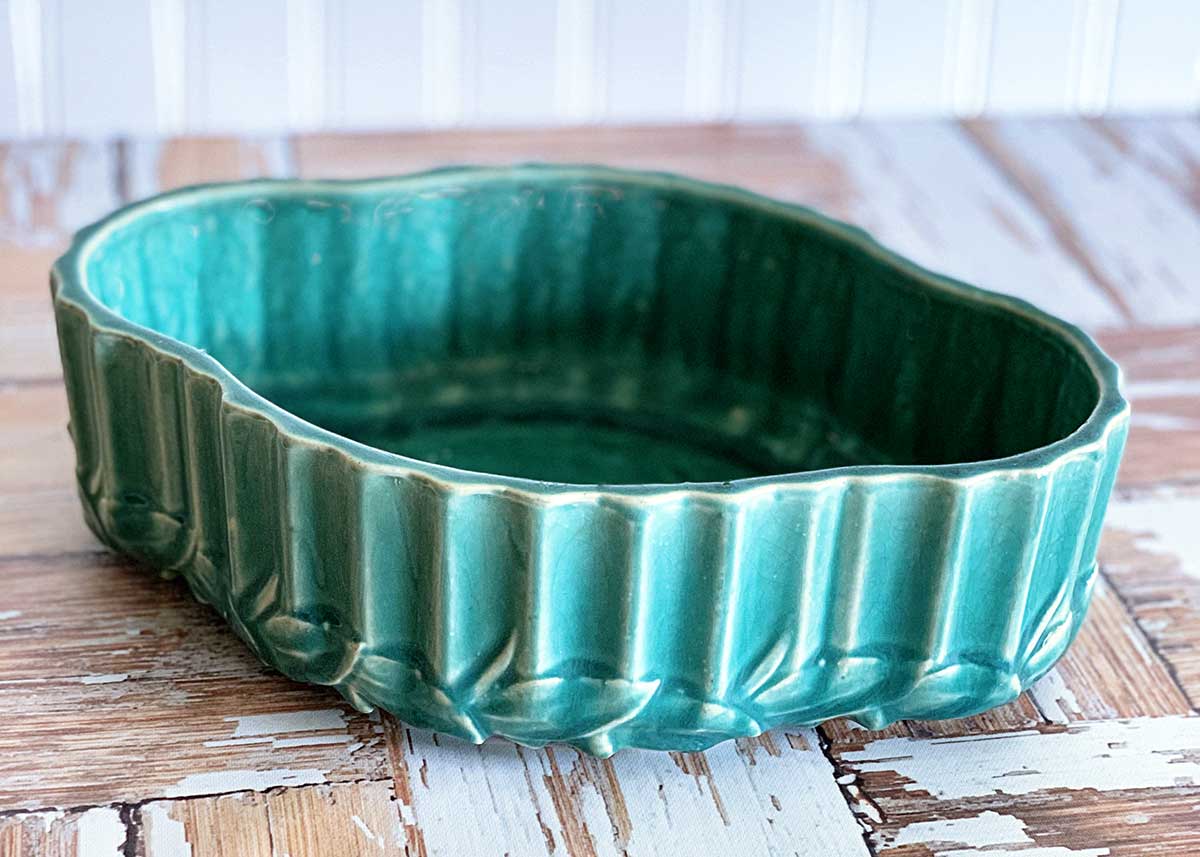 Sort of.
A bulb bowl is normally used to force daffodils, tulips and other such bulbs in. They're perfect for forcing paperwhites for the holidays too (I have an article on How To Force Paperwhites For Christmas if you want to skip right over summer and jump on into holiday decor). The shallow design makes them an ideal home for the bulbs.
But I decided to use this turquoise beauty to plant succulents. A String Of Turtles to be exact (Peperomia prostrata). It is the oh-so-trendy String Of Pearls' cousin.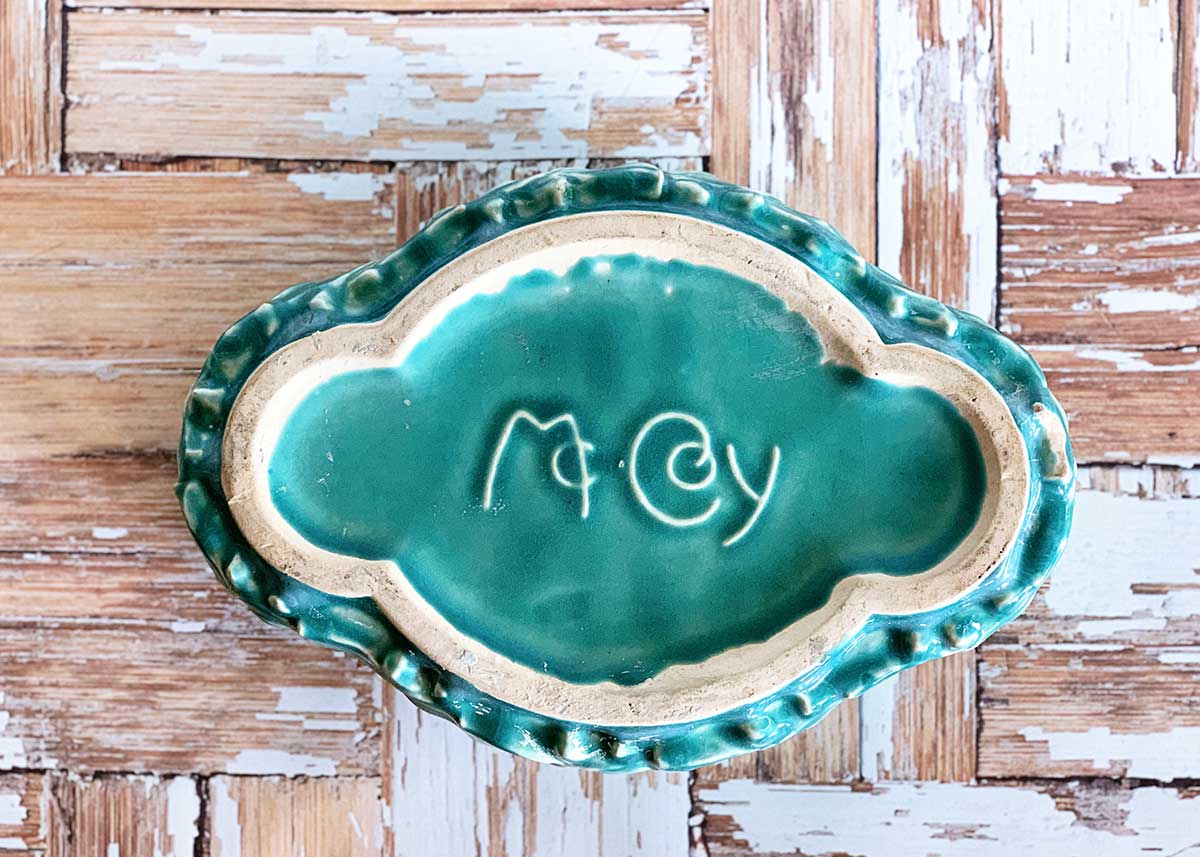 How To Make A Fun Succulent Arrangement
Supplies
Planter bowl (bulb bowl)
Small Pot
Potting Soil For Succulents
Succulents (I used String Of Turtles)
Small Paintbrush
Water
Optional - Shells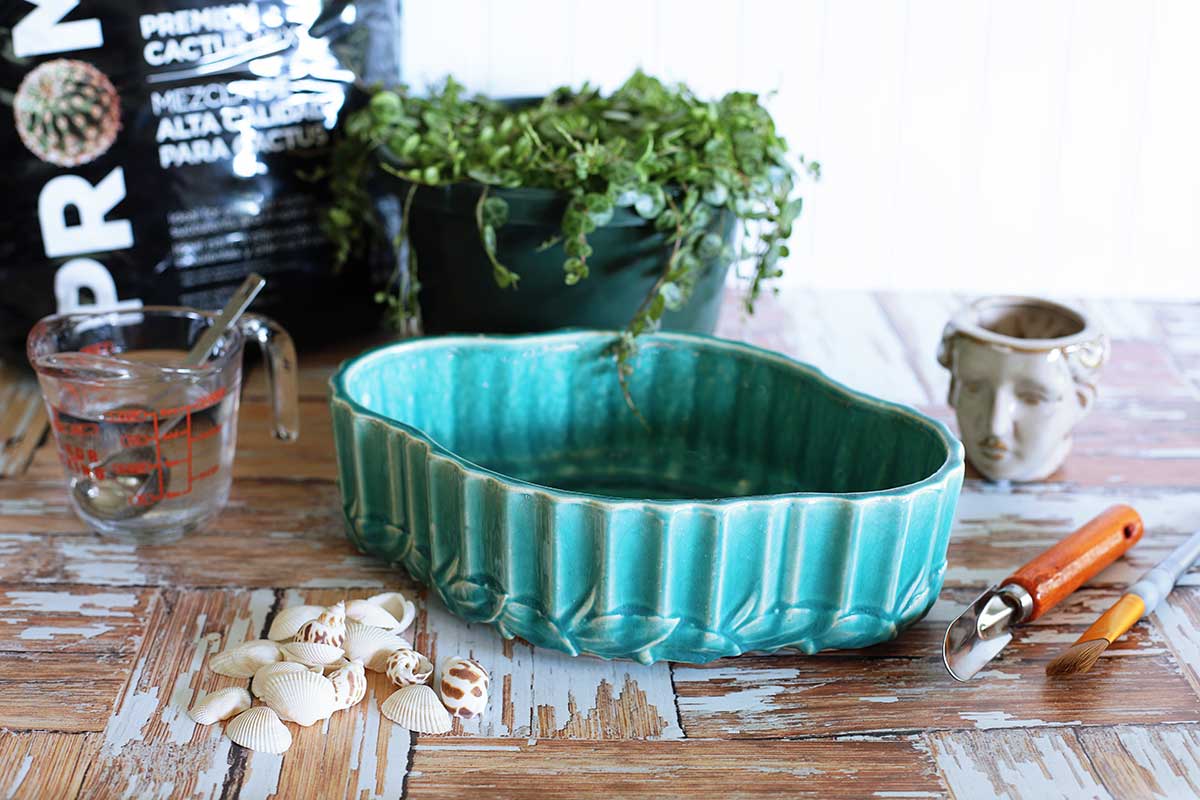 Video
Written Instructions
Time needed: 10 minutes
Steps
Insert Mini Pot

Put a fun smaller pot in the planter embedding it at the height you wish it to stick up from the dirt.



Add Soil

Add your soil to the bowl.



Fill In Head/Small Pot

Make sure to fill in the smaller pot with soil also.



Plant Succulents

Add your succulent plants to the planter.



Water Plants

Using a tablespoon or small pitcher, lightly water the succulents making sure to keep the water close to the base of the plants (no sense watering dirt with no roots near it).



Clean Up

Brush away stray potting soil if needed, so the design looks neat and tidy.



Add Decorative Elements (Optional)

Add sea shells, pebbles or wood chips over the exposed dirt to give it a unique look.



Finished Look

As I say in the video, the shells are totally optional. I feel they bring a sort of "lady caught in the seaweed while swimming in the ocean" vibe to it. Which isn't a bad thing, but not exactly the "lady with gorgeous locks of flowing hair" look I had originally envisioned.


Although I used this for an indoor succulent dish, you can also use this in your garden or in a flower pot outside. The only thing that would change is the proportions and the plants you would use.
Tips For Growing String Of Turtles
String Of Turtles is a wonderful vining succulent plant. It can be grown in a hanging basket so its fun tendrils can cascade down the sides or in a dish garden where they can twine around themselves and grow into a thick mat.
The rounded leaves with veining and multiple shades of green look like the shell of a turtle, hence the name.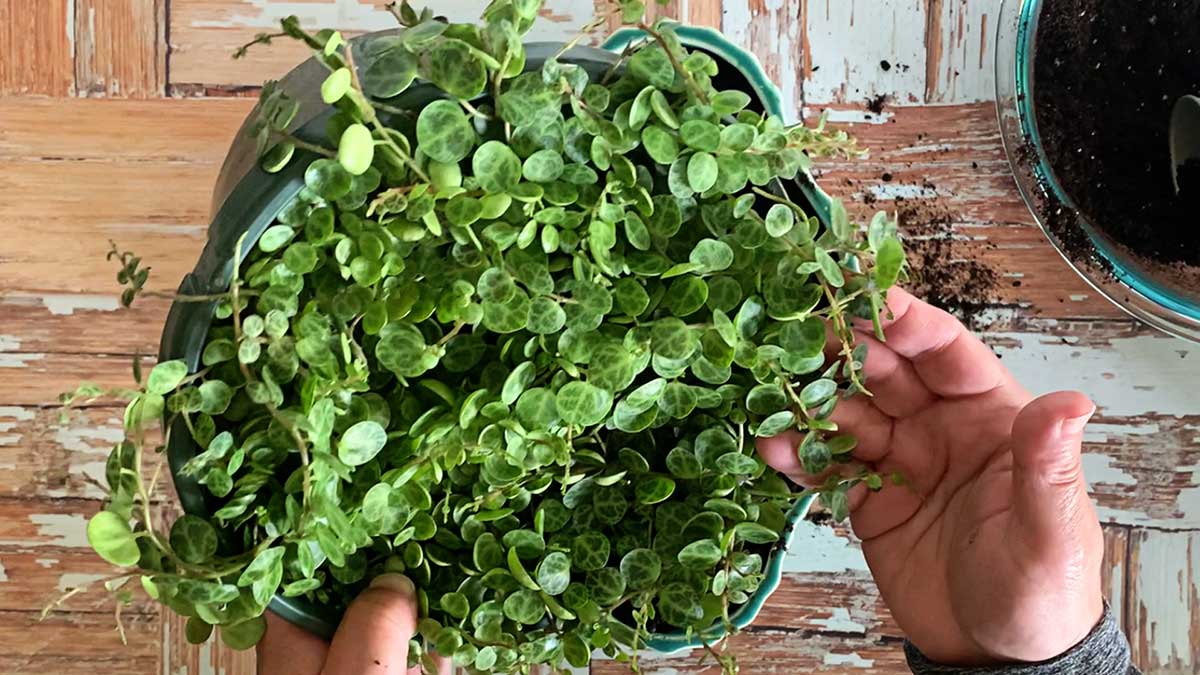 The plant is considered a semi-succulent in that the plant stores water in its leaves like most succulents do, but it is actually native to the Brazilian rainforest, unlike most succulents that grow in dry arid areas.
Light - String Of Turtles prefer bright indirect light. Full unfiltered sun can damage the leaves.
Best Soil To Use - Since String Of Turtles is considered a semi-succulent and not a full succulent, it technically can be grown in either regular potting soil or potting soil made specifically for succulents. I am using a succulent potting soil for my planter since it has no drainage holes and will benefit from a soil that is fast drying.
Water Requirements - Since the little turtle shells are holding water, it does not need to be watered often. Let the soil dry out between watering as over-watering can cause the plant to start dropping leaves and the roots to rot.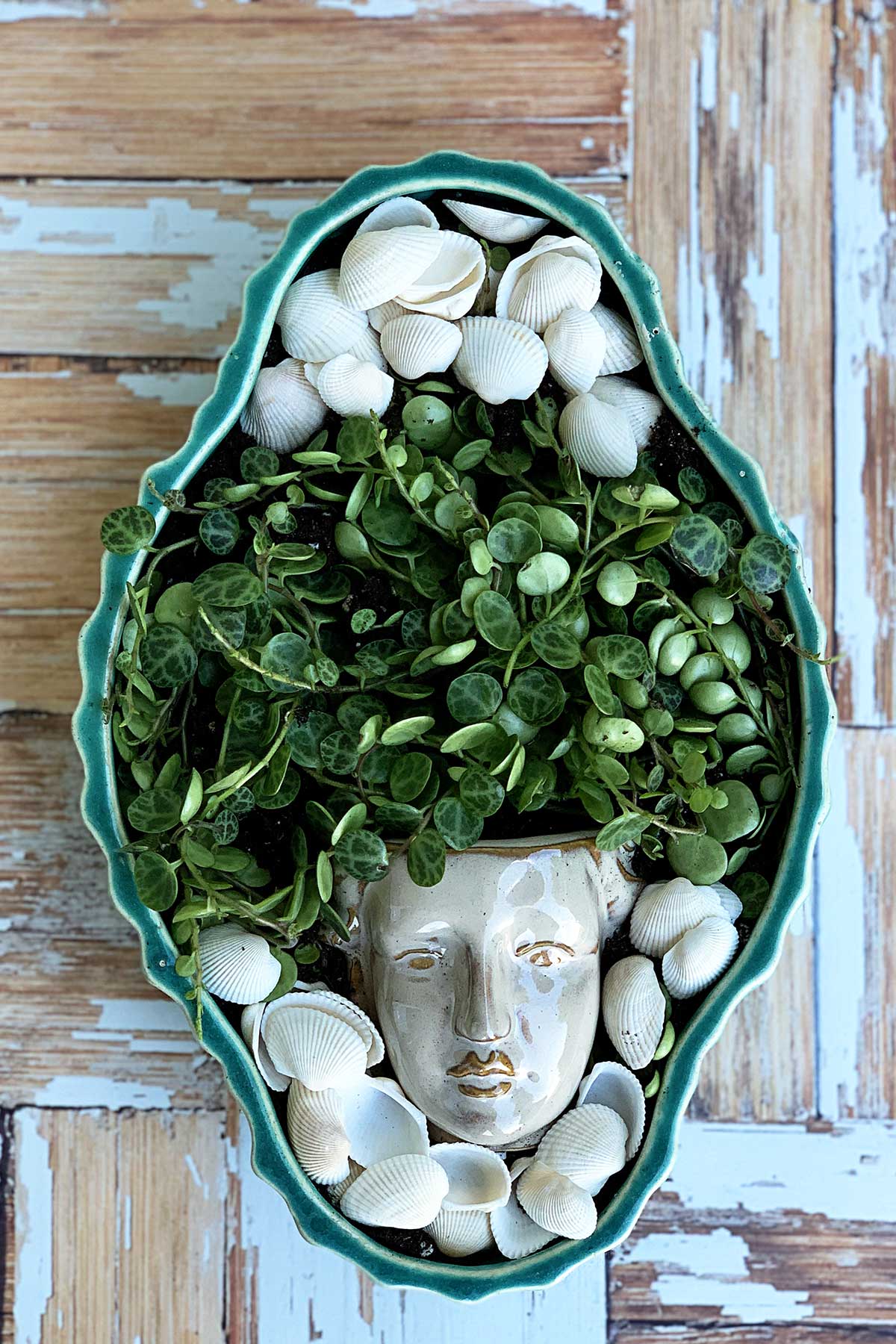 Planting Succulents In Containers Without Drainage Holes
Succulents do not like to sit in excessively damp soil for very long. Which is inherently a problem in a container with no drainage holes. To combat that:
Use a fast drying soil made for cactus and succulents, like the Cactus, Palm and Citrus potting mix. Normal everyday potting soil is made to retain moisture, but succulents actually need to have soil that drains water very well and does not compact easily.
Use less water than you would if you were watering in a normal pot.
Use a small measuring cup or tablespoon to put small amounts of water around the base of the plants, rather than pouring water into the entire container.
Repot plants grown in containers with no drainage holes yearly. If the excess salts and minerals from your tap water don't have a place to drain from, they will build up in the soil over the course of a year. So give them a refresh with fresh potting soil yearly.
DO NOT use stones in the bottom of your container for "drainage". Contrary to popular belief, stones in the bottom do not help with drainage. They cause the water to just sit in the bottom and the soil above it acts as a barrier to keep the water from being able to evaporate. Plus a layer of stones make your actual planting area shorter, since they take up precious room that could be filled with more soil.
Frequently Asked Questions
Where Can I Buy That Cool Head Planter?
I found the head planter at a local garden center, but I can't find it for sale online anywhere (and believe me, I looked lol). I'm going to contact the manufacturer to see if they can let me know of anyplace online that sells that one. In the meantime I did find this Greek head planter on Amazon that is similar in size - Mini Greek Head Planter.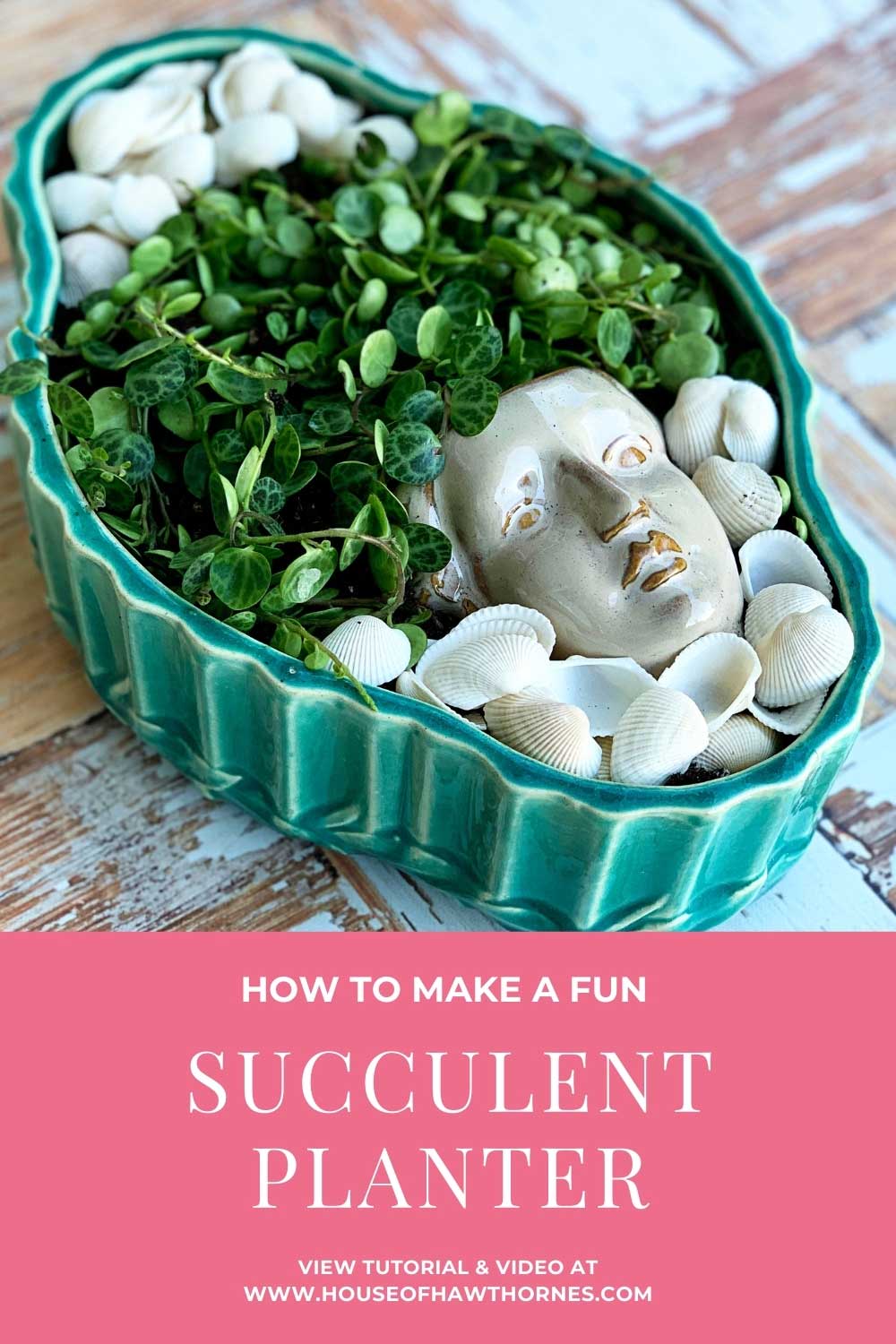 Other Posts You May Enjoy:
Vintage Kitchen Tools Repurposed For Gardening