Spring is the time to open the windows, shake off the gloom of the winter season and start anew. And it's a great time to do a few upcycled home decor projects since you are cleaning and organizing your house anyway.
You might as well see if you can reuse some of that junk you are hauling out of your basement and closets before you take it to the curb or donate it.
I've collected some of my favorite upcycled spring home decor projects to get you in the mood to create some "new" spring decor.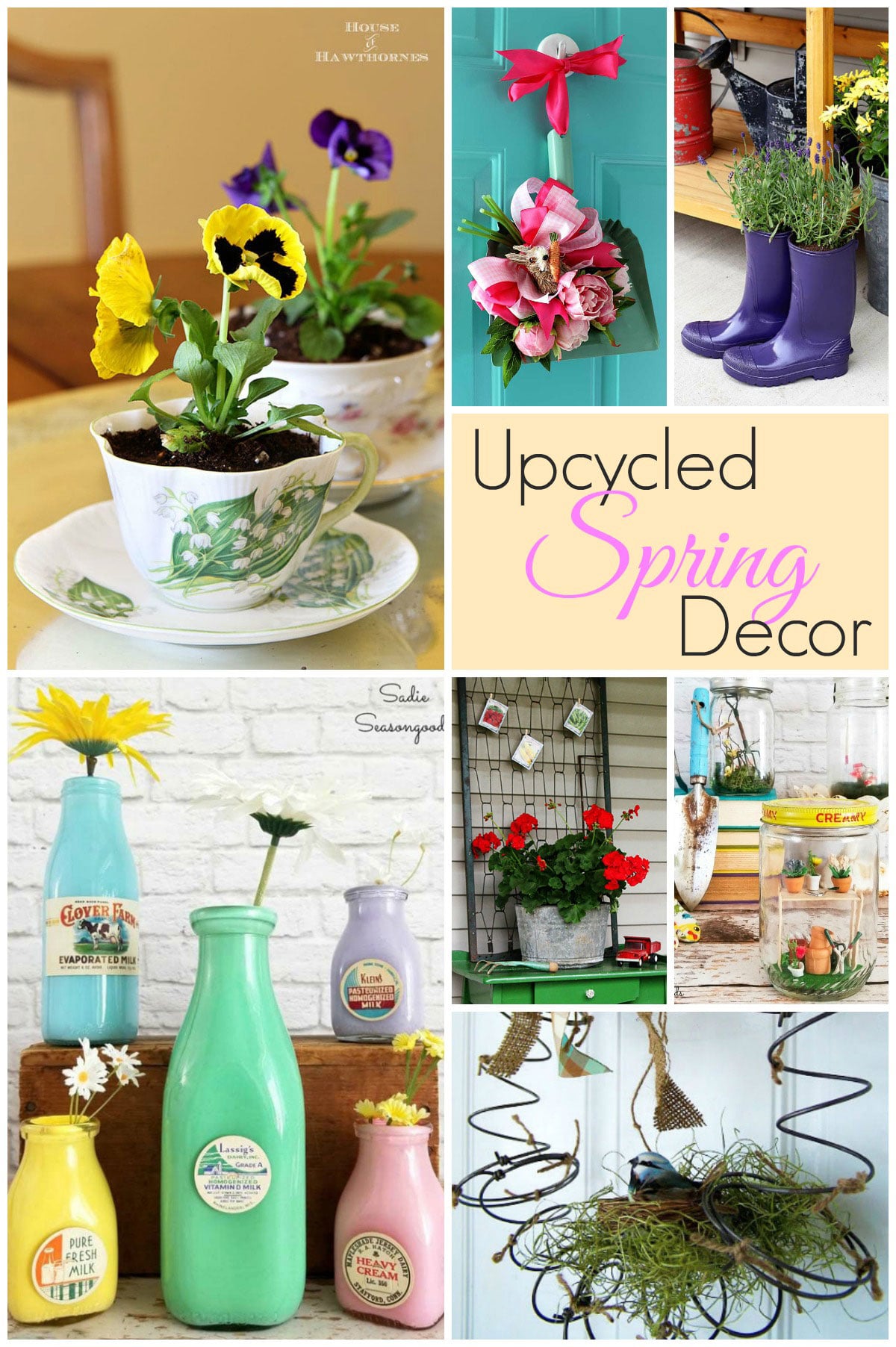 Spring Upcycling Ideas
My Spring Teacup Table Favors are a super cute way to dress up any spring table, including Easter, Mother's Day or just a Tuesday.
You can put one at each place setting as a favor for the guests to take home or group a few together in the middle of the table as a centerpiece.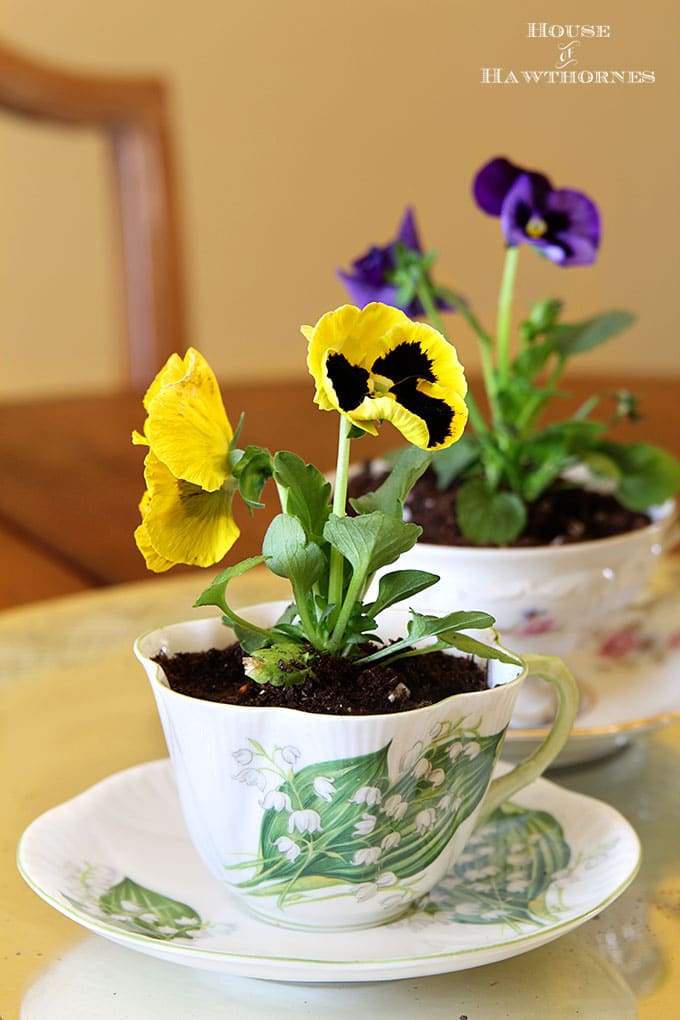 Of course you can always make a wreath for your front door out of a dustpan, like I did in my Repurposed Spring Wreath - Spring Cleaning Version.
This is one of those projects that I just KNEW the internet would love to pieces and it sort of fell flat on it's dust loving face. It's not like I put a toilet plunger on my door or anything!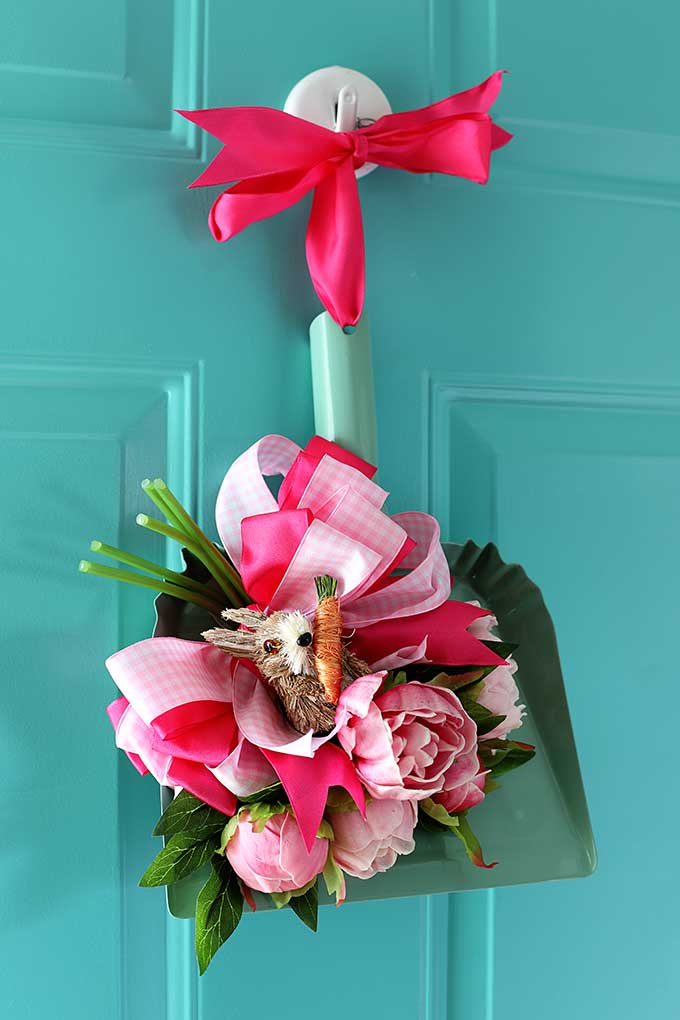 Here is a Super Simple project for spring - my DIY Rubber Boots Planter. If you don't have a pair of boots in your closet, then head to the thrift store and spray paint a pair of theirs.
After you buy them of course, I don't want to see you on the local news in handcuffs.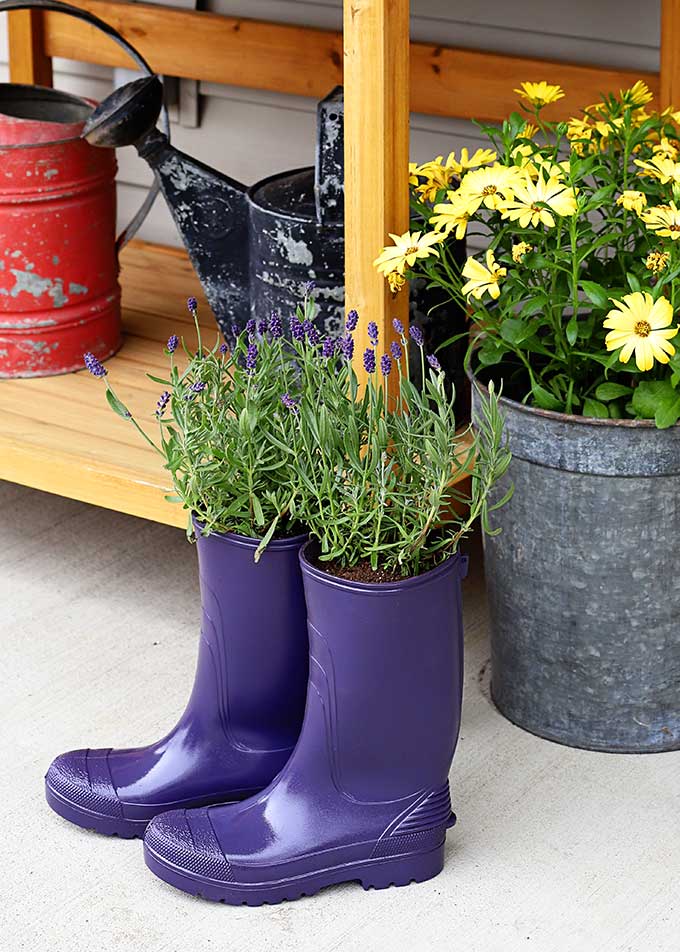 Sadie Seasongoods made these colorful Milk Bottle Vases that just scream S-P-R-I-N-G to me.
Plus remind me of how much I love milk and how milk does not love me back (took me a good 30 years to figure that one out).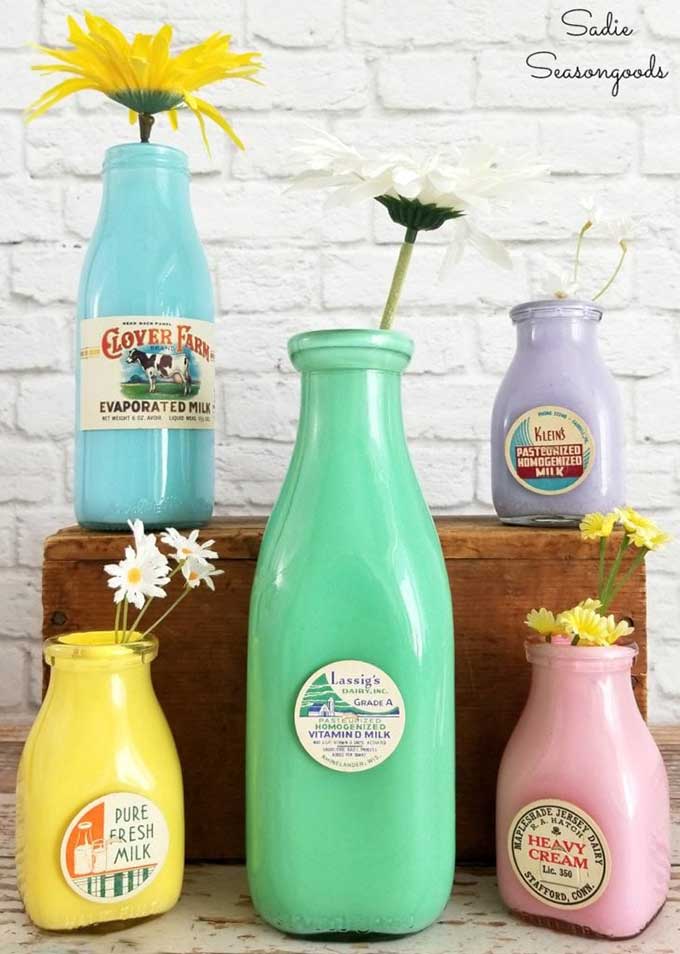 Another super cute spring project from Sadie Seasongoods is these cute Fairy Garden Jars For Spring.
I've been saving an old peanut butter jar for something like this!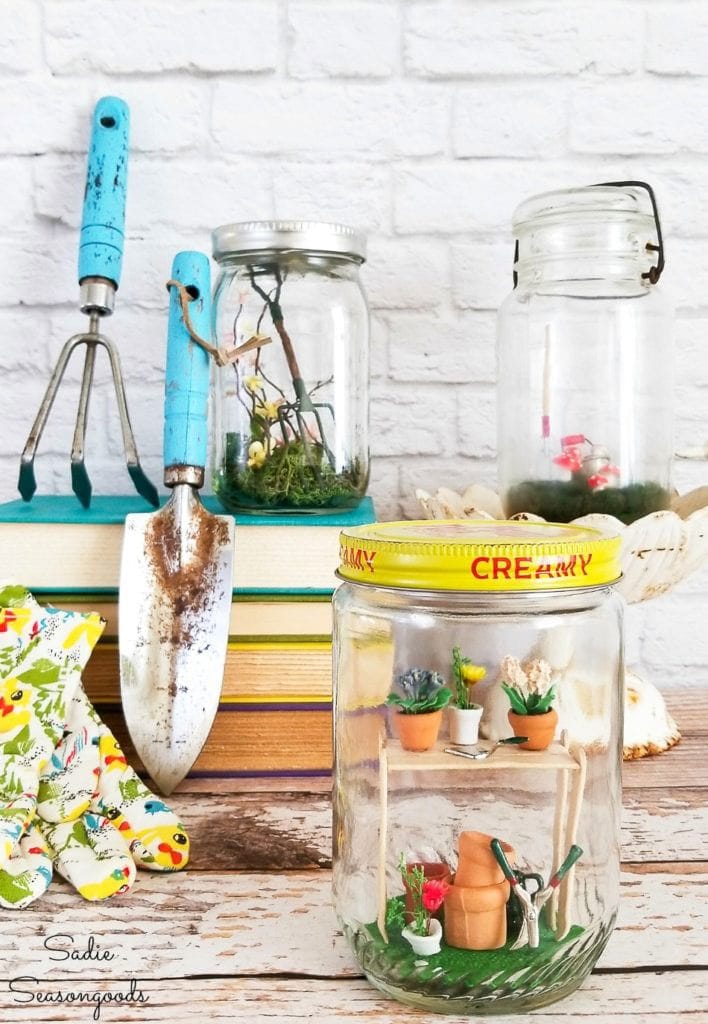 Since we are talking spring here, why not repurpose a spring . . . for spring?
Kelly at Live, Laugh, Rowe did just that with her Old Bed Spring Vase Holder.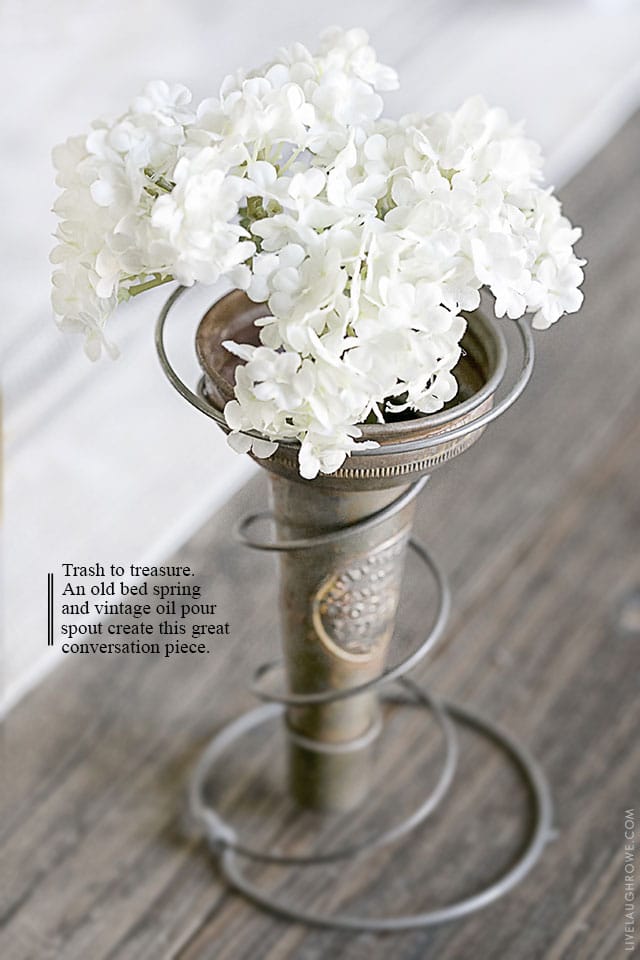 And Becky at Beyond The Picket Fence shared how she made her Birds Nest Bed Spring Wreath.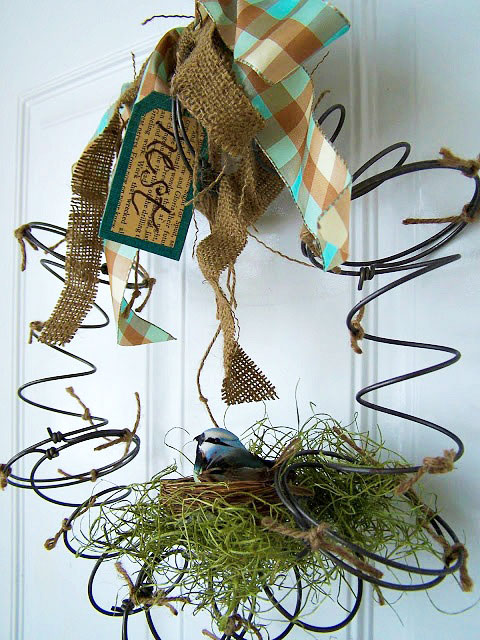 And a few years ago I took a whole set of baby bed springs and made a little vignette on my porch.
Confession time - it didn't last long out there once the birds started to try to build nests in the springs. I ended up shooing the birdies away (there are so many better places for them to make nests than right beside my front door) and brought it indoors to use in my office as a bulletin board type thing.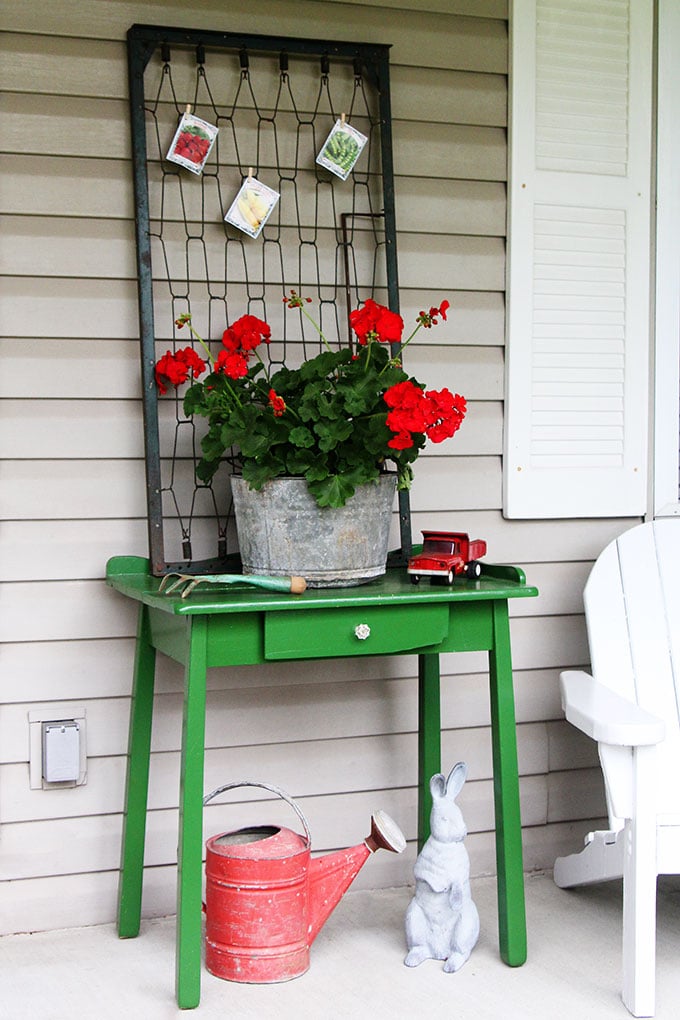 And lastly I just had to show you this DIY Garden Hose Wreath made with pieces of old garden hose by Lora B!
I know you've probably seen wreaths made with new hoses on Pinterest, but this is just taking the garden hose wreath trend to a whole new level of cuteness! Repurposed and vintage looking all at once.
I probably have enough old leaky garden hoses in my garden shed right now to make one of these. I knew there was a reason I never threw them away (besides me just being too lazy to patch them or haul them to the curb).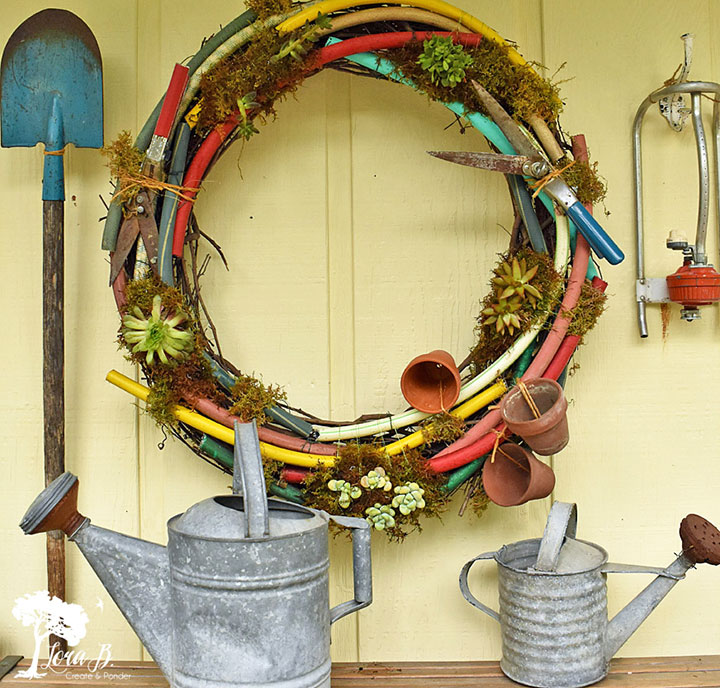 What are you working on for repurposed spring decor this year?
Other Posts You May Enjoy:
Repurposed Yard Sale Finds For The Garden
7 Simple Ways To Add Spring To Your Home Decor
Vintage Easter Postcard Images - Free Printables To Decorate With