A few weeks ago while wandering through Walmart I found these cute Pioneer Woman melamine plates that came in three different sizes. They're made to mix and match and sort of give off that eclectic thrift store vibe.
Although I don't see them online anymore, I have seen them at my local store in the clearance section just this week.
I thought these plates would be a great way to show you how to make a tiered tray.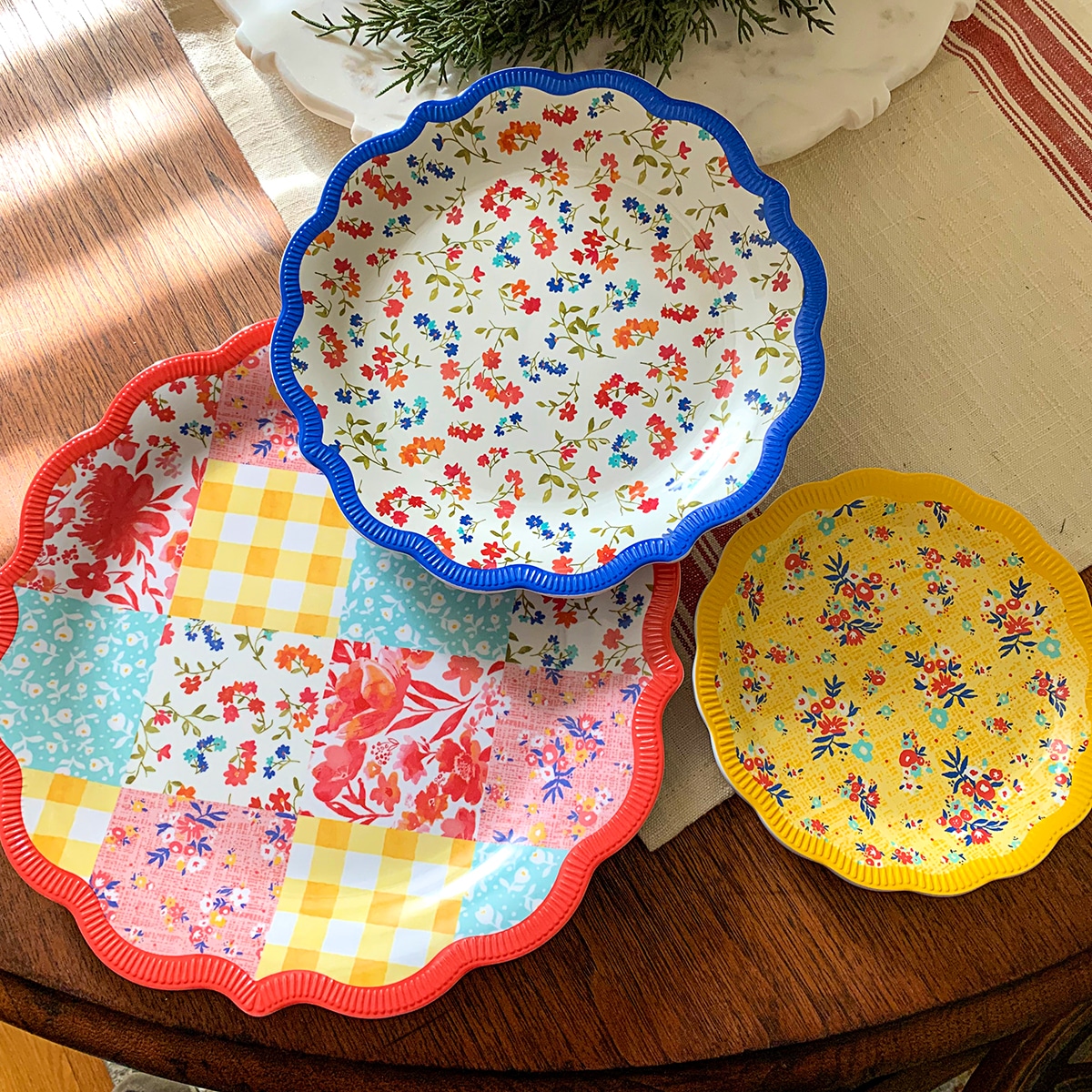 Not a tiered tray in the farmhouse style that you decorate with all sorts of seasonal decor (although those are so cute). But more of a tiered tray you can use to put cookies and desserts on.
Think grandma's house at Christmastime in the 1980's, but with less ducks and geese.
✨ BTW, today is Thrift Store Decor Wednesday, so make sure you hang around to the end of the post to see the rest of the team's thrift store repurposes for the month!
I originally was going to go to the thrift store and disassemble someone's discarded tiered tray so I could just use the hardware parts for my own. And then I decided to check on Amazon and lo and behold they sell tiered tray hardware!
Who knew!
OK, if everyone knows this then just scroll on by.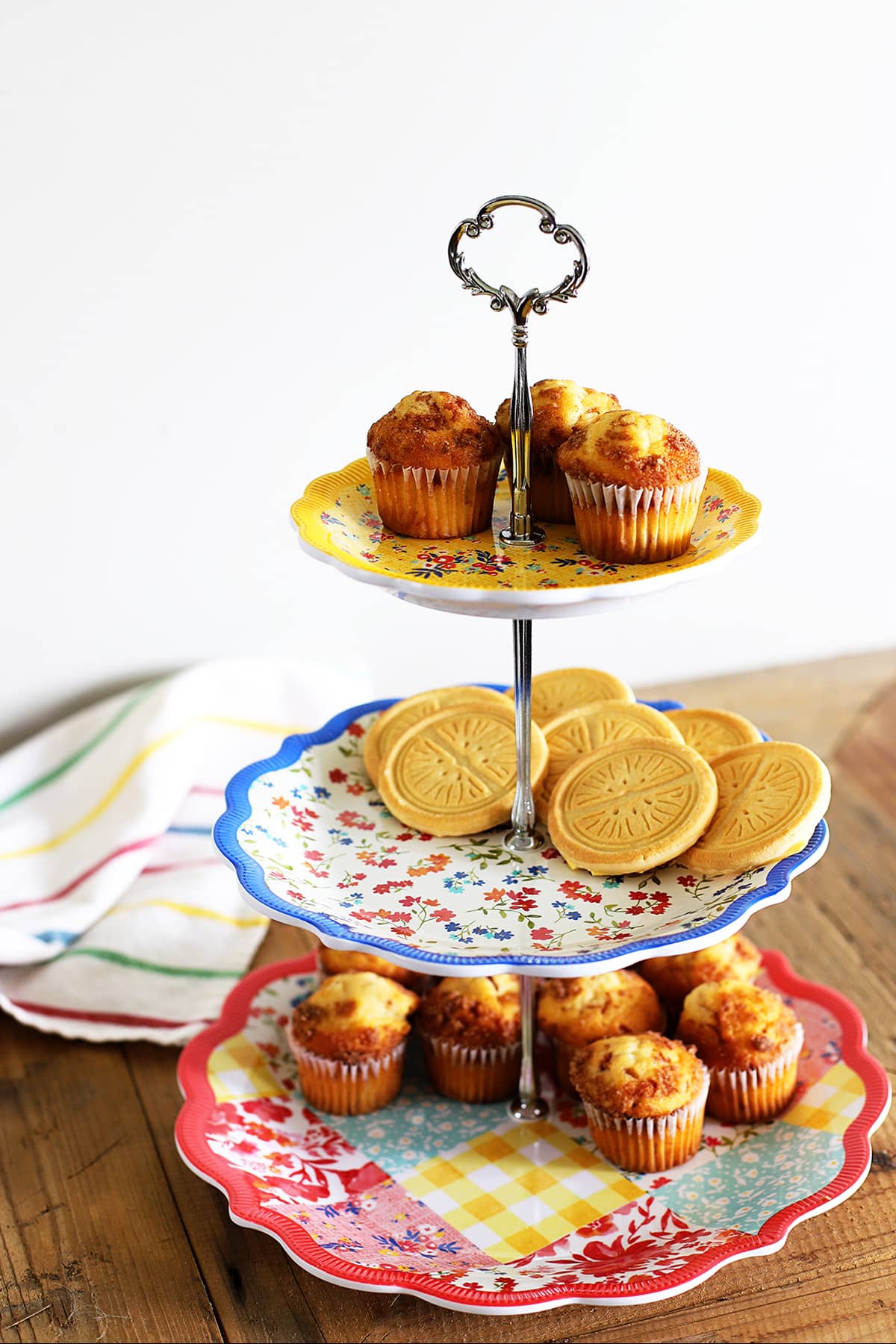 How To Make A Tiered Tray
(This post contains some affiliate links for your convenience. You can read my full disclosure policy here.)
Supplies
3 Plates of varying sizes
Drill
⅛" Drill Bit
¼" Drill Bit
Hammer
Metal Punch/Awl or Nail (to start hole)
Felt Tip Marker
Yummy Desserts
Safety Gear
Since we're drilling things here and might have melamine pieces flying around, it's always advised to wear appropriate safety gear.
Gloves
Eye Protection
Dust Mask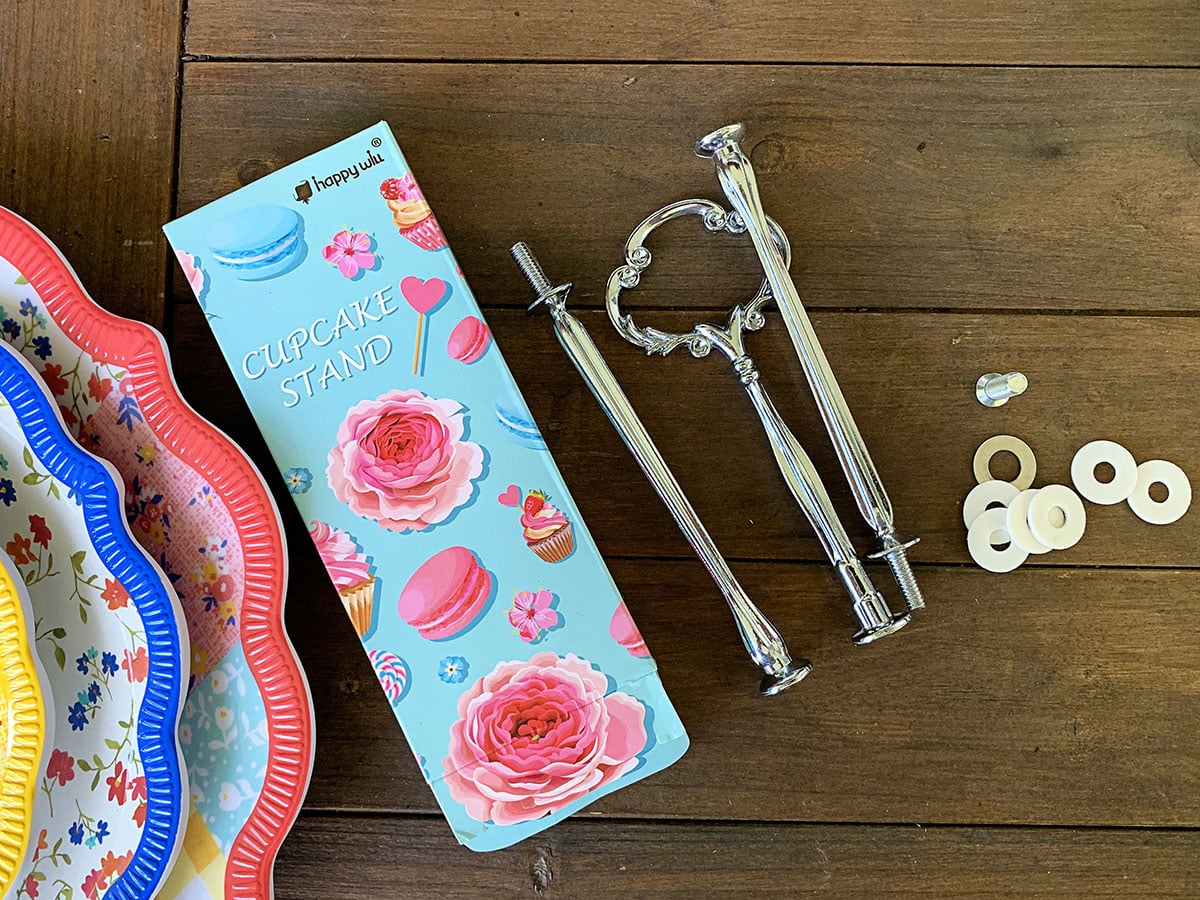 Time needed: 30 minutes
DIY Tiered Tray
Find The Middle Of Your Plates

Take a tape measurer and measure to the middle of your plates. Mark with a black dot with your felt tip marker.



Tap An Indentation In The Middle Of The Plate

Using your metal punch/awl/center punch (it goes by different names) or nail tap an indent into the middle of the black dot.

This creates a divet so your drill won't start drifting when you start to drill.



Drill Pilot Hole

Take your small ⅛" drill bit and drill straight through the plate creating a pilot hole using the divet you created as a guide.

This pilot hole makes it much easier to drill your "real" sized hole without cracking the plate.



Expand Your Hole

Use your ¼" bit you will now go through the ⅛" hole to make it the correct size.

It may seem silly to take three steps to drill one hole, but depending on what type of plate you are using they will crack or chip if you try to do it all at once with just the large drill bit.

Repeat on the other two plates.



Attach Bottom Hardware

On the bottom of the very first plate (largest plate) slide a metal washer followed by a plastic washer (they come in the kit) over the screw (also comes in the kit) and thread it up through the bottom.

Maggie was supervising this project and was VERY interested in the washers.



Attach Washers And Spindles

Flip the plate over and attach a plastic washer on top of the screw followed by one of the spindles. Screw the spindle on firmly.


Attach Next Washer

Attach another washer on top of the spindle which will be sandwiched between the spindle and the bottom of the next plate.



Finish Off The Stack Of Plates

Attach the rest of the plates in the same fashion - by having a plastic washer under each plate and a plastic washer over each plate.


Add The Handle At The Top

The very last item you will attach is the spindle with the handle on it.

At this point, you can tighten up the spindles.


Making A Tiered Tray With China, Glass Or Ceramic Dishes
The instructions would be the same except you would use drill bits rated for glass, ceramic and tile to drill through the plates. These would be carbide or diamond tipped bits and the package should specifically say they are for use with glass, ceramic and tile.
Any time you're drilling through china, glass or ceramic it takes one of these stronger and sharper bits and a little more elbow grease. The drill bits tend to heat up and it's suggested to use either water or a lubricating oil to keep them cool.
The ones that are advertised as DRY diamond drill bits do not require cooling down the surface with water while drilling through the dishes though. Those are nice if you want to spend a few more dollars and not have to worry about manually keeping things cool.
Other Items To Make Tiered Trays Out Of
Thrifted Pie or Cake Pans
Loaf Pans
Old Wooden Salad Bowls
Metal Holiday Serving Trays circa 1960
Cookie Tins With Fun Graphics (just remove the lids)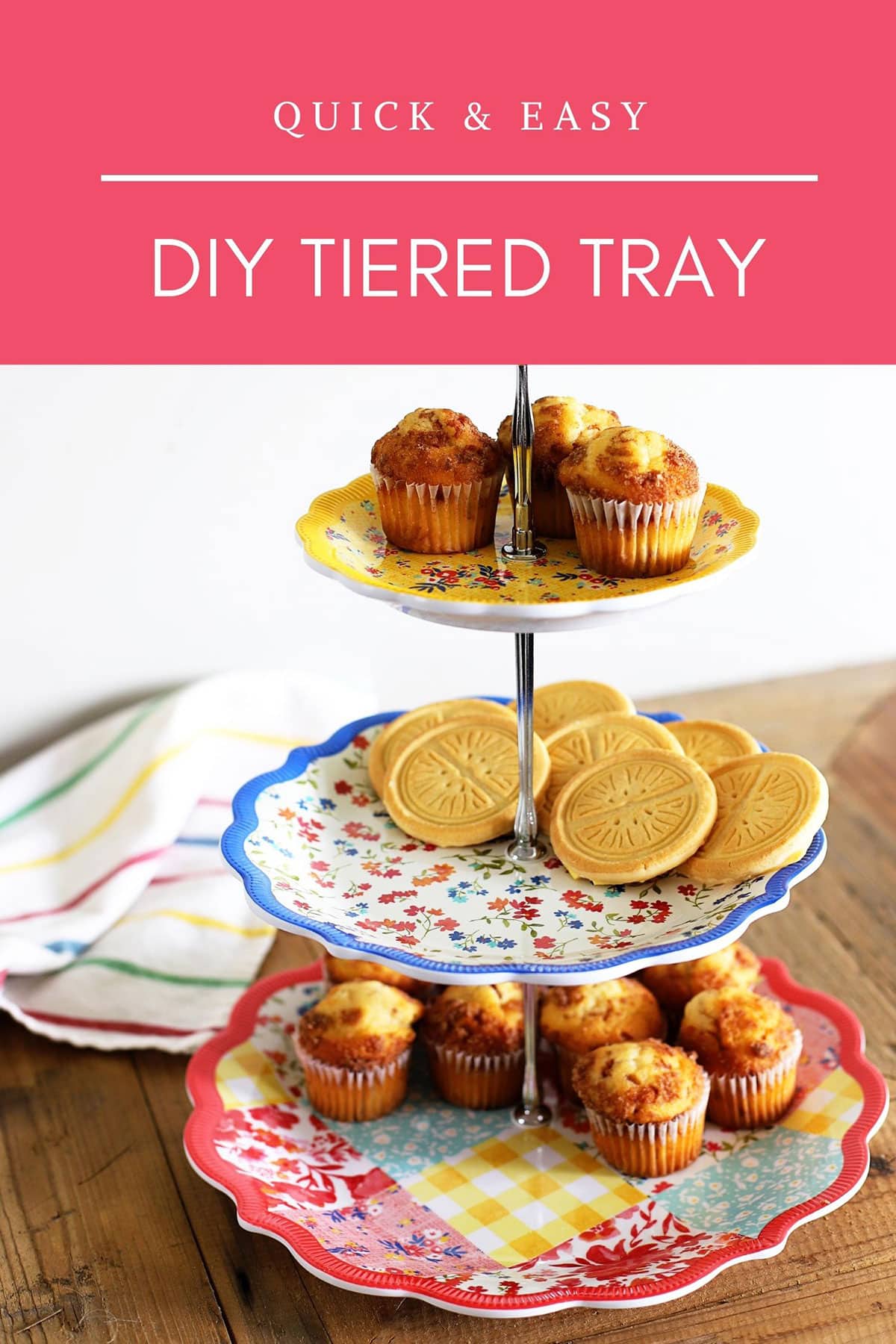 Thrift Store Decor Team Projects
Now let's go see what the other Thrift Store Decor Team members are up to today!
Quilt And Pom Pom Fringe DIY Pumpkin - Petticoat Junktion
Medallion Wall Art Makeover - Our Southern Home
Navy Blue Bar Stools with Rub-on Transfer - My Repurposed Life
Goodwill Wooden Wagon Makeover - Organized Clutter
Plant Cloche from a Geometric Pendant Light - Sadie Seasongoods
16 Creative Thrift Store Makeover Ideas - Reinvented Delaware
Galvanized Tub Shelves - Shop At Blu
DIY Tiered Tray From Dinner Plates - House Of Hawthornes (that's me)