Welcome to my fall home decor tour - thrift store style.
I thought I'd do something a little different today and instead of just showing you what I am decorating with this fall and yammering on about each item, I thought I'd also give you some ideas of what you can commonly find at thrift stores, flea markets and estate sales (maybe even your own basement) that can double as fall decor items.
Looking around the house here, probably 90% of my fall decor is thrifted (inexpensive) and most of it is used in other ways during the other seasons (less big plastic totes to stores)!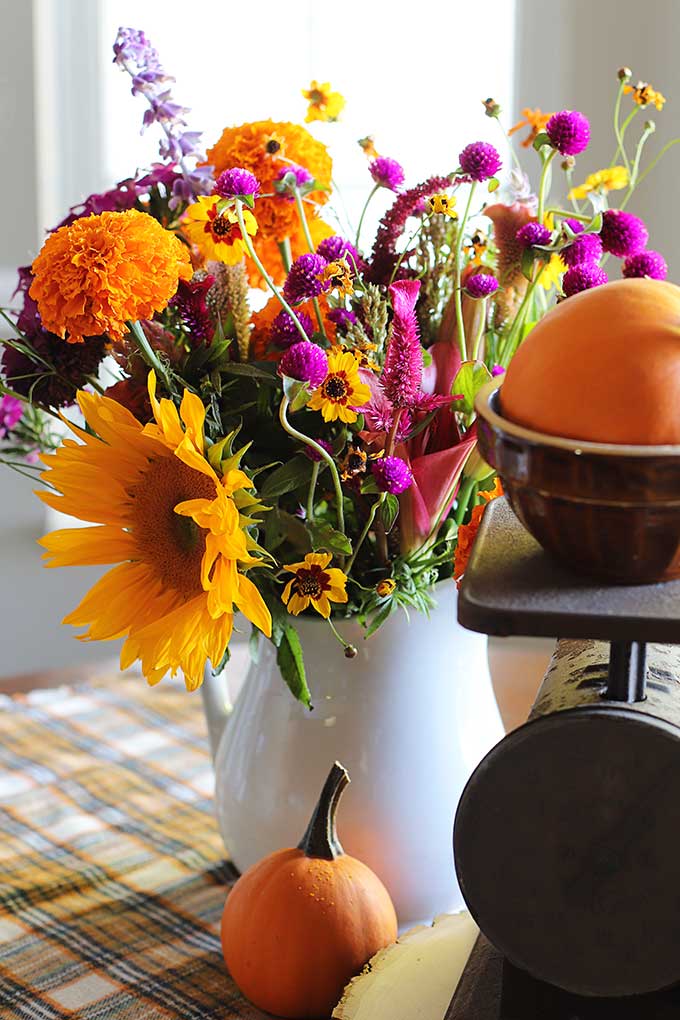 So enjoy the photos while I discuss some of my favorite things to find at the thrift store for fall decor.
BTW, the photos are in no particular order and just randomly intermingled with the tips (thought I'd add that just in case you thought I had been sniffing too many pumpkin spice candles and got confused).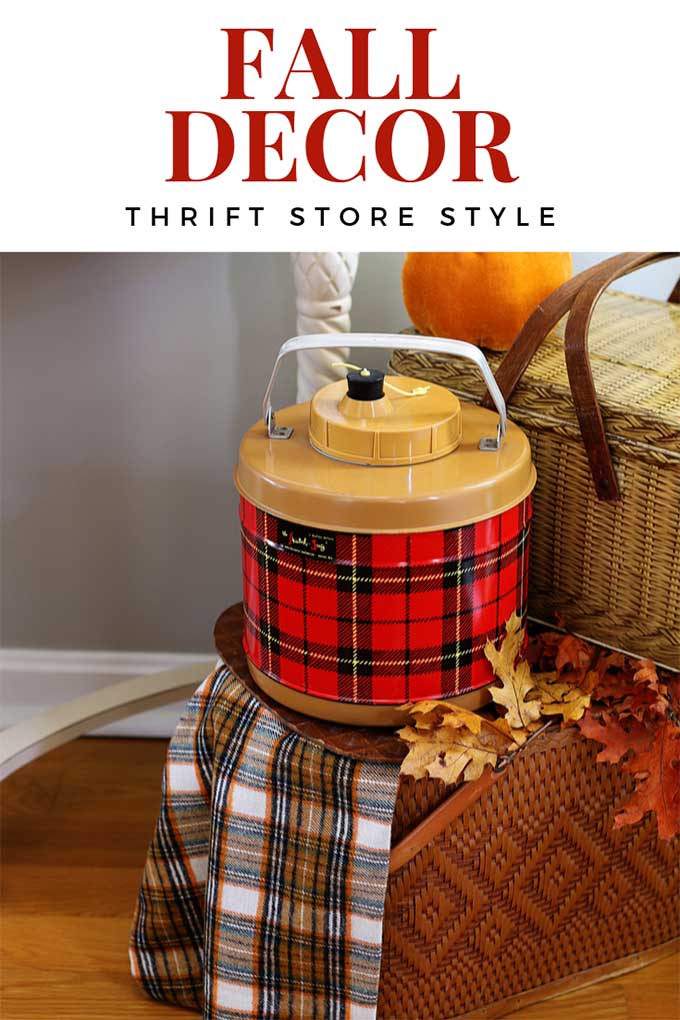 5 Fall Home Decor Items To Find At The Thrift Store
Plaid Stadium Blankets or Throws
Plaid just shouts FALL and nothing is more plaid or cozy than a vintage stadium blanket or throw.
Toss one over the arm of a chair for instant fall decor. They can also be used for tablecloths or runners, pillow covers or to keep yourself warm at night while watching TV with the cats.
Can't find one you are in love with? If you are wanting something just for looks, run to Joann fabrics and grab a few yards of their plaid flannels to stuff in a basket for the stadium blanket look without the "stadium" or the "blanket" parts.
The "blanket" hanging out of my picnic basket . . . yep, just a piece of fabric.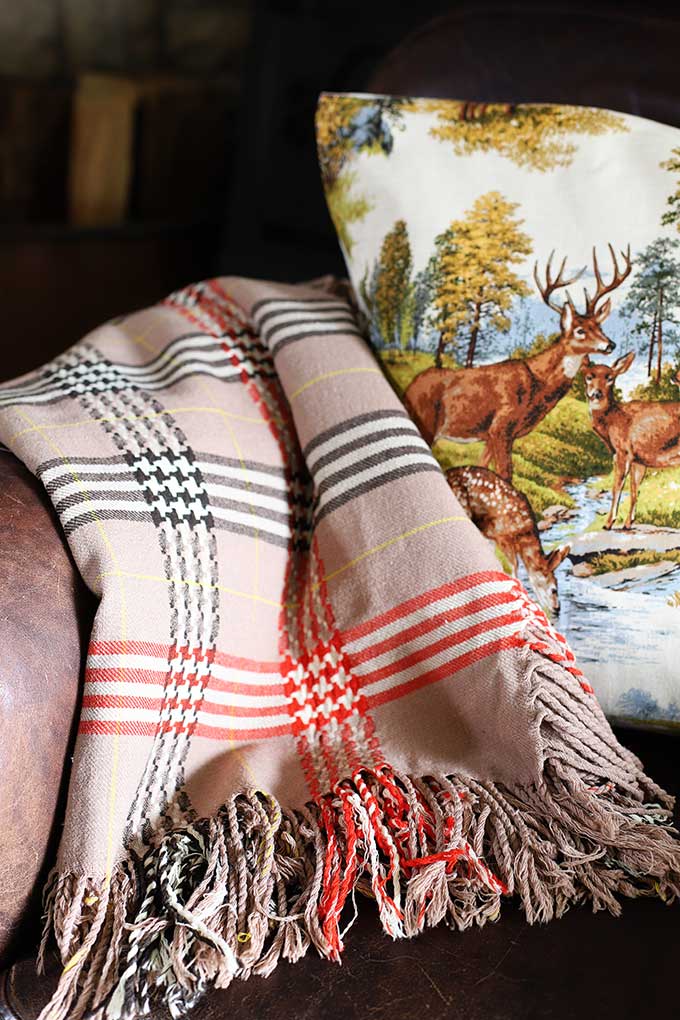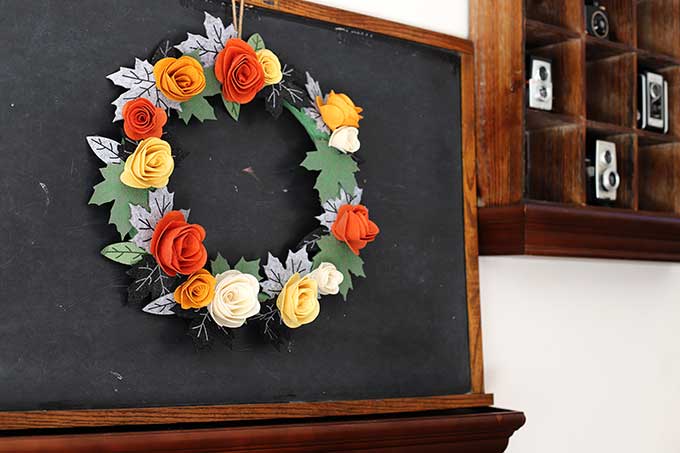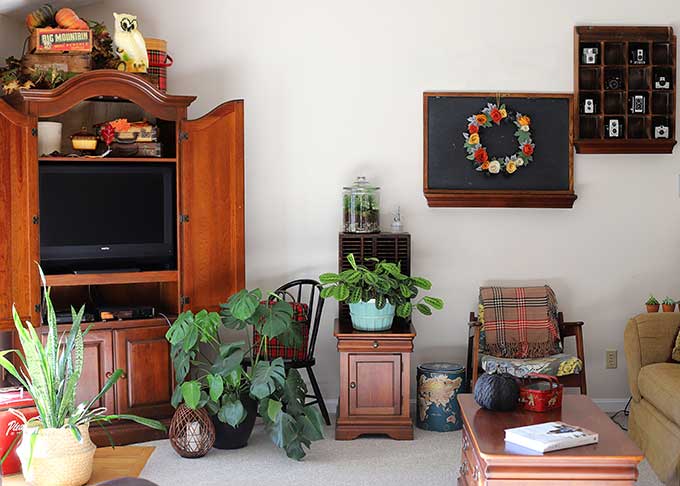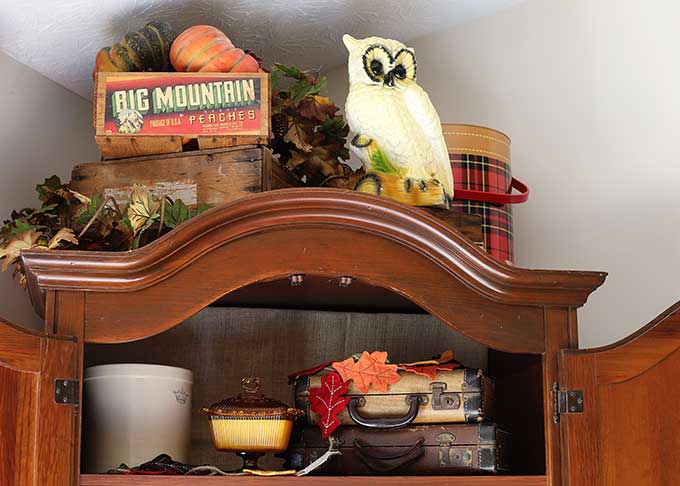 Thermoses
A little thermos of hot cocoa or hot buttered rum is always welcomed on a chilly fall day. Although honestly, I never actually drink out of my thermoses, but use them as whimsical fall decor instead. Vintage thermoses come in all sorts of colors and patterns including orange and black stripes and different varieties of plaids.
They can be grouped together as a vignette or placed around the house as simple decor. One of my favorite ways to use them is as vases for fall flowers.
I try to have at least one or two (or twenty) thermoses on display for each season. They're good for fall, winter and summer. Spring seems to be a stretch, because I don't remember the Easter Bunny ever carrying around a thermos full of carrot juice or anything, but the rest of the year is thermos time.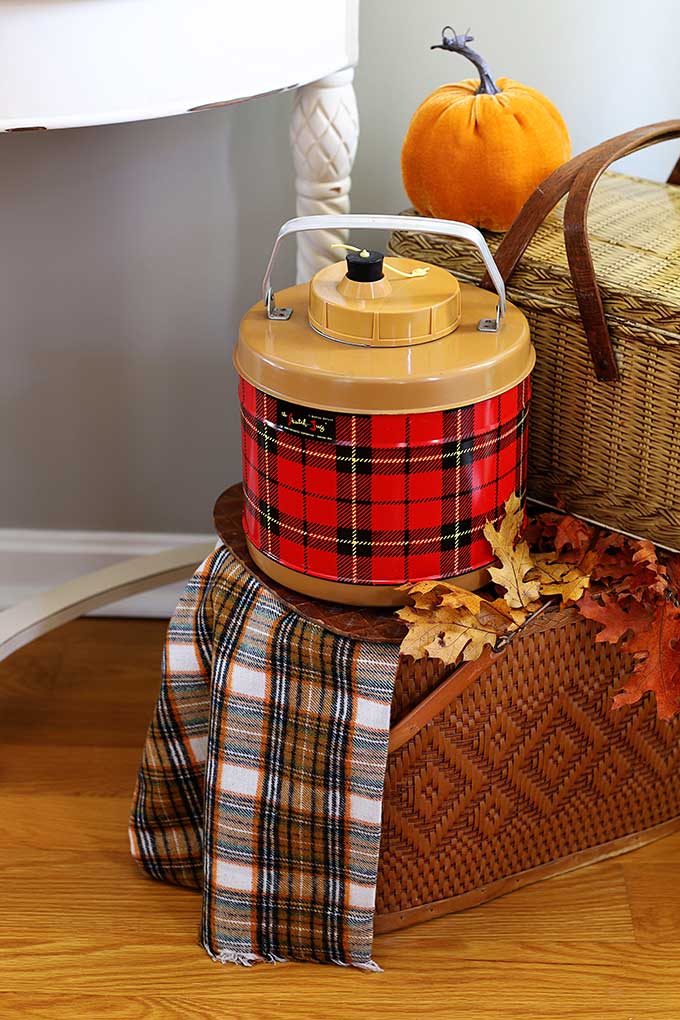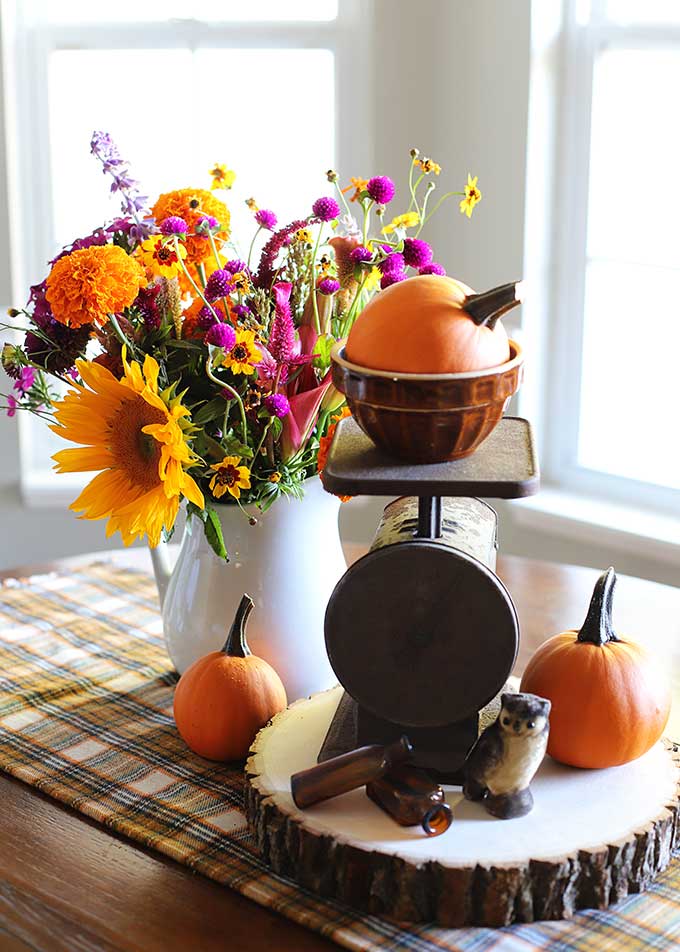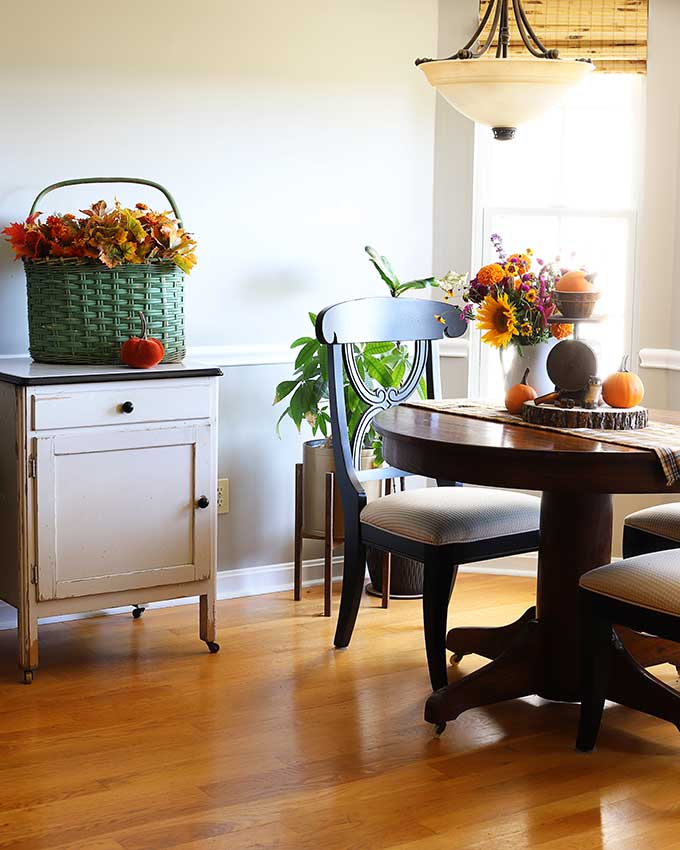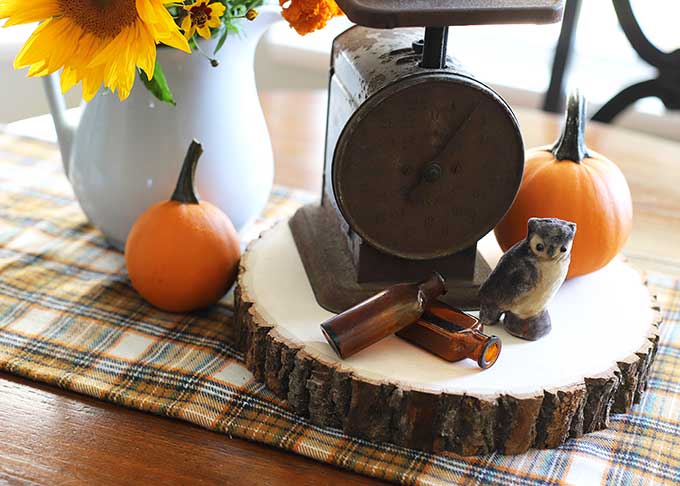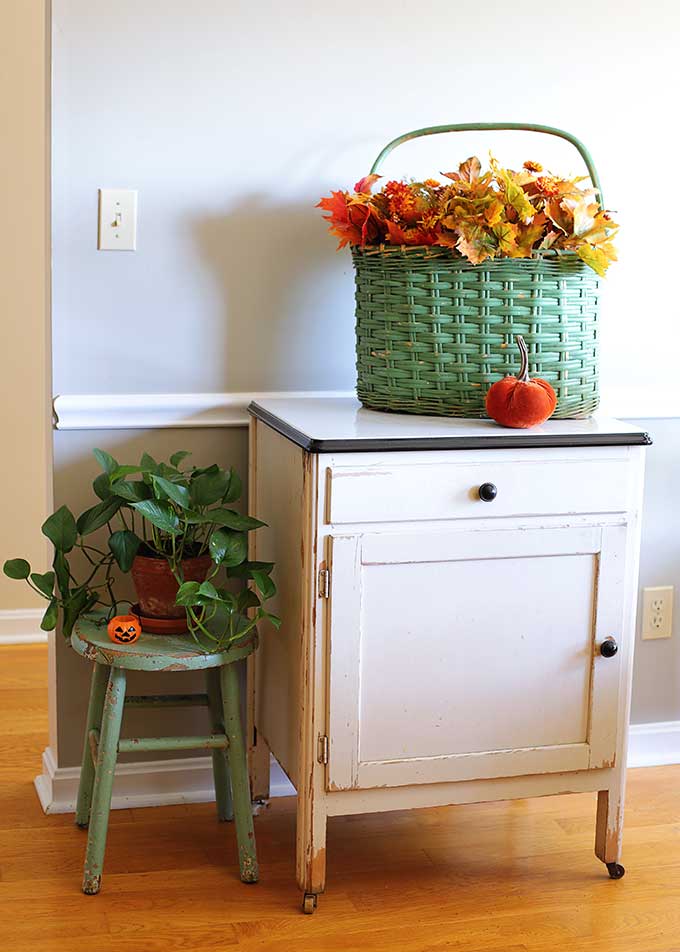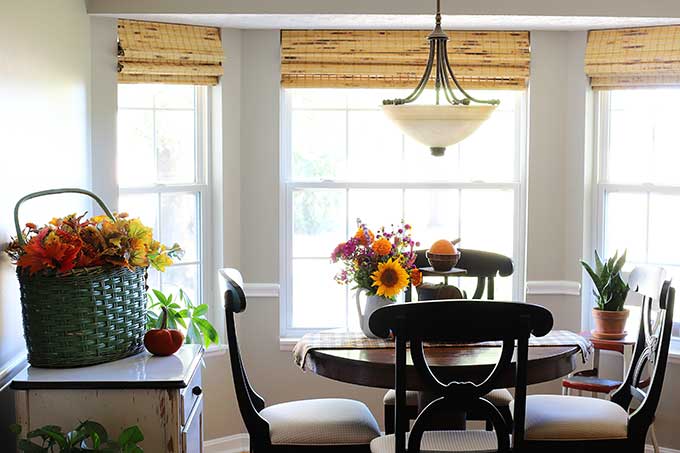 Picnic Baskets
You might think picnic baskets are more of a summertime thing, but the colors and patterns go so well with fall also!
Especially the wooden Redmon picnic baskets. Picture one sitting in the back of a station wagon at a tailgate party with a thermos and stadium blanket poking out of the top.
Fall perfection!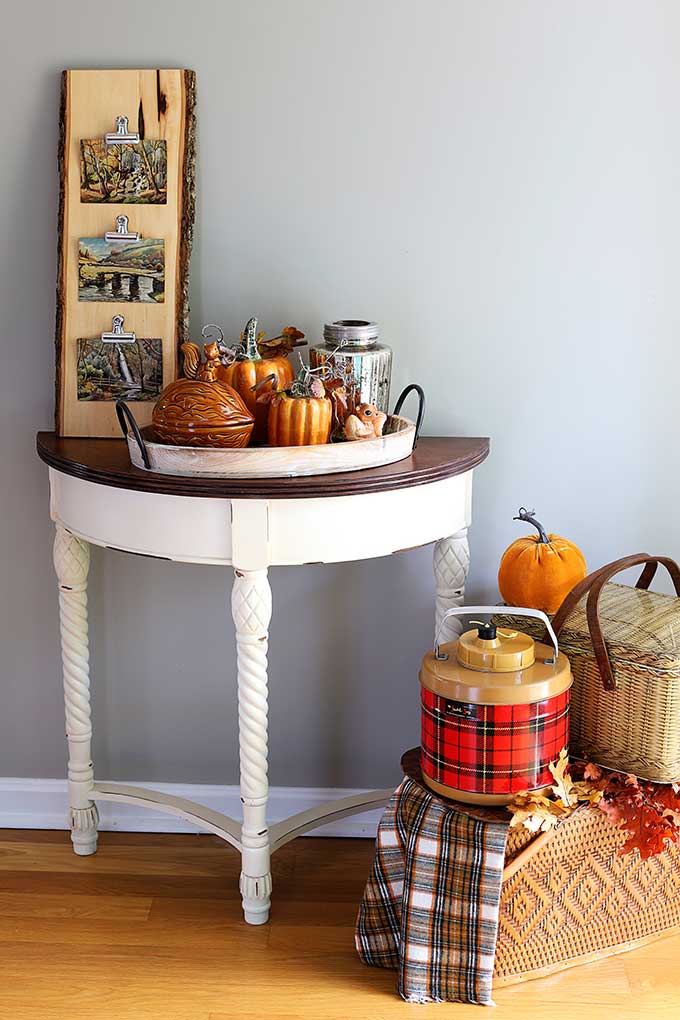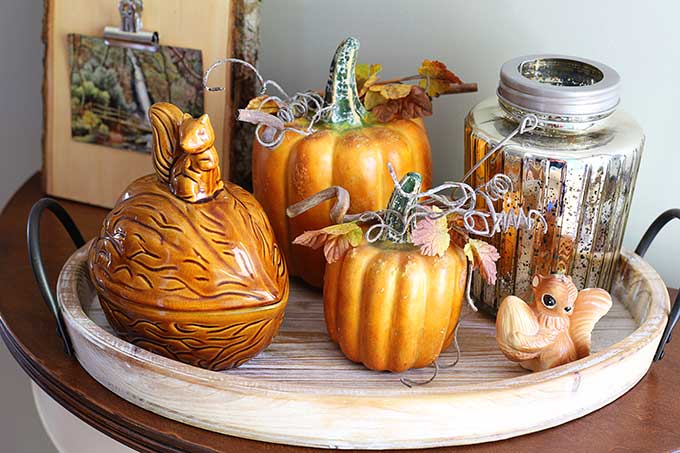 Did everyone's grandma have one of these squirrel candy dishes on her coffee table? And was it filled with those hard peanut shaped candy that got all stuck together?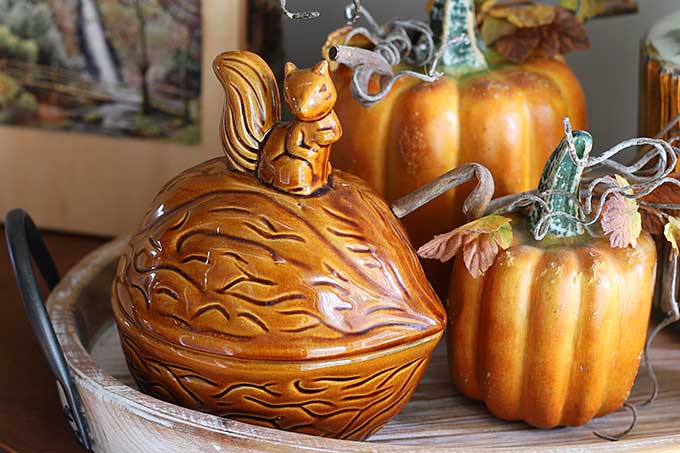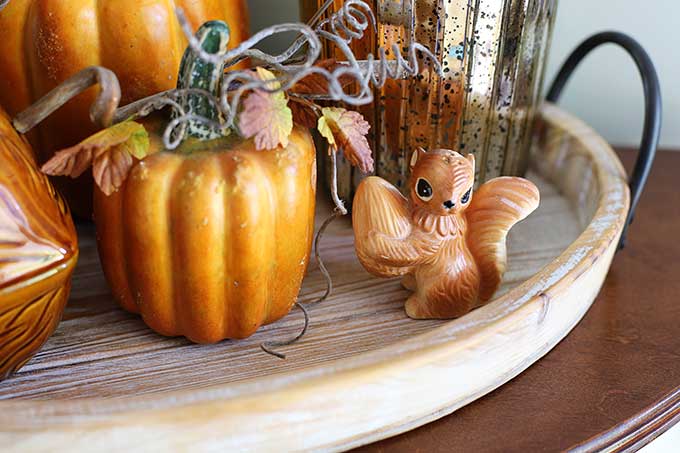 Vintage suitcases (or instrument cases - mine are clarinet cases)
Vintage suitcases tend to come in great colors for the fall. Lots of muted browns, blacks and burgundys.
The "suitcases" shown in these photos are actually clarinet cases though. Same look, but their smaller size is great for just tucking in places.
And they are GREAT to store stuff in too!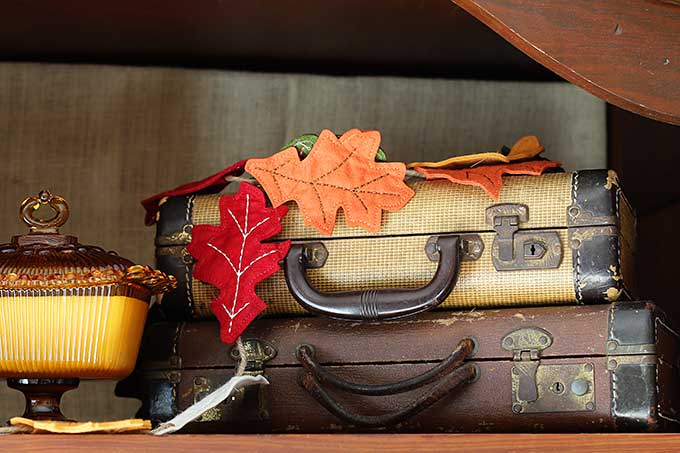 Slightly funky vintage home decor pieces
A quirky old owl statue, a ridiculously rusty old scale that you can't even read the face on, even that somewhat tacky squirrel candy dish that used to be on your grandma's coffee table. They all have a vintage charm that will add a bit of quirk to your fall decor.
Because if there is one thing that fall decor is NOT, it is not at all stuffy and serious! Your fall decor deserves a little bit of the unexpected or else you might as well go to Target and stock up on aisle 1.
Not that's there's anything wrong with Target, I love me some Target, but if you are going for a thrift store decor look for fall, you'll need to think outside the box (or circle in Target's case).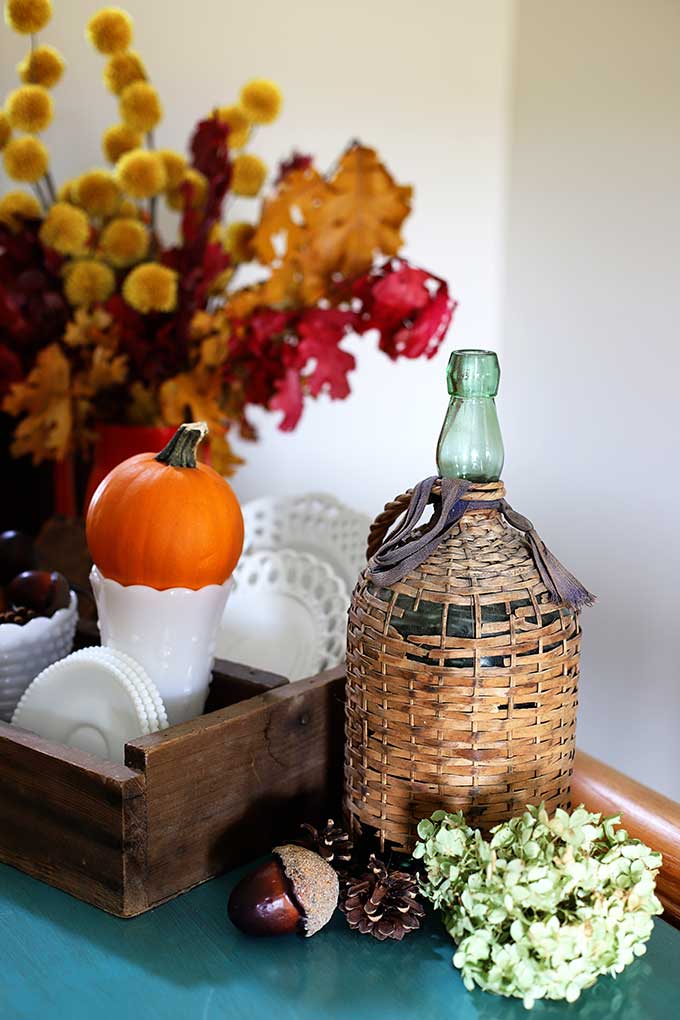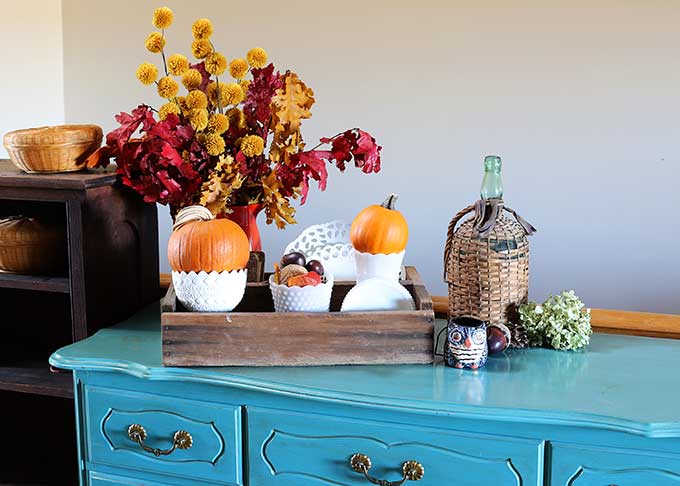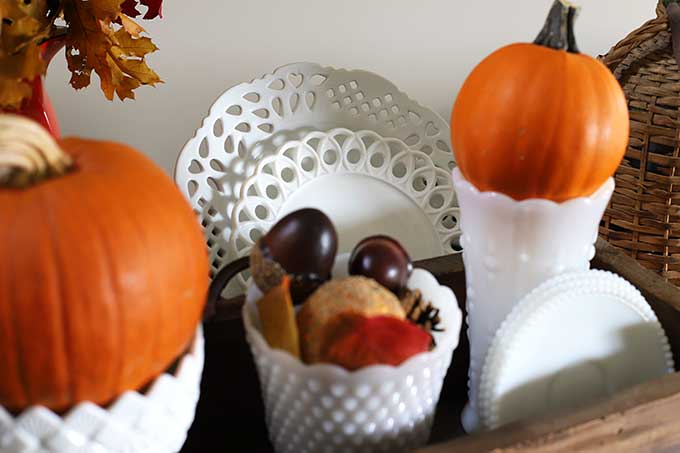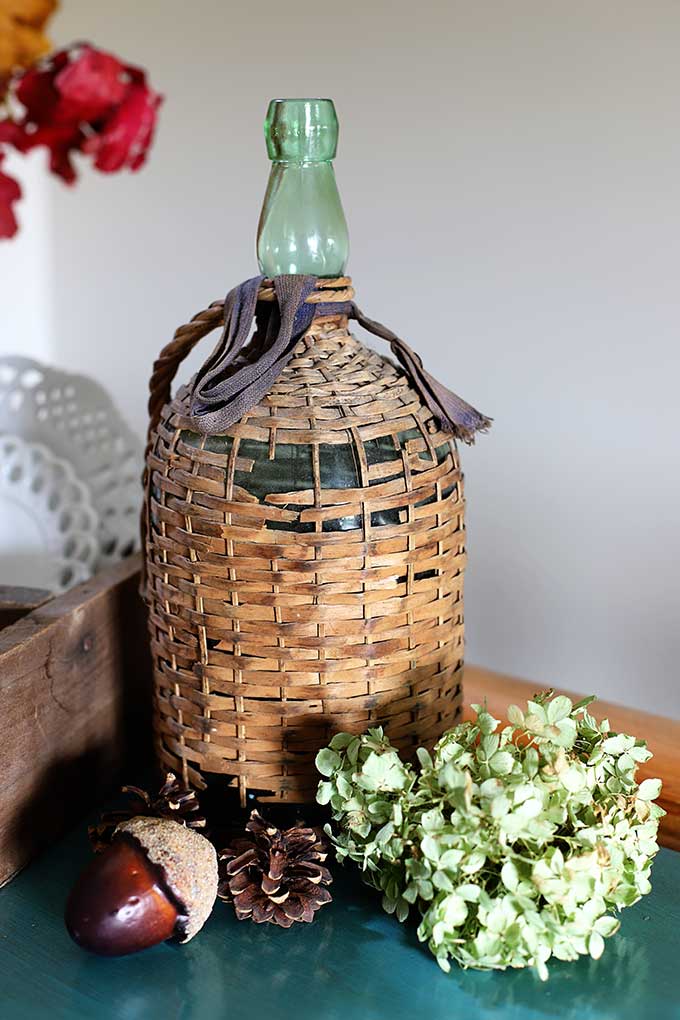 More fall decor items to pick up:
Wicker anything
Amber colored anything - bottles, candy dishes (have you seen my vintage candy dish turned cute as a button candle) and 1970's chotskies
Wooden boxes and crates
Milkglass - because it goes amazingly well with pumpkins
Pitchers to use as vases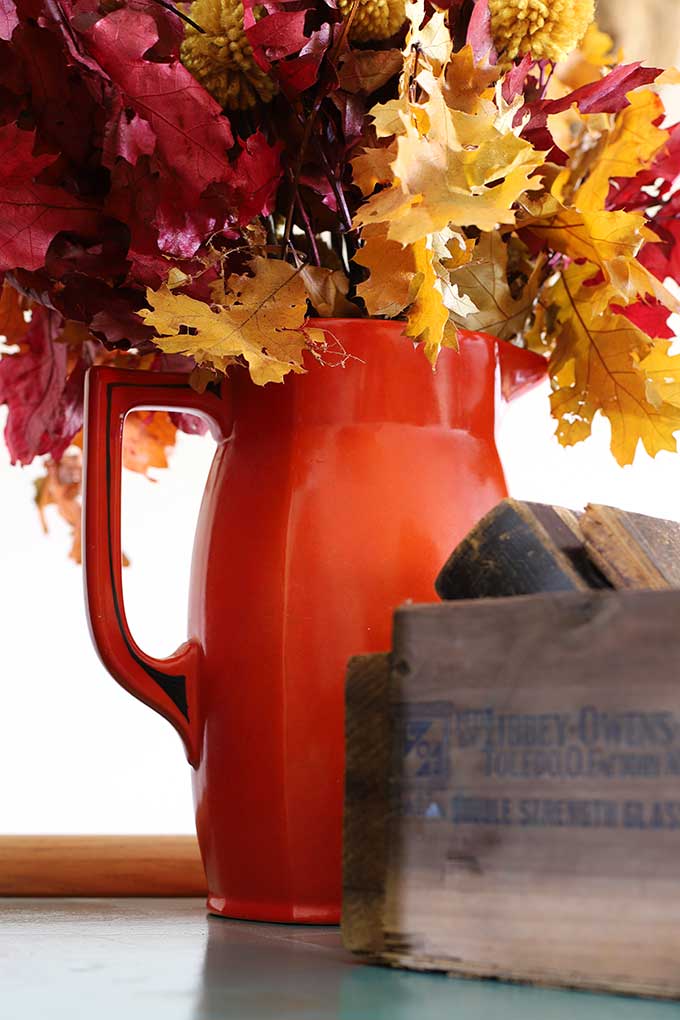 Other Posts You May Enjoy:
Transitioning The Porch From Fall To Halloween